So, you want to plan a trip Europe? Then let's figure out how to make that dream trip of a lifetime a reality! You'll have to plan to get there and you'll need an itinerary. Find flights, pick a destination, things to do, budget, and discover all it has to offer. So, I'm going to teach you how. Whether this is your first time to Europe or you're a seasoned traveler, this post will help you plan the perfect trip to Europe!
This ultimate guide is coming from one of the best European trip planners I know: my husband Michael. Michael has planned hundreds (yes, really!) of trips in Europe. And he's so good at it I let him take the reins when it comes to planning our travel. He researches like crazy, knows what sites help you plan, and ultimately makes sure our trips are a great mix of exploration, city sightseeing, food, and fun.
I'll admit it: Europe is my favorite place to travel. It has exquisite beauty, history, and it's relativity easy to travel. It also fits almost any budget. But it can be daunting to create a Europe itinerary. So this comprehensive guide will make your European trip planning process a breeze.
I'm so thrilled to finally be sharing his detailed strategy to ensure your trips to Europe, whether it's your first time or you're a veteran traveler, are perfect. We collaborated on this post to bring you the ULTIMATE guide to planning a trip to Europe.
Some of you may know that Helene and I have been planning trips to Europe for almost 10 years. That majority of the trips we took while living in Europe over the last 3 years were planned by me, Michael. With hundreds of flights, hotels, and destinations visited, I'd like to think I learned a thing or two along the way to share with you.
You might be thinking, "That's all well and grand, but I don't have the money or time to make a trip overseas." Well, guess what? Those are the same two excuses we hear from everyone else. The short answer is that when experiencing the cultural and natural wonders of another continent become enough of a priority to you, you'll prioritize it. Of course I'll be sharing ways to minimize the time and financial barriers to your dream trip. You can find a trip that fits within your schedule and budget, I promise.
We'll look at flights and accommodation first since those are the gorillas in the room. Then we'll get to the really fun stuff like organizing an itinerary and transportation once you arrive in the magical Old World. We'll also look at how to pack, the best apps, budgeting, picking a destination, finding flights, planning things to do, eating, how to find the best hotels, and a few itineraries that might inspire you. Buckle up, this is a detailed post that will help you achieve the absolute best European trip!
Not sure where to travel? Take the quiz to see what would suit you best!
Document Check
First up, you need a passport if you're not traveling from within the EU. If you don't have one, it can take four to six weeks to get one, so make sure you do this ahead of time. You will need this passport when you check in for your flight.
If you already have a passport double check the name (Helene actually had this problem! We were just married and she forgot her married name was different from her unchanged passport.)
You also need a valid driver's license and in some countries in Europe you need an international driver's license to be able to drive in their country. More on this in the "Getting Around Europe" section below.
How to Pick Destinations
Generally speaking, I like to combine big cities with a break in nature along the way. Even if you're not usually an outdoors person, do consider finding a special retreat somewhere in the trip. European cities are very dense compared to most of ours, and all that hustle and bustle deserves a bit of a break. Plus there are some really phenomenal beaches, canyons, river valleys, etc. in Europe and due to the density of Europe you will rarely find a destination where you're overwhelmed by the remoteness of it. There are cute little villages all over the land!
To determine your destinations or flush out the finer details of your itinerary, you'll need information resources. I like to think I know of a pretty good blog where you can find thorough information on a wide range of European destinations, but that being said if things like modern art museums or the underground industrial rock music scene are your favorites we probably don't have a lot of information for you. And that's OK! You may need to review multiple sources if there are specific things you're really interested in.
For example, we really enjoy the Rick Steves information because he provides an excellent blend of history, culture, and food. One area he doesn't feature a lot is the outdoors. His audience is predominantly older and not as active on vacation as we are, so we look elsewhere for this information. Komoot is a wonderful resource I discovered while living overseas for recommendations and detailed maps of hiking and biking trails.
I make a map on my phone with important landmarks, restaurants, things to do, and see and color code it. So landmarks and sights are blue, restaurants are red, our accommodation is purple, etc. This helps ensure that even when we're walking around we won't miss anything.
If you're wanting detailed itineraries for places in Europe, on this blog we have tons mapped out for you!
Dive in! Learning about the new country you'll be visiting is half of the fun.
Picking a Destination in Europe
This section will help you decide where to pick, what's reasonable for a trip to Europe, and how to make the most of your time – even when you have limited vacation time.
A great way to start picking your destination(s) is by deciding how much time you can spend overseas. Is a 4 day weekend worth the expense and flight time? Given the right flight price, I think so! Most flights to Europe will leave in the afternoon/evening meaning you can leave Thursday evening and arrive in Europe Friday morning. I know people who have done this for festivals such as Oktoberfest. Given the much lower price of ski rentals and lift tickets a weekend trip to the Alps could be a reasonable alternative to the Rockies. With this short of an itinerary I would stick to one major destination.
More ideal to me is how we started traveling with 10 day trips while working full time corporate jobs. Taking one week off plus one extra Friday or Monday gives you plenty of time to see 2-3 major destinations. Taking the extra day helps with flight prices and really does seem to make the trip that much longer when you have two full weekends abroad. Taking advantage of company holidays is another great way to lengthen your trip when you don't have a ton of time off to spare.
We are often asked our favorite apps for planning travel, or when we're at the destination and we have a post on our top 15 travel apps you might find useful!
Flights
My first trip abroad was in 2005, and I paid around $900 for my flight. In 2023 I'd be disappointed with that. With more carriers and flights between continents than ever competition has brought prices down. I regularly hear of people booking flights overseas for $300-600. I also regularly hear about people buying shoes for this price, so again you'll have to decide on your priorities if you want to travel abroad. These kinds of deals won't find you, so how do we find them?
Flight Search Engines
Pick a flight site you like and stick with it. At least until they start to do something you can't stand. For instance I used to use Momondo since they seemed to search the most carriers. That is until they started posting flights that were too good to be true and turned out to be just that when you actually tried to book them. This was a few years ago so hopefully they've fixed this glitch since then.
Learn all about your chosen site's wonderful features, but also know its limitations. For instance I like to use Skyscanner, I'll explain why in a bit, but they won't search for Southwest Airlines. This is not uncommon (it's probably one of the ways SW keeps their fares down), and maybe not that crucial when planning a flight to Europe, but you get the idea. I don't know of any carriers that fly between continents that aren't featured on Skyscanner, but if you do, please let us know in the comments and I'll be sure to amend this article.
A few of the things I like about Skyscanner revolve around its search flexibility. Flexibility is a keyword in saving money. This can be seen in at least three ways: your flight dates, flight destinations and departure and arrival airports. Skyscanner lets you search keeping all of these things flexible. The more flexible you are with your dates the cheaper you'll be able to find the same flight. You'll be able to take advantage of sales as they come up and you'll have longer to look for deals. If you have a particular destination in mind you can search by cheapest month to fly there. Helene goes into detail on Skyscanner and more on this post: how to book cheap flights.
For many of us our schedule is pretty set. Luckily with Skyscanner you can enter specific dates and search for the cheapest destination for that date. That may seem like a wild idea, but I promise you there are so MANY destinations in Europe worth visiting and I just know once you take your first trip you'll be going back again for more.
Finally, you can search Skyscanner by simply looking at the map. Once you get to Europe, inter-country flights are less than interstate flights in the US. I'm talking less than $100 round trip most times. If there's somewhere in particular you really want to go, but you just can't find cheap flights on the dates you have to fly try checking the prices to another destination in Europe and booking a connecting flight. Sometimes the search engines handle this well, but for intercontinental flights they don't always so this strategy may take a bit more leg work.
Flexibility also applies for the departure airport as well. I know of a couple who flew to Munich during Oktoberfest for $600 round trip because they flew direct from Austin instead of Dallas. It was a new flight path the carrier was trying to promote.
We'll also use Google Flights to do any additional searches on flights.
Flight Clubs
Hopefully this mostly female audience will get this movie quote, but the first rule about flight clubs is you don't talk about flight clubs. It's true. Sometimes people feel they put so much time and effort into finding cheap flights that they want to hide them from others. Usually behind a paywall. Well guess what? Paying a $50 annual fee may seem like a waste when you don't even know for certain you'll be taking a trip, but when you save several hundred dollars on your first flight that suddenly seems like a great return on investment. Scott's Cheap Flights is one example of this although there are others, and they can save you a ton of money.
Once, Helene's Mom scored a round trip flight from Dallas to Rome for under $400 through Scott's! Just remember there is a membership fee and she has a flexible schedule.
Finally, as a general rule, intercontinental direct flights are more expensive than flights with layovers. When we first started traveling we were more picky about our destinations and had the saying, "Time is money" so we were willing to pay a little more to have more time in our destination and less time in the air. One way around this is by booking a long layover at an airport you would consider to be a destination and then leaving the airport to explore before continuing on.
So now that you've got the flight booked, where are you going to stay?
Accommodation
Once we were traveling with a friend in a new country, and after finishing a leisurely breakfast around 10:00 we were more than ready to see the sights. Upon suggesting this, our friend looked at us perplexed and said, "But checkout isn't until 11:00!" Are you the type to lounge around the hotel enjoying every minute of your stay, or one who arrives 15 minutes before bed and is gone 15 minutes after waking up? You should know before you book and splurge or save accordingly. Accommodation, along with airfare, can be one the top expenses of your trip, or you can save more of your budget for dining, guided tours, museums, etc.
In a world of AirBnbs this may seem like a short conversation, but I'm here to say that it's actually not my preferred accommodation for Europe. I've stayed in some wonderful AirBnbs and will continue to do so on occasion, but on a continent that generally lacks the customer service Americans are used to these one off units can be a bit picky. Very restrictive check in and out hours, unclear cleaning responsibilities, a full key ring of keys to access your room, bathrooms the size of a shoebox, etc. That's not to say hotels will have a 24 hour reception and whirlpool hot tubs because most won't, but you can generally expect a more standardized experience.
A happy medium between an investor type AirBnb booking and a larger hotel can be the traditional bed and breakfast. Here you'll relax in a more local fashion while still expecting professional service.
For booking hotels in Europe I like to use Booking.com. I will often search Hostelworld as well. Yes, you can still stay in most hostels in your 30s, and in fact they can be a really fun way to meet fellow travelers. Most hostels also often offer private rooms in addition to the dorm rooms you may be thinking of.
I love Booking.com's advanced search capabilities. There are a few boxes I always tick off when trying to find a place in a new city. Booking.com uses a scale of 1-10 for their guest reviews and I always filter for 8.0 or higher. That may seem high, but due to the density of accommodating options you'll still have an easy time finding well priced places. Next, check the box for en suite AKA a bathroom in your room. It's common especially at lower price points to have a shared bathroom. That might be fine for the fellas, but I'm sure more ladies will appreciate their own private bath. Finally, depending on the time of year I also make sure I have an A/C in the room. Accommodation is somewhere I think you have room to save a little, but not to the point where you start to sacrifice your sleep because that will negatively impact your trip too.
You can see how to get the best hotel deals in Europe in this detailed guide, also here, I list out some of my favorite hotels in Europe.
Take the quiz to see where to travel in Europe!
Planning a European Itinerary
Deciding where to go might seem like one of the most daunting tasks of planning your trip, but as a reminder from earlier and to clear the stress from the air, relax! You're going to end up somewhere wonderful and totally different from anywhere you've ever been before. There will be unique things that stand out with every destination, but I can honestly say in all the traveling I've done around Europe I was rarely disappointed.
Booking tours
We typically like to book tours and buy tickets ahead of time when we can. This helps save time and helps you skip the line. We like to use GetYourGuide to book excursions, find deals, and skip the line. Life is too short to wait in super long lines. This was an especially important part of our Southern Spain trip. There were lines nearly everywhere! Luckily, we booked ahead.
Getting Around Europe
After you've made the long flight overseas and landed in the Old World, getting around the continent becomes much easier. There are more planes, trains, ferries, and automobiles than you can imagine. This makes traveling much easier and affordable. I'll start by recommending something that may come as a bit of a surprise. Renting a car is a great way to get around Europe. Yes driving there is a bit more challenging than in the States (more pedestrians, trams, bicycles, etc. to keep your eyes on), but even on the wrong side of the road 😉 in the UK or in Italian cities without lanes, it's not so difficult to make it not worthwhile. Car travel really shines when you're seeing smaller destinations or want to experience more natural wonders within a reasonable distance. Also, there isn't that big of a surcharge for one way rentals. Meaning, you can pick up the car in one place and drop it off somewhere else.
Note: many European countries require an International Driving permit if you are not an EU citizen. Since we lived in Germany for 3 years and had a German residency, we didn't need this. But now, since we live in Texas, we would need one to drive. You can apply for them through AATA ( American Automobile Touring Alliance) and it typically costs between $15-$20.
Here are the countries that require US citizens have the International Driver's Permit: Austria, Bosnia-Herzegovina, Greece, Germany, Hungary, Poland, Italy, Slovenia, and Spain.
For big city to big city travel, you can't beat the ease of train travel in Europe. Many of the trains are high speed and direct. There will likely be stops along the way, but you won't have to change trains.
There's superb public transportation in every medium to large size city in Europe. If you're traveling in a small group, renting a car may still be a cheaper option, but you'll likely get there much faster by train. If you're really trying to be budget savvy you can also book an overnight sleeper car with a bunk bed to share the costs of travel and accommodation in one bill. While there is a security presence at train stations, there isn't a formal security screening you'll have to go through. That coupled with the fact major train stations are usually downtown as opposed to 30 minutes outside of town and you start to really make some more time for yourself in your destinations. Omio (formerly Go Euro) is the go-to place for booking your train tickets.
If you're interested in seeing destinations on opposite sides of the continent, you'll have to fly. But don't worry, as flights are usually very affordable between countries. Be aware that some budget carriers, like those in the States, don't come with anything extra (even water), but that's really not such a big deal when most flights are so short. You can expect superior amenities on standard carriers than in the US including snacks with free beer and wine (on airlines like Lufthansa). Most airports will have a convenient public transportation option connecting you to the city.
Ferries come into play anytime you're near the coast and provide a quick, comfortable, and adventurous method of traveling. You'll get the feeling of being connected to the explorers of antiquity when gliding over the cobalt blue waters. There is generally a ferry booking site for each region of Europe. Opt for high speed ferries when you can for the obvious time savings, but also because they're also generally more comfortable.
If you're spending the majority of your time in a big city (like London or Paris) you'll most likely ride the underground or tram. This is a very convenient way to get around. It's easy to maneuver, I promise! Plus, if you get confused you can always ask for help. Or, if you go the wrong way (like we have) it's an excuse to see another area!).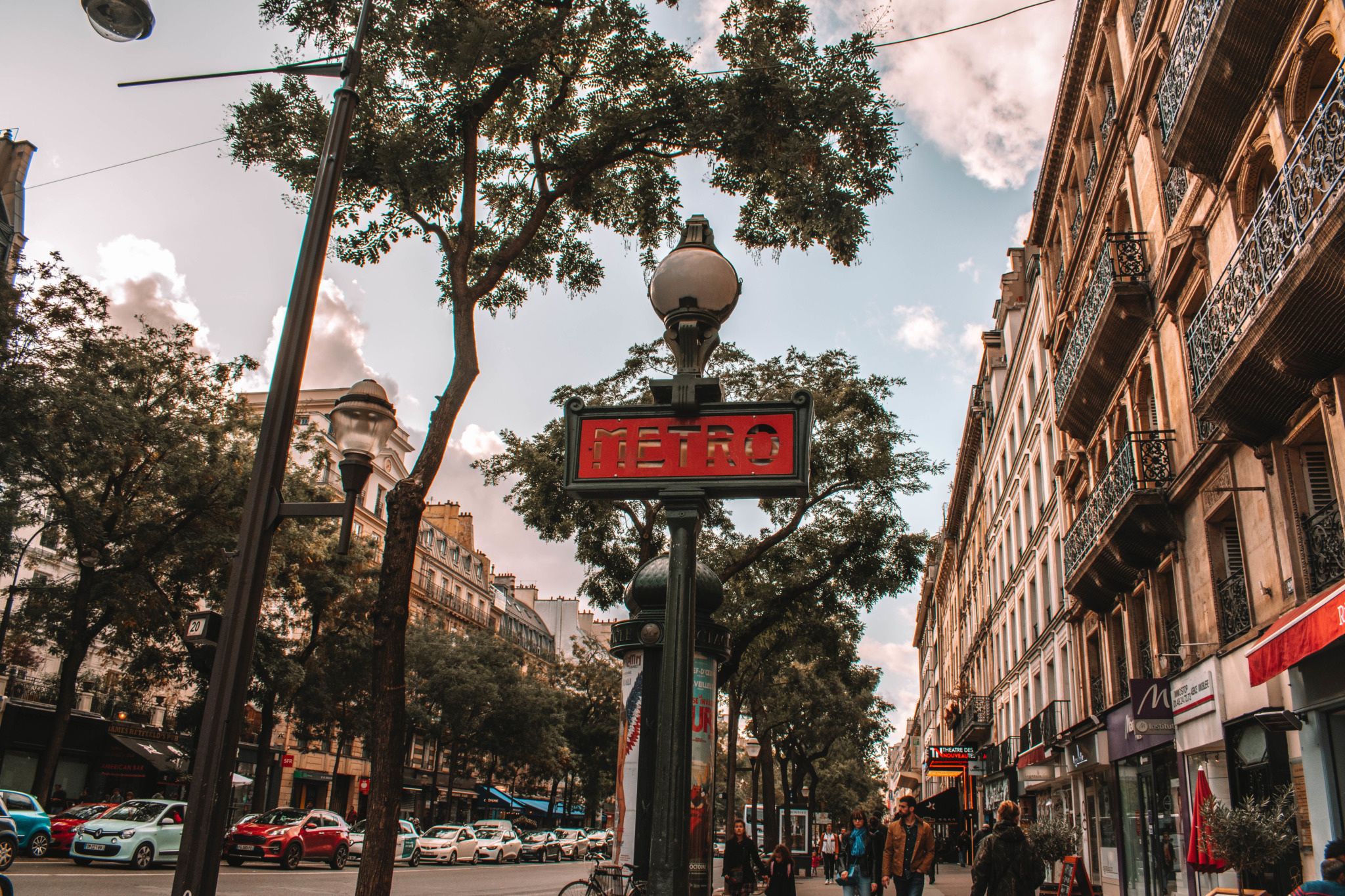 Pack Your Bag
It's almost time to go! If you're anything like me you pack your bag about 20 minutes before you're set to leave for the airport. But if you're more like Helene, you're more strategic about it. We always look at the weather and consider the length of time we'll be at the destination. We will wear our bulkier clothes and we ALWAYS carry on. Yes, even Helene manages to cram 2-3 weeks of clothes and accessories in a carry on bag.
I have a detailed packing list of things that I always bring with me on trips. I refer to this every time I'm packing up to make my packing seamless. Some of those things include:
Day pack with Camelback (for water)
Camera
Chargers
Laptop
Rain coat (you never know!)
Walking shoes
Caffeine pills (sometimes traveling can be tiring and this is cheaper and faster than stopping for coffee)
Eye cover
Pillow
Money Belt
Train, Plane, etc tickets
Passport
I recommend carrying a good backpack that will hold up and stand the test of time. Helene loves her Osprey Porter backpack and has used it for years to carry all her stuff. It's great because it fits in the airplane overhead compartment and is also flexible to help add in any last minute additions to your packing list.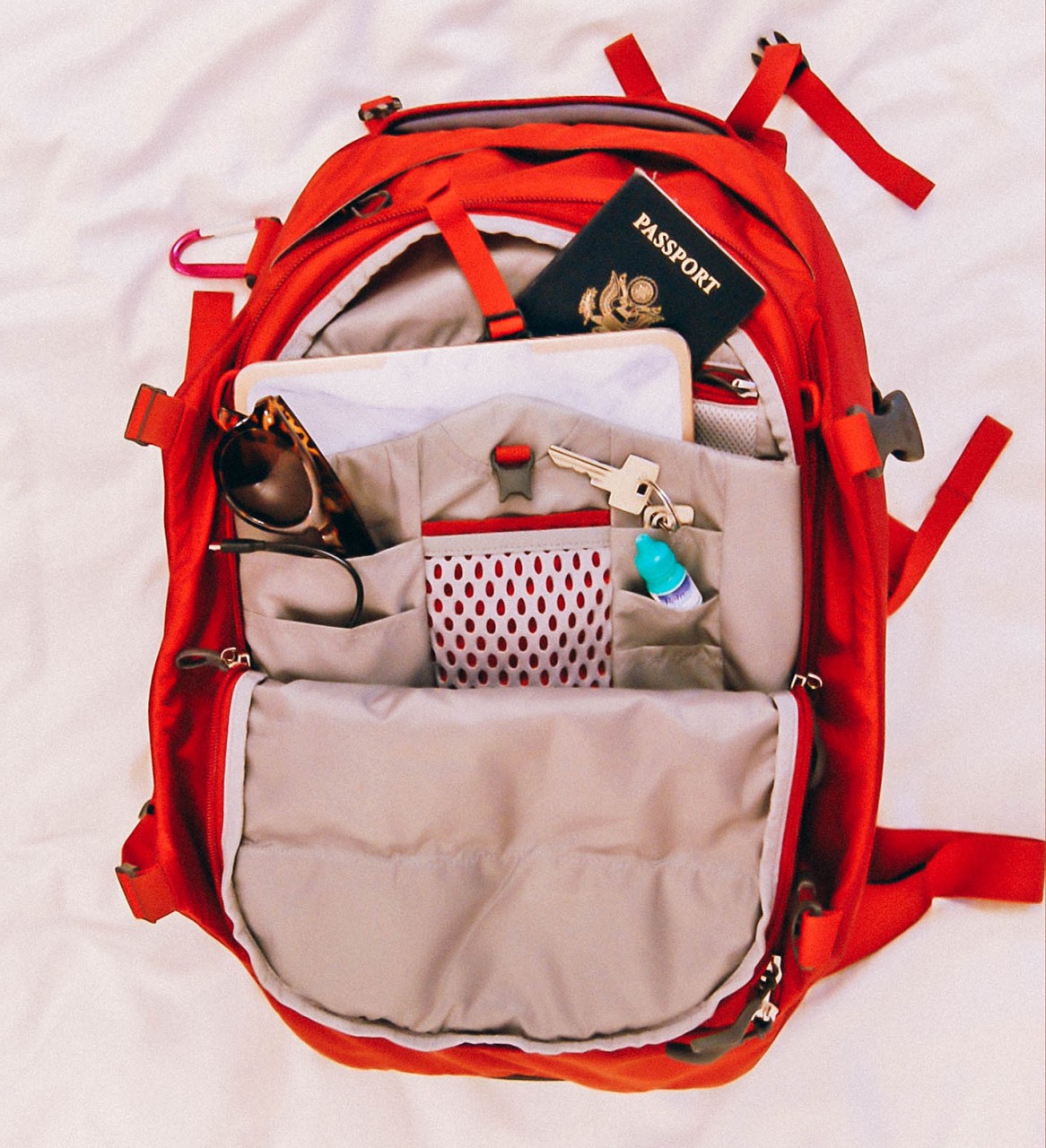 Helene has lots of posts detailing how she plans and packs her bag that you can find here:
How to Pack for a Long Trip in a Carry On *Most Helpful!
How to Pack for Winter in Europe
The Ultimate Guide to Packing Like a Travel Blogger
6 Travel Tips to Make Packing a Breeze
Best Clothing For Travel No Matter the Season
What to Pack for Europe in the Fall
Once You're In Your Destination
Now that you've planned your itinerary, made a map, and have settled into your accommodation, it's time to hit the ground running! We tend to leave our hotel and spend as much time in the destination as possible. Even when we lived in Europe, there's no guarantee you'll be back. So make the most of your time and spend it in the city or nature.
Eating While Traveling
When you're traveling part of experiencing the culture is indulging in the food. In order for us to enjoy but save money (and time!) we eat out but also eat grocery store meals. Going out to eat in Europe can take hours, even for a more casual meal. I'll never forget one of our first trips in Belgium where we were squirming in our seats waiting hours for the bill. We were wanting to go explore!
Breakfast: if the hotel offers breakfast we'll eat there, or we'll grab something quick at a bakery on our way exploring.
Lunch: We like to eat lunch out to take a break or you can often find good deals during the day. We ate at a delicious Michelin star restaurant in Vienna, Austria that offers a terrific lunch deal. If not, we'll grab lunch from a grocery store. In England, one of our favorite things to pick up are meal deals.
Dinner: If we are still out and about, we might grab a lighter dinner. Or, if it's been a particularly long day, and we have a restaurant in mind, we will go eat at a restaurant. Sometimes we have groceries at our hotel, so we'll head back and have a leisurely dinner there. It's super handy if our restaurants are already mapped out so we can see what's close by. If it's a particularly "foodie" destination (like France) we might eat most meals out. But there is something divine about grabbing some french bread, cheese, and wine and just enjoying the local fare.
Basically, we try to balance between eating out and going to restaurants. This helps us stay within the budget for our European trips.
Activities and Tours
One thing we ALWAYS do when visiting a city is to take a walking tour. We try and do this within our first few days. We feel like it gives you the greatest perspective and also is a wonderful way to get to know the city. Most major cities (and even smaller cities) offer free walking tours. There are 5 things we do every time we travel and this is far and away number one.
If we're in a city we like to go and see the top sights, check out the churches, go to a museum or two, and look to see what are the best things to do, along with seeking out any hidden gems. We try and write extremely detailed travel guides and itineraries and always include everything we do in our travel posts.
A big part of experiencing a location is walking around, getting lost, and finding your own path.
Let's review! This was a lot of information.
Get your documents in order
Pick a destination
Book flights
Book accommodations
Book any tickets or tours
Find your route/transportation
Map out everything
Pack Your Bag
Have Fun
Here is a list of our favorite resources:
Europe Itineraries
Here are some of our favorite Europe Itineraries! I've listed out the days it took us to complete the trip, but know you can create your own ideal trip in more or less days! I've got 14 itineraries that you can use:
I hope this article helps break down some of the mental blocks you have about traveling to Europe, or provided you with some helpful hints for the ones ready to take the leap. We all have our own unique scheduling, financial, or other struggles in life that keep us from pursuing things like this, but somehow every year millions of us make it happen. Try something different! Make this trip a priority, plan to make it happen, and it will happen. You won't always remember every night out at the same places in your home town, but I guarantee you'll never forget the first time you enjoy a glass of wine under the Eiffel Tower! Bon Voyage!  
Not sure where to go?! Take the quiz:
Pin the post!
Learn to travel and live on your own terms!
Join over 135,000 others who want to gain the knowledge and experience of seeing the world on their own terms. I am a full time travel blogger and want to help you live your dreams, save money, and travel more. Get access to exclusive content, freebies, updates, and more when you sign up.