Switzerland used to be a country of low wages and lots of struggle. Now, it's one of the wealthiest countries in the world and also one of the most beautiful. One city not to be missed: Interlaken. Interlaken, Switzerland is nestled perfectly between crystal blue lakes, gorgeous mountain peaks, and charming towns nearby. Here are the top ten things to do in Interlaken.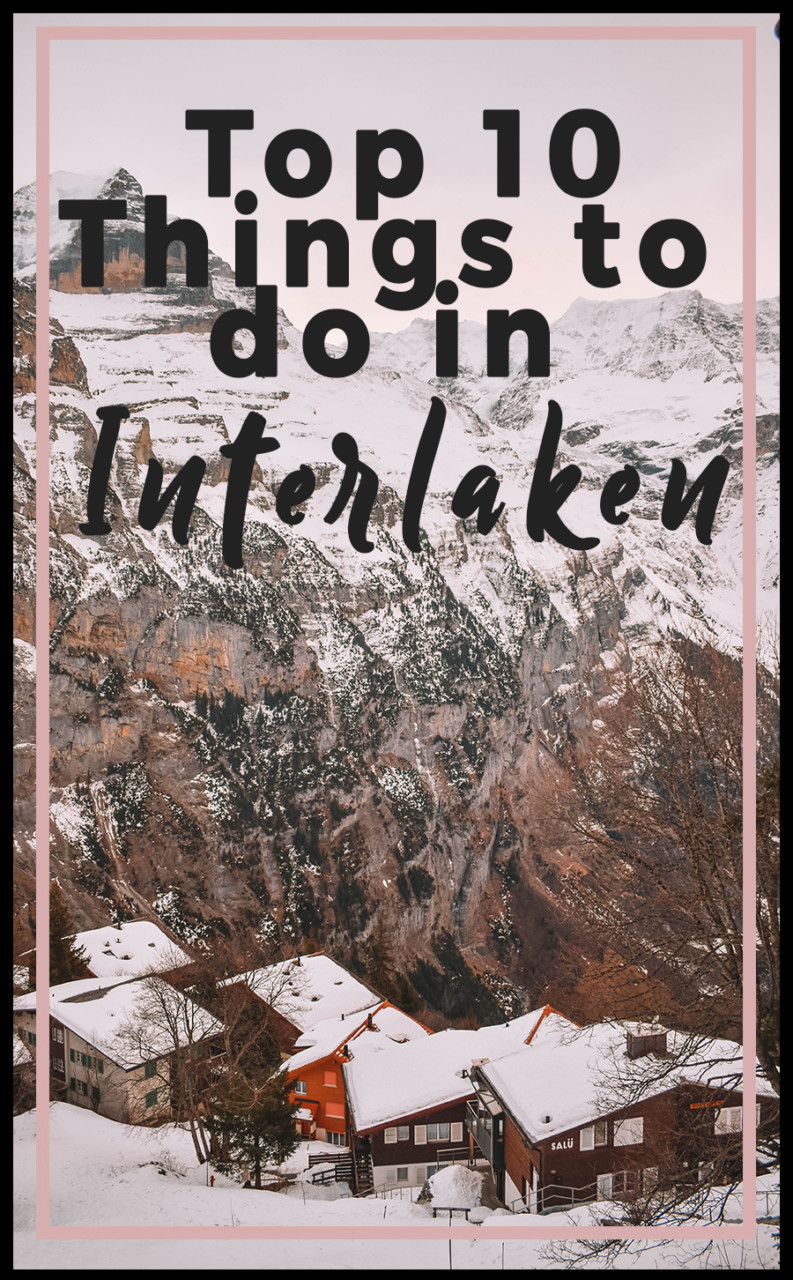 Top 10 Things to Do in Interlaken
Where to Stay
Located in the heart of the city and overlooking the river is Hotel Bellevue. This is a great spot to stay, no matter your budget! They have classic hotel rooms but they also have hostel style dorms with common rooms equipped with a full size kitchen and balcony.
The river itself is one of the highlights of Interlaken with its striking turquoise water that runs through town. Hotel Bellvue has the perfect view of this river. This richly decorated hotel has a delightful breakfast, is pet friendly, and has a unique style. Recently redone, the hotel offers sophisticated rooms and serene views.
1. Jungfrau
Head to the top of Europe, aka the Jungfrau, which is the highest rail way station in Europe. At the top you'll have a viewpoint 3,454 meters (11,333 feet) above Interlaken.
2. Self Guided Walking Tour
One of the best ways to see the town is a walking tour. It's easily marked throughout to learn about the history and interesting past. I loved walking along the Aare river and seeing the Late Gothic Tower from 1471.
3. Hike
One of the best and cheapest things to do in and around Interlaken is go for a hike. Truly, one of the best hikes of my life was just outside the old town of Interlaken. My favorite kind of hikes are ones that are clear, safe, but also remote enough so there aren't too many people around. The dogs and Michael and I drove up to the Habkern and parked off the side of the road.
There are plenty of trails all around such as the Panoramaweg, a two hour walk that many love. I suggest heading to the tourism office (we spent a good chunk of time there because of our rough weather) to get an idea of the spot you're looking for based on your experience.
4. Paraglide
There are tons of outdoor activities to do in Interlaken, but paragliding is one of the best. You'll be able to glide over the lovely lakes and pretty peaks of the town. There are also options to hang glide and sky dive for all the adrenaline junkies. Check out the options for Paragliding here.
5. Hit up the Jungfrau Hotel and Spa
This is the perfect spot to relax and grab a drink after an active day. The Victoria bar is great for a cocktail or afternoon tea. Or you can have a cigar and whiskey at the Intermezzo bar. This is a great spot to take in the surrounding views and relax.
6. Harder Kulm
This viewpoint is 1,321 meters above the town and gives you the ultimate view. It's a quick, 10-minute train ride via funicular up to the top. If the weather is very cloudy I'd skip this and stick around town but if you catch a break from the clouds head up and bring the camera.
7. Gimmelwald
The cutest little town above the Lauterbrunnen valley is Gimmelwald. Don't get it confused with Grindelwald (although there's more to that city below!), Gimmelwald is a small village with traffic-free streets, pretty little restaurants and inns, and plenty of gorgeous snow-covered mountains. Take the steep lift ride up to explore the city, go skiing, or dine on fondue.
8. Lauterbrunnen
Another charming town to check out in the valley. This is where you'll take the lift up to head to Gimmelwald. You can't miss the insanely mesmerizing 300 meter high water fall: Staubbach Falls.
9. Mürren
This lovely town is half way up the lift ride near Gimmelwald and offers majestic views and more places to eat and drink. This is also a good option as a place to stay if you'd rather be closer to skiing.
10. Grindelwald
Don't confuse the name of the town Grindelwald with the character in Harry Potter! This is a popular skiing and hiking spot and, you guessed it, lovely views. Also another spot to ski or snowboard across the slopes of Kleine Sceidegg, Lauberhorn, and Männlichen.  You'll also see the three peaks that make up the Jungfrau ski region: Eiger, Mönch, and Jungfrau.
Interlaken offers so many options whether you want to relax, adventure, or explore. Summer and winter are both great times to go, but I recommend winter for a less touristy season.