If Cinderella, Sleeping Beauty, Snow White, and the bad witch planned a getaway together, this would be their itinerary. If you have seven days in Europe and you really want to see the quaint villages, the storybook streets, the breathtaking castles, and the fairy-tale beauty that's inspired countless books and movies, then you need to spend 7 days in Germany, France, Switzerland, and Austria. This will lead you on the most charming Central Europe Itinerary that I guarantee will not disappoint.
Even witches agree.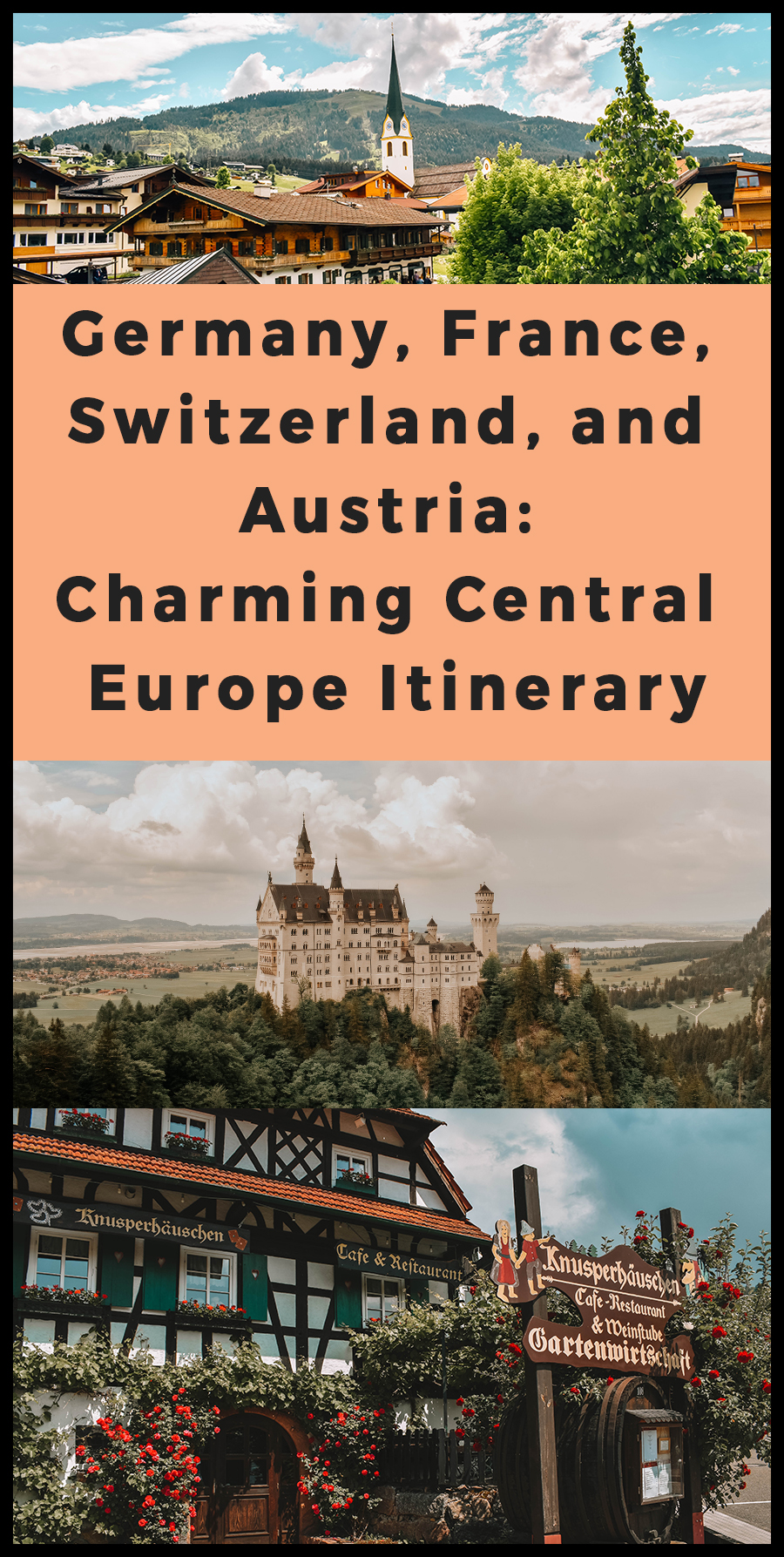 Now before you yell at me and say, Helene, 4 countries in 7 days, that's much too tiring! Please keep in mind I did this entire tour 6 weeks after ACL surgery and my leg was in a brace. It's absolutely doable, especially if you'd really like a taste of each of these beautiful countries.
The nice thing about traveling through Central Europe is that everything is so easy to get to. The tough part is deciding where to stop! So hopefully this will help you make the choice.
How to get there
If you're flying, a great place to kick off your central Europe trip itinerary is Frankfurt, Germany. This is a huge international hub and you can find very reasonable flight prices. From here, you can easily take a train or rent a car. There is an option to take a bus, while very cheap, I'm just not a fan of the bus system. It's usually running extremely behind and, to me, time is money. If you have a short time and you really want to see a good portion of Europe, then skip the bus and rent a car or take the train.
If you're renting a car I suggest using a company like Sixt to book your rental. This is going to be the best and easiest way to get around. But you can also take a train, and GoEuro is the best resource out there to book the best routes.
Why go this route
I always get asked my favorite places in Europe or where to travel to next. I have been living in Europe almost two years now. I've also visited Europe, separately at least 10 times. This is still one of my most favorite trips to date.
When people come to Europe this is one of my most recommended itineraries. While it's hard to play favorites with so many beautiful places, this is easily high on my list. You get the stunning alps, medieval castles, historic buildings, quaint towns, and delicious food all rolled into one. You can't go wrong!
Itinerary at a glance
I suggest spending at least 7 days to tackle this Central European itinerary:
Day 1: Heidelberg, Germany
Day 2: Baden-Baden and Black Forest, Germany
Day 3: Strasbourg and Colmar, France
Day 4: Basel and Zurich, Switzerland
Day 5: Lake Constance, Germany and Fussen, Germany
Day 6: Innsbruck, Austria
Day 7: Wilder Kaiser, Austria
Is this a lot to see in 7 days? Yes. But remember, these places are all relatively close to one another, so it's very easy to get from place to place. You can always extend this itinerary if you have time. Our friends fell in love with the Wilder Kaiser region of Austria and ended up staying there longer. You can also take out cities. Skip Switzerland altogether and focus on the other regions if you'd like.
This is a suggested best of Europe itinerary but you can easily make it your own.
Germany, France, Switzerland, and Austria Itinerary
Day 1: Heidelberg
Heidelberg is truly one of the loveliest cities in all of Europe. With a striking sandstone castle, an old town that's remained unperturbed since the 17th century, and the Neckar river that runs through the city, it will make you want to move there. I did. The nice thing about Heidelberg is that it's small enough so you can easily see many of the main attractions all in a day.
You can easily get around to the top attractions by walking. There's also an easy to use tram system. For a place to stay, this hotel is located in the city center, has breakfast, and is a nice 4-star hotel.
Here are my top 10 recommendations or you can check out my full guide to the city.
Day 2: Baden-Baden and Black Forest, Germany
Next, we are headed just an hour south of Heidelberg to the double-named city of Baden-Baden. Known as a spa town, you can bathe as the royals did in mineral water that supposedly has healing powers. If you'd rather skip the spa, you can also check out the casino. You'll want to walk in, whether you plan on gambling or not, to check out the opulent space inspired by Versailles. The town center is strewn with brightly colored buildings and pretty cafes. This is a great place to make a day trip from Heidelberg, and it's easy to get to the next stop in the Black Forest.
The Black Forest is an oasis in Germany and it seems like Hansel and Gretel might pop out at any moment. It feels like a mythical place with the storybook half-timbered homes, scenic hiking, and Black Forest cake. Sasbachwalden is a quintessential town in the Black Forest and one of the the best places to sit at a cafe and grab a cup of coffee alongside a decadent cake. You can also check out the hiking trails in the area. Be on the lookout for the schnapps stalls where you can take a shot of the local farmer's schnapps and leave a euro or two in exchange.
Today, you can stay in the Black Forest but I recommend making the short trek and sleeping in Strasbourg so you can wake up and enjoy the city.
Day 3: Strasbourg and Colmar, France
Strasbourg and Colmar are two of the most beautiful places in the Alsace, if not France itself. Strasbourg is a quick drive from the Black Forest and has influence from both France and Germany since it's flip-flopped owners quite a few times over the years. The Notre Dame Cathedral is not to be missed, and make sure to head inside to check out the astronomical clock. I suggest grabbing a pastry and checking out the "Petite France" area where one house is cuter than the next.
A good place to stay in Strasbourg is Hotel Beaucour which is well priced and centrally located.
Colmar, France is equally as charming and much smaller than Strasbourg. It's easy to tackle this city in a half day. Your best bet is to park just on the outskirts of the old town and wander through the streets. The cobblestone streets are lined with medieval half-timbered homes and canals that run throughout "La Petite Venice". Since this area is known for wine, make sure to find a good spot to eat and drink. We ate a decadent meal at Wistub de la Petite Venise that made our long day of strolling well worth it.
Day 4: Basel and Zurich, Switzerland
From France, drop down further south to Basel, Switzerland. Conveniently located on the border of France, Germany, and Switzerland, Basel is a surprisingly lovely city. Walk into the old town and gaze up at the incredible Rathaus (Town Hall) and the equally impressive Basel Munster (Church). Make sure to walk towards the water for a panoramic view of the Rhine river.
After your morning in Basel, veer east to Zurich for modern European flair. Located on the lake in northern Switzerland you'll find a 12th-century cathedral (Grossmünster) and 11th-century church (Fraumümster) all within walking distance. The modern part comes in with the sprawling economic life and cosmopolitan metropolis. Take in the lake views and don't forget to treat yourself to Swiss fondue.
Day 5: Lake Constance and Fussen, Germany
Seeing two places in one day is totally doable, especially since both of these locations are so close. First up is Lake Constance, aka "Bodensee" in German, a lake surrounded by Germany, Austria, and Switzerland. We are headed to the German side to the city of Constance (Konstanz in German) where you'll find a quaint old town where you can climb the 15th-century old Hohenzollernhaus, 16th-century Rathaus, and Konstanz Minster (cathedral). Make sure to climb the tower of Hohenzollernhaus to get a view of the city. If you'd like more time, you can go to the lake to explore by boat.
You can't go wrong with seeing any castle in Germany. But the most beautiful has to be Neuschwanstein castle. Located atop a rugged hill above the village of Hohenschwangau you'll find the palace of Ludwig II. The castle was constructed primarily for beauty and an echo to the medieval kinds of the past. The interior of the castle is interesting, but I suggest spending time going to the bridge (Marienbrücke) to get a better view of the castle in its splendor. Check out my full guide to the castle here.
Don't forget to walk around the castle grounds to take a look at the captivating surroundings.
Make sure to go to the nearby town of Fussen for candy-colored buildings and a great place to relax. German fast food is generally kebabs, and Fussen has a surprisingly great place called "City Kebab". Quick and friendly service along with low prices. Next, satisfy your sweet tooth at Eiscafe Dolomiti. Delicious flavors and perfect for strolling this small, picturesque village.
Drive a bit further, to Innsbruck and spend the night. The city at night is so lovely (and lively) and you can get up in the morning to explore the city.
Day 6: Innsbruck, Austria
Finally, heading to Austria! Innsbruck is the capital of Tyrol and remains an impressive city. Not only is the city adorned with gorgeous architecture, you have the added benefit of the Alps in the background. Not to be missed is the Hofburg, the Imperial Palace of the Hapsburgs filled to the brim with lavish decor.
Take a walking tour of the old town and gaze at the Golden Roof (Goldenes Dachl). With 2,738 gold gilded tiles, it's easy to spot this landmark.  Some other sites are: Inn Bridge, Jesuit Church, the pastel colored homes across the river, and City Tower.
Check out my travel guide to Innsbruck here.
Day 7: Wilder Kaiser, Austria
Saving the best for last is the Wilder Kaiser region of Austria. The Wilder Kaiser mountain range is located in the Alps and you'll find miles of rolling hills, sharp, craggy mountains, cows touting bells, and pristine lakes. Truly, this area is one of the most beautiful in the world. The Kaiser villages of Ellmau, Going, Scheffau, and Söll in the "Kaisergebirge" make you feel right at home.
It feels like a sanctuary where you can relax, dine, enjoy the world around you. Out of all the places in Europe I'm often asked which is my favorite. Immediately, this region pops into my mind. The Alps are some of the most striking mountains, but the villages are equally as stunning. The brightly colored cathedral towers rise up alongside the wood chalets, beckoning you to enjoy the scenery.
Whether you want to hike, bike (this region is the largest E-Bike region in the world), or relax, you can find something that interests you. In the Winter you can ski the Alps and in Spring and Summer there is hiking, biking, and swimming. But despite these towns being relatively small, there is always something going on. Michael and I love attending the local festivals which bring out some of the region's best food. You can see all the activities happening right here.
I have stayed in all of the towns in Wilder Kaiser, and to be honest each one offers you a pleasant stay and ease of access to activities. I particularly enjoyed Hotel Hochfilzer in Ellmau. You can easily walk to the ski lifts or stroll around the town.
One of the highlights of the of the Wilder Kaiser are the alpine lakes. Lake Hintersteinersee is just outside of Scheffau and is widely known as one of the cleanest and most beautiful. The turquoise blue water is surrounded by craggy peaks of the mountains and makes for an epic view. You can swim and eat right at the lake.
Another gorgeous spot is Ahornsee in Söll. This smaller lake almost feels like a pool in the middle of the alps. You can relax on deck chairs or hop on a float and just take in your surroundings.
Besides the obvious outdoor activities, the culinary experiences are unmatched. I love the Cheese and Bacon tasting in Söll so much, I've now done it twice (and would not be opposed to doing it again.) This tasting is one of the best kept secrets of the region. Come hungry because you're given a variety of cheese (each served with a glass of wine), bacon, schnapps, and even a beer! Not only do you get some of the finest food from the region, you also get to learn about this area and how it has developed over hundreds of years.
Another way to enjoy Austrian delicacies along with the views, is breakfast on the mountain. Enjoy a hike up the mountain (or you can take a lift or drive) and be greeted with a traditional breakfast at an alpine inn, surrounded by stunning views.
You can find the breakfast options right here. It's a surprisingly affordable price and you can't beat the scenery. You can also head up to see Austria's highest peaks and get a 360° panoramic view from the Gipfelrestaurant Hohe Salve.
What I love about this area so much is that it doesn't feel forced.  You are stepping into their daily life and they invite you with open arms. The cows moseying through the alpine pasture are used for their milk, the farmers produce the cheese and bread you eat, and spending a few days here will make you feel part of the village life. If you'd like to truly experience Austrian life and "Tyrolerism", there is truly no better place to go.
I totally understand if you extend your stay in Wilder Kaiser by a few days, it's just so enchanting. After your stay in the Alps you can head back to Heidelberg or Frankfurt. It's about a 5-hour drive from here.
See more from Wilder Kaiser here.
What I love so much about Europe is the diversity of its landscape. You can find old intertwined with new, quaint alongside grand, and nature mixed with urban life. I believe this one week Central Europe itinerary brings about the best of both worlds and helps you see a different side of European culture.
Further reading:
22 Photos That Will Make You Book a Trip to Austria
9 Of the Most Romantic Cities in Europe
The Ultimate Alps Adventure: Zillertal, Austria