Packing is difficult. Until they invent a way to miniaturize my clothes in my suitcase, it's going to stay that way. But I was able to pack for 19 days in ONE carry on. And I'd like to think I didn't look homeless. I know you've probably heard all the stories about layering and all that jazz. But how can you actually fit it all in? What bag is the best and meets airline standards? And how can you be sure you have everything you actually NEED? I got you. Whether you're going for a month or a week, here's how to pack for a long trip in a carry on bag. Whether you plan to carry on or not, this post will help you pack a bag for ANY trip.
I recently went on a 19 day trip to Romania and packed for my entire excursion in one carry on bag. I've gotten accustomed to packing light since I travel often and need to be able to fit everything in one bag. It can be a challenge to fit it all in, but if you have a strategy I promise you can do it. I think many of us over-pack out of worry we just won't have enough. But 9 times out of 10 you're adding extra weight. I guarantee you can still look fashionable when you bring less.
These packing tips for long trips will ensure that you have the best time and still feel stylish along the way.
How to Pack for a Long Trip in A Carry On
First up: why carry on?
I'm an avid carry on fan. I've written about it here and here. But the main reason is to save time and money. Many airlines charge you to check your bags. Let's not forget how long you have to wait to get your bags once you get off the plane. On a recent trip to Ibiza we were forced to check our bags. We waited over an hour just to get them. It reminded me that carrying on is the way to go. You also run the risk of losing your luggage or having something stolen. You need something durable if you're going on a long trip.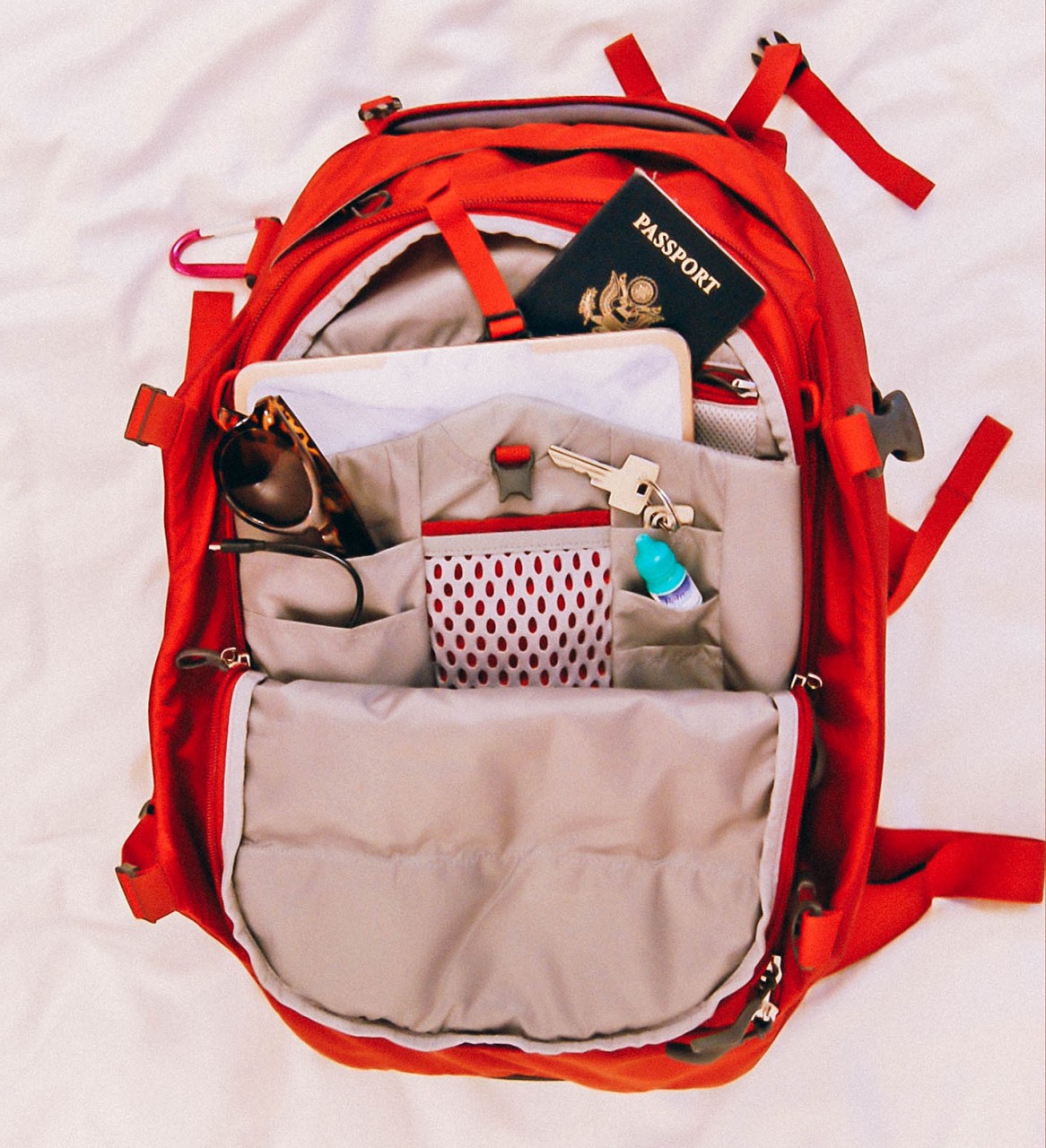 My bag: Osprey Porter Travel Backpack, 46 Liter
See my full list of Amazon must haves for packing here!
Your bag matters
For YEARS I had a backpack that only opened from the top. That means when I needed clean underwear in Asia, I had to dump out the entire contents of my bag. This just doesn't make sense! This is why I spent lots and lots of time to research my bag. I went with the Osprey porter bag. I also recommend this bag as well. You can read more about why I chose this bag right here.
The next revolution for packing is my makeup bag. This generally takes up a huge amount of space and is often bulky and disorganized. But now, I use the leather Kusshi Makeup Bag because it's so convenient and seamless. It comes with multiple zippers and hidden storage. First up, the bag can unzip all the way so you never have to dump everything out to find what you need. Second, the side pockets are perfect for storing things like a beauty blender or tool. There are even breathable pockets so the beauty blender dries correctly! There's also a zipper side pocket where I keep clips and bobby pins. There's a snap-in liner so you can store brushes, toothbrush, etc. This is one of my favorite features because my brushes often get damaged rolling around in my bag. OR they get foundation and powder everywhere. Check out the zippers, too. There is an easy to grab zipper pull to make sure you can get inside and get what you need. See my full guide to travel makeup, the items I can't live without, and how I pack it!
The best part: it's versatile. Inside the leather bag there's an interior liner that you can unzip and wash! You can fit everything in the organizer for a quick getaway and you're good to go. It's quick and easy and makes your packing much less bulky. Which is kind of the point to packing! I know one of my biggest struggles is bringing all the makeup I'd like to bring (aka 18 lipsticks) so this makes it so much easier. Especially when you're traveling for a long time, it's necessary to have everything organized. Especially small things like your makeup.
The Kusshi makeup bag opens on three sides to you can see all your makeup at one time. I don't know about you, but that's highly necessary for me, whether I'm traveling or not. I like the organizer so much, that's now where I keep all my brushes for ease. The key to great packing is organizing, and this bag does it all while being stylish and convenient. This bag is incredible because they really thought of everything. Check out the Kusshi bag right here.

I also recommend getting a heavy duty clear bag for airport security. Liquids need to be under three ounces and in a clear bag when going through security and carrying on your bag. For years I used a clear plastic bag that always broke. This bag is TSA approved and is very durable.
See the best travel makeup products that last all day right here.
Lay everything out
Chances are you're bringing way too much. I try to visualize what I'll be wearing which days. Example: one dress = one outfit. Two shirts, one pair of jeans, one pair of shorts = four outfits. See how you can mix and match everything. The best way to do this is by laying it out so you can actually see what you're bringing. Make sure you don't have too many of the same color. You can see below I went a little overboard on grey. When you lay it out you can see what you need to bring and how you can pair together outfits. Try to take out things that are redundant. Do you really need 3 white shirts? Probably not. Eliminate things that you won't need or are overly bulky. See all my Amazon must haves here.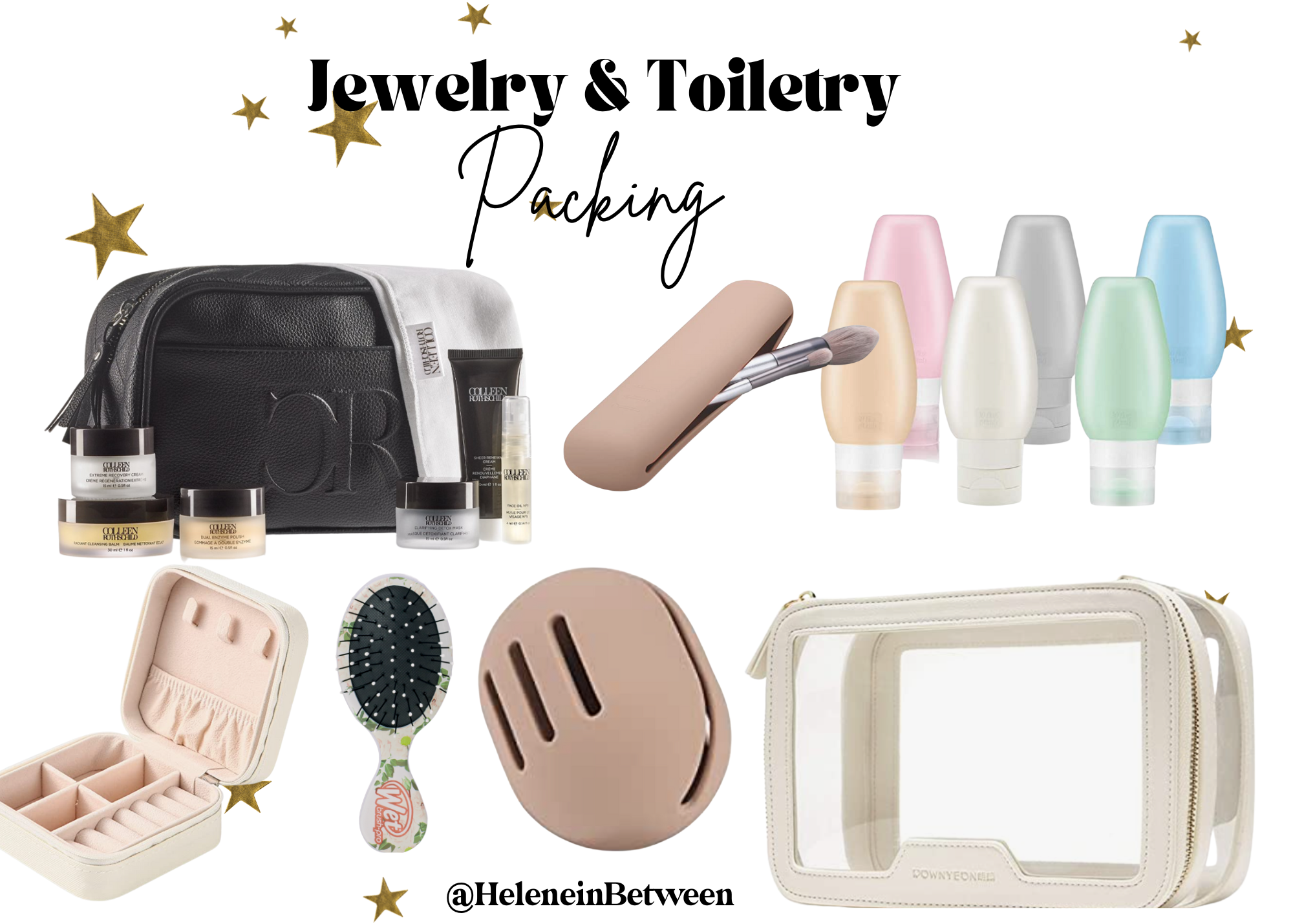 Colleen Rothschild Discovery Kit (this is what I use for all my skincare and it's the perfect size for travel. You can read more about my skin care guide here). Brush case // Toiletry Bottles // Jewelry Case // Travel Brush // make up sponge holder // make up case // Kusshi Make up Bag
(Below I'll list everything pictured!)
I read an article about creating a "staging zone" so you can pack and unpack your suitcase. It goes on to say that organizing your stuff in advance helps you to see everything you actually need to bring.
I count the number of outfits I'm bringing (including those that I'm mixing and matching) so that I'll have a good idea of how many days this will last me.
Pack strategically
This is my favorite part of the post because I truly believe it can change the game. Once you lay everything out, roll it up. Rolling your clothes can save major space. I actually roll up everything before placing it in my suitcase. I put the things on top that I know I will need first. Such as a different outfit and pajamas. On the sides of my bag I put socks, underwear, and accessories. I do this because it's easier to wedge these things in. Think of your bag as a puzzle where you're strategically putting things in. Layer stuff on the bottom that you might wear later on or things that are longer. For example, if I bring my tripod I always put that on the bottom since it's a longer item and so it fits better there. (You can see all the gear I bring for travel blogging here.) If you want to make sure clothes aren't wrinkled, fold them carefully and have them closer to the top. If something won't stay rolled, tie it up! You can use string, electrical cord, shoelace or even a belt that you'll be wearing later.
Visualize your trip. If you're going to be hitting up the pool first, put the swimsuit on top. If you are bringing something that's extra or you know you'll wear it later on, put that on bottom.
The bulk matters
I always try to wear the heavier stuff – coat, thick sweater, boots, to my destination. That saves space in my bag and helps me fit a bit more in. Of course, if you're hopping from place to place and different climates, this can also make it a bit more difficult.
Weight also matters when it comes to your bag. My travel bag recommends (as do many) to pack the heaver stuff in the back of the bag. Since I have a back pack I try and put heavier things in the middle of the bag. This helps distribute the weight more evenly when I carry the bag. It sounds crazy, but it really makes a difference.
You might be wondering why I choose a backpack over a suitcase or rolling bag. I find backpacks to be much more flexible. If I'm packing light the bag isn't as stretched out. But if I really need to stuff things in, the backpack opens up more for me. It's also just plain easier to get around. Lugging a suitcase up 5 flights of stairs is hard work – not all places have elevators, especially in Europe. If I'm late for a connection I find it easier to hustle with. Make sure to find a bag that suits you best.
Pack inside
I like to bring a small backpack and my purse when I travel. When I'm running around taking photos I like to have a backpack for a place to put my camera and wallet. But I also like to have a purse for nights out. I bring a small backpack that I put inside of the large one. I find that laying it flat and unzipping it is the best way to pack it.
These are my hiking boots I wear on every trip!
You can see my guide for packing for hiking here.
I also put socks and accessories inside of my shoes. That way I'm saving space and help the shoe keep it's shape, instead of being crushed in my bag. Pro tip: bring more socks than you think you'll need. This is one thing I always make sure to have plenty of. When I went to Romania for 19 days I brought 20 pairs of socks.
Follow the Rule of Three
I try to only bring three of anything. For example: three sports bras, three sweaters, or three scarves. After that, it gets excessive. Whether the trip is five days or 25 you don't really need more than three of anything.
White sports bra // Gray Strappy Sports Bra // Black Sports Bra pink scarf // red bandana // Braided leather belt
Gray Sweater // Orange Sweater // Cream Sweater
Here's a sample outfit for what I wore:
Pink Satin Scarf // Jeans // Orange Sweater // Booties // Sunglasses
And here's a list of EVERYTHING I brought for 19 days in Romania:
What to pack for a long trip:
Clear makeup bag (see what makeup I always bring right here) for airport security // Kusshi makeup bag // Backpack // Camera charger (see camera review here) // Sunglasses
Curling iron // Belt // Brush (Swear by this, I have a super tender head- see my guide to my hair here) // Apple Watch Charger // Anker portable charge and charger // Power adapters // Computer charger // Camera remote
Black and red dress // White long sleeve tee // Beige denim skirt // Camera bag
Mauve floral dress // Striped gray shirt // Corduroy Overall dress
Black dress // Orange shirt // Pink scarf // Red bandana
Gray chenille sweater // White pajama top// Black denim skirt
Jeans // Waffle knit top// Pajama pants // Gray cardigan // Underwear
Leggings // Tights (rolled together) // Sports Bras (White sports bra // Gray Strappy Sports Bra // Black Sports Bra) // Gray sweater // Orange sweater
White Tennis Shoes // Lots and lots of socks // Booties // Cream sweater
Pin it, do you don't forget what to bring:Further reading:
What to Pack for Europe in The Fall
The Ultimate Guide to Packing Like a Travel Blogger
My Guide to Foolproof Travel Beauty
The Girl's Guide to Packing for a Music Festival
I hope this guide will help you pack for any trip you have- no matter the length. Just remember that if it is a long trip, the more you bring, the more you have to lug around! Don't forget to grab your free packing list below!
Free packing checklist
Absolutely everything you need to take on a trip.