When most of us think of France, we think of Paris. Or perhaps the gleaming southern cities on the French Riviera like Nice. But I urge you to look north to find some of the best places in all of Europe: culture, cuisine, and history galore. I've got 12 beautiful places to visit in Northern France that will win you over.
Going to Northern France was an incredible experience. Despite being on a different continent, seeing the war history made me proud to be an American. We planned a trip centered around Normandy and some areas in Brittany, ending in Verdun. There are so many wonderful cities in Northern France to visit but we picked 12 that really stood out.
I thought the trip would be introspective and educational. But I was floored to find beautiful, Beauty-and-the-Beast-type stone cities that quickly won my heart. Add in the divine food, and you've got a recipe for a truly captivating trip.
France is a large country and places like Paris and Nice are drastically different from places like Bordeaux or Saint Malo. Because there's so much to see and do, it can be hard to choose where to start. I've created a Northern France itinerary that is easy to follow. Along the route I've picked some of the most picturesque towns, historic cities, and hidden gems that will steal your heart.
Know Before You Go Northern France
One of the best parts about this area of France is that it's very accessible. We drove our car over from Heidelberg, Germany. You can also take the ferry from England to quickly and easily reach Northern France. You can also make the short trip from Paris to this region as well.
Immediately, you'll notice this area is all about their "C's". You won't be drinking wine, Normandy and Brittany are known for their delicious ciders. You'll also find a plethora of cheese, but Camembert is king. The other c's center on: crepes, caramel, creme, and, for a different path, cemeteries. Since D-Day took place on these beaches, there are many memorials, museums, and some of the largest cemeteries dedicated to those that fought in World War II.
Getting around this area is very easy, but I suggest that you take a car to make sure you see it all. Parking is very easy to find and often cheap or free. We drove our car, and recommend renting with Sixt if you need to rent.
Northern France Route
Because we were coming from Germany, we first stopped off at a more eastern city, then made our way west. You can easily make this itinerary your own. I just want to illustrate some of the best cities to see in Northern France.
We spent seven days in the region and really covered a lot of ground:
We started the trip spending one night in Rouen and explored the town.
Day two we stayed in the small town of Pontorson and visited the cities of Arromanches and the next day in Mont Saint Michel.
We then headed to Saint Malo and Dinan.
Days four and five were spent focusing on the D-Day beaches and the towns nearby. We stayed in Caen for three nights while touring this area and toured Bayeux.
Our last few days we headed back west, towards Germany, and visited Honfleur and spent the night in Reims. O
ur last day was spent in the Champagne region in Epernay and Hautevillers.
On our way back to Germany we also headed to Verdun for some WWI history.
We did all of this easily in seven days. I thought this was the perfect mix of beautiful castles, powerful history, and some of the best food I've ever had.
Things to Know About Normandy
Normandy is well known as the beginning of the end of World War II. The beaches stand out because so many Americans, British, and Canadians flock here to pay their homage in remembrance. But there is more history here than just a war-torn past.
The Impressionist movement was born in Normandy in the second half of the 19th century when people like Monet, Sisley, and Renoir painted the Seine river. These painters and more got out of the studio and painted outside. There's even a festival held each year to celebrate art n Normandy.
Best Places to Visit in Northern France
There are so many things to do in Northern France that taking a few days to a week is best to ensure you see it all. We focused our efforts in Normandy since this area is famous for William the Conqueror and his caste in Caen, the incredible 1,000-year-old tapestry in Bayeux, and the events that happened on the D-Day beaches that shaped our future.
Below you can find a map of all the places discussed in this post:
Rouen
I might be biased, but Rouen immediately put this trip on the right path. It could have been the perfect weather, the Summer Solstice festival, or the delicious meal, but it left a wonderful impression on me. This is the capital of Normandy and is set on the River Seine. You'll find an incredibly gorgeous Gothic church that stands imposingly over the city square.
Rouen is the place where Joan of Arc was burned at the stake. So you'll find a church in her honor as well as an extremely good museum. Historical Jeanne d'Arc museum is where you can visually see her trial that led to her death as well as her path to leading the French army in battle.
We headed to the tourist office and purchased a walking tour which comes with an audio guide and map- such a great option! I try to always do a walking tour in a new city because it helps me understand the history and see more of the beauty of a town. We started off at the incredible Notre-Dame Cathedral which is directly in front of the tourist's office. This is the epitome of Gothic art with a huge structure and very yellow "buttresses" and is the only cathedral in France that has an adjoining archiepiscopal palace still occupied by an archbishop today.
It's a treat to walk around Rouen- especially when you have an ice cream macaroon. If you do anything, buy one of these and be charmed as you stroll the streets. The Gros-Horloge is a stunning 14th-century astronomical clock and arch. Make sure you take a look under the arch as you pass.
Stop for dinner at funky Le Kitsch. I had one of the best meals of pulled duck baked in a dish with potatoes. Divine!
We stayed at Saint Sever Hotel which was convenient and a quick walk to the city center.
Pontorson
We drove further west to head to the town of Pontorson. This is a tiny town not far from the main attraction in the area, Mont Saint-Michel. Truthfully, there isn't much to see and do in the town, but it's a good place to sleep and be in close proximity to other beautiful places like Dinan and Saint Malo. Of course, you can stay within Mont Saint Michel, but the prices are pretty expensive. We crashed here for the night to explore more of Northern France.
There was also a great little restaurant called La Casa De Quentin where we had excellent cider- which is the drink of choice in this region, and delicious crepes. A very traditional meal.
Here are some great hotels in Pontoroson. If you're wanting to see how I book great hotel deals in Europe, check out this post.
Mont Saint-Michel
One of the most unforgettable sights is the steep monastery village, the sanctuary of Mont Saint-Michel. It rises out of the sand, sometimes surrounded by water, to shine like a beacon into the sea. Twice dubbed a UNESCO World Heritage site and boasts an interesting history.
It's called the "Impregnable Fortress" since, during the Hundred Years War, the monks defended the abbey against English invaders. About seven or eight times a year, the tide rises, sometimes so high you can't drive a car. Now there's a bridge that solves this problem but back then this would be very hard for intruders to combat.
The Monastery was built early in the 8th century after Aubert, bishop of the nearby hilltop town of Avranches, dreamed that the Archangel Michael pressured him into having a church built atop the island just out to sea. Mont Saint-Michel has also been used as a prison from 1793 o 1863. Now tourists flock here to see it's beauty. There's also a pilgrimage route where visitors can walk the Camino de Santiago which was a route since the 9th century.
This is one the most visited sites in France so it's a good idea to plan your visit in advance. Getting there is very easy, with shuttles running almost constantly. You can't drive directly into the Mont, but easily accessible parking costs €11.70 for 24 hours and a free shuttle or walk on a footbridge brings you directly to the site. There's even a dog kennel here since dogs are not allowed in the city.
I recommend getting there early and taking a guided tour of the abbey. The tour is about an hour long and shares the history of Mont-Saint Michel and details of the cloister.
Walk around the town and through the Bavole Gate on the tiny streets stuffed with shops and restaurants.
The omelets are famous on the island since they are made in a unique way and are very fluffy. However they were around €30 a person, so we passed. Instead, we drove over to Saint Malo for some delicious and fresh seafood.
Pro tip: for a great view of Mont Saint-Michel take the farmer's roads on either side to get away from the crowds and snap some pictures.
Saint Malo
This beautiful walled in port city has gorgeous views of the coast and beaches. There is ample underground parking and it's very easy to see this city in a half day. The tall, granite walls surround the town and are thick and sturdy enough that you can walk around the ramparts.
I was utterly floored by the beauty of the beaches here. The crystal clear blue water with the ramparts in the background made for an impressive sight.
Check out the Saint-Malo Cathedral in the center of town, you can tour Fort National, a 17th-century granite fortress, and check out the local seafood.
We had a delicious lunch here, but an even more delicious dessert. We stopped for decadent chocolate cake at Timothy. If you'd like to save a few bucks make sure you order it to-go.
Dinan
I wish we had more time in this charming little stone town. Unfortunately, I fell and turned my foot on a cobblestone, so I only got a peek at its beauty. I suggest walking around the town, stopping for lunch, and touring the castle.
Dinan is in the Brittany region of France and it's known for the medieval ramparts, cobblestone streets, and charming half-timbered houses. The Chateau de Dinan is an interesting look back at the 14th century in France.
D Day Beaches
One of the most moving places I've ever been to before was walking the D-Day beaches in Normandy, the same beaches my grandfather fought on and where so many lives were lost. It's hard for me to put into words just how important it is to remember our past, and I believe the D-Day beaches in Normandy are a necessary part of learning and understanding our history.
We visited Utah beach, Omaha beach and memorial, and Pointe Du Hoc. We went to the museums which were incredibly well done and interesting. We also had a guided tour (it's free) at the Normandy American Cemetery. You can walk through German bunkers and even see some debris still left in the water at Gold Beach.
I wrote about how much theses beaches impacted me right here and this post showcases just how much these places meant to me.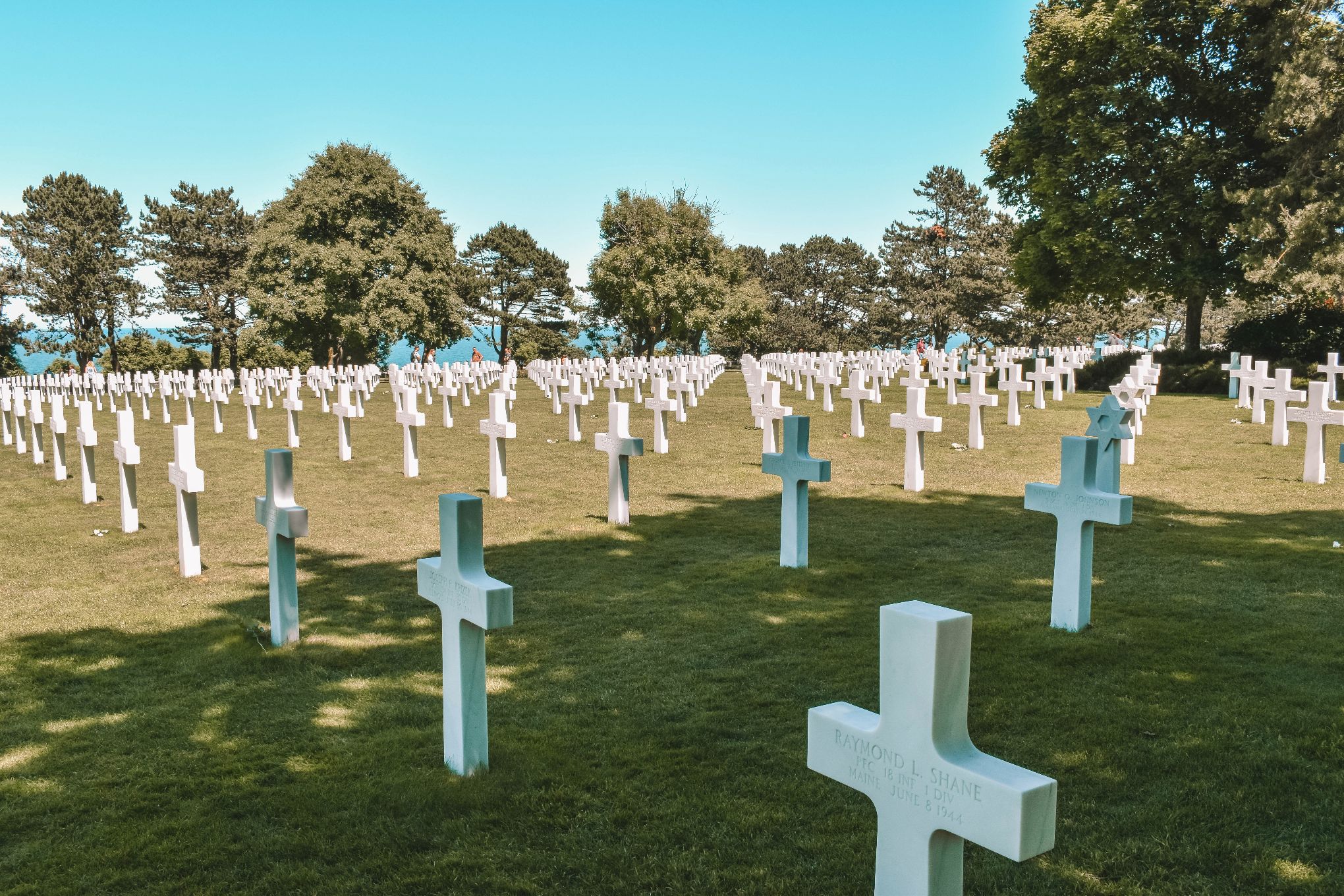 I recommend about 2-3 days here in order to really experience the museums, take a guided tour of the cemetery, and walk around the beaches.
Caen
This small, pretty port city is a great place to stay in order to go to the beaches and also go to other lovely towns nearby. This is a bit of a bigger city, so you also have ample opportunities for good restaurants.
This was the first big city freed by the Allies in WWII, so there's lots of history surrounding this place. There are the US armed forces memorial and museum, a medieval chateau (Chateau de Caen) and two abbeys (Abbaye aux Hommes and Abbey aux Dames).
We ate at a delightful restaurant called Villa Eugene. Well-priced, trendy but traditional cuisine with a great atmosphere. Highly recommend.
I found the hotels here extremely convenient and well priced. Check out where to book a room right here.
Bayeux
The town of Bayeux has an exceptional heritage. What stands out the most is the incredible cathedral and the famous "Bayeux Tapestry."
The 900-year-old tapestry was in Bayeux Cathedral, it's now housed in a museum, tells the story of William the Conqueror and battle of Hastings. William was promised the throne, but Harald took it, and William battled him at Hastings and took the throne.
Don't forget to check out the cathedral, pictured above. The town is charming and a short drive from Caen.
Honfleur
Driving into Honfleur I noticed the tree-lined boulevards speckled with roses. This artistic and historic town has picturesque streets reminiscent of Copenhagen's Nyhavn. There are colorful buildings lining the port which make for a beautiful backdrop for photos.
I recommend heading to the tourist information center to pick up a town map and taking the shot route that guides you through the city. After visiting Vieux Bassin, head over to St. Catherine Church.
For thousands of years sailors came here and they built a church that looks similar to a boat. Along the way you'll find narrow cobblestone streets and traditional craft shops. St. Catherine Church is the largest wooden Church in France and richly decorated. Also, go to St. Léonard Church which dates back to the 16th century.
There's also lots of art in this city since they say this is the birthplace of impressionism. You'll find lots of art shops. But my focus was on the delicious crepes and refreshing cider.
We picked up some sinfully yummy liquid caramel sauce that we pour on pancakes or ice cream for special occasions. Our favorite thing for souvenirs is always local food!
Reims
This city sparkles with beautiful architecture and champagne. The impressive Reims Cathedral towers over the city and makes a grand statement. It's in Gothic style and also was the coronation site for 25 king and queens.
The 900-year-old history here includes some very major events. Joan of Arc came here with Charles to crusade for his right as king. The cathedral was badly bombed in WWII and went under extensively reconstruction. Also, Chagall designed a stained glass window here in 1964. But originally, Reims cathedral was a Roman bath. It first became a church in 407 and it's also where Saint Demi baptized Clovis. This cathedral has some of the most beautiful stained glass I've ever seen.
After checking out the cathedral, we did a walking tour of our own around the town. There are so many interesting spots along the way.
Make sure you check out the beauty of Palace of Tau, which is where the treasury of the town is kept. Not far away is the Saint Remi Cathedral which is equally as impressive.
Here we did a champagne tour of champagne house Taittinger. We learned all about how champagne is made, toured the cellars, and had a tasting. This was so much fun and made me really appreciate champagne! Walking through the UNESCO chalky cellars transport you back in time.
That night we ate pizza at L'Antica which was scrumptious and a nice change from our fancy French dinners.
Hautevillers
This tiny town is where Dom Perignon discovered champagne and we couldn't resist stopping here. His remains are still in the cathedral and it's worth it to walk around for a stroll.
As a monk, Dom Perignon proclaimed, "Come quickly, I'm drinking stars!" after double fermenting his grapes.
You can also pop into designated houses for a free (or very inexpensive) champagne tasting.
You'll find the town on top of a hill surrounded by vineyards and a picturesque outlook.
Epernay
After our fill our fill of champagne, we popped into the town of Epernay for a couple hours. There is, surprise, another stunning cathedral, an entire avenue dedicated to champagne, or see Perrier's Chateau.
If you'd like to stay and learn more about champagne, and, let's get real, keep drinking, you could extend your stay here. You can even stay in a former mansion of Monsieur Auban-Moët in Hôtel de Ville.
Verdun
Our last stop on our way back to Germany was Verdun. Since we came to learn so much about WWII history, we wanted to see some WWI history as well.
The Battle of Verdun was the largest and longest battle of World War One. The museum here, called the Verdun Memorial, was an interesting look into understanding more about war. We also went to the Douaumont Ossuary which is a monument to those that died in WWI along with the cemetery. It contains the remains of 130,000 unidentified soldiers from WWI.
Best Places to Stay in Northern France
I found hotels to be priced very reasonably and since you have a car, you don't necessarily need to be in the heart of the city. I booked all of my hotels (albeit very last minute) right here and didn't spend more than 70 euros a night. I was pleasantly surprised by how nice, clean, and convenient all places were- not to mention, pet friendly!
I went to Northern France without many expectations but I left with a renewed love of this region. This area of France left a deep impression on me, and I know I'll come back again and again to eat, learn, and remember our past. To me, this is one of the most important places an American can travel to.
Explore more:
The Essential Paris Travel Guide
Germany, France, Switzerland, Austria: Charming Central European Itinerary
8 Day Northern Italy and French Riviera Itinerary