If a picture paints a thousand words then after my trip to Vienna I have a million. I couldn't stop taking photos. Picture a place a pretty as Paris but with 1/3rd the crowd. A place as opulent as Versailles, with an added zoo. A place as cosmopolitan as London but on a smaller scale. A place rich with history, music, and true tales of princesses and kings. It's real and it's all in Vienna, Austria. I spent three and half days in this breathtaking city and what I LOVE is that you can see the highlights in a short amount of time. So here's how to spend three days in Vienna.
3 Days in Vienna Travel Guide
Below you can find a map of all the places discussed in this post:

Where to Stay
There are nice hotels and then there are hotels like Zeitgeist -where they literally think of absolutely everything for their guests. Wouldn't it be great to carry your phone with you for a map (or let's get real, uploading to Instagram) but you don't want to use data? They've got hot spots. Want to travel around by bikes? Rent them FOR FREE from the hotel. Want a killer breakfast? They've got it.
If you've read this blog for any length of time you know breakfast is essential to me. Especially when traveling. And I love Austrian breakfasts. Meats, cheeses, honeycomb (I go crazy over this), jams, and everything you could want for your a.m. meal. Basically, Hotel Zeitgeist thought of everything. I was specifically worried about air conditioning for this trip. Europe, I love you, but I'm tired of sweating indoors. Thankfully, Hotel Zeitgeist had AC, beautiful rooms, and super easy access to the train station.
We left just 5 minutes before our train to Salzburg since we were so close. The best location!
What to Eat
Can you really experience a city without eating the food? NO. Here's a quick look at some of the must-eats:
Sacher-tort – This famous chocolate cake is one of the most decadent desserts and is shipped all over the world.
Schnitzel– you can't go to Vienna without a wiener schnitzel. The most famous is the Figlmüller but there are plenty of restaurants around that serve this dish.
Finger sandwiches– These little sandwiches are the perfect light lunch or snack and great for any kind of eater. I like them from Trzesniewski.
Apple strudel– Sweet, cinnamon and apple filled pastry. You can't go wrong.
Restaurant Edvard– This isn't a type of food but it was such a great place to eat I'm including it here. More on this later on in the post.
Coffee – You must have coffee in Vienna. Café central is a great place.
Day 1
We picked up a Vienna card for the few days we were here so that we'd have discounts and access to museums, palaces and more. If you know there is a lot you'd like to see this is generally a good bargain. Especially if you know there are lines since this will let you skip (here's how to avoid lines while traveling). The Vienna card also included public transportation, so it made it a snap for us to get around.
After dropping our bags we strolled the streets of Vienna and I walked around with my mouth wide open. First, please notice how CLEAN the street is above. Okay, then notice the architecture because it is incredible. For example:
After doing our fair share of gawking we had the classic meal of Schnitzel at Figlmüller. Is this the best Schnitzel I've ever had? No. But it was good, the service was quick, and it's a world renown place. Oh and the Schnitzel is the size of your head.
After that, we worked up an appetite for some music. We headed over to Haus der Musik Museum. This interactive museums focuses on Mozart, Haydn, Beethoven and more and actually explains how music is made, how we listen to it, and how it affects us. The perfect way to start our trip.
Day 2
We got up early to head to Schönbrunn Palace, the former summer residence of the Hapsburgs. I highly recommend coming here! It's very well laid out and interactive, with a free audio guide with your ticket. The palace and museum focus on the royalty who lived here, particularly, Franz Joseph who at 18 became ruler and survived the suicide of his son, the murder of his wife Sisi, and even throughout WWI. He was beloved by the country for his hard work ethic.
The baroque beauty is inside and out of this lovely palace. Oh, you can even spend the night here. You can easily see that this is why Mozart was invited to perform here at age six.
Don't forget to check out the beautiful gardens and head up for a view.
There is a zoo inside the palace grounds as well that we are told is top notch.
After the castle, we walked around the Naschmarkt for delicious sausage stuffed with cheese and to peruse the shops.
Next we did one of my favorite things to do in any city: a walking tour. I feel like you get such a good feel for what the city's about, and you find hidden facts that you might not discover by just walking by. The tour started at 2pm near the opera building, and took us to some of the most important and historical parts of the city.
One of the most charming aspects is how close in proximity everything is. You can easily walk to see all the beautiful buildings or pop into a palace. Albertina is one of the museums he mentioned in particular that has art from around the world.
I particularly loved learning more about the Hapsburgs and their INCREDIBLE rule for 600 years. Maria Theresa was my favorite to learn about. She had 16 children who she strategically married off to avoid war and keep the Austria empire secure.
Next, we headed to St. Michael's Square for the impressive architecture.
Vienna is a UNESCO world heritage site for two reasons: the Spanish horse riding school… and the coffee culture. The cappuccino was actually invented here. The oldest coffee shop, Frauenhuber, dates to 1825 and you can still grab a cup here today. Both Mozart and Beethoven once performed here so it has a long history.
That night we ate the original chocolate cake from Sacher-Torte and strolled through the city in all it's loveliness at night.
Day 3
We started the day with a tour of the grand Opera. I highly recommend getting a tour here. Since opera is one of the main attractions in Vienna, there really is so much history here. The Opera has one of the biggest stages in Europe for good reason- they have over 300 performances and 70 productions a season. This means that they might go through three stage changes a day. There are 180,00 costumes – which is worth 6 miles of fabric which are kept in tunnels under the city. And here, Gustav Mahler introduced the idea of an "intermission" since back then, operas were performed in a well lit stage and seating with little respect to the performers.
Fun fact about these tapestries on the wall: it took 20 women 6 years to hand weave them all.
What do you need after seeing the opulent Opera? Seeing the even more opulent winter residence of the Hapsburgs, the Hofburg Palace. Here you can find silver, gold, and porcelain dining and decor in it's most elegant form.
Next we headed to the Sisi museum to learn about the interesting life of the young queen. She lived a somewhat normal life, then at age 16 married Franz Joseph and moved on to a life of rules and order. It's safe to say she wasn't a fan. She was also fanatical about her tiny figure and maintained her 21-inch waist by not eating much and lots of exercise.
Since it was the 4th of July we treated ourselves to a Michelin Star Restaurant, Edvard, at the Kempinski hotel. I feel like I can't put into words how impressed I was with this restaurant. Starting at €39 for lunch (truly a steal for a Michelin star restaurant) you can get a four course meal. But of course, it's more than 4 courses, there is amuse bouche and little dishes in between the main dishes.
The wine pairings were divine, the food was delicate and delicious, and the atmosphere felt comfortable but elevated. I can't say enough about this restaurant. Every now and then I like to treat myself to a "fancy" meal. This one was done the right way. There is a sommelier on staff who will tell you more about wine and why its works so well with each dish.
If you are ever in Vienna, I suggest going to Edvard. It's the perfect place for a special occasion or for a delicious and handcrafted meal. Can we pause over this presentation? Not to mention delicious.
After we finished eating, we went to get a glimpse of beautiful St. Stephen's Cathedral. This Gothic style cathedral towers over the city and makes a resounding statement. I particularly marveled at the multi-colored tiled roof.
To get a real feel of the city we took line #1 on the Tram and rode around town. This is the perfect way to sit and see some of the prettiest buildings of Vienna. Some of my highlights were Rathaus, Parliament, and Museum Quarter.
Here is the view of Rathaus: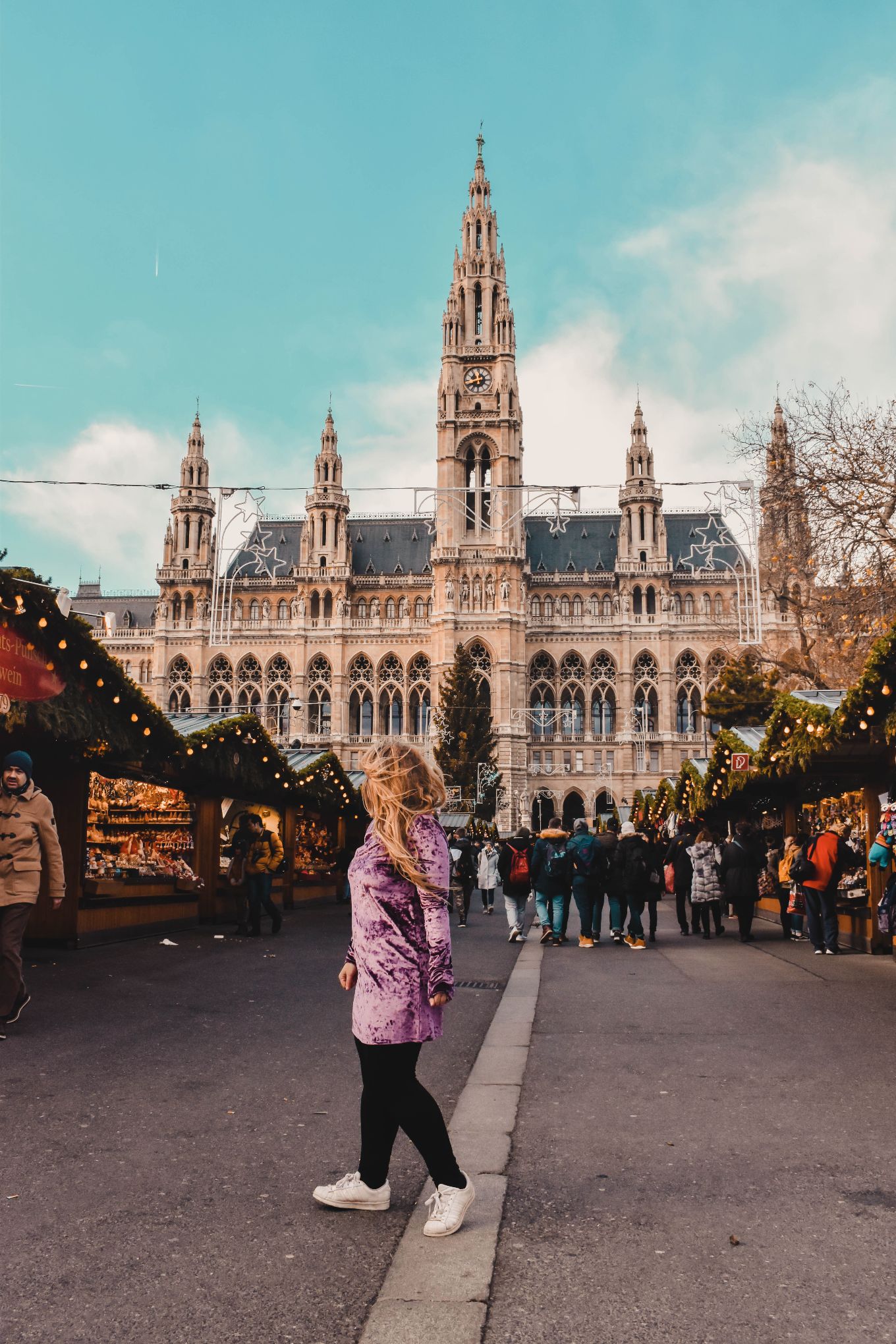 We stopped off at the Wein Museum to get a historical perspective of Vienna. I have to say… I do not recommend this museum. While it was interesting it didn't really give me the history of the city, more or less bullet points.
Before dinner, we headed to Trzesniewski for the famous little sandwiches as a snack. We strolled on the river Danube to head to dinner at Restaurant 57. While I loved this place for the view, in my opinion it was incredibly overpriced. Maybe head here to grab a drink a sneak a peek at the view and move on.
In the image above you can also see the shimmering lights from Prater, the amusement park.
Day 4
Our last day was just a half day, so we wanted to pack in any last minute highlights. We rented bikes from the Zeitgeist hotel and went over to Belvedere Palace. Here you'll find two museums, gardens, royal rooms, and art including "The Kiss" by Klimt.
Lastly, we went over to the Kunst Historiches museum which is my new favorite museum. Just look at the incredible inside:
Okay, fine here's the outside:
But even more than that, it's incredibly interesting and full of some of the world's most important masterpieces. I loved this museum so much. Prepare to spend at least a few hours here.
I created a video so you can follow along and see the architecture up close:
Museums, shopping, food, architecture, music, it's all here. Vienna is one of the most romantic and European cities and it is so much fun. This is a laid back city full of culture and a sense of style. Whether you're just wandering the streets or you're devouring art in museums, you're sure to find something you love about Vienna.
Check out more from Austria:
A week in Wilder Kaiser (mountains, hiking, skiing, and more)
Quick Travel Guide to Innsbruck, Austria (one of the most beautiful cities… ever.)