Narrowly missing the bright yellow daffodils and stone fences, we drove through the English countryside on the other side of the road. Thick hedgerows buffer the meadows as swans, sheep, and bunnies wander the green grass. You'll feel like you're in a fairy-tale, and perhaps, you are. My Southern England itinerary will show you the best places, most charming villages, and quaint hideaways and highlights of the area.
From the magnificent White Cliffs of Dover, the historic university towns of Cambridge and Oxford, the ancient stones that date back 5,000 years, and the countryside manors that inspired writings that will last for all of time, there is something to uncover nearly everywhere you turn. My nearly two-week England itinerary will cover everywhere you need to see as well as where to stay and how to get around. I've always been fascinated by historical sights, and there are many important and beautiful places in the south of England.
Having traveled countless times to London, it's been years since I made the trek to the countryside. Now, I see what I've been missing. There's a lot to see and do in Southern England, it can be confusing to know what's best. So I made sure to go everywhere for you. This comprehensive guide to Southern England will share the best of so many wonderful areas: Sussex, Cornwall, Devon, Somerset, Cotswolds and some in-between spots you can't miss.
How much time should you spend in Southern England
We spent 12 days driving from Cambridge to the Cotswold's and we really packed it in. I think two weeks in Southern England is a great amount of time to spend in the cities and the countryside. Of course, you could spend much more. But if you'd really like to see as much as possible, I'd recommend at least two weeks to cover a good chunk of the country.
How to get around Southern England
I highly recommend a car. A road trip around Southern England is the best way to experience the sights and get a feel for this lovely country as well as discover some of the remote hidden gems. It was a bit treacherous to learn to drive the narrow roads, and switch to the left, but it was worth it to get to the smaller, less accessible towns. Plus, it made our journey that much quicker. Buses often mean you'll do a lot of waiting around. There are trains and public transportation, but it's going to take a bit more time to get to your destination.
So let's hit the road and see some of the best of England with my complete guide!
Southern England Itinerary At A Glance
I've mapped out the prettiest places in Southern England to explore. Without a doubt, you will find yourself wanting to spend more and more time in this fairy tale area of the United Kingdom. I felt like I was in a live version of Pride and Prejudice and acted out the part for this photo:
This itinerary covers the highlights of the region as well as can't miss places that are quirky and memorable.
Day 1 – Cambridge & Canterbury
Day 2 – Dover, Rye, Sissinghurst
Day 3 – Battle, Beachy Head, Brighton, Portsmouth
Day 4 – Portsmouth, Exeter, Penzance
Day 5 – St Michael's Mount, Mousehole, Penworth Cove, Minack Theater, Geevor Mine
Day 6 – Tintagel, Bath
Day 7 – Bath, Glastonbury, Wells
Day 8 – Stonehenge, Avebury, Cotswolds
Day 9 – Cotswolds
Day 10 – Cotswolds
Day 11 – Stratford-Upon-Avon
Day 12 – Oxford
Places to Visit in Southern England
A bit of a warning, we tend to see as much as we can when we travel. I understand some people aren't exactly like that. Feel free to adapt this itinerary to your liking. If you want to spend more time, let's say, seeing the museums in Portsmouth, skip Battle and Brighton to make time to do what you like. There are many places in England to see, it's hard to pick only a few. I did my best to bring you exactly what to do in each!
Day 1 – Cambridge & Canterbury
Cambridge is a university town rich in history and full of fun pubs, restaurants, and students. I suggest spending the day by taking a walking tour, or punting on the river. I found it particularly interesting that Cambridge is twinned with Heidelberg, Germany (you'll find many cities in England are twinned with another one), and that happens to be where I live! This city is bursting with energy and that might just be spawned by the rivalry with another university close by, Oxford. This rivalry is reminiscent of one akin to Texas A&M and University of Texas. When the scholars OF OXFORD were run out of town by the peasants, Cambridge was formed. There's a wealth of history behind the colleges so it's well worth it to go on a walking tour with a graduate to learn more.
Strolling the streets is a great way to see the highlights of Cambridge: Trinity College, the Mathematical bridge, Corpus Clock (aka the Cambridge clock), and the incredibly historic King's Chapel and grounds. Inside the chapel, you'll find the largest fan vaulted ceiling in the world. This chapel has a beautiful wooden organ screen, originally dedicated to Anne Boleyn, but since Henry VIII cut off her head before it was finished, the dedication to Boleyn is rather small. Make sure to search for it when you go!
Cambridge is also a great place to go "punting." You can row the boats yourself, or get a tour from a university student and ride along "the backs" to see the backs of all the historic colleges.
Next, we drove on to Canterbury. This is the perfect place to spend the night, explore, and travel from. We stayed in the most adorable B&B, Harriet House, with a delectable breakfast and ease of access to the city center. I'll be describing exactly where to stay in more detail below.
Canterbury's cathedral simply can't be missed. But what I found most charming were the houses swelling out onto the street. You can't help but feel like you're in a storybook with Chaucer's Canterbury Tales echoing in your head. If you skipped cruising the river in Cambridge, you'll have ample opportunity to do it here.
I found there to be plenty of great pubs and restaurants near the main square (Buttermarket) and High Street. For dinner, check out A La Turka for Turkish cuisine. Falstaff or the Pound (a former jail) are great for drinks.
Day 2 – Dover, Rye, Sissinghurst Gardens
From Canterbury we made the drive down to Dover to check out the castle, cliffs, and war history. However, we did find that in March many places are still operating on winter hours, things were closed on Mondays and Tuesdays. Make sure to check the hours before you arrive. Having both been to the area before, we decided instead to take some pictures at the castle (I do recommend a tour through if you've never been) and a hike along the famous white cliffs.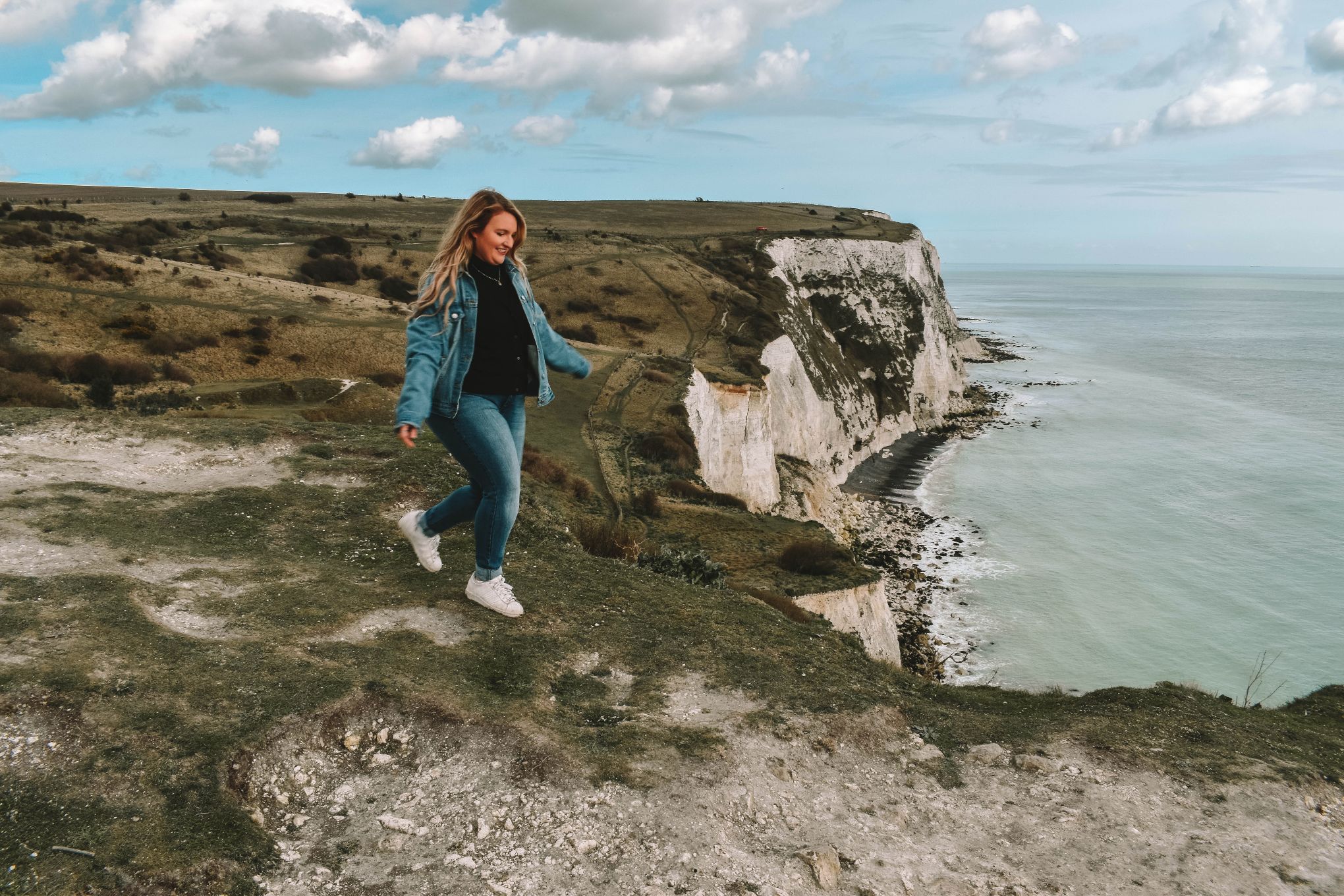 You'll easily find parking, a cafe, and toilets at the visitors center. Here, we walked near the chalky cliff edge. This well-worn path gives you epic views, and you can even see France! Just don't get too close to the edge as the ground will crumble away.
Next, we headed to the small and pretty town of Rye. Not expecting much, we discovered an adorable, well-preserved town. I suggest popping in to the tourist's office. You can find a town model and audio explanation of the town's unique history.
Everything in Rye is miniature so it's easy to enjoy the whole city. This East Sussex Town has great fish and chips, I recommend Marino's, and plenty of cute shops to explore. Rye is believed to have retained more of its historic buildings than any other city in Britain. Picturesque, delightful, and quirky it's easy to see why this small town is a favorite among the Brits.
At sunset we meandered over to Sissinghurst Castle Garden. Created by the poet and writer Vita West and her husband, it's one of the most pristine gardens in England. You can see how this would be such an inspiring place for a writer. Make sure to go up the tower for a beautiful view of the gardens.
Day 3 – Battle, Beachy Head, Brighton, Portsmouth
Although we saw quite a few cities today, after reading my guide you might want to skip around. We're hopping from county to county: exploring East Sussex and Hampshire.
Battle is aptly named for the 1066 Battle of Hastings between the Norman-French army and the English. This important battle meant that France ruled the English. You can see the entire story of the Battle in Normandy at Bayeux (the Bayeux Tapestry). But in Battle, you can see and explore the same grounds where thousands fought and lost their lives. There's also a small museum here explaining more about the battle.
We ventured toward the coast and stopped at Beachy Head, the highest sea cliff in Britain at 531 feet. This weather-beaten but beautiful cliff was the major operational route for WWII. The chalky white cliffs mix with the seawater, creating a beautiful turquoise color.
You can make your way down the coast for more pristine views of the iconic white cliffs at Seven Sisters.
I dare say that Brighton has perhaps seen better days. Maybe it was the off-season, but the busy Brighton pier was in serious need of some paint. And the same goes for the popular Royal Pavilion. In 1800 Brighton was established as a resort since a train connected London with Brighton. Pleasure Pier allows everyone to enjoy the sea with amusements, candy floss, and rides. Most of the food was hot dogs or fish and chips.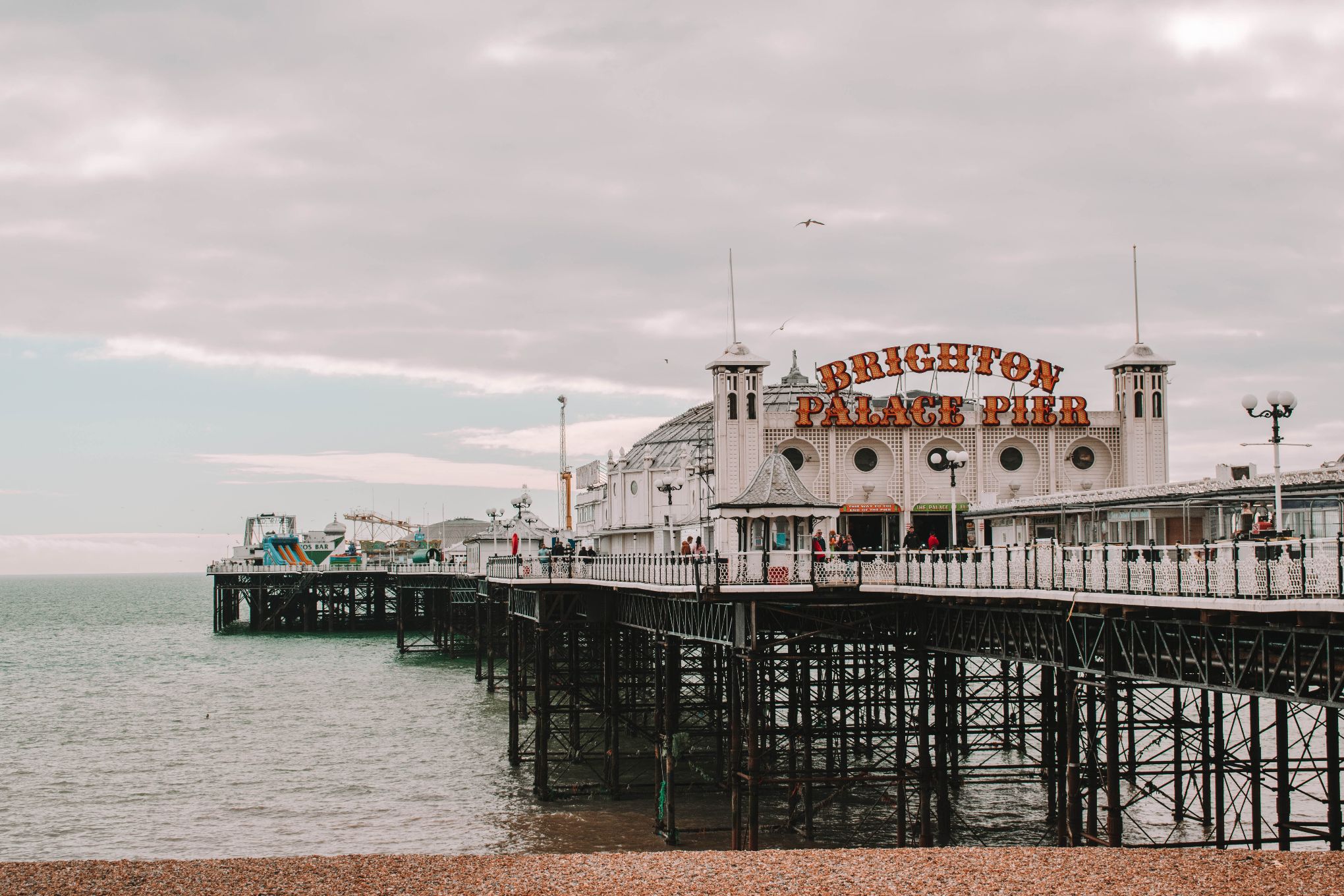 To enter the Royal Pavilion, a former royal residence of George, Prince of Wales, is pricey. I was disappointed to see it looking a bit rundown. Maybe it was off-season, but I'd suggest skipping Brighton and heading instead to the harbor town of Eastbourne. A stop just on the way to Brighton.
To round out the day, we drove to Portsmouth and spent time at the historic dockyard and home of the Royal Navy. If I was disappointed by Brighton, I was pleasantly surprised by Portsmouth. Here, we went to the HMS Victory ship. This memorable ship fought in many battles but is best known as the victory ship from the Battle of Trafalgar where Nelson died.
Day 4 – Portsmouth, Exeter, Moors, Penzance
The next day, we headed back to the pier and to the Portsmouth Royal Navy Museum to learn more about some of the battles that took place at sea for Britain. When you go to buy a ticket make sure you buy for however many attractions you'd like to see to get a price break. For example, we did two: the museum and the HMS Victory ship. We bought the tickets for both at once and the tickets are valid for a year. There are many museums and points of interest in Portsmouth. Luckily, most are located in a very confined area, so you're able to see them all in a day.
After learning about Britain's history, it was time to switch gears and learn about the Romans in the Devon region. Exeter is an ancient city dating back to the Roman era where ruins still remain. Exeter was heavily bombed in WWII and many old buildings were destroyed, but the cathedral remained. From here, it's easy to move on to the Moors.
The Moors are part of the United Kingdom's national parks and a natural habitat full of grasslands as well as diverse ecosystems. In Dartmoor, you can see wild horses run through the meadows as you stumble over "clapper bridges" and gaze at ancient stone circles.
After museums and exploring, we tucked in at Penzance to get a head start on tomorrow's exploring in Cornwall.
Day 5 – St Michael's Mount, Mousehole, Penberth Cove, Minack Theater, Geevor Mine
While there are many sights on the list for what to see and do in Southern England today, most are quick, so you can fit them all in.
I was struck by the beautiful St. Michael's Mount seemingly rising out of the sea, reminding me of Mont St. Michel. Of course, this is a Cornish counterpart to Normandy's Mount. Both share the same tidal island characteristics. When the tide recedes, you can walk on the sand and straight into the castle.
Hungry, we went to Mousehole, a tiny town with a curious name. It comes from the small harbor with an entrance as narrow as, you guessed it, a mouse hole. The boats rest along the sand and mud at low tide, you'll get a different view depending on what time you come. We stopped to buy Cornish pasties (one of my favorite dishes of the trip), and brought them to our next stop for a picnic.
Idyllic Penberth Cove is just a short drive away on the coast. We parked and walked along the splendid tight alleyways spilling over with greenery and rose bushes. We passed a darling thatched roofed house stepping over a brook to head to the pier. We sat on the warm stones while we ate the delicious cheese and onion pasties. If you're a fan of the British series Poldark, you'll recognize this spot from the TV show.
If you'd like, you can go to Land's End to see the site once considered to be the end of the known world.
From here, it was a short drive to Porthcurno to see the incredible Minack Theatre, one of the best places in Southern England to visit! This theater was handmade into the rocky cliffs, mostly by a woman, Rowena Cade. Pay the £5 to walk around and see Cornwall's famous theater and learn about how the builder created it.
In 1929 the play, A Midsummer Night's Dream took place about a mile away with great success. Next, they wanted to stage The Tempest. Cade decided the cliffs below her garden would be the perfect setting, so she and her gardener, Billy Rawlings, hand cut the earth and granite to create the incredible theater. After Rawlings died, she maintained the theater nearly by herself, "We moved enough earth to make a little bit of heaven." I have to agree. I was astonished at the bright green grassy seats, beautiful garden, and gorgeous scenery below.
Expect to spend a couple hours here looking over the cliffs, learning more about Rowena's story, and even seeing performers rehearsing for a show. Keep your eye out for seals!
If you have some extra time (and energy) for the day, make your way to Geevor Tin Mine in Pendeen. This is the largest preserved mine site in the country and was a key reason for Cornwall's wealth in the Industrial Age. The mining industry died when cheaper tin was discovered overseas. Today, you can tour the mine to get a feel for the mining industry and the extreme conditions they worked under.
From here, we breezed through the old seaside town of St. Ives and picked up the best pasties of the trip at Philips Bakery in Hayle. Can you tell I really liked this dish?! While not a must see, it's certainly worth it to add this eatery to your itinerary for Southern England.
Day 6 – Tintagel, Bath
Straddling the tiny roads where branches touched both sides, maneuvering the winding lanes, and watching for oncoming traffic we made our way to Tintagel. Tintagel is not to be missed in Southern England as this is home of the legendary King Arthur. From the town, it's a short hike to the Tintagel Castle where it's speculated that the medieval castle was the home of King Arthur. Whether you believe in the myth or not, this is a beautiful spot to look over at the Cornish sea as the waves lap up below the ruins. Don't forget to look out for Merlin's cave!
Feeling tantalized by the story of Camelot and King Arthur, we went to another magical spot: St. Nectan's Glen. A 20-minute drive takes you to a spot to park, from here you walk about a mile in a pretty wooded forest along a river, and find a waterfall. You do have to pay for entry, make sure to check for opening hours. Once there, you're given a pair of wellies, and you can walk around for spectacular views of the sixty-foot waterfall cascading through a hole in the rock.
Spent from our hike, we relished in the 3-hour drive to Bath. Just driving around the countryside is such a treat. There is beauty around every corner: natural and historical wonders, windswept grass, sheep and lambs grazing, and suicidal pheasants trying to cross the road to find a mate.
We headed straight to the Royal Crescent in Bath for one of the most delightful meals you can have: afternoon tea. This historic hotel and spa is the perfect example of Georgian architecture and an iconic landmark of Bath dating from 1774. Upon arrival, we were whisked into the stunning gardens and headed to The Dower House Restaurant for our teatime treat. Deep blue water glasses accented the crisp white tablecloths, and the setting was complete with a beautiful garden view. Greeted with a simple menu offering classic tea along with sweet, savory, or vegetarian we chose one of the classics (sweet) and savory offerings.
After ordering, sit back and relax and the waitstaff will treat you like king and queen. We started with champagne as we perused the tea menu. There were many delectable options it was hard to choose which one. You don't have to! I started with the rich Masala Chai, one of my favorite teas, added a bit of milk and a cube of sugar and it was perfect. Next I tried the Roobis Orange Cream which was so fragrant, the notes of vanilla wafted in my nose as I sipped. Michael had the Smoked China which somehow, as Michael exclaimed, "smelled like the countryside." We both loved our choices.
The smoked salmon toast was delectable and the orange dessert was bursting with flavor. The entire spread is aesthetically pleasing, especially with the royal blue curtains framing the gardens outside. From the dainty sandwiches to the homemade pastries, everything was delicious.
I especially like the "Bath Bun" topped with sugar that you spread with cinnamon butter- a perfect melding of flavors. We took our time and savored each bite, relishing in the picturesque atmosphere. After tea, we strolled around the secluded gardens and peeked in at the spa. I believe a visit to Bath isn't complete without stepping in and having tea at The Royal Crescent.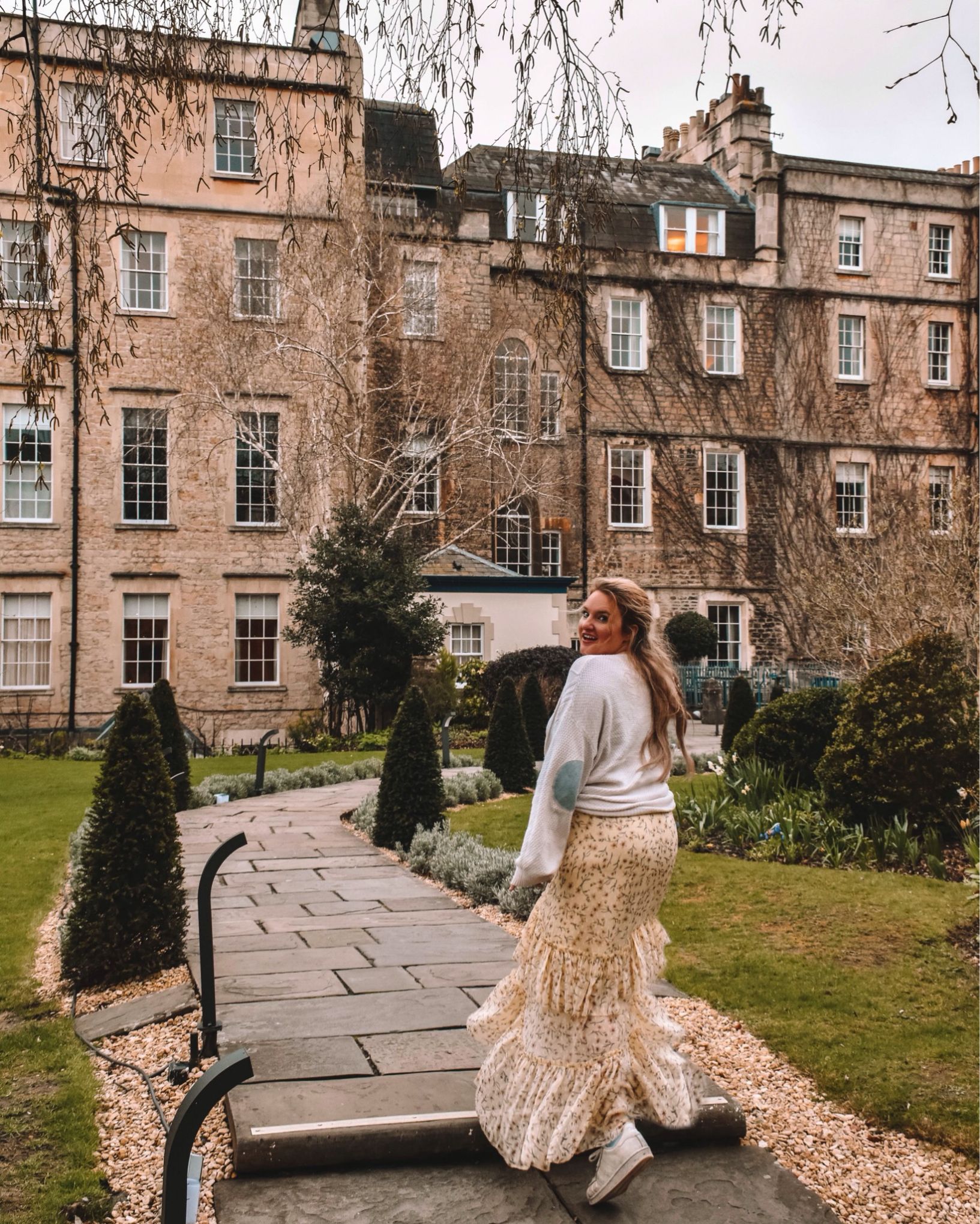 We headed to our lovely abode, the Westgate Apartments in the heart of Bath. This place was particularly welcome since it had all the modern necessities we needed after six days on the road. Below you'll find everywhere I recommend staying.
Day 7 – Bath, Glastonbury, Wells
Bath is a particularly exceptional place, not just in Southern England, but in the whole of Europe. The entire city is listed as UNESCO, and this honor is only granted to one other city, Venice, Italy. The city dates back to Roman times when people from all over came to enjoy the healing waters that sprung up from the grounds. The same is still true today. You can tour the Roman Baths, have tea at The Pump Rooms (or head inside and taste the healing waters), and soak in the warm waters at Thermae Bath Spa.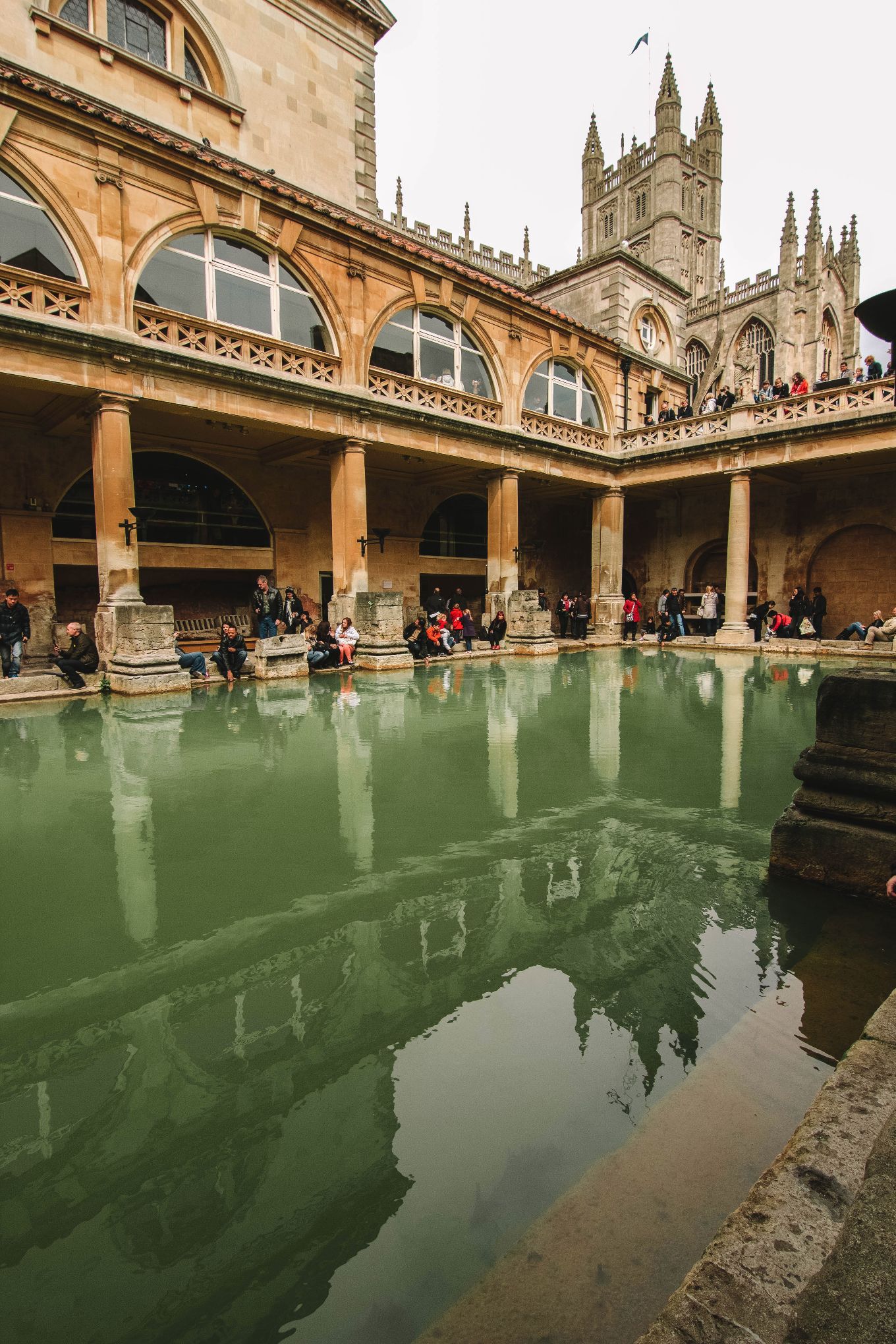 Because Bath is only 2 hours from London and a short ways to Stonehenge, the city can get crowded. I recommend going to see the baths in the morning and buying your tickets in advance.
I also recommend going to The Jane Austen Centre to learn more about the author who lived in Bath for a period of five years. The staff are dressed in period costumes and characters from her novels. You'll start by hearing a briefing on Austen and her short, but impactful life and family, then discover more about her books and life. If you're a fan of her work, you'll love the museum.
The Mayor's Guides offer completely free – no tips accepted – walking tours. It was simply one of the best I've ever been on. Our guide, Adrian, not only shared about Bath's vast history but described unique details and wove in stories along the way.
With a few hours of daylight left, we stopped in Glastonbury. Here, you'll find a wealth of alternative shops selling crystals and signs saying, "fairies welcome." Glastonbury has long been a pilgrimage site, as it's thought to be the burial place of King Arthur. Also, England's first church was built here, Glastonbury Abbey. You can tour Glastonbury Abbey and take a tour of the ruins.
I also recommend going to Chalice Well and Gardens. The holy well is thought of as a sacred place and associated with healing properties. Known as the "Red Spring" or "Blood Spring" because of the red iron deposits the water leaves behind, there are many legends associated with the spring. Some say it represents the blood of Christ from when Joseph of Arimathea buried the cup used for the Last Supper here, and these waters sprang from the ground.
At sunset, we headed to Wells to see the remarkable cathedral, tour the grounds, and attend Evensong. "Evening Prayer" or evensong derives from the middle ages and is a great way to enjoy the church and hear some music for free.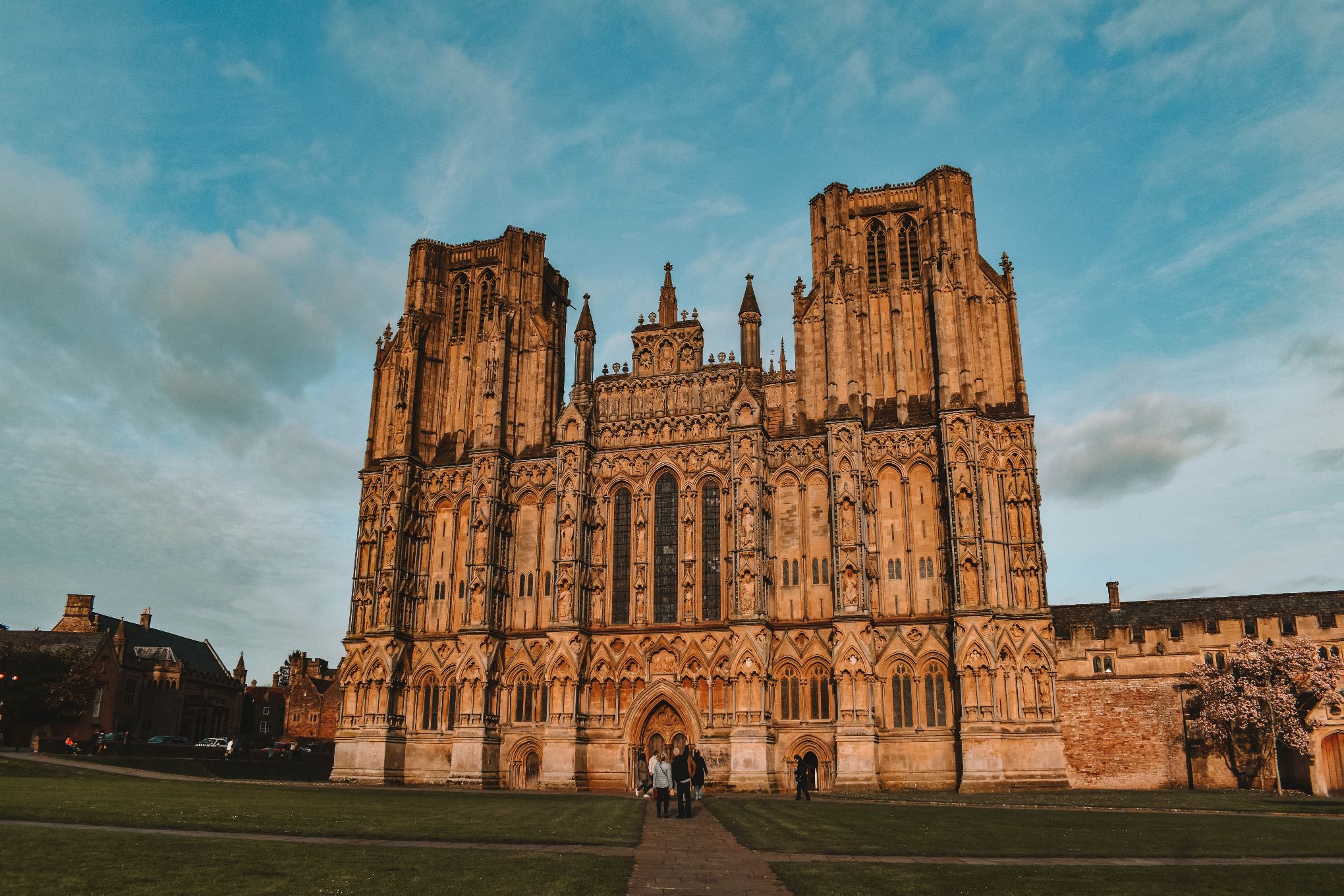 I particularly loved the well-preserved Vicars' Close. Right by the cathedral, you'll find Britain's only complete medieval street. This street used to house members of the clergy and choir, today it's a beautiful street to peruse.
After dark, we drove back to Bath but on the way stopped for hard cider at Wilkins Land's End Farm. You'll enter a somewhat dark farmhouse and you might not be sure if you're at the right place. Just keep going and you'll arrive at the best cider in the world. I can't recommend this experience enough. Cheap, delicious cider produced in the most traditional way. You'll have so much fun chatting with Roger Wilkins and staff about their passion for cider. Don't forget to ask about the world-famous cheese.
Day 8 – Stonehenge, Avebury, Cotswolds
Leaving Bath in the morning, we headed straight for 5,000-year-old Stonehenge. Buy tickets in advance and get there upon opening to avoid the crowds. Once there, you can park and take a bus over to the prehistoric monument. This world wonder is a marvel to see and to try and understand why thousands of years ago people arranged these gigantic stones, some from hundreds of miles away, in this circular shape. Could be a burial place, a celestial calendar, or a religious site, but no matter what, it's a masterpiece of magnificent architecture and engineering.
Expect to spend about two hours here seeing the stones and visiting the Visitor's Center to learn more about Stonehenge.
Next, we made our way up to the Cotswolds, but first stopped at Silbury Hill outside of Avebury. The hill is the largest prehistoric chalk mound from 4,000 years ago. You can walk up or, like we did, save your steps and take some photos.
Late in the day we drove to Cowley Manor, the most incredible stay on an estate nestled in central Cotswolds. This was the perfect place to explore more of this area and feel like I was living in a storybook. Upon entering the gates of the estate I knew I was in for a treat, I just didn't realize how much I would fall in love with Southern England and the Cotswolds because of this place!
We had dinner at the Manor, a divine feast of steak and duck paired with excellent wine, homemade bread, and salted butter. The dining room is exquisite and elegant with fresh flowers, soaring shuttered windows, and an open fire. The room is intimate, the servers are quick and kind, offering up wit and service along with your meal.
The English cuisine at Cowley Manor is some of the best I've ever had with a focus on fresh, local ingredients. The English toffee pudding and rich chocolate mousse nearly put me in a food coma (in the best way possible) it was nice to climb the stairs up to our room and snuggle up under the soft duvet.
Day 9 – Cotswolds
The Cotswolds are some of the prettiest spots in Southern England. Take time to relax and enjoy the beautiful villages packed with history. There are many lovely places to explore in this area, so I've highlighted some of my favorites we saw each day. You'll find almost everything made of stone: houses, bridges, and churches in the Cotswolds. If you'd like to learn more of each place's history, pop into the tourist shop and, for around a £1, you can get a map with information on the historic sites.
Cirencester was popular in Roman times and a museum shows the treasures from the past. You'll also find great shopping here.
Bibury is known for its famous street, Arlington Row, dotted with old wool houses. Here, you'll find a small town perched along the River Coln dating back from 1086. There's a trout farm that's one of Britain's oldest and most well-preserved.
Another city on the water is Bouton-on-the-Water known as the "Venice of the Cotswolds" with pretty bridges and parks. Broad Campden has a small church and a cute pub, perfect for picnicking.
Keeping up with the "b" towns, Blockely is an idyllic village and was once the main center of the silk industry in the 18th and 19th centuries.
Lastly, we stopped in the north of the Cotswolds in Chipping Camden where wool made the town rich. There's a church dedicated to wool, marketplace, and beautiful thatched roof houses.
See my full guide to the Cotswolds here.
After exploring, it's time for a quintessential English delicacy: high tea at Cowley Manor. Sitting outside on the terrace we dined with delight as we looked at the meticulous green grounds of the estate. This tea was extra special after learning that the author of Alice and Wonderland, Lewis Carroll, visited Cowley often and drew inspiration for the book! I felt like we were sitting with the Mad Hatter as we poured the tea and reveled in the stunning day.
We started with traditional tea and dined on the savory sandwiches. The rolling green landscape of Cowley Manor stretched out in front of us as we sipped hot tea and ate fancies. The bleating sheep in the background complemented the chirping birds and the occasional horse trotting by.
To cap off this truly exceptional day, we luxuriated in a massage at the C-Side Spa of Cowley Manor. With a gym, two heated pools (outdoor and indoor) you could easily just stay here for the rest of the trip!
Day 10 – Cotswolds
Waking up bright and early for breakfast, we gazed out the windows and devoured the warm toast, butter, local jams, and pastries at Cowley Manor.
For day two in the Cotswolds, I've listed out a few more villages you need to peruse. But first, we headed to Cotswolds Farm park since it was "lambing" season and there were hundreds of baby animals you can feed. Call me a child, but I absolutely loved getting to give the lambs milk and seeing the goats and piglets run about the grounds. This is a fun, family-friendly activity everyone will love.
On to some of the small villages of the Cotswolds, we headed first to Naunton. Naunton is a nice break from the touristy villages and is complete with cozy pubs and rolling hills.
Venture over to the Upper and Lower Slaughters for honey-colored stone architecture and pretty green fields.
Castle Combe is a traditional Cotswold village made of limestone. My favorite was Stow-on-the-Wold, a lively hilltop town with great restaurants, a market square, and a door that inspired Tolkien's Lord of the Rings. Driving around this area I've never seen this many daffodils in my life.
Find out the best places to see in the Cotswolds here.
Day 11 – Stratford-Upon-Avon
You can't get more English than the home of the most famous writer ever: William Shakespeare. Here, we did a walking tour of this deeply historic town. You'll pass by dozens of Tudor buildings, can take a cruise on the river Avon, and see Shakespeare's childhood home.
If you're a fan of the writer there are plenty of activities to enjoy. You can find his birthplace and take a tour, see his old school, see Anne Hathaway's cottage (the wife of Shakespeare), and visit Mary Arden's farm (his mother). We went to a play, As You Like It, at the Royal Shakespeare Company. See all the Shakespeare activities here. Pictured below is Shakespeare's home.
Of course, there's much more to the town than just Shakespeare. I recommend a walking tour or a visit to a museum. There are also two other theaters: Swan Theater showing contemporary plays and "The Other Place" (yes it's really called that) showing, well, other plays. When we were there they were performing the modern Shakespeare adaptation: 10 Things I Hate About You.
Day 12 – Oxford
Winding down for the last day of the trip, head to wildly popular Oxford. Whether you're a fan of Harry Potter, or just interested in seeing the oldest university in the English speaking world, Oxford delights all. Take a tour of the university to get an understanding of it's past and famous students.
Nicknamed the "City of Dreaming Spires" it's fun to just walk around the town and High Street to see the medieval architecture. For starters, spend some time in the city center, visit some of the colleges, and get a good view at Carfax Tower. For Harry Potter fans, visit Christ Church College where the dining room was closely copied for Hogwarts. C.S. Lewis taught at Magdalen college and you can find Einstein's chalkboard at the Museum of History and Science.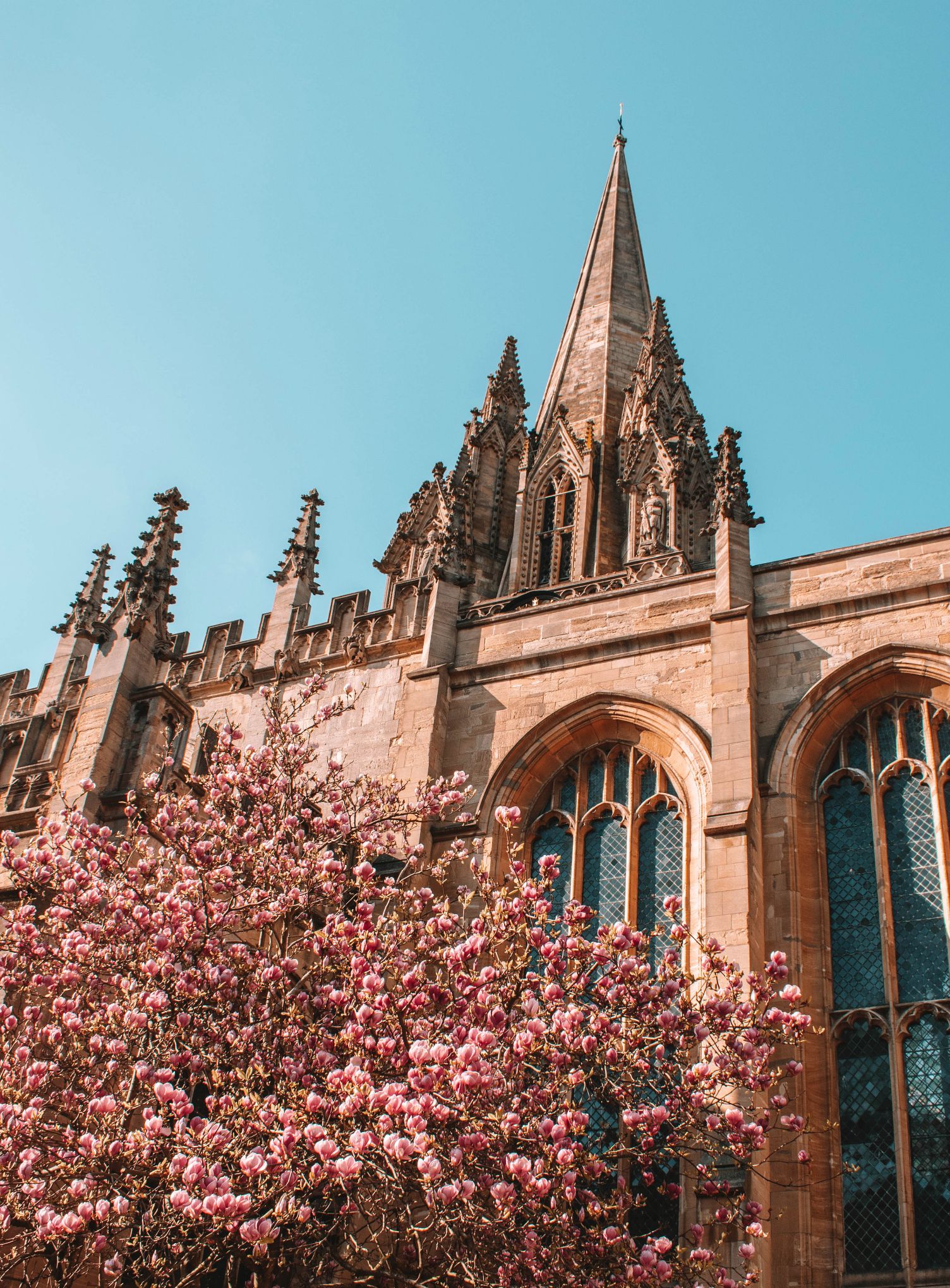 If you have extra time, I suggest going to Winston Churchill's birthplace, Blenheim Palace. Now home to the descendant of Duke of Marlborough, you'll find majestic gardens designed to compete with Versailles and gilded state rooms with exquisite furniture and tapestries. Churchill's golden locks were cut at age five and still hang above the bed.
Where to stay in Southern England
Now that you know some of the best places to visit in Southern England, let's see where to tuck in at night. I suggest that you get the best of everything by staying in a classic B&B, a modern apartment with all the necessities, and cap off your trip by feeling like royalty at a manor. That's precisely what we did. Here are three recommendations that I highly endorse for your trip:
Harriet House B&B in Canterbury
Situated just a short walk from the town center of Canterbury, you'll find the bright and cheery Harriet House. Friendly Heidi and Paul greet you like members of their family. I watched as they interacted with guests to ensure they had the perfect stay.
Our room was comfortable and refined, the perfect place for couples. With soft linens and modern amenities such as a mini fridge and great internet access, you will feel right at home. I particularly loved the small details like the Cole & Lewis soaps and toiletries products as well as the lighted mirror that also displayed the time. This was perfect as I was getting ready for the day!
As a B&B, the best part of our stay was the breakfast. The night before you can pick what you'd like to order, in addition to the croissants, fruit, and yogurt. I have to say I don't like eggs buffet style. And having stayed at countless hotels with eggs in silver buffet trays, this was a welcome change. And these eggs were divine. The well-lit dining area and patio are the perfect way to start your day. Homemade bread, marmalade, fruit salad, coffee, and hot tea are all available. I had delicious avocado toast with poached eggs. Michael had eggs with sausage and mushrooms along with pancakes. The breakfast was exceptional. Having stayed at many large hotels with buffets, it was so nice to have a personalized breakfast.
A 10-minute walk along River Stour brings you to Canterbury Cathedral and the center of town. If you're short on time in Southern England, it's only an hour away from London, so you can easily venture from here. There's a private car park, delicious food, a cozy room, and ease of access to everything you need- you can't ask for more!
Book Harriet House directly here.
Westgate Apartments in Bath
After all that driving around the English countryside, it was wonderful to have a posh apartment with all the amenities in Bath. I was first struck by the enormity of the place. It was great to have an open floor plan with a large living room, dining room, full kitchen, and bathroom. The cherry on top was the fully stocked fridge- including full bottles of wine, vodka, and tequila, offered at a fair price. Included in the stay are bottled water, milk, chocolate, Nespresso with a grocery store just around the corner.
I absolutely loved the walk-in shower and the full-size bottle of Cowshed toiletries. There was even additional products like toner and moisturizer which was such a treat.
The apartment is spacious, clean, and well laid out. There was super fast WiFi, two flat-screen TVs, in an overall stylish space. Rooms are cleaned every day (sometimes this is not the case at an apartment) and the room was very quiet, despite being close to the city center. You get the best of both worlds here: the amenities and space of an apartment, but the service of a hotel. One thing to note is parking it a bit farther away and is not included in the price.
Conveniently, you can walk right out the door and be directly in front of Thermae Spa. Looking out our window we could see the bustling scene from below of people mingling at restaurants and bars. Truly, the Hiding Space Westgate Apartments are the perfect base to explore Bath and the surrounding area.
Book Westgate Apartments right here.
Cowley Manor in the Cotswolds
Quite frankly, Cowley Manor, A Curious Group of Hotels, was my favorite stay of my entire life. I actually wrote an entire post dedicated to this lovely estate. With its extensive grounds, funky bar, incredible food, and fairy tale setting there's just too much to cover!
Upon entering the estate you feel as if a storybook is coming to life. On my left was a lovely brook, lush green grass, and huge trees. On my right were fluffy, light flowering trees, and a bright blue pool. We parked our car and headed into reception and were greeted with tea while we checked in.
Once in our room, I felt like I had been dreaming. The four-poster bed loomed over soft linens. The large windows looked out over the pond and hills of the estate. I love making the room very dark, and I was delighted to see shutters and blackout shades for this purpose. There is a DVD player and a hook up for a laptop so I could easily watch a movie. Of course, I had to watch my all time favorite, Pride and Prejudice. It was only fitting for the movie-scene setting. I felt like I was on the set of this gorgeous movie.
I could have spent the entire day in the large bathroom, with a cleverly hidden toilet. The green tiled shower has great water pressure and hot water- many places lack actual hot water and a lukewarm shower just doesn't cut it. There are 30 rooms in total between the main house and the stable block. I opted for the main house for the particularly wonderful views.
We dined here daily and had a fabulous breakfast. You can start with oatmeal, cereal, pastries, fruit, or order separately and have fresh eggs or pancakes. The toast was brought out on a vertical plate, so as not to moisten it and individual pads of butter were placed on the table.
Afternoon tea is scrumptious, and on a nice day, it's the perfect way to imagine yourself as a character in Alice in Wonderland. Carroll is said to have been inspired by the gardens here.
Dinner is set in the sumptuous dining room and the low lighting and delicious food make for the most romantic evening. Despite being just two hours from London and centrally in the Cotswolds, I felt like I was in a secluded palace, tucked away safely from the rest of the world. It's easy to see how an author might come here to write and find inspiration.
Cowley Manor is the perfect fusion of romantic English countryside with functional and comfortable design. I felt like English royalty staying here, I couldn't recommend this place more. Treat yourself and go to Cowley Manor.
Check out Cowley Manor here. Find my full review of Cowley Manor here.
You simply cannot go wrong in Southern England. The picturesque countryside is embedded with ancient secrets and mysteries, the towns are quaint and charming full of rich history, and the rolling hills, animals, and cathedral steeples all add to the beautiful landscape. It's easy to see why so many writers, artists, Romans, and even prehistoric people flocked here to relish in the beauty and wisdom. I think we should all do the same.