16 cities, 3 countries, all in 8 days. I traveled through Northern Italy down to the coast of Monaco and France this past week. It may sound like a lot (okay, it was) but itwas one of my favorite trips I've taken so far. It's easy to see so many different landscapes: from the crystal blue waters of the Cote D'Azur, to the hills of Provence, there is plenty to see and do, or you can just relax on the beach. Having 8 days you can really see much of Northern Italy and the French Riviera (and even though Lyon in there too!).
This itinerary will walk you through all the cities we went to and how to make the most out of the trek. Itineraries are not like my regular guides (such as this one for Innsbruck, Austria). In my guides, I walk you through everything to see, do, eat, stay, and more. Itineraries hope to give you an idea of how to make your next trip to these locations. I will be doing full guides on each place, but, we saw SO much so I wanted to give you a brief overview. Emphasis on BRIEF. Or, at least I tried. So, let's get to it.
If you want to just focus on the South of France and Monaco, or are short on time, fly into Nice. This will get you directly to the coast. If you want to follow my exact path, then you'd start with Lake Como. We rented a car and had a very scenic drive from Heidelberg, Germany to Como.
8 Day Northern Italy and French Riviera Itinerary
Day 1: Lake Como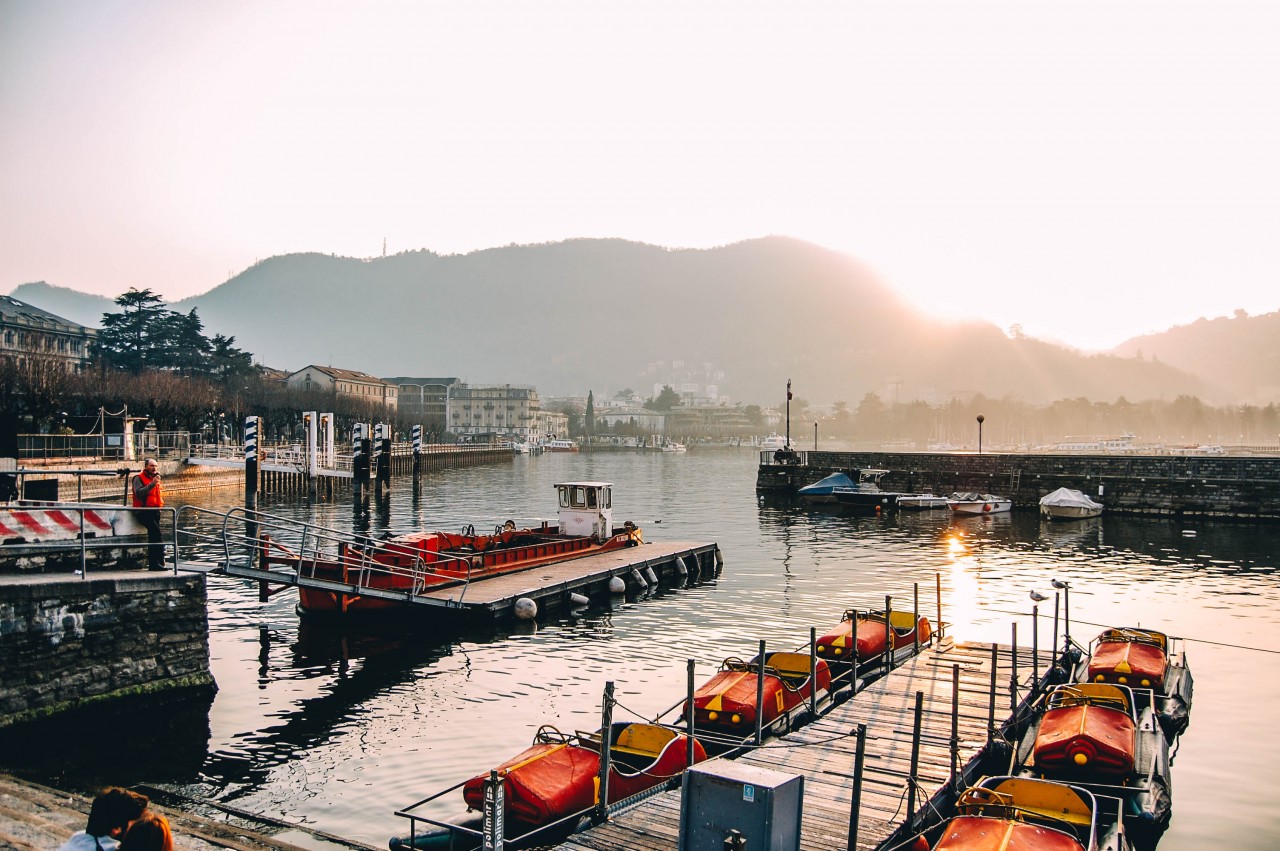 The city of Como is lovely and honestly, really well priced. You will see the stunning "hazy lazy" lake and can eat your fill of pasta and wine right by the water's edge.
Day 2: Bellagio and Varenna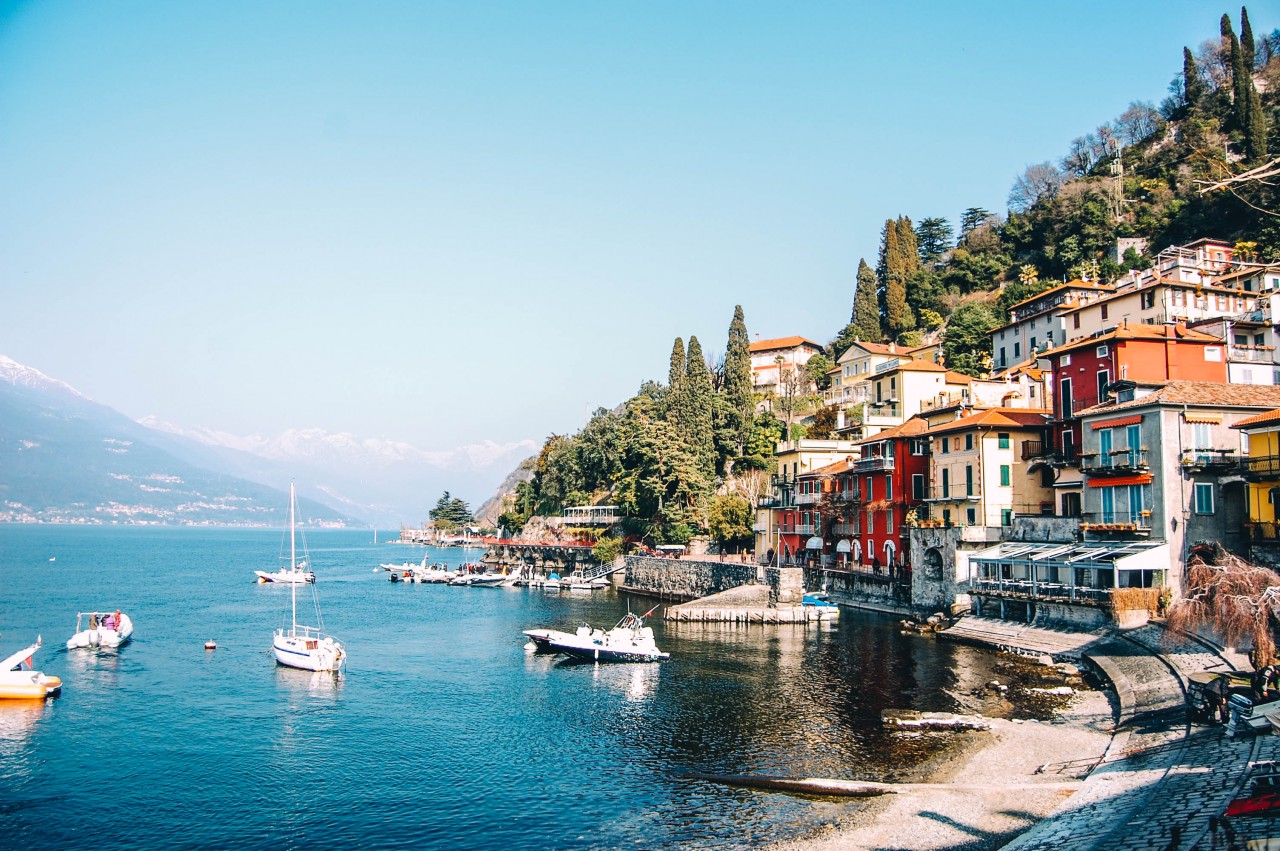 A short drive or ferry ride from Como will take you to Bellagio. It's a fancy resort town but be aware much is closed in the off season (meaning, Winter). We took a ferry ride to the beautiful Varenna. Tiny cobblestone streets and ancient walkways leading up to a breathtaking view. That night we drove to Milan.
Day 3: Milan
We arrived in Milan on a Sunday. Knowing that almost everything is closed on Monday, we went to museums and shops the first day. The shopping is really for fashionistas and you'll see lots of high priced clothes and it's just fun people watching.
Day 4: Milan
The next day we walked up the cities jewel: the Duomo. A bright white basilica in the town square. Here, you'll get the best view of the city, and it's great for sunset shots. After, we went for pizza and strolled the shops.
Day 5: Monaco, Èze, Menton, and Nice
If you're into the glitz and glam, then you might want to stay in Monaco for a full day. It's a bit pricey, but it's incredible to be in a different country that's only 1 square mile long. We went from Milan to Monaco and then back to France easily in one day. Don't forget to check out the famous Monte Carlo casino. But I thought the old town with the castle and cathedral was so cool, and more my style. From there, we had a glass of wine in the medieval town of Èze and enjoyed  the view. That night, we drove to Nice for dinner and watched the Carnaval parade. If this sounds like a lot, it's not! All of these cities are within about 20-30 minutes of each other. We stayed in Menton that night and they were having a lemon festival!
Day 6: Villefranche, Mougins, and Nice
Villefranche was one my favorite cities. This is where there was the Villa Rothschild, a Versailles like home all in pink. I might have taken 800 photos of it. We also went back to Nice to explore the old town, eat socca (a traditional pancake like dish sprinkled with pepper), and see the incredible Russian orthodox church. We stayed in the picturesque hills of Provence with Glamping Hub in Mougins. Here, there are many bed and breakfast nooks, spas, and pretty views.
Day 7:  Valbonne, Gourdon, Cannes, Antibes
From Mougins we headed up to Gourdon- an ancient city perched on top of a hill. We then made a loop to drive to Valbonne. On the way, we stopped to see waterfalls on the side of the cliff, and stopped at a famous candy store – Confiserie Florian. We might have eaten enough candy for 8 toddlers. Then we had lunch in pretty, sun-drenched Valbonne.
From there, we drove to Cannes and walked around: saw the film festival site and the old town. This is a sandy beach, opposed to the Nice pebble beach. Then we made one last stop for dinner in Antibes. This city is known for it's bouillabaisse (a dish with at least 4 different kinds of fish) and nightlife. Then headed back to our gypsy caravan in Mougins.
Day 8: Lyon
I love Lyon. We chose this location since it was an easy trek back up to Heidelberg and we were not disappointed! Delicious food, stunning architecture, and lots to see and do. Some favorites were the Saint Jean Cathedral and the mind blowing Notre Dame basilica on top of the hill. Make the trek up (or take the tram!) for an incredible view. We also checked out the World War II History and Deportation museum – it has an audio guide in English.
Main Cities on the Cote D'Azur:
Nice – The biggest city on the Cote d'Azur, pebble beaches, an historic old town, a wide range of restaurants and beautiful scenery.
Antibes – Lots of walking aroiund the old town, places for gelato, nightlife, and more well-priced.
Cannes – Glitzy yet pretty, can be relatively quiet outside of festival season and big events. Similar atmosphere to St Tropez but with more things to do.
St Tropez – Very, very glam. I didn't venture here, but this is definitely a resort, high end town.
Monte Carlo, Monaco – A great mix of a country, yachts, famous casino, and  over-the-top wealth on display.
I really suggest renting a car once you get here. That way you can truly see it all! There are trains, but many trains don't go to the smaller, mountainous towns.
Cost of the drive:
We drove quite a lot, so that meant we spent quite a lot on tolls in France, a sticker to drive in Switzerland (to get from Germany to Italy), some parking, and, of course, gas. This is a look at approximately how much we spent.
Gas: €150
France Tolls: €90 – France has CRAZY expensive tolls. If you take any "blue" roads versues the "green" ones, it will cost you. The green routes will generally take you an additional hour longer. This is crazy expensive to me, and really, there is no rhyme or reason why there is a toll.
Switzerland Pass: €40 – this is a sticker good for a year to drive in Switzerland. Why these countries force you to pay to drive on their roads is odd to me.
Parking: €50- We parked a few times at hourly parking spots in Monaco, Cannes, Antibes, and Milan. All of the other cities had free parking. All in all, we spent about €50 on temporary parking.
Total cost on driving: €330
When to go:
If you want NO crowds, sunshine, and don't mind it being a little chilly, go in the winter. Summer is the height of tourist season so you will pay more, but obviously it's when more events take place, it will be more lively, and you can actually swim.
As you can see, we didn't spend a lot of time lounging on the beach. There was just so much to see and we wanted to do it all! If you are looking to hang at the beach, I suggest Monaco, Nice, and Cannes. But really, all these cities are just so cool, you could explore for weeks!
You might also like: How to Plan a Trip to Europe.
See more snaps on Instagram and follow my travels: @heleneinbetween
Free packing checklist
Absolutely everything you need to take on a trip.