A fashion capital with an iconic church juxtaposes perfectly with the laid-back and sleepy charm of the lake. Conveniently just one hour from each other, Milan and Lake Como make for the perfect weekend escape. You can easily see each city in a day or two, making this itinerary easy to plan when you have a few days off.
This weekend Italian getaway to Milan and Lake Como is a good way to rejuvenate, relax, and enjoy two important parts of the Lombardy region in Italy. Spending the weekend in these two unique locations is an ideal escape. I've got a guide for what to do in each city and how to get from one to the next. Three days is the perfect amount of time to spend in these cities.
Milan is the New York of Italy. Buzzing and bustling, this city is constantly on the move. An enviable fashion scene, an iconic Duomo, and towering skyscrapers make this modern city stand out in Europe. A shopper's paradise you can find all the high-end designers and beautiful brands. After you're done shopping make time to try a risotto and take a walking tour of the sprawling yet accessible city.
Situated on the lake and straddling the Alps lies Como. A town mainly known thanks to George Clooney and his villa tucked away on a cove, far away from the paparazzi. But while the lake beckons tourists to enjoy its scenic views and relaxing activities, there's a lot more than meets the eye in Como. Towns like Bellagio and Varenna are strewn with tight alleyways and steeped streets that seem to spill out onto the waterfront. This is the perfect place to dine and drink as you take in the scenery.
Milan and Lake Como Itinerary
It's easiest to fly into Milan since it's a bigger airport hub. I suggest that you spend one day in Milan and see the top sights, then go to Como to gauge if you'd rather stay there longer, or head back to Milan. As different travelers prefer different activities, some might like the leisurely scene in Como or enjoy the hustle and high fashion of Milan. I personally prefer Como. So I like to fly into Milan, spend a day exploring, then spend the bulk of my time in Como.
Below you can find a map of all the places discussed in this post:
Either way you chose you can't go wrong! Here's your weekend guide to Milan and Lake Como.
What to do in Milan
You won't find cute, cobblestone streets here. Milan is very industrial, but that doesn't mean it lacks beauty. Make sure to step out of typical touristic places to find the more modern side of the city. You can find so many hidden gems here so it's necessary to be on the look out!
Duomo – Get up early and head straight for the Duomo. I recommend getting reservations in advance to explore the rooftop to get a good view of the city and an up close look at the marble. The Duomo is the only cathedral in Europe covered in marble. Notice the bright white pieces – they are actually brand new. All the marble comes from the same marble quarry used to first make the church hundreds of years earlier.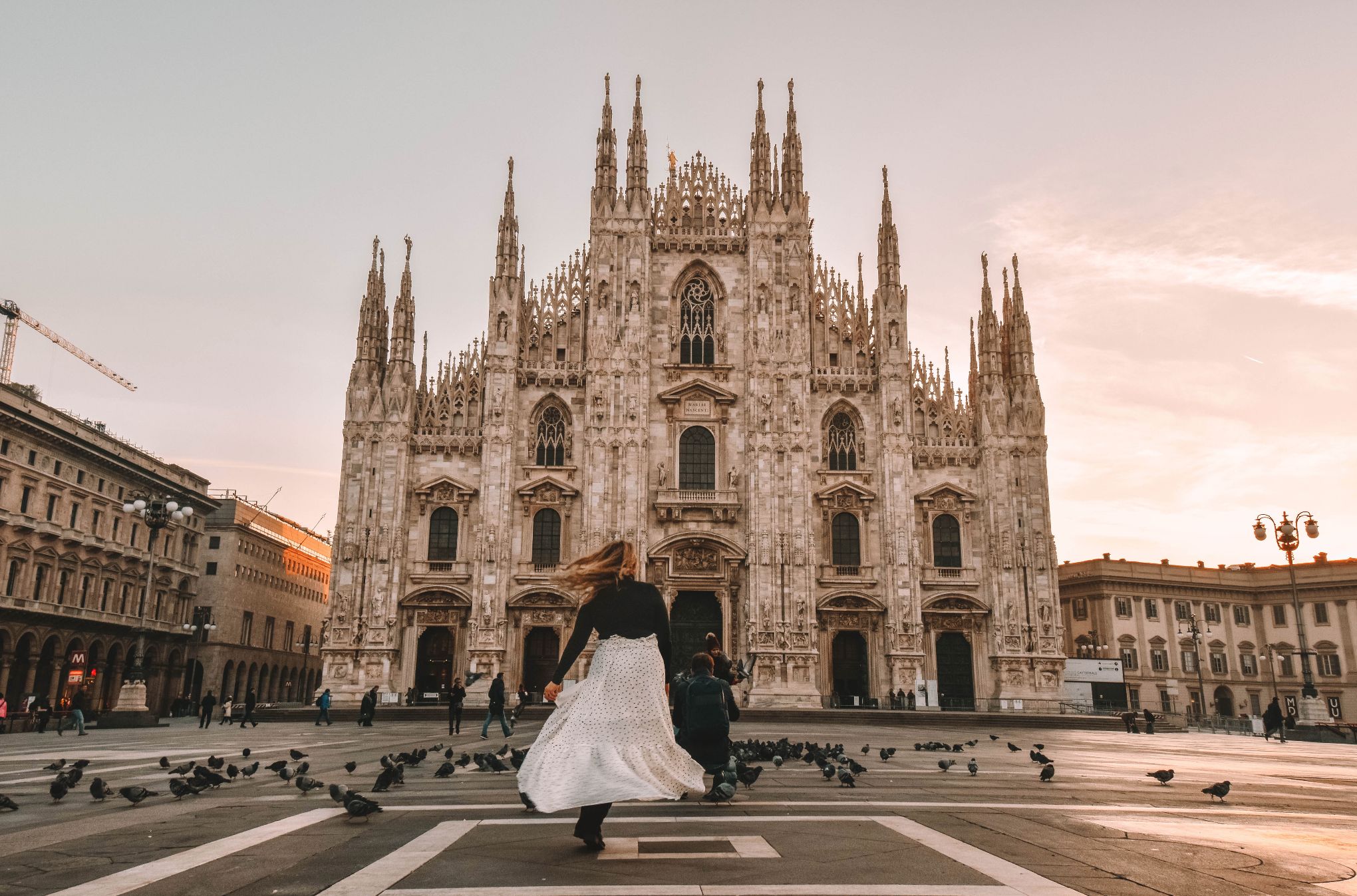 From the top you can get a view of the Alps on one side and the once Austrian Ducal palace on the other. Keep your eye out for unique marble decor such as a tennis racket on the steps leading up to the roof. These were additions made in 1930. Though the cathedral broke ground in 1386, it wasn't completed until 1965. Make sure to spend some time here to learn about the history and take in the beauty, this truly is the jewel of Milan.
Galleria Vittorio Emanuele II – The lovely glass-domed building is rife with shoppers ready to spend their hard earned money as fast as possible. It's easy with stores like Louis Vuitton and Prada. In earlier times, people felt the need to dress up just to enter the gallery.
Now, it's a shopping hub but also a place that connects all the important buildings of Milan. Here you have pathways leading out to the Duomo, Scala, and the Fortress. The building itself is a nod to the other European capitals such as Paris and London. The elegant building also shows mosaic symbols of important cities such as Rome, Turin, and Florence. But most importantly, make sure you spin your heel on the balls of the bull in the middle of the floor for good luck.
La Scala Opera House and Museum – Known as one of the world's most important opera houses, you'll find an opulent interior inside a very plain building. Make sure you head inside to get a peek at the museum. Each room is complete with silk wallpaper and tapestries. The museum gives a history of opera in Milan. You might get lucky and catch performers practicing and can listen to their powerful voices as you peek over from the viewing box. I imagine wealthy Milanese flocking here to enjoy an over-the-top night out.
The Last Supper – Viewable only with a reservation, you can go to the Santa Marie delle Grazie church to see Leonardo da Vinci's masterpiece.
Museums – Fashion was especially important after the second world war as high quality materials became much more available. But before that, Italians used ingenious ways to show off their style. For example, cork espadrilles were invented since those raw materials were what they had to use. If you want a new appreciation of the fashion industry these museums will definitely give you a new perspective.
The Prada and Armani museums help to describe the career of these fashion houses. Prada is more centered on contemporary art while Armani shares more history.
Sforza Castle – This powerful fortress was built in the 15th century by the Visconti family to defend the city against Venice, once their enemy. It's been destroyed and rebuilt many times, but it now has many art museums worth checking out.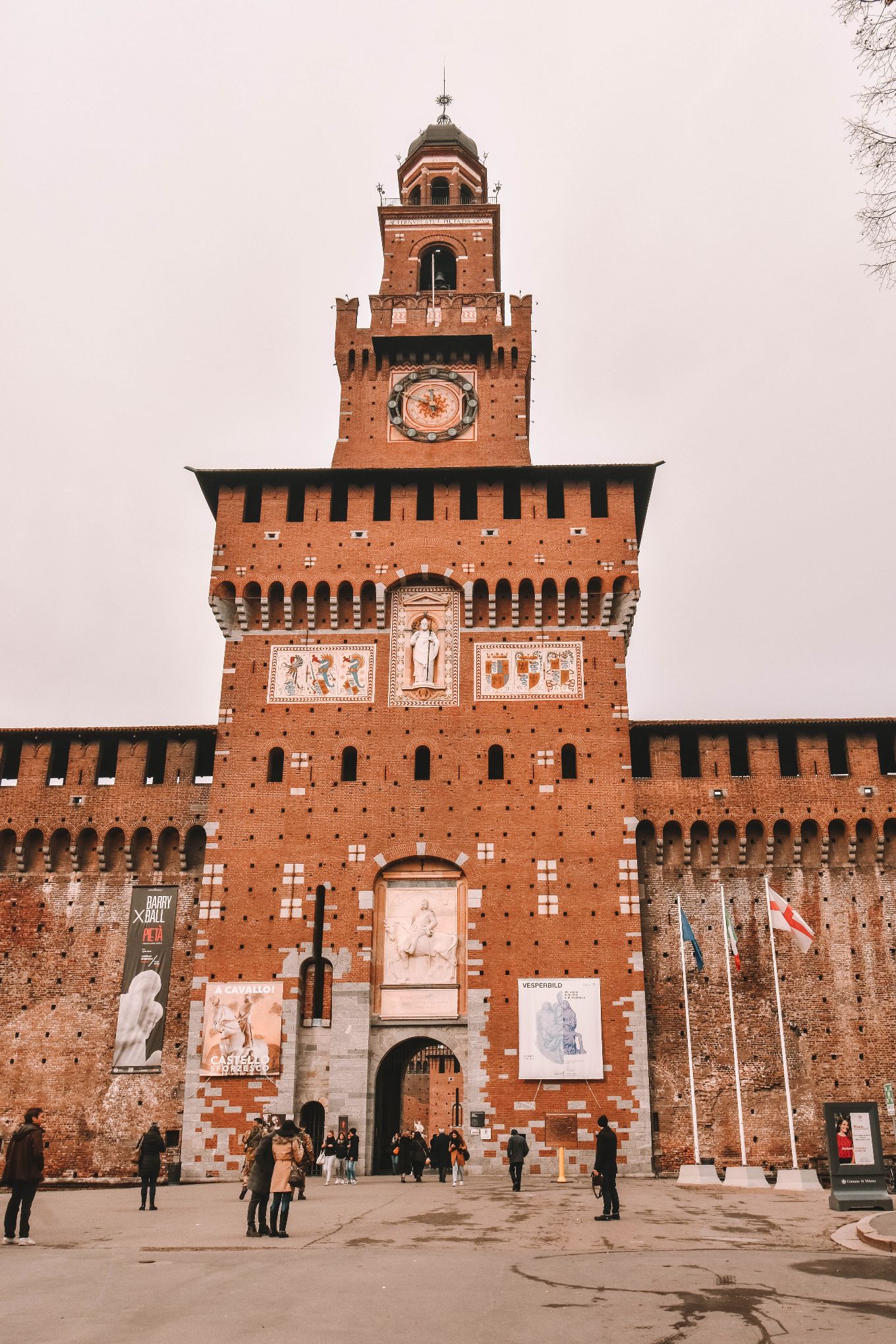 Navigli Canals – A few hundred years ago many of Milan's streets were once water canals. Now covered over, there's only one remaining. It's nice to walk this area and check out Vicolo Lavandai – a UNESCO world heritage site where women used to wash clothes.
Porta Nuova –  If you'd like to see the more modern side of Milan, head to this sprawling square. Located in the center of Milan is a system made of pedestrian connections with urban eco-sustainability and surprisingly tall skyscrapers. The spires of the Unicredit Tower face the spires of the Duomo, both the old and new masterpieces creating the Milan skyline.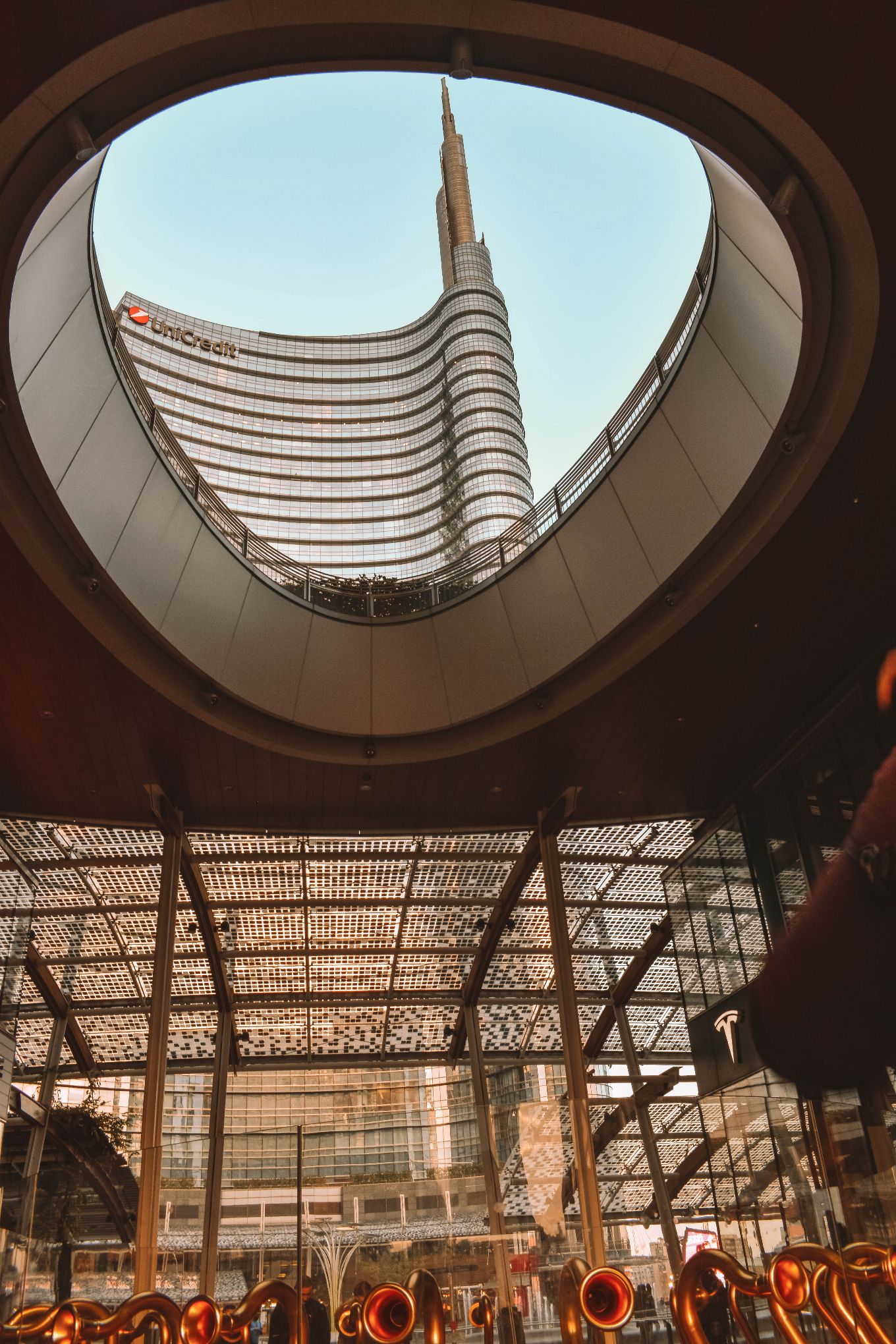 Pizza – While Rome and Naples are known for their signature pizzas I found the best I've ever had in Milan. It's a bit outside of the city but worth it to check out this woodfire pizzeria brimming with locals. It was so good we ate it twice. Pizzeria la Ruota via Forze Armate is worth the indulgence.
Coffee – You can't go to Milan without trying some delicious coffee or popping into a cafe. You'll also find the newly opened (September 2018) Starbucks coffee nearby the Duomo. Normally I avoid Starbucks while traveling, but this one is particularly pretty and is interesting that it's the first Starbucks EVER in Italy.
How to get to Como
There are a lot of options to get to Como. You can take an organized tour, but many are day trips and will focus solely on Como. I recommend booking a car or taking the train to spend as much time as you'd like at the lakes.
Traveling from Milan to Como by train is very easy. Catch a train from the Milan Central station to Como S Giovanni. You can also take the Milan Porta Garibaldi station to the main Como station as well. The ride is about 37 minutes. You can find all the options and times here.
I've also rented a car and driven from Milan to Como but I will warn you the driving isn't for the faint of heart. The narrow lanes and somewhat reckless driving had me white knuckled at times!
What to do in Lake Como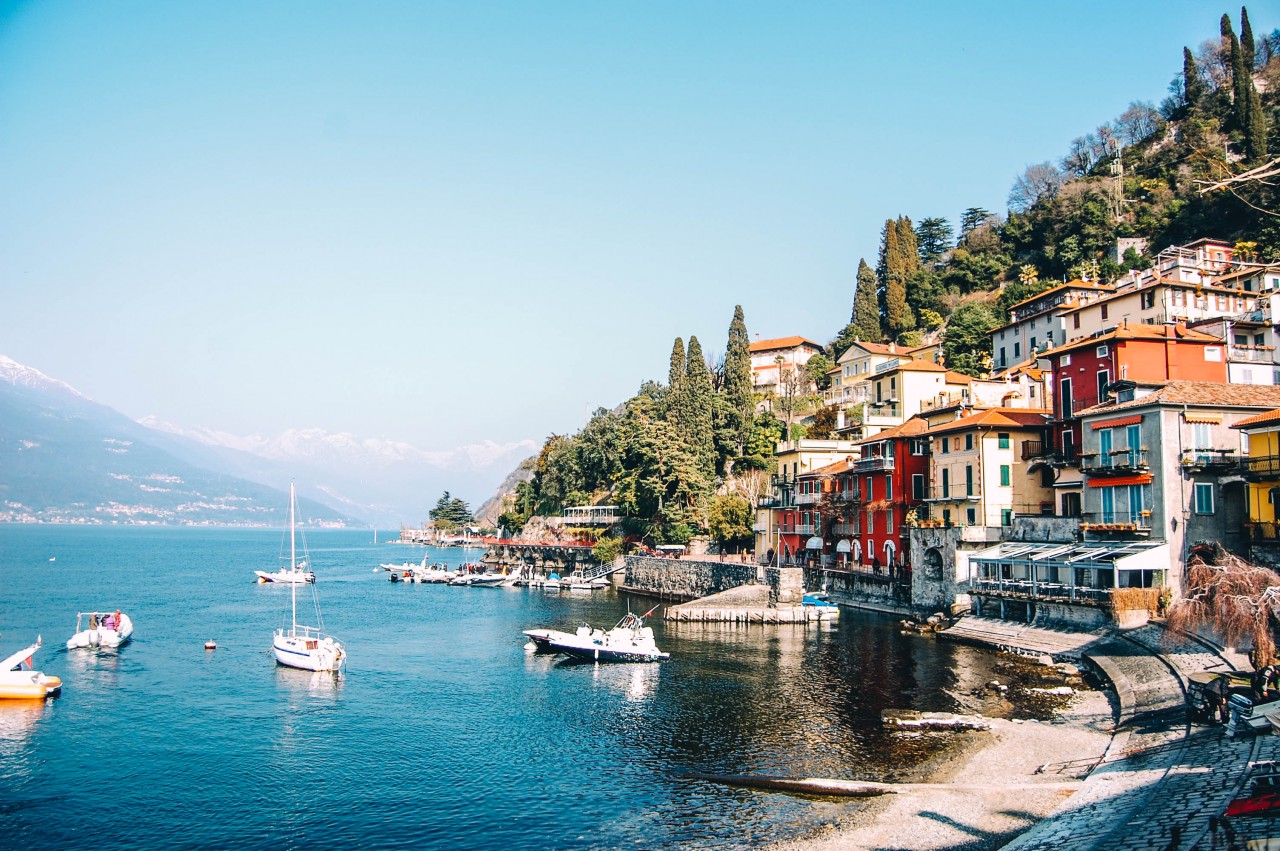 Funicular – Kick things off with a view of the city and lake. For just a few euro you can take the funicular up to see the town and stretch your legs. Make sure to look west for Switzerland, just a few miles from the Italian border. There are a few hikes you can also do from here.
Boat trip around the lake – There's absolutely no better way to see the lake than to get on a boat. If you are short on time, take the hour long boat ride around the lake, stopping at a few towns along the way. If you have more time take the boat over to Bellagio and then Varenna for beautiful, winding alleyways.
Along your route you'll see grand villas (you might even see George Clooney basking in the sun at his) and steep harbor fronts jutting up to pastel colored houses. You can buy your ticket at the ticket office by the docks or pay directly on the boat.
Bellagio – Named the "Pearl of the Lake" Bellagio is brimming with high-end shopping and tasteful restaurants. Bellagio makes it easy to see why tourists flock to Como, filled with character and style it shows off the beauty of the lake. If you find it to be too touristic take a boat just across the lake to lovely Varenna.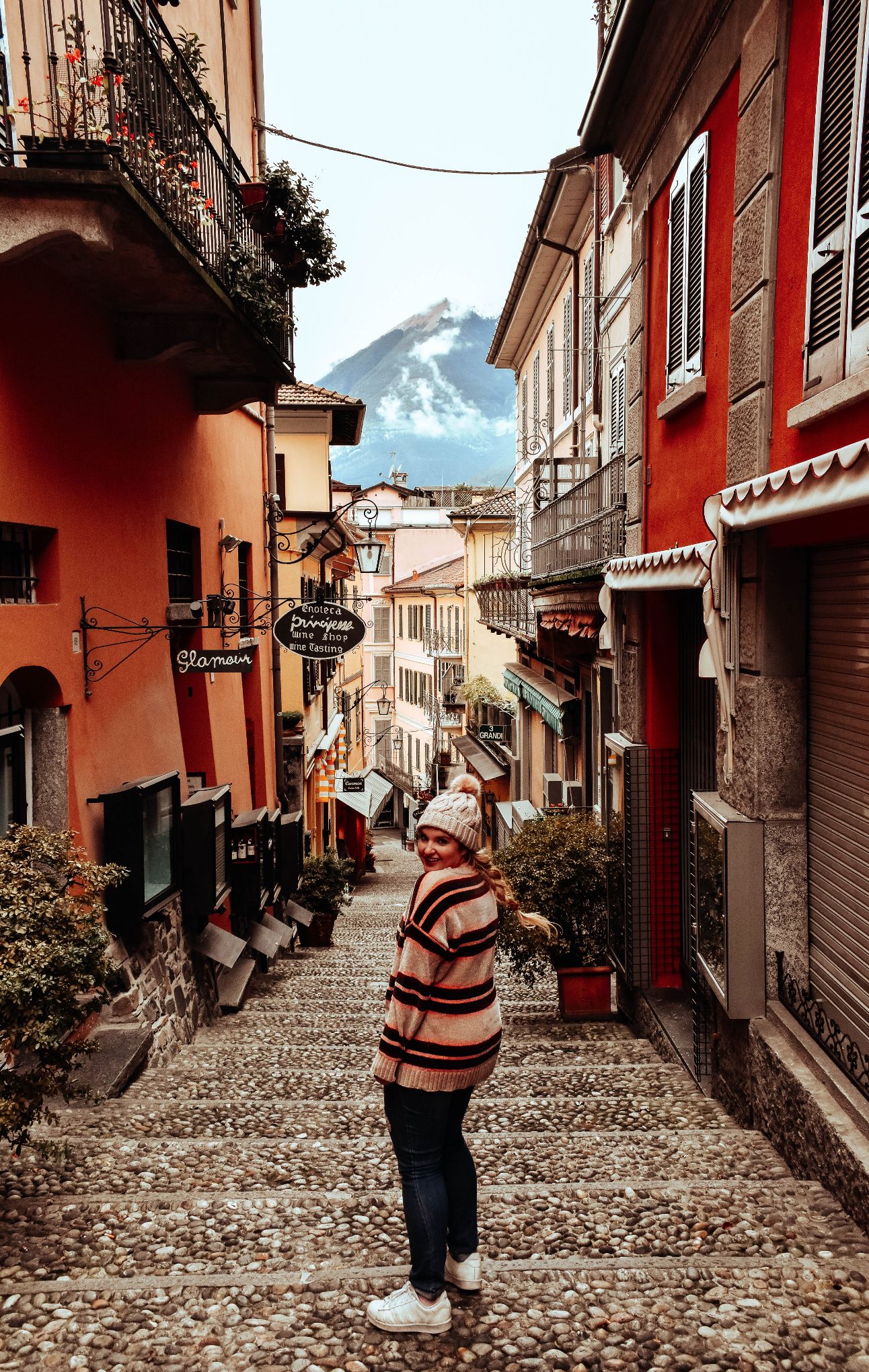 Varenna – You'll find Varenna the quintessential place to stroll and feel like a real Italian. Lake Como is called the "hazy lazy lakes" for a reason, the clouds are often trapped by the surrounding mountains. There's no better place to sit, even in the clouds, than in Varenna. Make sure to check out Passeggiate Degli Innamorati, or Lovers' Walk, that follows the path of the water. I also suggest heading over to Church of San Giorgio to get a view of the town.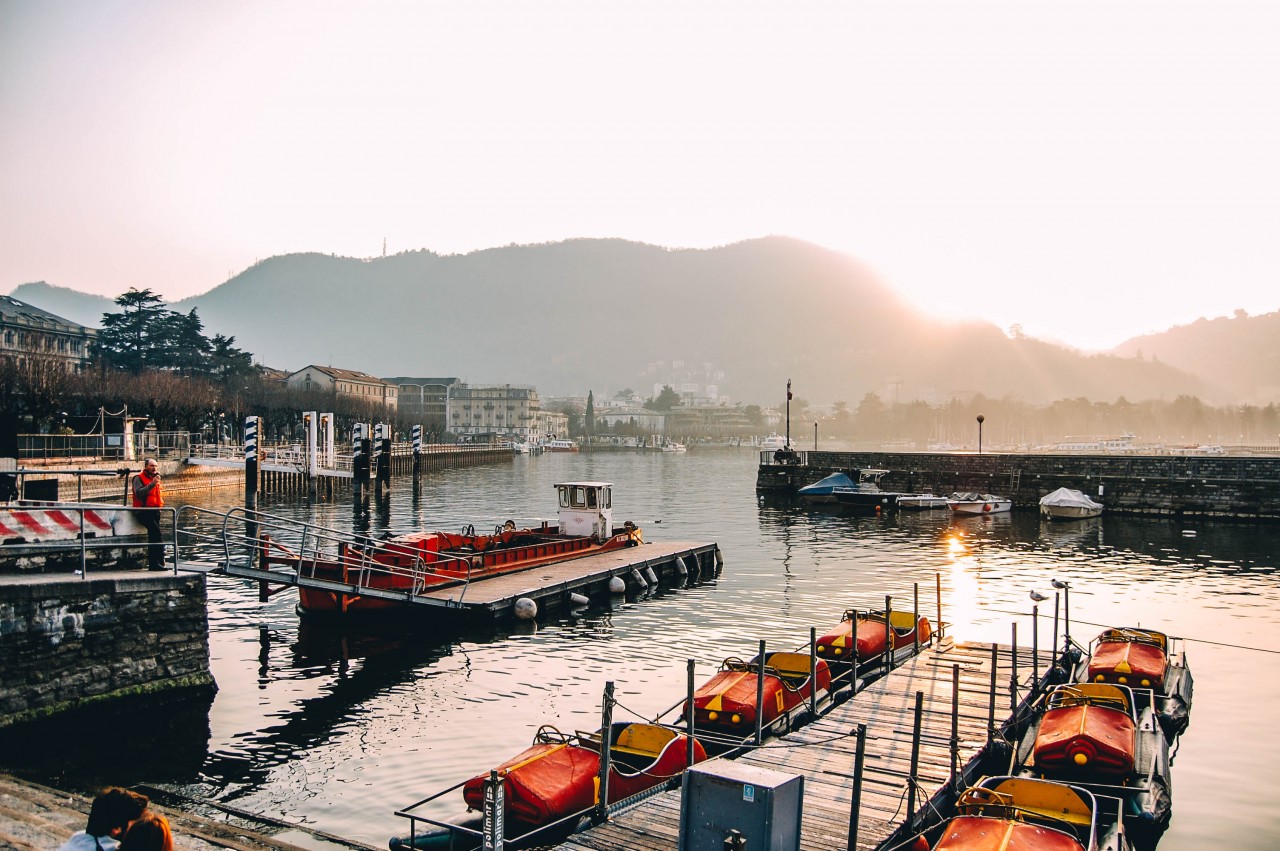 Ghisallo Cycling Museum – Cycling is a huge part of the culture in Italy and Lake Como's Ghisallo museum shares not only a history but imparts a passion on each visitor that comes in. Madonna del Ghisallo is a hill in Magreglio which was a treacherous ride and cyclists started offering a token of their appreciation to the Madonna after getting to the top. Now, there's a church that has many memorabilia from over the years. Next to it is the museum that shares more about cycling in Italy and how it's impacted their culture. Definitely make a stop here for a great view of the lake.
Como is a great place to walk around and peek into churches and cafes. Enjoy the mellow ambiance by strolling the streets and taking a leisurely lunch lakeside. I recommend a day or two to get the most out of your stay.
You definitely need to plan out your weekend getaway to Milan and Lake Como to make sure you get the most out of your time. Both cities offer their own unique take on Italian delicacies, things to see, and culture. What I love so much about Europe is how regionalized everything feels. Even though these two cities are just 30 miles from one another you get to feel like you're in two completely different, yet totally Italian places.
If you have more time, check out my 8 day northern Italy and French Riviera that includes Lake Como and Milan.
Further reading:
10 Day Italy Itinerary: Rome, Florence, Venice
How to Plan a Stress Free Trip to Europe
The Tuscany Itinerary You Should Steal
My trip was a project managed by iambassador in partnership with #InLombardia365. Helene in Between maintains full editorial control of the content published on this site.