I just spent a glorious ten days in Germany and France taking in some of the best Christmas Markets that Europe has to offer! I've absolutely adored the Christmas Markets in Europe ever since I moved abroad, and exploring some new markets this year made me realize there is no shortage of magical places in Europe.
Whether you are wanting to plan a Christmas Market road trip itinerary or just want to see my route, this guide will share what we did, where we stayed, and my recommendations for the best things to do.
If you're looking for the Best Christmas Markets in Europe check out this guide. This also shares the details about Christmas Markets throughout Europe: Germany, France, Switzerland, Austria, and more. It also shares important dates and frequently asked questions.
Traveling through Europe at Christmas makes me feel like a kid again. I get those excited butterflies and anticipation like I'm waiting for Santa to come down the chimney.
Christmas Market Tips
For this particular trip, I was traveling with my mom in Germany and France. We flew from Dallas to Frankfurt, picked up a rental car, and headed straight to Cologne. I'm ALWAYS asked about rental cars. Yes, Europe does have excellent public transportation, but I personally love renting a car for ease of travel and not having to wait. Especially for visiting some of the smaller towns, it's just a lot easier. Plus, you're on your own schedule and can pull off wherever you need! Like we did when it started snowing in Germany!
I've traveled Europe extensively for the past 6 years, so this guide will give you the best tips on experiencing Christmas markets and my itinerary for a fabulous trip.
There is so much that goes into planning an epic trip abroad, especially during the holidays! With my European Christmas market road trip itinerary, it will hopefully make your travel planning process a breeze.
How long should you plan for a trip? This will of course depend on what you want to see and do, we spent about 11 days traveling which is a wonderful trip that was jam-packed with Christmas markets, museums, sightseeing, and great food.
Don't have 11 days? That's okay! I'll share the cities that you need to explore, what you should definitely see/do, and how long it takes to travel from city to city.
You can absolutely see a lot in less time! One week is still plenty of time to see and do a lot, you might just want to cut out a few stops along the way.
Now while we were traveling we did have to drastically change our plans since Christmas markets were canceled in some cities. But since we were flexible, and had a car, we were able to re-route our trip! And it was so worth it.
Many will tell you to book hotels ahead of time, and I agree, but make sure the cancellation policy is flexible, especially if you anticipate there might be changes along the way. We were going to spend more time in Germany, but since the markets were canceled, we ended up staying longer in France and getting last minute hotels.
Our European Christmas Market Road Trip Itinerary
Here's a brief look at our stops on our 10-day trip.
Cologne
Aachen
Monschau
Trier
Metz
Ribeauvillé
Kayersberg
Eguisheim
Riquewihr
Colmar
Strasbourg
Baden-Baden
Heidelberg
Frankfurt
If that seems like a lot… it's because it is! With a car and a can do attitude, along with a plan, you really can see and do a lot! To me, this didn't feel rushed. I was traveling with my mom and she kept up as well. I do tend to pack in a lot when I travel, but I wouldn't have it any other way.
While there are 14 cities listed, some are so small, we saw multiple in a day. Here was our trip itinerary:
Day 1: Flew into Frankfurt and explored Cologne (2 hour drive from Frankfurt to Cologne)
Day 2: Cologne, drove to Aachen (1 hour drive from Cologne to Aachen)
Day 3: Aachen
Day 4: Aachen, drove to Monschau (45 minute drive) and explored Monschau, drove to Trier, Christmas Market in Trier at night (Monschau to Trier is about an hour and a half drive)
Day 5: Trier, drove to Metz, Christmas markets at night in Metz (1 hour, 15 minute drive from Trier to Metz)
Day 6: Metz, drove to Ribeauvillé, explored Ribeauvillé (Our longest drive of the trip, 2 hours and 18 minutes from Metz to Ribeauvillé, since you're going through the Vosges mountains)
Day 7: Explored Kayersberg, Eguisheim, Riquewihr, drove to Colmar (all of these towns are within 30 minutes of one another!)
Day 8: Colmar, drove to Strasbourg (1 hour to drive from Colmar to Strasbourg)
Day 9: Strasbourg, drove to Baden-Baden (45 minute drive from Strasbourg to Baden-Baden)
Day 10: Baden-Baden, stop in the Black Forest, drove to Heidelberg (an hour drive from Baden-Baden to Heidelberg)
Day 11: Heidelberg and drove to Frankfurt (1-hour drive from Heidelberg to Frankfurt)
Our total drive time was about 14 hours in 11 days. To me, this is perfect, and didn't at all feel like we were in the car too much.
Renting a Car
I recommend using a budget website like Priceline or Hotwire to find a rental car. However, I avoid car rental places like Thrifty and Budget! I rented a car with Sixt and thought the customer service was great.
As soon as we landed in Frankfurt I was able to get the rental car at the airport and drive it for the length of our trip. I returned it back to the airport in Frankfurt at the end of our 11 days.
Now, you can sometimes drop off your rental car at a different location, but usually it needs to be within the same country. Keep that in mind when renting.
I don't usually add car rental insurance, since I have insurance already.
I ended up paying about $600 in total with taxes and fees to rent a car.
Now, let's hit the road for Christmas markets in Europe!
Stop 1: Cologne
Christmas markets are a European tradition that date back to the 13th century, and Cologne is one of the most famous Christmas market destinations in Germany. The markets in Cologne are spread throughout the city with over-the-top decor, themed markets, and unbeatable Christmas spirit.
The Kölner Christkindelsmärik is held every year usually from November 24th until December 23rd, with more than 100 stalls selling everything from organic food to traditional German decorations. The most popular stall is undoubtedly the Bratwurst stand, where you can buy freshly grilled sausages with delicious mustard and toppings.
Some of my favorite markets are:
Cologne Cathedral (Kölner Dom) – this is the most popular market and is held in front of the dazzling Cologne Cathedral with a stage for music, a gigantic, sparkling Christmas tree, and plenty of beautiful stalls in the Roncalliplatz.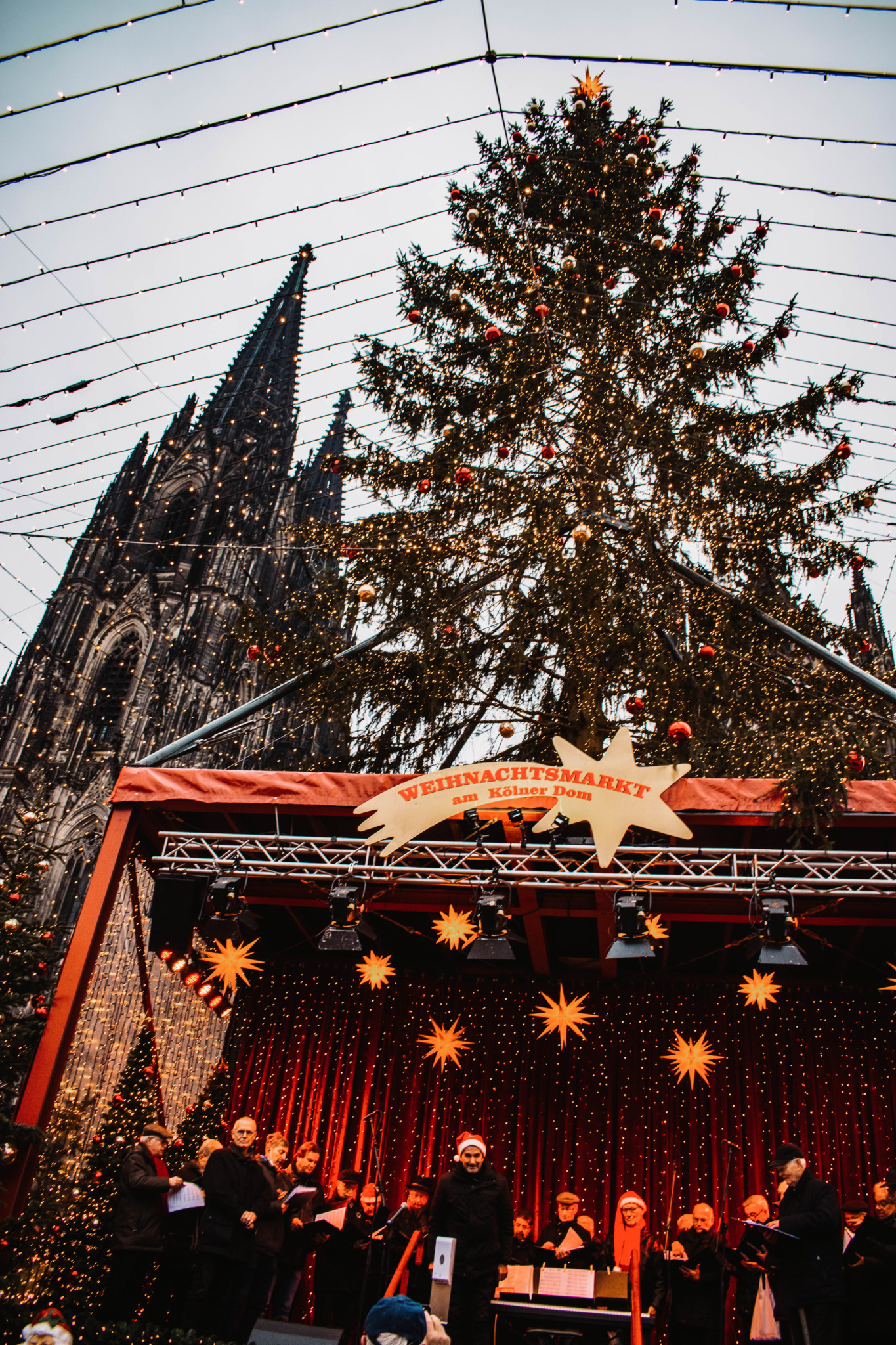 Angel Market – This beautiful market is located at Neumarkt and features pretty white stalls with dark shingled roofs and a myriad of stars. There's a beautiful carousel and plenty of great treats and Glühwein. Watch for the angels riding horseback handing out candy to kids!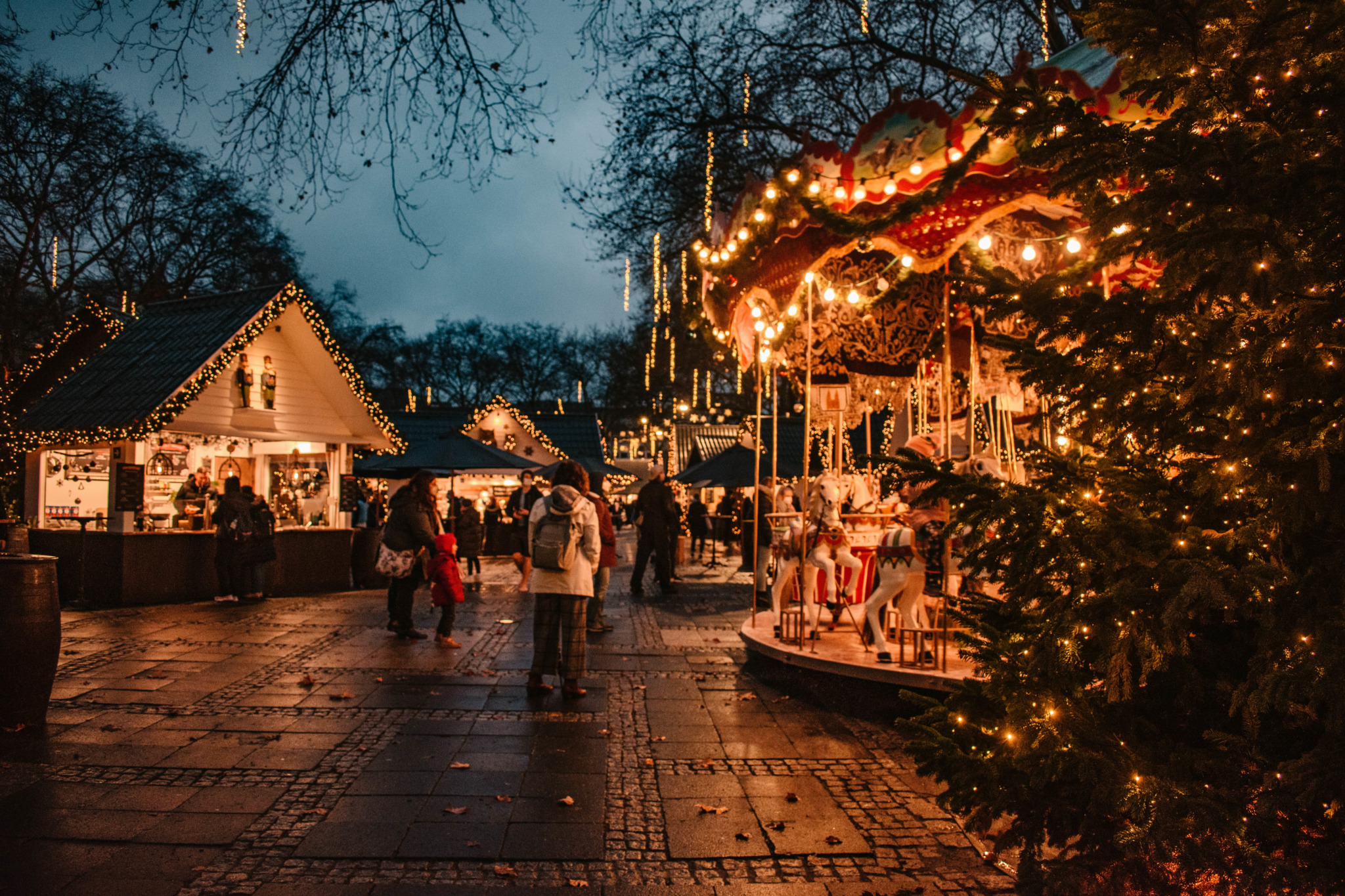 Heinzel's Winter Fairytale – This is just a sensational spot with ice skating, sparkly decorations, lavishly decorated stalls, and a festive atmosphere. Cologne's "Heinzelmännchen" legend is one of my favorites. The Heinzelmännchen are friendly household spirits that are used throughout the market as decor. You'll also find lots of wood crafts here.
Nicholas Village – I absolutely ADORE this beautiful market! You're greeted with a talking moose, joyous Christmas music, and hot Kartofelpufer (see what to eat at a Christmas Market here). Located in front of the beautiful and historic Hahnentorburg, you can sip Glühwein out of a boot!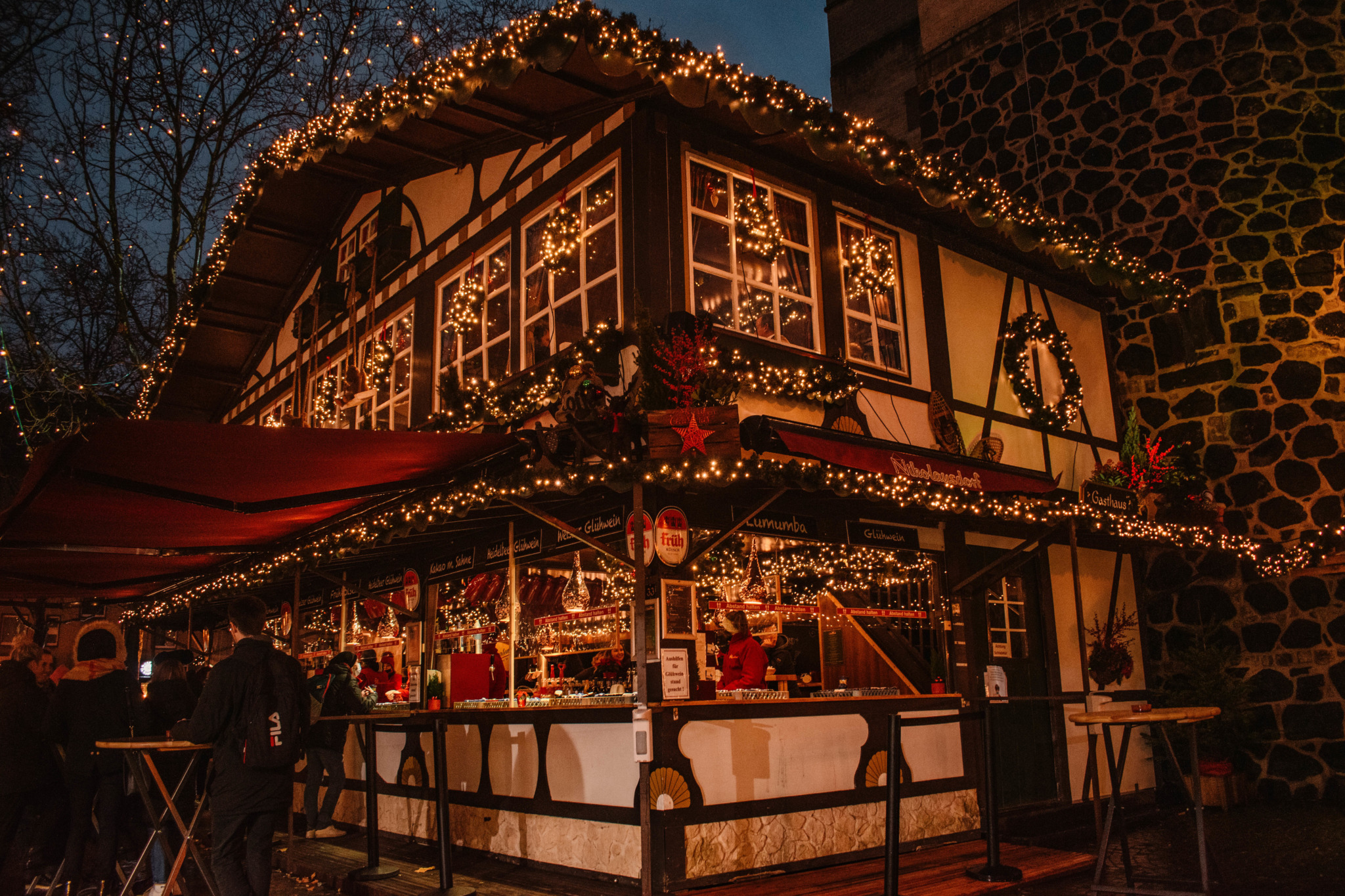 There are 7 markets throughout the city and I recommend you explore them all! On our first day, we explored the Cologne Cathedral Christmas Market, Heizel's and Kolner Hafen- Weihnachtsmarkt.
On our second day in Cologne, we toured the Cologne Cathedral. Here is not only an incredibly impressive cathedral, but you'll also find the three wise men's bones preserved! The famous Shrine of the Three Kings is a spectacular gold box! The cathedral alone is an entire day trip in itself!
The city is filled with great history, beautiful churches and lovely cafe shops. It's one of my favorite cities, especially during the holiday season – you'll feel like you're in a real-life Christmas movie!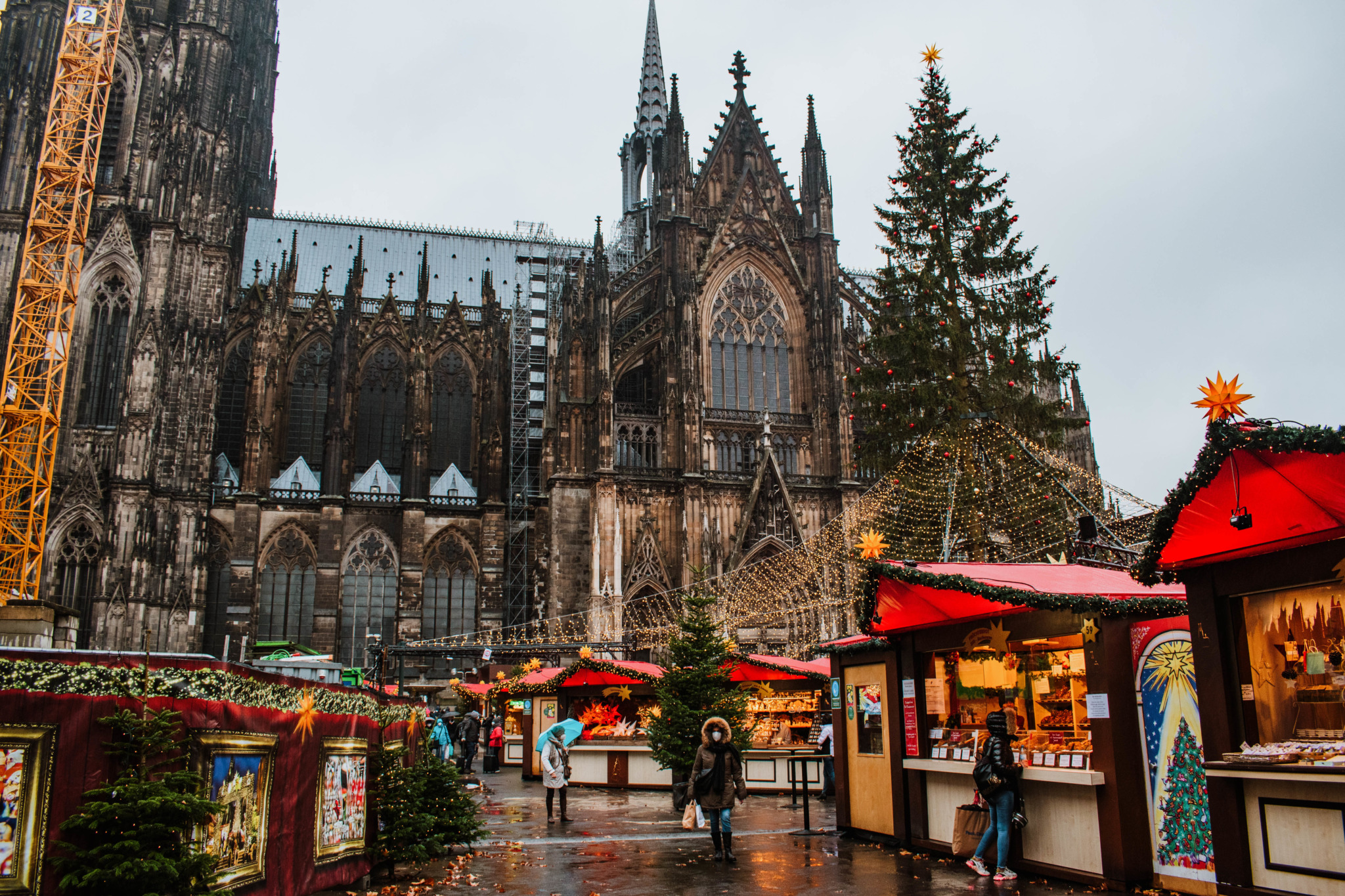 We also continued exploring the Christmas markets, the Angel Market and Nicholas Village. Then that night drove on to stop 2!
Stop 2: Aachen
I can't believe I lived in Germany for 3 years and never visited Aachen! This city has been named as having some of the best Christmas markets in Europe and it's easy to see why. Aachen is a spa town and borders both Belgium and the Netherlands. Our plan was to visit both Belgium and The Netherlands on this trip but we decided to skip and stay in France and Germany, However, you can easily head to Liege, Belgium, and Maastricht, The Netherlands. Being on the border gives it a certain feeling of worldliness.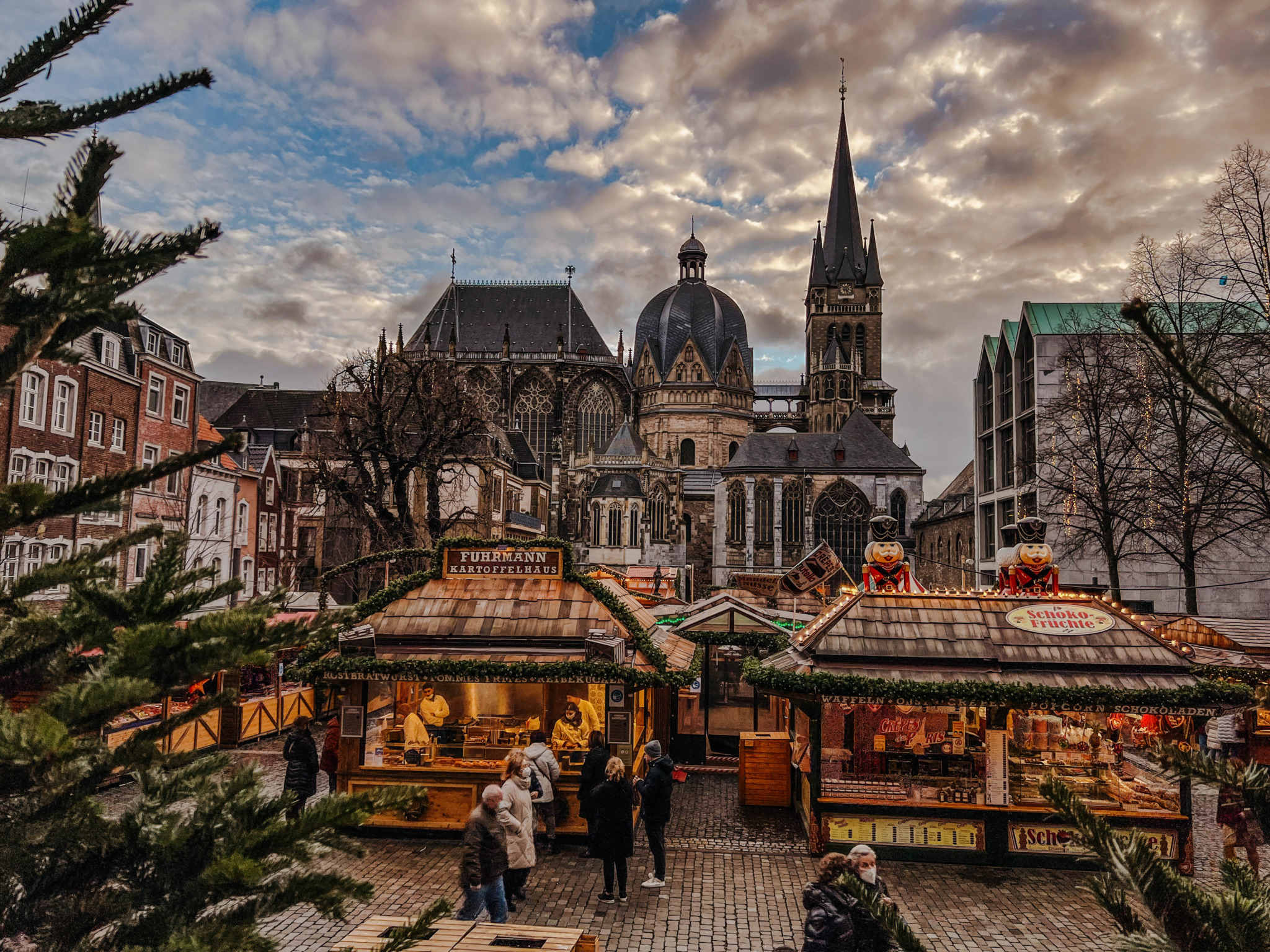 Charlemagne constructed a monumental palace complex of buildings which is now where the Christmas Market takes place. Around 800 A.D., the Aachen Cathedral was built, then later a Gothic chancel. The Domschatzkammer (treasury) houses medieval relics including Charlemagne's shrine, which was erected over his burial place in 814 A.D.
The city has a rich history and a wonderful atmosphere during the Christmas season. Aachen is also home to the Cathedral of Aachen, which is a beautiful cathedral and one of the oldest in Europe.
I recommend visiting the Charlemagne Center which tells the history of the city of Aachen and Charlemagne. Aachen was the 2nd biggest city in Germany, after Cologne in 1250, but WWII devastated the town. Now, though it's not as big as it was before, the beautiful architecture and rich history, along with the Christmas markets, make it a wonderful destination.
I recommend spending two days here (we spent two nights here) exploring the town – it's very walkable, taking in the Christmas markets, and exploring the cathedral and museums.
Stop 3: Monschau
As we left Aachen the snow started falling in great, big, fat flakes! It was stunning. We meandered our way to the stunning town of Monschau. Monschau, a town in the Eifel region of Germany is a charming and picturesque destination with endless half-timbered architecture and a river running through it.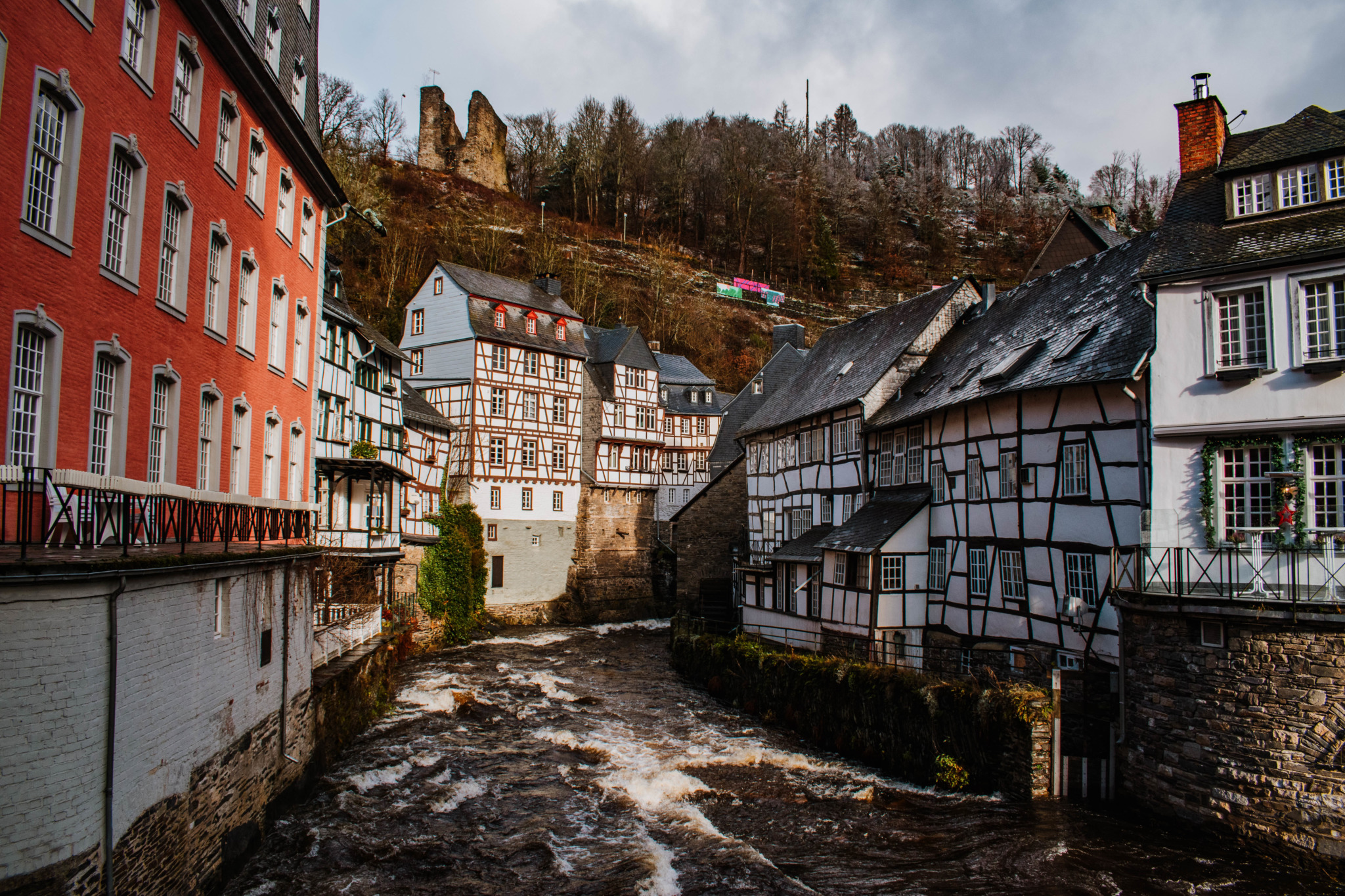 Monschau was originally built around a castle and offers a bevy of beautiful buildings and a charming setting for strolling. The Christmas market here is also very pretty, full of traditional German food and drink, crafts, decorations, and music! I highly recommend exploring Monschau if you're ever in Western Europe during winter time – it's absolutely beautiful!
It's a short stop and a very walkable town. Just get lost and explore!
As we drove out of Monschau we stopped in the forest nearby to see the lightly falling snow and take a few pictures! This would also be a fantastic place for a hike.
Stop 4: Trier
After Monschau we drove to Trier, about an hour and a half drive. I've traveled to Trier in the summer before so it was nice to see it for Christmas. We spent the evening at the Christmas market, and the morning exploring the town.
It was a cold winter evening in Trier, Germany. The Christmas market was broken into two and stretched across the main square where I had just walked up to get some mulled wine and roasted chestnuts. It was busy with people milling about grabbing their favorite holiday decorations or chit-chatting with friends while enjoying warm drinks or delicious food.
The Christmas Market in Trier is one of the oldest in Germany and is set up in the medieval main square by the incredible Trier Cathedral. Nearly 100 decorated booths sell delicious Langos, mulled wine and arts and crafts.
Trier is a town in Germany with a rich history and culture.
Trier was the oldest Roman city in Europe, founded by Emperor Augustus of Rome. It's also where the first Christian bishopric outside Palestine was established, by Saint Helena of Constantinople around 300 AD. During the Middle Ages it became one of the most important cities in Europe and it remains an important site for trade and education today.
I recommend visiting Trier Cathedral – its Gothic architecture dates back to about 1300 A.D., making it one of the most impressive churches in Western Europe! The cathedral contains numerous pieces from before then as well, including an altar that is said to be over 1,300 years old. There are plenty of Roman ruins and beautiful palaces throughout the town. Some highlights are the Porta Nigra, Karl Marx House, the Roman Amphitheater, Aula Palatina, and Kurfürstlicher Palace.
Stop 5: Metz
I was pleasantly surprised at how much there is to do in Metz! The first stop on our tour was the Cathedral Saint-Étienne de Metz, which dates back to the 11th century. Inside are beautiful stained glass windows that were built by famous artists like Marc Chagall and Jean Cocteau. Metz has plenty of other places worth visiting as well – Notre Dame d'Auschwitz, the modern art center Centre Pompidou-Metz, and Le Temple Neuf is a beautiful church that looks more like a castle.
Like other larger cities, the Christmas market is spread throughout the city. Not only are there markets, but there are also the magical light displays, "Sentiers des Lanternes", throughout. I recommend stopping by the cathedral at the tourism office to get a map of each of the markets and places for light displays.
Next to the Cathedral is a neon Ferris wheel along with a market. You can find gourmet food markets on Place de la Comédie.
I also recommend the traditional Christmas market at Place Saint Louis, the Place de la République-Esplanade with the Christmas pyramid, Place d'Armes J-F Blondel with a beautiful light display, and Place Saint Jacques for great food. See all the Christmas markets here.
On our way out of Metz the next day, we stopped at Porte des Allemands, the original fortress and gatehouse to the city of Metz. It's a quick and easy stop.
Next, we took our longest drive of the trip from Metz to Ribeauvillé.
Stop 6: Ribeauvillé
This was my favorite and most shocking stop on on trip! Ribeauvillé is a beautiful, festive town in Alsace, France with a rich history and culture. It's also known for its TRUE medieval Christmas market! This tiny village packs a punch with beauty, spirit, and fun. Everyone in the town gets in on the traditional Christmas market.
The Ribeauvillé Christmas Market is the perfect place to get into the winter spirit. The market stretches from Place du Temple to Place Saint-Louis and has more than 100 booths of all sizes selling delicious mulled wine, food, arts and crafts, ornaments and souvenirs. You'll be able to get lost among the stalls while enjoying traditional French food like scalloped potatoes with cheese or strolling through the medieval streets admiring holiday decorations while listening to live music. You might even see a camel or two strolling the street!
Just park and walk around the town! Prepare to be entertained by the street performers, acrobats, stilt walkers, and more. You even turn in your money for some beads to pay for your Vin Chaud (mulled wine!). Stick around at night for strange creatures from fairy tales and legends will roam the street!
Warm your hands by the fire logs in the middle of the street, follow the parade of lights or have traditional cider mashed by hand with a huge stone grinder. This was truly one of my favorite places I've ever been!
Ribeauvillé is a great stop on your European adventure because it's one of the most unique and beautiful towns with one of the best Christmas markets I've ever been to! Everyone in town is in costume, the food is delicious, and you get a taste of real, medieval specialties.
The Alsatian region is truly a gem and one of the best places for Christmas with a mix of German and French traditions.
Important note: the Ribeauvillé Christmas market is ONLY two weekends a year! So plan accordingly. Usually the first and second weekend of December.
Stop 7: Kayersberg
The next few stops were actually taking place over just one day since these towns are so small and easy to explore. Starting with Kayersberg.
Kayersberg is a small town on the outskirts of Colmar, France. It's known for its medieval architecture and Christmas market.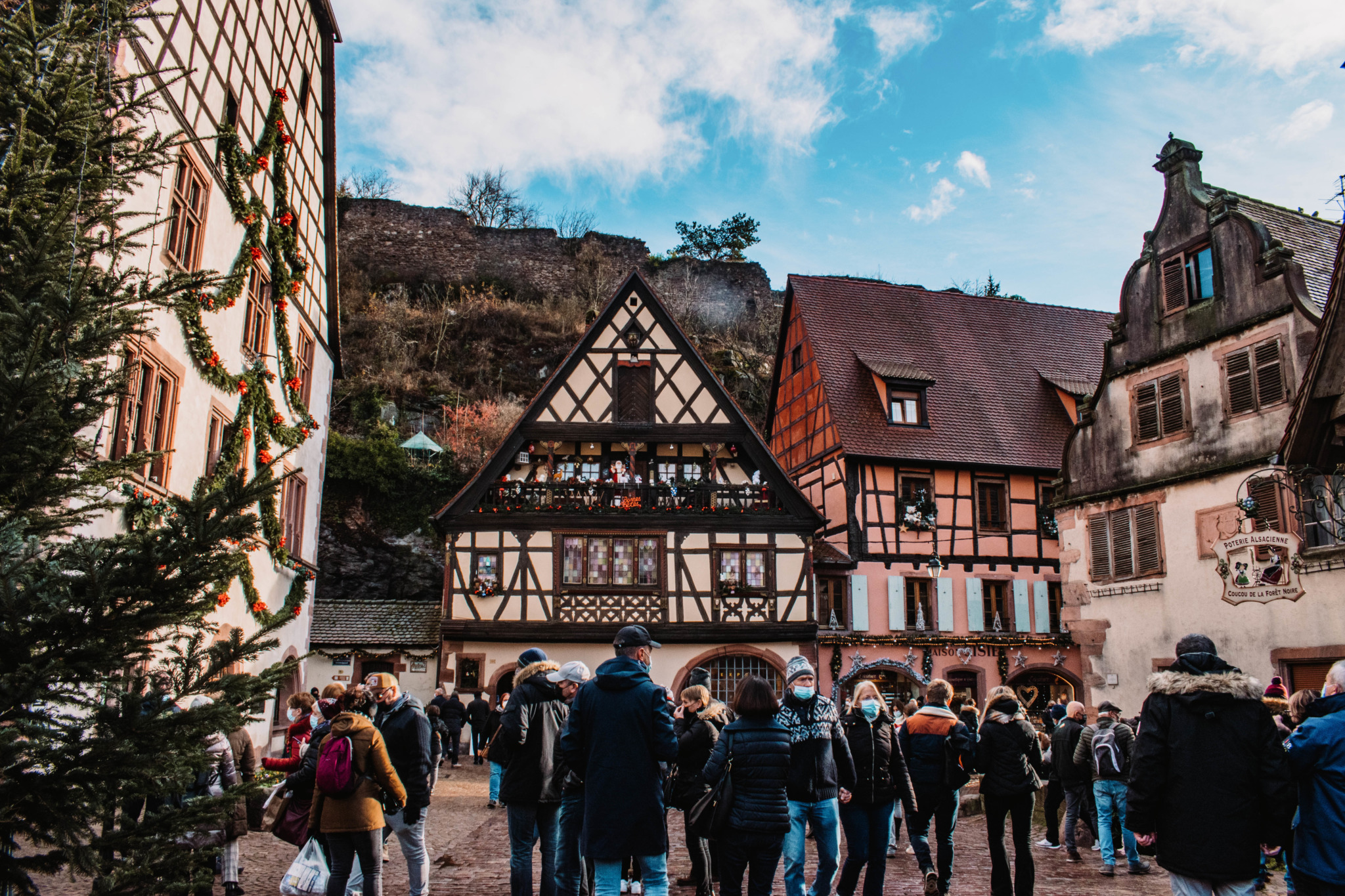 Kayersberg is one of the most picturesque towns in Alsace with cobblestone streets, half-timbered buildings, and narrow alleys lined with shops selling all sorts of things from food to crafts to jewelry.
You will not be able to resist at all the delicious specialties, specifically, bredeles, their famous Christmas biscuits with almonds, nuts, anise, chocolate or vanilla. Sweet or salty kougelhopfs, which is a ring cake made with brioche, fruitcakes, or beraweckas, or little brioche men called mannalas!
We spent the morning here before driving just 15 minutes to Eguisheim.
Stop 8: Eguisheim
Eguisheim is the smallest of the Alsace towns I visited on this trip, but a gem and worth the stop! This picturesque town has tiny, narrow streets, sometimes even half streets laden with half-timbered buildings strewn with garlands, teddy bears, and more.
This is named one of the most beautiful cities in the Alsace with a beautiful village center tucked away from the hustle of the larger cities.
Eguisheim is nestled in the wine region, so all the Vin Chaud tastes delicious! If you're here at night, stick around for a tour from the Night Watchman who will tell you stories of Eguisheim's past!
Stop 9: Riquewihr
Of the three stops of our Alsace Christmas market tour today: Kayersberg, Eguisheim, and Riquewihr, Riquewihr was my favorite. The city is ablaze with twinkling lights and festive decorations.
You'll find an abundance of half-timbered, pastel-colored buildings, pretty streets, and a myriad of stalls selling your favorite Christmas treats.
Riquewihr is the smallest of the Alsace towns I visited on this trip, but a gem and worth the stop! This picturesque town has tiny, narrow streets, sometimes even half streets laden with half-timbered buildings strewn with garlands, teddy bears, and more.
We drove from Riquewihr on to Colmar so we'd have the day to explore Colmar, only about a 30-minute drive.
Stop 10: Colmar
I've been to Colmar many times and I never tire of this fairytale city that was the inspiration for Disney's Beauty and the Beast.
Colmar is a city in the heart of Alsace and it's surrounded by half-timbered buildings, cobblestone streets, and cozy cafes. It's a beautiful place to visit any time of the year but perfect for Christmas! There are six Christmas markets all within walking distance and each prettier than the next.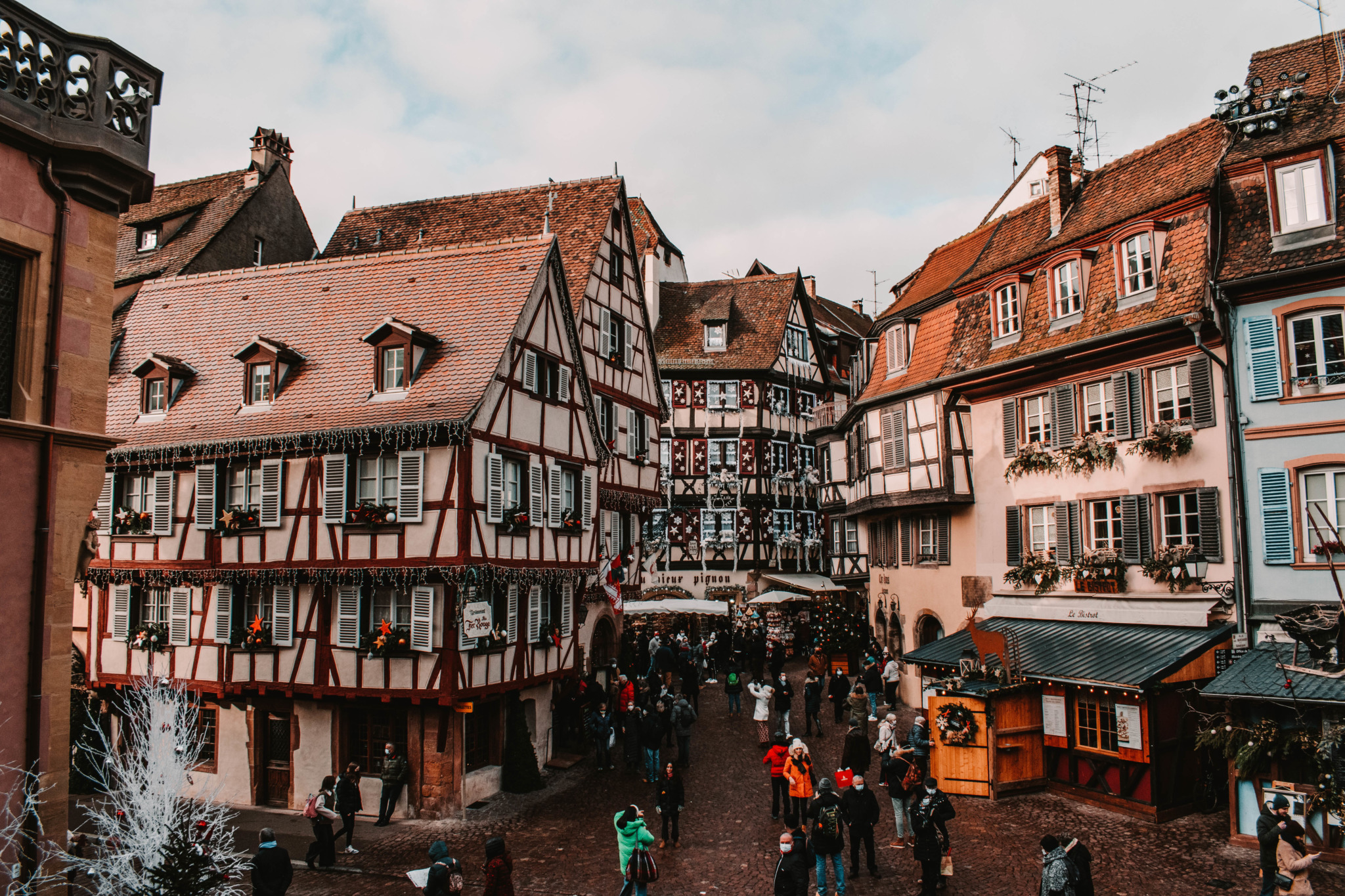 La Petite Venise is one of my favorite areas with delightful architecture curving around the water. Also here is one of my favorite restaurants in the region, Winstub de la Petite Venise. This Michelin star restaurant offers a 35 euro plat du jour that makes my mouth water just thinking about it! I've eaten here twice and it's just some of the best food you'll have in Europe.
The Christmas market is full of wooden chalets with beautifully illuminated streets and plenty of photo opportunities.
On our way to Strasbourg, we stopped at the huge Koenigsbourg Castle, a medieval castle on top of a mountain in the Alsace with a great view of the region. When we went it was nearing dusk and a cloud of fog engulfed the castle, so much so that we could barely see! We still enjoyed roaming around the impressive castle.
We drove to Strasbourg that evening to enjoy the wondrous lights of Strasbourg at night.
Stop 11: Strasbourg
A visit to the Alsace just isn't complete without a stop in Strasbourg. The largest city and capital of the region, Strasbourg is one of my favorite cities. It's home to the European Parliament, an incredible cathedral, and is one of the oldest (and prettiest) towns in all of France.
During Christmas, Strasbourg comes alive with decor, lights, and a magical setting of joyous food and wine.
The Christmas markets in Strasbourg are some of the best in Europe with a towering Christmas tree (almost 100 feet high), festive lights, and lovely stalls selling all sorts of goodies. I could wander around these markets for hours! The Christmas tree at Place Kleber the symbol of "Strasbourg, Capital of Christmas" is also the tallest decorated Christmas tree in Europe
I urge you to make sure you leave enough time to see Strasbourg both during the day and at night to really get a feel for its magic. There are 300 stalls spread throughout the city and some of the best light displays spread throughout the streets!
You can see my full guide to Strasbourg at Christmas here!
Stop 12: Baden-Baden
Baden-Baden is an elegant city famed for its spas and thermal baths.
The city is home to one of the most spectacular Christmas markets in Germany with around 200 stalls, featuring traditional wooden chalets selling local produce and festive trinkets. Unfortunately, this year's Christmas market is closed.
There's also a famous casino here. But my favorite part about this city is its proximity to the beautiful Black Forest!
We took a short drive from Baden-Baden up to the beautiful ski resort Mehilskopf. The snow on the ground made for a picturesque setting.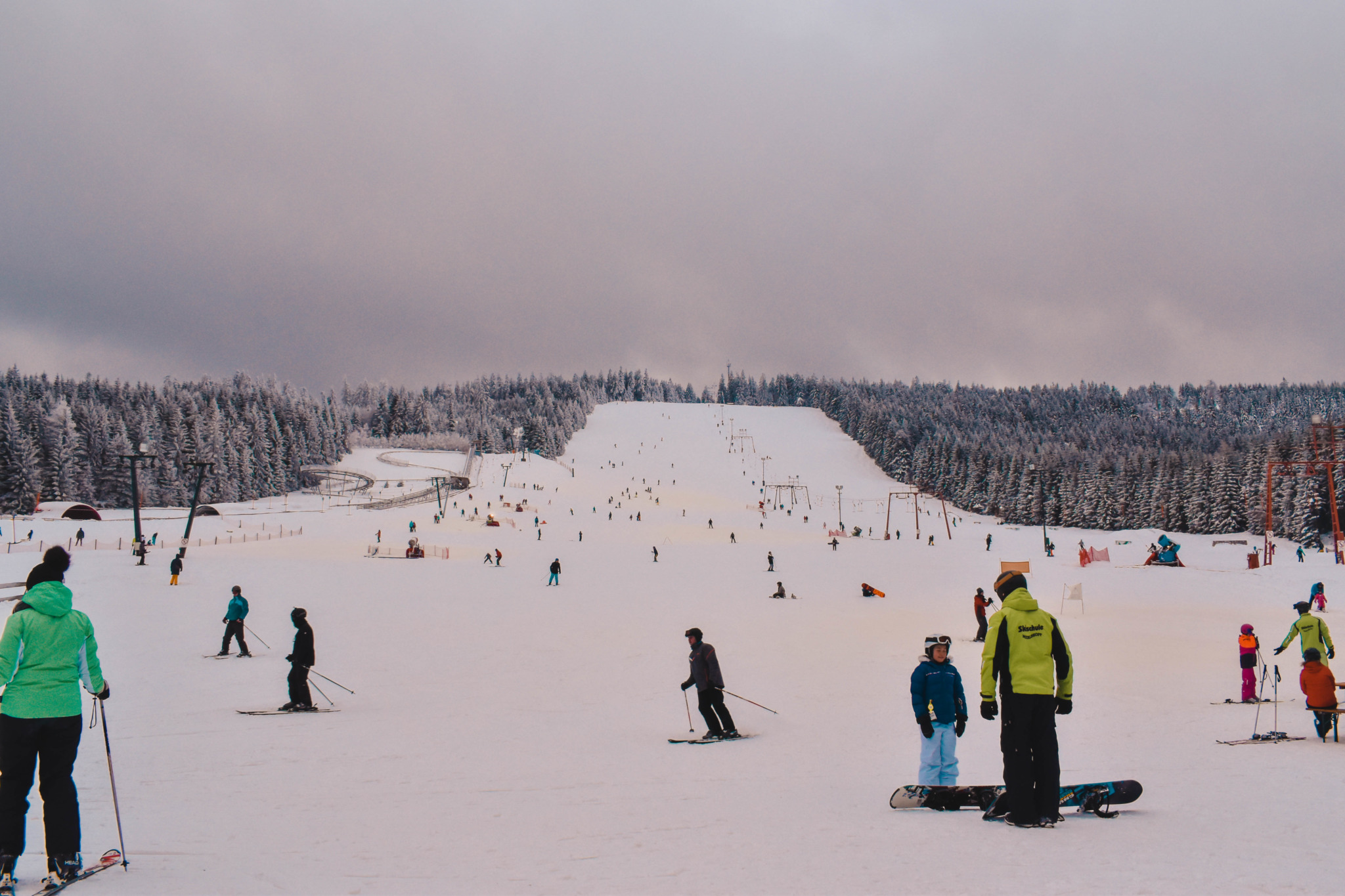 Stop 13: Heidelberg
Heidelberg is a small city with a beautiful castle and a well-preserved 16th-century town. I actually lived in Heidelberg for 3 years so I know my way around this city very well! I adore the Christmas market here that's also spread throughout the main street, Hauptstrasse.
The market is small but charming with a lot of local vendors selling their wares. I also love the market by the ice skating rink that's right under the castle. Such a beautiful spot! See my full guide to the Heidelberg Christmas market here. Heidelberg is also home to the oldest university in Germany so there's plenty of history and culture to be explored here.
You can see my full guide to Heidelberg here!
Stop 14: Frankfurt
We drove an hour from Heidelberg to Frankfurt which is a more industrial city with skyscrapers and high-rise buildings. However, the Christmas market here is a traditional feel with a large square in the center of the city.
The "Christkindlesmarkt" and has around 180 stalls selling all sorts of goodies from gluhwein to sausages.
Frankfurt is also home to the Christmas markets at the Römerberg, a beautiful square in the heart of downtown. Here you can find a Christmas tree that's over 10 meters high (about32 feet) and walk along the shops selling traditional German crafts.
See my full guide to the best Christmas Markets in Germany here.
Where to stay
We stayed at mostly budget properties, all-around $100 or less a night with easy access for parking and to the city centers.
Cologne – Lowenbrau Cologne: My favorite stay! This is right in the heart of the old town and a beautiful place to stay with a great view, a great restaurant, and a surprisingly budget-friendly price.
Aachen – B&B Hotel Aachen-City – I've stayed at many B&Bs, they are simple, and budget-friendly but practical hotels.
Trier – Holiday Inn Express – Also a big fan of Holiday Inn Express, simple but good hotels.
Metz – Campanile Metz Centre Gare. Easy place to explore Metz with free street parking.
Colmar – Hotel Ibis – the most budget stay.
Strasbourg – Holiday Inn Express Strasbourg.
Baden-Baden – Aparthotel Volgergasse, a bit pricier but this stay is the most luxurious! A full apartment, fireplace, beautiful views, and two full bedrooms.
Heidelberg – Hotel Panorama – a great hotel at the top of the Hauptstrasse.
Frankfurt – Moxy Airport Hotel – a great budget spot if you have an early morning flight.
READ ALL THE CHRISTMAS MARKET GUIDES!
Best Christmas Markets in Europe
Best Christmas Markets in Germany
Best Christmas Markets in France
Best Christmas Markets in Switzerland
What to Eat & Drink at A Christmas Market
Ultimate Christmas Market Itinerary
The Best Winter Destinations in Europe
Photos to Inspire a Trip to Christmas Markets
I hope this European Christmas Market Road Trip itinerary will help you plan your next trip! From Strasbourg to Metz and Cologne, you really can't go wrong exploring these beautiful cities with their festive lights and bustling streets full of vendors selling all sorts of goodies!
What a fantastic trip! If you're looking for a festive and charming European adventure, be sure to check out these amazing cities during Christmas.