See my updated guide for 2022 here! What are the absolute BEST Christmas Markets in Europe? As your resident Christmas Market expert I'm bringing you the best Christmas markets in Europe for 2021 – the places with the most beautiful decor, tastiest food, and best Christmas spirit.
This guide to Christmas in Europe has everything you need to experience the magic of the season. Whether you've been before or you're brand new to experiencing Christmas in Europe this guide shares not only the best, but itineraries to help guide you in planning your trip. Here are the best Christmas Markets in Europe for 2021.
Are you planning a trip to Europe over Christmas? You've come to the right place! This is undoubtedly one of the most beautiful times of the year, and it's brimming with things to do. This post will assist you in choosing the best locations, provide recommendations, and guarantee that you have a fantastic experience during the holiday.
Top 10 Christmas Markets in Europe
Strasbourg, France
Strasbourg, France is called the "Capital of Noel" for a reason- this is one of the best Christmas markets in all the world! It's literally like stepping into a Christmas market dream and has some of the most picturesque and festive destinations in all of Europe. With a beautifully decorated Christmas market that's open every day from November 24th to December 24th, you'll find yourself surrounded by trees with lights and decorations galore. The Strasbourg cathedral towers over the market and the tree in the square is a real, 30 meter tall tree!
See my complete guide to Strasbourg Christmas Market.
There are plenty of food stalls serving up traditional fare like sausages, roasted chestnuts, crepes, mulled wine – everything your heart desires for this time of year! You won't regret coming here during Christmastime if you want an authentic European experience; just be prepared, it can get crowded!
Strasbourg's Christmas markets are sprinkled throughout the city and each one is prettier than the next.
Strasbourg Christmas Market Dates for 2021: November 26 – December 26
Guide to the Best Christmas Markets in France
Cologne, Germany
There are seven markets in Cologne, each with its own atmosphere and vibe. The city has seven marketplaces, each with a distinctive feel and ambience. One of the most popular markets is located in front of the cathedral; it's easy to see why. A stage framed by beautiful, traditional wood stalls lies against the backdrop of the skyscraper cathedral.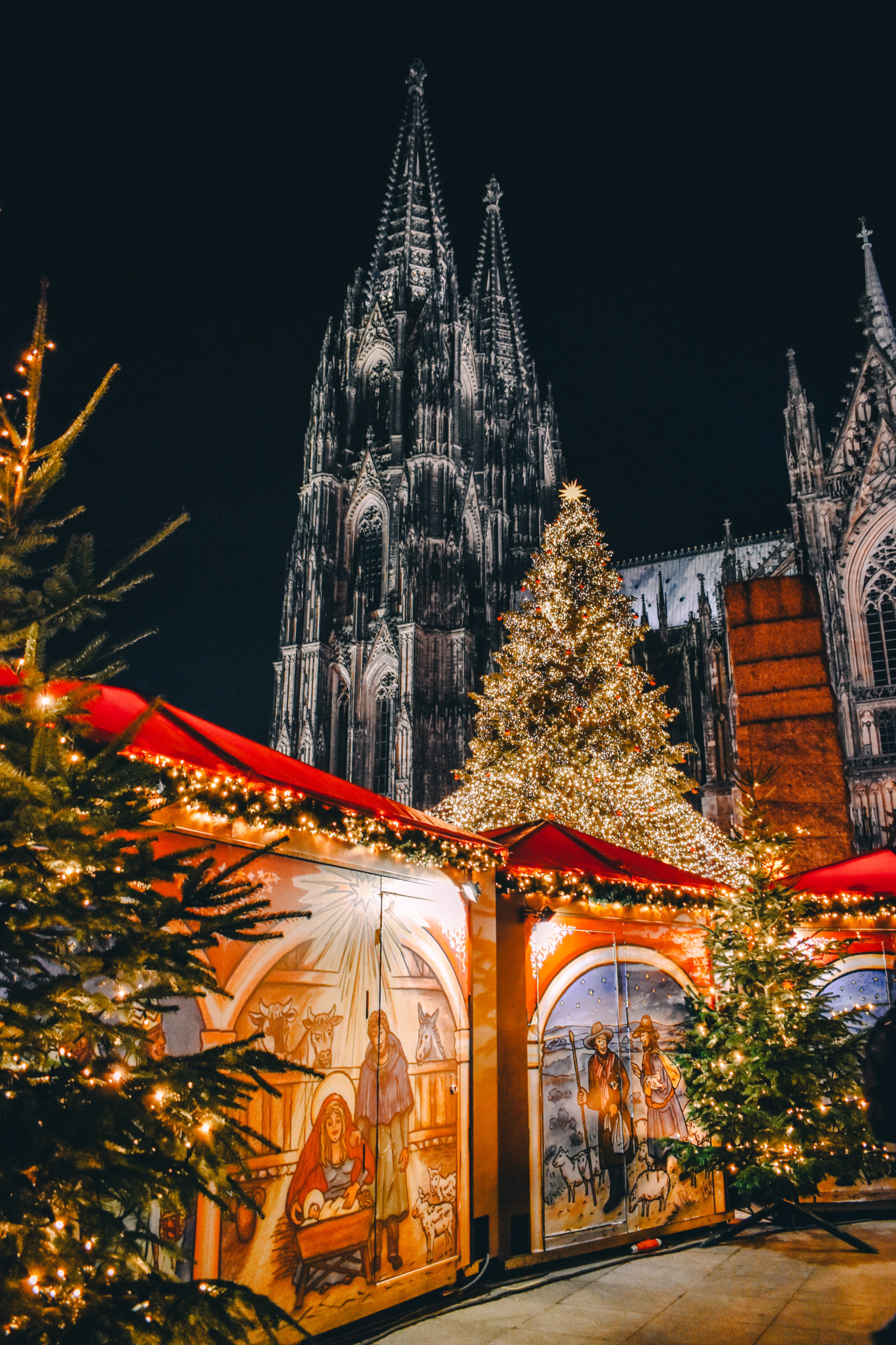 Opened from the end of November through December I highly recommend this as not only one of the best Christmas markets in Europe, but one of my favorites in Germany!
Cologne Christmas Market Dates for 2021: November 25 – December 22
See my full guide to the best Christmas Markets in Germany here.
Vienna, Austria
UPDATE: As of November 2021, Austria is going into Lockdown and Vienna's Christmas Market is canceled until December 13.
Vienna's Christmas market is a traditional German-style market, where the stalls are built from wood and painted in bright colors. Advent wreaths hang from the ceiling, lots of stands sell handcrafted goods and there's always live music playing. The food at Vienna's Christmas Market is also very good: expect to find many different types of sausages, pretzels and even fresh mulled wine to warm you up on these cold winter days!
Vienna has been hosting a Christmas Market since 1296! This was one of the first "winter markets" (the very first was in Munich and then the first official market was in Dresden in 1434.) Today it takes place throughout the city with multiple markets in town. The one in front of City Hall (Rathaus) – an impressive building with its own interesting history dating back over 900 years is absolutely stunning. For centuries it was home to Viennese mayors until Emperor Francis Joseph I made it his imperial palace.
Vienna is featured in the top 7 Christmas markets in Europe also see how to spend 3 days in Vienna.
Vienna Christmas Market Dates for 2021: CANCELLED until December 13 (was scheduled for November 12 – January 22, 2022 (Keep in mind there are various markets throughout the city with many different dates. But on the whole, it lasts all month long through December.)
Tallinn, Estonia
Step into the snow-globe that is Tallinn, Estonia! This tiny city packs a punch when it comes to Christmas Market charm.
Tallinn is one of the most beautiful, captivating cities in Europe. The beauty and charm of this medieval gem will enchant you. With a festive atmosphere that's filled with locals and visitors alike, it's a great place to enjoy delicious food, explore shops that are perfect for gifts or souvenirs, take in some culture at a performance or simply people watch while sipping mulled wine by an open fire. This year from November 24 – December 21, Tallinn will be holding its annual Christmas Market right in the heart of the city center near Toompea Castle. It promises to be quite something!
Tallinn Christmas Market Dates for 2021: November 26 – January 2, 2022
My Full Guide to Tallinn, Estonia Christmas Market
Basel, Switzerland
Basel was actually named the best Christmas market in Europe for 2021! I have to agree, this is one of the best in not only Switzerland but on the continent. It's one of the largest and prettiest in the country and offers tons to see and do.
Basel's location as the crossroads of three countries makes it a melting pot of Swiss, French, and German cultures. That diversity and cultural uniqueness forms the foundation for one of my favorite holiday markets in all of Switzerland, the Basel Christmas Market.
Nearly 100 towering pine trees line the avenues and stand as brightly illuminated sentinels leading the way. Don't forget to head to Münsterplatz and Barfüsserplatz, one of the most lovely squares in Basel, is also home to a major Christmas market. I also recommend just walking around town to enjoy the Christmas spirit.
Visitors over the age of 16 must present a valid Swiss or EU COVID certificate with a QR code as well as an official ID. Those from outside the EU who have recovered from COVID-19 or been vaccinated with an EMA-approved vaccine will need a Swiss COVID-19 certificate. You can apply online and it will cost 30 CHF ($32 USD).
Basel Christmas Market Dates for 2021: November 25 – December 23rd. The markets will open November 25 and close on December 23. The opening ceremony in Münsterplatz has been cancelled for 2021.
Read More: Best Christmas Markets in Switzerland
Prague, Czech Republic
The Christmas season in Prague is absolutely gorgeous. The city itself is already beautiful but add in the the trimmings of Christmas and it brings a whole new life to the city. The city's two main Christmas markets, in Old Town Square and Wenceslas Square, are only five minutes walk from each other, so you may easily walk around town. It's a traditional market that includes wooden shacks and Czech cuisine. The Christmas market is
This year you can visit this amazing city and walk along the labyrinth of wooden stalls set up in Old Town Square. The holiday atmosphere here will enchant your senses! There's so much going on it's hard not to feel engulfed in the spirit.
Prague requires that you show proof of vaccination or recovery from the virus in the past 180 days, or a negative COVID_19 test.
Prague Christmas Market Dates for 2021: November 27th – January 6, 2022
Zagreb, Croatia
Christmas in Zagreb is a magical time of year. The Christmas market is one of the most popular tourist attractions and there are many opportunities to enjoy special dishes, such as ćevapčići (a type of meatball).
The markets have been celebrated since medieval times, but it wasn't until 1869 that they became a regular event. Originally just two days long, today the markets last from late November through the new year.
If you're looking for some authentic Croatian holiday spirit during your stay in Croatia, look no further than these three great options for experiencing Christmas In Zagreb!
1) Dolac Market – Located at the heart of historic Jelovac Square this picturesque covered market is a great place to spend time sampling traditional Croatian cuisine and buying local products.
2) Zagreb Advent – This season-long event, which takes place from mid November through December 24th offers visitors a ton of festive activities in the city center! One of my favorites is the night time Christmas Parade that features traditional dressed carolers, beautiful Christmas lights and festive music.
3) Upper Town Christmas Market – A visit to the Upper Town market is a great way to enjoy the traditional beauty of Zagreb. Located next door to St. Mark's Church and surrounded by historic buildings this market offers some fantastic photo ops as well as lots of crafts and activities for children.
Zagreb Christmas Market Dates for 2021: November 27th – January 7, 2022
Read More: What to Eat & Drink at a German Christmas Market
Nuremberg, Germany
As of November 2021, Nuremberg Christmas market is cancelled. Nuremberg is the second largest city in Bavaria. It's also one of the oldest cities in Germany, dating back to 1050. Nuremberg's history and charm make it a great place to travel and it's one of the best traditional Christmas markets you can find.
Nuremberg has been hosting its famous Christmas Market since 1570 when Emperor Maximilian I initiated it as a gift to his wife, Empress Bianca Maria Sforza of Milan. The market is an annual event that takes over all four corners of the old town with stalls selling souvenirs, crafts, gifts and food from November 26 – December 24th each year!
The Nuremberg Christkindlesmarkt features more than 1600 wooden booths where you can buy local produce like roasted almonds or hand painted ornaments.
Nuremberg Christmas Market Dates for 2021: Cancelled (original dates were November 26 – December 24, 2021)
Read more: Full guide to Nuremberg Christmas Market.
Colmar, France
Want to feel like you've stepped directly into a gingerbread town? Come to Colmar! Just an hour from Strasbourg, Colmar is a beautiful, quaint town in Eastern France. The Christmas Market in Colmar is a must-visit destination for anyone who loves the magic of Christmas. It's one of the best markets in all of France and it has everything you could want: cozy stalls with delicious food, festive decorations, and plenty of entertainment. You'll love this market!
Colmar's history as an important religious center plays into its Christmas spirit; many locals dress up as shepherds and come to worship at the cathedral every year on December 24th. This tradition began over 800 years ago when traders from Frankfurt would stop by Colmar before heading home for Christmas Eve celebrations—a custom that continues today!
The architecture adds to the festivities; doors, windows, and sidewalks are all decorated to create a cozy atmosphere for this Christmas market. This market is utterly charming, whimsical, and fantastically festive!
Colmar Christmas Market Dates for 2021: November 26 – December 29
London, England
Even at Christmas, no city compares to London. The beautiful streets, such as Oxford and Regent, go above and beyond with holiday decor on nearly every corner. Hyde Park hosts a traditional German Christmas market (called Frankfurt Market, named after the town in Germany) where you may go skating or view the stores change their window displays, even whole buildings.
Just walking around at night is a treat, since the whole city is ablaze in lights. You can find musicals or ballet performances or even shop at the upscale department stores like Harrods and Selfridges Department Store London. Make sure to take advantage of an historic bus tour, where you'll see beautiful city views from a traditional double-decker bus!
London Christmas Market Dates for 2021: November 19 – December 24
See my full guide to London at Christmas.
Best Christmas Markets in Europe Map
Here's a map with all of my recommendations for the best Christmas Markets in Europe!
What you need to know about traveling to Christmas Markets
Practical Information for visiting Christmas Markets in 2021
Most markets will require that you bring proof of your vaccination status or proof of recovery of the virus. Most markets are allowing kids to enter with a proof of a negative COVID-19 test.
Are the 2021 Christmas Markets Open?
YES! Many are open. In fact, most are! I've been keeping a close eye on which markets are open and will update this article as soon I get that information.
Now, as far as entering a country to enjoy the markets, they each have different travel requirements and most require that you have a vaccine. I use these helpful resources to find out country specific information (I highly recommend you check each country you plan to travel to).
Timatic – this is a great quick look to check rules for your destination. You can put in your country of origin, nationality, and destination and it will help you to understand what you need
US Consulate in ENTER COUNTRY NAME. For example, US Consulate office in Germany tells you exactly what you need as an American traveling to Europe
European Union – The website provides an overview of what you need to know
Again, please look into each country you plan to visit!
Christmas Market Holiday Open Dates
Now, the European Christmas markets typically open around mid-November and close just before or just after New Year's Eve. This year, many German Christmas markets opened on November 15th and will close on December 24th. Some of them, like Strasbourg, France last into January!
What to Bring to a Christmas Market
CASH! Cash is king at Christmas markets with many vendors only accepting cash. There are many ATMs nearby so have no fear.
I also recommend bringing layers as it can get very cold. A warm coat is best!
Europe Christmas Market Itinerary
If you want a plan for your Christmas market route, I've got you covered! The best Christmas markets take place in Germany, France, Switzerland and Austria. This is where the "true" Christmas markets started. And it so happens that all of these countries are right next to each other!
I've got a few different plans for your Christmas Market Itinerary along with a map!
Germany and France Christmas Market Itinerary
These are some of my all time favorite Christmas Markets and if I had to choose just one, I'd choose this itinerary. Depending on your schedule you can complete this in about a week and be able to see and experience all the Christmas Markets in the area.
Germany, Austria, Switzerland, France Christmas Market Itinerary
This is quite an extensive itinerary and you will need extensive time as this drive in total takes more than 14 hours (and is over 1,000 kilometers or 2,000 miles of driving). But, if you want to see some of the best markets all in one go, this itinerary is for you! You could easily fly in and out of Frankfurt for this itinerary.
Germany and Austria Christmas Market Itinerary
This itinerary is less rushed than the Germany-France route, but it also has some smaller markets that are more intimate. I did add on Prague as it's not too far from Vienna and is really worth it to go but you could of course remove that!
My 2021 Christmas Market Itinerary in Germany, The Netherlands, Belgium, and France
My mom and I are heading to some smaller Christmas markets one he borders of Germany, Belgium, France and the Netherlands. Can you believe this is only a 10 hour drive in total?!
In Belgium with events more than 400 people requite the COVID Safe Ticket. EU visitors can use their own vaccination certificates in place of a COVID Safe ticket but visitors from outside the region need to follow this application process. That ticket provides proof you are either fully vaccinated against the virus, have recovered from it within the past six months or have tested negative for COVID-19.
So, there you have it! My guide to planning your own perfect Christmas market itinerary along with the best Christmas Markets in the region!
The best Christmas Markets in Europe are each worth the trek since they have own unique style of holiday celebration and decor. Whether you're planning a quick getaway or an extensive road trip around Europe to visit every single market on this list- I hope our guide will help you plan your journey and discover something new or bring you joy during the best season of all. Merry Christmas from Helene In Between!
I will be attending the Christmas markets in Europe this year! Make sure to follow along @heleneinbetween
READ ALL THE CHRISTMAS MARKET GUIDES!
Best Christmas Markets in Germany
Best Christmas Markets in France
Best Christmas Markets in Switzerland
What to Eat & Drink at A Christmas Market
Ultimate Christmas Market Itinerary
The Best Winter Destinations in Europe
Photos to Inspire A Trip to Christmas Markets