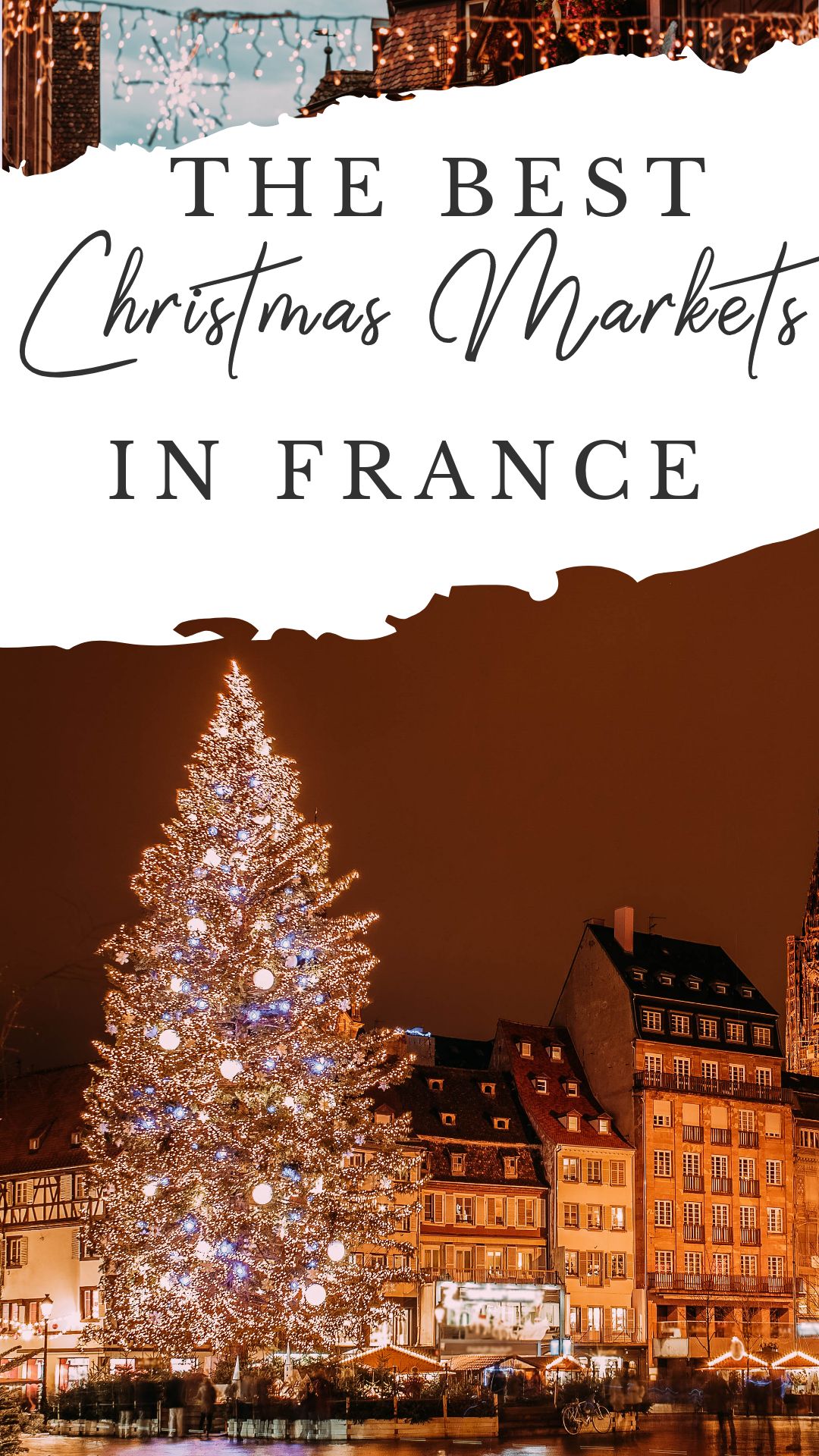 Want to find the best Christmas markets in France? I've got 11 lovely markets and cities that will make you fall in love with this adorable, charming country.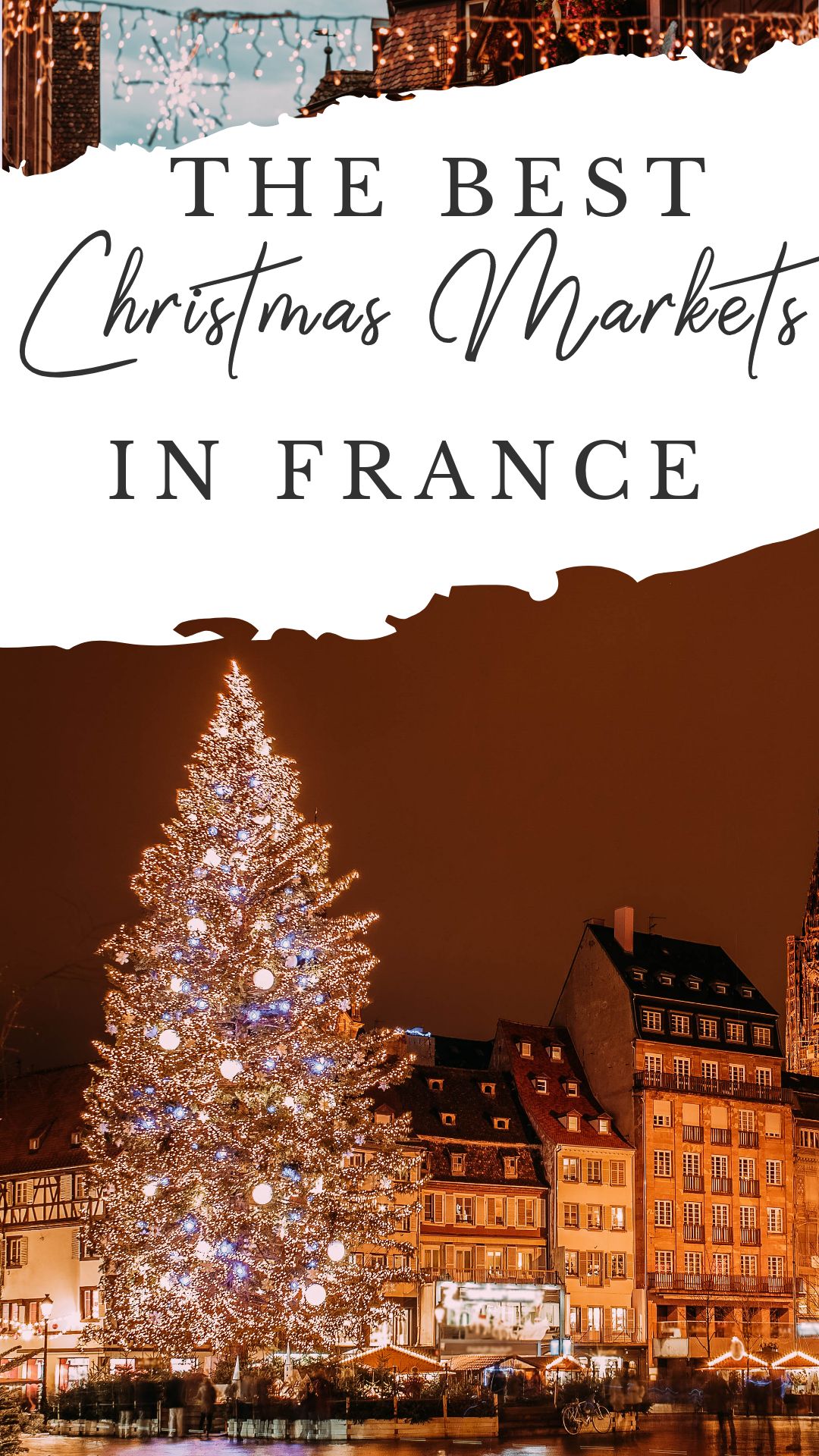 Christmas in France makes an already lovely place even more charming. France is a country often characterized by its romance, and that enchantment is multiplied during the Christmas season. The streets are decorated with twinkling lights, stores smell of pine and cinnamon, and special holiday meals are prepared on stoves across the country.
But one of my favorite things to do throughout the Christmas season in France is to visit the many traditional, and sometimes not-so-traditional, holiday markets throughout the country.
Updated for 2021!
Similar to other European Christmas markets, French Christmas markets offer a smattering of Christmas spirit in one picturesque locale. Wooden huts display handmade items from makers across the country, holiday foods are sold hot, and mulled wine warms those cold shopping fingers.
Wherever you find yourself in France this holiday season, from Paris to the French Riviera and some of the smallest villages in between, you're guaranteed to be near a Christmas market. The following are 11 of my favorite markets dotted throughout France.
Here's your Christmas guide
Recommendations for your trip & Map of the Christmas Markets in France
France is a large country, so it's not possible to go to every single market. I highly recommend that you visit the Alsace region of France. Here, you can go to many of the top Christmas markets like Strasbourg and Colmar. From here, you can easily venture into Germany, where the original Christmas markets take place.
1. The Many Markets of Strasbourg
If I was only able to suggest one city in France to visit this holiday season, it would have to be Strasbourg. Also known as The Capital of Christmas, or Capital de Noel, Strasbourg overflows with holiday spirit, from the magical decorations on nearly every window in town to the towering Christmas tree in the town square. It's one of the largest in Europe!
Strasbourg is not just known for its one Christmas market. It's known for 10 fantastical markets, which are all easily accessed on foot. These markets are all some of the most traditional in the country, bringing families together to celebrate the food, drinks, crafts, and decorations of the holiday season. In fact, the famous Christkindelsmarik at Place Broglie is one of the oldest in all of Europe, dating back to 1570.
Shop the more than 300 vendor stalls found throughout the city, sip the hot mulled wine, snack on traditional eats, and most importantly, enjoy the holidays with the ones you love. Strasbourg is the perfect destination for making new Christmas memories.
Strasbourg Christmas Market dates: Nov. 26, 2021 to Dec. 26, 2021
See my complete guide to Strasbourg Christmas markets here.
2. Colmar Christmas Market (And More)
Similar to Strasbourg, Colmar is home to several Christmas markets, but the main Colmar Christmas Market is a destination of its own. Nestled among some of the city's most popular architectural sites and beneath the glittering trees, you'll find stalls lining the streets, selling spiced gingerbread, local art, handmade ornaments, and more.
In addition to the main Colmar Christmas Market, you'll find roughly 60 more stalls at Place des Dominicains and another at Place de l'Ancienne Douane, lining the scenic Lauch River. However, you won't want to leave the city without visiting Place Jeanne-d'Arc, where you'll find an incredible selection of traditional foods, including local wine, cookies, and foie gras. I love to stock up on fresh, local meats and cheeses to display on holiday charcuterie boards.
Colmar Christmas Market dates: Nov. 26, 2021 to Dec. 29, 2021
3. Lille Christmas Market
The city of Lille in northern France welcomes visitors during the holiday season with the smells of fresh garlands and mulled wine. Although, it's often the spectacular light displays that draw visitors this far north. Lille takes Christmas seriously, and the Lille Christmas Market can bring the Christmas spirit out in anyone.
The market features more than 90 stalls, which sell locally-crafted gifts as well as items from around the world. However, my favorite way to see the market isn't necessarily on foot, as a giant Ferris wheel offers magnificent views of the market stalls, shining Christmas tree, and more from above. The Lille Christmas Market is smaller than some others in the country, but it creates the perfect backdrop for a romantic evening out in the city.
Lille Christmas Market dates: Nov. 19, 2021 to Dec. 30, 2021
4. Bordeaux Christmas Market
This city may be more famous for its wines than its Christmas spirit, but it's no secret that wine and the holidays pair nicely together. The Bordeaux Christmas Market features more than 100 different stalls, and of course, it's an ideal place to stock up on wine for the holidays, whether you'll be enjoying it at your holiday table or gifting it to friends. Other stalls offer handmade glass items, gourmet chocolates, perfumes, linens, and some of the most unique pieces handmade pottery.
The Bordeaux Christmas Market isn't just for adults either. Families can explore a tour of the route that pilgrims once traveled to Santiago de Compostela, visit Santa Claus, or hop aboard the holiday carousel. This market is so much fun that it can often get busy, so you'll want to arrive early to find parking if you'll be bringing your own vehicle. The locals recommend visiting by train.
Bordeaux Christmas Market dates: Nov. 26, 2021 to Dec. 26, 2021
5. Nice Christmas Market
The French Riviera is famous for its glitz and glam, and the Nice Christmas Market shines just as bright. Here, you'll find more than 60 vendor stalls and a long list of activities and events for visitors of all ages. Once you're done sipping on vin chaud (hot wine) and shopping for handmade holiday gifts, you can head to the ice skating rink, visit Santa in his workshop, and enjoy a variety of carnival rides and games. You can even hop aboard the towering Ferris wheel and view the Christmas market, as well as the Mediterranean, from above.
One of my favorite features of the Nice Christmas Market is that this region tends to be warmer and sunnier than other areas of France this time of year. Blue skies and mitten-less days make visiting the Nice holiday market feel more like a vacation than any other. Yet, the fir trees and holiday lights still provide the Christmas charm present at other markets across the country. Bring the kids and enjoy all of the outdoor activities the Nice Christmas Market has to offer.
Nice Christmas Market dates: Dec. 2, 2021 to Jan. 22, 2022
See my guide to the French Riviera here.
6. Rouen Christmas Market
Directly in front of the grand cathedral, you'll find the fantastical Rouen Christmas Market, annually bringing holiday cheer to the capital city of Normandy. The Christmas market, and the holiday events and performances accompanying it, transform this city by the Seine into a magical winter wonderland, complete with 70 wooden chalets for shopping and dining, an ice skating rink, street entertainment, and of course, special visits from Santa Claus. Rouen is known for going over-the-top with holiday decorations and excitement, so you won't want to miss this scenic city during the holidays.
Rouen is one of my favorite cities in France, and the whole region of Normandy is worth a visit.
Rouen Christmas Market dates: Nov. 25, 2021 to Dec. 26, 2021
7. The Christmas Markets of Paris
It's no surprise that the City of Lights is home to more than one Christmas market, and that's what makes visiting Paris this time of year so special. Visitors can weave through the historic streets and iconic landmarks from Christmas market to Christmas market, sampling traditional holiday treats, listening to choirs, ice skating, and shopping.
The holiday market at Champ de Mars, with views of the Eiffel Tower, is a favorite for shopping wooden handicrafts and other artisan-made items. It's also a perfect place to snack on locally-made food items, and Christmas cookies with mulled wine. Another must-visit market is the Noisy le Grand Market, famous for its holiday decorations and horse-drawn carriage rides that guide visitors around the market square. Shopping and dining on the streets of Paris is a holiday tradition that many locals hold dear, and I think it's something every visitor should experience when visiting the city during the Christmas season.
Paris Christmas Market dates: Nov. 19, 2021 to Jan. 2, 2022
Find the essential guide to Paris here!
8. Chamonix Christmas Market
If you want to fully embrace the winter weather and feel like you're walking through an actual snow globe, there's no better place than Chamonix. This is one of my favorite places in France, let alone Europe.
Chamonix is home to Mont Blanc, the tallest mountain in Europe. Christmas is a great time to visit. Along with the great winter activities like skiing and sledding, the Christmas market is in the perfect setting in this idyllic village surrounded by the French Alps.
The best way I can describe Chamonix is like a vintage postcard. You just have to see it to believe it! The dates for the Chamonix Christmas market are very short, only about two weeks in mid December. But with all the activities and the beautiful chalets make it one of my top picks for Christmas in France.
Chamonix Christmas Market dates: Dec 12, 2021 to Dec 24, 2021
See my full guide to Chamonix here.
9. Grenoble Christmas Market
Rivaling Strasbourg as the most magical French locale during the holidays, Grenoble offers a delightful Christmas market with an even more impressive backdrop. Nestled in a valley between the Chartreuse, Vercors, and Belledonne mountains, you can't help but feel like you've traveled to a fairytale land when enjoying Christmas in the Alps.

Even more, the Grenoble Christmas Market is actually four Christmas markets located in various areas throughout the city center. The Place Grenette is known for its Afro-Indian crafts and concerts, while the main market at Place Victor Hugo is famous for hot cider, hot wine, cheese, salami, and other mouthwatering holiday eats (and drinks). Grenoble overflows with holiday cheer, activities, concerts, and events this time of year, so allow yourself plenty of time to discover them all.

Grenoble Christmas Market dates and times:  Wed, Nov. 26, 2021 to Tues, Dec. 24, 2021, 10am to 10pm daily

10. Les Hivernales (Montpellier Christmas Market)
Montpellier is a city balancing between old and new. Modern trams pass by medieval streets and ancient architecture. The Montpellier Christmas Market, or Les Hivernales, also blends classic Southern French Christmas tradition with modern events and activities. Found at the Esplanade Charles de Gaulle and Comedie Square, this market features more than 160 merchants, selling food products and crafts from throughout the region. Oysters, sweets, and mulled wine are sold alongside toys, holiday decorations, and handmade jewelry.

Santa Claus always sits at the heart of the Montpellier Christmas Markets, and visitors can also enjoy Christmas parades, sleigh rides, an ice skating rink, workshops, and more. For the adults, a nighttime market offers regional foods, wines, and other drinks inside a large heated tent. There's something for everyone at the Montpellier Christmas Market.

Montpellier Christmas Market dates and time:Nov. 24, 2021 to Dec. 26, 2021 

11. Amiens Christmas Market
The Amiens Christmas Market may be the final market on this, but that doesn't mean it lacks anything in terms of charm, crave-worthy foods, and holiday shopping stalls. In fact, as the largest holiday market in nothern France, the Amiens Christmas Market offers more than 2 kilometers of vendors from throughout France and around the world. You can even find items from India and Canada here.
This is truly a market where you can find something for even the most difficult person on your list. And while the adults enjoy shopping from stall to stall, kids can hop aboard a train through a winter wonderland or a number of other holiday rides. Be sure to time at least one of your visits to the market around 7pm, when the Cathedrale Notre-Dame d'Amiens displays a spectacular light and sound show. I must admit — this unforgettable light display pairs perfectly with a cup of hot mulled cider.
Amiens Christmas Market dates: Nov. 23, 2021 to Dec. 31, 2021
Frequently Asked Questions About Christmas Markets in France
What are the dates for the Christmas markets in France?
There are countless holiday markets, large and small, held throughout France this time of year. While the dates can vary from a single weekend to nearly two-months-long, most holiday markets take place from mid-November to late December. Some dates are extended into early January to accommodate New Year's Eve festivities.
What should I bring to a French Christmas Market?
You don't need to be much more prepared to visit a French Christmas market than you would be to enjoy a normal day of shopping in a French city. However, because many of the markets are entirely outdoors, you'll want to wear enough layers to keep you warm for several hours outdoors. Gloves, a hat, and a scarf are accessories I almost always wear to Christmas market (unless I'm in the French Riviera).
It's also important to come prepared with plenty of cash, or a debit card to be able to withdraw cash. Many vendors prefer, or only accept, cash payments.
What other countries have Christmas Markets?
Christmas Markets are a common European tradition, and they can be found in numerous European countries, including Germany, Italy, Switzerland, Croatia, and beyond. I love traveling throughout Europe, and around the world, to varying Christmas markets. Below, you can find a variety of blog posts I've written on my favorite markets across the continent.
Ultimate Guide for The Best Christmas Markets in Europe
15 Best Christmas Markets in Germany
Best Christmas Markets in Switzerland
What to Eat and Drink at a German Christmas Market
25 Photos That Will Inspire You to Spend Christmas in Europe
Best Side Trips for Christmas in Germany
Tradition of Christmas in France
The Christmas markets in France are some of the oldest traditional markets in Europe. It first appeared in the Alsace region in 1521. Strasbourg's Christmas market dates back to 1570. If you had to pick a region, I suggest visiting the Christmas Markets in the Alsace region- these are the best!
In Strasbourg, one of the largest Christmas trees is in the city center at Place Kléber, and one of the largest Advent wreath is in the Cathedral of Strasbourg.
The Christmas tree in French is called, "sapin de noël." The tree, covered in red apples and lights, symbolizes Jesus and, "The light that illuminates the world." Santa Claus is known as "Père Noël" and is inspired by Saint Nicolas. Originally, he gave gifts to kids in Germany and France on December 6th, Saint Nicolas day.
December 24th, Rèveillion is when most French people celebrate with families and have their large meals. They indulge in sumptuous, traditional food like oysters, truffles, cookies, and frog legs. Then, they might attend Midnight Mass.
Other things to read:
Ultimate Guide for The Best Christmas Markets in Europe