Best Christmas Markets in Europe for 2022
Absolutely everything you need to experience the magic of Christmas in Europe. City guides,maps, what to eat, and, of course, the best markets! Here's the best Christmas Markets in Europe for 2022.
Planning a trip to Europe during Christmas time? You're in luck! This is the most magical season of the year and it's full of so many possibilities. This guide to Christmas in Europe aims to help you pick the best destinations, provide you with tips, and ensure you have the ultimate experience.
See below for the magical merriment that awaits!
Find Your Christmas
Happy Place
THE BEST OF THE BEST
Christmas Markets
The Christmas markets in Europe are a time honored tradition. Cities and small towns are decorated, wooden stalls sell trinkets and delicious roasting meats, and, despite the cold, people come out in droves to experience the season.
Whether you want to see the incredible, over-the-top decorations, the more traditional markets, or the best place to find a winter wonderland, I've rounded up the best Christmas markets in Europe.
From traditional Christmas markets to snowy winter wonderland landscapes, you simply can't go wrong!
Having lived in Europe for 3 Christmases I'm often asked: "What are the best Christmas markets in Europe?" Truthfully, many of the markets are unique and wonderful in their own way. But since I've been to countless markets throughout Europe I want to ensure you see the best.
There are places to shop, dine, explore, and relax, but all will be full of yuletide cheer and beautiful decorations. There are places to shop, dine, explore, and relax, but all will be full of yuletide cheer and beautiful decorations.
Christmas markets typically start at the end of November and will last just before Christmas. You can find traditional German markets throughout Europe, brand new traditions, and of course, decadent food.
Here are the best Christmas Markets in Europe:
Strasbourg, France
Named the "Capital of Christmas", Strasbourg hosts one of the best and most decorative markets ever. Find traditional food intermixed with German cuisine and a beautiful atmosphere, including a gargantuan tree in the square. Each year a guest country is honored so there's always something new to see.
Heidelberg, Germany
Find the perfect mix of traditional Christmas markets along with a sandstone castle and delicious German cuisine. Heidelberg is an almost unchanged city since the 17th century and during Christmas you can find markets throughout the large "Hauptstrasse", one of the longest pedestrian streets in Europe. Ornate, wooden stalls sell Glüwein, sausages, ornaments, and more. Find out more about Heidelberg's Christmas markets here.
Vienna, Austria
Vienna is already a beautiful city on its own, but during Christmas it comes to life. Think chandeliers made of twinkling lights on the streets and multiple Christmas markets throughout the city. Featured in the top 7 Christmas markets in Europe also see how to spend 3 days in Vienna.
Tallinn, Estonia
A small Christmas market set in the heart of Tallinn, Estonia is lightly dusted in fresh snow. Warm lights from wooden stalls illuminate the cobblestone streets and the rosy faces of visitors sipping mulled wine. Christmas traditions date back to 1441, making Tallinn the perfect place to capture the magic of Christmas and experience a traditional and historical Christmas Market.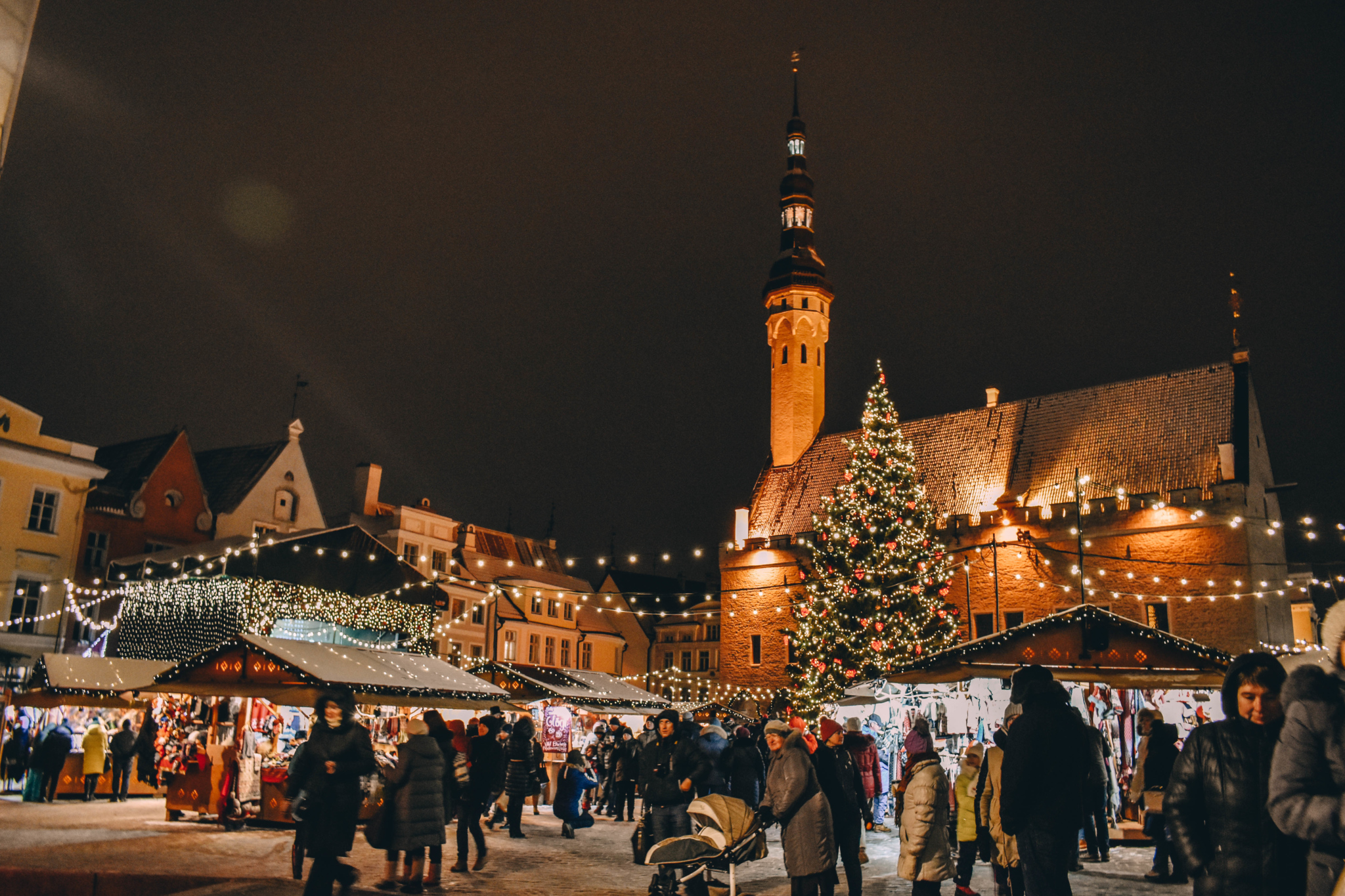 Prague, Czech Republic
Prague comes to life during Christmas. The city's two main Christmas markets, in Old Town Square and in Wenceslas Square, are only five minutes walk from one another so you can easily stroll the city. It's a traditional market with wooden huts along with traditional Czech food.
Colmar, France
Located less than an hour from Strasbourg, Colmar is a much smaller city, but seems to outdo almost everyone at Christmas. You'll find the city transformed into a Christmas village, as if you're stepping right inside a gingerbread house! With great French food, exquisite decor, and an intimate city you simply can't go wrong.
Cologne, Germany
Brimming with charm and cheer, there are multiple markets spread throughout the city of Cologne. There are seven markets throughout the city, each bringing a totally different vibe and atmosphere. The market in front of the cathedral is one of the most popular, and for good reason. Beautiful, traditional wood stalls surround a stage with the backdrop of the cathedral.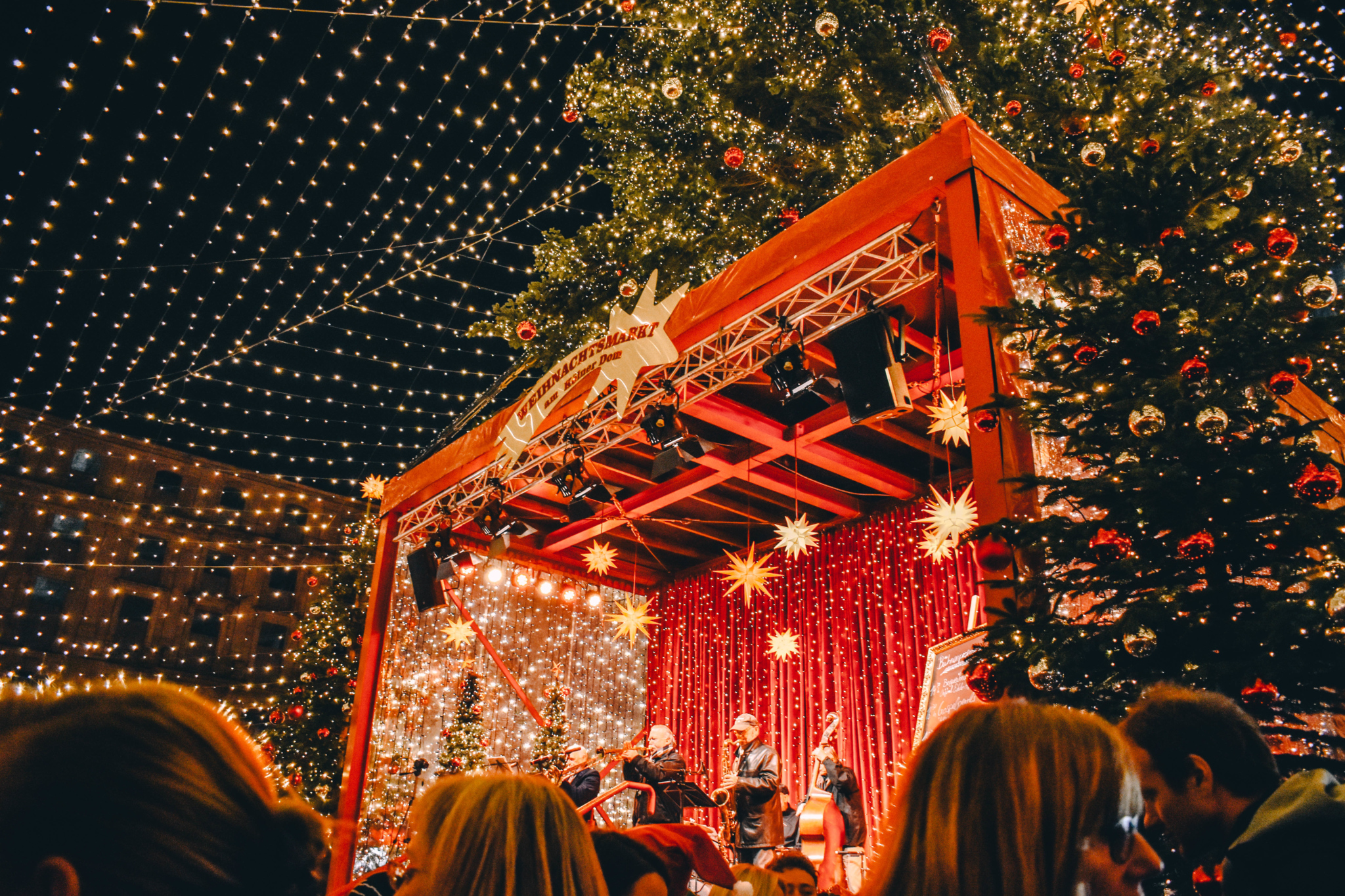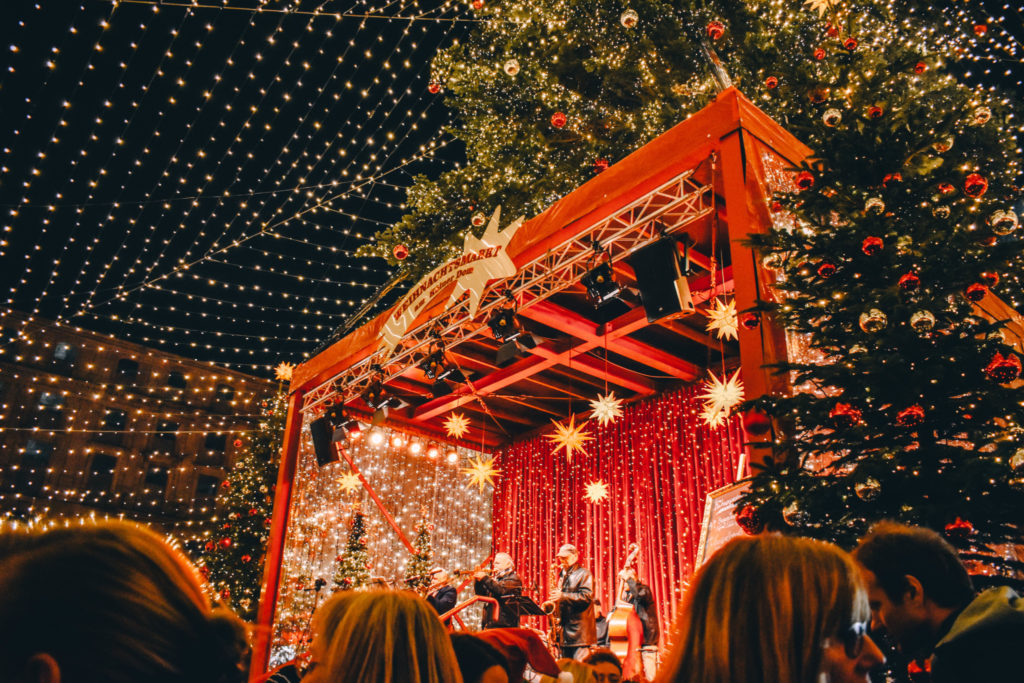 London, England
No city can quite compare to London, even at Christmas. Nearly every street is decked but the fancy ones such as Oxford and Regent go over the top with holiday decor. You'll even find a traditional Christmas market in Hyde Park. You can go skating in various locations (my favorite is in front of the Natural History Museum) or see the stores transform their window displays, and even whole buildings, into a feast for the eyes. Seeing the city all lit up for Christmas is well worth the trip. See my full guide to London at Christmas.
Nuremberg, Germany
This traditional Christmas market is complete with pretty red and white tents in front of the incredible cathedral. You'll also find a section featuring treats from all over the world and a section especially for kids. Find out more about Nuremberg markets as well as other markets in Germany here.
Basel, Switzerland
This unassuming city seems rather industrial from the outside, but venture further in to happen upon one of the loveliest markets with 180+ stalls selling everything your heart desires. Well organized with fun activities for children as well as adults.
Zagreb, Croatia
For the past few years Zagreb has won as the best destination in Europe (closely beating out Colmar, France). Not only does the city decorate fancifully, the advent season boats tons of events throughout the city. Find concerts, food specialties, and large car-free zone to shop, dine, and explore.
Glasgow, Scotland
Glasgow is usually left behind to the much prettier city, Edinburgh. But not at Christmas. With great shopping, food, events, and markets, Glasgow tops the list as one of the best places for Christmas in Europe. The "Style Mile" is the perfect place for holiday shoppers and the pubs and bars even join in on the spirit of the season.[
Rothenburg, Germany
Rothenburg Ob Der Tauber is a year round Christmas village. This city still has its walls dating back to medieval times. You can explore the lovely Christmas markets here and also take a tour of this small but pretty city. Make sure you visit the museum on Christmas!
Florence, Italy
Have your gelato and Christmas spirit, too! Florence is the perfect place for a bit warmer weather and wonderful holiday shopping. 50 stalls flank the Franciscan Basilica for the Christmas market. You can also head to Piazza del Duomo for the nativity scene and Christmas tree, which is lit up on December 8, as part of the Feast of the Immaculate Conception.
CHRISTMAS MARKET
WHEN TO GO
Many of the cities are flooded with people wanting to share in the yuletide joy, so make sure you book hotels in advance. I use Booking.com almost exclusively to book the best deals and convenient locations with guaranteed good stays.
TIMING FOR CHRISTMAS MARKETS IN EUROPE
Typically, Christmas markets last for about a month right before Christmas. This does vary by location.
Christmas markets take place throughout the day, starting around noon. Many of the big markets (all of the ones listed above) take place every day. But some smaller markets are on designated dates or the weekend. Make sure to check ahead of time.
Make the most out of the daylight! It tends to get dark very early so if you want to see the markets during the day go for lunch or an early dinner. See many of the times here.
BRING CASH
German Christmas markets are primarily cash based so make sure to have some Euros on hand.
Glüwein takes center stage at all markets. This hot, mulled wine is typically served in mugs denoting the year. Roasted nuts are served in all flavors and type of nut at stalls around the markets. You can't miss the smell! While you'll always find roasted meats, make sure to try the local cuisine. I love the German Kartoffelpuffer which are potato pancakes are deep fried and served with a variety of toppings. See what to eat here!
CHRISTMAS TRADITION
St. Nicholas Day is celebrated on December 6th when children leave out shoes and hope for a gift from St. Nick. In Austria and Germany many people they wait until 4pm on Christmas Eve to light the Christmas tree. Many markets offer concerts, advent activities, and more. I like to visit the tourist office to check.
What to Eat & Drink at the Christmas Market
From the fragrant spiced nuts, traditional German meats, and dangerously delicious alcoholic Glühwein, there's no shortage of things to try while you're at the Christmas market. There are so many delicious treats to eat! ​It can be hard to choose with all the delectable scents and smells. I pick my top 25 here, but here are some classic favorites:
Glühwein
You cannot go to the Christmas market without glühwein! I'm totally addicted to this hot, mulled wine made with spices. It will keep you warm inside as you drink this sweet liquid. Some markets also serve Feuerzangenbowle which is a mixture of punch and glühwein and topped with a rum-soaked sugar cube then set on fire. Go ahead, order two. If you're alcohol free you can also order kinderpunsch!
Schokokuss
The best way to describe this dessert is to take marshmallow fluff, then cover it chocolate, and eat a dozen. Really, these are inexpensive and are so light and fluffy. I get one almost every time I go to a Christmas market.
Kartoffelpuffer
Take potatoes, fry them. It sounds simple but they are absolutely divine. Usually served with applesauce (weird but good) or garlic sauce. Give these a try!
Frikadella
One of my favorite foods at the Christmas markets are these hamburgers made with pork. Usually served with onions and mustard they make for the perfect hearty meal. Don't forget to grab some fries or pommes frites!
READ: 25 Foods and Drinks to Try at a Christmas Market
CHRITSMAS
Even More
What to buy at the Christmas Markets
Everything sheepskin is for sale – gloves, hats, rugs and more.
Keep your glühwein cup as a fun souvenir. If you want to keep with the alcohol trend, many stalls offer liqueurs in pretty bottles that are an excellent gift.
Most markets have their own traditions and things for sale. For example, in Nuremberg they sell dolls made of dates! Most items for sale at Christmas markets are handmade and high quality. You won't necessarily find the cheapest items but you will find something special that will last.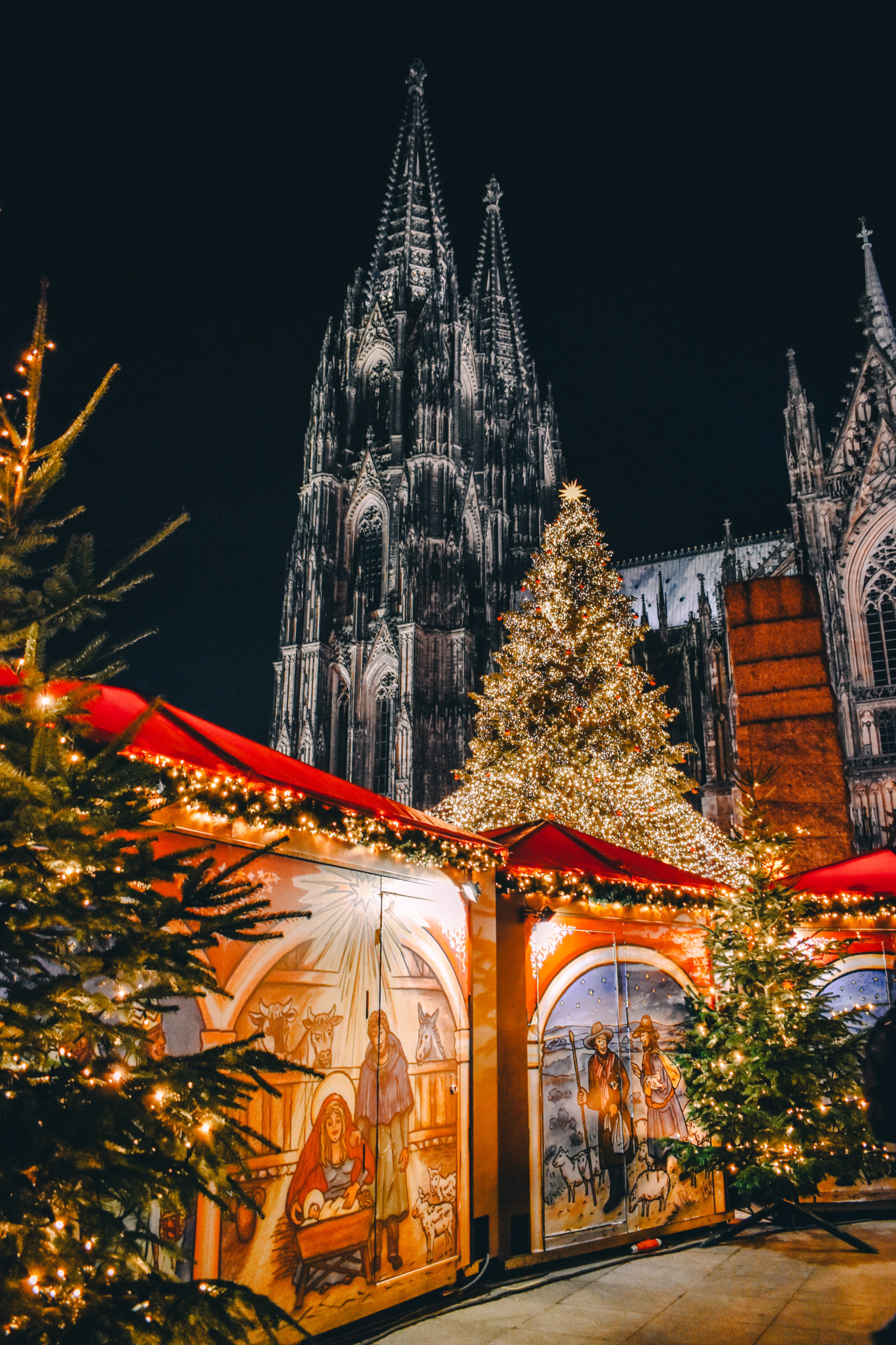 21 Beautiful Christmas Markets in Germany
In my opinion, the best markets in Europe!
11 Prettiest Christmas Markets in France
The Alsace region truly makes fairytales come to life.
Picturesque Christmas Markets in Switzerland
So beautiful, like a winter wonderland!
BEST Christmas Markets in Europe
My top picks with an Itinerary, maps, and more!
Christmas Market statistics
3
million travelers a year