Many people don't think of Glasgow when they think of Scotland. They think of the lush, rolling hills of the Highlands, the pretty city of Edinburgh, or Nessie, the Loch Ness Monster. But when I traveled to Glasgow for a quick weekend I found a fun, vibrant city filled with great museums, awesome music, and plenty of lively bars and restaurants. I particularly loved the people Glasgow who are friendly, helpful, and charismatic. Wherever you go it seems you'll make a friend. I've rounded up the top 10 things to do in Glasgow, Scotland.
Below you can find a map of all the places discussed in this post:
[powr-map id=c345346a_1514375698]
When it comes to things to do in Glasgow, Scotland you won't be left empty-handed. With major music acts coming to town and some of the world's coolest museums there's plenty to keep you on your toes.  Here's my quick guide to Glasgow, a city you might want to consider not just using as a stopover.
Top 10 Things to Do In Glasgow, Scotland
1. Take an Open Top Bus Tour in Glasgow, Scotland
To really get a feel for the city take a tour on a bus. Glasgow offers open-top buses so you can easily peer out to take pictures and gaze at the sights. This hop-on, hop-off bus tour makes it easy for you to grasp the city. You'll see all of Glasgow's top tourist attractions in one fell swoop and discover where you'd like to spend more time.
2. Tour Kelvingrove Art Gallery
They call Kelvingrove Museum the jewel of Glasgow and it's no surprise why since some of the top art pieces are featured here. No trip to Glasgow is complete without a visit to this enchanting museum. You'll find 20+ galleries, works from MacKintosh along with the famous tea rooms, Salvador Dali's "Christ of St John of the Cross", an original Rubens painting of George Villiers, and even a full-size elephant! Truly, this is one of Europe's greatest art collections. The best part? It's totally free! As are all museums in Scotland!
Charles Rennie Mackintosh was born in Glasgow in 1868 and continues to be a celebrated architect. In 1990 Glasgow was awarded the European City of Culture in part because of Mackintosh's work. In the museum you'll find 22 themed galleries including the "floating heads" artwork by Sophie Cave.
Another museum to check out is the Riverside Museum of Transport and Travel. The building is equally as cool to check out with its modern zig-zag roof overlooking the River Clyde.
3. Listen to some music
Glasgow is known for many music acts coming through, but I suggest to stick with the traditional and listening to Celtic music. If you really if want to take it up a notch head to some live Celtic dancing. You can actually learn the dances. It's easy, fun, and not at all intimidating. It's one of the most memorable experiences I had in Glasgow. People in Scotland are so friendly, you'll feel at home dancing right along.
4. Peruse the University
The University of Glasgow is the fourth oldest in the English speaking world and one of the prettiest I've seen. The University is easily one of Glasgow's top ten attractions and it doesn't hurt that you'll feel like you walked right into Hogwarts upon entering the stone archways. The quad is the perfect place to take in the scenery or sit on the lush green grass.
5. Have some Whiskey at a Pub
You can head to a pub or a distillery and drink some of the finest whiskey in the world. Scotland is known for their fragrant whiskeys, so you can't go wrong with trying some of their many selections. Check out Old College Bar for the oldest pub in Glasgow, opened in 1515. Though I'm told this isn't a good spot to hang out. The top pubs in Glasgow are Brew Dog, The Potstill– which has whiskeys from all over Scotland and a bartender that will tell you which to drink based on your tastes, and Oram More, which used to be a church.
6. Glasgow Cathedral
Religion played a major role in forming Glasgow and the cathedral helps us understand the city's true roots. St. Mungo founded the city and Glasgow Cathedral is built on the site where St. Mungo is thought to be buried. This dark, Gothic cathedral makes a statement. Step inside for beautifully carved stone and pretty stained glass windows. Keep an eye out for symbolism near and around the cathedral nodding to the miracles of St. Mungo.
In the middle of the picture above you can see the fish which relates to one of St. Mungo's miracles. The story goes that Queen Languoreth of Strathclyde was accused of infidelity by her husband after she lost her wedding ring. The King had actually thrown it in the River Clyde. Faced with execution she turned to Mungo for help and he ordered a messenger to catch a fish in the river. When they brought back the fish inside was the ring. The Queen was saved and Mungo was seen as a miracle worker.
Another cathedral not to miss is St. Andrew's which has both a modern and antiquated facade.
7. Do some shopping on Buchanan Street
Walk the lovely shopping street of Buchanan aka the "Style Mile." You'll find all of the top shops without the crowds of places like Paris or Milan. After you tire your feet from perusing the stores, pop into a cafe or restaurant for hot tea or try traditional haggis. Don't forget to mosey over to the lovely Argyll Arcade for some beautiful and expensive shops. Don't worry, there are budget-friendly options like Primark and H&M nearby, too.
8. Get a view from The Necropolis
Glasgow grew so quickly in the 19th century, due to the tobacco merchants coming from the US, that they had a hard time burying their dead. The River Clyde brought the merchants to Glasgow which explains the explosion to the population. But living conditions were very poor. To keep up with the dead, most people were buried at the Necropolis. Officially, there are 50,000 people buried here. But we know that often times grave diggers dug deeper graves and put the poor on bottom then the rich on top of that.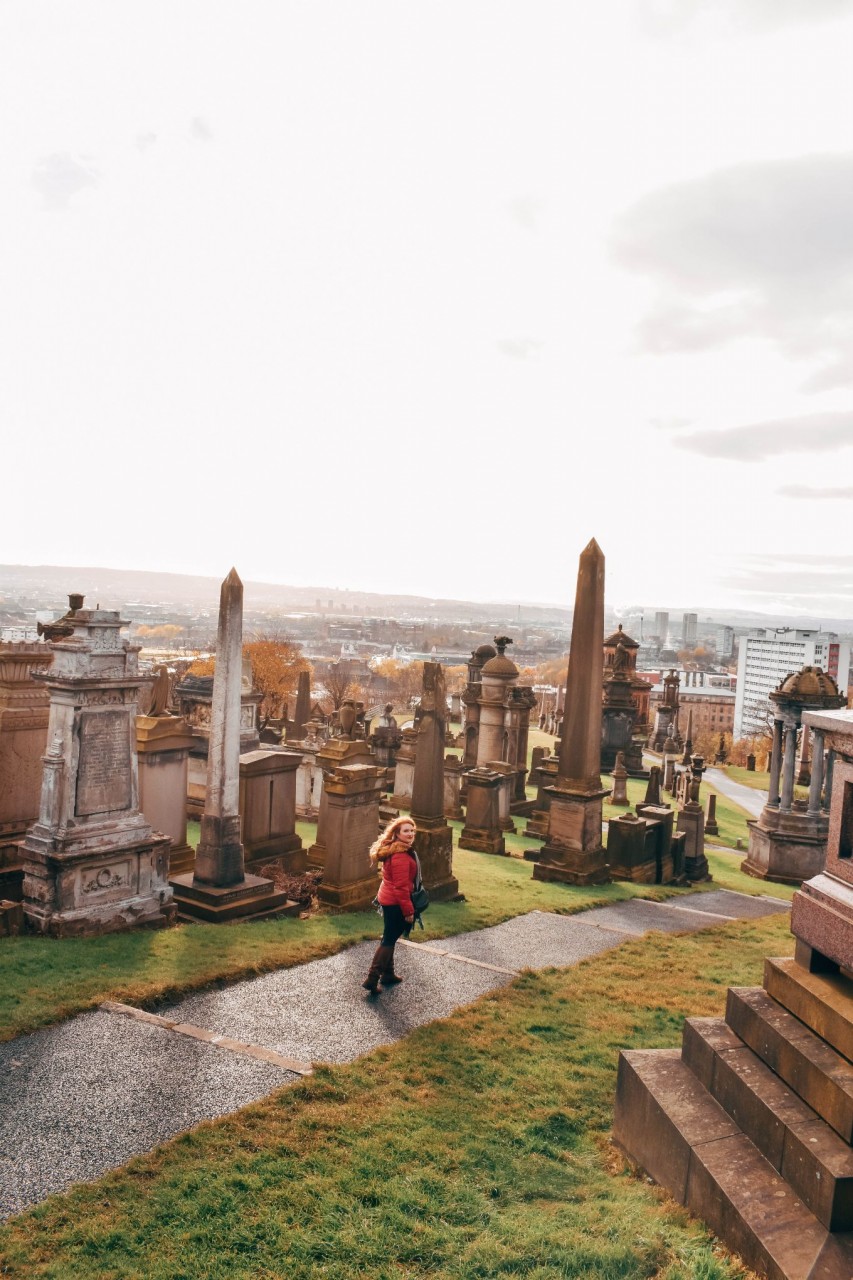 When you walk up The Necropolis you'll get a great view of the city. Just be careful where you step!
9. Take in the street art scene
One of the things that surprised me in Glasgow was the incredible street art. I particularly liked the street artist who goes by the name "Snug" and his representation of a modern day St. Mungo. The art on Ingram Street with the "Four Seasons" is also particularly striking.
10. Take a walking tour
One of my favorite things to do while traveling is to take a walking tour. Our guide gave us so much background about Glasgow, Scotland, and the intricacies you just can't learn from reading a guide book. Having someone point out the history as you walk helps you to truly understand a city. You'll find more than just the top ten attractions in Glasgow when you walk its streets and stumble into its churches and pubs.
Where to stay in Glasgow
We stayed in the lovely Abode Hotel, one of the top hotels in Glasgow's city center. This luxury hotel has a divine breakfast – the porridge was my favorite, quaint comfortable rooms, and you can easily access the top attractions in Glasgow.
Scotland has a colorful culture and history. One of my favorite things I learned while traveling is that their national animal is none other than a unicorn! Because England's animal is a lion and the Scottish have a long rivalry with the English, they found the only animal that could beat a lion. One that didn't exist. Glasgow embodies the Scot's great spirit and is a city that I really enjoyed visiting. There's a great mix of old and new with an easy to maneuver city full of art and culture. As they say in Scotland, the people will, "give you the last." They are full of heart and are wiling to point you in the right direction, tell you their favorite spots in town, or offer up any help.
This post is in partnership with VisitScotland but all opinions are my own.