The Alps have always fascinated me. The illusive snow-capped peaks and jagged mountains are some of the most stunning places I've ever seen. Winter sport enthusiasts everywhere are beckoned here to experience the extreme pistes. In the spring and summer, lush green grasses and cows donning bells echo throughout the valleys. And while all the Alpine regions in Europe are beautiful, Chamonix tops them all. Literally. Mont Blanc is the highest point in Europe at a staggering 4,807 meters (15,778 feet) tall.
This Chamonix travel guide gives you an idea of what to see and do in this "beach on ice"oasis. Whether you're interested in exhilarating skiing or hiking, want to feast on some of the best cuisine, get a glimpse of a glacier, or just stroll around town, Chamonix is the essential escape in the French Alps.
As the host of the world's first Winter Olympics in 1924, Chamonix is an adventure lover's paradise. But it's not just about the mighty Mont Blanc, the city itself is a wonderful spot to relax and enjoy the scenery.
We had the most exceptionally beautiful weather when visiting Chamonix. I'm talking about the kind of days where the PR companies are sent out on helicopters to capture the beauty. But I have a feeling rain or shine, Mont Blanc stuns.
I'll give you a full guide to Chamonix, complete with where to stay, things to do, where to dine, and tips to make the most out of your trip. Make sure to look outside at the extraordinary mountains at night. The stars and moon cover the sky with the backdrop of the darkened mountains and the snow muted the night, and the world, around us. Chamonix is not a place I will ever forget.
Things to do in Chamonix
Chamonix is wonderfully accessible. This might be why Mont Blanc has claimed so many lives. Novice climbers come to take on the mountain without having a full understanding that you need to have proper training. But since I had no interest in that, I wasn't scared. The first people to climb Mont Blanc were Jacques Balmat and physician Michel Paccard on August 8, 1786. This climb, initiated by Horace-Bénédict de Saussure, who gave a reward for the successful ascent, traditionally marks the start of modern mountaineering.
No matter what you choose to do in Chamonix, I suggest getting the Mont Blanc Unlimited pass. For €65 per person, you get access to all Ski Areas (including those in Courmayeur in Italy and Verbier in Switzerland), Aiguille du Midi, Mer de Glace, Tramway, and so much more. I find this price to be phenomenal, considering all that's included. This is a one-day pass that also includes all public transportation. Of course, you can also get the pass for more days if needed. We were able to do everything we wanted with the pass in a day so this was perfect for us.
Gondola Ride to Aiguille du Midi
The clouds drifted across a blue sky and cast shadows on the sparkling white snow. The granite Mont Blanc towered over the bustling city below, and as we reached the summit, it was as if we were viewing a dollhouse, complete with a train set, from high above.
Since 1954 the gondola has carried tourists and locals up to the 12,500 foot high Aiguille du Midi. We got there early to be some of the first on the cable car. The lift is fairly large and they pack it with skiers, snowboarders, and those that just want to go up for the views. As we rose steeply into the mountain I was awestruck by the grandeur of the Alps.
The Aiguille du Midi leaves from the center of Chamonix. You start rising sharply up the mountain and feel like you're suspended in air, about to skim the side of the mountain. This cable car holds the world record for the highest vertical ascent! At the half-way point you'll arrive at Plan de l'Aiguille, where you'll see many people might start skiing from this point. Here, you'll take a second lift to the top.
Camouflaged perfectly into the alps, Aiguille du Midi is the best place to get a 360-degree view of the epic mountains. Make sure to leave some time here to explore, there's a lot to do.
Make sure the check the website to ensure the lifts are open and running.
Explore Aiguille du Midi
Not only will you find breathtaking views, but you can also get a history of the mountains in Chamonix, and those brave enough to climb Mont Blanc. This is the closest you can get to Mont Blanc without having to climb it! Aiguille du Midi means "needle of the Mid-day" and looks a bit like a needle pointing up to the sky.
Take time to look out at the incredible views that surround you. Seeing the convergence of countries, France, Switzerland, and Italy, is mind-blowing. Look out for other peaks such as the distinctive Matterhorn in Switzerland, the Dome du Gouter, the Mount Maudit, and of course, Mont Blanc.
Make sure to "Step Into the Void" a glass cage looking over the mountains. You'll feel like you're suspended in thin air over the Alps! You need to take the elevator once you reach Midi to go to the very top and experience the view.
At the departure and arrival point there's also the History Area where you can learn more about the history of building the incredible cable car and station. For even more history, there is the Espace Vertical and Espace Mont-Blanc. The museum displays those daring enough to climb Mont Blanc and the gear that goes along with it. Here's a view of Mont Blanc from Midi: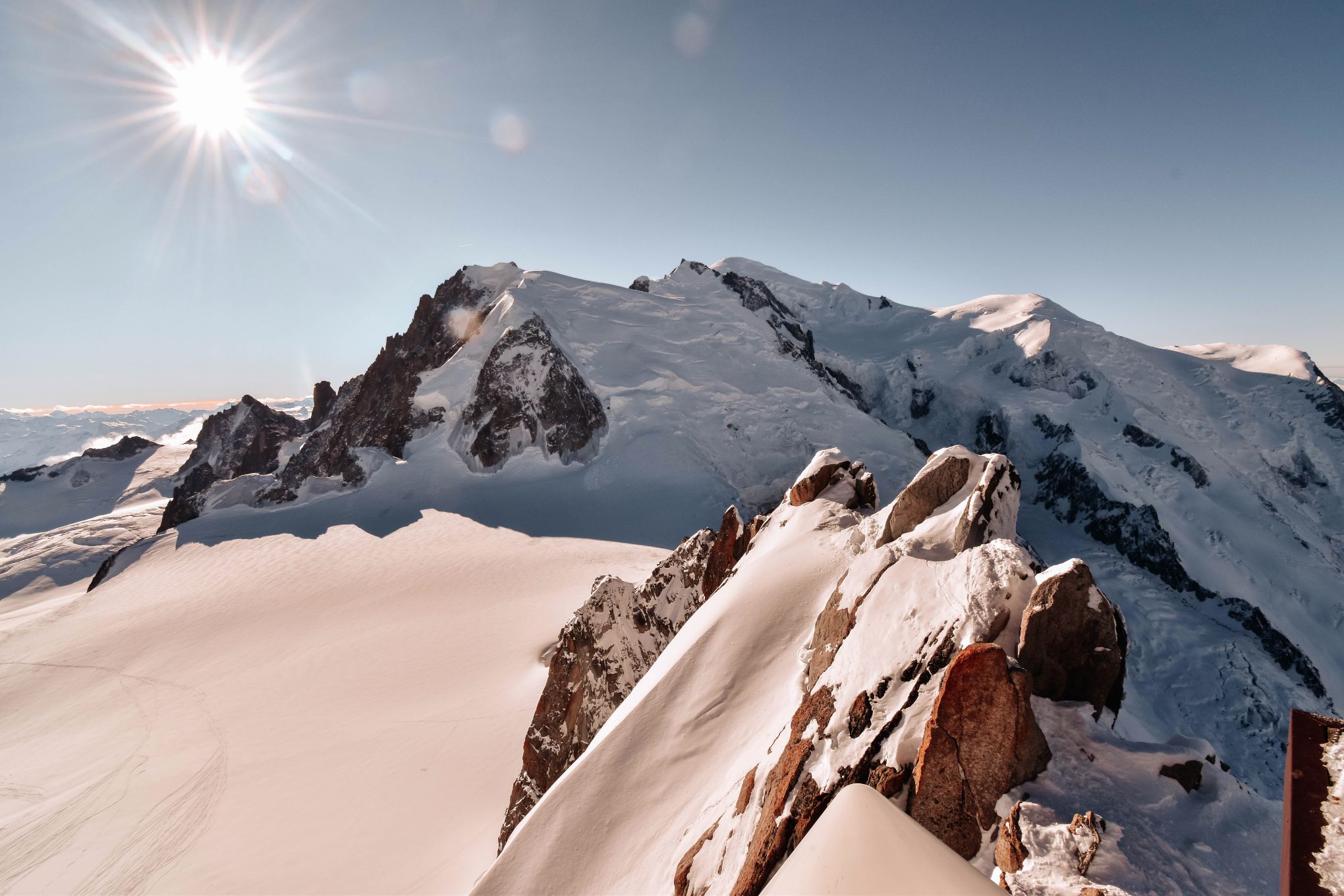 You can walk the long steel gallery, aka the "Pipe" or in French "Le Tube". I also loved walking through the tunnel of snow to look at the landscape of the mountains. You'll also find a short movie showing the mountains from above.
During the summer months Restaurant 3842 is open, appropriately named since it's situated at an altitude of 3,842 meters and is one of the highest restaurants in the world! Year round there are also cafes on site and a souvenir shop. If you'd like, you can also take the gondola over the Alps to Italy to Point Helbronner. From the terraces of Midi, there is a cable car, the highest in the world, that connects France to Italy. This 5 kilometer (2.5 mile) journey goes from Midi to Point Helbronner.
Picturesque train ride to Mer de Glace
Mer de Glace translates to "Sea of Ice" and is the largest, although shrinking, glacier in France. To see the glacier and ice cave, head to the Chamonix central train station and take the train to Montenvers Mer de Glace. The Montenvers Railway was the first custom-built tourist attraction in the area, in 1908. I marveled out the large train windows, looking at the stunning scenery around me.
As you exit the train, you'll notice the striking mountain standing above the rest. It's the aptly named "Giant's Tooth" which is distinctive and looks just like its name. The rocky fang is there to almost point you in the direction of the glacier below.
You'll take a short ride on a cable car descending towards the glacier. You'll walk on concrete and steel steps, getting closer and closer to the glacier. It's about 500 steps down so wear comfortable shoes. As you go down, you'll start seeing the aquamarine color of the beautiful glacier next to the brilliant white snow.
One of the most striking things I found was how much the glacier has shrunk over time. As you climb down, you'll see markers noting the height of the glacier over time. It used to be only 200 steps down to the glacier; now it's 500.
Once you reach the bottom, you can experience the Ice Cave and get a feel for the glacier up close. Inside, you'll find ice sculptures like a chair, a bar, and even a bear.
Nearby the train station you can find restaurants, a hotel, and the Glaciorium which features a crystal exhibit.
Explore the Town of Chamonix
The charming town of Chamonix itself is not to be missed. It's small, so it's easy to see it all in a day or so. I enjoyed strolling the streets, popping into cafes, and basking in the warm sunlight on a chilly day.
You'll see a statue of two men pointing straight at Mont Blanc; this is explorers William Windham and Richard Pocock. In 1741 they came here and are credited to initiating tourism to the valley. Before the Romantic era, many people looked to the mountains as a nuisance. It was something in the way and caused terrible trouble. But the dawn of a new era meant people, no matter their stature, had leisure time. Ski resorts and relaxation activities started taking place. Chamonix was one of the original Alpine resorts.
Locals call Chamonix, "Cham" and you'll see it's not just tourists, but residents who pop in and out of shops and restaurants. There's no shortage of decadent French cuisine, where the typical "Savoy" dishes from the region are served.
A mix of upscale restaurants and laid-back bars is what gives Chamonix it's unique atmosphere. Don't forget to grab an old-timey poster or postcard – it makes for the perfect keepsake.
Ski/Snowboard/Sled/Hike in the Alps
Of course, you can have your fill of winter activities in the mountains and surrounding villages of Chamonix. To ski near Mont Blanc you will most likely go with a guide. The ski season runs from mid-December to mid-April. However, the best part about winter activities here is that there's year-round snow on Mont Blanc, so you'll always have a place to bask in the snow.
There are many places to ski off-piste if you're a skilled skier. The skiing and snowboarding are not of the faint of heart. You'll find steep mountainside terrain, some that you have to hike down just to ski! You can check out all the ski areas here, which also recommends different areas for different levels of skiers. As someone who has torn my ACL skiing in the alps, I opted out of this one.
I loved spending time on the mountains near Les Houches called, "Ski Camp." Here there are beautiful views, plenty of snow, and easier ski runs. To be honest, if you're interested in sledding or tobogganing you won't find much here. I suggest heading to Megève which is about a 45-minute drive from Chamonix. Also, Gstaad, Switzerland has excellent toboggan runs as well and is about a 2-hour drive from Chamonix. Both offer paths that are well marked and miles long! You can sled all day.
My preferred way to burn off the fondue is with a hike. We found great hiking trails all throughout Chamonix. There are well-marked trails as well as more remote areas for all levels of hikers. We took a lovely sunset hike with the dogs one evening but did find some of the trails a bit icy and hard to walk.
There are so many options for winter activities in Chamonix: snowshoe, paraglide, and even paintball. Chamonix truly has it all.
Where to Stay
We stayed at the lovely Les Campanules in Les Houches, a short drive or public transportation stop from Chamonix. This was extremely affordable, had a great room (and view), an incredible on-site restaurant, and easy access to public transportation that they offer for free! The train or bus is just a short 5-minute walk from the hotel, but they also offer complimentary shuttle service.
Walking through the room to the large floor to ceiling windows leading to the balcony I was struck at the clear sight of Mont Blanc. Stretching past the clouds and shining brilliantly it stood proudly. Right next to it was Midi, the point where you can take the lift up to get the best view.
The hotel is traditionally alpine. Nothing over-the-top fancy, but comfortable. The rooms are simple and clean with all the amenities you need. I loved the fireplace in the lobby and comfy nooks to snuggle up and read a book. Bonus points: this hotel is dog-friendly! If you're more interested in staying in the heart of Chamonix, I recommend these hotels.
The best part of Les Campanules is its appetizing restaurant. Michael has the most tender pork he'd ever tasted. I dined on the local dish "Tartiflette" which is melt in your mouth divine. The prices were reasonable and the view is unmatched. If you stay here or even if you don't, go to this restaurant. Which brings me to my next point…
Where to eat in Chamonix
The best part of this trip, besides the mountains, was the food. I could see Switzerland from the top of Midi, but I'd be paying triple on food and lodging. And it's not always quite as good. To me, France has the best food in the world.
You won't find cheap prices, but there are mid-range restaurants. Of course, there are also fancy spots as well if you're in the mood. Here's what I suggest.
Le Fournil Cafe – I cannot say enough wonderful things about this cafe and bakery. We went here three times. I suggest grabbing some pastries to take up with you, then eat them at the top of Midi and stare at the great expanse of mountains and sky. It's right near the lift in Chamonix and you'll notice there's often a line of locals and tourists, don't worry, it goes quick!
Cap Horn – if you're looking for an upscale, romantic restaurant with traditional French cuisine, look no further. You'll find large portions, which is great, especially for fine dining. Try the duck spring rolls and profiteroles for dessert.
Cool Cats – I'm recommending a place that sells chili cheese dogs and pulled pork sandwiches… in France. Honestly, you could pull my Texan card from me if I recommended a place that wasn't good! It's casual and fun and has a great view of the mountains outside. Yes, there are heaters!
Pizzeria des Moulins – Sometimes you just need a good pizza at a great price. Find it here!
Le Panier des 5 Saisons – Inventive dishes and French fare in a cozy atmosphere. Lots of satisfying dishes after a hard day of running around.
Monkey Bar – This is a great place for Apres Ski activities with live music and a happy hour.
Les Campanules in Les Houches. This is the hotel where we stayed but the food was so divine, I'd also go here to eat.
Le Delice – This is a mixture of French, European, and international cuisine. I highly recommend the squid, Michael really enjoyed the ribs, I had the guinea fowl, and the sticky toffee pudding was divine. There are also vegetarian and vegan options available.
Le Basilic – Serving typical french food as well as cuisine from the Savoyard such as fondue and tartiflette. The menu is small but each dish is delicious.
Kitsch Inn – Open for breakfast, lunch, and dinner, you'll find French and international cuisine. You can actually ski straight in here. They offer live music and Apres-Ski activity.
When to Visit Chamonix
The winter time is best as the activities for outdoors are best. I suggest early to mid- January. You can also go in March during the Boss de Bosses, a ski festival. It's the longest running season workers' competition in the Alps. Of course, there are also summer activities, but it's just so magical during the winter season.
How to Get to Chamonix
Fly – About an hour's drive from the Geneva Airport; you can easily take a train or rent a car. Once you're in Chamonix transportation is a breeze with easy to access trains and buses.
Drive – There are so many lovely places to see in the Alps, it's nice to have a car to get around.
Train or Bus – You can take a train or bus ride (I use this site to find the best prices and times) right to the heart of Chamonix-Mont Blanc.
Where to go from here
If you have time to explore more of this region then I've got a few suggestions. The adorable, lakeside town of Annecy is about an hour and a half drive from Chamonix. Here, you'll find a delightful French alpine city complete with cobblestone streets, pastel-colored houses, and a beautiful chateau. My favorite part of visiting Annecy was the incredible dining options. We feasted on fondue and Raclette (cheese is unlimited!) at Le Freti. The Savoyard specialty means they bring you a wheel of cheese and an ancient looking metal device to warm the cheese. When it gets hot, you scrape the melted cheese on to your plate. Divine! The way they spoke of cheese is how one might speak about their children, very fondly. The prices were great and the fondue was some of the best I've ever had. Annecy is an idyllic place to spend a few days. I recommend staying in or near the old town so you can easily walk the town.
As I mentioned above, if you're interested in sledding (and you should, it's a blast) I highly recommend Gstaad, Switzerland. This is a lovely area of Switzerland and the drive from Annecy was beautiful. There are many ski, snowboard, and of course, sled routes that are miles long. There is ample parking and getting to and from the various lifts is easy. Or, Geneva is a larger city at the southern tip of Switzerland that also has an airport. If you'd like to say in France, I'd recommend Megève for more options to sled and ski.
Lastly, I'd recommend Liechtenstein. This tiny country is the only one completely in the alps. It's truly a feast for the eyes to wander through the alpine villages and admire then mountains that surround you. Vaduz is the capital, but I recommend staying in Malbun and then making a day trip to explore Vaduz. It's small, so it's easy to see it all. We had the most glorious hike just outside of our hotel in Malbun. There are lots of ski runs here and even an ice block you can climb!
My trip to the French Alps and Chamonix was exceptional. I will not soon forget the incredible views, the decadent food, and the cheerful atmosphere. Mont Blanc was a place I heard so much about, finally traveling here confirms this as one of the most magical places in all of Europe. It's definitely a place I hope to venture back to soon!
Pin the post so you don't forget it!