I'm a bonafide Christmas market freak. I've been to dozens of markets across Europe. But nothing compares to Heidelberg's Christmas market. I lived in Heidelberg for 3 years and I'm going to give you the best tips and guide to Heidelberg Christmas market!
To experience an authentic Christmas market in Germany, look no further than Heidelberg. The scintillating scent of candied nuts, hot mulled wine, and fresh cut pine, mix merrily with the sight of beautiful, handcrafted wooden stalls and the backdrop of a 17th-century German town.
So grab a glass of Glühwein and explore my ultimate guide to the Heidelberg Christmas market.
Nestled on the banks of a river is the beautiful, romantic town of Heidelberg, Germany. A fairytale town any time of year, but during Christmas, it transforms into a holiday paradise. The "Weihnachtsmarkt," as it's referred to in German is one of the most magical places for Christmas.
The small town of Heidelberg, Germany packs a punch when it comes to the beautiful and historical Christmas market. With five different squares to choose from, over 140 stalls, and an ice skating rink beneath the castle, this is my favorite Christmas market in all of Europe!
From the scents of the roasting chestnuts, sloshing back hot mulled wine (Glühwein), the glow of the castle above, and the excitement from people all ages seems to swirl in the happy feeling of Christmas. Heidelberg's Christmas market is not to be missed. I've got everything you need to make the most out of your time in Heidelberg. From the dates and times, locations, and tips to ensure you get the best from this traditional German Christmas market.
Updated for 2023!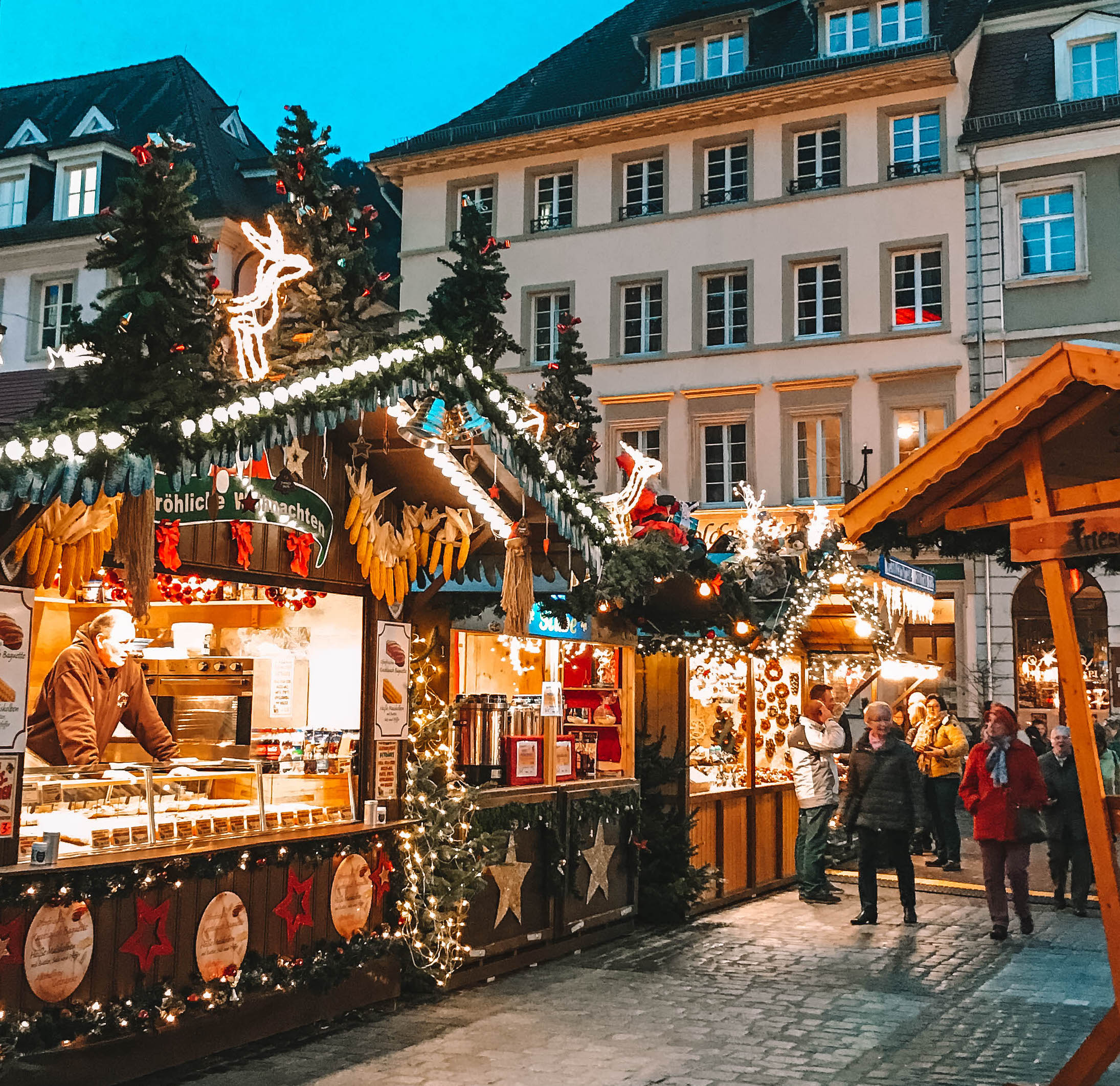 Heidelberg Christmas Market Dates
Despite Heidelberg being a medium sized city, the Christmas market stays open all season long. There's even a beautiful little market that stays open past Christmas! So if you're looking for a market after the holidays, check this out.
The Christmas market in Heidelberg is open November 27 – December 22, 2023. There are a couple markets that are open through January 8, 2024.
The market times are from Sunday through Friday from 11am to 9pm and on Saturdays from 11am to 10pm.
The "Winterwaeldchen" (winter woods at Kornmarkt) has extended dates. From November 21 through January 1st, 2023 (closed on Christmas eve). Also, Christmas on Ice at the Karlsplatz stays open until January 8, 2023 as well.
Why the Heidelberg Christmas Market
It's not quite as glitzy or glamorous as other markets, but Heidelberg has a unique and traditional charm that extends throughout the city. The enchanting wooden huts are ornately decorated with beautiful pine, Santas, reindeer, ornaments, and ribbon.
I've added Heidelberg's Christmas market as one of the best in all of Europe. It's not particularly grand, but it's so well done, easily accessible, traditional, and just a great example of a Christmas market. Plus, it's simple to get to all the markets in Heidelberg by walking: start at Bismarckplatz, then head to Anatomiegarten, stroll over to Universitätsplatz, Marktplatz, Kornmarkt, and then Karlsplatz.
Each stall is different from the next, offering you the feeling like you're stepping back in time and experiencing a market dating back to the 1600s. With the glow of the castle above you, and the yuletide cheer all around, you can't help but feel the magic of Christmas.
Where is the Christmas market in Heidelberg?
Set in Heidelberg's old town (Alstadt) and taking place throughout the Main Street (Haupstrasse) you'll find yuletide cheer throughout the small city. There are five squares throughout the town that make up the Weihnachtsmarkt. Kornmarkt, Marktplatz, Universitätsplatz, Anatomiegarten, and Bismarckplatz. The map below lists out the top spots for the Christmas market.
Heidelberg's Open-Air Ice-Skating rink is open from November 25 to January 6th from 10am to 10pm. Called "Germany's most beautiful ice-rink" you'll find it at Karlsplatz, directly below the castle on the Hauptstrasse.
There's also a smaller market open during a few weekends during the season at the Neuburg Abbey just down the river. I'll discuss all the markets in depth below!
How to get to the market?
The great thing about the markets is that it's all walkable. If taking the train, car, or tram, you'll head to Bismarkplatz and from here you can walk to all the different squares.
What to eat at Heidelberg's Christmas market?
You'll find traditional German Christmas market foods to try. My personal top 25 foods can be found here. In particular at Heidelberg's market I adore the French Fries at Marktplatz, the schokokuss, the delicious frikadella, and bratwurst.
Is there a Christmas market at the castle?
There is no longer a Christmas market at Heidelberg's castle (we were told it disturbed the bats), but I still recommend that you head up to the castle and gardens for a unique view of the city below. It's particularly lovely at Christmas as you can see the warm glow of the lights on the Hauptstrasse.
How much time to spend?
I personally went to the Christmas market in Heidelberg 19 days last year. But that's because I could take a five minute bike ride over from my apartment. Because Heidelberg is such a beautiful city I recommend at least 2-3 days to experience the magic at Christmas.
Heidelberg has much to offer, even outside the Christmas market: here's my guide to Heidelberg.
I suggest at least 3-4 hours at the market to get the best experience. Seeing the market transform from day to night is really beautiful! I highly recommend checking it out at night to see the castle lit up above the ice rink and the twinkle lights come on.
What to do at the Heidelberg Christmas Market
I've been to many Christmas markets across Europe and Heidelberg remains my favorite. Granted, I'm a bit biased as I lived here, but there's just a feeling of happiness that surrounds you as you walk the cobbled streets and glance up at the magnificent castle. Heidelberg is a perfect sized town – not too big so you can easily get around, and not too small so that the Christmas market and shops are open the whole season long.
I've devised an itinerary so you can make sure to get the most out of your time.
As I mentioned, there are five different areas for the Christmas market: Kornmarkt, Marktplatz, Universitätsplatz, Anatomiegarten, and Bismarckplatz. There's also Karlsplatz for the ice rink. Each one is unique and it's worth it to visit them all. Here's a guide to each of Heidelberg's Christmas markets and what you can expect at each!
Bismarckplatz
You'll most likely start at Bismarckplatz, this is the main hub where many of the trams converge. It's also the top of the Haupstrasse leading into the old town. Surrounded by bigger department stores like Galleria Kaukof and H&M, you'll find a few stands selling food and knick-knacks. There's a particularly good fire roasted fish stall here.
Anatomiegarten
As you continue walking down you'll pass well lit stores and three story buildings, often with people living at the top. Next, you'll find the small market of Anatomiegarten. Facing the street, this offers some unique crafts like African drums and figurines as well as sweets and treats. Here they also sell personalized Glühwein mugs where you can get your name painted on a cup.
Just behind the market you'll see many statues tucked away that are worth a glance. Next, you'll continue walking down the Hauptstrasse to Heidelberg's bigger Christmas markets, Universitätsplatz.
Universitätsplatz
Universitätplatz is one of my favorite markets. It opens with an indoor shopping area selling teas and coffee. After you walk out, you'll find some of the loveliest stalls selling handmade, wooden ornaments, paper stars that light up from within, and gingerbread.
As you keep walking down to the right, there's a stall that sells donuts in paper sacks that are divine! You'll also find sheepskin everything – rugs, liners for baby carriages, shoes, and gloves. We always manage to pick something up from there.
There is a carousel that's perfect for the kids at Universitätplatz. Here, there are also a few places to watch the glow of the warm light from the carousel and warm up with some Glühwein. There's a stand just near the carousel that offers some unique flavors that I love! You'll also find a Feuerzangenbowle stall here. They flambe rum on large sugar blocks hung over the Glühwein which melt into the hot wine adding a wonderful flavor.
Marktplatz
Marktplatz is one of the largest markets in Heidelberg and takes place right near the large church. Here, you'll also find the iconic, wooden windmill selling Glühwein of all different flavors. There's a carousel here as well to keep the kids entertained. Or, you can also have them meet Santa! At a small indoor tent Santa is often here to listen to the kid's wishes.
There's a lovely shop here selling hand-blown and hand-painted ornaments that would make for a great souvenir. Keep on walking and you'll find a shop selling liquors of all flavors in decorative, glass holders of all shapes and sizes.
Kornmarkt
If you're interested in more "rides" check out the small train ride for kids at Kornmarkt which is a beautiful, little market with Christmas trees all around. Here, there are also handmade crafts and a man is often there creating decorative wooden bowls while you peruse the shops. In the middle you'll see the statue of Madonna and start to get a view of the castle.
Karlsplatz
Keep walking down to the large square, Karlsplatz, where you'll find the ice rink and a few stalls selling food and drink. This is a great place to ice skate – no matter your age and you can look up to see the towers of the sandstone castle above.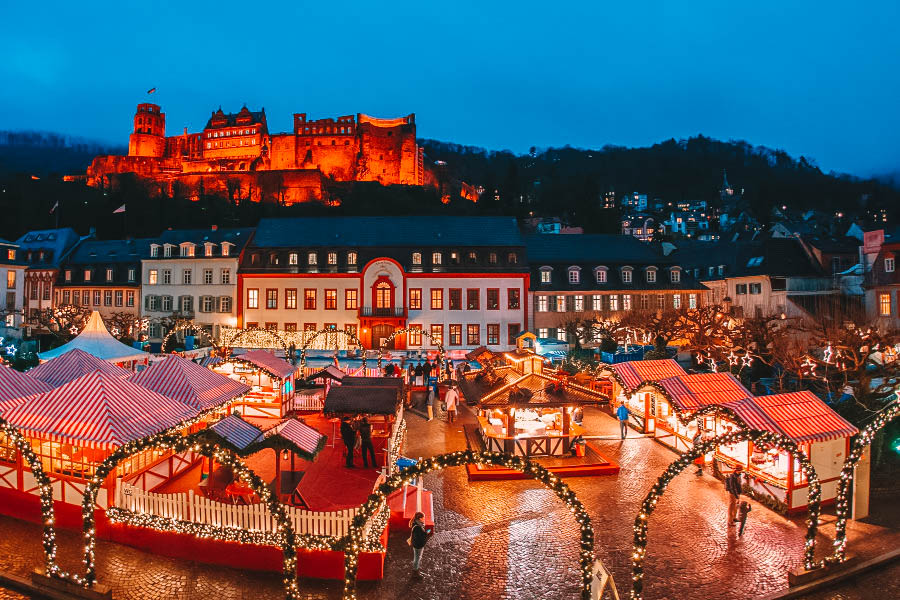 I really enjoyed skating and listening to the music. I'd occasionally stop for a sip of hot Glühwein!
After you've done your shopping at the Christmas market, make sure to stop by the famous Christmas store, Käthe Wohlfahrt. The main store is in Rothenburg, and year round it sells everything Christmas. Make sure to head in to see the large revolving Christmas tree that goes up two stories! This is also a great place to pick up a handmade stein.
Not only is the Christmas market lively and lovely, but the entire city is strung up with lights. Shops along the Hauptstrasse, Europe's longest pedestrian zone, have festive decor and pretty stars are hung between the alleyways and streets.
There's lots of great tours, museums, and things to do in Heidelberg! One its claims to fame is the largest wine barrel inside the Heidelberg Castle. You can see my full guide on what to do in Heidelberg here.
Where to Stay in Heidelberg
I suggest staying right on the Haupstrasse in the Alstadt (old town) so you can be close to the markets as well as most of the bars and restaurants around town.
Hotel Ritter – A beautiful sandstone building and historic hotel on the main street. It's the only building that didn't burn down in the first from the 1700s!
Crowne Plaza– right near Bizmarkplatz and near the tram line. 4-star hotel with all the amenities.
Backmulde – on the main street is the 17th century hotel that makes you feel like you're in Heidelberg at that time!
Hotel B & B – not in the city center but a good budget hotel that we like!
Tips for Making the Most Out of the Christmas Market
Make sure to dress warmly. It can get very, very cold. So bring a hat, gloves, warm socks, boots, thick pants, and a coat. I also suggest hand warmers.
The markets can get extremely crowded. To avoid the crowds, go during the weekday or during the day. That's your best bet to avoid the masses.
You most likely will take some trinkets home so bring a small, collapsible bag so you can easily carry your items.
Don't forget to return your Glühwein mugs! Most of the drinks have a "pfand" where you pay a couple extra bucks to keep the cup. If you have quite a few glasses of Glühwein, you might not need all those cups. Return it so you can get the cash back.
Most of the markets are cash only. Bring cash. There are ATMs nearby but they tend to get quite busy.
There are a few markets that stay open AFTER Christmas in Heidelberg! You can go skating at least a week after Christmas too.
What to buy at the Christmas market
First, your Glühwein mug is the perfect souvenir. These change year after year and are marked with the date.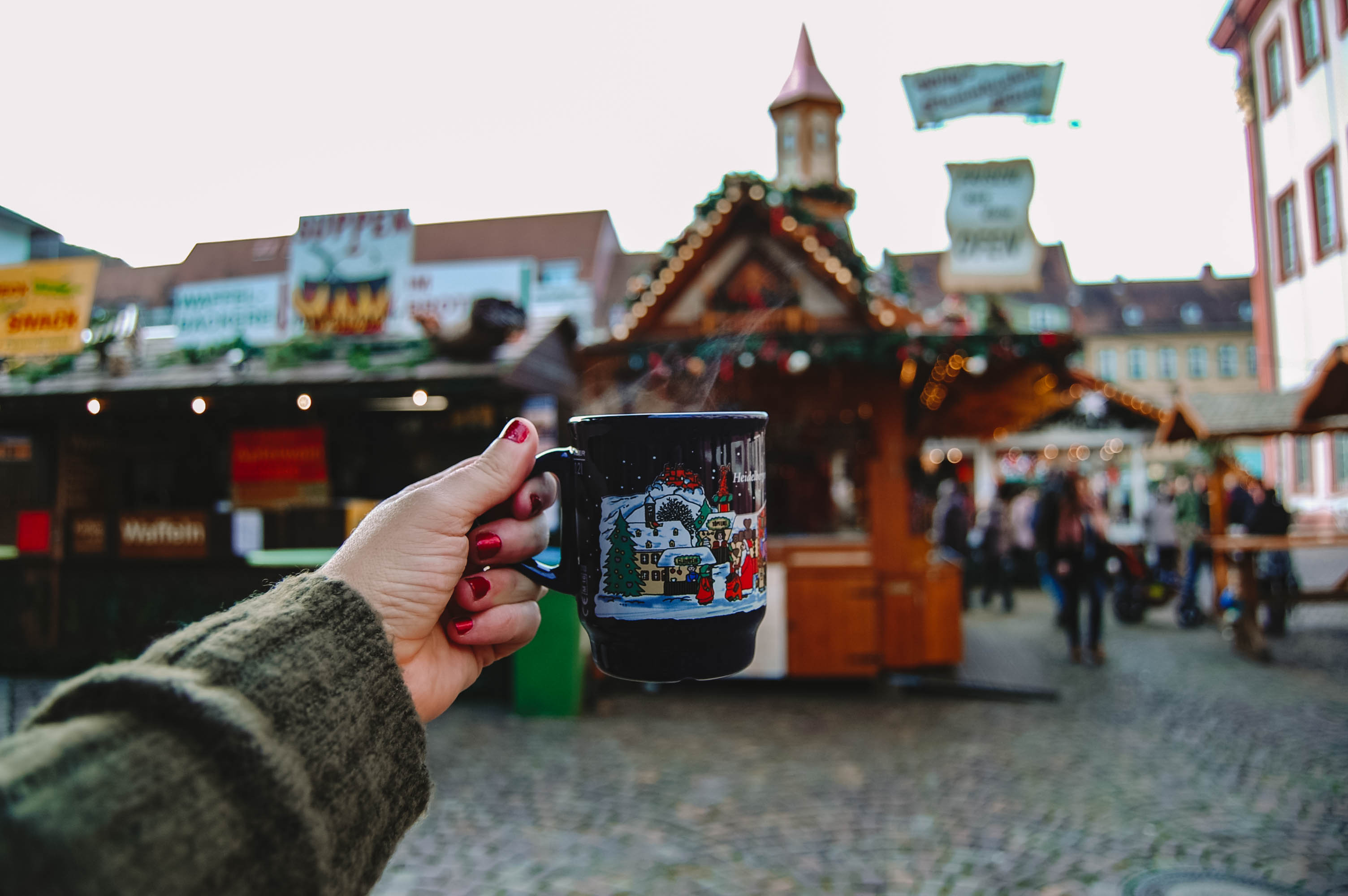 I also suggest something sheepskin. These last for years and are a beautiful home accessory. I also love the sheepskin gloves- extremely warm.
The paper stars are some of my favorites because you can put these in your house all year long. They fold easily so this is the perfect thing to put in a suitcase.
Handmade ornaments are the perfect momento. There are also lots of handmade wooden crafts or ceramic houses that I absolutely love for Christmas decor.
Food is a great gift too. You can see the chocolate tools that look so real it will shock anyone you give it to.
Christmas Markets Near Heidelberg
The wonderful thing about the Heidelberg Christmas market is not only its charm, but it's location! You're about an hour away from the best markets in France, Strasbourg and Colmar as well as other incredible German Christmas markets like Cologne, Speyer, and Baden-Baden. AND, you're just about 2 hours away from the border of Switzerland and the beautiful Basel Christmas market.
One you must go to is the Stift Neuburg Market at Kloster Neuburg (Neuburg Abbey). This is a monastery and brewery that offers a small Christmas market. You can easily take the tram 10 minutes down the Neckar river and head to this market. They often sell unique crafts and food.
Very near Heidelberg you have Mannheim's Christmas market in the city center near the water tower. This is an excellent market, and just a quick 20 minute train ride away.
Or, head to Schwetzingen for a Christmas market at the palace, about 20 minutes away by train.
There are also smaller markets right near Heidelberg (10 or so minutes away) that take place throughout the Christmas season or on the weekend.
There's never a bad time to get to the romantic city of Heidelberg, but there is something special about Christmas.
Here are some more guides you might like:
Best Christmas Markets in Europe
Itinerary for Christmas in Europe
Best Christmas Markets in Germany
Best Christmas Markets in Switzerland
Best Christmas Markets in France
What to Eat at a German Christmas Market
The Best Winter Destinations in Europe