Heidelberg is the prettiest European city you've never been to. It's a somewhat hidden gem that you need to add to your list. I can't believe that I call Heidelberg home. I could be biased, but it's one of the most gorgeous cities I've ever seen. Rolling mountains, with a sandstone castle overlooking the Neckar river. The city is situated below the mountains and flanks the river, with shops, pretty architecture, and cafes.
Here's a guide to everything to see and do in Heidelberg, Germany.
While Heidelberg is a tourist's dream, it's easy to sneak away from the crowds on a cobble stone street or tuck away in a cafe. And because there are so many people from all over the world coming here, many people speak English. Although it's always nice to have some German phrases handy, even if the German language is a bit tough! Below you can find a map of all the places discussed in this post:
[powr-map id=37a0ffdf_1511252147]
How to Get to Heidelberg
Despite being a relatively small city, it is busting with locals and tourists. I should know, it's been incredibly hard trying to find an apartment to lease. The properties go so quickly, especially when you're looking for a garden (since we have dogs.) I can see why people want to live here. There is great public transportation, and you're only an hour away from the largest airport in Europe, Frankfurt.
If you arrive in Frankfurt, or the other nearby airport or train station in Stuttgart, you can take a short train ride that will drop you at
Heidelberg Hauptbahnhof
. From here, you can get to your hotel or
AirBnB
by hopping on to the public trams or buses that will take you virtually anywhere in the city. Heidelberg is very near some popular places in the Rhine valley, a 3-hour drive from
Munich
,  a 2-hour drive to Basel, Switzerland, very near the picturesque town of Baden-Baden and the Black Forest, and it's neighboring town, Mannheim is full of shops and modern architecture. But our focus is on the beautiful Baroque Heidelberg. You'll find the city looking just like it did in the 16th and 17th century thanks to careful preservation and the fact that it wasn't bombed in WWII.
Where to explore in Heidelberg
My favorite part of town is the Altstadt, or Old Town. The best way for me to compare this area is something like Paris or Madrid. Here, you'll find the Hauptstraße. This is the longest pedestrian walkway in Europe and expands over a mile east and west, parallel to the Neckar river. This area is always busy with lots of shops like H&M, Lush, TK Maxx (not a typo, they call it TK, not TJ!), Fossil, and many coffee and gelato shops. Heidelberg is declared a UNESCO city of literature. So you'll be sure to find bookshops and libraries around every corner. Because of the university, Heidelberg is alive with students, fun bars, and there's always something to see and do.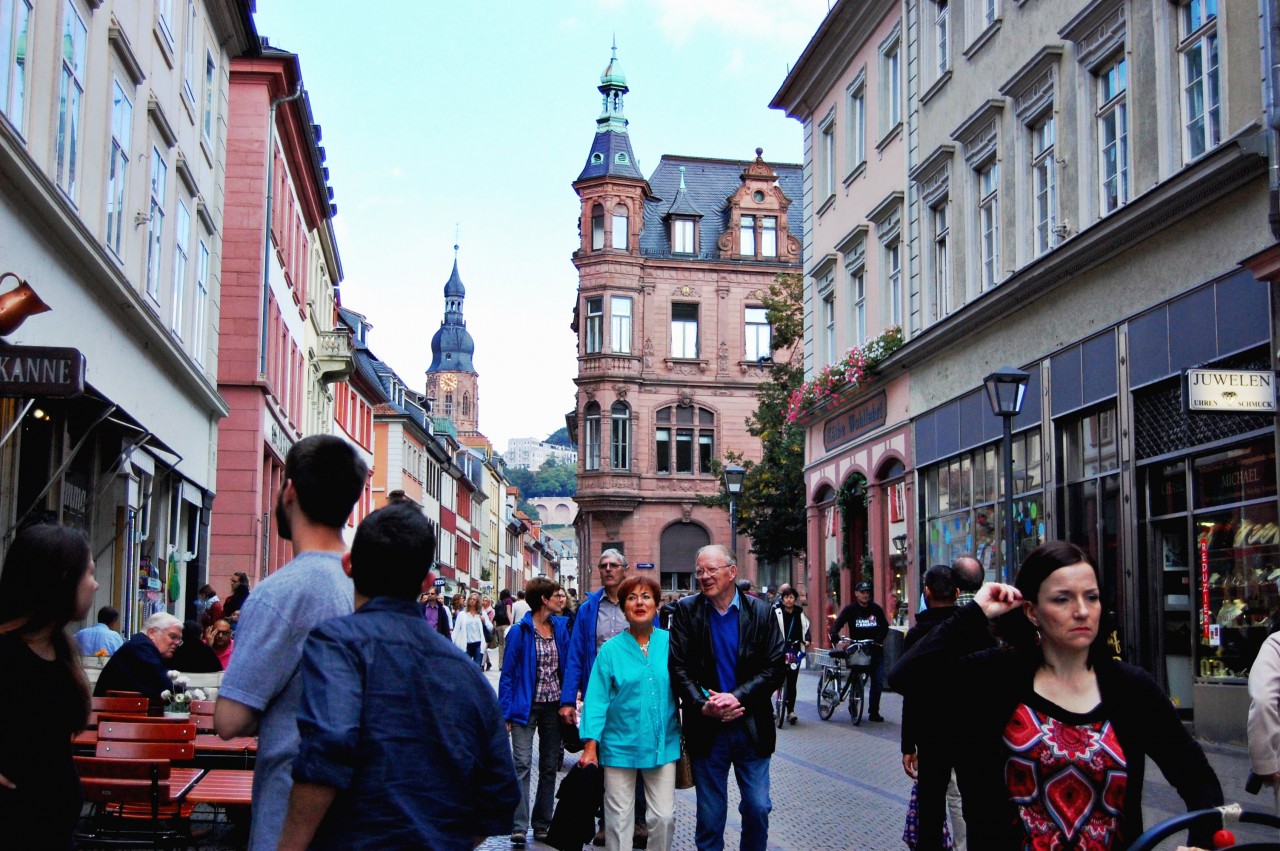 I suggest starting at the Hauptstraße, specifically Bizmarkplatz, and head towards the castle. I suggest sunset to take in the old city and get a glimpse of the beautiful church steeples and the lush rolling hills covered in green trees.  You'll get great views of the city, castle, and river.
Where to Eat
Since you're in Germany, why not get some traditional German food? We have yet to explore all the places in town, but three of our favorites so far have been out of this world. First up is Vetter's. This is located off the Hauptstrasse on Steingasse.  It's a dark, candlelit restaurant where you sit tightly packed and order beers and brewer's pan. It's made with blood and liver sausage with fried potatoes. I know this might sound scary but I'm telling you, for someone who doesn't like weird food, this is awesome. My mouth is salivating just typing this out.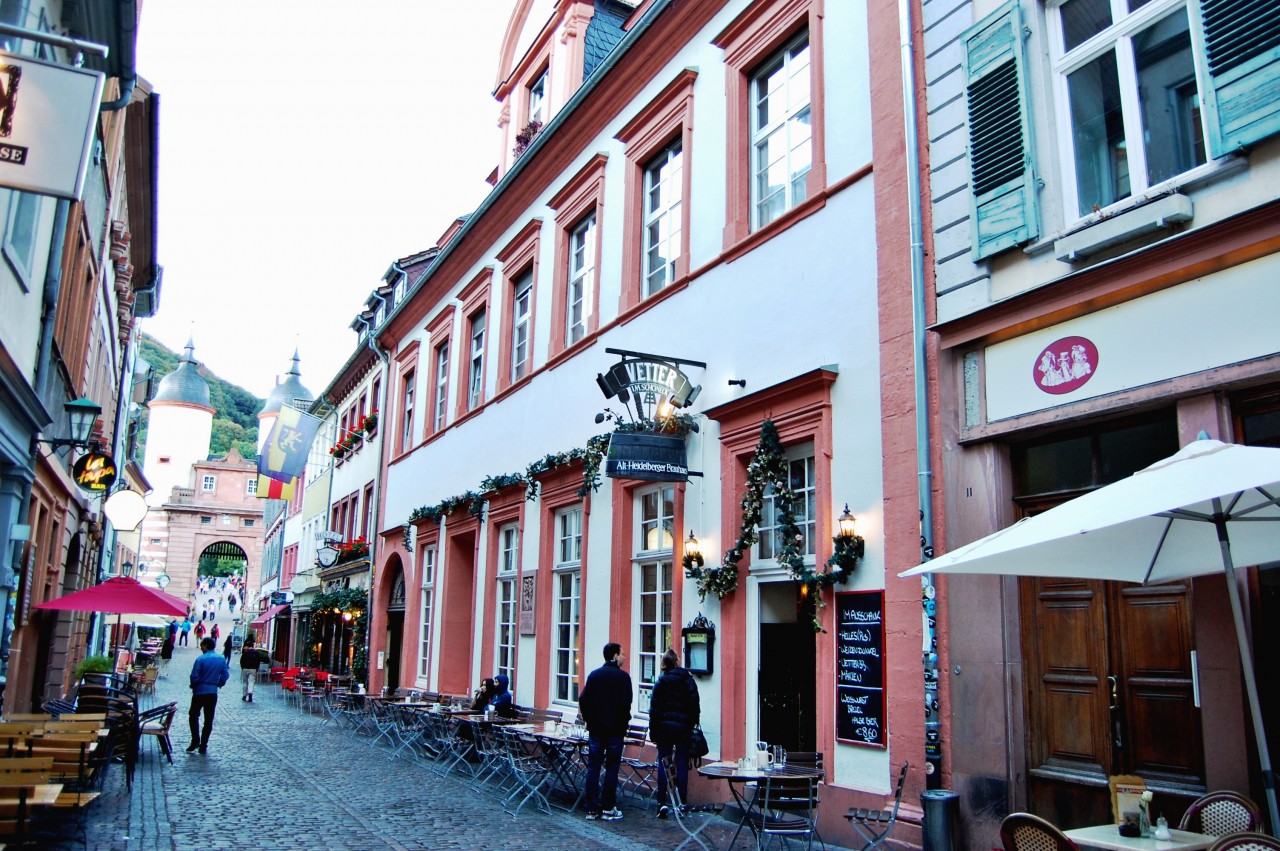 There is also Kulturbrauerei  that has a beautiful brass beer tap. It is richly decorated with different black and white pictures of Heidelberg on the walls. I had delicious "traditional" chicken francese along with vegetables drenched in butter. Michael had short ribs and he almost took the bone home, the flavor was so good.
We took our friend to
Schnitzelbank
where they serve… you guessed it Schnitzel. They serve many kinds but my favorite is the authentic wienerschnitzel. This is a tiny restaurant off the Hauptstraße, on
Bauamtsgasse
, with only a few tables. You're sure to find your fill of great German food.
You can also eat at many of the Doner Kebab places around town, they serve huge potions and excellent fries and dressings. This is also a good spot for late night food, especially if everything is closed!
On almost every corner you'll find either a bakery, chocolate shop, or gelato. So if you have a sweet tooth, you'll be in good company!
There's also a really funky American style diner called Mandy's. This stays open late night and they serve burgers (that are ginormous), shakes, and there is also a wings place, and other American style food that's pretty tasty.
A great place to hang out and explore the bars is on Untere Strasse. Here you'll find cocktail bars, smoky pubs, and even a dance club! It gets very lively here every day because of the large student population so you'll never find a dull moment.
What to See
There really is so much to see and do in this quaint German town. If you've had your fill of the Hauptstraße, head over the Old Bridge and take in a view of the castle and the tourists taking pictures over the beautiful Neckar River. They also offer cruises along the river and it's a great way to take in the sites. The Neckar (and Heidelberg itself) is a place where Mark Twain spent a great deal of time. He most likely got inspiration for Huckleberry Finn after he himself floated down the river on a raft!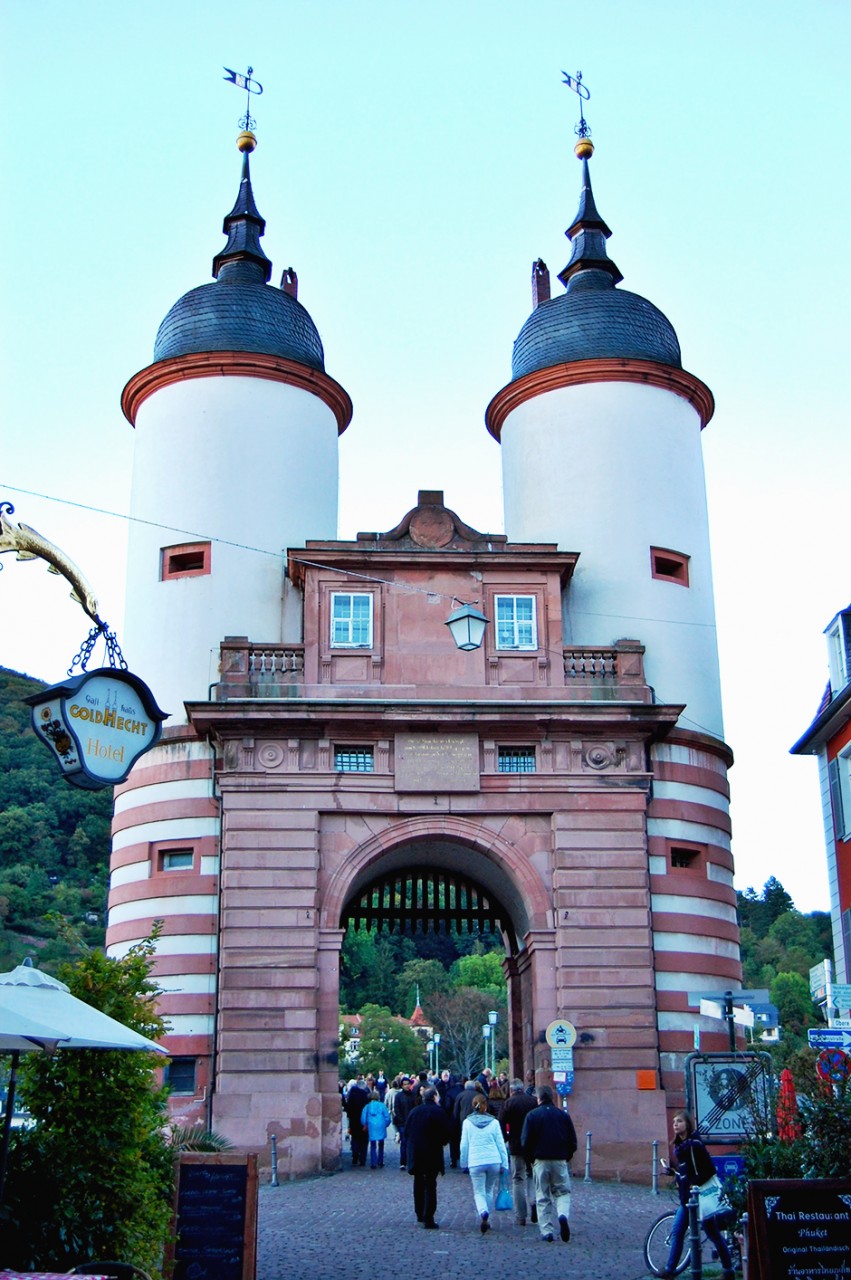 Isn't this bridge just lovely? It's one of my favorite sites.
After you cross the Bridge, you can take the STEEP climb up to the Philosopher's Walk (Philisophenweg). This is a tough climb, but the views are worth it. It's called Philisophenweg because during the Romantic Period many professors and philosophers walked the path to clear their minds and get in a view of the town.
Once you're done walking, venture to any of the alleys off the and you'll also see other beautiful buildings and about halfway down the Hauptstraße, towards the north you can cross the Old bridge to get a good view of the city and the castle. To the south, you can take the tram up to the castle and also see the library and infamous student jail. Aka Studentkarzer.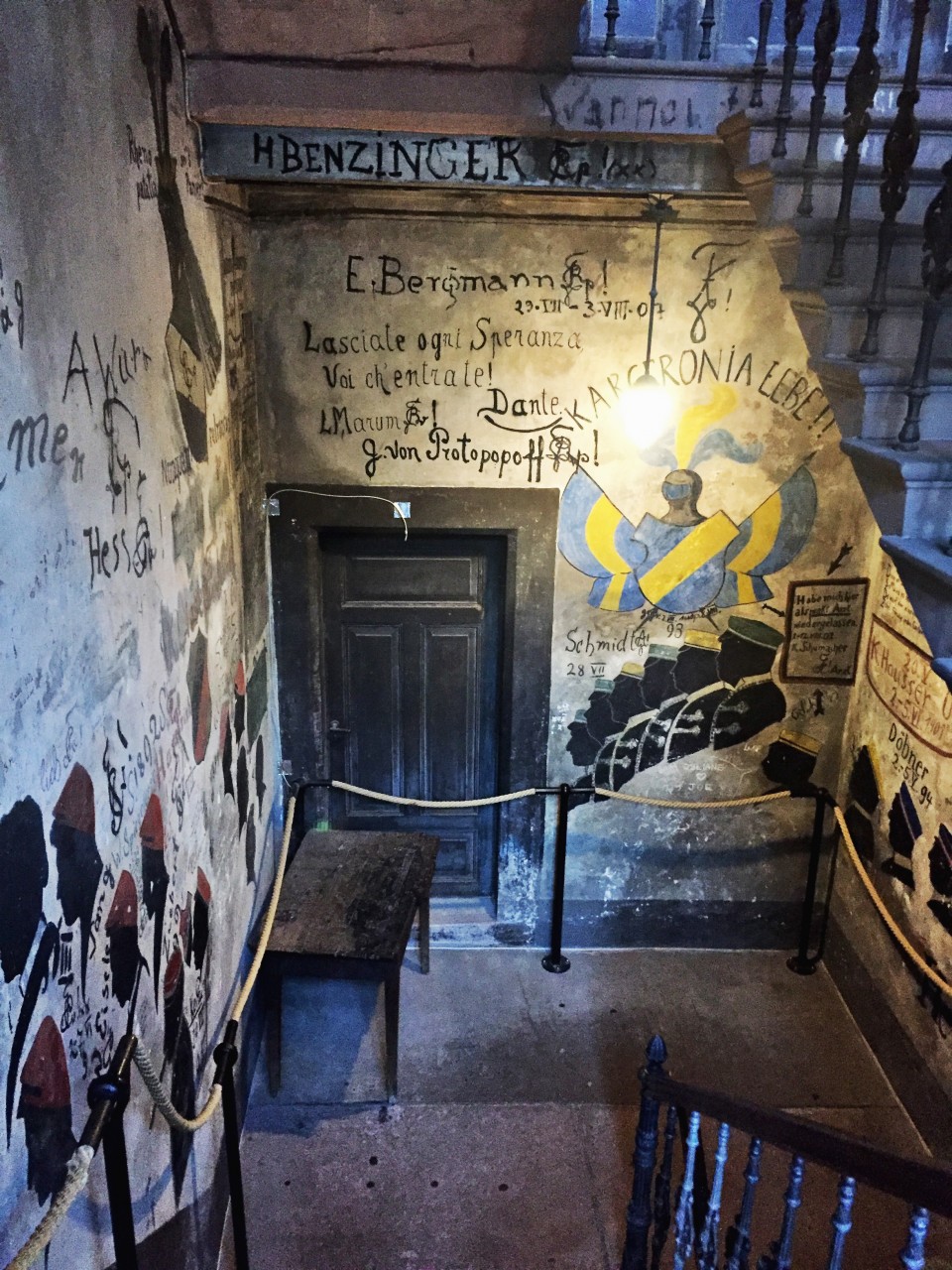 The jail was used from 1823 to 1914, for students convicted of bad conduct, like letting out the local pigs or public drunkenness. I'm sure all of my friends, including myself, would have been incarcerated in this jail at some point if it was around when I went to school. It became infamous to serve time and you could still go to class during the week. The walls are covered with graffiti and it became kind of a rite of passage to have a stint in the jail.
Now that you've seen the castle from afar it's time to get up close and see inside! This castle is rich in history, dating back to the 1200s. It's called
Schloss Heidelberg
, since Schloss translates to Castle. When many people visit Germany, they often focus on the big cities or the castles like
Neuschwanstein castle
. And while it is lovely and interesting, I think Heidelebrg's is all the more elaborate. The legends and stories that are part of this grand castle go back for centuries.
The sandstone facade is beautifully set against the lush rolling green trees of the mountain. While some of the castle is in ruins, other buildings are kept up supremely well. I suggest taking a walking tour of the castle in order to hear more about the legends and tales that come from this incredible castle.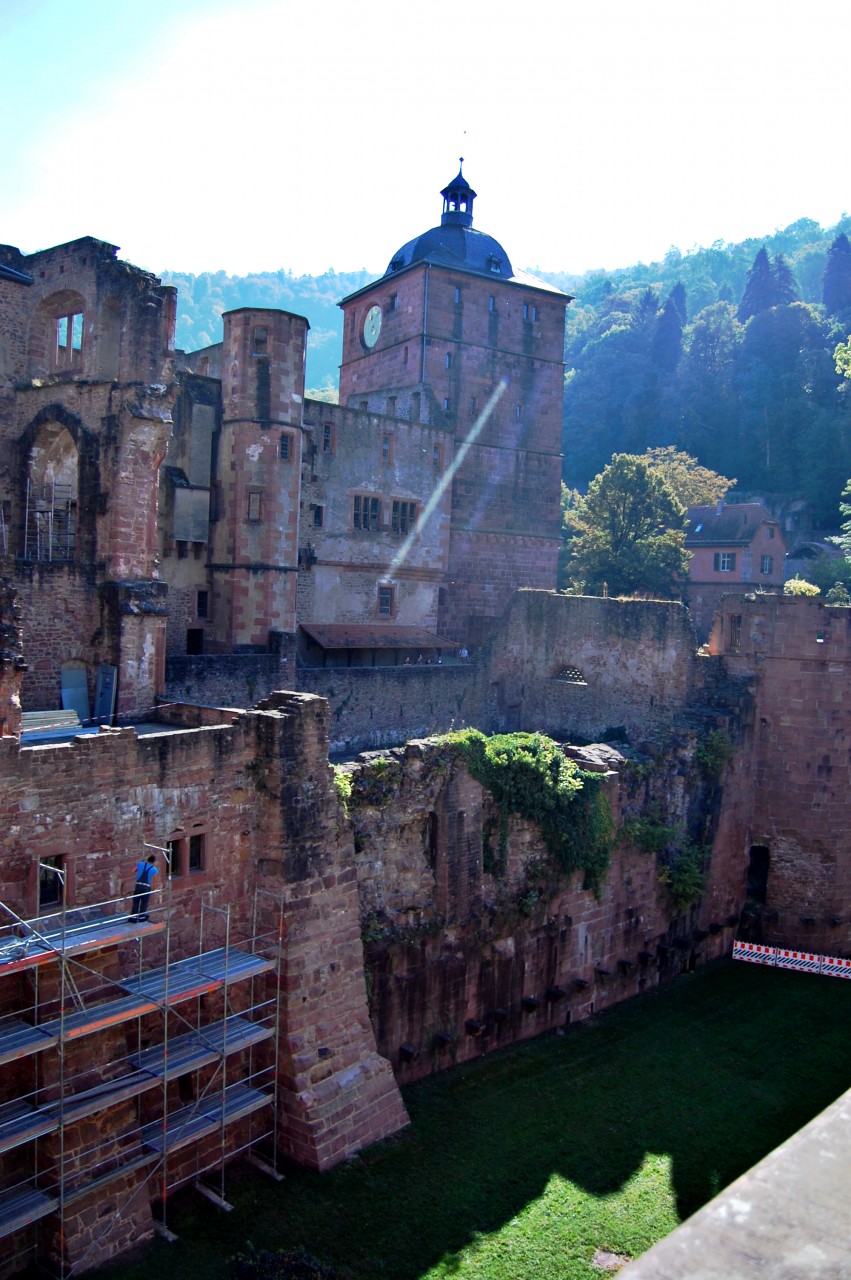 But it's more that just a beautiful structure. Inside, you'll find a Apotheke museum, where you'll see how they used to practice medicine. You'll also find gardens, and my favorite part, a 220,000 liter wine barrel.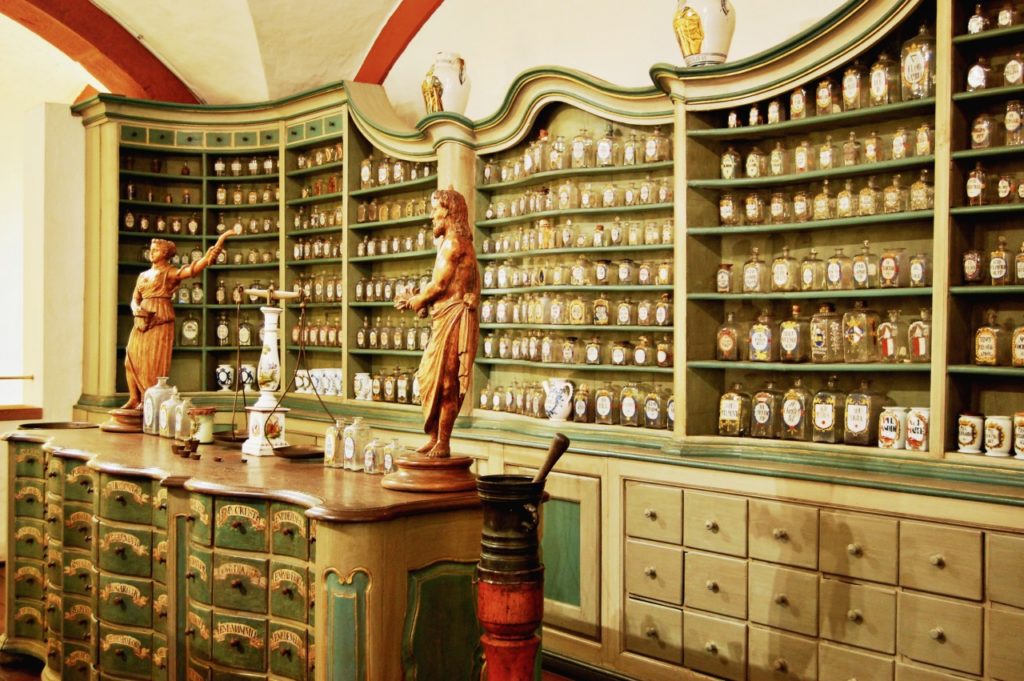 Don't get confused, when you walk in, the first wine barrel is not the gargantuan one. Keep going and you'll see the massive barrel. Pictured below, is NOT the wine barrel. It's so large, I couldn't even get a good picture of it!
One of the best stories is of Perkeo, the unofficial mascot of Heidelberg. Perkeo was a dwarf and he allegedly adopted the nickname "Perkeo" for his drinking habits, as he famously replied "perché no?" AKA "why not?" another glass of wine in Italian. Clearly, Perkeo is after my own heart.
Perkeo was also given the responsibility of looking after the castle's wine, which was the main drink in the castle – but he himself, despite being a dwarf, drank 5-8 gallons a day. His statue is seen outside the wine barrel, always there to guard it. Legend has it that he died after drinking a glass of water.
There is restaurant Perkeo located on the Hauptstrasse and it's delicious as well.
After you've seen the sites and learned some history, spend some time strolling around Neuenheim (the area I live!). It's just across the bridge and there is a great park, restaurants, and you can just sit and enjoy the scenery.
Where to stay in Heidelberg?
I suggest staying in the heart of the city, near the Hauptstrasse. Some of the best are
Hotel Heidelberger
for a classic and well located 4-star hotel,
Hotel Europaischer
for a luxury 5-start hotel, or
Hotel B&B
which is budget friendly and a short tram ride away from the heart of the city.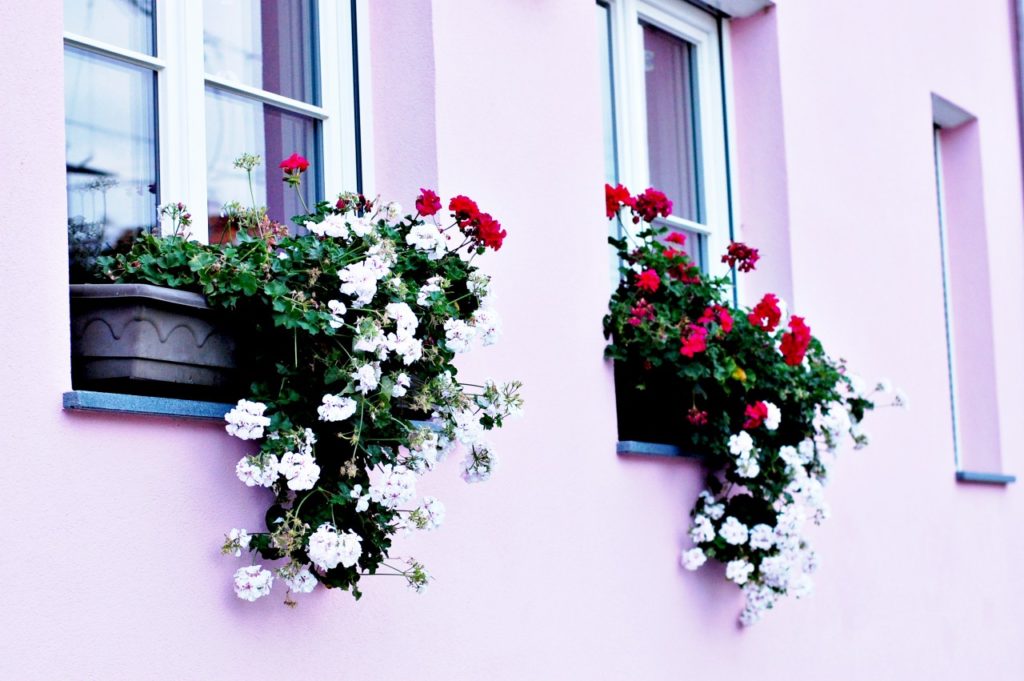 I hope this guide to Heidelberg has convinced you to come visit this city. My pictures just do it justice. It's quaint yet lively and adventurous yet easy to manage.
So… when are you coming to visit?
Want to read more? Check out: