Strasbourg at Christmas time looks to me what Dr. Seuss had in mind when he was constructing "Whoville" in How The Grinch Stole Christmas. It's literally like you're stepping into a magical town of lights, abundant, dare I say, crazy, Christmas decorations on every window, the smell of mulled wine wafting through the air, and Christmas music drifts through the picturesque town.
I've created a guide of things to do Strasbourg at Christmas as well as a guide to the Christmas Markets when you visit this magical town.
Strasbourg Christmas Market 2023: November 25th through December 26th, 2023. 

They don't call it the Capital de Noël (The Capital of Christmas) for no reason. Christmas markets in Strasbourg are world famous, and the gargantuan Christmas tree in the town square might just bring tears to your eyes. The Alsace area of France just might be one of the prettiest in Europe but Strasbourg takes the cake when it comes to Christmas. I've put together a list of things to do in Strasbourg, France at Christmas that will make it one of the most memorable and magical ones ever.
Strasbourg is on the border of France and Germany and truthfully, its switched hands a number of times through the years. Though it's now a French city, it still has lots of German influence. Don't be surprised to hear German being spoken as you pass through the Christmas stalls. Getting to Strasbourg is easy since it has the second largest railway station just after Paris. You can also fly into the Karlsruhe, Germany airport which is about 45 minutes away . I often drive or take the bus from my town of Heidelberg, Germany, only about an hour away.
See my picks for the best Christmas markets in Europe here!
Things to Do in Strasbourg, France at Christmas
Christmas Markets
The are not one, two, or even seven Christmas markets in Strasbourg. There are ten. For a city of this size, that's downright superfluous, but in the best way possible. This city is adorned from street to street with lights, wreaths, and ornaments. It's easy to walk around the city to see all the markets in a day or two. The Christmas Markets typically start the last week of November (the 22nd) and end on Christmas Eve (December 24th).
The Christmas market dates for Strasbourg for 2023 are November 25th through December 26th, 2023. After Christmas there are a few markets that are still open.
Of course, there are many Christmas markets around the world, and particularly in Germany, but the Strasbourg Christmas market seems to have an extra twinkle in its eye. The markets represent a time of the past, with families coming together to celebrate, indulge, and share. It's unique that Christmas markets are here and echoes back to the fact that Germany once ruled over this area. The Christmas market tradition is markedly German, so it's special that this tradition still remained in France. You'll find the most famous is Christkindelsmärik at Place Broglie which dates back to 1570 which is one of the oldest markets in Europe.
See my full Christmas market road trip itinerary here!
In total, there are over 300 stalls throughout the city so you're bound to find one as you stroll along. At the bottom of this post, I list out all the markets that take place.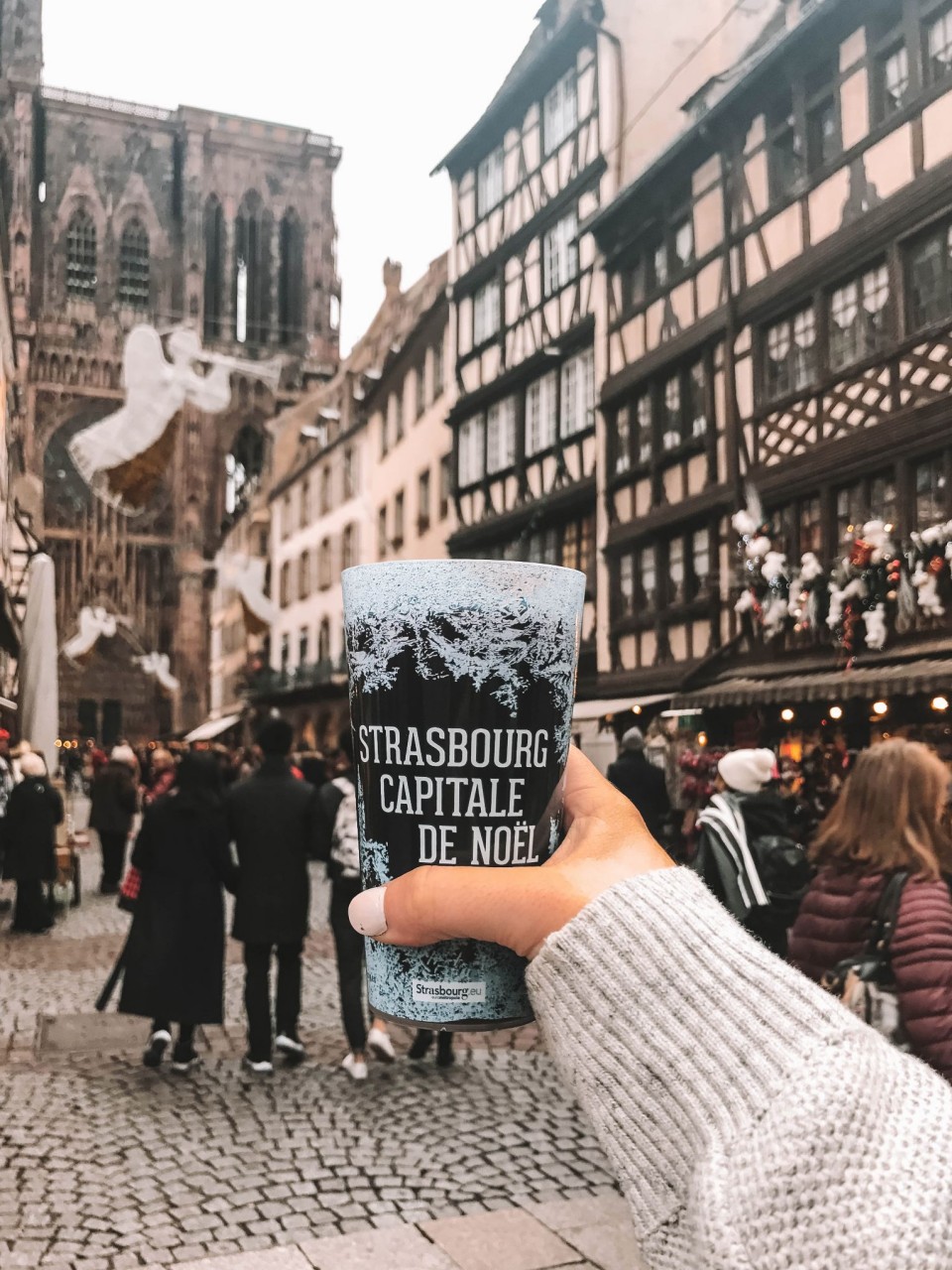 Check out the Cathedral
The Cathédral Notre-Dame is one of the most grand structures I've ever seen. From the 15th through the 17th century it was the tallest building in the world. Holding on to that ranking for that period of time means it was a architectural mastery and one of the best representations of Gothic art. Head inside to see the beautiful structure up close and check out the astronomical clock. Don't forget to head up the tower for commanding views of the city.
Of course, there is a Christmas market outside of the cathedral and is one of the most historic. You can sip on mulled wine as the bells of the cathedral occasionally ring. Here there are over 100 chalets (these are stalls or booths) that are offering Christmas ornaments, sheepskins, gloves, warm drinks, and delicious food.
Eat a German – French Fusion
Strasbourg is definitely a great place to be for gastronomic purposes. There are two restaurants that even have three Michelin stars (Au Crocodile and Buerehiesel). Of course, with all this mix of German and French influence it produced some very tasty food. One of my favorites is the Flammkucken also known as tarte flambée. It's a very thin pizza topped with creme fraiche, delicately sliced onions, and ham.
The intoxicating smell of the sizzling onions will tempt anyone to try it. There are a variety of options and toppings so you can find one that suits your taste. A great place to check out is L'Ancienne Douane which is well known for their Alsace cuisine.
Admire the Christmas Tree
What is it about Christmas trees that instills a childlike wonder in all of us? There's something just so magical about the combination of evergreens, lights, and ornaments that always fills me with joy. When it comes to Christmas trees in Strasbourg they've decided that bigger is better. Required to be a minimum of 30 meters tall, the tree towers above the square and is lit up with 7 kilometers of twinkling lights. Located at Place Kléber it is one of the most beautiful I've ever seen, and each year brings a different theme.
On the weekend nights and closer to Christmas you can see live music right next to the tree. There's also ample shopping around and near the square, in case you need any Christmas gifts. Just watching the lights illuminate as the sky darkens is the star of the Christmas show in Strasbourg.
Petite France
This is one of the most charming areas to see in all of Europe. It's a historic quarter in Strasbourg lined with half-timbered houses that flank the river. Of course, during Christmas it lights up even more. Walk through the canals to take in the 14th century towers and amble through the cobblestone streets for traditional restaurants and shops. Don't forget to stop and take a picture at Quartier des Tanneurs, one of the best place for photos in Strasbourg.

One of the best parts of walking around Petite France is the fact that it's so well preserved. Of course, you'll also find a Christmas market held here. You truly feel like you're walking back in time. As the bridges illuminate and glow above the water you can't help but feel romantic.
Christmas Markets At a Glance: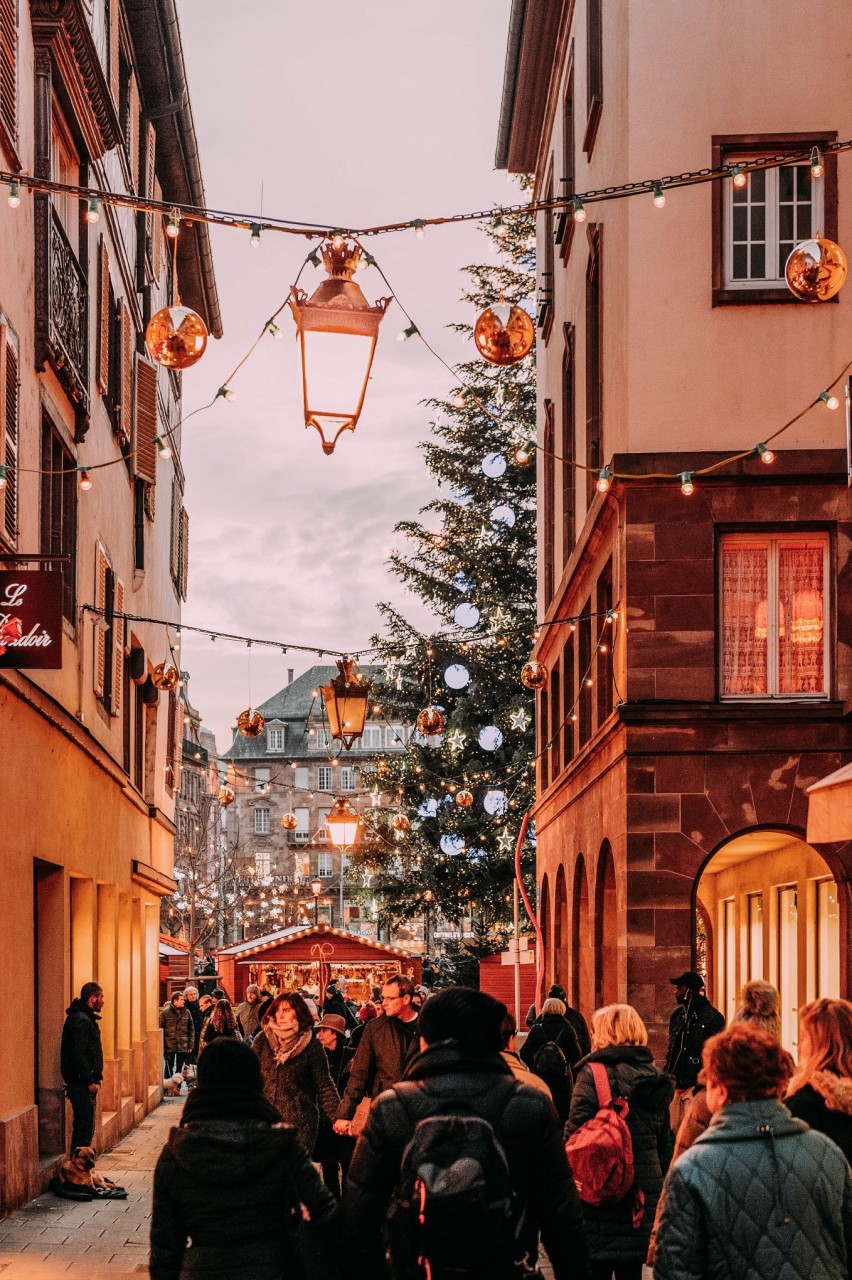 Christkindelsmärik at Place Broglie is the most famous.
Place de la Cathédrale – the Strasbourg Cathedral Market.
Place Kléber or "Sharing Market" with the Great Christmas tree
Place du marché-aux-Poissons, terrasse du Palais rohan et rue rohan – Outside of the Palace Rohan and known for Christmas treats.
Place Benjamin-Zix also known as the "Three Kings" Market and is located in Petite France.
Place du Temple-Neuf taking place at the Carré d'or.
Place des Meuniers for a smaller market.
Place Gutenberg is often where another country is featured and their Christmas traditions are celebrated.
To find out events during Christmas in Strasbourg check out this calendar.
Where to stay in Strasbourg
Strasbourg is a relatively small city, so you can't really go wrong with here you stay. However, I suggest staying in the Grande Île, the city's historic center. Here, all the Christmas markets are within walking distance. I suggest Hotel Gutenburg – extremely good reviews and a fair price!
Check out even more hotels here:
See my Christmas market road trip itinerary here!
Find the best Christmas Markets in Europe here!