No two cities in the world inspire such wonder as London and Paris. Can you name two greater cities in the world? And the fact that they're a train ride away means easy access to some of the top sights in the whole world.
A one week London and Paris itinerary is one of the best you can have. You'll see Tower Bridge, the iconic red telephone booths, and incredible skyscrapers in London along with the glittering Eiffel Tower, the grand architecture of Hausmann, and the long boulevards of Paris. Really, you can't go wrong in either city, which is why this itinerary is so fantastic.
Because I know there is so much to do and see in each city, you can't possibly see it all in 7 days. So I've put the highlights, as well, as additional options and ideas to make your trip your own. This guide will help you plan your perfect trip to London and Paris.
London and Paris Itinerary in 7 Days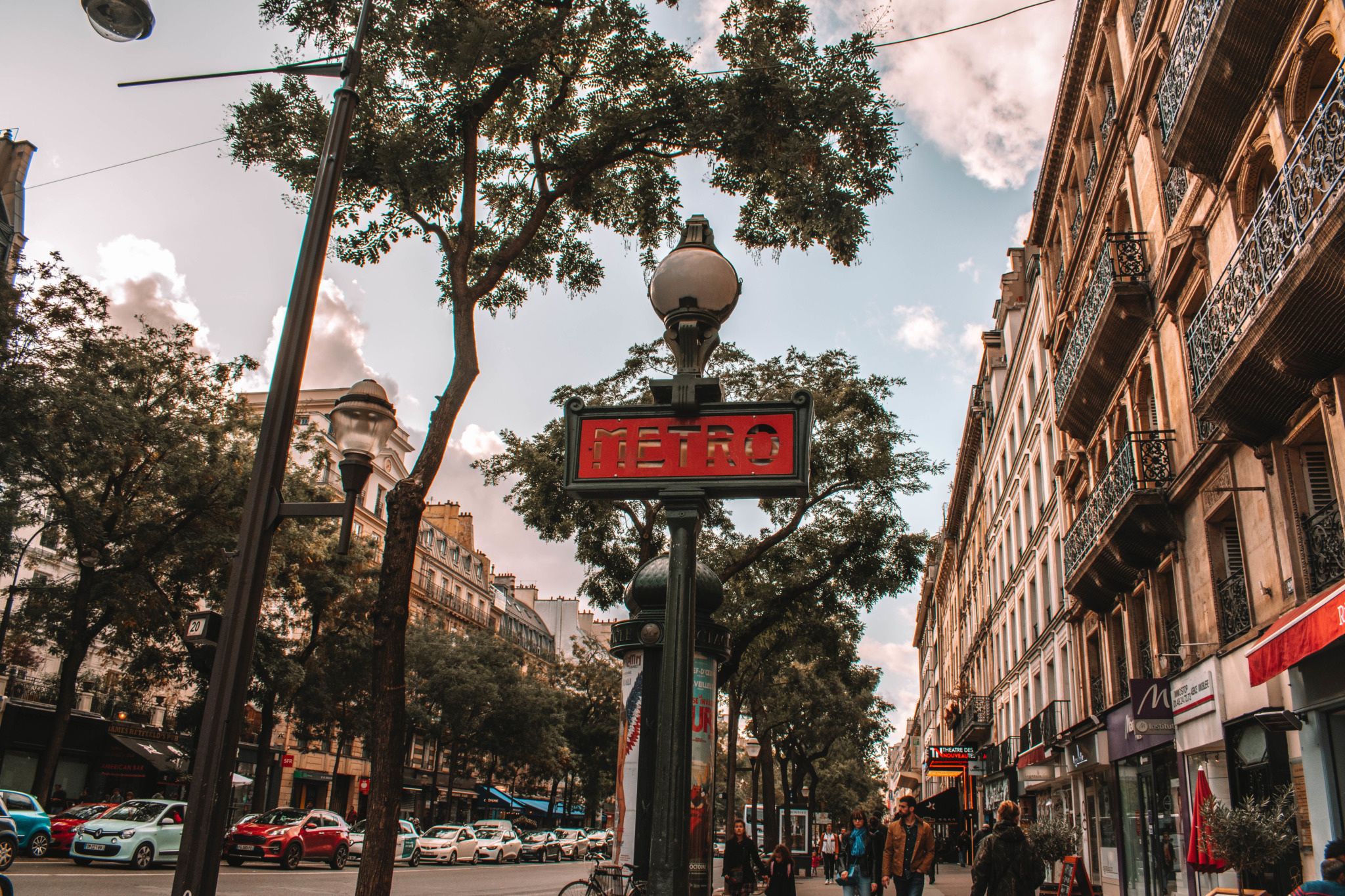 This 7 day London, Paris itinerary will ensure you make the most out of your time. These are two of my favorite cities in Europe because they offer such beauty, have an in-depth history, and every time I go I learn something new.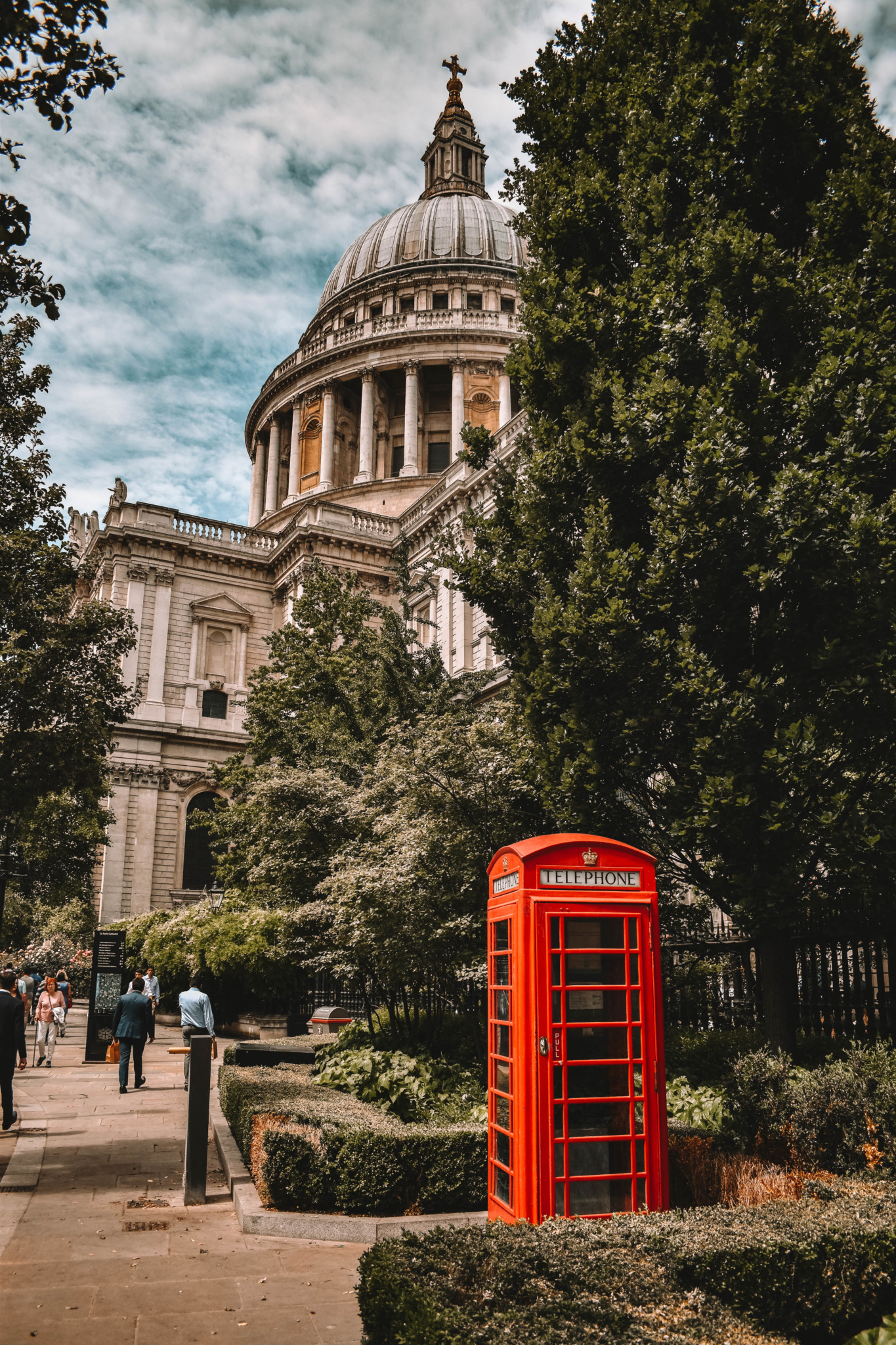 You'll land in London, and hit the ground running to see the top sights. Then you'll take a train to Paris to get to know this wonderful city. I traveled with Globus on this excursion to immerse myself in everything these cities had to offer. Because Globus handles things like hotels, transportation, tickets to see a play, and more, I was able to get my fill of travel experiences. It's independent travel with ease.
Below you'll find a detailed guide to 7 days in London and Paris. You'll see we have a bit more time in London since it's a bigger city. I've mapped out (literally) each day so you can make sure you don't miss anything along the way!
Day 1 Arrive in London, Piccadilly Circus, Covent Garden & See a Play in the West End
You'll arrive in one of London's major airports like London Gatwick, London Heathrow or the smaller London Stansted or London Luton. These are about an hour form the city center, but I suggest you take a high speed train from the airport to your hotel. If you've booked with Globus, there will be transport provided for you (one of my FAVORITE perks of booking with them!).
You'll first want to get your bearings, but then I suggest you hit the town! I always recommend seeing a play in the West End. I've been to London dozens of times, and I never miss my chance on seeing a play.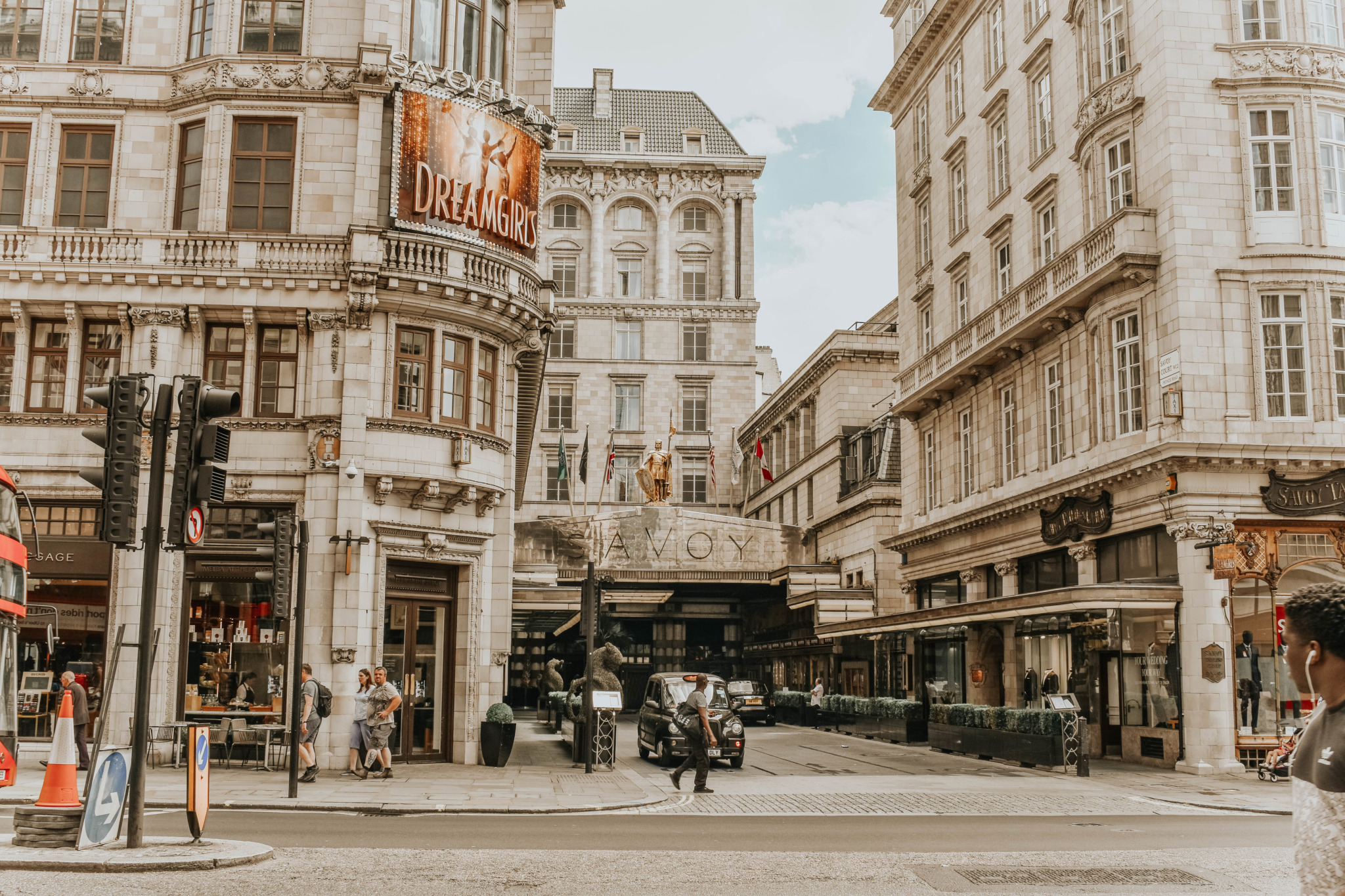 For the evening, stroll around the busy and bustling Piccadilly Circus. This is similar to New York's Times Square (but cleaner) and is a flashy hub. From here, head to the lovely Covent Garden and grab a bite to eat , then head over to your play for the night.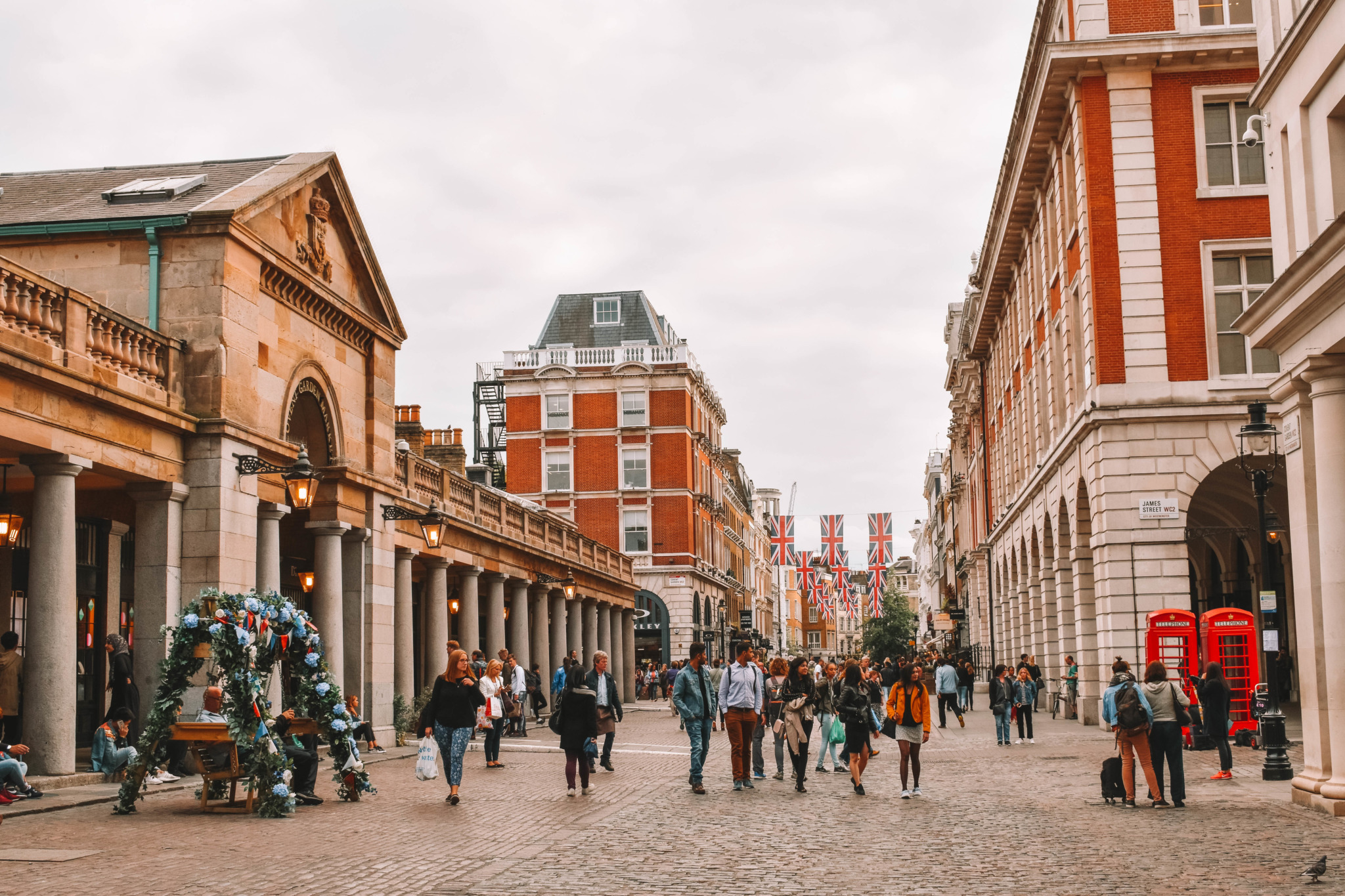 I recommend getting theater tickets at TodayTix.com or in person at Leicester Square. You'll see plenty of signs for discounted tickets. You really can't go wrong, all the shows are incredible. I even dragged my husband to Mamma Mia and he LOVED it.
If you're up for it, your can head to Oxford Street for some fun pubs and clubs.
Day 2 Tower of London, Tower Bridge, The Shard, Borough Market, Globe Theater, St. Paul's Cathedral, Guided Tour, London Eye
It's time to hit the ground running and see some of London's top spots! You'll start off at the Tower of London. It's not cheap, but I recommend that you take a guided tour, led by the tower guards who stay in character, of the Tower and make sure to leave time to see the crown jewels. This is London's most famous spot: it's where Ann Boleyn, among others, lost her head.
Next up, walk across Tower Bridge, the most beautiful bridge (and contrary to popular belief is not London Bridge). You can also go up the bridge if you want a more in depth history. In my Save or Splurge London post, I give you a full breakdown.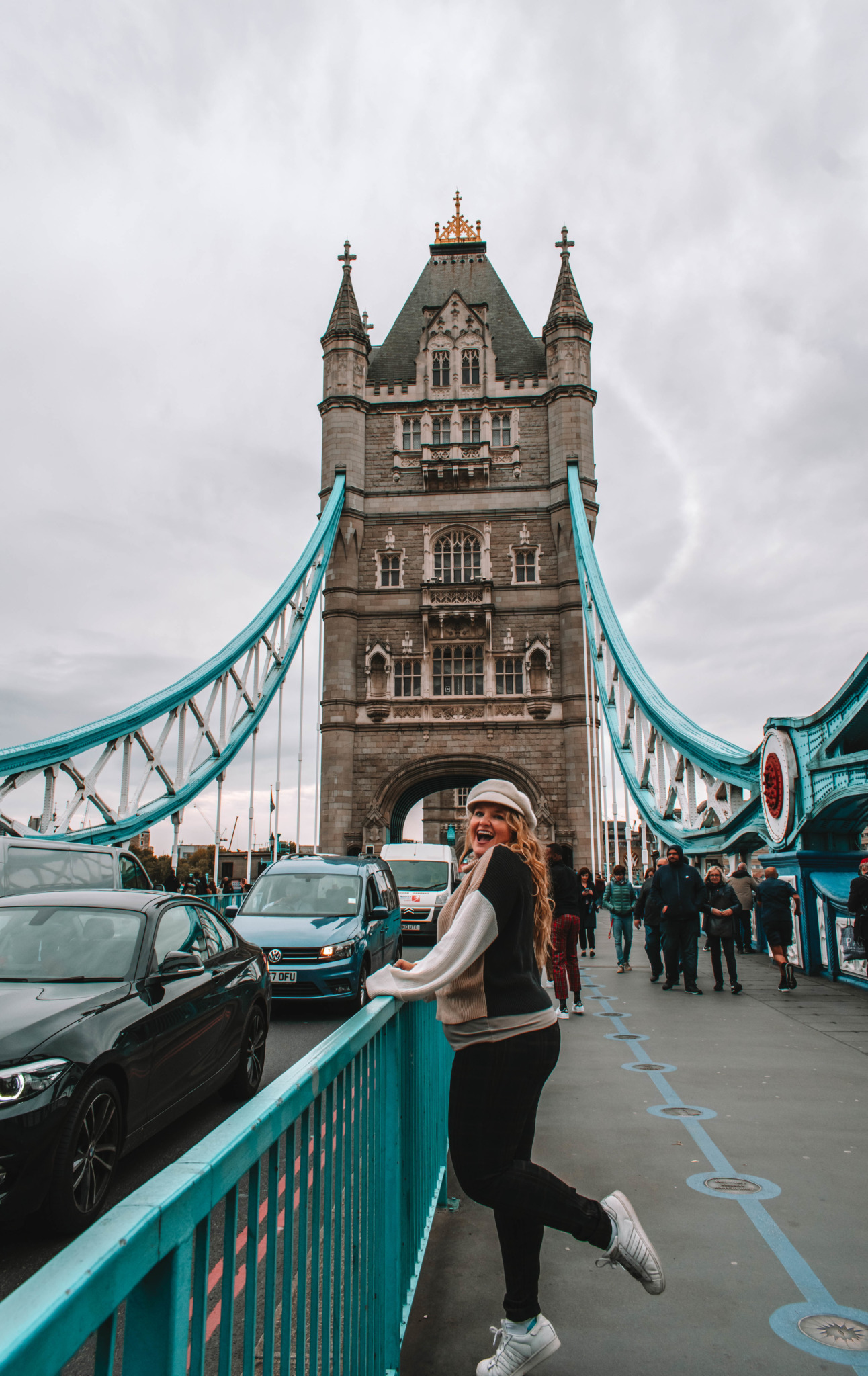 If you want the best view of the city head up to the Shard, London's tallest building. I actually recommend instead of paying just for an elevator ride to the top, going to the Shangri-La Hotel (inside the Shard) and having a drink near the top. The views are unmatched!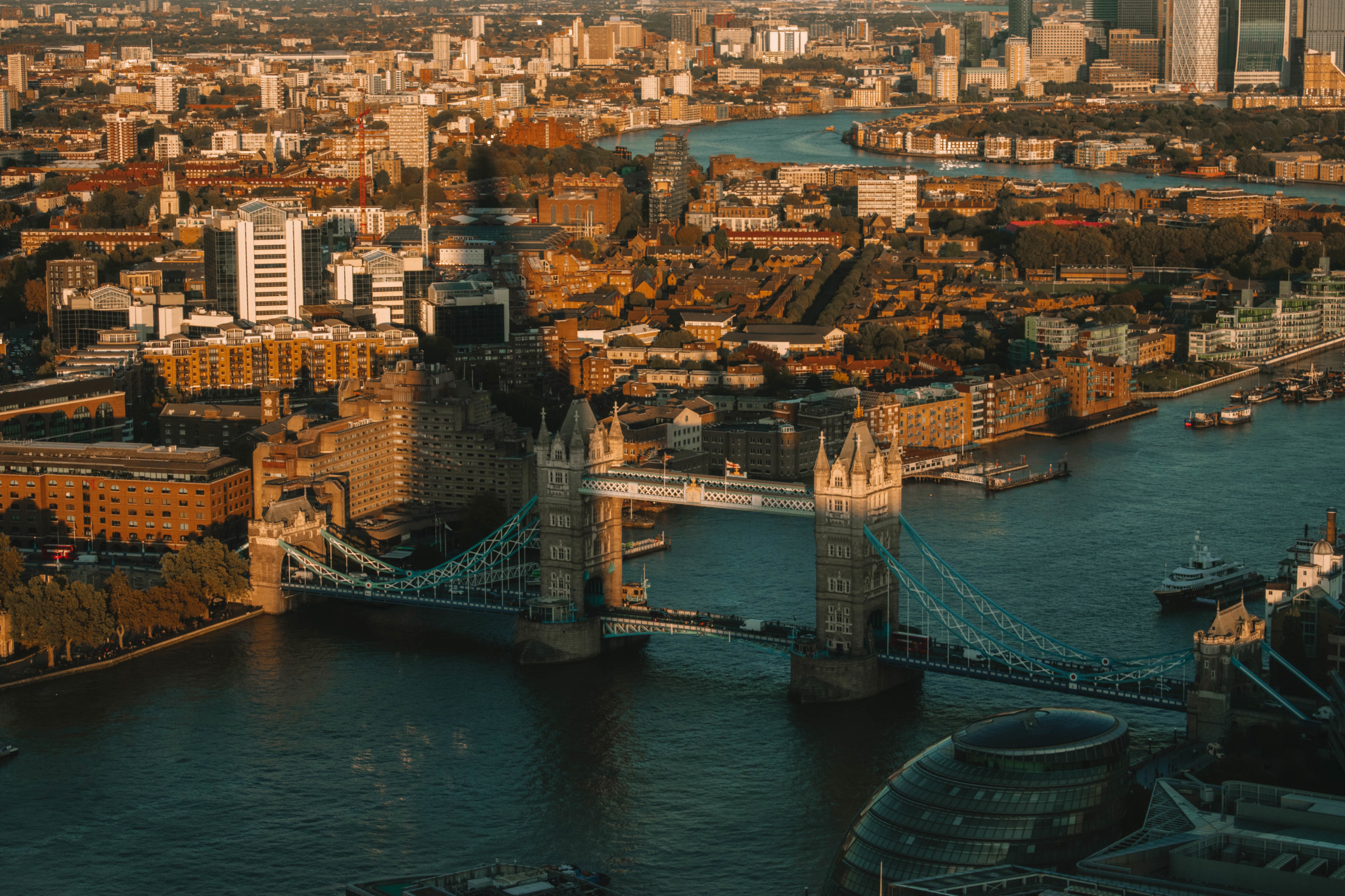 For a bite to eat and some famous filming locations check out Borough Market. Make sure to eat the sausage roll at Ginger Pig or grab some fish and chips at Fish! Kitchen.
From here, we're walking to Shakespeare's Globe theater, but make sure to check out the incredible architecture along the way like the "Walkie Talkie," "Gherkin" and the odd looking "Lloyd's" building.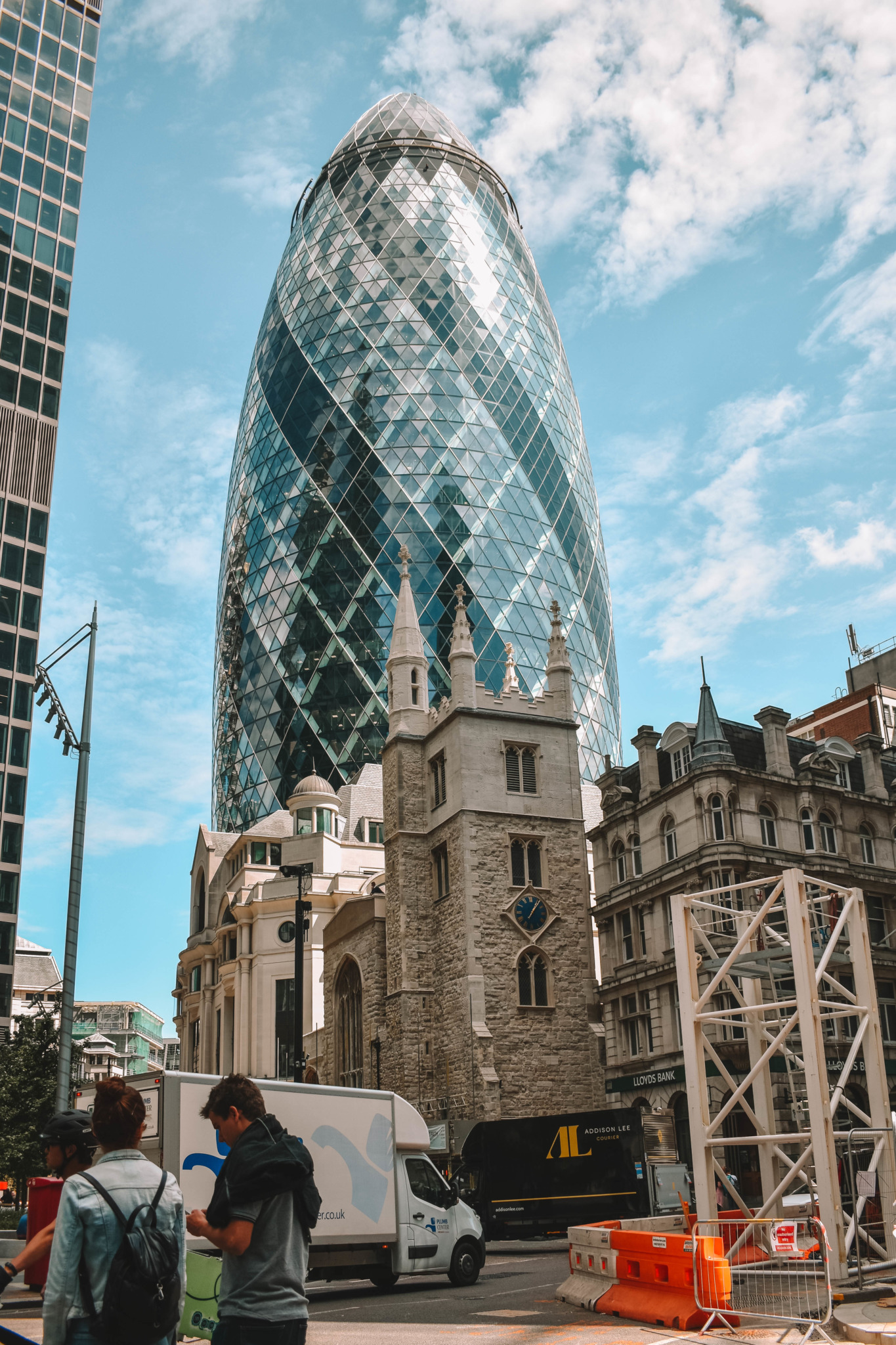 From here, walk across the Millennium Bridge (also a scene from Harry Potter!) to the masterpiece by Christopher Wren, St. Paul's Cathedral. You have to pay to go in, but if you go in the evening for "Even Song" a short mass, you can go for free. It's worth it to go inside for one of the largest domes in the world.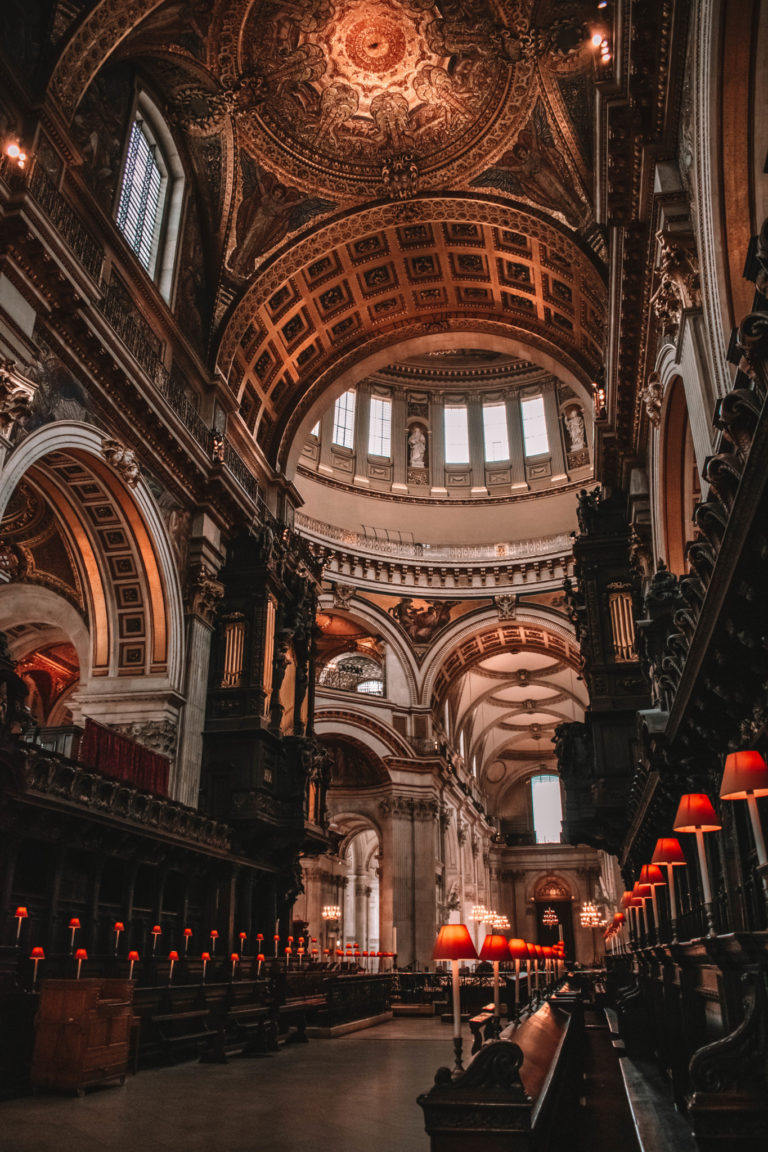 I always suggest going on a guided tour, especially in a place like London, with such rich history. You'll have to pick one area to concentrate on, so I suggest either the area with Westminister and Houses of Parliament, or near the Tower of London. I've done both and love each one!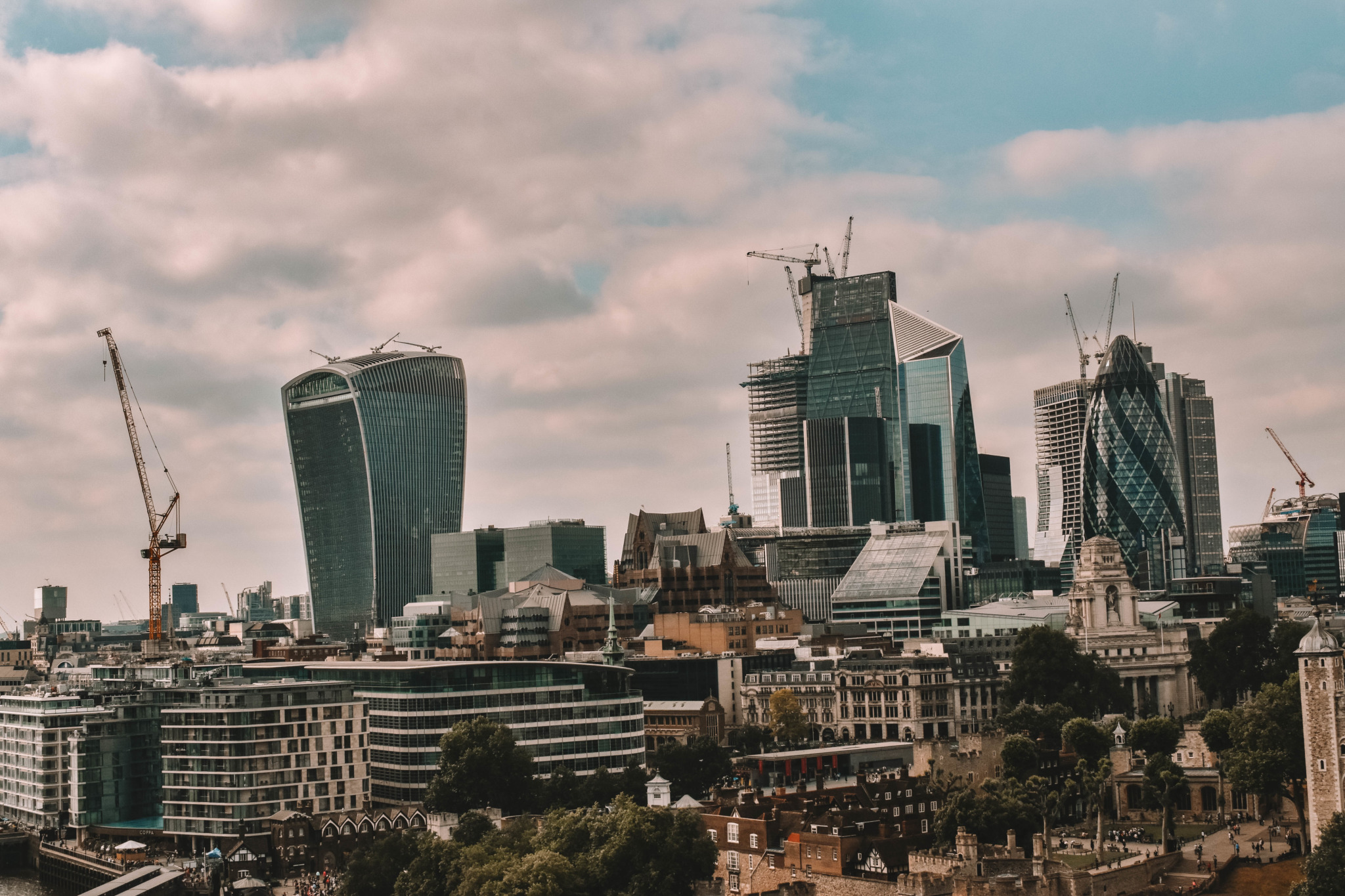 Lastly, take a ride on the London Eye at night for some beautiful views. Located on the River Thames the third largest Ferris Wheel in the world circles slowly and offers 360-degree views.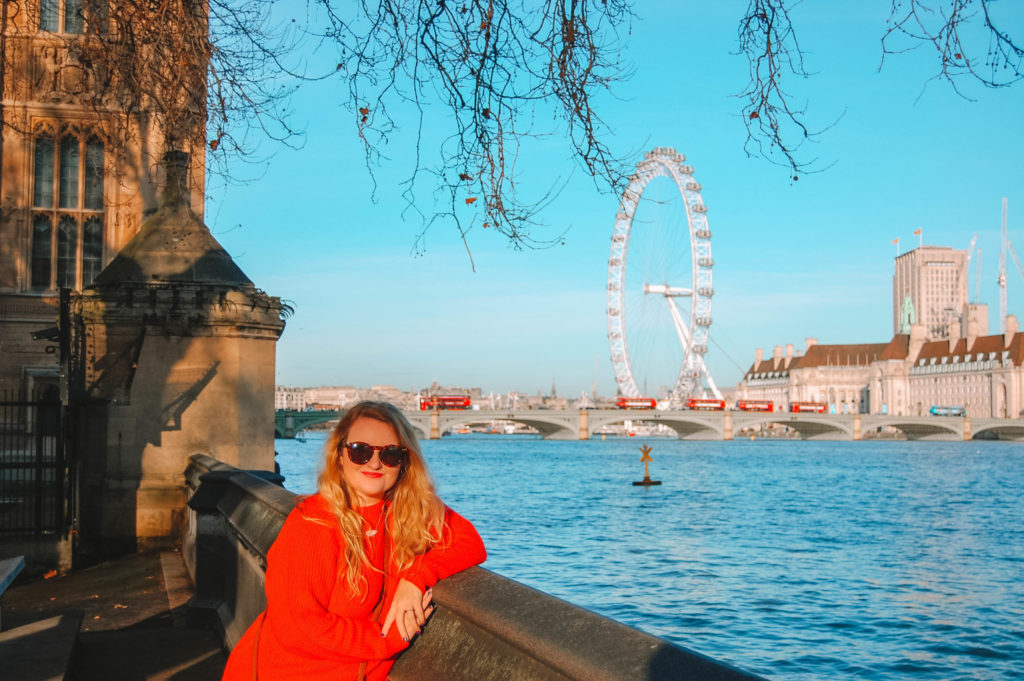 Optional: British Museum, Head to Notting Hill, Somerset House, Harry Potter Tour (see my review of the Harry Potter experience here).
Day 3 Buckingham Palace, Parliament, Trafalgar Square, National Gallery, Regent & Oxford Street, Churchill War Rooms
Today you'll get to see the quintessential British treasures. Kicking off with Buckingham Palace. The seat of royalty and home of Queen Elizabeth II is best to see as early in the morning as possible. If you want to watch the changing of the guard you can see that at 11am, every day of the week.
Now you'll go to Parliament Square and Westminster Palace and see the iconic Big Ben (currently under constriction) and take a tour of Westminster Abbey, one of the most famous burial places in the world. The architecture of this building is some of my favorite.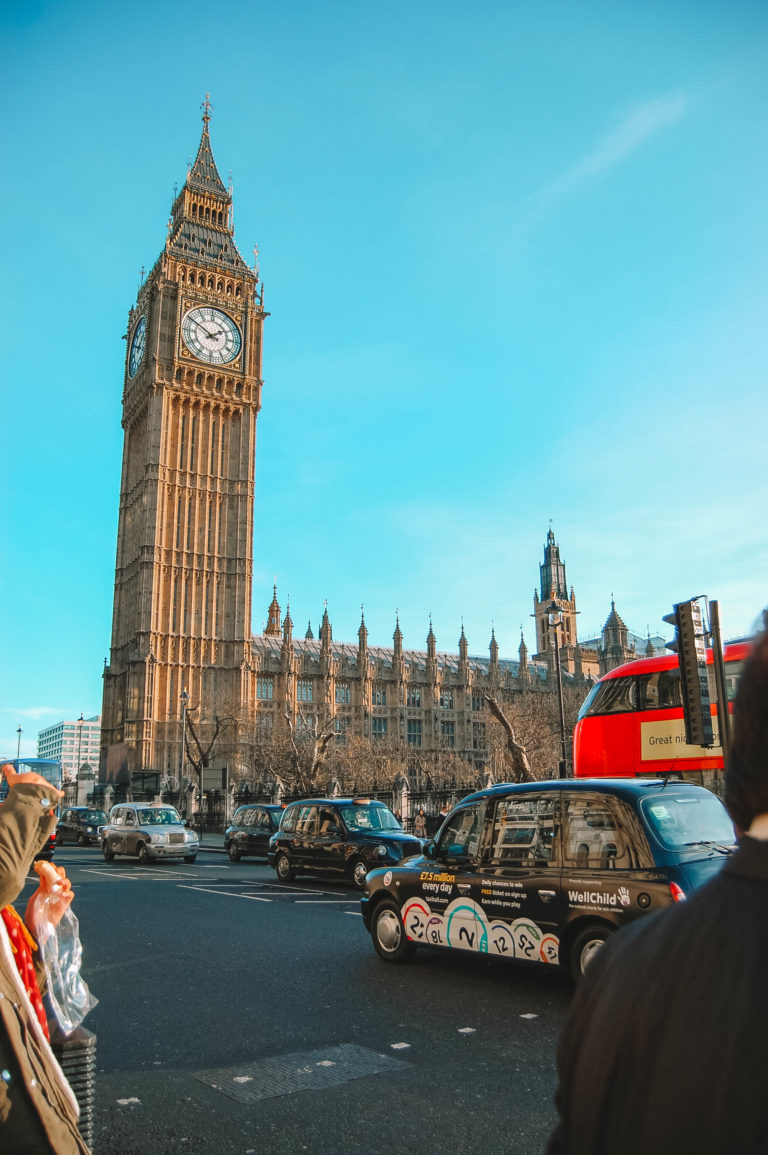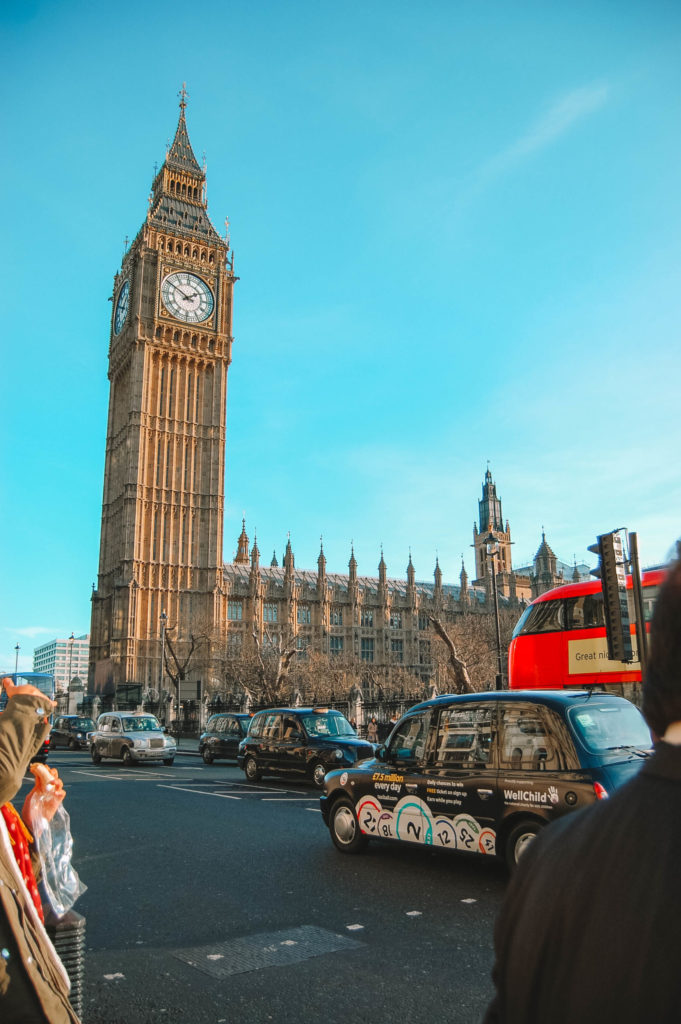 From here, head to Trafalgar Square flanked by the massive stone lions. This busy square commemorated Admiral Nelson and the Battle of Trafalgar.
Next, head to the National Gallery. The museum is free (many museums in the UK are) and offers paintings from the 13-19th century. Another one of my favorite museums is the Natural History Museum nearby and it's also an incredibly beautiful building.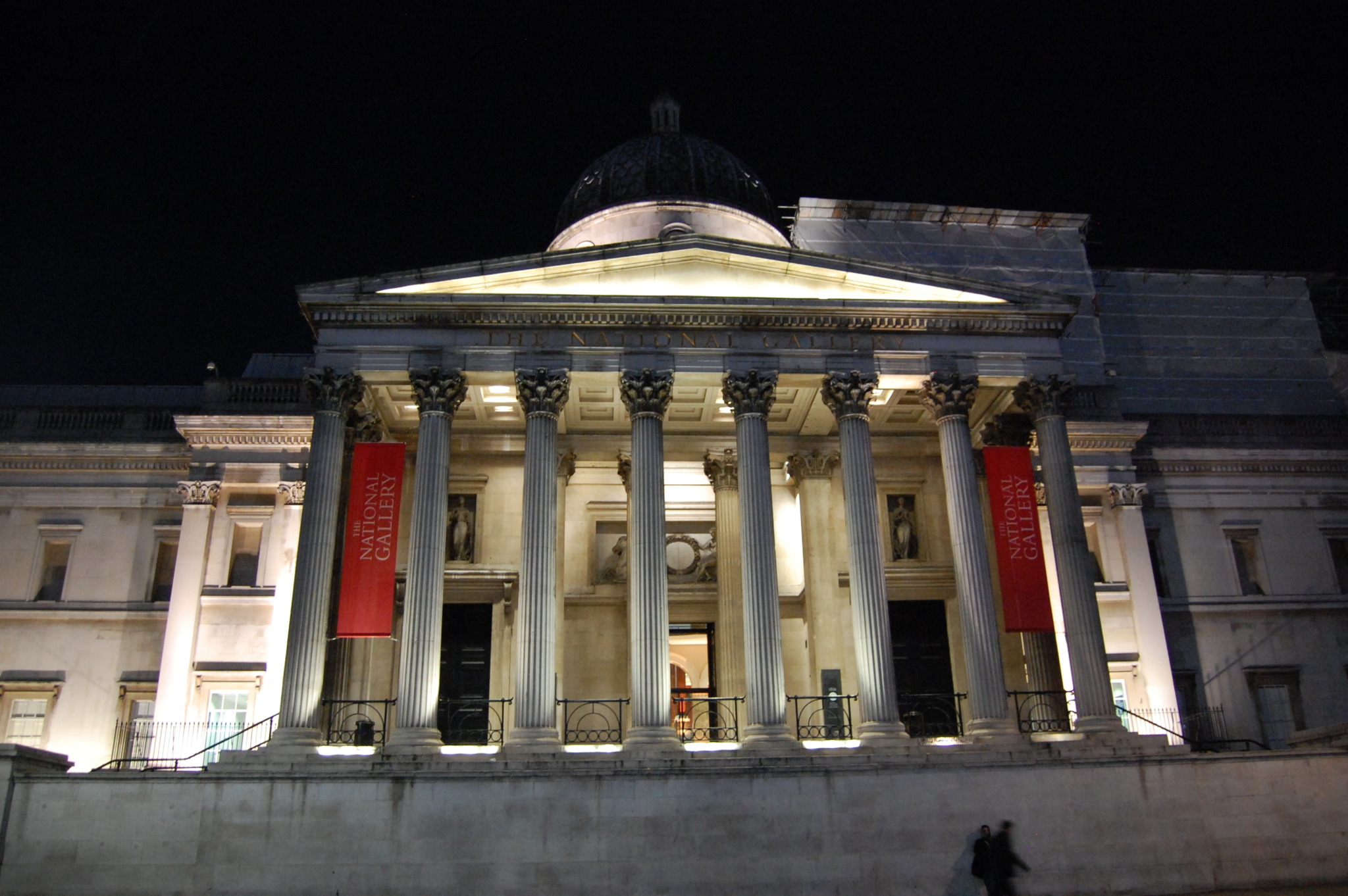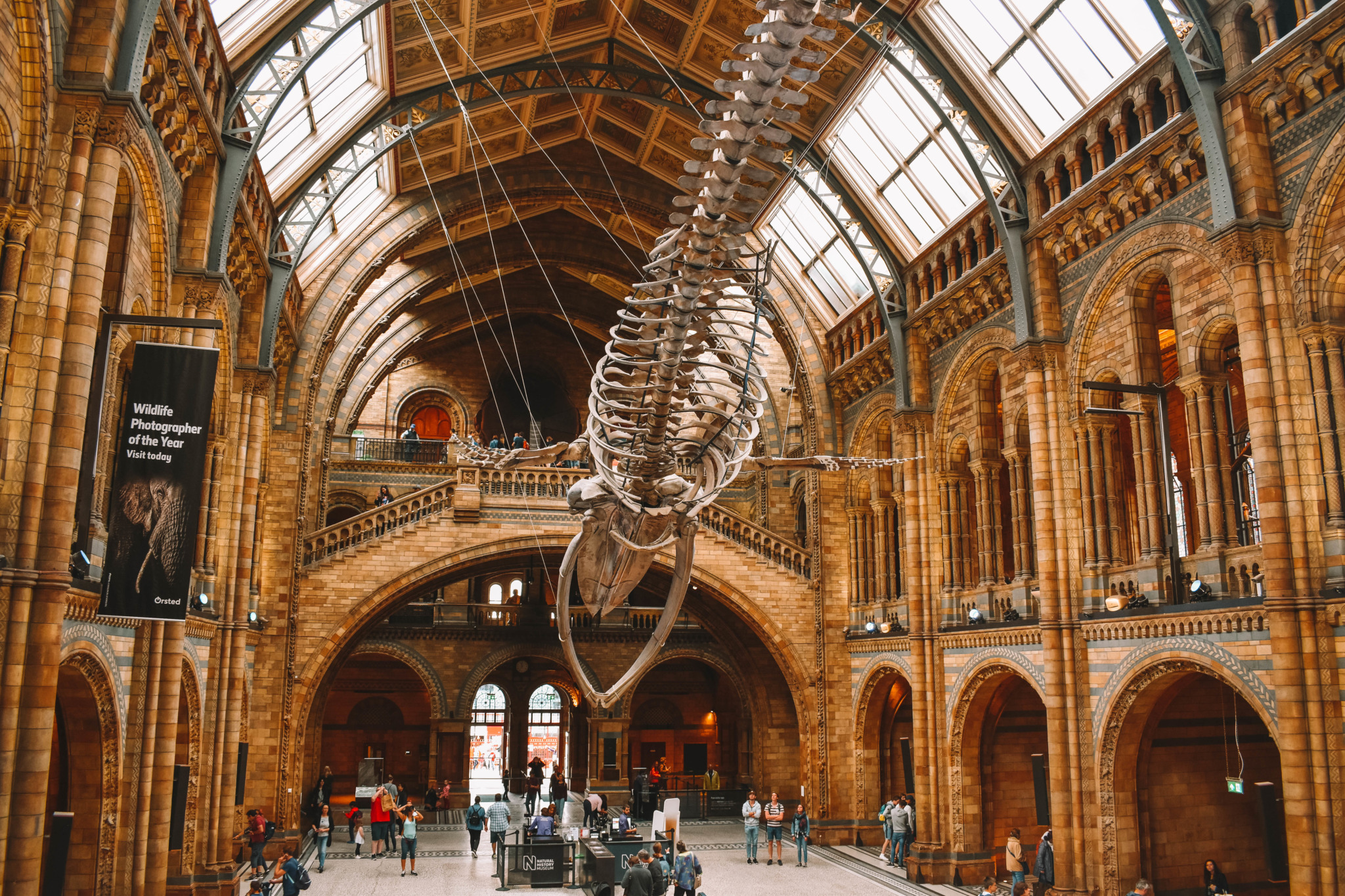 If you're up for one more museum, check out the underground Churchill War rooms. Preserved from Churchill's actual war rooms this interactive museum walks you though where the British Prime Minister and staff waged war against the Nazis.
Stroll up the shopping streets of Regent and Oxford for some pretty window displays and great photo opportunities. This is also a great spot for tea.
Optional: Tate Modern, or Victoria and Albert Museum, Regent Park
Day 4 Hyde Park, Kensington Palace, Head to Paris, Paris Tour
It's your last day in London! Make your way over to Hyde Park to see the swans at Serpentine Lake, the German Christmas Market (if you're there during December) or just enjoy a picnic.
At the edge of the park is Kensington Palace and Gardens, the birthplace of Queen Victoria and a lovely place to walk or take a tour. After, if you need a drink, head to the pub the Churchill Arms for some world class decor, both inside and out.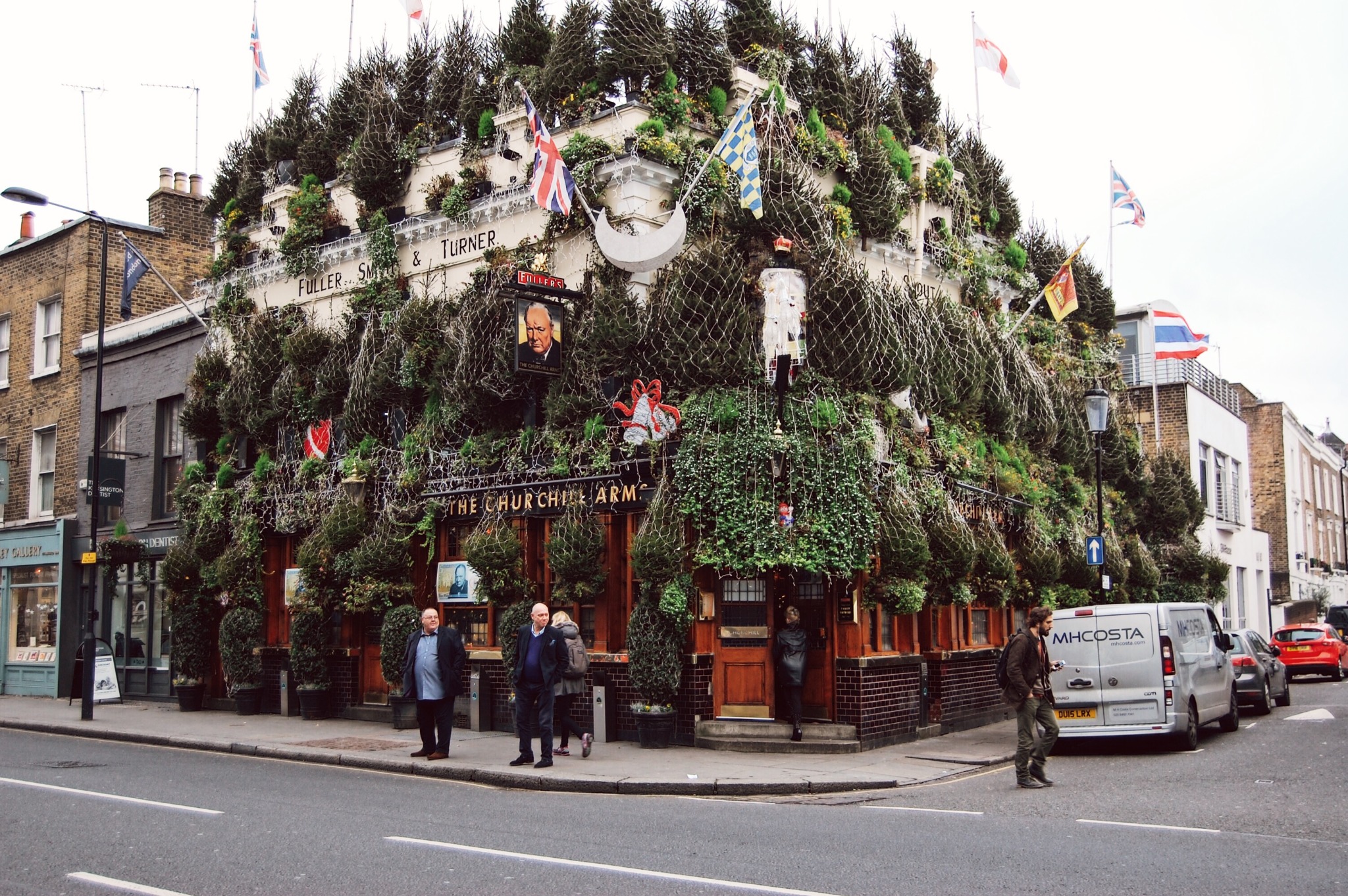 Optional: Camden Market, Portobello Road Market, Greenwich
How to Get from London to Paris
The fastest and easiest way to get from London to Paris is via train. There are flight options too (it takes about an hour), but by the time you go through security and wait to board, you might as well take the train.
The train is super fast, it only takes about 2 hours and 20 minutes. There are about 16 trains a day that go from London to Paris so you'll definitely find one that's works for your schedule. Find the best times and prices here.
The way I have the schedule set is that you'll still have half a day in London so you can maximize your sightseeing.
Arrive in Paris Day: Guided Tour
Now that you're in Paris, I suggest you do a tour. Last time I was in Paris I did a Paris Ghost Tour and it was one of the coolest I've ever been on! I couldn't get over the detailed, interesting, and even crazy history from Paris' past.
Day 5 River Cruise, Notre Dame, Saint Chappelle, Pont Neuf, Lourve, Tuileries Garden Petit and Grand Palais, Pont Alexandre III, Eiffel Tower
Now, I know today seems like a lot, and that's only because it is. But many of these sights we'll be walking by, so don't worry too much! Paris is extremely walk-able, or you can easily hop on a nearby metro station.
First, take a short one hour river cruise, to get your bearings, see the many bridges by water and an easy way to take in the city.
Next, head over to the Île de la Cité area for my two favorite churches: Notre Dame and Sainte-Chapelle. Notre Dame is under construction because of a terrible fire. But it's worth it to go see the outside and see the iconic twin buttresses. Then, head to nearby Gothic Sainte-Chapelle for the most incredible stained glass.
The ornate stained glass of Sainte Chapelle:
Pass by the Pont Neuf bridge on your way to the Louvre. If you have time, I definitely recommend spending time inside the museum. It's gigantic, but contains some of the most important art relics in the world including the Mona Lisa. The outside of the Lourve is beautiful, with detailed architecture and glass pyramids in the middle.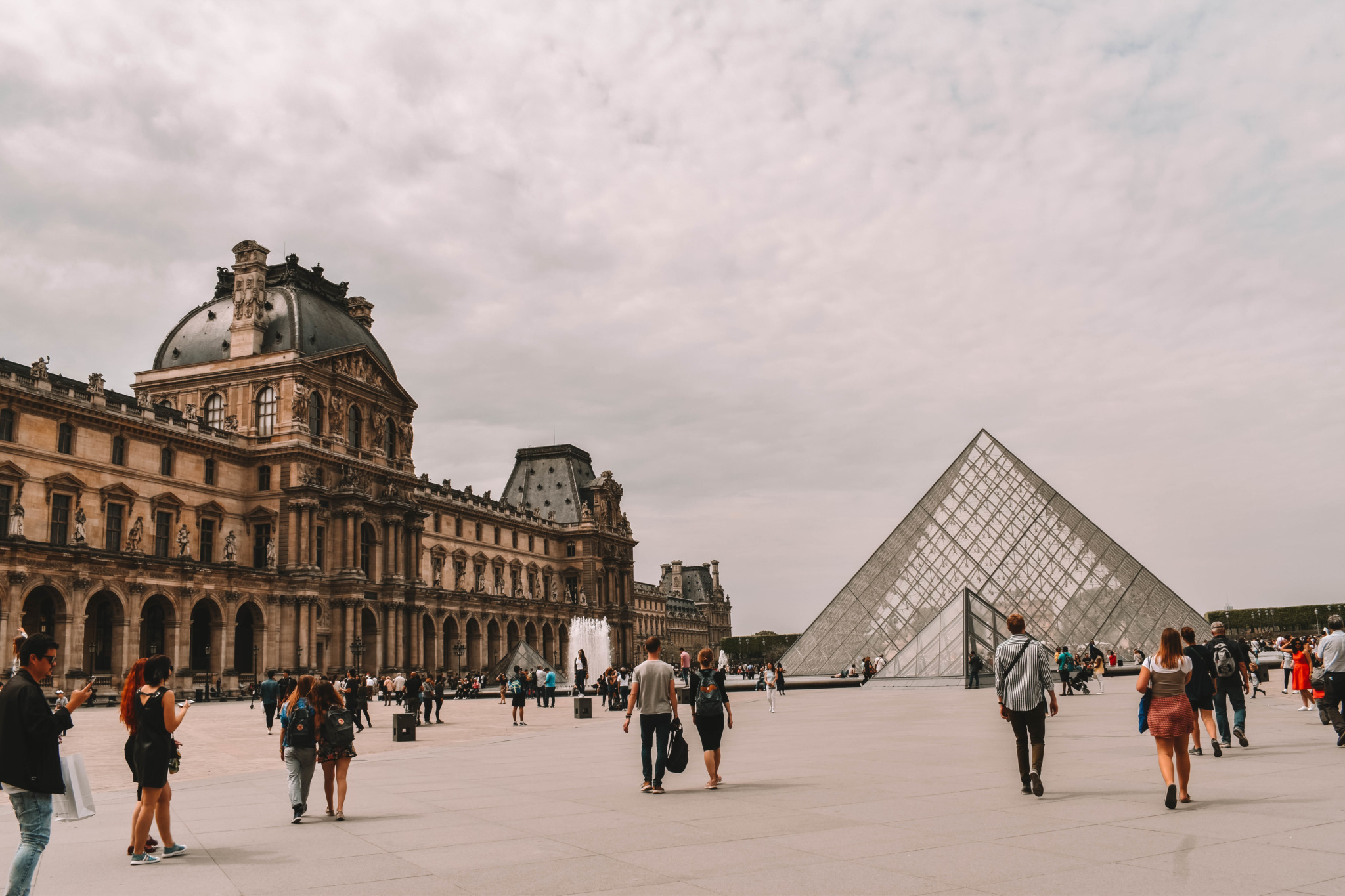 Take a stroll through the pretty and neatly laid Tuileries Garden. Great for a quick photo opp.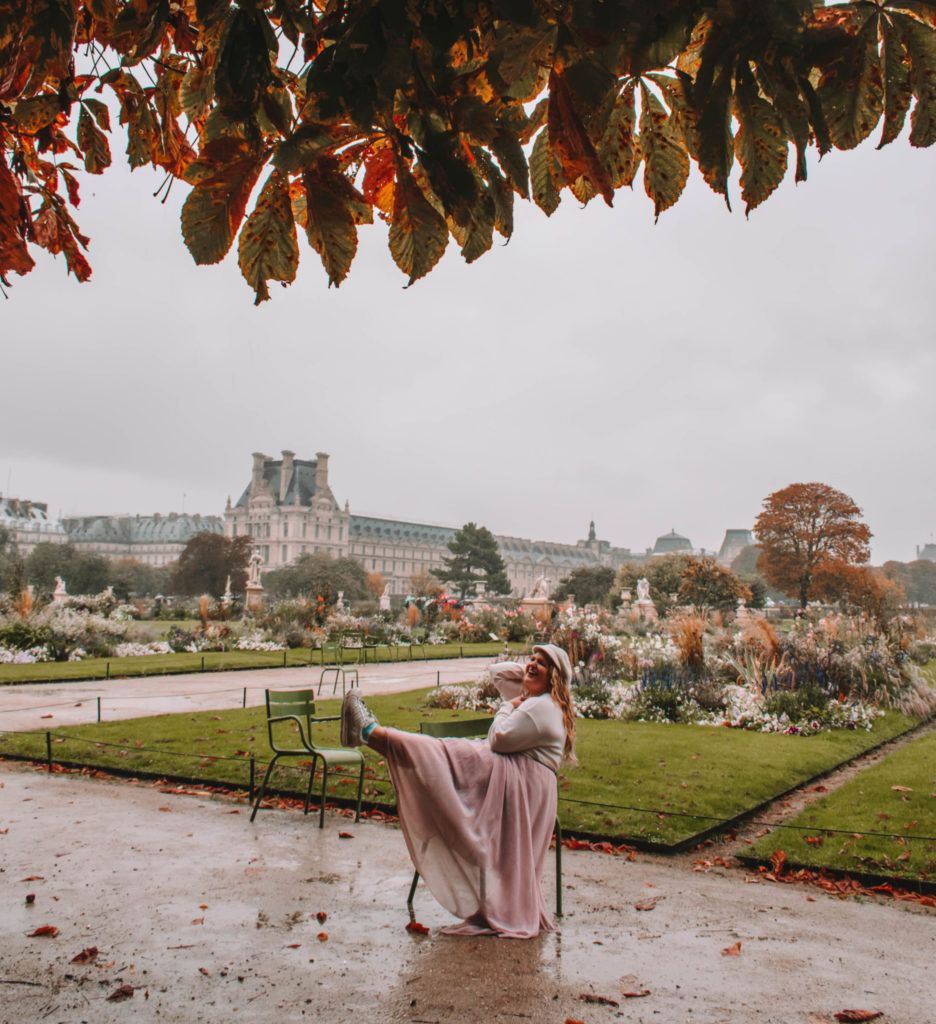 Then pass by the Petit and Grand Palais.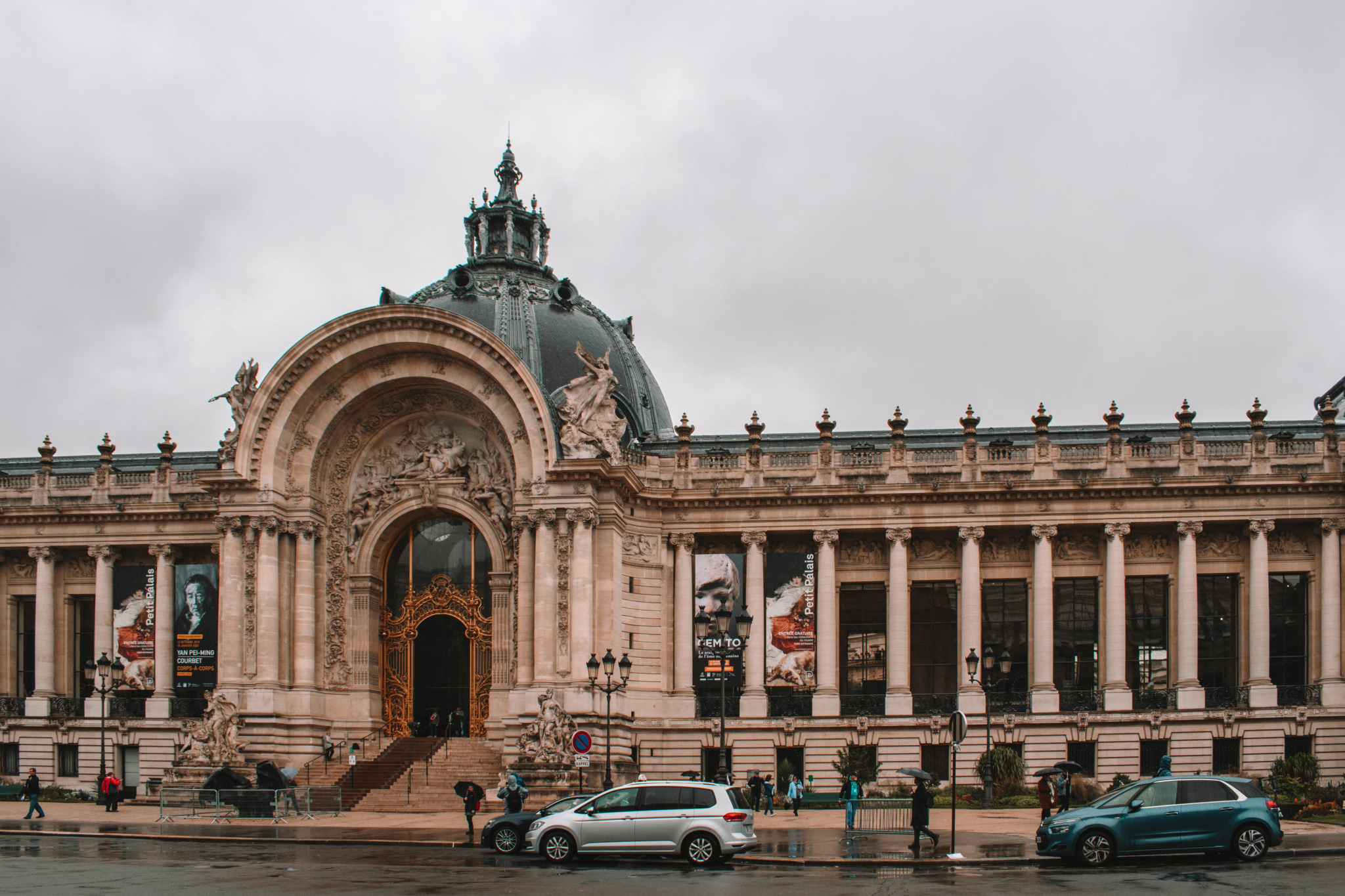 Next, walk across my favorite bridge in the world, Pont Alexandre III. From here you can admire the Eiffel Tower from afar.
Now stroll the Seine over to the Eiffel Tower for a picnic and to watch it light up and glitter at night.
Optional: Luxembourg Garden, Pantheon, Visit the Catacombs, Trocadéro Garden, and St. Germain
Day 6 Versailles, Galeries Lafayette, Palais Garnier, Champs-Élysées, Arc de Triompe
Today will definitely involve some driving or public transportation, so keep that in mind. I highly recommend a half day trip to Versailles if you've never been. It's incredible and one of the most ornate places to visit in the world. You literally step back in King Louis 14th and Marie Antoinette's foot prints. The hall of mirrors alone is worth the trip.
You MUST get there early to avoid the crowds. I also suggest buying tickets ahead of time. If you've been and want a day trip I suggest Monet's Gardens. They are so beautiful, especially in the Spring.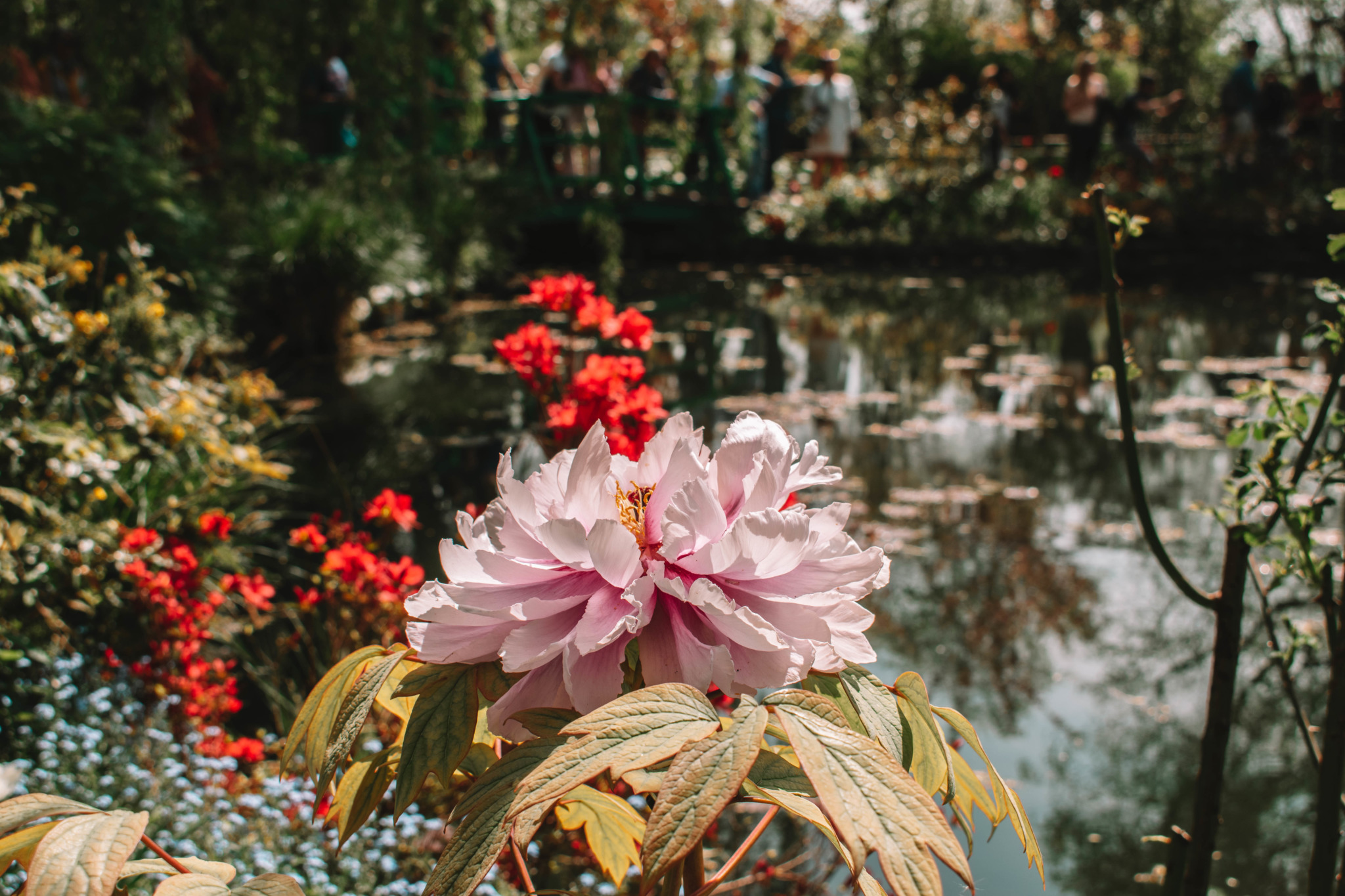 After that, head back to Paris. We'll spend some time at the exquisite Galeries Lafayette. You don't have to go shopping to admire the glittering interior building. Pro tip: instead of waiting hours in line for the viewing platform, head to Starbucks and get just as good of a view! I also love this area for a good representation of Hausmann architecture.
Then you'll walk a short distance to Palais Garnier, the opera house in Paris. There are also plenty of shops here. From here, I suggest taking a cab or public transportation to Champs-Élysées. This is a grand boulevard lined with shops and one of my favorite hotels, the Peninsula. Stop in for tea or a drink with a view of the Eiffel Tower.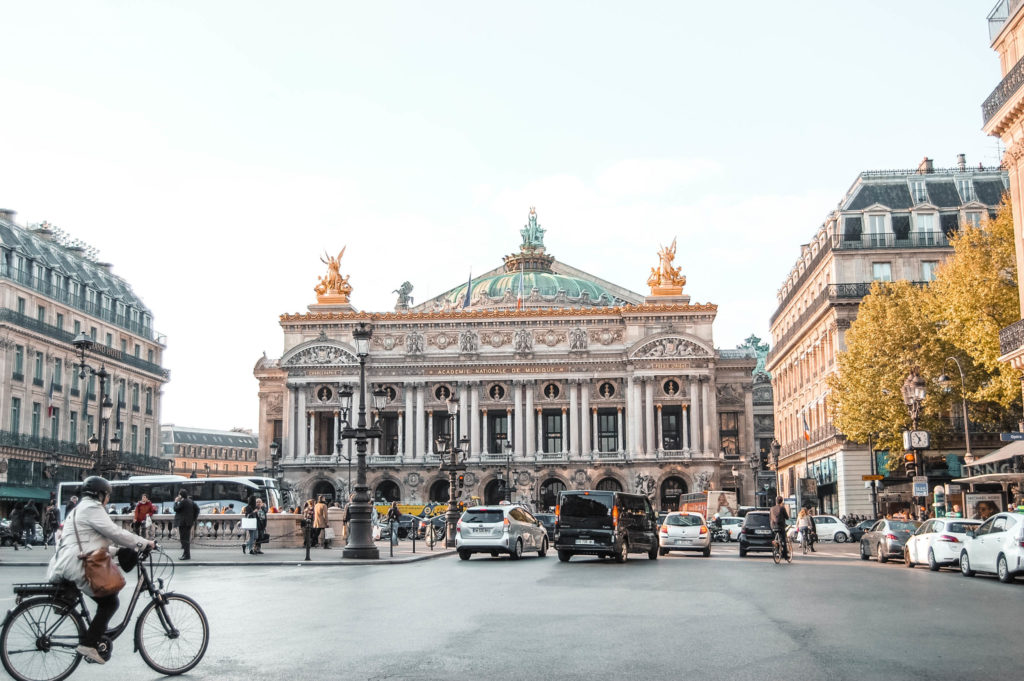 From here it's a straight shot to the Arc de Triopmhe, Napoleon's epic arch. Make sure to take a look at the soldier's eternal flame and the detailed carvings in stone around the arch.
Optional: Monet's Garden (half day trip), Museum Orsay, Tuileries Garden, Le Train Bleu
Day 7 Monmarte, Moulin Rouge, Sacré-Couer, Head Home
Monmarte refers to an area of Paris and it contains one of the greatest relics of Paris, Sacré-Couer. This was also the "artists hub" of Paris so it looks a bit different from the Hausmann Architecture of Paris.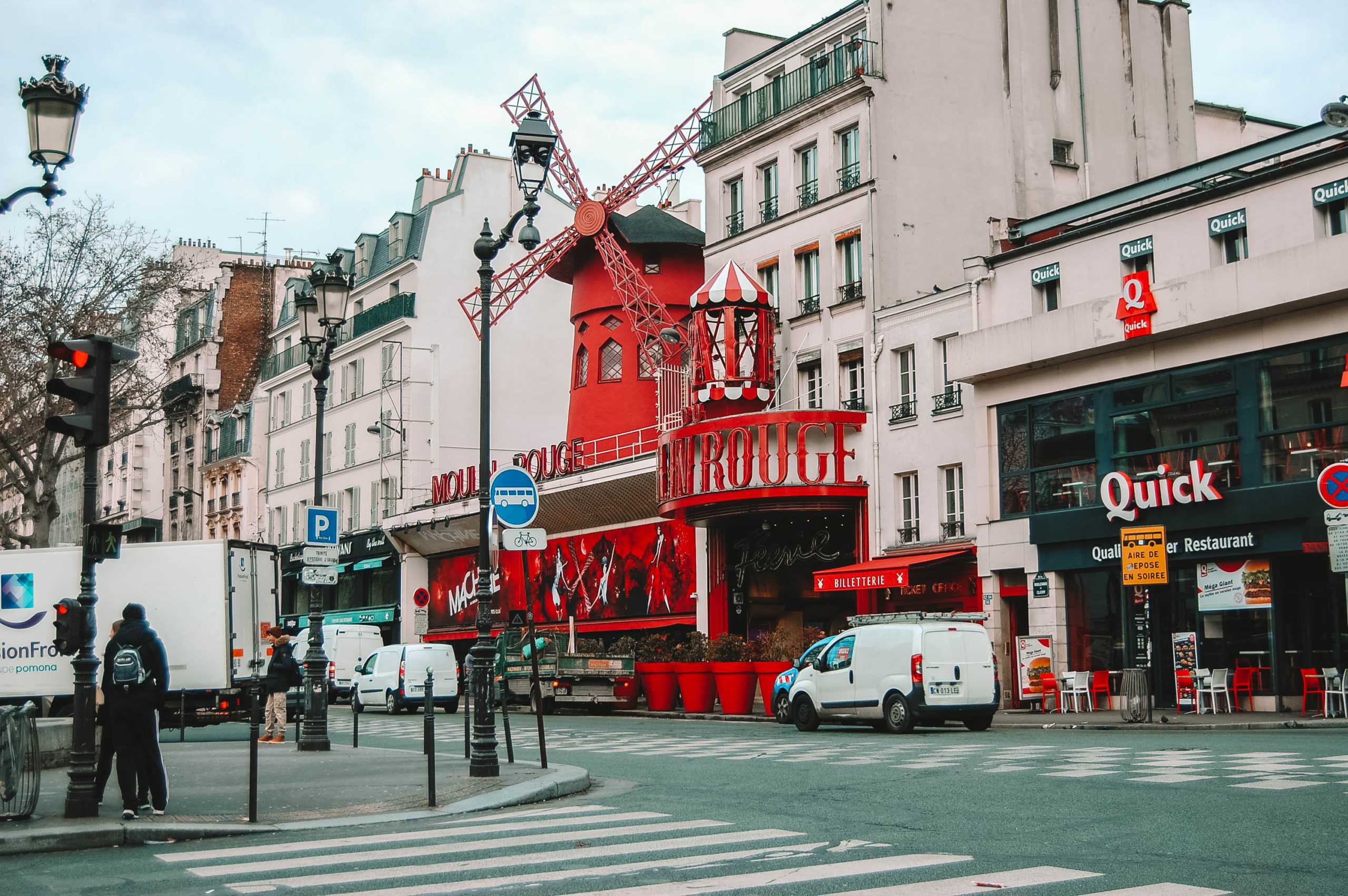 Start at the Moulin Rouge, and then head up, that's right, you'll be walking up quite a lot today. You can pass by the Instagram famous La Maison Rose while stopping for a pastry.
Then continue to Sacré-Couer. Save some time for this, as it's a great spot to watch street performers and get an incredible view of Paris.
If you have time, you can stop by Place du Tertre and pick up some art for a souvenir. Watch your stuff, Monmarte is known for pickpockets.
If flying out of Paris, you'll fly most likely out of Charles De Gaulle Aiport but there is also Beauvais-Tillé or Otly airport. You can take public transport directly here or, again with Monograms, you'll have a private stress-free transfer from your hotel directly to the airport.
How to Get Around London and Paris
Most of the time I recommend that you drive, but not for this trip. I recommend that you use public transportation since it's so easy to use and takes you wherever you need to go.
Best time to Visit London and Paris
To me, there's never really a bad time to go. But if you want to avoid the crowds (Christmas and Summer are high season) then I suggest early Fall: September and October or early spring: April and May.
Where to Eat in London:
Borough Market – great for fish and chips as well as a sausage roll at the Ginger Pig, I also love the fudge from Whirl
Gymkhana for Indian (England's national dish is Chicken Tikka Masala after all).
Sketch Cafe for Brunch
One Aldwych for Charlie and the Chocolate Factory Afternoon Tea
Sushi Tetsu – hard to get a reservation so book in advance.
Ye Olde Cheshire Cheese for pub food, also a place where Charles Dickens wrote.
Crown & Anchor, Churchill Arms, Mr. Fogg's Gin Parlor for more pub food.
Esters Cafe for breakfast.
Savoy Hotel for something fancy.
Head to Tesco for a meal deal and have a picnic in Hyde or Regent's Park.
Circolo Popolare for an Instagram worthy spot. Or Peggy Porschen for the most instagrammy spot, serving cakes.
Where to Eat in Paris:
The best part about Paris cuisine? You can't go wrong.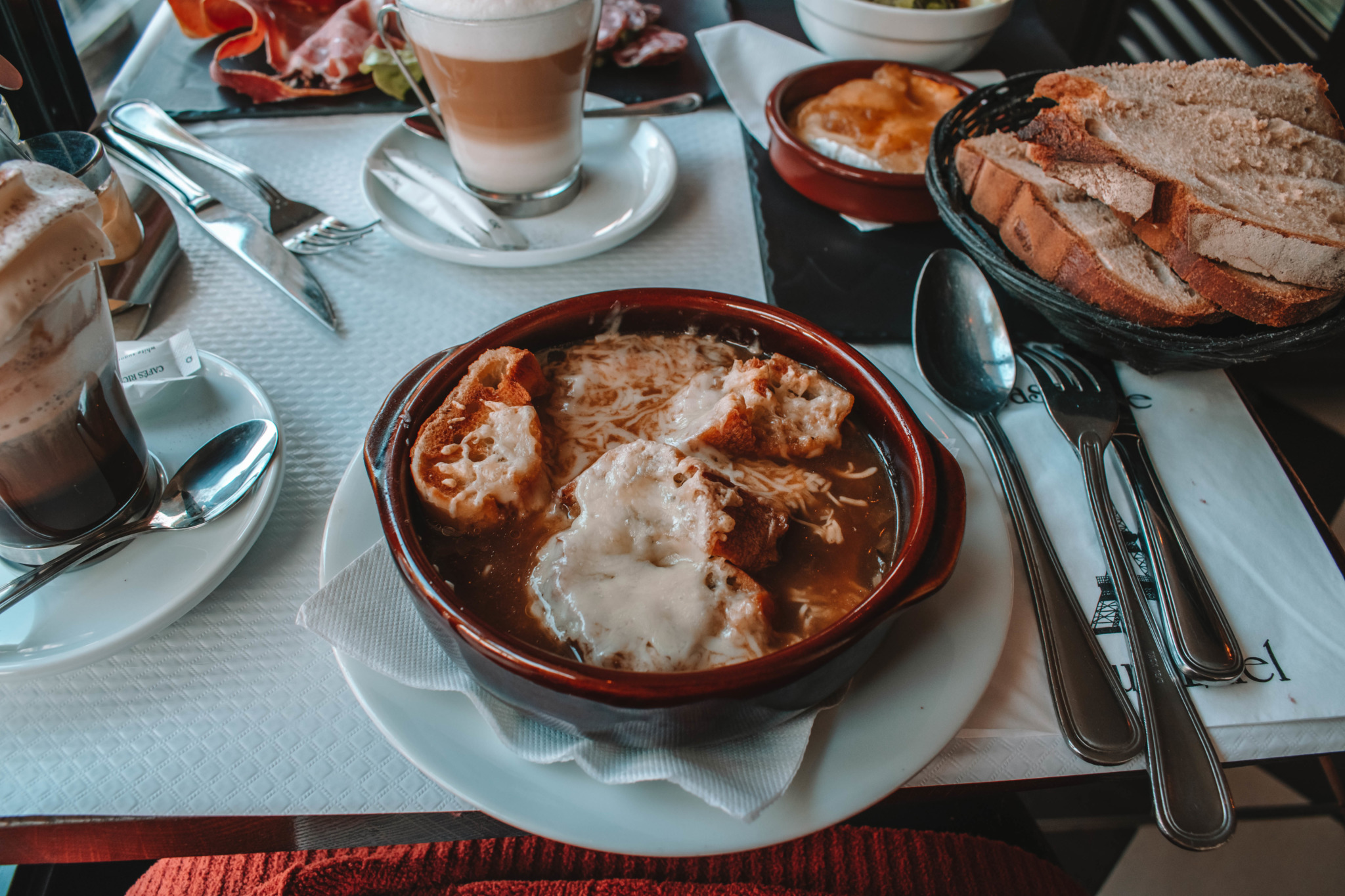 Cafe Julien, a cool Art Deco building with divine food
Peninsula Paris for afternoon tea or a drink overlooking the Eiffel tower
Refuge des Fondus for fondue and drinking wine out of a baby bottles!
Ladurée – I have to say.. I'm not a big fan of macarons but this is the place to go if you want some of the best.
Cafe Kitsuné – Arguably one of the most instagrammable cafes in Paris. The coffee is tasty and pretty.
Comptoir de La Gastronomie – one of the best meals I've ever had. The Foie Gras Ravioli was out of this world.
La Stube – This is the perfect lunch spot for a savory tart or Salmon Strudel. Also try their cakes, divine!
La Drouguerie for crepes
Le Train Bleu, near the colorful streets of Rue Crémieux is in the train station and ornate place to stop to eat.
Cafe de la Poste is a good spot for lunch.
Angelina's for hot chocolate – get it to go so you don't have to wait in line.
For pastries there's almost too many places to name! But try Du Pain et des Idées, it's divine!
Some helpful posts about London/England:
Some helpful Paris/France posts:
Midnight in Paris Film Locations
It's often said that London is the whole world in one place. I disagree. Add in the art, culture, and brilliance of Paris and then, you might just have the whole world.