A faint whisper encircled me as I looked down upon the swirling, purplish liquid. Is that you, Dumbledore? I thought to myself. No, it was a child asking politely if I was done with the the "pensive?" Oh, yes! That's the word for it.
And I was snapped back to reality. I wasn't, in fact, in Dumbledore's office, reliving his memories, but instead at the Warner Brothers Studio in London visiting Harry Potter World.
Whether you're a Potterhead or not, it's safe to say I was completely wow'ed with the studio. The actual name, Warner Brothers Studio Tour London: The Making of Harry Potter was everything and more I could have hoped for. From walking through the actual sets, taking pictures on a broom stick, finding my house colors, and reliving some special memories I had of reading these books and watching the movies, the studio seems to transport you straight to Hogwarts. And it's worth it.
I highly, HIGHLY recommend that you get to the Harry Potter Studio upon opening. This way you avoid lines and crowds and will wait a shorter period for your frothy cup of butter beer. I actually booked my tour with Monograms, a facilitated, independent travel company that I truly cannot recommend more. Think of it as stress-free travel.
You pick your destinations, activities, and have free time, and they take care of the not-so-fun aspects like booking your hotel, transportation, and tickets to events. Because Monograms is the expert, they make sure you have the best experience for a good price. For example, we stayed in an excellent hotel in London with access to the top sights along with transportation to and from the airport in a private car and a local host at the hotel who can give you insight in the best things to see and do around the city. See my review here.
So, I'll be honest with you. I was late to the Harry Potter obsession. I didn't read the books until 2016. When they came out my little sisters were reading them. I assumed they were for kids and that they couldn't be of interest to me. But after so many people were talking about how great they were, I decided to give it a try. After reading just a few pages I was hooked.
To me, Harry Potter encapsulates the perfect look at childhood, growing up, the hero's journey, finding your passion, discovering your purpose, and taking risks. It basically answers some of life's toughest questions. But could a Harry Potter Studio tour really live up to the hype? This review will give you an idea.
Getting there:
While it's called Harry Potter Studio Tour, London, it's actually in Leavesden, Watford, England. Which is about a 45 minute to an hour ride from London. When you arrive you're ushered into a big, purple Lobby with a dragon in it towering at you from above. Although there are things to see in that room, my advice is to head in to start the tour so you can beat the crowds.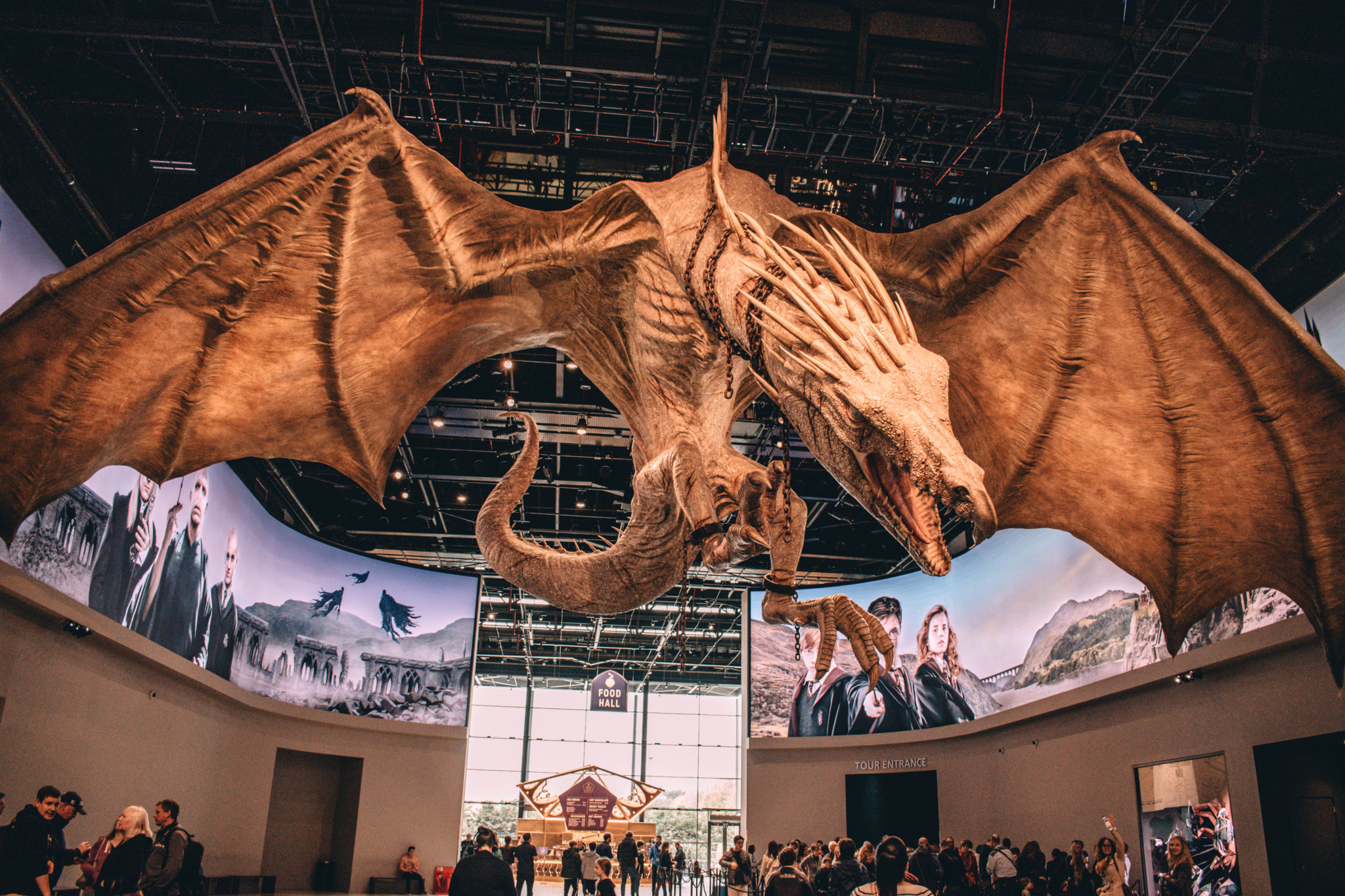 What You'll Find Inside Harry Potter Studios:
The Studio Tour opens with a video of people talking about their experience with Harry Potter and what it means to them. And this was the first time, out of many, that I got teary eyed. Hearing how others have been impacted by this story is what makes me want to keep writing and reading.
Then the cast of Harry Potter, including Daniel Radcliffe, Emma Watson, and Rupert Grint walk you through a bit about what you'll be seeing inside. These are the real sets, real props, and real clothing used inside of Harry Potter. So gear up for some excitement.
After the short film ends you stand in front of the Great Hall's grand entry doors. If it's your birthday you can go up to the doors to open them!
And then, you'll get chills. It's funny, I even get excited just typing these words. You open up onto the Great Hall and your mouth drops. To be fair, the Hall is much smaller than how it appears on screen but it's still absolutely breathtaking.
Because we were there near Halloween we had hanging pumpkins and set dinner table and costumes of the cast at the front of various teachers. Food is displayed on the tables and you can see what magic really went in to constructing an ornate hall.
Photo opportunities are everywhere and if you wait just a bit you will most likely grab a photo without anyone in it!
Explore the Making Of Harry Potter Studios
From here, you walk into the exhibits where in a gigantic room awaits all of the actual sets, costumes, detailed props, and extremely helpful staff. ASK QUESTIONS. These people are Harry Potter fanatics and will answer anything and everything related to Harry Potter. Once we were sitting at a table in what was to look like Hogsmeade, where if you sit at the end the person in front looks much larger than the people in the back. The staff member taking the photo offered to take what must have been 100 photos. She kept on snapping and laughing and narrating our story of who won the Quidditch match. It was so fun! They also know everything about the props and set and can give you as little or as much information as you want!
You'll get to peruse through sets from all 8 years of the movie. There is quite a lot to see and do and this will most likely be the area you spend the most time in.
Here were some of my highlights:
Ron Weasley's House was complete with a mixing bowl actually mixing itself and a needle and yarn actually knitting! It was so amazing to see how it worked and see the inside of the actual house.
Dumbledore's office felt like you were stepping into his actual office. Make sure to look around at how detailed every single prop is and how carefully it was crafted.
The boy's dormitory is set up just like in the movie along with costumes throughout the years. And then, in the Gryffindor common room, you'll find mannequins wearing costumes and chairs by the fire along with the tapestries and portraits that were ALL made from scratch for the movie.
Inside of Snape's Potion Room, you'll find over 950 bottles with potions along with a display of his long black cape.
Step in Hagrid's Hut and take a glance at the space where the giant lived.
Gringott's Bank was amazing! This is expanded for 2019 and is the marvelous, marble banking hall with crystal chandeliers as well as displays of the incredible masks the goblins wore.
From here, you'll go in to the bank and can try your luck at pulling the Sword of Gryffindor, or take Helga Hufflepuff's Cup, one of Voldemort's Horcruxes, and enter the Lestrange vault.
Make your way over to the Forbidden Forest with towering trees, a full-size model of Buckbeak (where you can bow to him) and the giant spiders.
Next you'll head in to a new room with Platform 9 3/4 and then step on board the actual Hogwarts Express!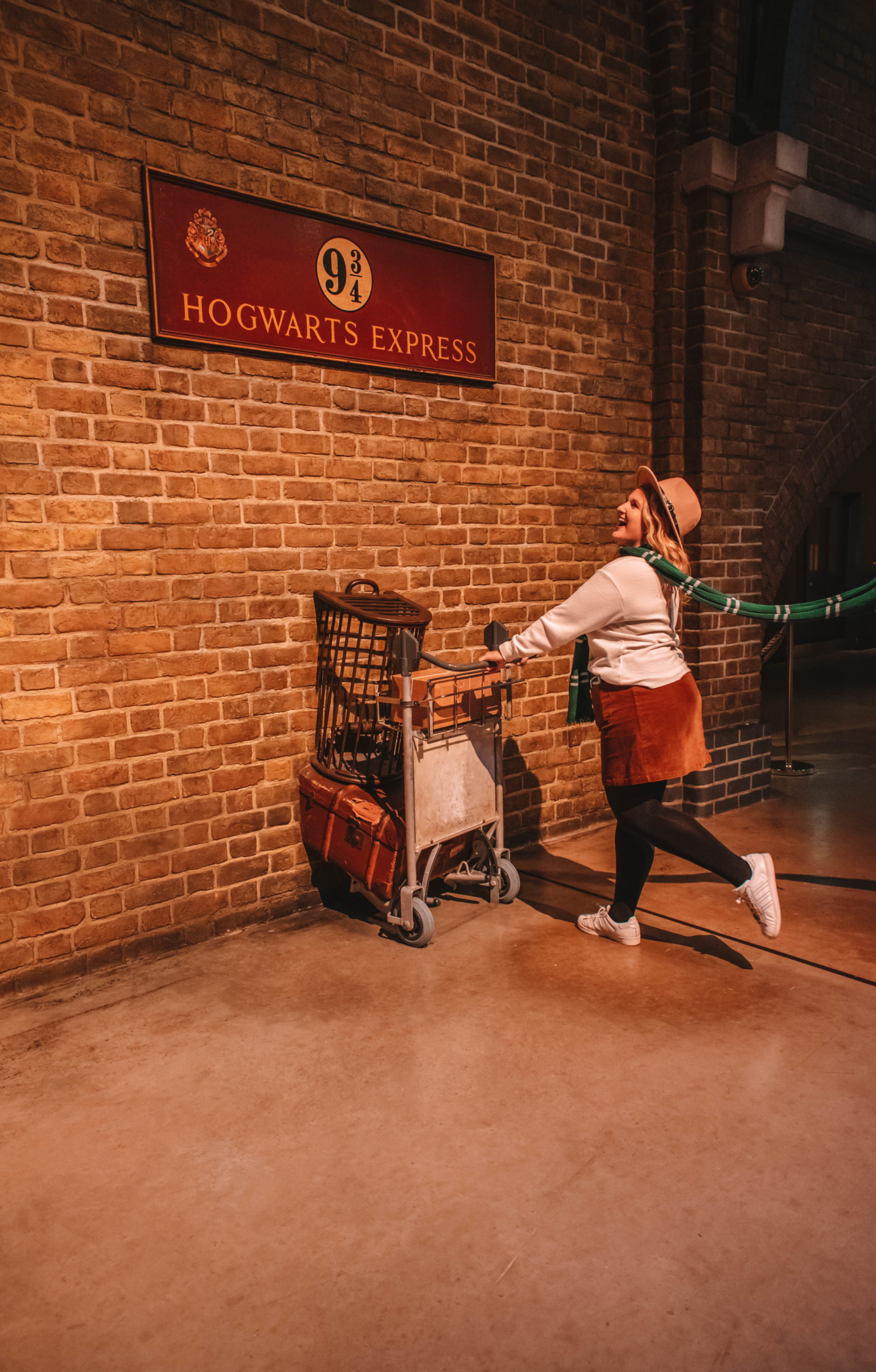 After the exhibits you'll head to the cafeteria, called the Backlot, with delicious food and Butterbeer.
After you eat, head outside for the purple Wizard's Knight Bus – a great place for a photo opportunity.
Across from the bus is the Dursley's residence on 4 Privet Drive. Go inside to see the incredible flying envelopes from when Harry got his letter to come to Hogwarts.
You'll also see Godric's Hollow and Hogwart's wooden bridge.
Next is the "Creature Shop" or prop room which contains masks, figures, and animatronics that make you appreciate the exquisite details that went in to the making of the movies.
Take your time walking down Diagon Alley with all the shops that you remember from the movie like Flourish and Blott books and Ollivander's wand shop. On the way out you also see prototypes and drawings to create different sets and props.
Now, brace yourself! You're about to see Hogwart's actual castle, yes, the one they used in the films! As your walk around the 1/24th scale (it's still ginormous even if it's smaller) you'll hear the music from the Harry Potter films. Try and not tear up, I dare you.
As you leave you'll walk through the wand tribute room where every single member of the cast and crew from all 8 films have their names inscribed.
Your last stop is the Gift Shop where you can get anything and everything Harry Potter related.
And that's just skimming the surface! There is so much to see and do.
FAQ Warner Brothers Studio Tour London: The Making of Harry Potter:
How much time will I need?

I suggest at least 3 hours to get to experience it all but you could be there at least half a day if you want to absorb everything.

How to book tickets?

Do so here! You will need to book them in advance and for a specific date. Get there early to avoid the line.

Can I purchase souvenirs?

You know it! There is a HUGE shop filled with stuff from the movie, house colors, and more!

What to skip?

I personally skipped the Green Screen technology that allows you to have yourself filmed flying over Hogwarts or playing Quidditch. There was a line and also I just didn't think it looked that interesting.

Good to know…

This is not a theme park! This is a Studio Tour and you're seeing how Harry Potter is made. Yes, you can get in on some of the sets, walk through the rooms, and get an up close and personal look at the props. But it's not like Disney World or Land in the sense that there are no rides.
Ask the staff questions! They know everything! There are also select guides who have an expertise on certain props and sets. They are usually standing by the props and are ready to chat with you.
You can take as many pictures as you like so make sure your camera is charged.
The Harry Potter studio is kid friendly and is wheel-chair accessible.
There is WiFi throughout the studio but save your sharing for later and experience the wizarding world in the present.
I think the real beauty of visiting Harry Potter Studios in London is appreciating the massive amount of work that goes in to making such an epic series of movies. It is mind boggling and truly magical what they put together. Take your time, enjoy it, and definitely give it a go! I would personally recommend this tour if this isn't your first time to London. London itself is a magical place with so much to see and do. So make sure to experience all that London has to offer, and on your next trip, visit the studio!
This post and trip was sponsored by Monograms in cooperation with iAmbassador. All thoughts and opinions are my own.