This time of year I always look forward to Valentine's Day to add a little bit of love in the cold winter air. After the rush of Christmas and New Years, it's nice to have another reason to celebrate. I've come up with dozens of Instagram captions whether you're taken or single! From lovey-dovey clever Instagram captions to snarky and fun captions, this will make posting much easier!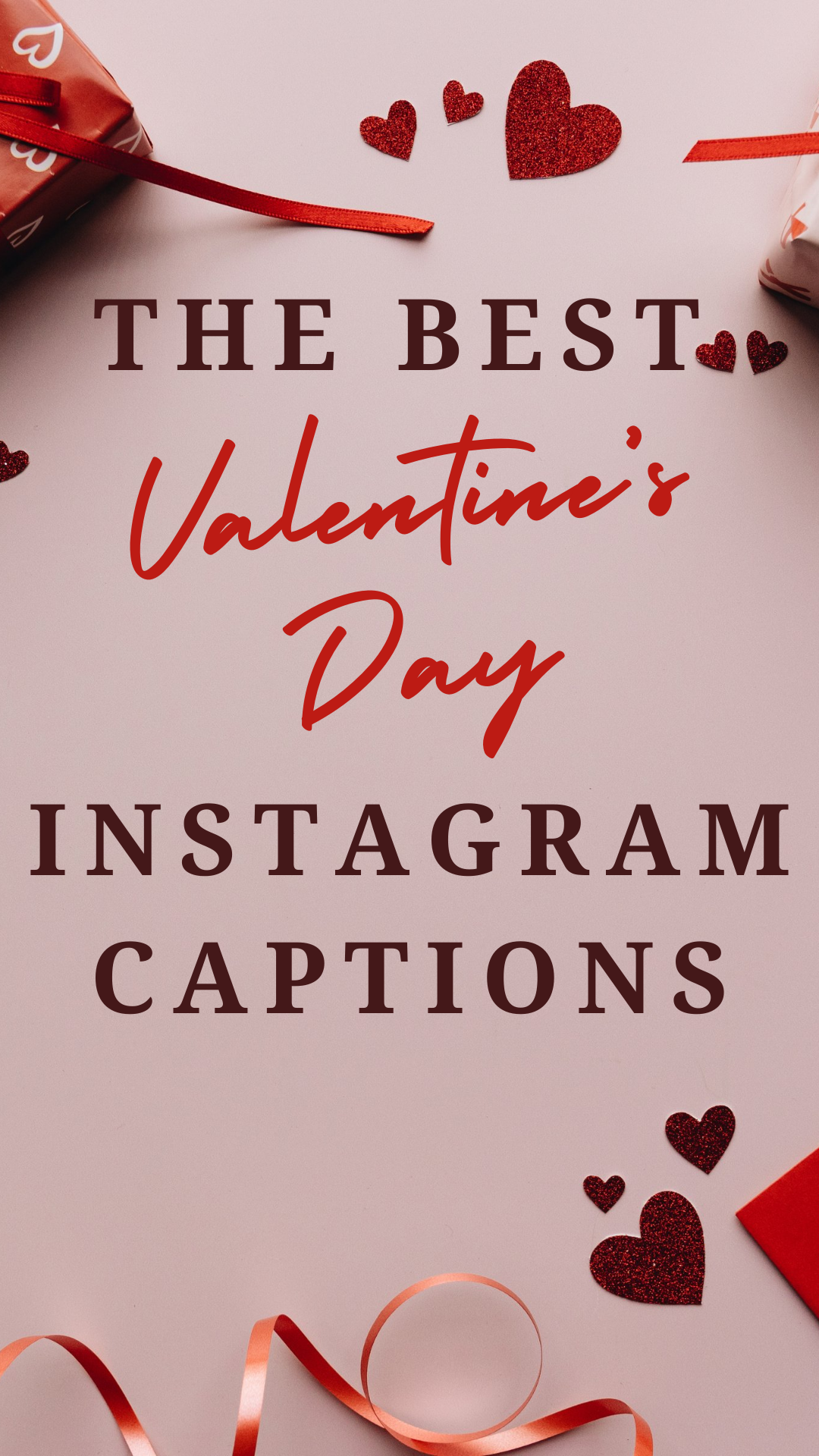 Whether you're looking for song lyrics, romantic quotes from movies, or just funny one liners, these captions have you covered for Valentine's Day.
No matter how you celebrate on February 14th, whether you're indulging in a box of chocolate, having a romantic date night, hanging with your Galentine's these fun, sappy, sweet, or heartfelt captions.
I've got over 75 Valentine's day captions perfect for any occasion!
Funny Valentine's Day Captions For Instagram
I love you more than pizza, which is kind of a big deal.
I'm in the mood for love.
Be mine, or ELSE.
All I need is love… and tacos.
Roses are red. Violets are blue. My Valentine's date is cuter than you.
So happy we both swiped right.
Some people are worth melting for…
I'll love you forever. Just bring me chocolate.
The world needs more love and less meetings that could have been emails.
All you need is love… but a little chocolate now and then doesn't hurt.
Sorry for the things I said while I was hangry.
Romantic Valentine's Day Captions For Instagram
I am happiest when I'm right next to you.
Love isn't finding someone perfect… it's seeing an imperfect person perfectly.
There are only two times that I want to be with you.. Now and Forever.
Home is wherever I'm with you.
Every love story is beautiful, but ours is my favorite.I'd cross the galaxy for you.
I'm lucky I'm in love with my best friend.
You are in my heart, and that's where you'll stay.
Love is looking into someone's eyes and seeing yourself perfect for the first time.
Love me, and the problem will be solved.
Puns Valentine's Day Captions For Instagram
Don't go BACON my heart. I couldn't if I FRIED.
I'm a sucker for you.
Do you accept this rosé?!
You're the Jim to my Pam.
You're my favorite spoon.
Once in a while someone amazing comes along… well, here I am.
I only have heart eyes for you.
Roses are red, Violets are blue… I'm actually allergic to flowers so, um, never mind!
When you're dead inside, but it's Valentine's.
I love you so matcha.
Will you brie mine?
I'm b-egging you to be my Valentine.
There's so mushroom in my heart for you.
You make miso happy.
Will you peas be my Valentine?
You're the loaf of my life.
You've stolen a pizza my heart.
We're mint to be.
I love you from my head to-ma-toes.
Roses are Red. True love is rare. Booty booty booty booty rocking everywhere.
Every pizza me loves every pizza you.
Galentine's Day Captions for Instagram
Valentine's day is for the girls!
V is for valentine VODKA!
Fries before guys.
Love the WINE you're with.
I love my besties more than pizza!!
Four for you Glen Coco! You go Glen Coco!
Single Valentine's Day Captions For Instagram
Wine is my Valentine / or insert whatever drink you want!
PSA: All candy will be 50% off tomorrow.
Single: Adjective, Having the ability to do what I want, when I want.
Love is in the air (but so is C*vid).I'm going to spend Valentine's Day with my true love: food.
Will you be my Valentine? JK! I hate everyone.
EW, Valentine's Day.Why fall in love when you can fall asleep?
Happy Day-Before-Cheap-Candy-Day to all who celebrate.Dear Cupid: Forget the guy, just send the candy.
I have two boyfriends for Valentine's Day: Ben & Jerry!
Sorry, I'm in a relationship with Pizza.
Being single on Valentine's Day is so much better than dating someone who would buy bad chocolate.
Happy Valentine's Day to ME. I really do so much.
Valentine's Day Quotes for Instagram
"I love you and I like you." —Parks and Recreation
"You're my lobster." —Friends
"When you realize you want to spend the rest of your life with somebody, you want the rest of your life to start as soon as possible." —When Harry Met Sally
"A heart is not judged by how much you love, but by how much you are loved by others." —L. Frank Baum, "The Wizard of Oz""
Let all that you do be done in love." —Corinthians
"Pick me. Choose me. Love me." —Grey's Anatomy
"I'm also just a girl, standing in front of a boy, asking him to love her." —Notting Hill
"I fell in love the way you fall asleep: slowly, and then all at once." —John Green
"All I know is that I care about you, and…and I think I might love you. And even if it's just a one-time thing…then that's okay." —The Office
"If you live to be a hundred, I want to live to be a hundred minus one day, so I never have to live without you." —A.A. Milne, "Winnie the Pooh"
"A heart that loves is always young." —Greek Proverb
"Love is patient, love is kind. It does not envy, it does not boast, it is not proud." —Corinthians
"Love is the only force capable of transforming an enemy into a friend." —Martin Luther King Jr.
"In order to be happy oneself it is necessary to make at least one other person happy." —Theodor Reik, "Wisdom in Love," 1949
Song Lyric Valentine's Day Quotes for Instagram
"I only have eyes for you." —The Flamingos
"I just called to say I love you." —Stevie Wonder
"It's a love story, baby just say yes." —Taylor Swift
"I love you like a love song." — Selena Gomez
"If you want me to stay, I will." —Grease
"I'll make love to you like you want me to." —Boyz II Men
"All you need is love." —The Beatles
"You don't know you're beautiful." —Joseph Williams
"I will always love you." —Whitney Houston
"I just want to be your everything." —Andy Gibb

I hope these captions help you plan the perfect Instagram post!