Three days in Yosemite National Park is the perfect amount of time to ensure you get to see the beauty, wonder, and adventure this park has to offer. With this guide, you'll make the most of your time in this spectacular destination.
Whether you want to go hiking, bike riding, or photograph the most majestic spots, I'll help you navigate this massive park. Everything seems to be huge in Yosemite, from the trees to the rock formations. It's something you must witness in person to truly appreciate its wonder.
This is your ultimate guide to visiting Yosemite National Park in 3 days.
We traveled with Globus Travel as part of a 9 day trip through Northern California for our experience in Yosemite. It made for a seamless and easy trip to the park and our itinerary was jam packed and full of the best things to do in Yosemite National park.
Practical Information Before Visiting Yosemite National Park
The fact that you're already doing research when it comes to travel means you are far ahead of the rest of others! But this is especially important when coming to Yosemite National Park.
It's most important to note that you MUST make a reservation to get into the park. This typically cannot be done the day of, but needs to be done a least a week or two in advance.
I was thrilled to not have to deal with this since I booked with Globus Travel and everything was set up for us in advance!
If you plan to stay in the park's campgrounds, you'll also need to make reservations.
If you plan to backpack through the park you'll need a wilderness pass. You can make wilderness pass permit reservations online here.
Also important to note, shuttle service is no longer available in the park currently. However, YARTS is operating its regional transit system and reservations are recommended.
Again, I'm very glad we booked with Globus because there are a lot of rules, regulations and changes in place.
Remember that when visiting Yosemite it can sometimes be smoky if visiting during wildfire season.
Why Visit Yosemite National Park
Not only is Yosemite National Park a treasure trove of beauty, it's also deeply rooted in the history of the USA and national parks: It was first protected in 1864. Yosemite is best known for its waterfalls, but within its nearly 1,200 square miles, you can find deep valleys, grand meadows, ancient giant sequoias, a vast wilderness area, and remnants from glaciers.
Often, you'll also see wildlife such as bears, coyotes and many bird species while you're in the park. Located in the Sierra Nevada mountain Range, there are many stunning Redwood Sequoias throughout the park. These are incredibly tall trees that leave you breathless!
The history goes back even further than the Native Americans who called Yosemite home long before Europeans came to visit. In fact, Yosemite became the first scenic natural area to be set aside by the United States for public benefit and appreciation of landscape beauty.
When President Lincoln signed the bill to protect Yosemite in 1864, it was an important moment for conservation and preservation of national parks. It wouldn't be until 1872 that Yellowstone became a National Park, and Yosemite laid the foundation for all future national parks. 1890 is when Yosemite officially became a national park.
Visiting Yosemite is not only a fun adventure, but it's also an educational experience that can teach you about nature and conservation.
Yosemite has so many wonderful features:
200+ miles of road
20 miles of bike paths
849 buildings
Two glaciers
Countless waterfalls
Some key attractions to visit in Yosemite:
El Capitan
Half Dome
Mariposa Grove
Tuolumne Meadows
Crane Flat
Yosemite Falls
Horsetail Fall
Hetch Hetchy Valley and Wapama Falls
Sentinel Rock
Glacier Point
Where to stay in Yosemite
Knowing where to stay is key to enjoy your Yosemite trip! There are limited places to stay in the park and they can be quite expensive. Yosemite Valley offers some lodges, camping and cabins.
The Ahwahnee is pricey but a lovely place to stay. We wanted a lodge experience and chose to stay a bit farther out of the park
As I mentioned above, there are a few camping spots and cabins that you will need to reserve in advance.
When to Visit Yosemite National Park
The best time to visit Yosemite National Park is during the summer months of June through September. However, bear in mind that this park can get pretty crowded during these times and you should make camping reservations well in advance to ensure your spot!
The Summer offers longer days but there can be smoke from wildfires.
Winter is a great time to visit for beautiful snow, and less crowds but often many things can be closed due to weather.
Spring and Fall are great for waterfalls and less crowds.
Yosemite National Park 3 Day Itinerary
See map of everything to do here:
How Long to Stay in Yosemite National Park
As you plan your trip to Yosemite, keep in mind how much time you have. If you only have 1 or 2 days, you can absolutely follow this itinerary.
We spent 3 days here and this allowed us to see and do nearly everything Yosemite has to offer.
Getting into the park can often be challenging as lines can be quite long. Make sure you book a reservation ahead of time or, like I did, when you book with Globus you won't have to worry about making advanced reservations.
Day 1
We traveled to Yosemite via the picturesque Tioga Pass Road, which rises up to 10,000 feet above sea level! This is a 39-mile journey that takes you through several highlights of Yosemite.
The lovely scenery at Olmstead Point was our first stop, with spectacular views. The view gives you a glimpse of Half Dome, a large sloping rock face that looks like it was formed by hand. For good reason, this is one of the most popular destinations in Yosemite Valley! It's simple to get to – simply follow park signs for "Olmstead Point." There is ample parking here as well.
The next stop on our trip was Tenaya Lake, which we reached via the Tioga Pass. I was shocked to discover sand along the lake's shores and couldn't control myself from dipping my feet in the crystal clear water. The lake may also be explored by boat!
A great way to explore a large chunk of the park is to rent bikes! Bikes are available at a number of locations around Yosemite National Park, and you can also rent bikes via the concessionaire at Yosemite Lodge. See locations to rent bikes here.
If you're planning on riding a bike to explore the valley, keep in mind that it is busy! There are roads and trails where there isn't much traffic but be sure to wear your helmet as required.
You can explore many of the meadows, waterfalls, and the Ahwahnee Lodge inside the park.
This impressive lodge is beautiful on the outside but even more magnificent inside. The dining area is absolutely stunning. We strolled around the premises before returning to our bicycles for some panoramic views of Half Dome from Swinging Bridge. This is an excellent location to admire the rock formation in all its splendor.
Make sure to stop by the beautiful Yosemite Valley Chapel as you make your way around the park. It's a beautiful spot perfect for photos!
After our bike ride, we went to another lovely photo spot at Valley View. This view gives an excellent vantage point to see Bridalveil Falls. Sometimes the falls will be dry, like it was for us, if you're visiting in summer.
We stopped by Tunnel View on our way back for the day. This is another of Yosemite's most popular attractions. You may get a panoramic view of Yosemite Valley, El Capitan, Half Dome, and Bridalveil Falls all in one glance here! Then we returned back to our lodge for dinner.
If you're looking for a good hike, check out the Mist Trail. This is a very popular hike in the park, and if you want, you can just make the short trek to Vernal Fall Footbrige which offers spectacular views. This is a little under a mile to get here. Or, if you want to keep going you can hike to the top of Nevada Fall for a 5.5 mile hike.
We chose to stay at Tenaya Lodge which is a lovely lodge about 45 minutes from Yosemite Valley. The restaurants here are fantastic, there's a pool, and well equipped rooms.
This is really a respite and a great spot for relaxing after your time in the park.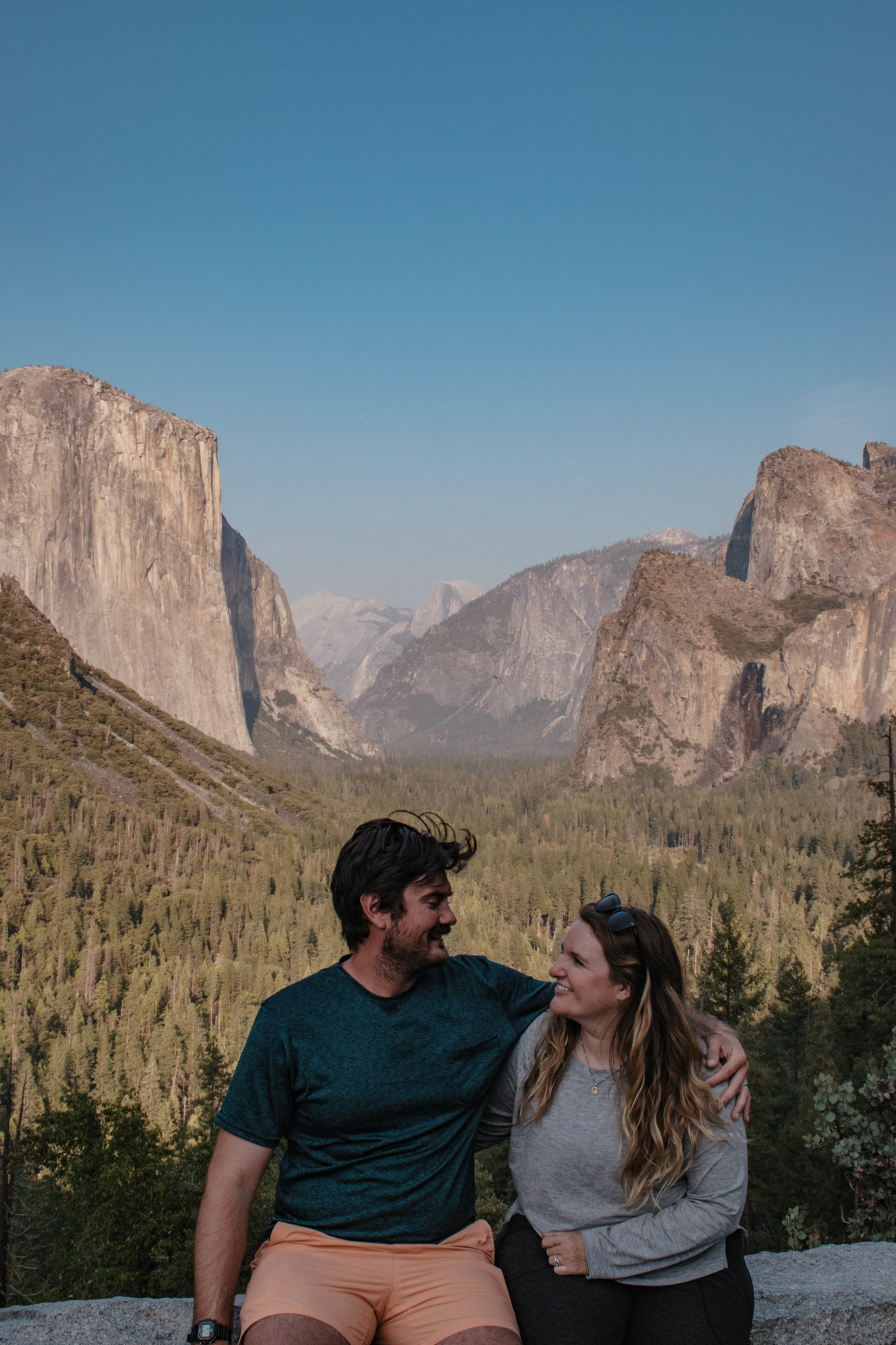 Day 2
After seeing some of the highlights of Yosemite, we took an Ansel Adams photography tour. I really can't recommend this enough! This was part of our tour options with Globus, and it gave me a whole other appreciation of Yosemite and photography itself.
The Ansel Adams photography tour was the highlight of our Yosemite experience. Adams's photos of Yosemite were famous worldwide, and helped create Yosemite as a protected national park. The tour guide took us through Adams's process, told stories about his life, explained how he created some of his most famous photos, and gave us an opportunity to take pictures ourselves. If
You can also check out Ansel Adams's Gallery inside the park to see and learn even more.
We watched brave rock climbers scale the sheer granite cliff-face of El Capitan as the day came to a close. El Capitan is Yosemite National Park's most recognizable and iconic feature. It has a distinctive form that may be seen miles around! The profile reminds me of a huge stone cathedral. If Yosemite weren't already staggeringly beautiful, the sunset was fantastic! Sunset times vary by season, so check out a sunset/sunrise schedule here before planning your trip to the park.
Sunset at El Capitan is easily one of Yosemite's best photos ops. Fluffy clouds make a perfect backdrop for this incredible rock formation and the brilliant rock shimmers as the sun goes down.
El Capitan, the largest granite monolith in California, rises before you as you approach it, seeming to grow larger and larger until it appears impossible that anything could ever scale such a huge rock face! However, climbers have discovered methods to overcome this seemingly un-climbable mountain. We took binoculars with us and watched as climbers went. Warren J. Harding, Wayne Merry, and George Whitmore were the first to ascend El Capitan's Nose using ropes, pitons, and expansion bolts in 1958.
TIP: I recommend at least a few days at Yosemite because some days might be foggy, cloudy, or even smoky. If you're here during wildfire season it's important to keep that in mind!
Day 3
Today, we traveled to Tuolumne Grove to view the magnificent Sequoia Trees! Sequoias are the world's largest trees, with some living up to three millennia. For centuries, these massive giants have been a sign of might and perseverance. In fact, some Native Americans think that they were born from them.
The sequoia is also one of the most resilient and adaptable species on the planet. They've survived changing temperatures, natural calamities like floods or blazes, as well as attempts by humans to destroy all of their trees.
Tulomne Grove has a sequoia grove with a path that leads you around to explore all around, and even through the trunk of one of the massive trees. The hike is approximately three miles and a bit of a steep climb uphill.
Yosemite's Sequoias are throughout the park. 3 places to see them are Tuolumne Grove, Mariposa Grove, and Merced Grove. Mariposa Grove has over 500 trees, some of the largest and offers the Big Trees Loop hiking trail to see the trees.
Make sure to make time to see these incredible trees!
If you're planning a trip to Yosemite National Park and need help figuring out how to spend your time, we recommend taking in the beauty of the waterfalls and iconic rock formations. You can also take in some incredible views from Glacier Point or Half Dome Village. If you have more than three days at your disposal, make sure to explore off-the-beaten path locations like Tuolumne Grove! I hope this blog post has helped provide some insight into what is possible when visiting one of America's most beautiful national parks. And if you want to make your travel experience to Yosemite and California easy, check out Globus!
See my full Northern California Road Trip itinerary, here!