Gargantuan trees as tall as skyscrapers, crystal clear coastlines, and buzzing cultural centers? It's all in Northern California and this road trip itinerary will ensure you see the best places. If you're planning a trip for beautiful, towering trees, sipping delicious wine, and are looking to take a scenic drive, Northern California is the perfect destination.
While you might think of the glittering lights of LA or the hippie vibes at the beach, the northern part of California offers a more laid-back and untamed landscape that's perfect for a road trip.
California is HUGE. I mean, how can you plan a trip to see and do and experience all the things? Globus is the answer! We chose a 9-day Northern California Dreaming tour starting in San Francisco and weaving our way through Sacramento, Lake Tahoe, Mammoth and Yosemite. This group tour ensured we saw absolutely everything without the stress of picking where to stay and when to go on tours. It's all done for you.
Don't want to do all the driving yourself?! You don't have to. Globus provides all your transportation, accommodation, and you get to choose from a selection of tours along the way.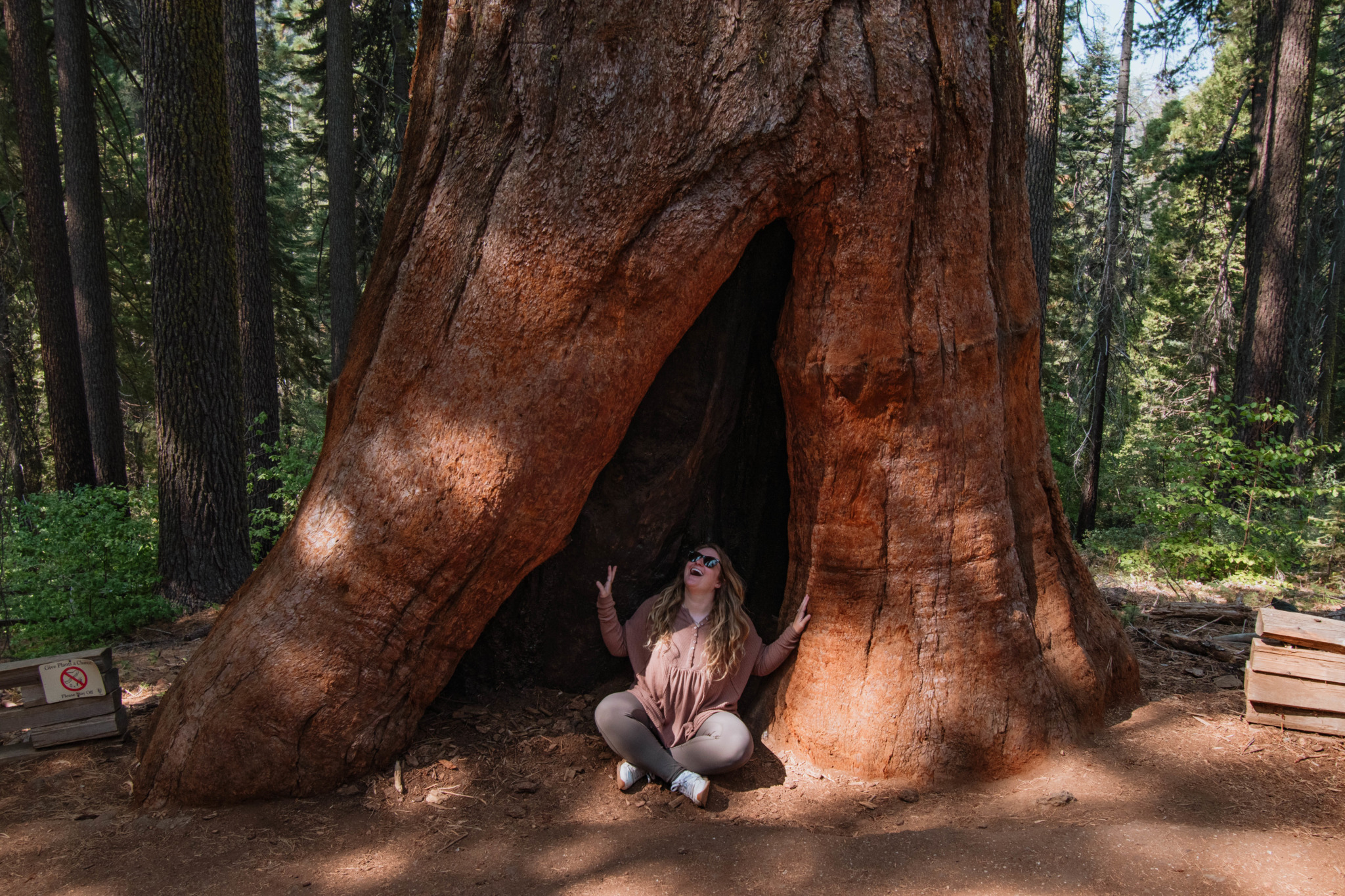 I've worked with Globus a number of times, and I keep going back for more. It's travel without the stress.
This guide shares the best Northern California Road Trip Itinerary! Including everything from the ultimate photo stops, immersive tours and experiences, along with museums and tips along the way.
Itinerary at a Glance
The Golden state is full of surprises! Ride the rails in Sacramento, explore Yosemite's trails, meander through a ghost town, or find epic wonders in Mammoth and Lake Tahoe. Here's a look at our Northern California Itinerary.
Day 1: San Francisco
Day 2: San Francisco, Sausalito, Sonoma, Sacramento
Day 3: Sacramento
Day 4: Sacramento, Lake Tahoe, Mammoth Lakes
Day 5: Mammoth Lakes
Day 6: Mammoth Lakes, Yosemite National Park
Day 7: Yosemite National Park
Day 8: Yosemite National Park
Day 9: Yosemite National Park, San Francisco
Where to Start Your Northern California Trip
I suggest flying (or driving) in to San Francisco as there are 2 airports in the area. Both San Francisco Airport (the one we used) and Oakland Airport in the Bay area are international and offer great pricing. San Francisco is full of so much history, cuisine, and culture so this is your best bet!
How Long for Your Trip?
If you book with Globus the total tour is 9 days with an extra day for travel. This seems like the perfect amount of time to see everything. Of course, you can always add on extra days to explore.
What to Pack
California can get chilly! I suggest bringing layers and a rain coat. San Francisco is known to be foggy and rainy at times so be prepared. Don't mind the weather though because this climate is good for wine! Northern California is typically pretty mild in temperature all year-round.
Day 1: San Francisco
"Everywhere you look, everywhere you go. There's a heart (There's a heart), a hand to hold onto." I couldn't help but sing the "Full House" theme song as we made our way around San Francisco and gazed at the "Painted Ladies," the home used on the TV show.
San Francisco is the second-most densely populated city, right after New York! So there are plenty of great restaurants, coffee shops, museums, and activities to fill your day.
The first day we got into San Francisco we grabbed a delectable sandwich and checked out the Ferry Building Market. The market is full of tasty food and unique shops like Olive and Cocoa for chocolate lovers, General Store for pottery and other treasures, as well as books you won't find at Barnes & Noble!
Check out Fisherman's Wharf, stroll China Town, take a ride on the San Francisco cable car, or investigate the truth at Alcatraz.
Day 2: San Francisco, Sausalito, Sonoma, Sacramento
Cross over the Golden Gate Bridge for a picturesque view of the famous red marvel.
The Golden Gate Bridge is one of the most famous bridges in the world. Completed in 1937, it spans the San Francisco Bay and links San Francisco to Marin County, with tolls required for crossing. The bridge is 8,981 feet long and took about four years to build. About 4 million trips are made to the bridge per year.
The Golden Gate Bridge is also known for its vivid orange color which is visible during the fog- but it wasn't intended that way! During World War II it was painted this shade of orange (officially called "International Orange") to make it easier to see from afar and avoid collisions with ships.
Crossing the bridge we arrived at the sleepy and scenic town of Sausalito. It's amazing how just crossing one bridge can give a totally different vibe.
It's home to about 30,000 people who enjoy its laid-back, artistic, and affluent atmosphere. This quaint little city has many shops, restaurants, galleries, parks and markets for visitors to explore. It is also known as one of America's most beautiful towns with its picturesque waterfront setting surrounded by hillsides covered in lush greenery.
There are plenty of things you can do while visiting Sausalito including walking up Bridgeway Street which offers great views of the bay.
This was a quick stop as we made our way over to Sonoma for the wineries! The drive itself is incredibly pretty with rolling, golden hills and vineyards covered in grapevines.
We stopped at Gloria Ferrer Winery for their world-class sparkling wine and a delicious tasting.
With over 100 years of winemaking tradition, the Gloria Ferrer Caves Vineyards produce award-winning wines including their famous Brut Sparkling Wine which is made with Chardonnay grapes. The vineyard also features an amazing cave tour where visitors can experience how it feels to be underground while sipping on some amazing wine! Walk the grounds and take in the views.
Next, we headed to downtown Sonoma. A surprising amount of California's history takes place in Sonoma and there are a number of shops, restaurants, and historical places to see. In the early 1820s, Father Altimira, a Franciscan Missionary, commissioned the building of the 21st California mission.
A band of rebellious settlers raised the first flag for the California Republic, which lead, in part, to California becoming part of the United States. We wandered around Sonoma and took a tour of the Mission.
From here, we drove on to Sacramento and stayed here for the next few nights at the Embassy Suites in downtown Sacramento.
Day 3: Sacramento
Sacramento is the capital of California and the perfect base to explore the surrounding areas. You'll notice a juxtaposition of old and new. Sacramento is often called "The City of Trees" because of its many lovely parks with large sprawling oak trees.
Walk around the State Capital, meander the wooden boardwalks and "old timey" shops of downtown, and take in a museum.
I also think the Stanford Mansion is definitely worth a stop! Peruse this unique historic building, first constructed in 1856 which has become a centerpiece of history. The Stanford Mansion has been used as a private residence, a hospital for Union Civil War soldiers, and an orphanage for girls and boys. It also features one of the oldest playhouses in California- The California Theatre Company which is open to public tours Monday through Saturday from 12:00 PM to 4:00 PM.
For the afternoon we went to the California train museum and this was my favorite thing we did in Sacramento!
The Sacramento Railroad Museum features historic railroad equipment, locomotives, and rolling stock. The museum offers over 40 acres of rail yard space with the historic Southern Pacific Roundhouse. You can climb aboard the vintage locomotives, freight cars, and passenger cars. There's also displays chronicling the many contributions to California by the railroad industry. Complimentary tours are offered which I highly recommend to give you a better understanding just how much the train industry changed the landscape of the USA.
Despite the gold rush being a huge draw, California actually made more money exporting agriculture in one year than they did on gold in the previous decade! This is all thanks to the railroad industry! My favorite part of the museum was learning about how mail was once (wildly) picked up and delivered. Mail was picked up and dropped off from the train station platform by a moving train going 60 miles per hour!
We finished off the day by taking a train ride that included drinks. My suggestion is to skip the train ride, and after the museum and tour have dinner in downtown Sacramento.
Day 4: Sacramento, Lake Tahoe, Mammoth Lakes
We woke up bright and early and headed to Lake Tahoe! This has been on my bucket list for so long, and it did not disappoint!
Lake Tahoe is a large freshwater lake in the Sierra Nevada mountain range with incredible views all around the lake. The name "Tahoe" comes from a Native American word meaning "big water." It is the second deepest lake in North America after Crater Lake, and has an average depth of 1,645 feet!
Lake Tahoe offers all sorts of recreation opportunities year-round! There are over 50 miles of biking trails, plenty of beaches to enjoy, kayaking opportunities, fishing spots for beginners or experts alike, skiing at Heavenly Mountain Resort (the number one ski resort in California), and hiking options galore.
Two spots I recommend for scenic views are Tahoe East Shore Trail (this easy, interactive trail also offers information about the area) and Logan Shoals Viewpoint for picture-perfect views.
We spent most of the day here, then drove to Mammoth Lakes to spend a couple of nights! We stayed at Mammoth Mountain Inn the perfect place to explore the area with large, spacious rooms. The restaurant here is tasty as well.
If you have time, grab dinner in town at Mammoth Tavern or Mammoth Brewing Company. Just walking around the small village is fun as it's well lit up at night.
Day 5: Mammoth Lakes
Mammoth Lakes is a beautiful destination with natural hot springs, crystal clear lakes, and plenty of outdoor adventures.
If you're up for an early morning wonder, head to Brees Lookout. It felt like I was in Iceland or Norway upon gazing at the boiling hot spring that winds its way towards the mountains. This is a photographer's dream spot. The Hot Creek Geological site is a quick drive and easy path for views.
Bodie State Historic Park is a ghost town full of history. Bodie was once the richest gold mining region in California, yet today it stands nearly deserted with only a few residents remaining. The discovery of gold at Bodie State Historic Park led to rapid growth and prosperity for the community until 1876 when all activity ceased due to labor disputes and changes.
We ended the day with a hike 9,000 feet up to view the Minarets. The Minarets are a rock formation and all that remain after an ancient lava flow. These sawtooth mountains were created by the freezing and expanding of watered from rain and snow that seeps into the crack of the rock, gradually chipping it away forming jagged peaks. The Minarets were named for their resemblance to the spires of Muslim temples.
I suggest taking the hike around sunset for the best views.
Day 6: Mammoth Lakes, Yosemite National Park
Leaving Mammoth, it was time to go to Yosemite National Park! We spent 3 days here and this allowed us to see and do nearly everything Yosemite has to offer.
Getting into the park can often be challenging as lines can be quite long. Make sure you book a reservation ahead of time or, like I did, when you book with Globus you won't have to worry about making advanced reservations.
We entered via the scenic Tioga Pass Road, the highest road in California, reaching elevations of up to 10,000 feet! This is a 39 mile drive that takes you through many highlights of Yosemite.
Olmstead Point was our first stop with dramatic views. The classic scene gives you a glimpse of Half Dome, a large sloping rock face that seems shaped by hand. This is one of the most popular spots in all of Yosemite Valley for good reason! It's easy to get here – just follow signs on Highway 41 (the road that crosses through the park) or take shuttle buses YARTS which can be found at many points throughout the park. I recommend taking the short path to a paved walkway for an even better look at the mesmerizing landscape.
Tenaya Lake was our next stop along the Tioga Pass. I was surprised to find sandy shores of the lake, and couldn't resist dipping my toes in the clear water. You can even take a boat to explore the lake!
We rented bikes – in my opinion this is the best way to get around Yosemite, and explored the area. You can explore many of the meadows, waterfalls, and the Ahwahnee Lodge inside the park.
Michael actually came to the lodge as a kid and remembers this beautiful lodge and impressive dining room. We walked the grounds then hopped back on our bikes for some views of Half Dome from Swinging Bridge. This is a great place to see the rock formation in all its glory.
After our bike ride we went to another lovely photo spot at Valley View. This view gives an excellent vantage point to see Bridalveil Falls. Sometimes the falls will be dry, like it was for us, if you're visiting in summer.
Before heading back for the evening, we had one last look at Tunnel View. This is another of Yosemite's most popular spots. Here you can catch the whole sweep of Yosemite Valley, El Capitan, Half Dome, and Bridalveil Falls all in one view!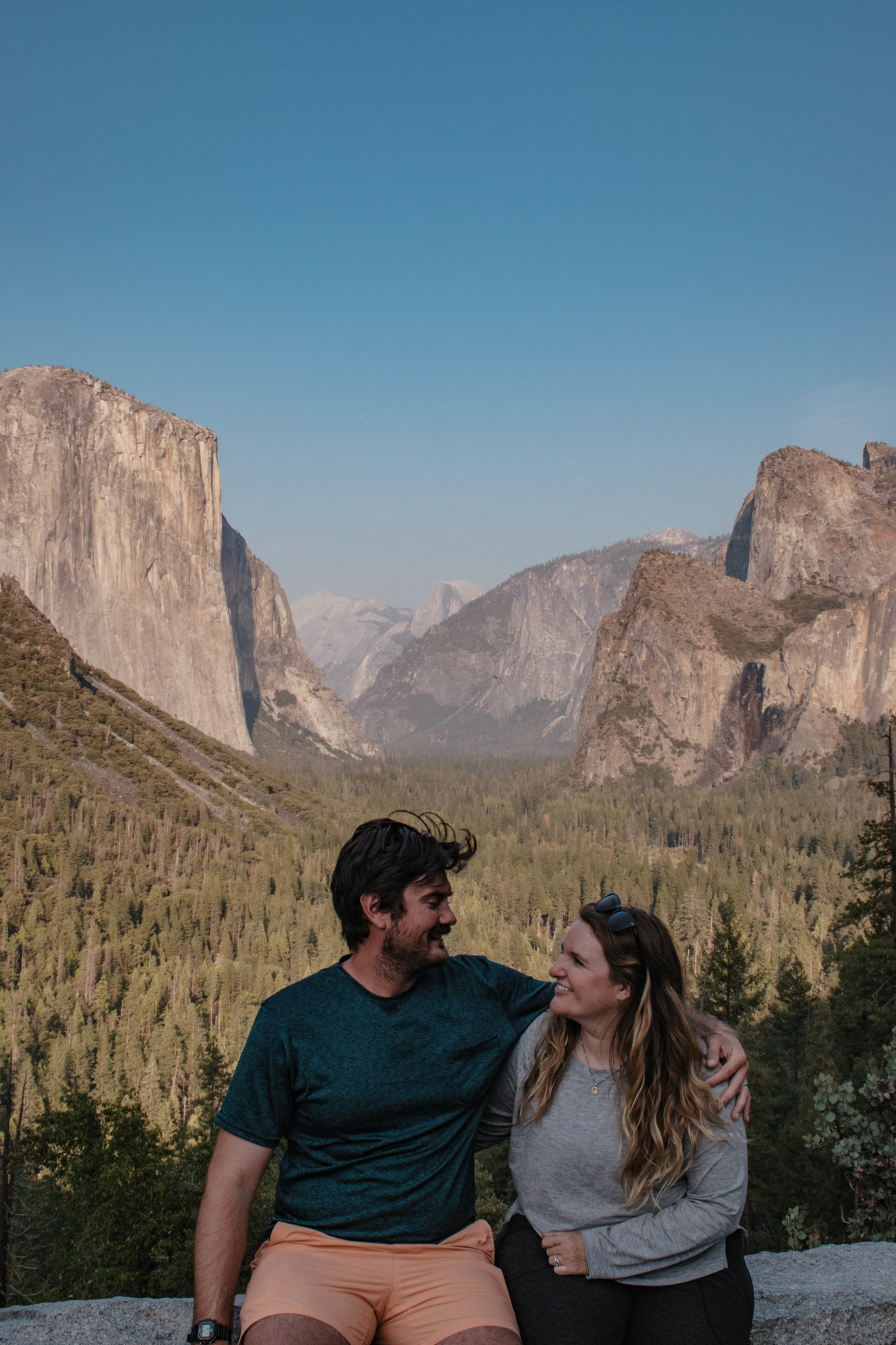 We stayed at Tenaya Lodge which is a lovely lodge about 45 minutes from Yosemite. The restaurants here are fantastic, there's a pool, and well equipped rooms.
Day 7: Yosemite National Park
After seeing some of the highlights of Yosemite, we took an Ansel Adams photography tour. I really can't recommend this enough! This was part of our tour options with Globus and gave me a whole other appreciation of Yosemite and photography itself.
The Ansel Adams photography tour was the highlight of our Yosemite experience. Adams's photos of Yosemite were famous worldwide and helped create Yosemite as a protected national park. The tour guide took us through Adams's process, told stories about his life, explained how he created some of his most famous photos, and gave us an opportunity to take pictures ourselves. If you're a photographer or just love art in general this is not something you want to miss!
You can also check out Ansel Adams's Gallery inside the park to see and learn even more.
We ended the day gazing up as rock climbers dared to scale up the sheer granite cliff-face of El Capitan. El Capitan is the most iconic and recognizable feature in Yosemite National Park. It has a distinctive shape that can be seen for miles around! The profile reminds me of a huge stone cathedral. El Capitan was named by geologist Joseph Le Conte after the word "El Capitán" which means "The Captain" in Spanish.
As you drive up to El Capitan, it looms larger and larger above you until it seems impossible that anything could ever scale such an enormous rock face! But climbers have found ways to conquer this seemingly un-climbable mountain. We grabbed binoculars and watched as climbers made their way up! Would you climb it?!
TIP: I recommend at least a few days at Yosemite because some days might be foggy, cloudy, or even smoky. If you're here during wildfire season it's important to keep that in mind!
Day 8: Yosemite National Park
Today we headed to Tuolumne Grove to see the incredible Sequoia Trees! Sequoias are the largest trees on earth, and can live for over 3000 years. These magnificent giants have been a symbol of strength and endurance for centuries. In fact, some Native Americans even believe that they were descended from them.
The sequoia is also one of the most resilient and adaptable species in existence. They've lived through changing climates, natural disasters like floods or fires, and periods where humans tried to cut down all their trees. The sequoia was pursued because it's so valuable as a lumber tree- it has long straight trunks which can be used to build houses or boats; plus its wood burns well without producing much smoke or ash.
Tulomne Grove has a sequoia grove with a path that leads you around to explore all around, and even through the trunk of one of the massive trees. The hike is approximately three miles and a bit of a steep climb uphill.
One thing to note was that both King's Canyon and Mariposa Grove were closed due to wildfires and others problems. It was SO NICE to book with Globus because they provided us other options. Otherwise I'm not sure what we would have done.
Day 9: Yosemite National Park Drive back to San Francisco
We wrapped up our last day in Yosemite by enjoying the beautiful Tenaya lodge and made the drive back to San Francisco.
Today was more of a travel day but if you have time, you can stop at the town of Mariposa. There's a history museum here as well as the California state Mining & Mineral Museum. The drive from Yosemite back to San Francisco takes about 4 hours and is very scenic with beautiful mountain roads and gorgeous Redwood trees.
I hope this 9 day northern California Itinerary helps you make the most of your time in California!
Globus also offers lots of other trip itineraries! Check it out, here!