Welcome to the ancient mysterious city of Petra in Jordan! For centuries, this city has been shrouded in mystery and intrigue, and it's easy to see why. From the impressive monuments to the winding canyons, Petra has something for everyone. Whether you're a frequent traveler, or just looking for an amazing adventure, Petra is a must-see destination.
In this guide, we'll show you all the best things to do in Petra, from exploring the ancient monuments to experiencing the local culture. We'll also provide our top tips on how to make the most of your visit, so you can have the best experience possible. So, let's get started!
As you wander through a deep narrow canyon for what seems like far too long, you'll suddenly hear a buzz of people. You'll turn, and there stands a piece of history: the ancient city of Petra. Shrouded in mystery and intrigue, Petra has to be seen to be believed. This comprehensive guide to Petra in Jordan, will show you how to get there, what to see, what to do, and how to make the most of your visit.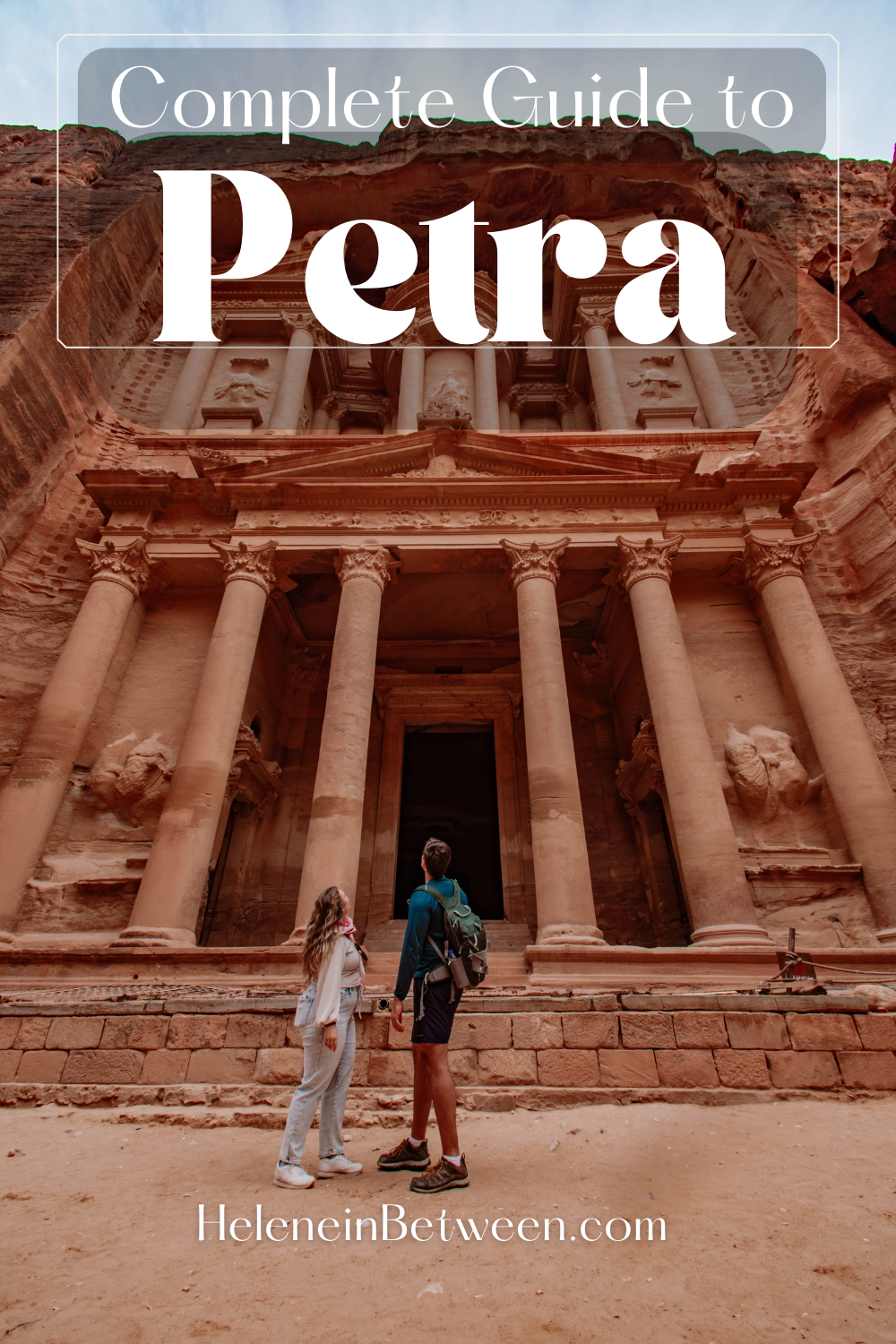 The ancient city of Petra is one of the most popular tourist destinations in Jordan. Located about two hours from the capital city of Amman, Petra is a UNESCO World Heritage Site that is known for its rock-cut architecture and stunning scenery.
More than 500,000 tourists visit "The Lost City" of Petra each year, and it is one of the new Seven Wonders of the World. If you are planning a trip to Petra, here is everything you need to know!
Since the early 1900s there have been ongoing excavations of Petra with over 800 monuments found. But archaeologists are just scratching the surface with MUCH more to discover.
I toured Petra with Globus Escapes and this gave me the most well rounded experience possible. I highly recommend it! More information below! Also, if you're looking for a full guide to Jordan, check out my full itinerary here.
Seeing Petra should absolutely on your bucket list. This awe-inspiring place will give you so much inspiration. Not to mention… great Instagram shots. Here's your full guide with everything you need to know along with the history of Petra.
How to get to Petra :
There are a few different ways to get to Petra. The easiest way is to fly into the Queen Alia International Airport in Amman and then take drive to Petra.
I recommend taking a tour! This ensures that you beat the crowds and get the best possible views as well as information on this incredible place.
The best way to see Petra is with a guided tour. There are many different tours available, but I recommend opting for a small group tour so that you can get a more intimate experience. I toured Jordan for a week with Globus, you can see my entire guide here.
My experience in Petra with Globus was solidified when I realized just how much more we saw and learned! We actually snuck up the back entrance which meant almost no crowds and plenty of beautiful sites. Your tour with Globus includes round-trip transportation from Amman, your beautiful hotel (we stayed right by the entrance), a professional guide, and entrance fees to the archaeological site.
How long to spend in Petra
You'll need at least one full day here to enjoy and relish in the history and awe-inspiring architecture. If you want to explore every nook and cranny of Petra, and to see Little Petra as well, at least two days is ideal.
I recommend getting there as early as possible on the first day so that you can avoid the crowds. You'll want to leave time to see Petra during the day, and to go back for Petra by Night.
What to bring to Petra
I recommend you wear hiking boots or tennis shoes, lightweight clothing, and don't forget a hat, sunscreen and plenty of water.
You will be doing a lot of walking, so comfortable shoes are a must. The average temperature in Petra is around 20-25 degrees Celsius (68-77 Fahrenheit), but it can get much hotter during the day, so lightweight clothing is best.
I also recommend bringing a hat and sunscreen, as there is little to no shade.
There are restaurants and shops along the way selling food so no need to stock up too much but I brought along some Cliff bars as well.
If you're interested in a guide for what to wear in the Middle East, check out this post.
History of Petra
Petra is known as the "Lost City" since, for hundreds of years it lay undiscovered. It's also known as "The Rose City" because of the intricate stone carving in the rose-colored sand stone.
The city of Petra is believed to have been settled as early as the 4th century BCE, making it one of the oldest cities in the world. It wasn't until the late 6th century BCE that the Nabataeans made Petra their capital. The Nabataeans carved their homes and temples into the red sandstone cliffs.
The city of Petra flourished under Nabataean rule, as it was located on the major trade routes of the region. The Nabataeans were also expert irrigators, and they created a complex system of dams and canals to bring water to the city. You can still see the remains of the water pipes – truly incredible! The people of Petra charged a tax for those who passed through and became very wealthy.
The Roman Empire annexed Petra in 106 CE, and the city continued to prosper during Roman rule. However, after the decline of the Roman Empire, Petra fell into obscurity and was eventually abandoned.
It wasn't until 1812 that Petra was rediscovered by a Swiss explorer named Johann Ludwig Burckhardt. Since then, the city has undergone extensive excavations and it is now one of the most popular tourist destinations in the world.
Traveling to Petra, I was amazed by the magnificent structures and history of this ancient city. The site is truly one of the planet's marvels, with its beautiful stone temples and tombs remaining intact for millennia. Indiana Jones and the Last Crusade was filmed here, and it's easy to see why this area was picked!
Getting in and out of Petra (Pro Tips!)
Going to Petra is definitely a hike! There are two ways to enter Petra:
The front entrance – about 3 miles to get to the Treasury + more to see the sites
The Back Entrance – 9 miles total – a longer hike but an incredible way to see Petra
The Siq is a tiny crack in the sandstone that's bordered by walls that soar hundreds of feet into the sky. As you walk through this mystifying corridor, you'll be filled with excitement about what lies ahead.
When you finally catch your first glimpse of the Treasury, (aka Al Khazneh) it takes your breath away. The Al Khazneh is an incredible feat of engineering, and it's no wonder that it's one of the most photographed buildings in Petra.
Or, you can take the back entrance. It's a longer hike of 9 miles but it gives you an incredible view of Petra and the land surrounding it as well as the Monastery with no tourists! Our Globus guide offered us this option and it was incredible to see Petra without the crowds.
If you're tired after seeing the sights and don't want to walk a few miles back, there are options of getting back: camels, donkeys, horses, and even golf carts. They might tell you that it's free, or included in your ticket price, it is not. They expect a tip. But if you're tired, this is definitely an option.
What to see in Petra
The most famous site in Petra is Al Khazneh, also known as the Treasury. This magnificent temple was carved into the sandstone cliff in the 1st century CE, and it's one of the most well-preserved buildings in Petra.
Other must-see sites in Petra include the Monastery, a large temple complex that's located at the top of a 800-step staircase; and the High Place of Sacrifice, an ancient sacrificial altar with stunning views of the surrounding desert.
There are also many less-known sites to explore in Petra, such as the Roman amphitheater, the royal tombs, and the street of facades. No matter what you choose to see in Petra, you're sure to be amazed by this ancient city.
If you want the "Instagram shot" head to "The Best World View" tent at the top of the Al-Khubtha Trail. It's a hike to get up here but an amazing view point.
Our Globus guide really brought the experience to life and told us so many stories and interesting facts they've uncovered over the years.
Petra by Night
White paper bags filled with sand and candles are the only sources of light that warm the red stone walls. As you meander down the narrow gorge the bright stars above you beckon you down to the music.
One of the best ways to experience Petra is to visit at night. Every night, there's a light and sound show that illuminates the Treasury and tells the story of Petra's history.
From the visitor center to the Treasury, more than 1,000 candles illuminate the path. The Treasury is lit up as the Bedouins play music for around 40 minutes before telling a brief history of Petra's development.
After the light show, you have the option to walk back or take a donkey ride. We opted to walk and it was such a magical experience strolling through Petra under the stars.
Visitor's Center and Museum
Between going to Petra during the day and Petra by Night, you can spend some time in the Visitor's Center. The Visitor's Center is where you'll buy your tickets, and it's also home to a small museum with some interesting artifacts from Petra's history.
The museum has three main sections: the history of Petra, the Nabataeans, and a section on recent excavations. The History of Petra section has information on how the city was built, and the Nabataean section has information on the people who lived there.
The most interesting part of the museum is the section on recent excavations. This section has some of the artifacts that were found during digging, and it's fascinating to see what they've uncovered.
Best Time to Visit Petra
Petra is open all year, although the season for tourism to the region is spring and fall, when temperatures are pleasant. Summertime might be unbearably hot, and January and February are the chilliest months, with occasionally rain. The high elevation of 3,000 feet makes it chilly at night, so bring a sweater regardless of the time of year.
Where to Stay in Petra (Wadi Musa)
The best place to stay in Wadi Musa is near the entrance of Petra! That way, you can walk to the site early in the morning and avoid the heat and crowds.
I recommend Movenpick Resort Petra. It's a hike to get to Petra and this hotel is quite literally as close as you can get! This 5-star hotel is right by the Petra Visitor Center and Museum and is the perfect place to wake up, beat the crowd and head to the sight.
The buffet breakfast was particularly good and the interior of the hotel feels like a luxurious spa. Marble floors and delicate inlaid fixtures made for a beautiful place to rest.
Know Before You Go to Petra
Petra opens at 6 am and visitors are asked to leave right after sunset. Petra by Night begins at 8:30 pm and ends at 10 pm.
I cannot stress this enough. Petra opens at 6 am and the crowds are so much smaller in the morning. Not only will you avoid the heat, but you'll also avoid the crowds.
Petra Entrance Fees
1-day pass: 50 JOD per person or 90 JOD if not staying in Wadi Musa
2-day pass: 55 JOD per person
3-day pass: 60 JOD per person
Petra by Night: 17 JOD per person
With these prices I highly recommend you go with a guide!
Little Petra
If you have extra time in Petra check out "Little Petra" also known as Siq al-Barid. It's an archaeological site located north of Petra and the town of Wadi Musa with smaller versions of buildings carved into sandstone. It's a smaller site, but it's equally as beautiful and has a lot of the same features as Petra.
Little Petra is about 30 minutes from Wadi Musa by car, and it's a great place to explore if you have an extra day.
See my full guide to Jordan here!
Going to Petra should be on everyone's bucket list. It's an incredible archaeological site with so much history. Petra is a must-see when visiting Jordan! Going with a Globus is absolutely the way to go! Check out Globus Escapes right here! Find competitive pricing, great guides, excellent hotels, and the perfect way to explore!
Petra is a stunning archaeological site that should not be missed on a visit to Jordan! It's best to plan ahead and aim to arrive early to avoid the heat and the crowds. With its beautiful carvings, stunning views, and breathtaking architecture, Petra will no doubt leave you in awe. Don't forget to check out Little Petra for a smaller but equally enchanting experience. Have a great time exploring Jordan's archaeological wonderland!
This post is in collaboration with Globus, but all opinions are my own.