Every time I tell someone I'm moving back to America from Germany I feel myself having to quickly explain and defend my decision. Most people seem surprised, as if my plan to move abroad has faltered. As if I've failed my life in Germany and am moving home defeated. But this can't be farther from the truth. I want to move back home. In fact, it's all part of the plan.
Of course, I'm a ball of emotions. In some ways I'm overjoyed. I get to move back into my 3-bedroom house with a yard. My friends and family are much closer, many of them down the street. And I'll have the familiarity of Texas and the comforts of home.
But in other ways I'm sad. I won't have the opportunity jet set off to Copenhagen or take a 3-hour train ride to Paris. I won't be able to walk to a market or restaurant or the 8 bakeries in my neighborhood. I won't walk out my door to see a castle or hear a variety of languages.
The fact is, moving back to America is my next step. Change is hard, especially for me, but it's also a good thing. Here's a brief look at our planned timeline, which we are following almost to a T:
Decide we wanted to live abroad – 2014
Moved to Nashville for a year to test it out – 2015
Move abroad to Heidelberg, Germany for 2-3 years – 2016- 2019
Of course, not everything went smoothly, although the bulleted list might make you think otherwise. After moving to Nashville, we spent a lot of time deciding where to live in Europe. Moving meant weeks of staying in a hotel. We went through a terribly difficult visa process. In that, we got denied. You can see our whole timeline and process of moving abroad here. Despite the roller-coaster ride of moving abroad to a country we'd never been to before, we knew two years here wouldn't cut it. We needed three. And man, we were going to see all of Europe in 3 years.
We won't.
But I've been to places I never in my wildest dreams thought I would go.
I've learned I really love the less crowded, less "Instagrammable" places. The small town of Rouen, France took my breath away. The milky blue water in the rivers near Lake Bled, Slovenia were much prettier than the better known lake. Waking up in a van in Iceland with no one around for miles was one of the happiest mornings of my life.
Heidelberg, Germany was absolutely the best choice of place for us in Europe. Sure, there were some ups and downs, but given all my travels, Heidelberg still feels like home. It's an absolute gem of a city that I'm already starting to feel nostalgic about.
When I tell people that I'm moving back they look at me with pity in their eyes. As if to say my adventures are over. And maybe they are abroad. For now. But the plan for America is one I look forward to.
Our Next Steps
In August of 2019, we will pack up our things, and our dogs, and head to our home in Dallas, Texas. We've been fortunate enough to have the same renters since we lived in Nashville. So we'll be kicking them out (their lease is ending). Since we sold most of our belongings before moving abroad we'll be refurnishing our home
We have yet to decide whether we will be packing up the same two suitcases we left with, or bringing a few extra home.
When we do move back, we have big plans: we want to see America. Our three-year stint in Europe has made us realize something; we actually haven't seen much of America. I've never even been to New York. Or Vermont. It's been almost 20 years since I've been to the capital, Washington, D.C.
Our plan is to buy a car and tow a trailer to road trip through the states.
Michael and I will continue to work on the blog together. What started as a side hobby 7 years ago after breaking my ankle has now become both of our incomes. Working with my husband full-time was a scary leap, but it's proved to be extremely worthwhile.
The blog will still focus on exactly the same things as before: travel, blogging, social media, and some lifestyle pieces.
But before that, we are taking a bit of a break.
For the past two years we've been traveling what feels like non-stop. So much so, I don't even think about a trip until a day or two before. Sometimes not until I'm on the plane. From May until October I was home for about 7 full days. It might sound like fun, and it is, but it's exhausting. I felt like I was a combination washer and dryer, everyday rinse and repeat of a new place with the urge to see and do it all.
For six months we plan on staying put and enjoy being home. And I hope to write a book.
My whole life I've wanted to write a fiction novel but there never seems to be enough time. I know, lame excuse. But being settled at home will mean I can concentrate on writing without the distractions of Europe outside my door.
I have to thank Michael especially for this. He is, by far, the most supportive person when it comes to my dreams. It's why this blog and move are possible. If he sets his mind to something, he goes for it, and the same goes for my goals. He is the one to encourage my passion for writing.
What I Fear
I always picture my life a bit like a novel. It's probably because I've always been a bit dreamy. I used to climb up my wooden swing set as a kid and pretend to be a princess. I haven't changed much since. I think the main villain in my story has always been fear, especially of the unknown. I always distress over change. I like things the way they are and coil away from even something as simple as a new addition.
I remember when my Mom replaced the front doors of the house. They were always red. She changed them to be more rustic chic, white doors with pastel paintings. I hated them. It wasn't that I didn't like the rustic chic look. I just wanted them to be red. I had my first kiss outside those red doors. Michael proposed outside those red doors.
This is what I fear about moving home. That I will come back and everything will be different. When I moved most of my friends had a kid or got married. All in the past 3 years. I worry that I will come back and I won't fit anymore. Some of this is true, life will be different. But I'll have to figure out how to fit again.
When I went home to visit in March things were different. Yet, they were the same. It's as if conversations were picked up right where they left off.
I think part of why we moved abroad was, of course, to travel and see Europe. But another aspect was to try a new way of living. To see what else is out there. And it's helped me see the things that I so often take for granted. I hope to come home with a new sense of appreciation of what I have and how lucky I am.
What I'll Miss
I've written before about what I hate about living abroad. This post was met with, not unexpectedly, some harsh feedback. But sometimes you have to get things off your chest to free yourself of stress. I still do feel that living abroad is very hard. It's also very different from living in America. Sometimes the world can feel so globalized, this move has taught me that places are still unique.
I will miss so much about living abroad. I will miss the charm of Europe and the ancient, cobblestone streets that each have a story to tell. I'll miss the delicious and cheap food and wine in Germany. I'll miss walking to the market to get the best cheese in the world, Galet de Lorie, that comes straight from France. I will especially miss the butcher that we chat with every time we go.
I'll miss walking to the restaurant and having a wonderful meal, then sleepily walking home.
I'll miss taking the dogs just ten minutes down the road to go hiking. I'll miss watching the seasons change. I'll miss the extremely cheap gelato.
I will, of course, miss the ease of travel in Europe. I live nearby Frankfurt and can hop on a flight to almost anywhere in the world. I'll also miss the ease of valet parking my car at the airport for a relatively inexpensive price. I also won't have the train or tram system that can take me anywhere I choose. Living in Europe has made it easy and affordable to travel.
I will miss the incredible Christmas season in Europe. Germany, France, Switzerland, and Austria transform themselves into actual gingerbread towns selling hot wine and divine food. There's just something special about spending Christmas here. When I first moved abroad I was fraught with worry that Christmas here just wouldn't be the same. And, of course, it wasn't. But it's been a magical time that I feel so fortunate to have the privilege of living abroad.
There are a million more things that I'll miss, but also so many things I can't wait to do in the U.S. For someone that despises change, I'm learning to embrace it and that you can actually find comfort in it.
There's more to discover
I still can't believe I am moving back home in August. Thinking about it brings tears to my eyes. Happy ones, because this has been such an incredible experience. But I know there are many more that await. I constantly feel anxious about my limited time here. I want to savor every moment and go out to explore all I haven't yet. I want to re-walk the streets and go to my favorite spots. But I also want to write it all down. I want to not forget these moments.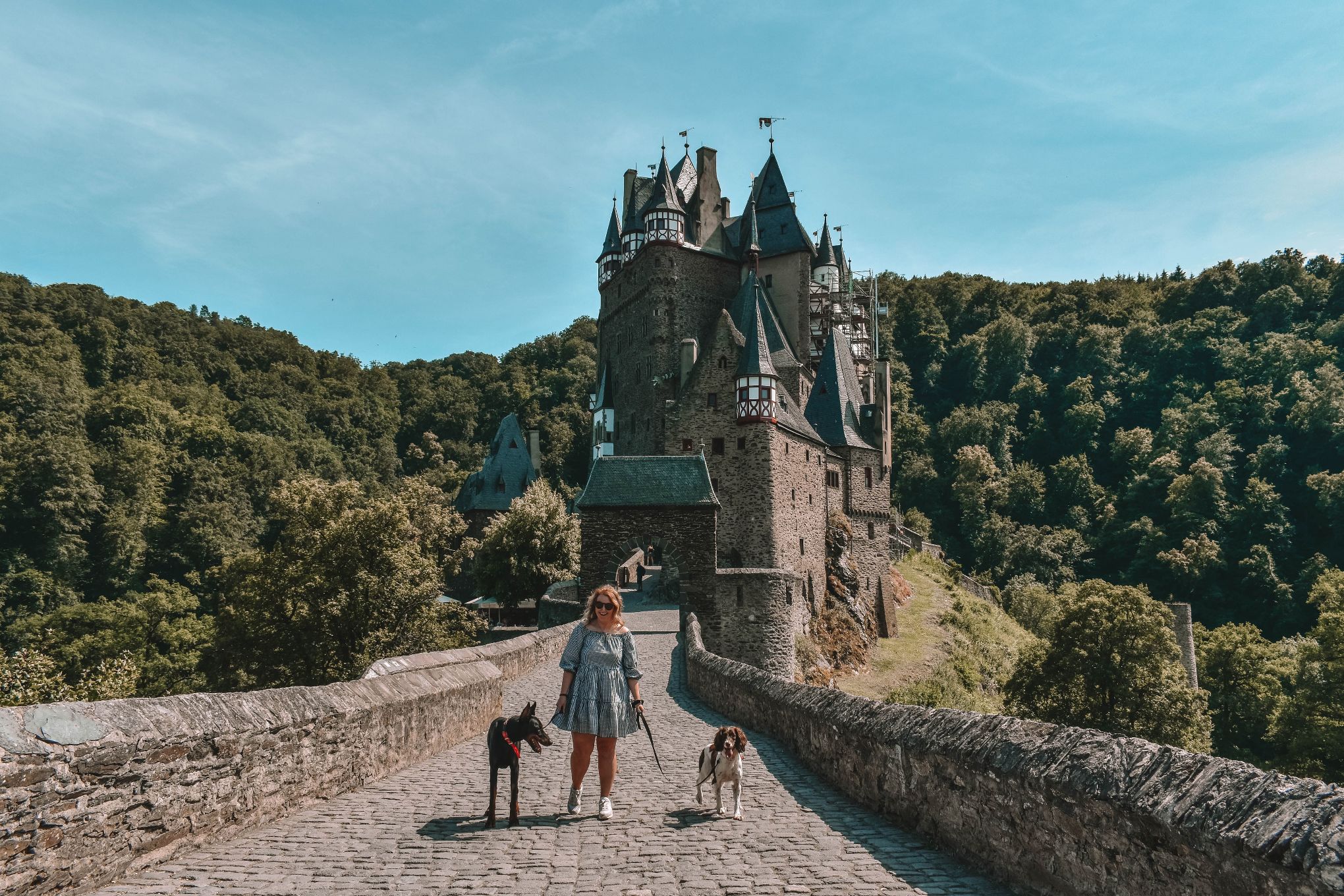 It's as if I'm a rubber-band pulled in two directions, ready to snap. But regardless of what geographical canvass I live my life in, one thing is constant – I will always have these memories.
This is 100% my decision and part of the plan. I'm nervous but excited to have this new change in my life. I know that I will be leaving a part of myself in Germany. I know some days I will want to come back and laugh at myself for ever despising the grocery store check out when there's a castle outside my window. But I know that there are other things to look forward to. There are more adventures to come.
Read more:
What I Hate About Living Abroad
How We Saved Money To Move Abroad
You Can Sleep When You're Dead
The Ultimate Guide to Traveling with Dogs
10 Things No One Tells You When You Drop Everything and Move Across the World