We got married on a perfect day at the end of April. I knew Michael was so right for me, I wasn't even questioning it. In fact, I knew that we would get married when I went on a family trip to San Antonio and he called me to let me know that he'd accepted a scholarship at Texas A&M for the Corps (a military organization). He asked me what I thought and told him to go for it, just as long as he didn't have to commit to being in the military.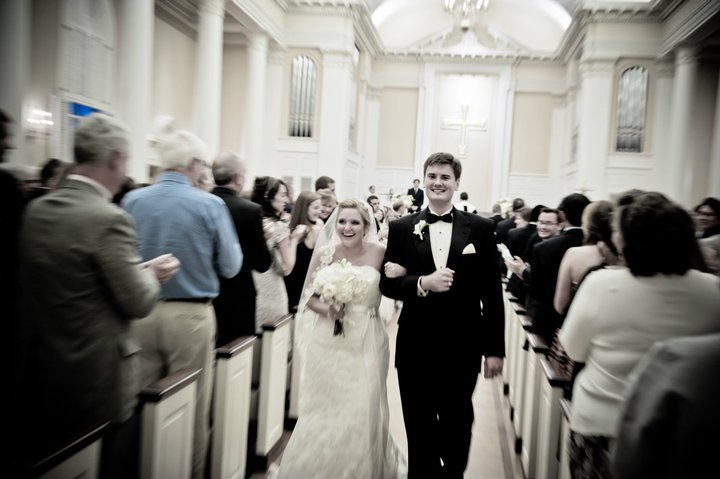 He replied with, "Yes, I don't think I'd want to live that life either." We were 18 and I knew that we'd get married, one day. Just so you get the picture, I was talking on my blue Nokia phone (you know, the ones that had "snake" game) and most definitely wearing my lace up Abercrombie & Fitch jean skirt.
Flash forward to 6 years later. We stood in front of over 300 people in a church in Dallas and said, "I do."
As for the wedding, I wanted it simple. Actually, I don't really know what the hell I was doing. I was 24 years old. I had only been to a handful of weddings before, and none of my close friends had ever gotten married. So I was kind of clueless. I imagined wedding planning like in the movies, Father of the Bride style.
I remember my mom and I spent hours looking at wedding invitation colors. (If you're familiar with the movie American Psycho where they are talking about business card colors, it was something like that.) We went outside in the yard to compare and contrast different shades of white while Michael and my Dad stayed inside, watching us from the windows. We were honestly having fun. Neither of us really knew what we were doing.
To me, being engaged is one of the most fun times in your life. We took dancing lessons and I vividly remember practicing out in the shared, carpeted hallway. We blasted, "It Had to Be You" as he twirled me around. People watched us and I just never cared at all.
Michael and I picked out wedding invitations on Cinco de Mayo. I know it was Cinco de Mayo because my apartment complex was throwing a party and he got wasted on Sangria, then tried to pick out invites but he couldn't stop giggling looking at them. That's when I decided my Mom and I were better at this stuff anyway.
We took the ugliest engagement photos in the world. Just. so. staged. I love them. I wore a cheap dress from Forever 21 because I panicked and didn't know what to wear. Cool.
My bridesmaid Christina came over weekly so we could hand-stamp over 1,000 coasters that said "Michael & Helene April 30, 2011 Eat, Drink, and be Married." These were the party favors that were never handed out. More on that below. But bless her heart for coming over and drinking wine with me.
I went wedding dress shopping 4 times. First with just my Mom, twice with my mom, Michael's Mom and grandmother, and the last time with just my Mom. I think weddings are also a particularly fun time with moms and daughters.
The day wasn't a blur until it got to the reception.
I remember VERY clearly getting my makeup done in the hotel, then rubbing some of the eye makeup off in the lobby because I worried it looked too dark.
I know that when Michael was getting ready they were drinking heavily and listening to electronic music.
As we headed over to the church it started lightly raining outside. I looked over at my Dad, my eyes wide. He knew exactly what I was thinking and said, "Rain is good luck." It misted for only a short time and then a beautiful sky broke through.
My Mom could see that I was starting to get nervous when we were in the bride's room of the church. I could hear the footsteps and chatter of the hundreds of people making their way inside the church. I wasn't nervous to get married. That part had been written in my heart, as sappy as that sounds, a long time ago. But a wedding is such an oddity. It's a party for the two of you, to show that: Hey look! We are going to stick together for the rest of our lives, cool? Y'all are our witness in love and dance and cake. Or something like that.
I was nervous because I wanted it to be unforgettable. I wanted it to live up to my dreams.
My Mom, as the wisest person I know, helped lace up my dress and looked at me square in the eye, "You'll be on the dance floor soon, Lee Lee." (My nick name is Lee Lee). "And you know that's where you thrive."
I gathered myself on the steps leading up to the church and felt a wave of happiness.
My Dad walked me down the aisle to the traditional wedding song. My Dad is a crier and so am I. But we both held it together as we sauntered down the aisle. I felt more like he was just proud and happy. I love Michael to death but man does my Dad love him. He's the son he never had.
The ceremony was traditional Catholic one. An hour with a traditional mass. Maybe I'm wrong but it seemed like everyone enjoyed it. The priest spent the homily talking all about our 6 year old relationship and even some jokes that the audience understood. I know many complain that people might get bored but really, it's a wedding and I think you should do whatever YOU want. It was really important for both of our families that we were married the traditional catholic way and looking back I really enjoyed it.
We said "I do" and then it was time to party. I didn't care about food or formalities. I wanted to get on the dance floor ASAP. And so we did. Family pictures were rushed, I was just over it. I needed to dance.
My family likes to party, so we were all ready to get down.
Michael and I had our first dance to Harry Connick Jr's Version of "It Had to Be You," Michael and his mom danced to El Divo (I can't remember the song, but I remember Michael not liking the song but going with it anyway since his mom was keen on hearing it.) Then my Dad and I danced to "My Girl." Dad stole the show. He's a ham.
We lost Michael's mom this past year after a very rough battle with lymphatic breast cancer. She hold such a place in my heart and his and life isn't the same without her.
Michael's brother gave his best man speech. But my sisters cracked up the crowd with the greatest line ever, "Well Helene, Michael was the best you could do." Everyone laughed. I cried. Just kidding, it's a fact.
They are just the cutest humans.
We did all the traditional stuff: bouquet toss, garter toss, cake in the face…
As the night moved on, they changed the lights to what my aunt called, "club lights" and Michael gave a quick speech that went like this, "We love you all, thanks for being here, but Helene and I will be on the dance floor." That right there is a good man to marry. Don't worry about being with someone who's the smartest, funniest, cutest, get you a guy that knows what's really important to you in life and then makes it happen. Although for me, he is all of the above.
My parents are the best couple ever. They are my favorite couple to this day.
The thing I was most concerned about was the music. I picked out every single song. Michael and I actually had 3 dances. A first, a last, and a one without anyone there. I highly recommend doing this. The last was Etta James' "At Last." The one with just us two was played while everyone went and lined up outside, so they could toss rose petals. We played our song, Peter Gabriel's "In Your Eyes" a song that had a lot of meaning to us. Getting to dance just the two of us was the perfect way to end the night.
We danced and I teared up and then we said goodbye.
Except we didn't. The hotel across the street stayed open late so all the "young people" went across the street to drink and dance. One of my girlfriends came up to me with a huge bag of the coasters I had worked so tirelessly on. They got stuck under the table, and here's why. One girl got very drunk and her dress ended up falling down on one side. My sweet Mom helped her tie it back up so she wouldn't expose her boob again. When my Mom had finished, the same girl knocked her wine on the table where to favors were. The staff cleaned it up and moved the coasters out of the way and under the table.
But I knew it had been a good time, that solidified it.
To this day, the only people who ever have coasters are my friends. And me. I still have about 100.
It still remains one of the best days of my life and blogging about it lets me relive it all over again.