New England is a dream come true. But where is the best place for Fall Foliage? Where do the leaves pop in color? And how can you plan the perfect New England road trip for Leaf Peeping?! This is your guide to planning the perfect New England Fall Road Trip and Itinerary for the best spots!
The Northeast USA is the best place for foliage in the world. I go every single year- I truly cannot get enough. And the bets way to see the foliage is with a New England Fall road trip! My Fall foliage road trip guide is tried and tested! I meticulously planned this guide just for you!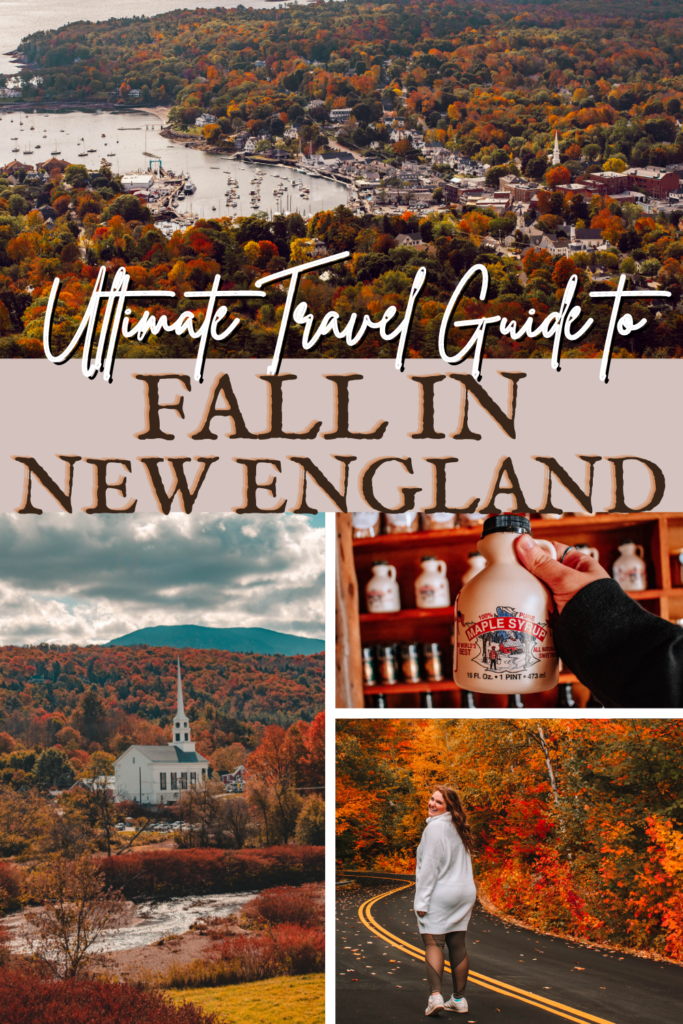 This is a bucket list trip, and whether you spend 2, 3, or 5 days or 1-2 weeks, you'll have a great time! We spent 2 weeks in the Northeast, and I can accurately create a perfect itinerary for you!
I'll admit it: I thought the glossy photos online and on Instagram of New England's hillsides were fake. Certainly, those bright yellow and orange and red trees were color enhanced? And, could that stark white barn strewn with pumpkins really be that cute. Turns out the answer is YES. New England is a magical wonderland for your senses and even better in person.
READ MORE: One Week Fall Foliage Itinerary
I've traveled a good bit and I can safely say that this is one of the most gorgeous places I've ever been to in my life. The beautiful fall foliage drives, the rolling hills speckled with fruity pebble colored trees, hiking trails filled with peak fall colors. The creamy corals, vibrant reds, brilliant yellows, and shocking oranges were truly like stepping into a painting. After the heat of summer and before the Christmas craze, autumn is that perfect mix of a fresh start and the crisp air renews that feeling of excitement and wonder.
Of course, the beauty of heading to New England in the Fall for a road trip isn't just the leaf peeping. Although that's a highlight, there are so many things to do. Apple and pumpkin picking, apple cider donuts, maple treats, hiking, Fall festivals, and more! There are so many beautiful places to see and stay, I honestly want to do this trip every year. It's that amazing.
This guide to New England's Fall gives you everything you need to plan a perfect trip!
New England Fall Road Trip Itinerary at a glance: 3 day, 7 day, 10 day, and 2 week long itinerary for Fall Foliage in New England
If you're want a quick overview for the best New England road trip here are some options. Truly, the best way to experience the incredible foliage is with a New England Fall Road trip! Below, I'll go into detail for my suggest New England fall road trip itinerary.
Long weekend New England Fall Road Trip Itinerary:
If you only have three days to experience peak Fall foliage in New England I suggest focusing on two states: Vermont and New Hampshire. I love Maine (and Acadia National Park). I adore Connecticut and their amazing farm stands. Rhode Island is also so much fun. BUT if you're short on time, stick to Vermont and New Hampshire.
Day 1: Fly in to Boston and head north to the White Mountains of New Hampshire. Explore the Kancamagus Highway and Franconia Notch State Park. If you want, you can either venture further north. Let's say the leaves aren't quite at peak, then go north. I recommend the epic Dixville Notch and the town of Jackson. If they are, stay closer to the middle of the state. Take a train ride in Conway, New Hampshire. End your day there, or head over to Stowe.
Pictured above is Dixville Notch, specifically the area of Colebrook along Lake Gloriette. This is an abandoned resort called "The Balsams." Our mouths dropped open when we saw the incredible Fall colors here.
Day 2: On today's fall road trip itinerary, head to Stowe, Vermont. This is one of my personal favorite towns. Go to Cold Hollow Cider, explore the many hikes, and check out the Von Trapp Family Lodge. No fall road road trip is complete without a foliage drive through Smugglers Notch! There are so many towns to stop in on your fall foliage road trip: Weston, Waterbury, Montpelier, and Waitsfield.
Day 3: Head to the gorgeous town of Woodstock – it looks like Gilmore Girls come to life! If you have time explore some more cute towns and take a hike to see more foliage. From here, you can go back to Boston with a stop in Salem! If you love witch history, try to spend the day here.
One week New England Fall Road Trip Itinerary:
I have a complete guide for a 7 day fall foliage road trip in the Northeast right here! But here's a glance at what I suggest!
Day 1: Boston, Massachusetts > White Mountains, New Hampshire
Kick off your New England Fall Road trip by heading up to New Hampshire's White Mountains. After going very year, this is truly the best spot to see peak fall foliage (if you time it right)! The rolling hills you'll see on your Fall road trip are absolutely breathtaking.
Day 2: Kancamagus Highway & Mount Washington, New Hampshire
Drive the Kancamagus Highway, see more of New Hampshire, stop at Silver Cascde, and take some hikes around this area. I love just pulling off the side of the road and seeing amazing colors!
Day 3: Franconia Notch, New Hampshire > Montpelier, Vermont
Explore Franconia Notch State park – sincerely a beautiful place to spend all day. There are many hiking trails around Franconia Notch State Park and it's easy to find hiking and walking paths along the way for your New England Road trip.
Then we'll venture over to the Green Mountain State, Vermont, full of some of the most beautiful places to explore for the Fall Season.
Day 4: Smuggler's Notch & Von Trapp House, Vermont
The hills are alive, in new England! Drive the winding road for more fall foliage in New England. Stop at the Von Trapp House – from the sound of music.
Pictured above is a pumpkin patch near the town of Stowe.
Day 5: Stowe, Vermont
Visit the town of Stowe, go to Cold Hollow Cider, and take a break on your Fall Foliage road trip to explore this picturesque town. A great place to stay is the Stowe Mountain resport.
Day 6: Manchester, Vermont
Explore the historic town of Manchester, see more fall foliage, and take in some of the covered bridges in the area for even more leaf peeping.
Day 7: The Berkshires > Boston, Massachusetts
For day 7 of your New England Fall fall road trip itinerary, head Massachusetts, to the Berkshires. I love this fairytale area to explore!
10 days to 2 Weeks New England Fall Road Trip Itinerary:
If you have more than one week for your New England fall road trip then I've got you! I'll cover this all in detail below but depending on the foliage, I recommend adding on a state (or two!) to your New England fall foliage road trip itinerary. If you have a few more days you might want to explore Rhode Island or Connecticut. Or, honestly, both. They are both small so it's easy to see both. Or, you can add on Maine! Head up to Acadia National park and visit Bar Harbor too for even more foliage. I love going up the East Coast and stopping for leaf peeping, pumpkin patches, apple picking, and adorable farms.
Pictured above is a delicious Maple creemee from the Eldridge family sugar house in New Hampshire, near the town of Tamworth.
Don't miss a THING on your New England Fall Road trip! Get my map here.
This guide goes in detail on how to see the best fall colors in New England for your road trip! There truly is so much beautiful fall and opportunities for leap peeping!
To me, this is one of the best road trips in the USA and the fall colors on this New England fall road trip itinerary will guarantee you see some the most amazing places. The vibrant fall foliage in New England is absolutely breathtaking.
When is the best time to see the leaves in New England?
When planning our New England road trip, we knew we wanted to see as many of the leaves at their peak time as possible. My husband Michael did tons of research on this. He looked into when is the best time to see the leaves, the colors, the places to go, and so much more.
There are so many factors that affect the color: rain, wind, temperature, etc. And that's not just current, but the entire year can affect the color. For example, the brilliant reds we saw occurred because of a particularly dry year. The drought seemed to bring on more saturated colors.
But with all that said the best place in New England for Fall Foliage (for us, this is subjective!) has got to be Conway, New Hampshire. We spent a couple of days here and enjoyed every second. We took a scenic train ride and then drove the beautiful Kancamagus. The Kancamagus drive is about 35 miles and has tons of stops along the way. It's so scenic and beautiful and is well worth the drive.
Pictured above is the Kancamagus highway in New Hampshire.
Your best bet overall for stunning fall foliage on your road trip is to visit late September through mid October. HOWEVER, this can change every year. To ensure you get the most out of your New England fall foliage adventure, it's important to pay attention to the weather and be flexible. This is why I always recommend renting a car and making your New England fall road trip open-ended so you can see the peak foliage and fall colors. Regardless, a fall road trip is one of the best trips you'll take!
Let's talk about how you can ensure you can see the leaves!
First, foliage colors and timelines can range from year to year. So keep that in mind when planning your trip. Peak fall foliage in New England starts in the north and works its way down south. So if you're earlier in the season, the farther north you'll start, or later in the season, you'll go further south. Meaning leaves start to change first in Maine, New Hampshire, and Vermont, then in Rhode Island, Massachusetts, New York, and Connecticut.
We started more in the mid of peak fall foliage and headed to New Hampshire after our flight from Dallas to Boston, MA. Then to Vermont, Maine, and Massachusetts for peak autumn colors.
When Is Peak Time to See the Leaves in 2023?
Right now, for 2023, it appears that the best time to see the leaves in New England will be late September and early October. This is predicted from the New England Fall Foliage map. This is similar to what we experienced in 2021 and 2022. Also recommend checking out this guide from this blog on the color updates and foliage forecast.
For your best bet for a New England Fall Road trip, I'm predicting October to be safe! But in late September, I'd drive further north for more Fall foliage.
We found the Yankee Foliage Leaf Peeper App to be super helpful for planning our trip.
The New England Fall Foliage Map is helpful to keep an eye on for planning your trip and managing expectations for when the leaves could change colors. This updated map will share when and where they believe is peak time to see the leaves. It's so important to look at this when planning your trip. Honestly, the leaves go so fast!
How to Plan a New England Fall Road Trip
The best way to plan to see the leaves, if that's your main objective, is to be flexible. If you want to see the leaves at their peak, realize that things can change often and quickly. On our trip we had an RV, which allowed us to chase the leaves. But we are heading back and staying in hotels, so will have a more set schedule. Decide what's most important for your trip and plan accordingly.
Pictured above is the city of Tamworth in New Hampshire! This is a beautiful spot to explore and there are also so many great places nearby to get yourself a maple creemee!
Maple trees are the dominant trees and the ones that offer such brilliant and dramatic colors. Fall leaves change gradually from darker greens to yellows, reds, and oranges. And then brown, and fall off. Most often, it's best if you're able to chase the leaves and have a tentative plan.
Because Fall is New England's busiest time of year I definitely recommend that you book hotels and B&B's in advance!
Another option is to RV throughout New England. While this is the most flexible option, it does have some drawbacks. There are not a lot of places that you can camp for free or boondock in New England. Also, it's super busy. We drove for hours one night in New Hampshire trying to find camping before just sleeping at a Walmart parking lot.
Of course, it's incredible to wake up in all of the glory of the leaves in an RV! We rented an RV with Outdoorsy when we spent 2 weeks in New England. If you're wanting to RV throughout New England it's a good idea to have a few apps to help you find camping, know where there are low bridges, and more helpful tips. Here are the best apps for planning a trip.
The dates for our New England Fall Road trip was September 26th through October 8th, 2020. But remember to check the calendar to make sure those dates work for you and your plan!
For 2021, we planned to go the first week of October (a bit later than last year) and head towards Connecticut and Rhode Island since that will be peak time (hopefully!) around there.
For 2022 I went closer to early October. I actually didn't plan a single place to stay because I was there to go leaf peeping and truly chase the foliage and see Fall Colors. The truth is… I paid for it! Hotels were expensive since I booked last minute in order to see Fall Foliage on my road trip, but it was worth it!
Pictured above is the Silver Cascade waterfall in New Hampshire.
I mapped everything out here for you in a color coded map so you don't miss the best spots for Fall Foliage in New England!
For 2023 I am going for my New England Fall road trip itinerary in late September and focusing on New Hampshire and the White Mountain National forest as well as many of the towns in northern New Hampshire and Vermont.
Best New England Fall Road Trip ItinerarY + MAP
I've created a New England Road Trip itinerary with a map of where to go. Remember, you can shorten this to your travel needs! I highly recommend that you have a car to get around. There are so many cute small towns and the beauty of driving is you can stop and take pictures whenever you please. Some of my favorite stops were just when we saw something beautiful and opted to pull over and explore more. We climbed over a small river and watched the sun set over the mountains as the leaves were ruffled by the wind. It was like magic!
Pictured above is Hart's Location in the White Mountains of New Hampshire. One of the best spots EVER for Fall Foliage in New England!
The hills look like fruity pebbles! I've laid out a 14-day itinerary below, but you can change this itinerary to fit your needs. You can easily chop off days as needed!
Day One – Drive From Boston to White Mountain National Forest in New Hampshire
We picked up our motor home (or rental car for our next trip!) and drove from Boston International Airport straight to New Hampshire's White Mountain National Forest. This drive is about 2 and half hours and is worth it to see the beautiful leaves in the morning! You can take a hike in the forest to get a better view of the leaves.
We camped here but a good place to stay in the area is Woodbound Inn. This is a 19th century Inn with rustic cabins and is reasonably priced!
As you make the drive you'll start to see the gorgeous leaves. But just wait! The White Mountains are truly spectacular and it's a great place to see the leaves.
Day Two – White Mountain National Forest, Conway Scenic Railway, Mount Washington Lodge
Waking up in White Mountain National Forest actually brought tears to my eyes! It was glorious to see the sunlight permeate the leaves, the rays painting strokes of immaculate colors.
As we drove through the mountains we were mesmerized by the colors. We started our drive through the forest and admired the colors and beauty along the way.
A stop on our way to Conway, New Hampshire is the cute and tiny town of Sandwich. Yes, that's really the town name.
We were struck by the beautiful white church and huge maple tree bursting with red leaves. This town is a quick stop but well worth it.
Make your way from Sandwich to Conway, about a 30 minute drive. In Conway is the Scenic Railway and I believe this is a must do! You'll have an old-fashioned rail road experience that takes you in pretty, vintage cars through forests and small towns. Book tickets in advance – it can sell out!
There are 3 different railroad excursions. We choose the Bartlett-Sawyer Excursion here. We liked this since it wasn't too long or too short!
After the train ride we strolled around Conway. There are lots of shops and restaurants in the area. I recommend Peach's Restaurant for breakfast and Muddy Moose for dinner.
If you're up for a bit more hiking, move on to Diana's Baths for 1.3 mile hike to a beautiful waterfall. It's a short and easy hike.
Around sunset, drive to Mount Washington Lodge. Now owned by the Omni this huge resort was built in 1902 in 18 months by Italian laborers. This is the largest almost all wood building in New Hampshire. This has been a favorite retreat of presidents and celebrities for decades. There's also a golf course and a beautiful patio for dinner. Of course, this would be a beautiful place to stay the night!
Day Three – Kancamagus Highway in New Hampshire
My favorite route on the trip was the Kancamagus in New Hampshire. Mesmerizing trees and mountains for literally miles and miles. Be prepared to spend the day here!
I loved stopping to take pictures of the dark winding road with a yellow stripe down the middle and the bright orange trees. It's Insta-worthy for sure!
Kancamagus Highway is an easy drive that meanders for about 34 miles. You can do all or some of it, but I do recommend that you try to time it during peak foliage because it really is a sight to see!
Kancamagus is the name of the grandson of Passaconaway, the Native American chief, who in 1627, united more than 17 Central New England Tribes into the Pennacook Confederacy. In the 1680s, Kancamagus (meaning fearless one) became the chief. After battling the English settlers, the Pennacook tribes scattered. Around 1681, Kancamagus and his followers moved to upper New Hampshire and Canada. When the English settlers came here, they made a meager living. It took an entire family toiling from dusk to dawn to survive in the harsh climate and catastrophe was constant.
As the community of farming faded away the Kancamagus remained. There's no shortage of stunning overlooks, picture perfect spots, and awe-inspiring leaves.
We stopped at the Saco Ranger Station to get some information about the drive and this is where we found a beautiful tunnel of trees!
As we drove we stopped at the picturesque Albany Covered Bridge. Covered bridges are seen through out New England and are important history, not just beautiful. Stage coaches took these bridges and they linked the outside world. Isolated farmers would go into town every do often to make purchases and share their goods. The 15 mile road took people 3 hours to drive. The men who drove stagecoaches to do errands were colorful characters and good storytellers and handymen.
Keep driving over to Lower Falls, a scenic spot with a river that tumbles over large rocks and boulders. You'll see crisp red leaves flowing in the water. This is just off the Kancamagus Highway and a good spot for a picnic or a short hike.
The great part of driving the Kancamagus is there are no bad views. Just drive and enjoy!
A good place for dinner is Burger Mountain, a local restaurant offering made from scratch burgers and sandwiches in a laid-back atmosphere.
Stay in RiverWalk Resort at Loon Mountain for panoramic views of the mountains and a chance to see a kaleidoscope of colors overlooking the river.
RVers/Campers: There are tons of places to camp in the White Mountains so I'd suggest checking out anything nearby for the night. This site helps for finding spots.
Day Four – Franconia Notch State Park and Flume Gorge & Drive to Vermont – Montpelier
Located in the heart of the White Mountain National Forest is the Franconia Notch State Park. Taking the road here is a spectacular mountain pass that extends from the Flume Gorge at the south to Echo Lake.
You might have heard of Franconia Notch, made famous by Nathaniel Hawthorne and Daniel Webster from the Old Man of the Mountain.
You can swim in Echo Lake, take the Franconia Notch Bike Path, camp at Lafayette Place or find a spot for your RV at Cannon Mountain RV Park.
Flume Gorge is a must! Discovered in 1808, this is a natural gorge extending 800 feet at the base of Mount Liberty. The trail is an easy, mostly paved hike that is a 2-mile loop. You can reserve your spot in advance or at the entrance upon arrival.
I recommend that you do this earlier in the day to avoid the crowds.
After our time at the gorge we drove on to Vermont to Dog Mountain! Yes, really. This is a 40 minute drive to the private mountaintop spot in St. Johnsbury. In 1995 artist Stephen Huneck and his wife bought 150 acres. Stephen fell down a flight of stairs and was left in a coma. When he awoke he spoke of a vision of making woodcuts and carvings of his dog, Sally.
After his near-death experience, he built "Dog Chapel" for people and their dogs to celebrate their special bond. You can see the chapel, bring your dog, and visit his art gallery. This was a unique experience and nestled by some lovely trees.
For a bite to eat or to check out an old-fashioned country store, head to the town of Burke and to the Northeast Kingdom store. It's fun to look at the knick-knacks and grab a snack. There's also a bevy of Vermont staples and handmade goods.
For a great apple picking experience head to the picturesque Burtt's Apple Orchard. Located on the side of the hill you can eat cider donuts, pick apples, drink cider, and peruse through pumpkins. This was the perfect place for sunset!
Montpelier is the capital city of Vermont and has a beautiful State House, complete with a gold-domed roof! This is a good place to eat dinner or find a hotel. I recommend The Inn at Montpelier for a pretty and traditional stay in the capital city. If you're looking for a more luxury stay, check out Capital Plaza Hotel. Beautiful, spacious rooms in an elevated setting.
We were RVing and used Harvest Hosts to stay at Bragg Maple Farm! We got there at night but this was my favorite place we stayed!
Day Five – Smuggler's Notch Drive, Brigham Falls, VonTrapp House
First things first, a maple creamy. We started our day at Bragg Maple Farm, took a tour and learned how they make maple syrup and bought plenty of maple products and even a Vermont T-shirt. A maple creamy is a delicious soft serve ice cream mixed with maple syrup. Make sure you pick up some maple candy while you're there. Oh, and don't worry, we bought enough maple syrup to take home!
Fun fact: Vermont produces more maple syrup than anywhere else!
Smuggler's Notch is an incredible place for views and hikes! Be aware: this is a very curvy road and at times very tight, so it's not suitable for big RVs. We had a very small motor home so it was doable, but anything bigger just wouldn't work.
Smuggler's Notch is aptly named as the road goes up through a small gap between the two mountains and offers breathtaking views. This is one of the best places to go for your New England Fall road trip. The narrow highway winds through the rugged landscape giving you peeks at waterfalls and is filled with neon trees.
You can also take a very steep hike on Sterling Pond Trail. There are lots of hikes in the area. I also recommend the short hike to Bingham Falls. This is a beautiful waterfall that is hard to find as the sign is not well marked on the road. If you have time, you can take the "Long Trail" – the oldest long distance hiking trail in America. It's 272 miles so it's certainly long, but it follows the ridge of the Green Mountains.
Near Smuggler's Notch is the town of Stowe (we'll be visiting tomorrow!). In the late 1800s tourists flocked to Stowe because William H. H. Bingam persuaded the town of Stowe to build a toll road to Mount Mansfied where he built an inn. After, he built Notch House at Big Spring which brought many tourists to Bingham Falls.
After Smuggler's Notch we made our way to the famous VonTrapp Family Lodge. After the "Sound of Music" family fled Austria, they came to America. They spent years trying to find a place similar to the mountains and pretty towns of Austria and felt Vermont was the closest match. As someone who has spent a good amount of time in Austria, I have to agree! The rolling hills are a stunning escape.
Here, you can stay in the hotel, tour the grounds, and eat at their restaurants. We ate at the brewery and had magnificent views. The lodge itself looks like it was picked straight from Austria with beautiful woodworking and flowers in the window sill. You can, of course, stay in the lodge and get deals on a room, here!
Day Six – Waterbury , Stowe, Woodstock 
Get up and at 'em early, this is going to be a busy day!
It was high time for some hot and fresh cider donuts. I don't even like donuts that much, but cider donuts are incredible. My mouth is watering just thinking about them! The best place to get them is Cold Hollow Cider Mill in Waterbury.
This lovely red store offers gifts, cider, and hot off the fryer donuts. There's a nice patio and you can order food and drinks here, too.
Nearby is the Ben & Jerry's Factory and Ice Cream shop. You can take a guided tour of the factory and eat ice cream. I'm excited to say the tours are open again after years of being closed! There are lots of cute farm stands and pumpkin patches in the area you can stop at along the way for your fall road trip itinerary! If something looks fun, or you see beautiful foliage, pull over!
Don't miss a thing! Get my color-coded map wit over 280+ places for your New England Fall Foliage road trip!
On your way to Stowe, stop off at Emily's "Haunted" Bridge. New England is known for their beautiful covered bridges, but Emily's bridge has a unique history. The wooden bridge was built in 1844 and the legend is that Emily was to meet her lover here so they could elope. But he never came, so she committed suicide by hanging herself from the bridge. Now, she haunts the bride and sometimes she'll jolt cars that pass through the bridge. People also claim to hear strange noises when driving through.
If the word "charming" could be defined as a town, I think Stowe just might be it! Stowe looks like it should be in a Folger's coffee commercial. Beautiful homes and a famous stark white church against a backdrop of colored trees makes for a beautiful picture. There are tons of cute little shops, scenic walks, gift stores, and places to eat. I especially just loved walking around and looking at the beautiful homes.
To get this view of the church and town below, take the short trek to Tangerine & Oliver Gift shop. This is really the best place to get a view and snap some pictures.
There's a corn maze in Stowe that's lots of fun! I love corn mazes and think this is also a great photo opportunity. Percy Corn maze is great for all ages. The maze takes about 30 – 45 minutes to get through and is $6 per person and free for kids under 7.
If you're looking for a great cheese shop, stop at Mad River Taste for great local cheese and butter in Waitsfield. 
Woodstock is known as the "prettiest small town in America." A beautiful town with great restaurants and a beautiful resort. Woodstock Inn & Resort is absolutely gorgeous with dark shutters, white, stately columns and beautiful rooms. This can sell out quickly!
Woodstock Railway connected the town to central Vermont and brought in tourists who marveled at the architecture of the houses and churches. This is also the site of the first ski-tow in the USA. You can tour the grounds and gardens and find more info here.
Here, you can also tour the Marsh-Billings-Rockefeller estate, a grand red brick mansion and dairy farm.
If Woodstock Inn is sold out, you can also stay at the gorgeous 506 On the River Inn. We camped in our RV and drove on to Calvin Coolidge Forest.
See my top 20 places for Fall Foliage here.
Day Seven – Weston, Lincoln's Hildene Home, Manchester, Chester
We ate a great breakfast at Back Country Cafe then made our way to the town of Weston. About a 40 minute drive, Weston looks like it's straight out of Gilmore Girls episode complete with a gazebo. We made a short stop here.
It was a bit of a rainy drive but it was beautiful to see the leaves fall like a blanket across the surprisingly bright green grass waving goodbye to the season.
Hildene, the Lincoln Family Home, is the former summer home of Robert Todd Lincoln and his wife Mary Harlan Lincoln. Nearly all of President Lincoln's children died, except for Robert who became a lawyer in Chicago and then president of the Pullman company. Under him, Pullman became the largest company in the world. You can take a tour of the home and grounds. The garden is particularly lovely, and was built in 1907 for Mary as a gift from her daughter Jessie. It was influenced by the gardens Jessie saw in Europe, known as a European parterre, and is created to represent a stained-glass window.
Inside is a museum and you can even see Lincoln's stovepipe hat.
We stopped in Manchester and I recommend lunch at Marsh Tavern. You can also check out the beautiful Equinox resort and this is also a good spot to spend the night. The resort is located at the bottom of Mount Equinox and is stunning: brimming with flowers, rocking chairs, and large green shutters.
Manchester is also known as the home of the original Orvis store. Here there's a museum along with art and history. We also went to the American Museum of Fly Fishing which I found surprisingly interesting. You can see the history, traditions, and art inspired by fishing. In the nineteenth-century, the American wilderness became a popular destination to escape stress of the modern world and railways made it possible for people to travel and discover hobbies like fishing.
Head to the Northshire Bookstore for an Instagram worthy arch made out of books and peruse the store.
A good spot for dinner in Manchester is Ye Olde Tavern, it's been around since 1790! They serve hearty New England cuisine and classic cocktails.
Along your route be sure to stop at local pumpkin stands! It's a great spot to pick out treats and pumpkins!
RVers/Campers: We stayed near Carroll, NH on Cherry Mountain Road. There are plenty of pull offs, but they do get busy!
Day Eight – Jackson & Maine – Evan's Notch, Bethel
We did a bit of leaf chasing today! Since the leaves were still at peak we headed back to New Hampshire, to Jackson. Jackson is an adorable town known for its "pumpkin people." All around town shops and businesses display different people made out of pumpkins. You can take a self guided tour to see the pumpkin people.
Also in Jackson you'll find some covered bridges, shops, and restaurants.
We decided to keep heading down the road and had a picnic near the water at Basin pond Campground. There's a boat launch here and we watched the boats and ate sandwiches in the breeze.
We made our way to Maine and our first stop in the state was Evans Notch. This is a mountain pass located in the White Mountains right after the border of New Hampshire. This is a perfect perch for views.
The small town of Bethel, Maine is great to stroll around, eat, and stay. There is beautiful architecture and homes. I recommend The Bethel Inn Resort for a comfy and pretty 3-star hotel in the area.
For dinner you can check out Sud's Pub for pizza and beers on tap.
RVers/Campers- we camped at Sunday River Resort.
READ MORE: Fall Instagram Captions and Photo Ideas
Day Nine – Apple Picking & Bar Harbor
We got up early and headed to Cayford Orchard Farm in Skowhegan. This was my favorite place we went to pick apples. They have a large grounds, a variety of apples, and lots of tasty treats. They will also walk you through the best way to find and pick apples. We picked more than a dozen varieties! I also recommend that you pick up some maple cotton candy while you're there. Divine!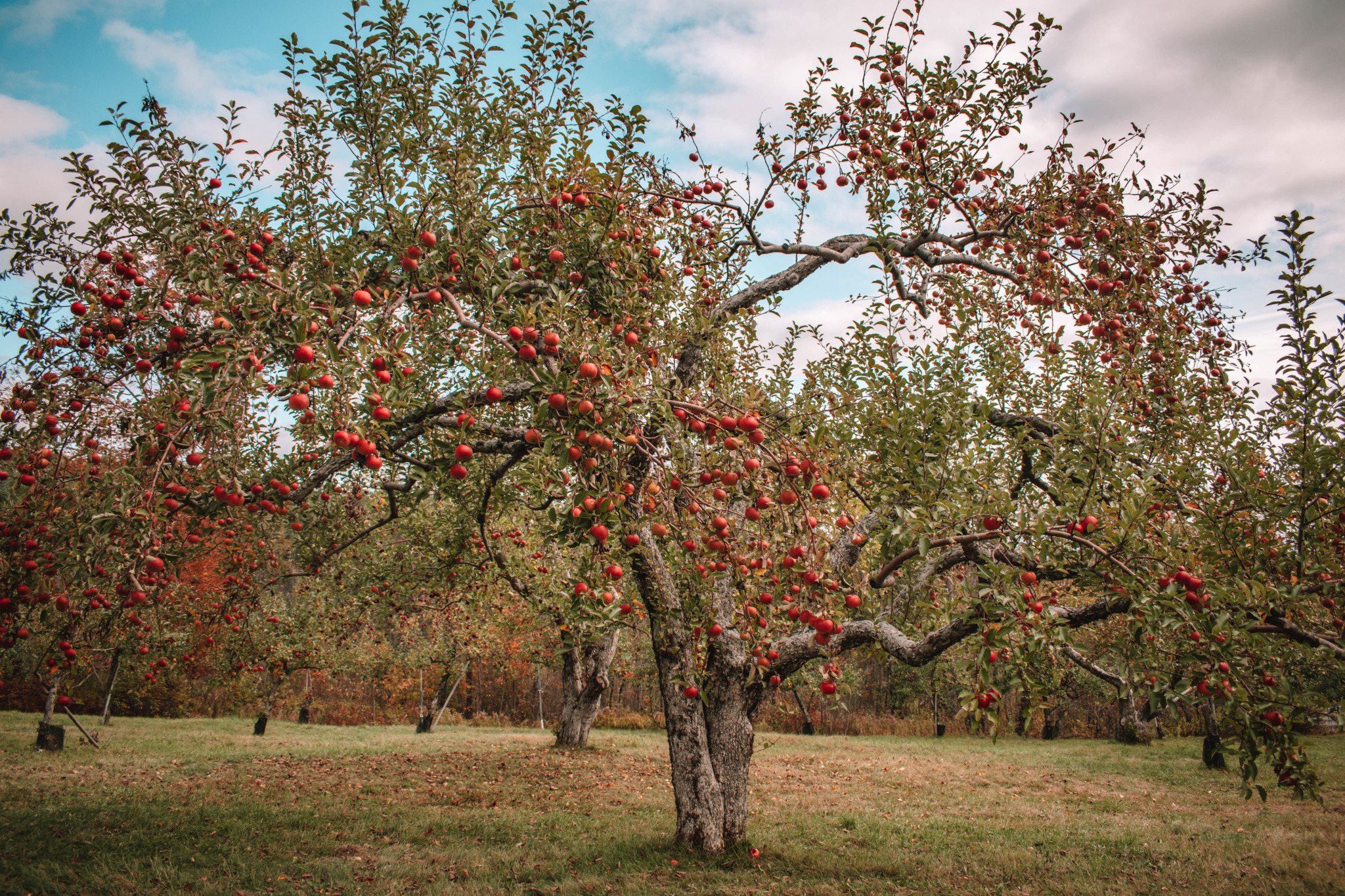 Next up is the seaside town of Bar Harbor, or, how the locals say it, "Baa Haabaa." Get to know this charming town by walking the Shore Path. The footpath extends for a half mile and connects the village to the residential streets.
You can look out on the sea and watch as boats come in with fish and lobster. You'd be remiss not to get lobster in Bar Harbor and there are plenty of great restaurants such as Stewman's Lobster Pound and Bar Harbor Lobster Company.
Everything was extremely busy, so we kept driving a bit and had a wonderful lobster feast at Side Street Cafe.
For lodging I recommend Quimby House Inn and Spa for a reasonably priced stay. If you really want to live it up, you can stay at the beautiful Balance Rock Inn. A beautiful hotel right by the water's edge.
Don't miss a THING on your New England Fall Road trip! Get my map here.
Day Ten – Acadia National Park
We got up early and spent the day at Acadia National Park. It's important to note you must make a reservation to come here! There are plenty of things to do and see so get here early to enjoy.
Here were some of our favorites:
Sand beach– one of the few sandy beaches in the northern part of the world and one of the few cold-water shell-based sand beaches in the world. The offshore rock called "old soaker" diverts a strong current into glacially a formed pocket with campfires, shell fragments, and a pocket sized beach. The beach is filled with sand, but look closer, the sand is 70% broken shells, mussel, sea urchins, and barnacles.
Otter Cliffs and Creek – Since the early 1800s Otter Creek has been the site of a fishing village with fish houses on the waterfront and homes on the hills. Otter Cliffs served as the most important WWI facility for receiving transatlantic messages- including the first bulletin about the armistice.
Jordan Pond – a 2.5 Mile loop. Before you take the hike stop at the cafe to get hot popovers! These delicious baked goods are made from eggs, flour, and milk and are baked in a muffin tin. Air trapped in the batter makes the inside hollow and doughy while the outside is flaky and crispy. Served with butter and jam these are a New England favorite.
I recommend staying in Bar Harbor or the area since it's so close to the park.
Day Eleven – Camden, Portland, Drive to Salem, Massachusetts
Before you get to Camden, pay $6 and drive up Mount Battie to get sweeping views of Penobscot bay at the Mount Battie Tower and vista. This is one of the most picturesque landscapes along the Atlantic seaboard.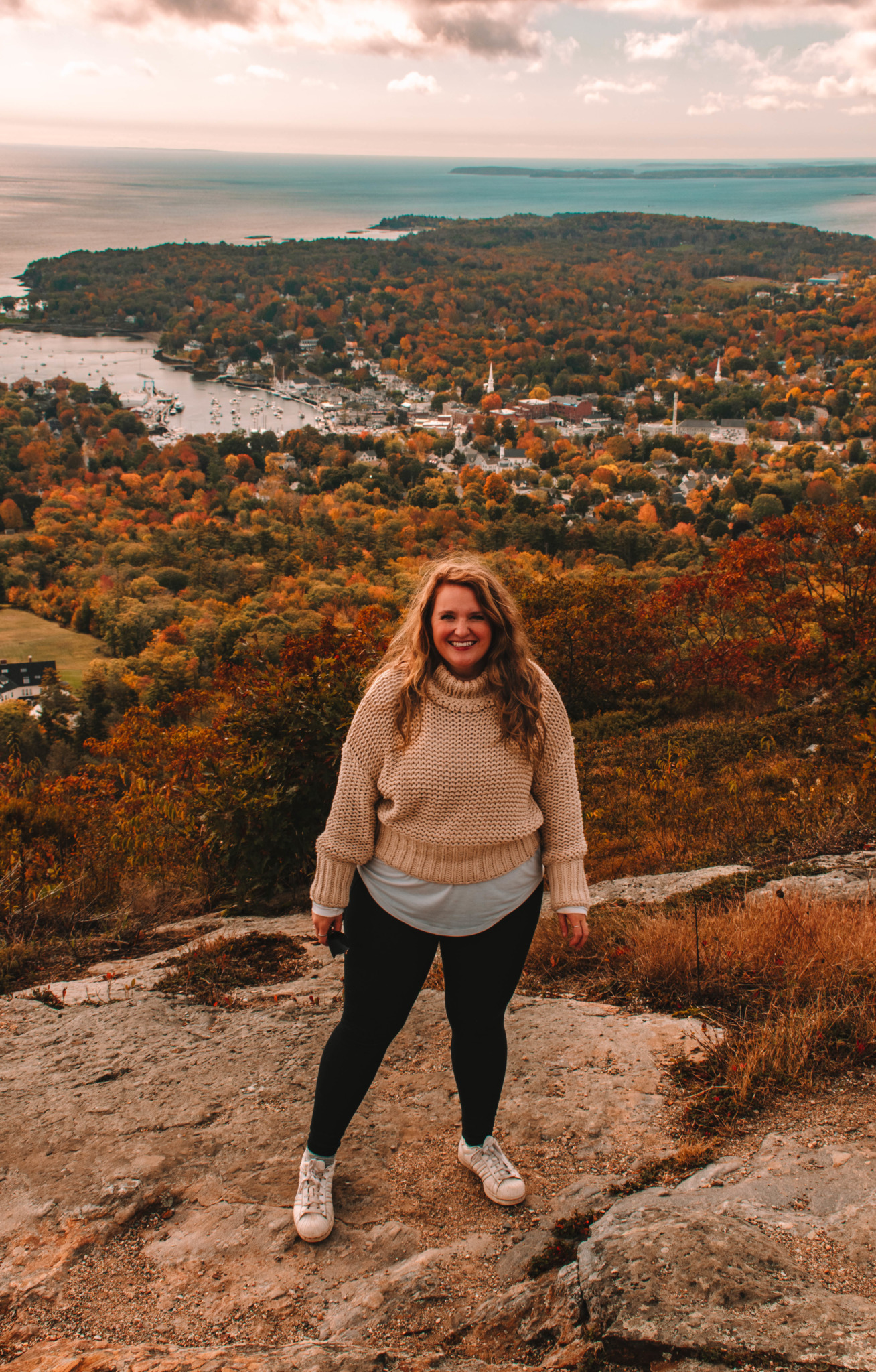 We moseyed around Camden, a small, pretty town sitting on Penobscot Bay. The High Street Historic District features 19th-century homes, a landscaped amphitheater and a restored Opera house. For a lunch spot try Mariner's.
We drove on to Portland, Maine, a waterfront town that feels a bit more modern than many of the New England towns. There are lots of restaurants and shops. However, the West End is full of Victorian-era homes and the "Victoria Mansion" museum. Recommended restaurants are Duckfat for panini's, Belgian fries and milkshakes, Eventide Oysters for seafood, and the Highroller Lobster Co for more lobster.
For a reasonably priced stay, check out Inn at St. John.
We drove on to Salem and spent 3 nights here! I was glad we did because I absolutely loved Salem. There was so much to see and do.
Day 12 – Connor's Farm & Salem
Start the day at Connor's Farm for a fun-filled morning. This is a cute little farm with fresh fruits and vegetables, tasty ice cream, hot cider donuts, a corn maze, pick your own apples, and activities for kids and adults. I'd say the farm is a bit more like a theme park with train rides, games, and a petting zoo.
It's only a 15 minute drive between Connor's Farm and Salem so it's an easy trip, even just to get fresh donuts!
See the best Farms in New England here!
I found there was lots to see and do in Salem. First, we did a self guided Hocus Pocus walking tour. This is one of my favorite movies, and it just puts you right into the festive spirit. The movie was filmed all over the town, and many of the spots you can't miss just walking around!
I wrote a full guide with a map for all the filming locations in Salem for Hocus Pocus!
Next, I recommend visiting the Witch House Museum which shows what houses looked like during the 1690s Salem witch trials. You'll also learn the history of the trials and more about the town. This house is Instagram famous as so many dress up and pose next to it. This was the former home of judge and sheriff Jonathan Corwin and is the only building left with direct ties to the 1692 Salem witch trials.
Just walk around the town, pop into funky shops, and have a bite to eat. If you have time I also recommend the short Salem trolley tour to get a wider look at all the city has to offer. I was truly surprised about how much I loved Salem! Trolley tours are daily from 10AM to 5PM.
That night we ate at Turner's for dinner and it was one of my favorite meals of the trip! Get the stuffed clams and Portuguese fish soup.
Other recommendations for dinner are Rockefeller's and Finz.
There are lots of places to stay in Salem. If you want to stay in somewhere haunted, there's no better choice than Merchant Hotel. The hotel was built by Joshua Ward, a wealthy sea merchant, so he could watch his ships sailing in. But the land he bought was where Sheriff George Corwin lived and maintained a jail in the 1680s. Sheriff Corwin interrogated anyone suspected of witchcraft and also put them to death. Legend has it that the ghosts of the innocent victims still roam the halls.
Another option is the Hampton Inn Hotel in Salem, with reasonable prices and walking distance to almost everything.
Day 13 – Salem
We spent the day taking a walking tour of Salem. We chose the Witch City Walking Tour and "History & Hauntings of Salem" and I highly recommend it. Lots of good stories, witch legends, and true spooky history, and ghost hauntings. I learned so much! I always find it interesting to see what really brings tourism to a city. Salem's history is obviously interesting, but it was so surprising to learn that the TV show Bewitched is actually what kicked off the tourism.
The TV show is filmed on a set in Hollywood but the last two weeks of filming the set burned down. They decided to move to show to Salem because of its history with the witch trials.
They filmed the last few episodes here and the buzz brought along tourism. But locals weren't always so enthused! They felt they were turning the town into a witch circus. Now, they embrace it, but it wasn't always that way.
Salem used to be an extremely wealthy town because of the rich history of fishing and trading. It's famous not just because of the 1692 witch trials but there's also the Peabody Essex Museum which has a huge collection of global art and artifacts and even a rebuilt Qing-era Chinese house. There's also the House of Seven Gables.
One of my favorite things we did was walk around the neighborhoods, particularly the wide Chestnut Street. Every house here is on the national register and each one is grander than the next.
I particularly loved visiting Salem during the Fall since people often dress up to just walk around town.
Salem can get quite busy, this small town sees 1 million visitors during Halloween!
READ MORE: Hocus Pocus Filming Locations in Salem or my full guide to Salem during fall here!
Day 14 – Boston & Home!
If you do have extra time, you can always explore Boston! Boston is extremely historical with lots of things to see and do. I've written about my trip before right here.
I can't imagine a better way to celebrate Fall than in beautiful New England. The beautiful changing leaves, the pretty wood architecture, the hot cider donuts all seem to perfectly encapsulate the spirit of America. Autumn brings about this sense of unknown and wonder that's to come. The crisp fall air and changing leaves personify these unknowns. And once we accept those unknowns, we have more capacity to live life to the fullest. After all, it's quite comforting to realize that we are all in the same boat facing the same sea of mystery.
Enjoy planning your New England trip!
More to read:
Don't miss a THING on your New England Fall Road trip! Get my map here.