I never knew how incredible it was to witness the changing of the leaves, until I went to New England. But where should you go to get the ultimate leaf peeping experience? I've got the best places to see Fall foliage in New England. These spots are the best for fall colors – from the mountains of New Hampshire, the notches of Vermont, and more.
From the end of September to October taking a drive in New England is like stepping into a world of mesmerizing color. New England is like the Olympics for Leaf Peepers. This really is the championship when it comes to Fall color. And everyone should experience this at least once! From apple picking orchards, corn mazes, pumpkin patches, fall festivals, and so much more.
From the beautiful mountain sides covered in color, the scenic drives fluttering with golden leaves, or visiting the charming towns, farms, orchards, and festivals, you'll find so much to see and do.
The smell of hot and fresh apple cider donuts, a train ride through a blaze of colors, the cooler temperatures and cozy feeling of Fall. Ahhhhh… it can all be found in New England.
Come with me to some of the best places for fall foliage in New England – you absolutely won't be disappointed!
Planning a Fall trip in New England? I have you covered! Here are my guides:
More to read:
Fall in New England – Know Before You Go
When is the best time to see the leaves in New England?
In order to see the foliage, it's really all about timing. This can be tricky as it differs from year to year. But the best time is typically the end of September through mid-October for most of New England. This foliage tracker and map is helpful for planning your trip and picking your dates. I also like this foliage tracker from Yankee Magazine. But know it can change from year to year!
That means if you can be flexible, you have a higher chance of leaf peeping!
Last year, we headed to Vermont, New Hampshire, Connecticut and Rhode Island. The leaves were later so we ended up re-routing our trip to end in Vermont and New Hampshire in the second half of the trip and we were rewarded with fantastic leaves!
In mid-September, the first indications of fall begin in the Great North Woods area, and the hues sweep across the state in days. The temperature can drop as low as the high 40s during this period with a day in the 70s here and there.
October is when the state begins its transition to autumn, with temperatures in the beginning of the month ranging from low 40s to mid-60s, and ending at high 30s to mid-50s.
This Fall Foliage tracker will aid in helping ensure you make the most of your trip!
How to get to New England?
The easiest way to fly is to arrive in Boston-Logan International airport. There's also an airport in Burlington, Vermont as well as Hartford, Connecticut and Providence, Rhode Island to check for prices. Although these are in all different states, the driving distance isn't as bad as you would think so I recommend checking prices there too!
I do absolutely recommend renting a car to get around New England. If you're here for leaf peeping this gives you the freedom and flexibility to see the leaves! Also, the scenic by-ways and highways are just absolutely stunning!
The fall colors in New England are nothing short of spectacular. The White Mountains are blanketed in color and the small towns come alive with fall festivals.
How many days to see New England fall foliage?
I think a week is the most optimal time frame for leaf peeping. But I've done everything from 2 weeks, 10 days, and a long weekend. If you really want to ensure you see the leaves, opt for longer.
The Best Places for Fall in New England
I'm breaking it down by state to make things easier for you to plan! Need an itinerary? Check out my full itinerary here.
Best Places for Fall in New Hampshire
Kancamagus Highway, New Hampshire
This is my top recommendation for Fall Foliage in New England. It's an easy drive with an array of great stops. From beautiful rivers, mountain views, and, of course, a mesmerizing sea of warm colored trees. I have never seen anything like it!
The Kancamagus Highway is a pleasant drive that takes you 34 miles from end to end. You can do it all or part of the way, but I recommend stopping at a ranger station (we stopped at Saco Ranger Station which honestly is very picturesque!) to get a map of all the stops. Or you can find them all here.
I recommend starting from the town of Conway and you'll take Route 112, northwest off of Main Street.
Some highlights I recommend are Albany Covered Bridge, Lower Falls, Rocky Gorge, and Sabbaday Falls.
Give yourself at least a half day to drive the Kancamagus. Traffic can be slow and there are so many incredible pull offs to take photos!
Stowe, Vermont
Stowe feels like a Rockefeller painting of Fall in New England. The main street looks ready for a movie: adorable shops and cafes and a pristine white church that stands out against the backdrop of the bedecked trees.
There are many activities to do in Stowe during Fall. You can go on a scenic gondola ride, tour Ben & Jerry's Factory (for the fall seasonal ice cream flavors, of course), or explore one of their many hiking trails. There's also Percy Corn maze which is great for all ages! Also nearby is the VonTrapp Family Lodge– a beautiful lodge where the Von Trapp family settled after fleeing Austria – yes, the real life Sound of Music!
But my personal favorite thing to do is drive the Notch Road.
Cold Hollow Cider Mill – Waterbury, Vermont
As soon as you arrive at Cold Hollow Cider you'll smell the heavenly scent of fresh and hot apple cider donuts. Not only do they sell donuts, they also have apple cider slushes and plenty of great souvenirs!
It can get busy, but it's a well oiled machine and moves quickly.
There are lots of places that sell donuts, vegetables, pumpkins and more on the side of the road. Pull over when a place catches your eye!
Salem, Massachusetts
There's no better place for Fall or Halloween than Salem! From Hocus Pocus filming locations to witch history, Salem is the place! Some of the most haunted places are here but it's also completely charming and full of history.
Salem is absolutely beautiful to stroll around on Chestnut street or walking around downtown and go shopping or eat seafood!
There's plenty to see and do in Salem, especially around Halloween. Check out my full guide to Salem, here.
Bar Harbor, Maine
Bar Harbor is a quaint little town located on an island off the coast of Maine. It's one of the most beautiful fall drives with ocean views and lighthouses dotting the landscape.
Acadia National Park is also nearby and is one of the most stunning national parks! The fall colors here are unreal with mountains, forests, and ocean all in one place.
There are plenty of things to do in Bar Harbor including whale watching, hikes, and visiting the local shops and restaurants.
Smuggler's Notch, Vermont
Although fall in Vermont is a spectacular sight, we can't forget all of the things that make this state great for fall such as hiking and foliage tours! No fall trip to New England would be complete without a visit to Smuggler's Notch. A tight, winding road takes you through epic foliage along the road.
There are plenty of easy and tough trails to hike with incredible views. You can also drive through the notch for some of the most beautiful fall colors in New England!
Woodstock, Vermont
Woodstock is one of the most charming small towns in New England and fall is the best time to visit. The town is located right in the heart of Vermont and is home to some of the best fall foliage in the state!
I adore the beautiful Woodstock Inn & Resort and you can also tour the Marsh-Billings-Rockefeller estate, a grand red brick mansion and dairy farm.
Providence, Rhode Island
Although it's the smallest state, Rhode Island certainly doesn't fall short on fall fun! Providence is a great city to explore with plenty of cute shops, delicious food, and historic landmarks.
Let me tell you… do not miss the Jack-O-Lantern Spectacular at the Roger Williams Park Zoo. In a word, it's: shocking. Over 6,000 hand carved pumpkins and each year there's a different theme! In 2021 they celebrated American music with beautiful pumpkins all lit up at night with music! Dates for 2022 are September 29 through October 31st. This year they are celebrating 75 years of television. This was one of my favorite things we did the entire trip!
Franconia Notch State Park
Franconia Notch is one of the most popular fall destinations in New England and for good reason! You might have heard of Franconia Notch, made famous by Nathaniel Hawthorne and Daniel Webster from the Old Man of the Mountain.
Flume Gorge is a must! At the base of Mount Liberty, this is an 800-foot natural gorge that was discovered in 1808. The trail is a simple, mostly paved stroll that takes you around two miles. You may make a reservation ahead of time or on arrival at the entrance.
Litchfield Hills, Connecticut
I think this is the best place for leaves in Connecticut. Fall leaves come a little later here since this is the most southern of the New England states.
You can drive the Litchfield Hills Ramble, visit the charming town of Kent, or explore the beautiful farms among the golden leaves. Head over to the Litchfield Town Hall and walk among the gorgeous homes. I'm convinced everyone in Connecticut owns a mansion.
Nichols Ledge, Vermont
I love this easy but beautiful hiking spot that gives you epic views of the lake and the candy colored trees. The somewhat steep, out and back route near Hardwick, Vermont takes only a half hour. The drive here is lovely as well.
Cayford Orchard Farm – Skowhegam, Maine
This is the perfect place for apple picking! Cayford Orchard Farm has large grounds, a variety of apples, and lots of treats like maple cotton candy! They'll also walk you through the process of locating, selecting, and bagging apples. We picked over half a dozen types!
Manchester, Vermont
This town is STUNNING! The beautiful Equinox resort, the home of Orvis, a fly fishing museum and gargantuam trees ablaze with colorful leaves! Make time to check out the Northshire Bookstore too!
Camden, Maine
Before you reach Camden, pay $6 and drive up Mount Battie to take in the panoramic views of Penobscot Bay from the Mount Battie Tower and Vista. This is one of the most beautiful settings on the Atlantic seaboard.
The town of Camden is on Penobscot Bay and is home to a variety of shops and restaurants. It's a great place to stroll around, relax, and enjoy the fall weather.
Bragg Maple Farm, Vermont
I stopped at many farms and maple houses but Bragg is my favorite! You can learn the history and process of maple syrup, pick up souvenirs and you'd be remiss not to indulge in a maple creamy!
Dixville Notch State Park, New Hampshire
Dixville Notch is located in New Hampshire's Great North Woods and is home to some of the most beautiful fall foliage in the state. The park has hiking trails, a scenic lake, and plenty of opportunities to see wildlife.
A great hike with an incredible view is Table Rock. Make sure to check out the abandoned resort – it makes for incredible photos
Lake Willoghby, Vermont
This is one of the most beautiful lakes in Vermont and fall is the perfect time to visit. The leaves are stunning and reflect perfectly off the still water. It's a great place for hiking, picnicking, and just enjoying the beauty of nature.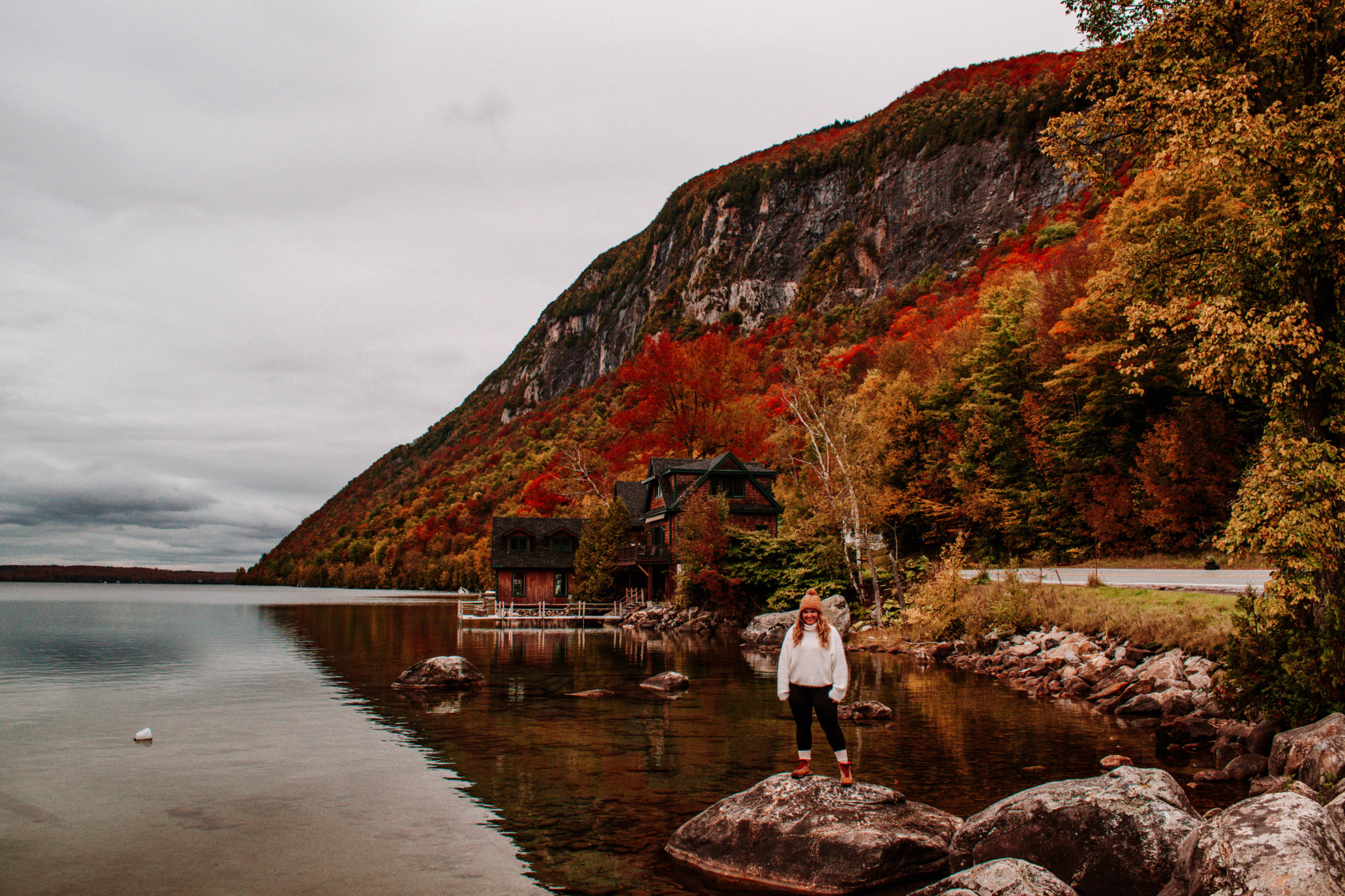 White Mountains, New Hampshire
One of the prettiest areas for fall foliage in New England. Make sure to check out Mount Washington, a stunning white resort nestled in the leaves with pristine views. You can also go to Saco Lake, Elephant Head for views or Flume Cascade.
Nearby towns such as Jackson or Conway and Lincoln are great places to explore too!
The fall season is a great time to visit New England! The leaves are changing, the air is crisp, and there's so much to do! I hope this guide helps you plan your trip and enjoy all that New England has to offer in the fall!
More guides to Fall in New England:
New England Fall Road Trip Itinerary
Best Places for Fall in Vermont
Best Places for Fall in New Hampshire
Guide to Salem, MA
Hocus Pocus Filming Locations
Pin the post: