There's absolutely nothing better than spending a week in New England chasing the Fall leaves, picking apples and tasting maple candies or hot cider donuts. Here's my ultimate guide to the best one week fall foliage itinerary in New England. There's simply no better place for Fall!
Once I experienced Fall in New England I knew I'd come back every single year, I simply can't get enough. But it's not just the kaleidoscope of colors of the leaves. There are adorable farm stands, pumpkin patches, apple orchards, Fall festivals, adorable storied towns, and winding roads that lead you from place to place.
Before coming to New England to see the colors for myself, I thought the Instagram pictures had to be enhanced. But it's all real. Having traveled to 54 countries and spent nearly 80% of my time on the road for the past 6 years, this is one of my favorite places on earth.
This one week guide to Fall in New England will help you plan the perfect trip. This will share my top tips for seeing leaves- very important! And truthfully, not always easy to see the leaves. I'll make sure you have all the information you need to get the best chance for leaf peeping.
Of course this 7 day guide can be extended, or I have a detailed 2 week guide right here! In this 7-day itinerary I'll cover my favorite towns, places to see the best color for leaves, photo inspiration, my favorite farms and more.
To begin, you'll travel to the historic New England city of Boston before heading north to the White Mountains in New Hampshire and then the hills of Vermont. After spending lots of time in New Hampshire, Vermont, Connecticut, Maine, Massachusetts, and Rhode Islands, I suggest you spend the bulk of your time for leaves in New Hampshire and Connecticut. However, if you have extra time or want to see some other states, it's very easy to drive around to these other states.
At a Glance: One Week Fall Foliage Itinerary In New England
Day 1: Boston, Massachusetts > White Mountains, New Hampshire
Day 2: Kancamagus Highway & Mount Washington, New Hampshire
Day 3: Franconia Notch, New Hampshire > Montpelier, Vermont
Day 4: Smuggler's Notch & Von Trapp House, Vermont
Day 5: Stowe & Woodstock, Vermont
Day 6: Manchester, Vermont
Day 7: The Berkshires > Boston, Massachusetts
If you have extra time, I recommend adding on Acadia National Park and Bar Harbor in Maine as well as Salem Massachusetts. Or, opt for adding on Connecticut or Rhode Island. At the end of this post I'll give a few other ideas for what to do in each!
Best Time to See the Leaves in New England
Let me be ultra clear, this changes every year. This is the hardest part about planning a New England leaf peeping trip.
I recommend consulting a few different leaf peeping guides:
New England Peak Foliage Map – Probably my most consulted guide and even has a handy calendar that predicts
New Hampshire Foliage Tracker – Each state in New England maintains a guide and I always recommend consulting that first!
Vermont Foliage Report – similar to the New Hampshire one!
Jeff Foliage – This is a blog that updates regularly with when you can expect color.
The color of the leaves changes with so many elements, including rain, wind, and temperature. And this isn't just limited to the current month; weather conditions throughout the year might also alter the color.
PRO TIP: If you're not seeing color, head north. We were in Connecticut and it just hadn't hit there yet so we headed to Northern Vermont and it was absolutely stunning. If you're after leaf peeping you *MIGHT* have to change up your journey.
If you're wondering about the best times to see the leaves, check out my detailed guide to fall in New England here.
One Week Fall Foliage Itinerary for New England
Here's where to go for fall foliage with one week in New England and have the ultimate leaf peeping trip!
Day 1: Boston, Massachusetts > White Mountains, New Hampshire
I recommend flying in to Boston. It's the best airport for most flights and one of the cheaper options that Hartford, Connecticut or Burlington, Vermont. I HIGHLY recommend renting a car. Especially if you're going to be chasing the leaves, and as I mentioned things can change rapidly! Last year, we chased the fall colors and changed up our whole trip and it was well worth it!
If you haven't been to Boston, I recommend spending a day here to visit. This is the USA's oldest city so there's some gorgeous architecture and history as well as great food.
Of course, there are some lovely spots for Fall leaves in Boston. The colors can be seen throughout the city, including at Boston Common, the Public Garden, the Charles River Esplanade, Back Bay, and Beacon Hill.
However, I'd been to Boston before, or if you're wanting the full scale of the Fall colors, I recommend skipping Boston and going straight to the White Mountains in New Hampshire.
The drive from Boston up to the White Mountains is about 2 and a half hours. It's a lovely drive full of gorgeous trees and bright red barns.
As you drive there are a few places to stop along the way. I recommend Portsmouth on the coast – a great place to get a lobster roll and a cup of chowder. Another stop is the adorable town of Sandwich, New Hampshire which has a stunning brilliant white church that makes a great backdrop for photos.
Next head to Conway, New Hampshire. This is an adorable town that's great to stay the night in. I also recommend taking the Conway Scenic Railway! You'll get a classic railway journey that transports you in a vintage train through wooded areas and tiny towns. Book your tickets ahead of time; it may sell out! There are three different rail trips available. We picked the Bartlett-Sawyer Excursion.
Day 2: Kancamagus Highway & Mount Washington, New Hampshire
Day 2 of our one week trip is one of my favorites! The Kancamagus is one of the best drives ever. The colors here are just fantastic but there's so much beauty along the scenic highway.
Start your drive in Conway and travel West. The Kancamagus Highway (Route 112) is a 34-mile scenic drive with amazing views. There are lots of great places to pull over so you can take photos or go on a short hike. Be prepared for this drive to take
There are a few must-see spots along the way: Lower Falls, Swift River, Rocky Gorge Scenic Area, Albany Covered Bridge, and Sabbaday Falls.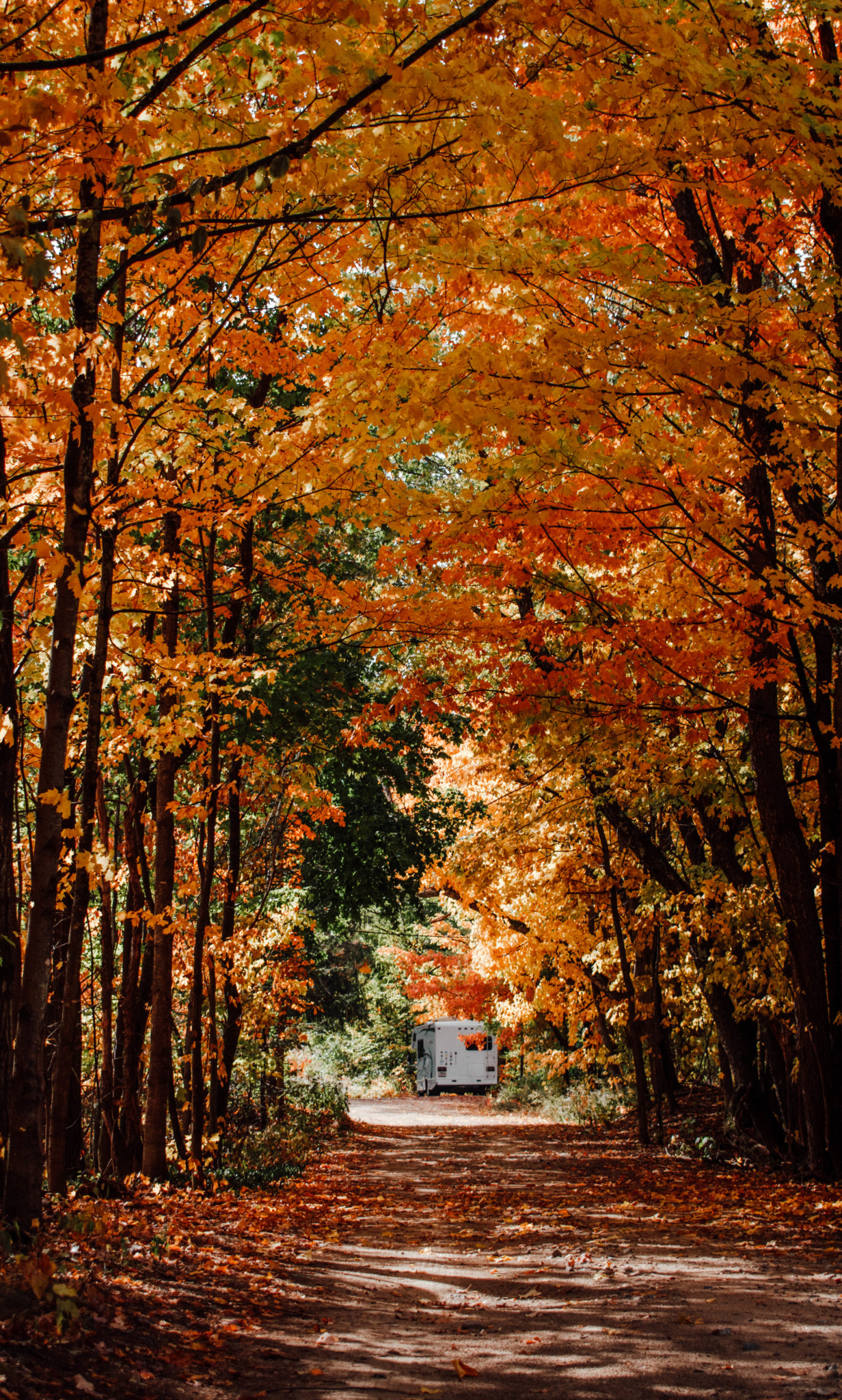 Next up is the Mount Washington Lodge. This huge resort, now owned by the Omni, was created in less than 18 months by Italian labor in 1902. This is the most massive almost entirely wood structure in New Hampshire. For decades, this has been a favorite getaway of presidents and celebrities. It's not cheap, but it would be an excellent place to stay the night!
This is a bit of a drive, but if you have time head north to Dixville Notch, New Hampshire. The Balsams are an abandoned resort that reflect on the lake with insane tree color. There's also the nearby hike, Tablerock Top with absolutely epic views!
Day 3: Franconia Notch, New Hampshire > Montpelier, Vermont
Kick off day three exploring Franconia Notch in New Hampshire. This State Park is stunning! There are a few different hikes you can do. I recommend the Falling Waters Trail which has several waterfalls and cascades along the way.
Flume Gorge is another short hike with majestic views of the mountains and valley below. You'll also see picturesque covered bridges. The best part is that the Flume Gorge is right next to the Franconia Notch Visitor Center, so it's an easy place to stop.
After exploring Franconia Notch, it's finally time to venture into Vermont. The drive from Franconia Notch to Montpelier only takes about 1.5 hours. I recommend stopping at my favorite maple house along the way, Bragg Farm Sugar House! Grab some gifts, try some maple syrup and be sure to get a maple creemee!
Montpelier is Vermont's capital city and it's a great place to explore. I recommend stopping at the State House, which is stunningly beautiful, especially in the Fall. Then walk around downtown and pop into some of the cute shops.
Day 4: Smuggler's Notch & Von Trapp House, Vermont
Smuggler's Notch is an incredible place for views and hikes! Be aware: this is a very curvy road and at times very tight, so it's not suitable for big RVs. We once rented a small RV in New England and it was okay but not something I would do again!
The name of the Smuggler's Notch is perfectly chosen, as the road ascends through a narrow gap between the two mountains, giving spectacular vistas. One of the best locations to go on your New England Fall road trip. The tight route twists and turns amid rocky terrain, providing views of waterfalls and brightly colored trees.
After Smuggler's Notch make your way to the VonTrapp Family Lodge. After the "Sound of Music" family fled Austria, they came to America and decided this spot in Vermont reminded them most of home. As someone who has spent a good amount of time in Austria, I have to agree!
The lodge is gorgeous and set against a beautiful mountainside. It's the perfect place to stay for a night or two on your New England road trip!
Day 5: Stowe, Vermont
Although I only listed one stop, there is lots to see in the area! Kick off the day with some hot and fresh cider donuts. The best place to get them is Cold Hollow Cider Mill in Waterbury. This lovely red store offers gifts, cider, and hot off the fryer donuts. There's a nice patio and you can order food and drinks here, too.
Nearby is the Ben & Jerry's Factory and Ice Cream shop where you can take a tour! The 45-minute tour is really fun and you get to try some ice cream at the end.
Stowe is a quintessential Vermont town with a beautiful Main Street. Be sure to walk around, pop into the shops, and get lunch here. One of my favorite places to eat in Stowe is Harrison's Restaurant or Doc Pond's.
You can also journey across Lake Champlain by boat for stunning fall views of Vermont's Green Mountains.
Take the short walk to Tangerine & Oliver Gift Shop for a stunning panoramic view of the church and settlement. This is truly the ideal location to get a view and snap some shots.
Percy Corn maze in Stowe is also great for pictures and fun for all ages.. The maze takes about 30 – 45 minutes to get through and is $6 per person and free for kids under 7.
If you have time, make the hour and 1 and 15 minute drive to Woodstock, Vermont and you'll stop on the way for the very Instagram famous "Elm Grove Farm" or "Sleepy Hollow Farm." This farm became famous on Pinterest and has since been popularized by Instagram. This is a popular destination for photographers because it's located near a creek and contains a few narrow pathways through the trees. Keep in mind that this is usually a busy area, and the road is small, so be careful not to block traffic.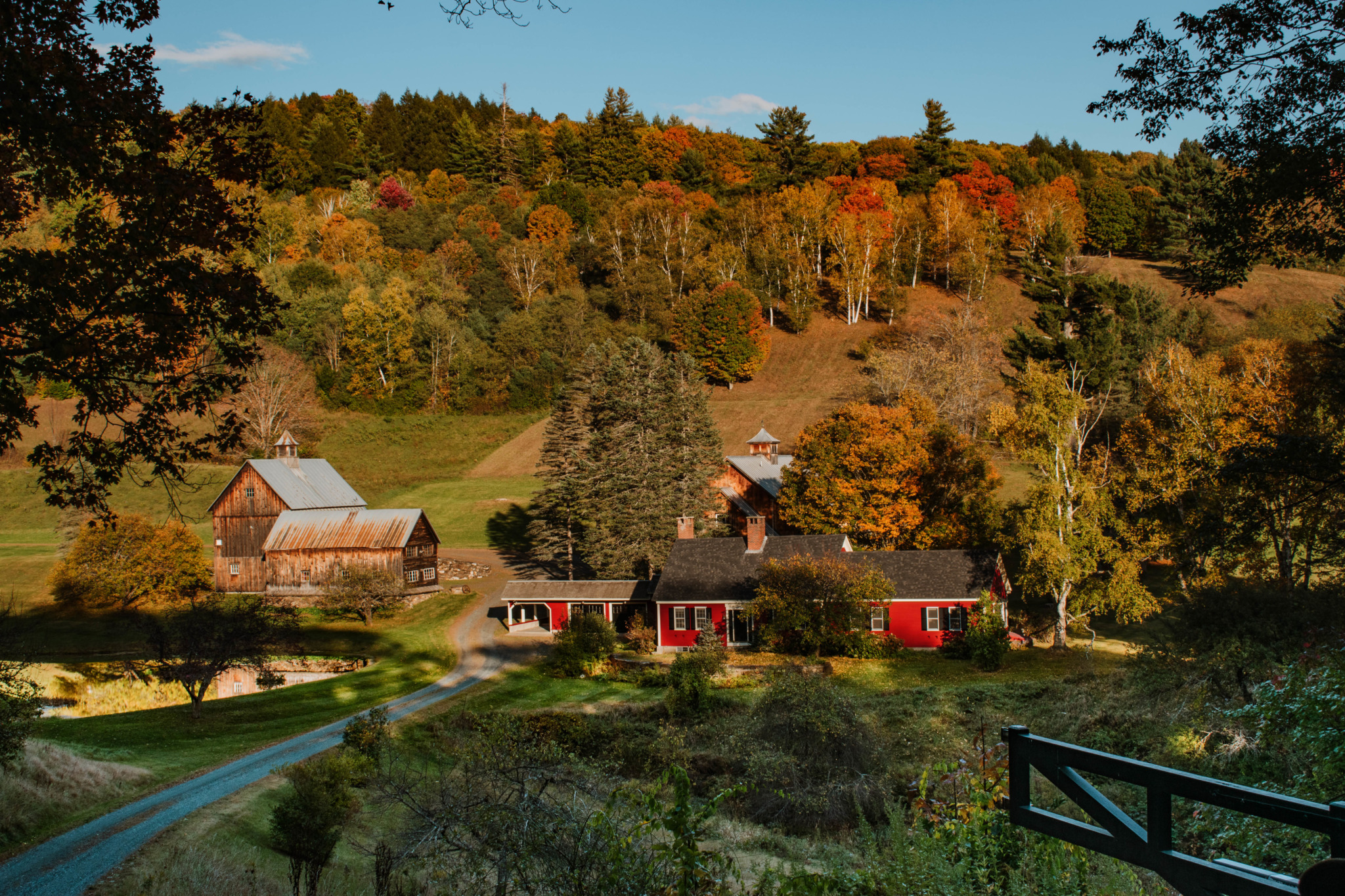 Woodstock is known as the "prettiest small town in America." A gorgeous and charming town with great restaurants and a stunning resort. Woodstock Inn & Resort is absolutely gorgeous with dark shutters, white, stately columns and beautiful rooms. This can sell out quickly!
Day 6: Manchester, Vermont
After leaving Woodstock, drive to Manchester, Vermont. This lovely town has great boutiques and outlets for shopping. The Orvis Store is perfect for those who love the outdoors and need some new gear for fishing or hiking. There's also a great Fly Fishing museum.
For an Instagram-worthy arch out of books, drive to the Northshire Bookstore and browse the collection.
Manchester has a plethora of dining options, and one that is well worth visiting is Ye Olde Tavern, which has been serving hearty New England cuisine and old-fashioned drinks since 1790!
If you have time for a drive and a short hike, head to Nichol's Ledge for epic views!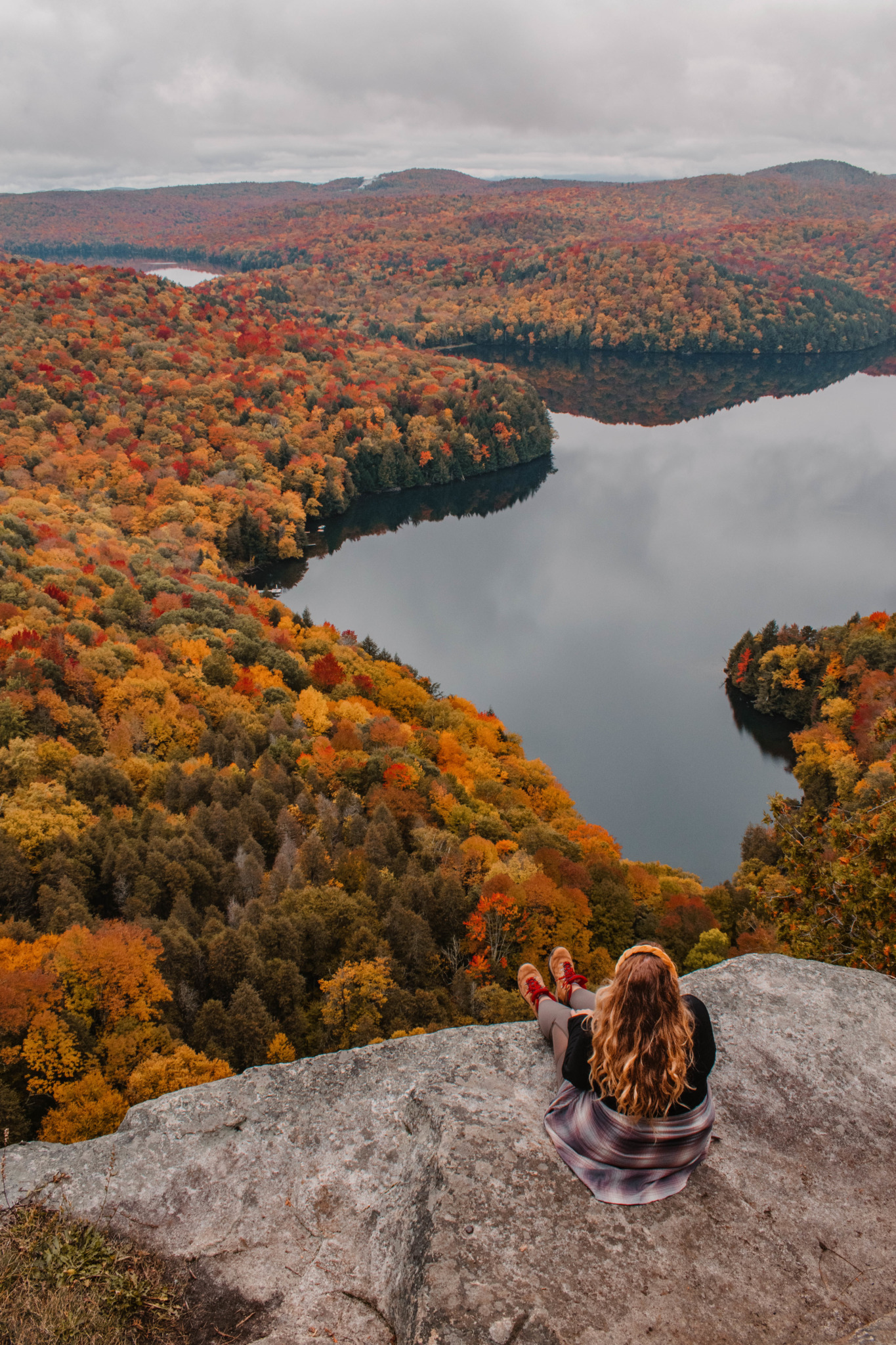 Day 7: The Berkshires > Boston, Massachusetts
Making our way back to Massachusetts, you can end your trip in the idyllic Berkshires. This rural region of western Massachusetts is stunning with great drives for leaf peeping. I recommend the winding roads of Ashintully Garden and Tyringham Cobble.
There are great places to stop for lunch or coffee along the way. If you love antiques, be sure to stop into shops like Lanesboro Antiques & Collectibles.
When you're ready to head back to Boston, take the scenic route and drive along the Mohawk Trail. This is a beautiful drive with great views of the river and mountains.
Extra Time in New England? Add this on!
I really loved Maine when we spent two weeks in New England. You can go fairly easily from Vermont to New Hampshire, then up to Maine. You can spend time in Bethel, Maine then go up to Bar Harbor and can spend as short as a day or as long as 5 days in Acadia National Park. This small National Park is definitely worth your time with incredible views.
After coming south from Maine, spend at least a day or two in Salem, Massachusetts. The BEST town for Halloween and Fall! Catch my full guide to Fall in Salem here. OR take a self guided Hocus Pocus tour!
Or, you can add on Connecticut and Rhode Island instead! In Connecticut the best place for leaves are the stunning Litchfield Hills. It seems everywhere you look there are gorgeous mansions encircled by yellow leaves.
Here are some other places to check out in Connecticut:
Hartford, Connecticut – Visit Mark Twain's home and take a tour to learn more about his life. It's both fascinating and tragic. Harriet Beecher Stowe also has a home nearby.
Southington Apple Festival – Known for their delicious fried apple fritter this is a great festival to attend!
Mystic, Connecticut – Home to the movie "Mystic Pizza" and a beautiful stop on the water with lots of bakeries and maritime heritage.
New Haven, Connecticut – You have to make a stop at Yale! This stunning university is one of the most venerated and beautiful in the USA. It's especially lovely in the Fall.
Next make a stop in Rhode Island! If you're super short on time my biggest recommendation is to go to Providence to the Jack-O-Lantern Spectacular. It's one of the coolest things
Other stops in Rhode Island:
Newport, Rhode Island – Get a lobster roll (and an alcoholic mudslide) at Brick Alley Pub and walk around this adorable brick alley-ed town. Also take the 3 /12 mile Cliff Walk around town. You can just do part of it and take in the mansions! I do recommend you take a tour of one of these incredible estates. They look like castles! My recommendation is the Breakers. Built by Vanderbilt and inspired by an Italian villa, it's a dream!
Providence, Rhode Island – I mentioned the Jack-O-Lantern Spectacular but it needs repeating! It is a fundraiser for the Roger Williams Zoo and it's shocking! over 5,000 hand carved, detailed pumpkins! It's unreal.
The Farmer's Daughter – This picture perfect farm has some of the best and most diverse display of pumpkins! They also have so many Instagram worthy spots for pumpkins, a witch's house, a corn maze and more! Also nearby is Clark's farm!
For this 7 day New England itinerary I suggest starting in Boston then making your way over to Connecticut, through Rhode Island and then back up through New Hampshire and Vermont. Depending on the leaves of course!
I hope you enjoyed this Ultimate One Week Fall Foliage Itinerary for New England!
All my Fall Guides here:
Have you been leaf peeping in New England? Where are your favorite spots?