What are the most Instagrammable spots in Dallas? Where can you find the best place to take photos?! I've got you covered!
They say it's bigger in Texas. Well, I say it's better in Dallas. I could be biased since I was born and raised here. This vibrant, bustling city is always upping its game with great watering holes, eateries, and art. Today, we have some of the best spots to snap a pic or share an envious Instagram. Grab your camera and your favorite Instagram filter because I'm fixin' to show you the best spots in Dallas to take a picture!
Below is a map of all the places discussed in this post:
Dallas is full of Insta-Inspiration. From the endless graffiti walls in Deep Ellum to hip restaurants of Uptown, you'll find something almost everywhere that is worth the snap. A picture might be worth a thousand words, but how does that translate to Instagram likes? These are questions Dallasites might ponder. But fear not, I've got 34 wonderful Dallas spots where you can take selfies, portraits, or do a whole photo shoot. P.S. here are the Best things to do in Dallas (museums, restaurants and more!) All these places are updated for 2020!
Best Spots in Dallas For Pictures
Best Places for Skyline Pictures in Dallas
Margaret Hunt Hill Bridge
One great way to capture the skyline of Dallas is from Trinity Groves, featuring one of the most iconic views of Dallas.
Address: 3011 Gulden Lane
The Bridge at North Edgefield Avenue
Right after sharing the above picture to Instagram I was asked where I took this picture. The answer: a small bridge with easily accessible parking. If you like skyline shots this is an awesome place to go in Dallas.
Address: N Edgefield Ave
Reunion Tower
The best spot for sunset pictures is Reunion Tower. You'll pay a fee to head to the top of the tower but the view is worth it. Dallas' Ball, as I've always called it, has a world renowned restaurant and a 360-degree view of the city.
Address: 300 Reunion Blvd E
The Trinity River Spillway
A few years ago Dallas had a fairly nasty flood that created a mess everywhere. The Trinity River was overrun with water that cascaded over the spillway. While driving around town to view the damage, we headed to the spillway and noticed it offered an interesting view of the city.
Address: 850 Houston St
Best Places In Dallas For Pictures and Activities
Klyde Warren Park
A park built on top of a freeway?! Better believe it. It's a nice oasis among the skyscrapers in Dallas and the classic white archways offer interesting angles. If you need a bite to eat you'll find loads of food trucks gathered around the green.
Address: 2012 Woodall Rodgers FWY
Highland Park Village
With lots of old trees, expensive shops, and trendy restaurants, this is a great spot to take a picture. 
Highland Park Village is a must-see spot in Dallas for anyone looking to add some Instagram-worthy photos to their feed. With its lush greenery and charming architecture, it offers a plethora of picture-perfect backdrops for any photo shoot. The classic white archways of the Village provide interesting angles while the stairs transport you to Porto, Portugal.
The criss-cross wall made of greenery is a popular spot for photos and adds a touch of nature to your feed. Whether you're looking for candid shots or posed pictures, Highland Park Village has it all. Additionally, there are plenty of upscale shops and trendy restaurants that make for great photo ops.
If you happen to visit during the holiday season, the Village is lit up beautifully with Christmas lights and decorations, making it the perfect winter wonderland for your Instagram feed. So grab your camera and head to Highland Park Village for some truly Instagrammable moments.
Address: 1 Highland Park Village
Loveshack Fancy in Dallas
This shop looks JUST like the Instagrammable Tea Room in London! Located in Highland Park Village it needs it's own spot because it's just TOO beautiful!
Address: 29 Highland Park Village, Dallas, TX 75205
Saint James Episcopal Church
I love this beautiful stone church! It makes me feel a little like I'm in England! Especially during the Fall, they have a lovely pumpkin patch! This is such a wonderful backdrop for Instagram photos and videos. 
Address: 9845 McCree Rd, Dallas, TX 75238
SMU Campus
I'm a bit biased because I went to school and got married here, but SMU is one of the most beautiful places in Dallas. From the stunning tree-lined boulevard to the pretty red brick buildings, this area screams portraits. SMU's campus is one of the best places for taking pictures.
Address: Bishop Blvd, Dallas
The Rustic
Not only is this a great place to grab a drink, you can also listen to some music while you take pictures. The Rustic is by far one of my favorite hangouts in Dallas and I especially love their Frosé margaritas.
Address: 3656 Howell St
Dallas Arboretum
Dallas' Arboretum has one of the most photo-friendly backdrops, featuring the lake, endless fragrant flowers, and lush lawns. During the Spring and Summer, you'll find many opportunities for fresh blooms (tulip season in March-April is one of my favorites), concerts and other events.
Address: 8525 Garland Rd
White Rock Lake
It's not just a good exercise spot. The 9-mile loop around the lake is also extremely picturesque. P.S. since you're in the area, you might as well head to my favorite coffee shop, White Rock Coffee. See all my favorite spots in Dallas here.
Address: 8000 E Mockingbird Ln
Flippen Park
Located in the heart of Dallas, Flippen Park is a hidden gem for photography enthusiasts. With its towering oak trees, charming stone bridges, and well-manicured lawns, this park offers a serene escape from the hustle and bustle of the city. Whether you're looking to capture family portraits, engagement photos, or just some scenic shots, Flippen Park is the perfect place to let your creativity run wild. Plus, the park's central location makes it easily accessible for both locals and tourists alike. So why not pack your camera and head to Flippen Park for your next photoshoot?
Address: 4421 N Versailles Ave, Dallas, TX 75205
Dallas Farmers Market
Looking for things to do in Dallas? Look no further than the Dallas Farmers Market! Not only is it a great spot for Instagram-worthy photos, but it also offers a fantastic shopping experience for locally-sourced produce. Be sure to visit on the weekends when The Shed is open, or if you're limited to weekdays, check out The Market, the indoor section of the market featuring a variety of food stalls and shops. Don't miss out on the flea style and unique finds at this beloved Dallas destination!
Address: 920 S Harwood St, Dallas, TX 75201
Fort Worth Botanical Gardens
The Fort Worth Botanical Gardens is a must-visit destination for any photography enthusiast. With over 110 acres of stunning gardens, including a Japanese garden and a rose garden, this botanical oasis offers endless opportunities for beautiful photos. Visitors can also explore the Native Texas Boardwalk, which features a variety of native Texas plant species. The gardens host seasonal events such as the Spring Festival and Japanese Garden Spring Festival. With its serene atmosphere and breathtaking beauty, the Fort Worth Botanical Gardens is a perfect destination for a peaceful and picturesque photoshoot.
The Fort Worth Water Gardens are also a good spot to check out!
Address: 3220 Botanic Garden Blvd, Fort Worth, TX 76107
Arlington Hall at Lee Park
For engagement pictures in Dallas, this is the spot. Better yet, get married here. But only if you invite me. Southern charm to the max. I adore everything about this place.
Address: 333 Turtle Creek Blvd
Downtown Dallas Spots for Pictures
Joule's Eyeball
Much like the watchful eyes in the Great Gatsby, Dallas is crowned with a single eyeball that looks directly at you at the Joule Hotel. It sits on a lush green lawn flanked with towering buildings.
Address: 1530 Main St
Adolphus Hotel
Located in the heart of Downtown Dallas, the Adolphus Hotel is a historic landmark that has been offering luxury accommodations for over a century. Built in 1912, the hotel exudes elegance and sophistication with its grand architecture and stunning interiors.
The Adolphus Hotel boasts 407 rooms and suites, each one beautifully appointed with plush bedding, marble bathrooms, and modern amenities. The hotel offers a variety of room types, ranging from deluxe rooms to executive suites, all of which are designed to provide the utmost comfort and relaxation.
What sets the Adolphus Hotel apart from other hotels in Dallas is its commitment to providing exceptional service. From the moment you step into the lobby, you'll be greeted by friendly staff who are dedicated to making your stay unforgettable. The hotel's attention to detail is evident in every aspect of its service, from the personalized welcome amenities to the 24-hour concierge service.
In addition to its luxurious accommodations and impeccable service, the Adolphus Hotel also offers a range of amenities and activities for its guests. The hotel has a fitness center, spa, and rooftop pool, all of which are perfect for relaxing and rejuvenating. The hotel also has several dining options, including The French Room, also a STUNNING and Instagrammable spot!
Address: 1321 Commerce St, Dallas, TX 75202
W Hotel
Another great hotel for pictures is the W. Not only does it make for a great staycation, it has a wonderful view of the city and some fun design elements that are perfect for pictures.
Address: 2440 Victory Park Ln
Traveling Man Statues
The stainless steel robot men walking around Dallas are placed throughout Deep Ellum by the artist Brad Oldham. They're easy to spot as they tower over the streets.
Address: 2605 Elm St
The Grove at Harwood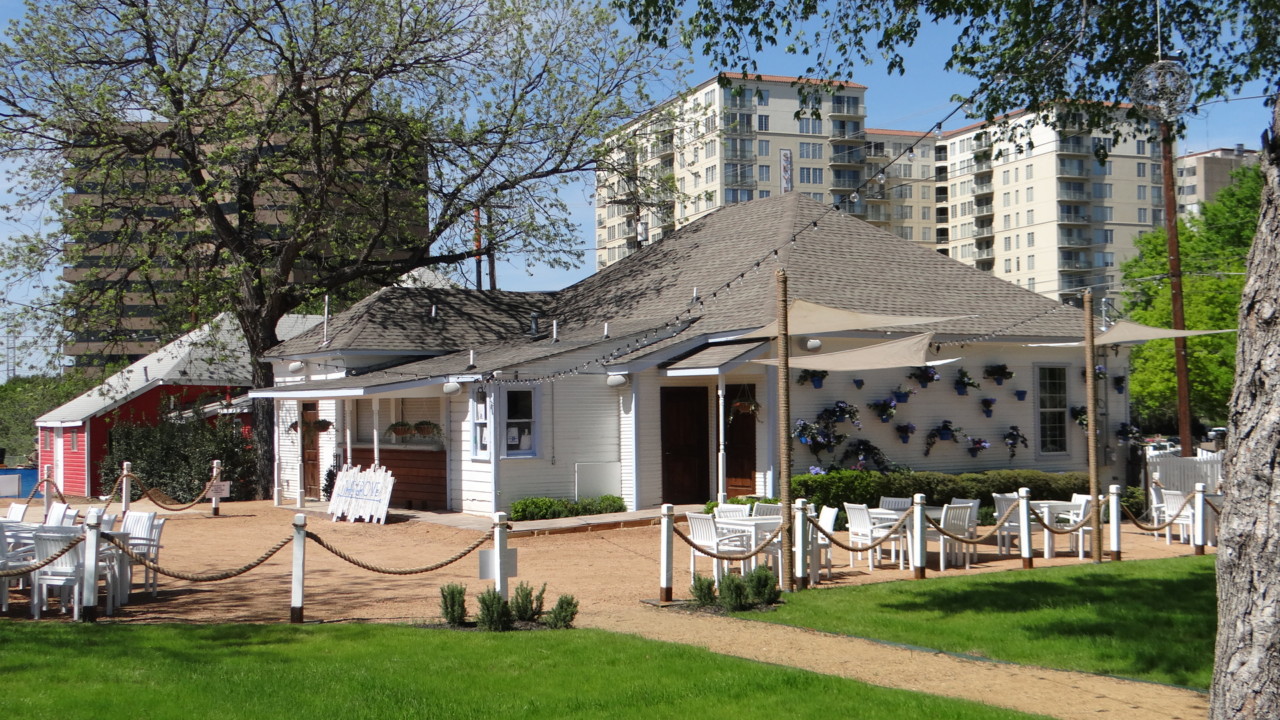 This fun restaurant has some of the best outdoor seating and also a crave-worthy backdrop for your cocktails. I love the white-washed wood with blue flowers and always find it a great spot for pictures.
Address: 3019 McKinnon St
Most Instagram Worthy Places in Dallas
Deep Ellum
If you're looking for the best colorful walls, graffiti, and street art, simply park your car (don't forget to put some coins in the meter) and walk around Deep Ellum. Here are some of my favorite murals in Dallas:
Geometric Diamond Mural
This purple, pink, and yellow explosion of color is around the corner of Houndstooth Coffee. If you keep walking you'll find another one, too!
Address: 1806 McMillan Ave, Dallas TX 75206
American Flag
There's nothing more American than a flag, Y'all. I adore this bright red, white, and blue mural.
Address: 2730 Commerce St, Dallas, TX 75226
Believe in Yourself
Head a few more steps over and you'll find the funky "believe in yourself" wall. Same address as above.
Cactus Mural
Head directly across the street and find two of my favorite murals. First, the bright cacti make for awesome editorial shots.
Address: Behind Pecan Lodge 2705 Commerce St, Dallas, TX 75226
Fighting for Love
Take a few steps to the east of the cactus mural and you'll find this one that reads: "Love is the only thing worth fighting for." A great spot to snap a few pictures.
Same Address as above.
Mosaic Cowboy
Address: 2628 Elm St, Dallas, TX 75226
Funky Door
This funky mural beckons you stop and think or snap a shot.
Address: Near Glazed Donut shop, 2716 Elm St, Dallas, TX 75226
Floral Pies
Grab a slice at Emporium Pies then sit in front of this fun mural.
Address: 2708 Main St #110. Dallas, TX 75226
Sun Mural
This ombre-esque color wheel of happiness is among the most recognizable in the area.
Address: 2606 Swiss Ave, Dallas, TX 75204
Good Morning Dallas
I love this Dallas wall!
Address: Dallas Contemporary, 161 Glass St, Dallas, TX 75207
Two Tone Texas
This is a small one so don't miss it! This simple mural makes for an offbeat Instagram pic.
Address: Near Serious Pizza on Crowdus St
Stevie Ray Vaughan
Colorful and detailed, this mural of Texas' own Stevie Ray Vaughn in Deep Ellum stands out.
Address: Right next to Stirr on 2803 Main St #110, Dallas, TX 75226
Geometric Squares
Perfect backdrop for fashion shoots or adding a bit of color, the geometric mural in Dallas is easy to spot.
Address: 2646 Elm St
Deep Ellum Murals
Two great places for a "Deep Ellum" mural shot happen to be back to back. The first is the blue pastel sign stretching across the building, displaying some of Dallas' past.
The second features Deep Ellum in bright and bold letters. I particularly like the skyscrapers in the background.
Address: 2801 Elm Street
I've mapped out all of these places but here is another great map showing even more of murals around Deep Ellum.
Flea Style
Flea Style is a must-visit destination for anyone interested in vintage and artisanal goods. The market is filled with unique and one-of-a-kind finds, making it a popular spot for Instagrammers and photographers alike. From vintage clothing and jewelry to handmade pottery and furniture, Flea Style offers a wide range of photo-worthy items. The market's colorful and eclectic atmosphere is also perfect for capturing that perfect Instagram shot. So, whether you're a vintage enthusiast or simply looking for a fun and Instagrammable day out, Flea Style is definitely worth a visit.

Address: 3009 Commerce St, Dallas, TX 75226
Beauty Bar Cherry Wall
How FUN is this wall?! Popping with color, this is a swoon-worthy spot for photos. It really puts things with a "cherry on top". 
Oak Cliff
Cactex
Cactus and Texas – doesn't get more regional than this.
Address: 718 W. Davis St. Dallas, TX 75208
Bishop Arts District
Love Equals
Nice spot for an engagement shoot! Find it at the Zoomos Pop-Up Shop.
Address: Corner of Davis St and Madison Ave
Best Place to Stay in Dallas
You need to stay that matches the vibe and, honestly, take more pictures! There is an Airbnb that is absolutely gorgeous. With the most color-coordinated vibes, neon signs, and even custom wall paper. Located in the heart of Dallas this is a the perfect stay and any Instagrammer's dream.
Not only does this have high end bedding, furniture, and over-the-top decor, there's also a sound-insulated karaoke room complete with 50+ disco balls. The details here are amazing!
Plus, there's everything you need for your weekend like a pink and blue pool table, games, a private balcony, Frame TVs, and so much more!
No detail is missed!! Check out the disco ball in the bathroom! And don't forget to check out the garage with the hand painted mural.
Truly, this is one of the most beautiful houses we've EVER stayed in. And the ratings speak for themselves.
Read more:
Ultimate Guide for a Weekend in Dallas