Dallas is underrated. Whenever I talk to Europeans about where they want to go in the USA, they immediately respond with: New York, LA, Miami, and the occasional New Orleans. And while Dallas might not have the beaches or quite as many skyscrapers, the history and culture in Dallas is better than you might realize.
This guide will show you the best things to do in Dallas, Texas with where to stay, eat, drink, and explore.
Dallas isn't a small city. It's home to more than 1.3 million people and spans almost 400 square miles. But Dallas/For Worth is home to nearly 7 million people and is the 7th largest metropolitan area in the United States. With a city so large, it's easy to get caught in the tourist traps, missing some of the best museums, restaurants, and sights the city has to offer.
Fortunately, you've come to the right place. I'm a born-and-raised Dallasite, and I don't want to toot my own horn, but throughout the years, I've learned the ins and outs of this city. There are some places only a true Dallasite can show you, and those are the places that will make your Dallas visit so memorable.
Whether you're considering Dallas as your next getaway destination, will be heading there for work, or have recently moved to my hometown, this ultimate guide to Dallas will clue you in on the best places to shop, dine, explore, and more. It's time to put on your cowboy boots, prepare your palate for some Tex-Mex, and explore the best of Dallas with a local.
This guide will show you where to stay, eat, drink, explore and more. Whether you're looking for a staycation or you're new 'round here, you'll find the best things to do in Dallas.
How much time will you need? Dallas is a big city, but it's easily accessible. You can see most of our museums and highlights in a few days.
Before I jump into this best of Dallas guide, here are some posts you might like:
The Best Photo Spots in Dallas (AKA the Most Instagrammable Places)
The Ultimate Guide to a Weekend in Dallas
Where to Stay In Dallas
To me, one of the coolest parts about staying in any city is unearthing its history. I recently stayed in one of Dallas' premier hotels: The Adolphus. And while I knew it was well known for its exquisite decor and great location, I had no idea that this is one of the most important buildings in Dallas.
Opened in October 1912, it was run by the Anheuser-Busch company co-founder, Adolphus Bush. Hailing from Germany, he came to Dallas seeing a bright future and wanting to start the city's first luxury hotel. He did so, the hotel has been visited by royalty (Queen Elizabeth II stayed here!) along with US presidents and many famous celebrities in their own right.
Busch chose this location specifically since this was to be the place for City Hall. He noticed that all roads lead to City Hall, so he purchased the land from the government and set to design the hotel.
Upon arrival I was immediately struck by the European details of the outside of the building, festooned with stone wreaths, it reminds me of a castle.
When you walk in you're greeted with white marble floors and a slick, wooden backdrop. There's also an "Adolphus" candle burning, a scent made exclusively for the hotel. The hotel recently underwent a 120 million dollar renovation to ensure it was up-to-date, yet holding on to their roots.
On the left you'll find a shop with many eclectic Dallas pieces like custom Stetson hats and trinkets that would make the perfect souvenir.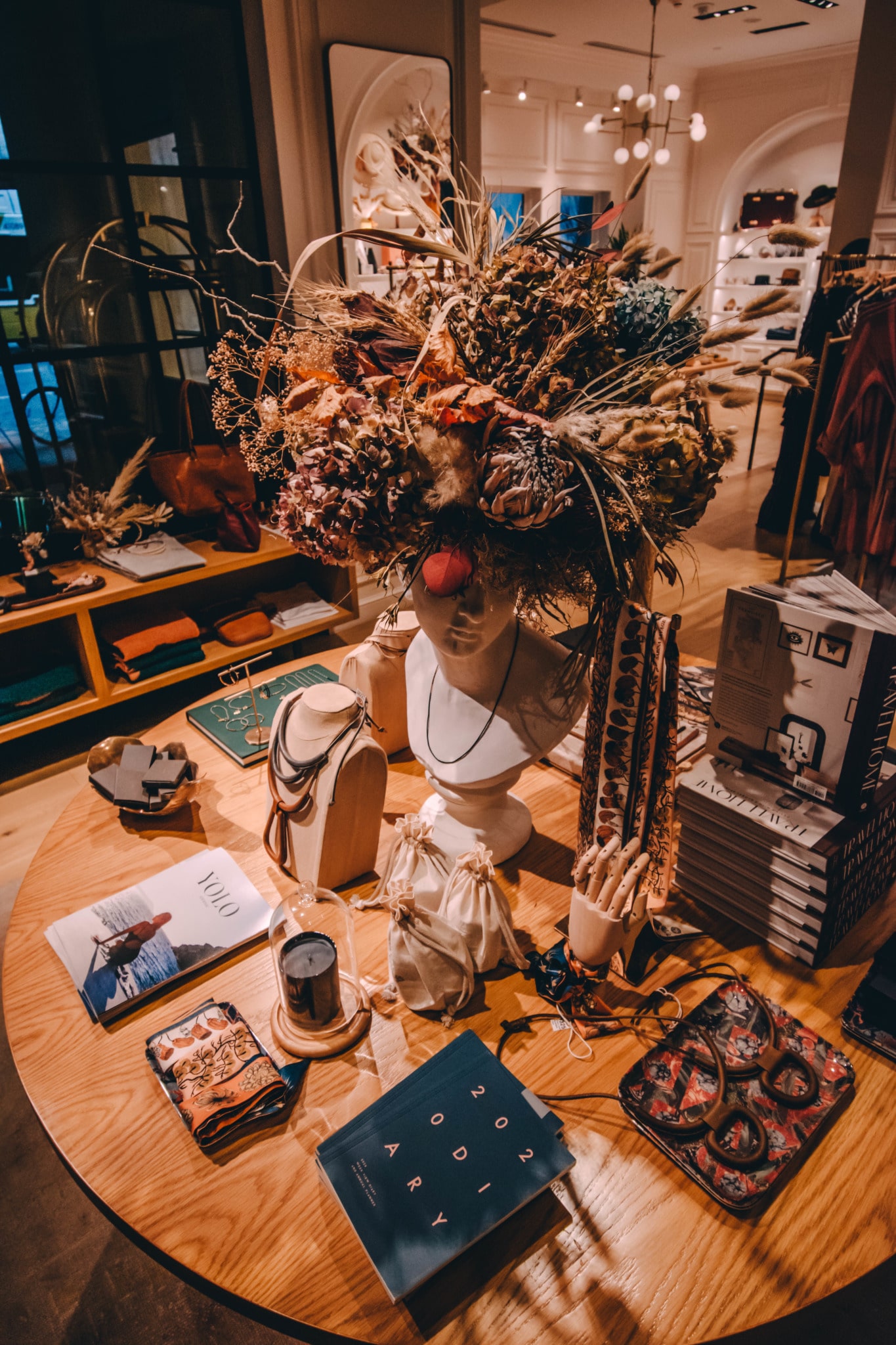 You'll also find a Viennese coffee shop called "Otto's" serving up freshly brewed concoctions. But heading up the small elevator, you'll notice a chandelier from the Busch family along with a large mirror. Called the "Bacchus Mirror" this is solid, hand carved walnut wood frame that survived a 1930s fire. You can see the etchings still from the flame, a reminder that the hotel has stood the test of time. Coming up the escalator, to the right, is where you'll find the beautiful bar and drawing room fireplace.
There are multiple options for dining, the City Hall Bistro offers all day dining with breakfast, lunch, and dinner. If you only eat here once, try City Hall Bistro. Every single thing we ate (and we ate here twice during our stay) was fantastic! This would be a great place to dine even if you aren't staying in the hotel.
Next is the French Room salon which is a feast for the eyes: beautiful, rich furniture and art curated by local Texas artists.
To the left is the French Room Bar, a dark bar that's the perfect place for a late night drink. Make sure to look up to see the actual, real gold ceiling!
Then head over to the marvelous, well-lit French Room. Filled with sconces, and chandeliers made with Murano glass from Italy, this is the best place for a dining experience. This is a place generations of people have come for celebrations, tea, and even where the roots of the Dallas art scene started.
Heading up the slow elevator (the hotel is over 100 years old after all) to our room, we found a cozy space with a comfortable bed, large bathroom with marble shower, and separate sitting area complete with a couch and writing desk.
In addition to the rooms, restaurant, and bar, there's also a beautiful spa. I had a therapeutic massage that was one of the best I've ever had! We also went outside to look at the incredible view of Downtown Dallas.
The hotel of course, is fantastic, but I have to say I was so moved by the history, I know it's a place I'll come to again and again. Whether I'm wanting a stay, to have tea in the opulent French Room, or have a delicious bite to eat at City Hall Bistro. The Adolphus is absolutely stunning, yet entrenched in history which makes it the perfect place to stay.
Parks
When imagining a metropolis like Dallas, you probably think of skyscrapers and sidewalks. One of my favorite things about my hometown is that it welcomes everyone outside to enjoy the warm Texas weather, even in the heart of the city. Even better, exploring Dallas parks is an activity that can be done without spending a dime. These are the parks I don't think any visitor should miss.
White Rock Lake Park
That's right, there are two lakeside parks in the city, and White Rock Lake Park is one of my absolute favorites. The bike, walking, or running trail surrounding the lake is almost 9.5 miles long, and water sports are always being enjoyed in the middle. It's hard to believe you can go fishing, kayaking, or sailing so close to downtown, but that's what makes this park so special. Head to the park during late afternoon to snap photos of the sunset against the Dallas skyline. You can also bring your dog to the dog park here!
Lakeside Park
A lake in Dallas? Yep! Head to the Highland Park area to discover Lakeside Park and the countless lily pads dotting the charming little lake. The path around the lake is one of the best in the city for running or walking, and you can't leave without snapping a few selfies in front of the giant teddy bear sculptures.

Klyde Warren Park
Likely the most popular park in Dallas, Klyde Warren Park is one that's difficult to miss, as it's located directly in the downtown district. The 5.2 acres of play space for kids and adults is actually located above the Woodall Rodgers Freeway, offering a unique escape from the traffic that inevitably comes with city living. While the dog park here isn't anything to write home about, the regularly scheduled outdoor concerts and food trucks are worthy of a visit.

Museums
Living in Europe for three years gave me a deeper appreciation for museums, and I'm not sure I ever really understood how amazing the museums right here in Dallas are until I returned. To begin, I must say that there are countless museums, large and small, in this city, and so many of them are worth visiting. These are just a few of the ones I think are absolute "must-visits."
Perot National History Museum
The Perot National History Museum is as interesting on the inside as it appears on the outside. The building was designed by Thom Mayne, a 2005 Pritzker Architecture Prize Laureate, and resembles a giant cube, which is easy to spot in the heart of downtown Dallas. This state-of-the-art, hands-on museum is fun for kids and adults alike, with giant dinosaur fossil skeletons, several 3D films, robot building, an indoor nature walk, and countless other permanent and rotating exhibitions. It's easy to spend an entire day exploring the numerous halls that combine to make this one of my favorite museums in the country.
The Sixth Floor Museum
I must stress that you simply can't leave Dallas without visiting this museum dedicated to President John F. Kennedy, leading up to the day he was shot here in Dealey Plaza. It's one of Texas' most popular historic sites and rightly so. Learn about the social and political movements of the '60s, and discover the ins and outs of John F. Kennedy's presidency. You can find this aptly named museum on the sixth floor of the Texas School Book Depository building.
Meadows Museum
I may be a little biased as a graduate of Southern Methodist University, but this on-campus museum is one of the most unique in the country. The Meadows Museum provides the biggest display of Spanish art outside of Spain, including works from artists like Goya, Velazquez, Miro, Picasso, and El Greco. The changing exhibitions are what keep me coming back to Meadows Museum — aside from those nostalgic walks through campus — as they feature works from some of the most legendary Spanish artists as well as names that easily could have gone unknown. The lesser-known names are often some of my favorites.

Shopping
I can't help but shop when I'm in a major city, and I assume many of my readers are similar. While Dallas may not be as famous in the fashion world as New York City or Paris, it offers plenty of opportunities to shop until your heels hurt. Whether you're looking for handmade trinkets or the biggest name brands, you can find them all here in the Big D.

Highland Park Village
If you'd like your shopping day to be a complete experience (more than just a visit to a mall), then Highland Park Village is the place to go. It is said to be the oldest open-air shopping center in the country, which adds a bit of culture to your shopping adventure. However, due to its fame, it's also one of the most expensive shopping areas in the city. Here, you'll find names like Chanel, Fendi, Ralph Lauren, and Jimmy Choo, as well as younger, trendier names like Anthropologie, and Rag & Bone. Highland Park Village is worthy wandering and window-shopping if you'd like to save your spending money for more affordable shopping areas.
Dallas Farmers Market
Unlike Highland Park Village, you don't have to have deep pockets to shop and enjoy the Dallas Farmers Market. Found on downtown's east side, this market dates back to 1941, and is one of the largest in Texas. It features more than 150 stalls, selling everything from honey, local produce, and eggs to artisanal foods, Mexican imports, and T-shirts. It's easy to spend a big chunk of your day shopping and dining in the Dallas Farmers Market, and possibly even longer if you visit during a live musical performance or special event.
NorthPark Mall
They say everything is bigger in Texas, and that's definitely true at the NorthPark Mall. In fact, you haven't fully shopped in Dallas until you've been to this 2,000,000-square-foot shopping center, complete with a 16-screen movie theater, more than 235 retail stores, and roughly 30 restaurants. There's something for everyone at the NorthPark Mall, from Burberry and Gucci to Apple and H&M. It's consistently ranked among the top shopping destinations in the country, and you can only understand why once you enter. Just try not to get lost!
Forty Five Ten
There's something about shopping downtown in a major city that makes me feel like high society. And I always feel like royalty when shopping at Forty Five Ten, a massive luxury boutique in downtown Dallas. It's said that Oprah, Gwyneth Paltrow, and Laura Bush shop here, but one thing I appreciate about Forty Five Ten, is that not all of the prices are meant for the rich and famous. Skip over the brands like Marc Jacobs and Stella McCartney, and you can walk away with sale items and accessories that won't break the bank.

Dining
Let's face it. One of the most exciting things to do in Dallas is dine, and that's because you can get absolutely any kind of food you crave. As Dallas neighborhoods become more trendy and aspiring chefs venture from around the country to the Big D, the Dallas food scene continues to thrive and evolve. However, there are also a few Dallas staples you simply can't leave the city without trying, even if that means putting on a few pounds.

Keller's Drive-In
Nothing says old-school Dallas like a drive-in, and Keller's is the most iconic in the city. Keller's has been serving some of Dallas' best and most affordable burgers, hot dogs, corn dogs, and other classic diner eats for well over 50 years. A burger costs $2.35, french fries or tater tots are $1.55, and adding chili is $.25. Simply remember that you won't get served if you try to enter the restaurant. Just wait in your vehicle, and a waitress will find you for your order.

Avila's
You can't visit Texas without eating Tex-Mex, a blend of classic Mexican cuisine and a unique Texan flair. Avila's has been a Tex-Mex staple in Dallas since the 1980s, offering eight types of enchiladas, brisket tacos, spicy salsa, perfect margaritas, and mouthwatering moles.

Tolbert's
The state dish of Texas is not a Tex-Mex plate or barbecue — it's chili. The chili at Tolbert's is continuously named the best in the city. Tolbert's opened in 1976, and is housed in a building that dates back to 1911, so in addition to tasting a legendary bowl, you'll have a chance to explore a historic downtown building too.
Babe's
Classic, home-style southern cooking in a relaxed setting. It's a good place for fried chicken and hanging out with friends.
Bullion
When you're looking for the ultimate date night in the city, there's no better place to impress your significant other than at Bullion. Bruno Davaillon, the mastermind and Michelin-starred chef behind Bullion, creates farm-to-table dishes that vary daily. However, you'll need to plan your date night ahead, because reservations go quickly here. And don't forget to arrive early to sample the craft cocktails before what is guaranteed to be an unforgettable meal.

Jimmy's Food Store
A "food store" may not sound like much, but Jimmy's is a Dallas staple you won't want to miss. This legendary eatery and place to stock up on Italian wines, fresh meats, and more has been serving Texans and visitors from around the globe since 1966. Order a sandwich from the deli, sip a glass of wine, then shop the market for a delicious dinner or tasty souvenirs to take home.
El Fenix
El Fenix has been serving up Mexican food in Dallas since 1918; however, it moved to the McKinney Avenue location in 1925. In addition to being housed in a super interesting old downtown building, El Fenix serves up some of my favorite margaritas in the city. Lunch specials and happy hours also make El Fenix more affordable than you'd expect for a bucket-list-worthy restaurant in the heart of Dallas.

Ten Bells Tavern
Nothing beats a neighborhood bar for brunch after a long night out in Dallas, and Ten Bells Tavern is the perfect one. This unassuming bar has won a staggering number of awards for its delicious food and welcoming atmosphere, including a dog-friendly patio. The famed Country Breakfast, piled high with fried chicken, homestyle fries, over-easy eggs, and traditional white pepper gravy is known for its hangover-curing qualities, but brunch lovers have a long list of other dishes from which to choose too. Too late for brunch? Ten Bells offers its award-winning pub grub at all times of day (even late night).
Coffee Shops
Royal Blue Grocery
What is Dallas without it's trendy, neighborhood coffee shop? Royal blue Grocery is in Highland Park, one of the hippest and Instagram friendly Dallas spots. They have luxury groceries (*since this is Dallas after all) and great coffee.
White Rock Coffee
Not only is this my favorite coffee spot in Dallas, it's my favorite coffee place in the world. I simply can't find anyone that makes a better Chai tea latte. Come once and you'll come back again and again. Also the perfect place to go after hitting up White Rock Lake.
Bars
There are no shortage of bars in Dallas but there are a few that are my favorites.
The Rustic
The Rustic has become one of the best hangout spots to grab a drink, listen to music, and have a bite to eat. Great for people of all ages with a beautiful lawn to socialize on. Hear the likes of Pat Green and other Texas country artists perform here.
Whippersnapper
Not only is this a great Dallas bar, Whippersnapper often has theme months. For example they've had a month-long Harry Potter theme or The Office.
Happiest Hour
If you're looking for a fun bar with good food and a great view of the Dallas skyline, then Happiest Hour is a great spot. Cool in the summer and heaters in the winter, they've got you covered year round.
The Skellig
One of the best all-around bars in Dallas, The Skellig has great drinks (try the El Chapo shot- one of my favorites!), fun music, and a lively atmosphere.
No guide to Dallas is ever complete, and I feel like I've barely even scratched the surface of the amazing places to dine, shop, and explore in my hometown. However, whether you're traveling to Dallas for work, fun, or a bit of each, this guide will help you knock-out some of the must-visit spots without being persuaded by less worthy tourist attractions.

I'm interested to hear if you hit any of my favorite spots in Dallas, and if you discover other favorites of your own. And most of all, I hope you enjoy my hometown as much as I do.