Take a piece of the Wizarding World with you wherever you go! After more than two decades of magical exploration, we are still under the spell of the wizarding world and had to share our ultimate Harry Potter gift guide with you. Whether it's a witch, wizard or muggle in your life who is captivated by all things Harry Potter related or if you're searching for the ideal present – this one is sure to cast an enchantment on them!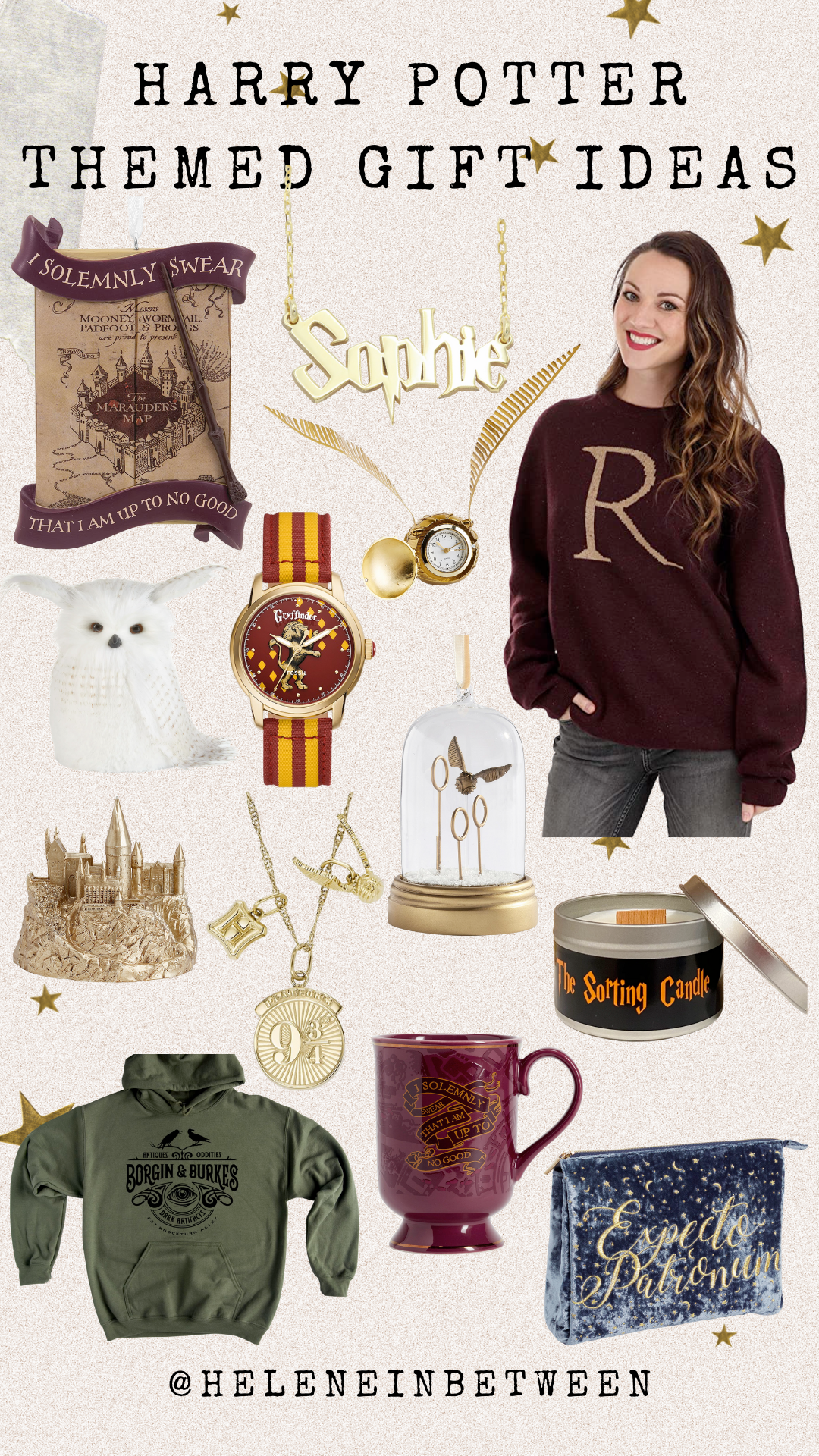 Are you looking for something special to show them how much they mean to you? Our selection of interactive wands, wizard-themed board games and chic gold jewelry is surefire way to ensure your loved one knows that their "magical" presence in your life will never be forgotten. Give the gift of Hogwarts without having leave home!
For the Potterhead who loves to express their passion creatively, we've included a collection of collectibles and crafts that will keep them occupied for hours. From coloring sets and character dolls to puzzles inspired by the films, these gifts will bring smiles to every fan's face. And don't forget about our selection of official Harry Potter apparel; a must for any true fan.
We have to, of course, kick things off with a book set! This is a great gift for anyone who wants to read the books or re-read them. This special edition box set is a great price!
Want to "take the lot" from the trolley, dear? This Harry Potter candy set is the perfect gift. With Bertie Bott's ever flavor beans, chocolate frogs, and jelly slugs too!
Butter Beer Flavored Chapstick
Listen, I bought this vitamin e lip moisturizer because I adore this brand. But when I smelled it, I was floored! This actually comes in a trio of sugar scrub, lip mask, and the lip moisturizer. When I was in Harry Potter World at Universal Orlando I pulled this out to put on in between sips of frozen butter beer and was SHOCKED that it smelled and tasted the exact same!
You can solemnly swear you're up to no good with this perfect replica of the Marauders map on a mug! It actually changes color when you put hot or cold drinks in the mug! Or, get it on a blanket. This pretty Marauder's Map blanket is perfect.
"Words, are in my not-so-humble opinion, our most inexhaustible source of magic." The perfect gift for the Harry Potter fan that loves to write – a wand pen shaped like an elder wand. It's makes writing so much more fun! I actually carried this at the Wizarding World of Universal Orlando, and for $15 I had a wand instead of shelling out $70.
I have and adore my favorite Dumbledore quote memorialized on my wall: "Words are, in my not-so-humble opinion, our most inexhaustible source of magic." I love this poster and have it right by my desk as I write my own book! And this blog post. See poster options here.
This beautiful cloak looks exactly like the one in the movie and comes in a beautiful box. It works like a green-screen with your smartphone and will make you disappear, it even comes with a phone holder that can sit on a table top. You'll disappear just like magic. Just watch out for Mrs. Norris.
This isn't an ordinary candle y'all! It magically changes color and scent from hat to wizard school house! When you burn the candle it actually changes color! Such a unique Harry Potter gift idea. This candle is sold on Etsy, so if you're looking for an option on Amazon, try this candle. And of course, you'll need the flameless floating candle to turn your home into the Great Hall! I like to decorate with these for Fall or Halloween.
See all my Harry Potter themed home decor here!
What's better than cookies? Cookies that are shaped and decorated with Harry Potter characters and signature icons! This cookie cutter set from Amazon includes Harry's famous glasses, his pet owl, the golden Quidditch snitch and more.
Harry Potter Collectible Quidditch set
This collectible Quidditch set is perfect for any fan. This exquisitely detailed replica includes a quaffle, two bludgers, and the golden snitch set in a trunk. It's a great conversation piece for any room.
This jewelry is the perfect little addition to your outfit. You'll find silver plated deathly hallows studs, a golden snitch and the Harry Potter Logo earrings. Or, check out this beautiful bar bracelet with one of the best lines from the series: "After all this time?… Always" immediate chills! I also love this Time Turner necklace, perfect for the Hermiones out there!
What gift guide is complete without a plush Hedwig the owl? Get one of these cuddly versions and you won't regret it. The snowy owl is super soft and perfect for little ones that love the series.
Don't know what to get someone? To quote Albus Dumbledore "One can never have enough socks." And I agree. These fun Harry Potter socks come in a variety of styles and colors, and are perfect for any fan!
I love these Harry Potter sweaters that Mrs. Weasley knits for them on Christmas! they have them in all different colors! These are hand knit and look IDENTICAL to the movie!
The Harry Potter House Robes are a great gift for fans who want to show off their Hogwarts pride. Available in all four house colors, these robes are made from soft and comfortable materials and feature the house crest on the front.
Unofficial Harry Potter Cookbook
If you're looking for a gift that will truly impress any Harry Potter fan, the Unofficial Harry Potter Cookbook is it. With over 150 recipes inspired by the world of Harry Potter, this cookbook bewitches all your favorite foods from the books and movies to life! From Butterbeer cupcakes to pumpkin pasties, there's something for everyone.
For the kitchen of any Potterhead, these awesome cooking utensils are just the thing. From Harry's glasses to a lightning bolt spatula, you'll find everything you need to make a magical meal. Would also be perfect to add with the cookbook as a gift!
"That's barbaric!" says Hermione. "That's wizard's chess," announces Ron. Get your own Wizard Chess Set and bring the Wizarding world game game to your family with this chess set, featuring pieces that look just like the movie. In Harry Potter and the Sorcerer's Stone, you'll get 32 chess pieces, a playing board, and two drawstring pouches.
This classic Uno game gets an upgrade with a Harry Potter twist. With cards featuring all your favorite characters: Harry, Ron, Hermione and more, you'll be playing Uno in Hogwarts style!
Harry Potter and the Chamber of Secrets LEGOs
Fans of the series will love this version of this LEGO set to build Hogwarts Castle, the Great Hall and more! With twelve different characters and chambers to explore, this set is perfect for any Harry Potter fan.
Harry Potter Cauldron Soup Mug
I think this cauldron soup bowl is the CUTEST! Would make the perfect gift or add it to your own magical Harry Potter collection! Keeps everything nice and warm! It comes with a spoon as well. You can make your own concoctions and potions.
Harry Potter Ceramic Spice Jars
This set of 4 spice jars would make a great addition to the soup bowls. Each jar features the 4 Hogwarts houses: Gryffindor, Hufflepuff, Slytherin and Ravenclaw symbols. These jars are 1,45 ounces each.
Perfect for jewelry, muggle money, or wizard gold! Keep everything organized with this beautiful crafted trinket dish. The perfect gift for anyone that loves Harry Potter.
Make anyone's bedroom magical with these amazing Harry Potter Bedding Sets. Available in twin and full sizes, the bedding has all the iconic symbols from the series. It also comes with super soft sheets and the Hogwarts crest!
You can also sleep easy in this Harry Potter Pajama set!
All aboard the Hogwarts Express! This lamp offers an ambient warm glow and is perfect for any witch or wizard heading to Hogwarts.
Or, you can get the Platform 9 3/4 Station as a wall clock!
Harry Potter Peel and Stick Wall Decals
These peel and stick wall decals will make any Harry Potter fan's room complete. With over 50 designs to choose from, you can create your own Hogwarts inspired look! From the castle crest to a giant Dobby, these are sure to bring a smile to anyone's face.
You can see all of my Harry potter picks on Amazon, here.
Posts you might like as a Harry Potter Fan:
Harry Potter Themed Home and Halloween Decor
Harry Potter Themed Filming Locations around the World and where to travel if you love Harry Potter
Guide to the Wizarding World of Harry Potter in Orlando
Warner Brothers Studio London Harry Potter Tour Review
For those who love to incorporate a touch of magic into their daily routine, I've got you covered with the best Harry Potter gift ideas for adults, kids, witches, and aspiring wizards alike. Whether you want a birthday gift for Potterheads, a stocking stuffer at Christmas time, I've got you sorted for all ages. With an assortment of Harry Potter themed home decor, including house banners, throw pillows and mugs, will make any living space feel like a part of the wizarding world. And for those who prefer to carry their fandom with them, I recommend a Elder wand pen or a subtle Deathly Hallows necklace.
And finally, for the ultimate Harry Potter fan who wants to immerse themselves in the series even further, we suggest investing in a set of illustrated books or the complete eight-film collection. These gifts will allow your loved one to fully indulge in the magic and wonder of Harry Potter, and to relive their favorite moments over and over again. No matter what your budget or your friend's level of devotion to the series, this gift guide has something for everyone. All these gifts are perfect for the Harry Potter fan in your life. Whether they want to cook up a magical feast or wear some signature accessories, you can't go wrong with any of these items! Plus, you'll get bonus points for picking something out of the ordinary. So, happy shopping and don't let the muggles get you down!
As the world's largest online retailer, Amazon offers a wide range of Harry Potter-themed gifts that are perfect for any fan of the Wizarding World. I also included many gifts that you might like that are unique! Whether you're looking for books, movies, collectibles, or home decor this list has you covered.