Do you need to find the ideal present for the globetrotter in your life? Whether you're looking to wow, or need to be budget friendly, I've got the BEST Christmas gift ideas for the traveler. From travel inspired gifts to actual experiences, you can't go wrong with these holiday gifts.
What do travelers REALLY want for Christmas for 2022? I think the answer would be: to travel normally.
If you're looking for unique gifts for travelers or just people on-the-go, I got you! There's a wanderluster in all of us, so these presents will make anyone feel special. I bring you the best gifts for travel lovers for 2022.
Most of us are perpetually on the go. Whether we are hopping from destination to destination, travel for work, picking up kids from school, or driving to work, we are constantly in motion. So we need gifts that hold up, are practical (or pretty!), and will last. Everything has been tried and tested, many items for the past 3-5 years!
Whether you're looking for a gift for that one person that's hard to shop for, trying to find the perfect gift for travelers, or want to give a personalized present that will wow, these gifts are the perfect idea. Many of these portable gifts are under $100, most under $50, and I know these are things that people will actually use. I know I do!
See my full 2022 gift guide here!
See my Amazon gift picks here!
Some of the items below were sent for my review, but I thoroughly test things out before giving my opinion. And I didn't include anything here that I don't wholeheartedly believe in! So, without further ado, the absolute best travel gift ideas:
We have to start with Michael's well-researched tripod. Y'all he spent months. Literally, months, researching this thing. And it was all for good reason. He researches every single part of something and knew exactly what he wanted: a sturdy, all metal tripod that came with a bag. We've used it to take astrophotography and pictures of the dogs. It's well worth it, and also a great gift!
The tripod is unique as the legs are actually inverted which helps to minimize space. It's just so sleek and easy to use. Over 575 4.5 star reviews.
If you're looking for a tripod for your phone, I recommend this one. I love that it comes with a ring light. I use this surprisingly often to film! Especially for Instagram stories.
This simply wouldn't be a Helene in Between post without a Colleen Rothschild mention. This is the only skincare brand I use and I've been using it for over 6 years now. There is simply nothing else like it. I was recently on a girls trip and was so excited to see I've gotten so many of my friends hooked!
I think the Discovery Collection is the perfect kit since you'll get to try all of the best selling products. Get one for yourself and give one as a gift. You'll fall in love! The kit comes with the cleansing balm, but I have to mention it one more time. If you only get one thing from Colleen Rothschild, make sure it's the cleansing balm. It's luxurious and just melts off your makeup. It cleans my skin while still leaving it soft and supple. I won't use anything else!
There are tons of holiday sets on the Colleen Rothschild site that are perfect for gift giving! I especially love the Discovery Collection, the Quench and Shine Travel hair essentials and the beautiful Body Butter Trios. 
Bottom line: I trust every single product, and this is an easy gift for any one on your list!
You can see all of my favorite Colleen Rothschild products here!
Here are the details about all upcoming sales!
WTSO or Wines 'Til Sold Out is SUCH a cool concept. If you need a unique gift, I have you covered! I love wine, and I know what I like when drinking wine, but I find it hard to choose the right ones. Anyone else waste time in the wine aisle in the grocery store just hoping one will jump out at you? Then you get it home and it's not the best?!
With WTSO, think of this as a wine tasting experience from around the world, delivered. You can order a wine tasting flight and each box includes curated wine, tasting cards, and guides for each tasting.
This is a wine lovers dream come true. WTSO has no membership fees, no deposits, free shipping, and WTSO offers a 100% guarantee! If you don't like a bottle, no questions asked you'll get a refund or replacement. I cannot think of a better gift!
WTSO offers wines at the best price online, until they are sold out. WTSO offers daily deals on wine from around the world with wines of all different prices from name brands to smaller, local wineries.
**Use code HELENE, which will give you $10 off your first purchase of $50+!**
I LOVE this gift idea! One of my favorite aspects about travel is trying the food. You can give someone you love a snack subscription complete with local snacks from a new place each month! Universal Yums sends you a box of snacks and candy from a different country every month, along with a booklet with country-specific games, trivia, recipes and more! For example, this month's box is the Czech Republic.
Not only does Universal Yums share history from the country (I've been to Prague many times, but learned so much interesting trivia), it also features food from local small businesses! You can learn a lot from a culture based on what they consume. I knew beer was at the top of the list in the Czech Republic, but had no idea caraway seeds were such a staple for the Czechs. While I munched on the Roasted Onion Pretzel Crips I learned that on Christmas they sprinkle salt on 12 onion peels (one for every month of the year), let them sit overnight, and in the morning predict how rainy each month will be based on how wet each peel is?! I LEARNED SO MUCH. And I got to eat my way through it! If this isn't the best idea, I don't know what is.
Y'all! This is just too good. If you follow us, you know we love personalized items and this is no exception. It's a customized tray of your favorite national park! This is just so unique and cool and beats the traditional coffee table book.
Maybe this year you aren't scratching quite as many places off your list, but what a better way to reminisce on your favorite places and bucket list destinations you visited? This is a beautiful gold foil map that's perfect for your wall. I once used a re "pin" map but this is much easier and I think a little prettier to hang.
If you'd like to skip a map, try this vintage travel poster or print– tons of options to choose from!
The Perfect Backpack
As a full time travel blogger, I need to be able to carry all my stuff (laptop in its own padded sleeve, camera, tripod, lenses) and my clothes. I am obsessed with the Osprey backpack. I've had it for nearly 4 years now and never leave home without it. I have carried it for 21 day trips to 36 hour ones. It's versatile, easy, and helps me easily space out my stuff.
Can y'all even believe I didn't have packing cubes until a friend gifted these to me?! My friend who I frequently travel with (she's a PRO packer and spent months in Europe with one carry on!) swears by these! I'm so excited to use these. She uses the large one to fit in two coats! And they have a unique zipping system to really compress everything.
This might be the coolest concept out there – you can become a Lord or Lady of Scotland and own property. A company approached me with that as the email headline. I clicked it, researched it, and it's legitimate. Here's how it works: you buy a small plot of land that helps give back to conservation efforts in Scotland, that deems you a lord or lady. You can buy this for a family member, a friend, or yourself! Use code "Helene15″ for 15% off.
Last year, I FINALLY got a new pair of hiking shoes after having the same pair for nearly 7 years! I've been wearing these for a year and LOVE them. I decided to go with the Columbia Newton Ridge boots since they are comfortable but also stylish. I also think the price range is excellent for these and would make a great gift. Especially since we are all embracing the great outdoors as much as possible for 2022 travel. I also featured them in my "what to wear hiking" guide. OR my winter packing list!
This is my exact camera and in my opinion, a great price for a mid-range camera. I think this would be a great gift for those looking to get started or are a bit more advanced in photography. This is the exact camera I use for images on my blog and Instagram. You can see all of camera gear here!
Silk Pillowcase
I am so obsessed with my pillowcase I actually bring it with me when I travel. This one off Amazon is the one Michael got me one for Christmas a couple years back and I love it. I discovered that my hair started breaking off and figured I'd try anything. Not only is a silk pillow case great for your hair, it's also good for your skin.
Drone photography and videography is super popular and it offers such a unique perspective. The DJI Mavic remains one of the best around. While this is by no means a cheap gift, you'll give them the gift that keeps on giving as they can see the world from a whole new view. A great gift for a guy!
Personalized Calendar
I got this for Michael last year and each month we wait to see what the next photo will be. I filled it with personal pictures, some of our best photos, and snapshots that remind us of our favorite memories.
If you travel, you're bound to have some good pictures. I think this is the perfect gift for your spouse! I ordered mine from VistaPrint because they seem to always have coupons, so I know I could get a good deal.
Don't want to do a calendar? Do a book instead that catalogs your memories. I use Google!
Travel experiences are one of the most fulfilling experiences you can have. An experience is the gift that keeps on giving which is why I love giving a GetYourGuide gift card. They can pick their favorite travel experience and can use it to redeem an experience almost anywhere in the world!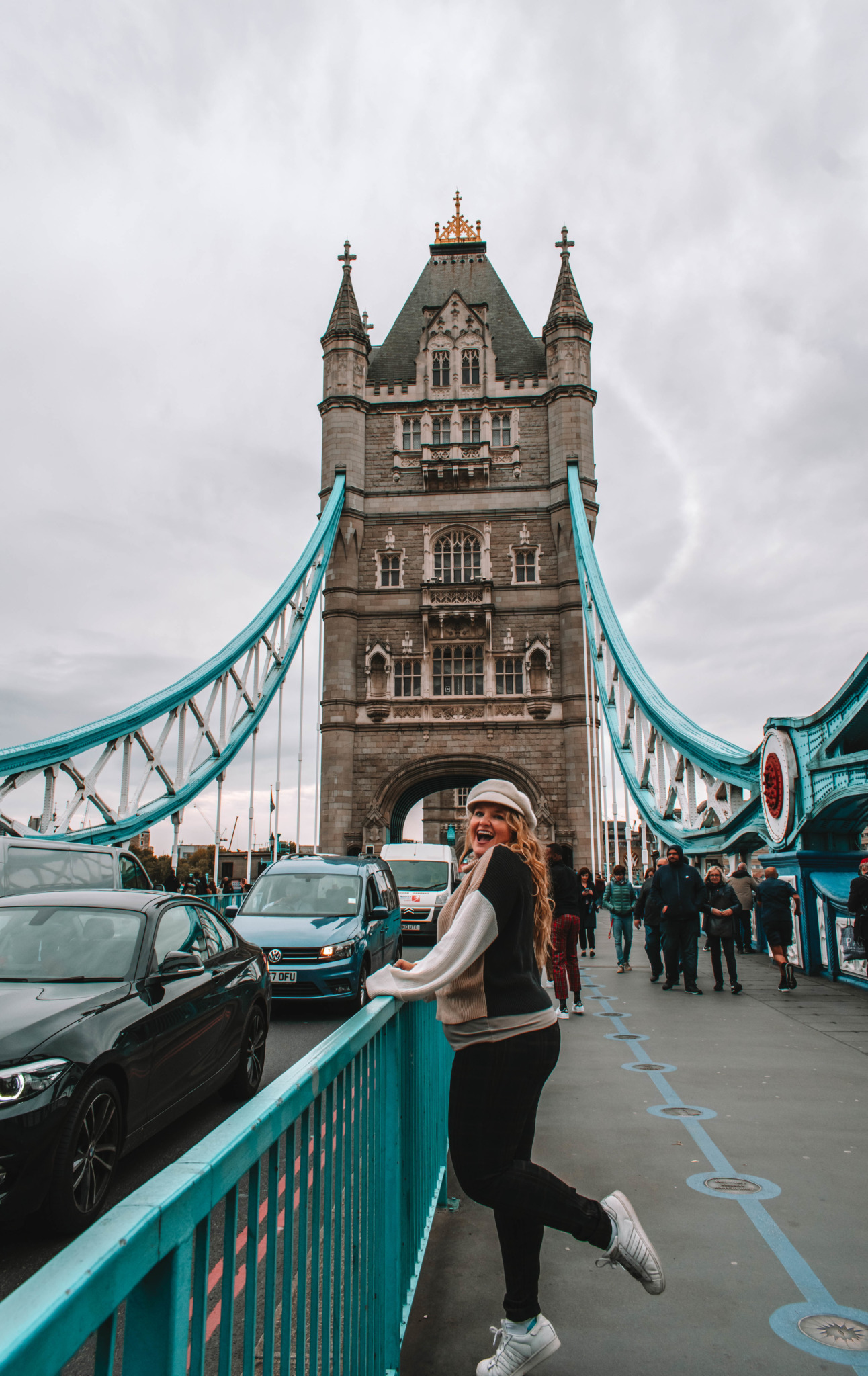 Think: gondola ride in Venice, guided tour in Charleston, hunt the northern lights via boat in Iceland, or take a secret food tour in Berlin.
Wireless headphones
You know I really like these headphones when, after a year, I lost one earbud and bought a whole other pair. I have to have the right headphones, especially when traveling. I want great sound quality, comfort, and convenience. I had the Anker Wireless Earphones but recently upgraded to the wireless one and I ADORE THEM. The Anker Soundcore Wireless Earbuds are everything you need headphones to be. As we all know, Michael does insane research. When I asked for wireless headphones for Christmas, he picked these. They are the best. I also love the Anker lipstick charger! Perfect, since it fits right in your purse. Over 22,000 reviews!
Books on the go
Let's face it, we're busy. It can be really hard to fit in time to actually sit down and read. I started using Audible about 6 years ago when I had a long commute to work. Even though I now work from home, I listen to it while I clean, do my makeup, and especially on the plane (or road trip). This is such a great gift for people that are on the go.
Make it personal: Add a card with a list of your most loved books.
The other day I went over to my girlfriends house. There were six of us sitting there chatting and I looked around the room and we were all wearing black leggings. This might be the most important staple in a woman's life. So you need the best and most comfortable ones, and I recommend three. One for comfort, one for going out in public, and a third pair for looking fancy. Yes, there are fancy leggings. If you only get one pair, try these "live-in" leggings.
A good pair of black leggings change the game. On the high-end, wear out of the house I swear by the Zella live in leggings. They last for years (and I wear mine a lot), and can hold up on hikes and on chilly plane rides.
On the low priced side try the Aerie buttery soft leggings. They have a crossover waist, making them so easy to lounge in. These are great comfortable leggings and would make a great gift.
My favorites are the LuluLemon align leggings. They are pricey but they last for years!
Third, are the Spanx faux leather leggings. Paired with some cute booties and a moto jacket and you look totally put together.
I am always on the hunt for a cute, chunky knit beanie. This one is just perfect! I often feel like beanies make my head look shrunken. Not with these! Easy gift for any one that's hard to shop for. Perfect for pics!
Lipstick
I think lipstick makes such a great gift or stocking stuffer. It's also nice for holiday gift exchanges with the women in your life. Oftentimes, stores come out with cute holiday packaging too.
I'm obsessed with the Too Faced Melted Liquid Lipstick. This gives such a bold, but beautiful color that wears all day. This isn't cheap, but it's the best lipstick I've ever tried. I love the limited edition holiday "Cinnamon Bun" liquid lipstick.
P.S. I have my favorite & trusted travel makeup right here.
The Warmest Socks
A trip can be destroyed if your feet feel miserable. I am all about these socks. Again, Michael's research to the rescue here. I asked for socks one year when my feet kept feeling like icicles. He found these and now I don't go to a cold destination without them. They've been worn in Iceland and also in my house because… we rarely turn on the heat.
Passport holder
A passport holder is such a great, easy, and personalizable (this isn't a word, but I like it) gift. I really like mine for carrying other things like ids, train cards, and more.
Jewelry with Maps
I love marking the places I've been. This one is on sale, beautiful, and makes for a beautiful thing to hang in your house. If you want a trinket for your desk, I like this vintage globe. Under $17 and ships on Amazon Prime!
Lastly, if you're interested in jewelry I love this simple gold continents necklace.
So there you have it! These are my recommendations for your holidays and the perfect gifts for anyone that's a traveler or on-the-go!
Shop the post here:
The problem with so many blow dryers and hot tools is they simply won't work overseas. I've actually blown a blow dryer (and knocked the lights off) because I wasn't using a dual voltage hair dryer.
The Nano Titanium blow dryer speaks for itself: over 3,000 4.5 star reviews. It's also light weight and easy for traveling. It's small enough to pack in your travel bag, but packs a punch when it comes to drying power. Plus, you can use it anywhere!
As a veteran traveler, this is the best blow dryer out there and is perfect for anyone on the go.