What if you could avoid the crowds while seeing the changing of the seasons?
Travel to Europe in the Fall, y'all.
I've found the best places to see Europe in the Fall and you can easily have many cities to yourself, all with lower temperatures. It sounds to good to be true, but there's just something about Autumn. If your schedule is flexible you can find great travel deals and stress-free traveling.
Traveling Europe in the Fall often means less tourists, shorter queues, and plenty of beautiful autumn colors. Europe is full of crisp, cool temperature, orange, yellow, and red trees, and lots of pumpkins. There's an abundance of fall foliage, "Neu Wine" (a sweeter wine just before it becomes actual wine!) and plenty of festivals. There are fewer crowds as the summer season has ended and school starts up again and the best part: you can snag a great deal on travel.
I've put together a list of 10 places to visit in Europe in the fall and some just might surprise you!
1. Hallstatt, Austria
One of the prettiest cities in the world is just outside of Salzburg (home of the Sound of Music), in Austria. Hallstatt sits on the edge of a pristine lake and is set with 16th century alpine homes complete with flower boxes in the windows. The church steeple makes a grand portrait along with a gorgeous town square. Typically, tourists often flood this pretty town. But you'll find quieter streets in the fall months.
Of course, Vienna is also a great place to visit and will be decidedly less crowded.
2. Ludwigsburg, Germany
Ludwigsburg is the king of all things pumpkin as they host the largest pumpkin festival in the world! You'll also find gorgeous castles, beautiful fall foliage, and plenty of pumpkin flavored everything. Here's my full guide to the festival and Ludwigsburg. It also happens to be around the time when there is another festival: the Venetian festival! So there are plenty of options. You can also tour the palace and walk the large paved squares.
Related: The 5 Best Fall Festivals in Germany
3. Sorrento / Amalfi Coast, Italy
Right before it turns to winter, head to the Amalfi Coast for considerably less crowded streets and beautiful views. Yes, it's a bit chillier so you might not swim, but there is so much to see and do in this incredible area. From the historic town of Sorrento, the picturesque town of Capri, a boat ride through Amalfi, and the hillside village of Positano, you really can't go wrong.
Bird's eye view in Capri: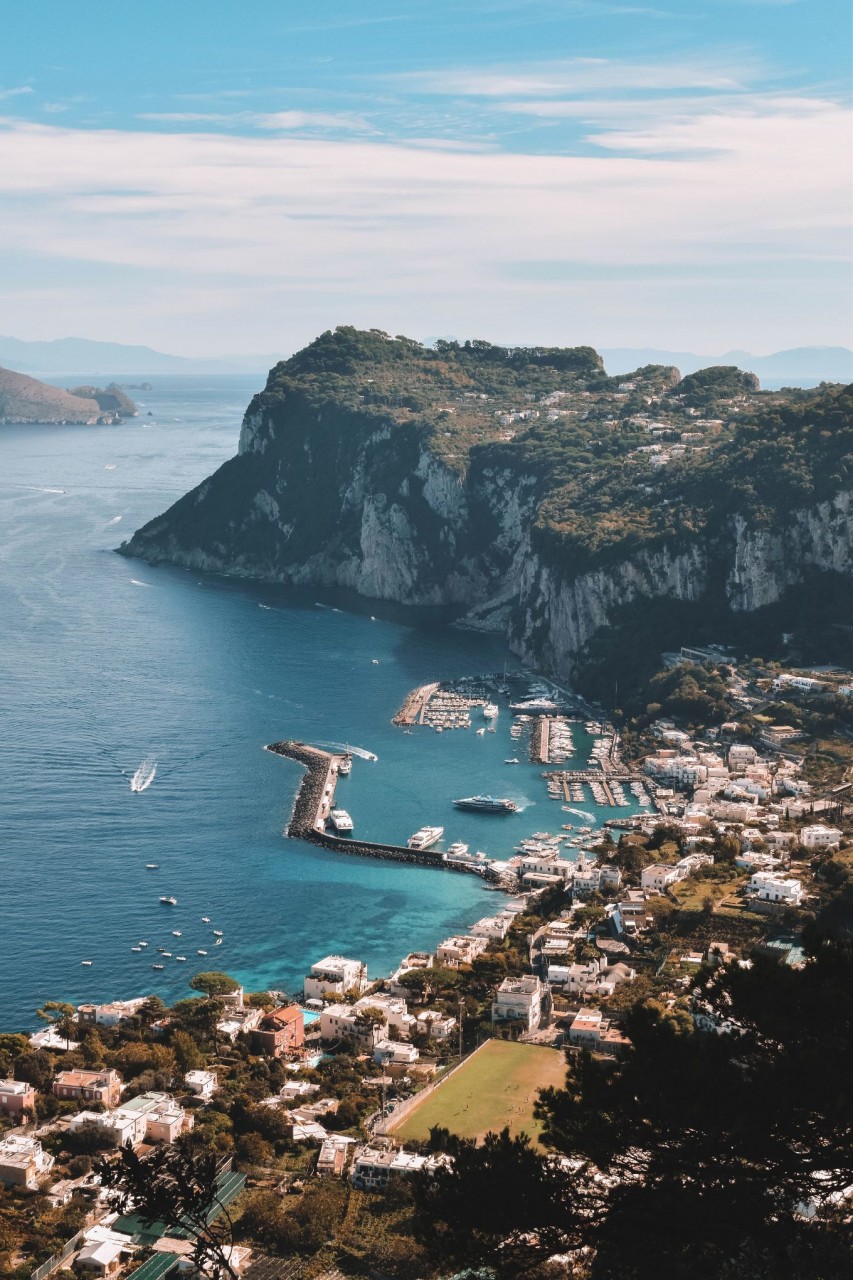 Hillside homes in Positano:
I booked my trip with Monograms and found it seamless to make sure I could see everything in this beautiful southern Italian landscape. There are a lot of options when visiting the coast so I highly suggest working with Monograms to ensure you see all the towns, taste the Limoncello, and relax in a boat ride to take in the epic view.
Check out my full review of Monograms here as well as how to plan a stress free trip to Europe.
In case you've been to Italy a time or two and want to head somewhere else, I suggest going to the Algarve region of Portugal. Truthfully, Portugal in the Fall, and in particular, September, is a great time to visit. You can still swim, picnic on a sandy, cliff-side beach, or soak up the sun. There's sun almost every day of the year here so there's a chance you'll have great weather.
See the best places to visit in Europe in October, right here!
4. Munich, Germany
Of course, you can head to Oktoberfest for the largest and best beer festival in the entire world! Munich is truly one of the loveliest cities in Germany and there's plenty to see and do. Whether you want to clink glasses in a beer tent, take a ride on a roller coaster, or sing along to the drinking songs, you're bound to have a blast. This is actually a very family friendly event- if you go early. Weekends and nights tend to be overcrowded and raucous. Here are some Oktoberfest tips to help you make the most out of your time.
You can also make a day trip to the incredible Neuschwanstein castle. The town of Fussen nearby is a wonderful place to explore or stay when visiting the castle. Also, don't forget to check out the other, just as impressive, castle of Hohenschwangau.
Find the full guide to Munich and here's the full guide to Neuschwanstein castle.
5. Copenhagen, Denmark
Copenhagen can be wet and cold, but if you come in the Fall, you'll get some milder temperatures and an authentic experience of "hygge" or, coziness. Snuggle up to the fire, see the leaves change, and avoid the crowds. In the off-season, you'll find it easier to take a tour or even explore the city like the Danes and hop on a bike. In busy season or when there's a thick layer of ice, I wouldn't even dream of doing this!
Here's a full guide to Copenhagen, Denmark.
6. Ibiza, Spain
Ibiza is known as a party and beach destination for the hot summer months, but right before the season ends is one of the best times to go. Warm, lazy days and cool evenings provide the perfect respite in Europe. Whether you want to jam out to your favorite DJs all night long, or lounge around at the beach, you will find your happy place here. I also adore the beautiful flowers and relatively inexpensive accommodation. Pair this with great Spanish cuisine and this is an unbeatable Autumn European destination.
You most likely will fly into Barcelona if coming in to Ibiza from outside of Europe. I'd add this to my list as well for great fall destinations. Again, lower temperatures, less crowds and more opportunities to explore on your own terms. Still, buy your Sagrada Familia cathedral tickets before hand! Full guide to Barcelona here.
7. Bucharest, Romania
Fall reminds me of one thing: Halloween! Head to Romania to get a taste of Dracula's history and stay in a city that has a world renown culture. You'll find plenty to eat, see, and do in Bucharest, Romania. The Old Fortress of Bucharest was one of the former residences of Vlad the Impaler, the Romanian ruler who sparked the Dracula legends, and can be seen in the heart of the city. You're also not far from Transylvania and if you're in the mood for Halloween, Bucharest is the perfect place to go.
8. Heidelberg, Germany
I have to include Heidelberg, Germany on the list because it truly is one of my favorite times of the year here. I live in Heidelberg and find it more beautiful with each season. Being from Dallas, Texas, I never got to experience a true fall season until I moved to Germany. Fall in Heidelberg means festivals, fall foliage, and plenty of wine.
Check out my full guide to Heidelberg here.
9. Dubrovnik, Croatia
Croatia has become one of the hottest tourist destinations in Europe for the past few years. And this is for good reason. Incredible history, beautiful beaches, divine olive oil, and epic scenery make this one of the most fascinating places to visit. In the summer months this means crazy amounts of crowds and lines. To avoid this, head to Dubrovnik, Croatia in the fall for crisp temperatures and easy going travel.
10. Zillertal, Austria
Austria is known for wonderful winter and summer sports. But you can easily accomplish all of those things in Zillertal. Year round skiing is found at the Hintertux glacier, plus the weather is still warm enough for hiking and biking. You'll find the best festival in the world (in my opinion), Almabtrieb Cow Festival, which honors the cows coming down the hill. Yes, it's as amazing as it sounds!
Here's a full guide to Zillertal, Austria.
BONUS: 11 – London, England or the Cotwolds, England
I decided to update this post and add just one more place: England! Traveling to London in the fall is absolutely stunning. The trees start to turn and there's a Harry Potter vibe in the air. After all, it's back to Hogwarts time! But another must see place during Fall is the Cotswolds. These charming towns evoke the perfect "old world" and cozy feel. See my full guide to the Cotswolds here!
Pin it so you don't forget it:
See also:
The Best Fall Festivals in Germany
What to Pack for Europe in the Fall
Learn to travel and live on your own terms!
Join over 135,000 others who want to gain the knowledge and experience of seeing the world on their own terms. I am a full time travel blogger and want to help you live your dreams, save money, and travel more. Get access to exclusive content, freebies, updates, and more when you sign up.