Welp, It's that time of the week again. What are you talking about, Helene. Well, I'm a creature of habit. And I really like the fact that once a week I know what I'm going to post about (although I can't write the post until the last minute because it needs to be relevant. So what is this 10 Things post? Well I'm breaking down a top or viral story and then finding other stories (aka celeb gossip, news, weird facts) that are clearly, more important. Let's get to it.
Apparently, it's over. The Government shutdown that is. After 3 weeks of I'm sure really important, helpful, and meaningful talking it's finally come to a close. Obama signed a bill just after midnight last night to end the shutdown and lift the debt limit.
Last night on Facebook and Twitter I asked for some help:
What's one thing that's more important? Tell me, and you could be featured in tomorrow's post for "10 Things That Are More Important"!
— Helene (@heleneinbetween) October 16, 2013
There were some pretty awesome responses. So here are some of my faves along with some others, and all in all, 10 Things That Are More Important Than the Government ReOpening…
I don't know why but this gif is how I feel about the goverment, just go with it.
1. Misty sent me this gem. Jake Gyllenhaal (remember that guy?!) he's now rocking a man bun. First, we're calling it "man bun"? Second, just no. Survey says cut it.
2. I don't watch a lot of football, but I definitely know who Adrian Peterson is. Sarah broke the news that Adrian Peterson has a secret love child. It was also reported that he recently found out about another of his sons that was beaten to death by the mother's boyfriend.
3. Let's move on to something a little happier. Taylor tweeted me this story: In Touch reported that Katie Holmes and Jamie Foxx were dating. Foxx quickly put the rumors to rest, it's not happening.
Suri Cruise was not impressed.
4. My friend Alisha (she doesn't blog, but we watch the Bachelor together and she has hilarious one liners… you should start a blog) sent me this, it's perfect for Halloween. Apparently Zombies are real. There's a drug called Krokodil, it's very addictive and turns people into "zombie like creatures" and reportedly kills you from the inside out. Yikes. Just say no, kids.
5. Speaking drugs, did you know Oreo's might as well be one? Rachel and Frances confirmed this. Researchers in Connecticut found that lab rats reacted the same way to Oreo's as they do to cocaine and morphine. Maybe they just really like the icing… OK?! THEY JUST REALLY LIKE IT.
6. There's a lot of K's in this one. Kylie informed me that Kris Humphries is selling Kim Kardashian's engagement ring for Kash (sorry I had to). It sold for $749,000 at an auction on Tuesday in New York. I'm sure Kim's glad that's over. But Kanye won't be proposing anytime soon.
7. Vanilla Ice (who still looks the same from his Ice Ice Baby music video) has come out with a new Reality show called: Vanilla Ice Goes Amish. Wow. Don't try too hard with the title guys. File this under how low can you go. Apparently Vanilla Ice will stop at nothing to still have some claim to fame. Thanks for the heads up Janna!
8. A high school suspended a student who was the designated driver for her drunk friend. Suspension!? How about giving her a reward. Unless you were just trying to give her the day off for good behavior.
9. A Teacher in Texas (my home state) was fired for her playboy past. I have to agree with this… when kids can look up nude pics of you, they're just not going to respect you. And when you recently tweet pics of yourself… yeah you might not want to be a teacher.
10. Gwen Stefani is pregnant and was seen sporting her baby bump while picking pumpkins. Maybe she'll name he/she pumpkin? (Hey, it's better than her other child's name "Zuma").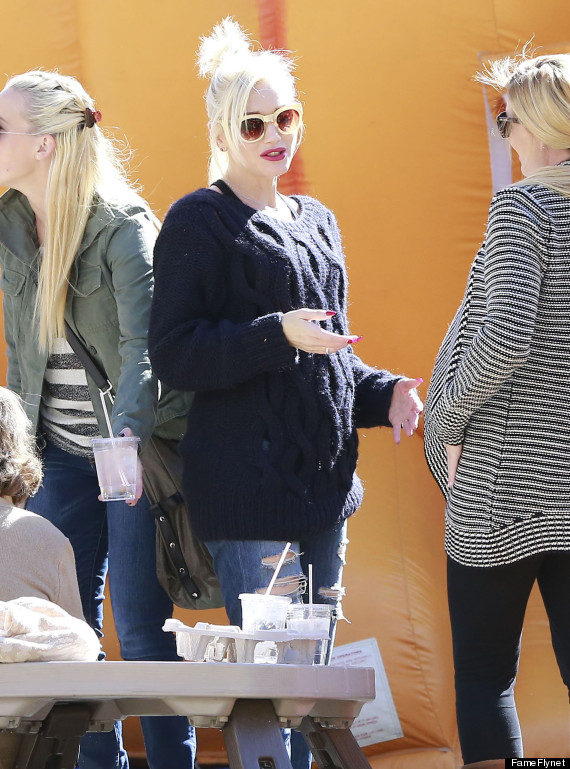 ***of course the government reopening is a more important, this is a joke***
And this concludes the longest time it ever took me to write a 10 Things Post.
What do you think is more important?!