I can't believe this is my last recap of the Bachelor.
I don't know why, but I was super into this season.
Plus I always knew what I would post about on Wednesdays.
So without further ado, the finale.
It's time for the final two: Lindsay and Catherine, to meet his parents in Thailand.
Sean is apparently the the sweetest uncle ever. Playing with his sister's kids and not wearing shoes (he basically never wears shoes this episode, except for no laces converse). But who cares. His brother
in law is H-o-t.
Catherine easily wins his family over talking about playing football in 6th
grade. She seems somewhat genuine which is why I'm #TeamCatherine. But are they
well matched?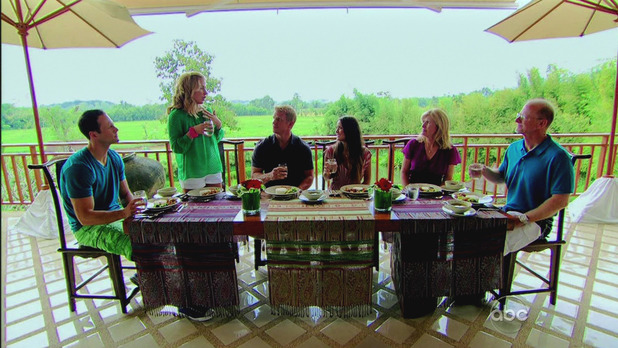 But the dad, he knows all. He tells Catherine that he's her biggest fan and
that they would become best friends. I'm crying.
Lindsay, aka baby voice, is up next.
Lindsay starts off by telling them how they fed monkeys. "There aren't many monkeys in Missouri" says Sean's dad.
"Just me" says squeaky. But then then Sean's dad gets real mushy with Lindsay
too. Pick a side Mr. Lowe.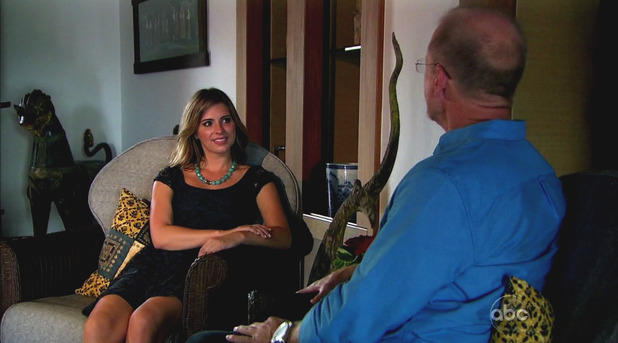 Hi again Sean's brother in law. Rawr.
Sean's mom is concerned. How can he make this decision?! Crocodile
tears are shed.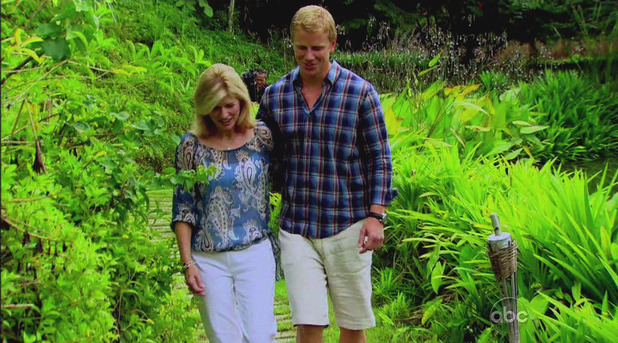 Chris Harrison is excited. This is a live show. And he gets to say thing
like "stay tuned" and "you won't believe this" and "I killed a man once."
See.
Next is Lindsay's last date.
Lindsay's outfit is clearly trying to win Sean's penis.
They are reminiscing about the past, the whole 6 weeks they've spent
together. This substitute teacher loves Sean. Ok? She relates well with kids
with that baby voice. They write wishes on lanterns. Lindsay proposes. JK. But
she does say I love you.
On Catherine's last date Sean takes her to ride elephants, it was on her wish list. Good move Sean.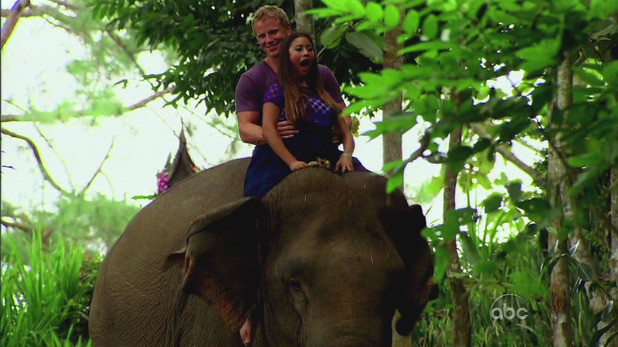 Catherine gets serious, but she wont look into his eyes!
At
the last second she finally tells Sean that she loves him.
I have the chills watching this. What's wrong with me? Why do I care?! I
need to go to Bachelor rehab.
Catherine's worried. And doesn't see anything in his eyes. Maybe she was
looking at his eyebrows. Catherine, they're non existent.
So who will no eyebrows pick? Baby voice Lindsay or long hair don't care
Catherine? Maybe ask Neil Lane.
But before he can pick they have to longing looks out the window. And Chris Harrison is there to
ask the previous contestants who he should pick. Why is Jackie back?And please
don't show one armed Sarah clapping her stub. But yes, show more of Lesley. I've missed
her.
We also have to plug Neil Lane and his blood diamonds. Can't forget about that.
Although, I will gladly take that ring. Please and thank you.
Lindsay steps out, and can barely walk to Sean, that dress is too tight. And what is this material? Spandex Aluminum?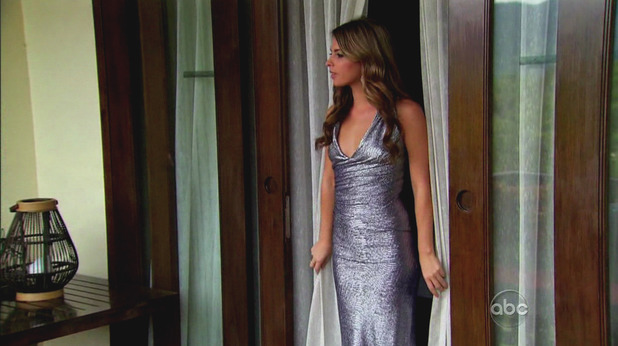 Sean tells her how wonderful she is, just to break her heart. Sean tried to
explain but she's done, son. And to twist the nail even more he says he loves
her. Shoes removed, she high tails it out of there. She handled it well. I really wish she would have just punched him, let's get dramatic please.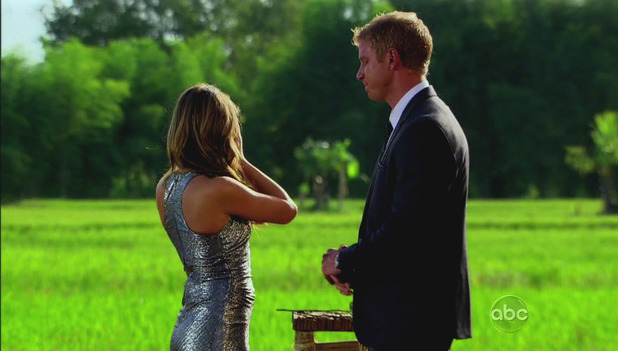 But Sean's letter… Is from… Catherine! I was shocked. They made it out
like it was a break up letter… But it was a love letter.
Sean proposes. I'm crying. And he takes her on an elephant ride into the
sunset. Goodnight.
But wait we have "After the final rose"
Sean and Catherine announce they are getting on married on TV. Snore. Ok, I'll watch it.
And the bachelorette is Desiree. No one is shocked, but it's a good pick.
Can't wait for her brother, Hand Tats, to make an appearance.
What did you think of this season?
I loved it and clearly am way to into this.
____
Today's sponsored feature is Katie at the Carb Monster! She is so sweet and speaks right from the heart!
Do you want to be a sponsored feature? Go here!
Hi, ya'll. I'm Katie (aka thecarbmonster).
I might be described as a foe, and rarely friend, of carbs- but that wouldn't be entirely truthful. I am learning to love carbs in a healthy way by getting my fill of delicious and nutritious greens (only slightly forcing my smile saying that) and limiting the amount of starches and sugars that make my blood boil sky-rocket and then plummet into the depths of depression and sloth.
Instead of calling myself "low carb", since it stills hold a negative connotation, I like to call myself "low-sugar, low-starch". A rose by any other name…still smells, but sounds a little nicer.
And definitely, absolutely e-mail me or connect to me via social media. I created this blog because I wanted to connect with other bloggers and share support and motivation!