I was super pumped for Monday's episode.
I love to see how much the women changed themselves after seeing themselves on TV.
AshLee is now ombré blonde.
Robyn looks pretty interesting- also who are you?
Jackie went goth.
Kacie B is back from hooker camp. Wherever that is.
Desiree got rid of the bangs.
Tierra has learned to control her eyebrow. Jk that can't be tamed.
Lesley is just more awesome.
And Sarah got a new arm. Ok too far. Sorry.
Sean showed up to some girls watching parties. And removes his shirt in front of 14 year olds. Put the nips back.
Anyway, Tierra is up first. She's just blabbing about her sparkle and waving her hands around so people can see her brand spankin new engagement ring. She has nothing to apologize for and she's better than everyone. When she walks in a room she sparkles. She won toddlers and tiaras apparently when she was 6. I know this because at one point she says, "Look it" when trying to explain herself.
All I can think about is the weird slit in her dress under her boobs.
And that she's engaged.
To this guy.
He kinda reminds me of Des' brother:
Hand Tats
.
But this isn't about the girls. It's Chris Harrison's time to shine. He's asking hard hitting questions like: are you sad Sean didn't give you a rose? Are you sorry? And can you in fact control your eyebrow? Do you hate yourself that you got kicked off the Bachelor?
Then it's time for Seany. AshLee wants to know why he got rid of her. Well because you were crazy no fun. All serious all the time. She wants to know why he put her through a rose ceremony. I think AshLee forgot she was on TV. She just doesn't get it, hence proving why he shouldn't marry her. Then she proves the cray, "you said you have absolutely no feelings for the other women." Sean's all hell to the no. Clearly she roofied Sean one might and made his mouth say it. Nutso.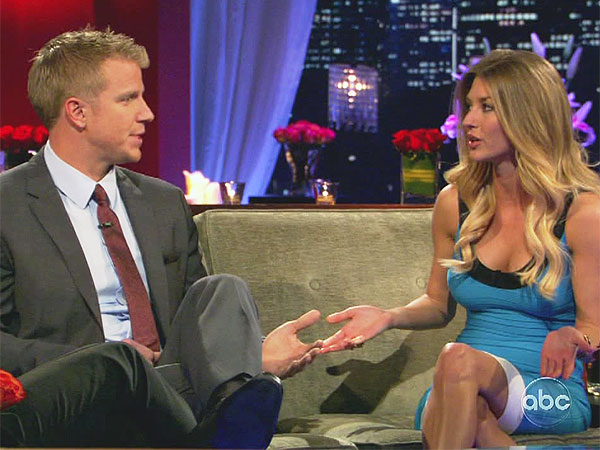 Overall I was disappointed. At the end they didn't get to ask him questions about why they were dumped and tricked.
But you know what was intense? When they showed the clips of the dog, Magic that died. That's when the tears came.
What did you think? And who will he pick.
I'm still Team Catherine.
And who will be the next Bachelorette? I'm thinking Des.
****
And for the sponsored feature today…
Hello Helene In Between readers! My name is Cassandra and I blog over at
The Lyric Locket
! I blog about every day life, how I celebrate different occasions, and my unhealthy obsession with do-it-yourself projects.
I'm constantly looking for new things to create. I love taking old, worn out pieces and making fun, interesting things out of them. My chalkboard coffee table is my mother of all DIY projects that I am most proud of. It has provided us with hours of fun and is another surface for me to write To Do lists on. I'm a sucker for a fully checked off to do list. My boyfriend, Derek is amazing and supports all my crazy creativity and even offers his modeling services to show off most of them.
I LOVE to celebrate! Give me an occasion and I will figure out a way to showcase it!. My favorite season of the year just ended… Award season. I get pretty cut throat about making my Oscar predictions and always get the most correct. We have a points system for our fake ballots: 3 points if you get your first choice correct and 1 point if you get your second choice correct. Not to brag or anything, but I swept the competition this year (Derek) without seeing a single one of the films. It's like I told Derek… you just have to know what the Academy is looking for (They LOVE History pieces-they always win best costume and make up design, they apparently aren't big Ben Affleck fans, and If Daniel Day Lewis is nominated for ANYTHING he will win). I LOVE making new friends in the blog world so I'd love to see you over at The Lyric Locket! There are plenty more DIY projects, fun times, and Oscar prediction tips awaiting you 😉
*****