Spring unfurls in Europe unlike any other place in the world. Roses the size of your hand, beautiful weather, and a cheery atmosphere seem to take hold of the whole continent. If you're dreaming of spring in Europe, I've got the best places that will inspire a visit.
From the sunny daffodils, the winding wisteria, and the miles of tulips, Spring in Europe is one of the best times to visit. As Europe starts to thaw from Winter, the most brilliant blooms and luscious landscapes emerge. I've mapped out the best places to visit Europe in the spring. Seven places that offer the most beautiful scenes of Europe; you'll feel like you stepped right into a painting.
The wake of Winter seems to trail on for quite a long time in Europe, so when the buds finally start to come out and the birds start chirping (sometimes a bit too early in the morning), I know that Spring in Europe has arrived.
Why Spring in Europe
It's not too hot, not too cold, just like Goldilocks likes. It's far less crowded than the summer months (although watch out for the Easter holiday) and the flowers come out like no other time. After living in Europe for the past 3 years, this is definitely my most favorite season. Combine the beauty of the landscape and the temperature to make the perfect recipe for a getaway.
Of course, there are a lot of places that boast beautiful flowers or lovely scenery all throughout the continent. But I've picked the most pristine places that showcase the best the continent has to offer.
I've chosen 7 places to really see spring unfurl in Europe. From the best places to see flowers bloom, to the best options for weather, and the best times for each location.
Best Places to Visit for Spring in Europe?
Tulips in The Netherlands
The mecca of all spring destinations in Europe, The Netherlands not only has miles and miles of tulips in any color imaginable, it's also home to Keukenhof- the world's largest flower garden. The vibrant and bold flowers come for just a couple months every year and visitors rush to see the patchwork quilt of magnificent blooms. The Netherlands' flower fields seem tailor-made for leisurely spring days. You can bike or drive around the fields, stop in cafes, and even pick up some bulbs or blooms to take home.
Check out my full guide to tulips and Keukenhof right here.
Best time to visit: Mid-April is when the tulips are at their best. The season runs from Mid March to May but I suggest sticking close to April.
While you're in the area, pop over to Amsterdam! This is the low season for this often busy city.
Cherry Blossom Trees in Bonn, Germany
Each year, the cherry blossom trees in Bonn, Germany burst to life, creating an almost heart shaped frame on the street. For a bit of a taste of the cherry blossoms in Japan, Germany has many places with pretty, fluffy cherry blossoms. Berlin, Heidelberg, Schwetzingen, and more around Germany offer delightful spots to see the trees.
Best time to visit: Cherry blossom trees often bloom in the beginning of spring for about a month, usually Mid March to April.
Here's my blog post (and lots of images!) of lovely Heidelberg in the Spring.
Daffodils in Southern England
One of the things I like best about visiting England is the friendly people. Which is fitting, since daffodils seem to spill out of all their charming towns and villages. Daffodils are such a happy, bright flower and they juxtapose perfectly with the vanilla colored buildings of the Cotswolds and Cornwall in Southern England.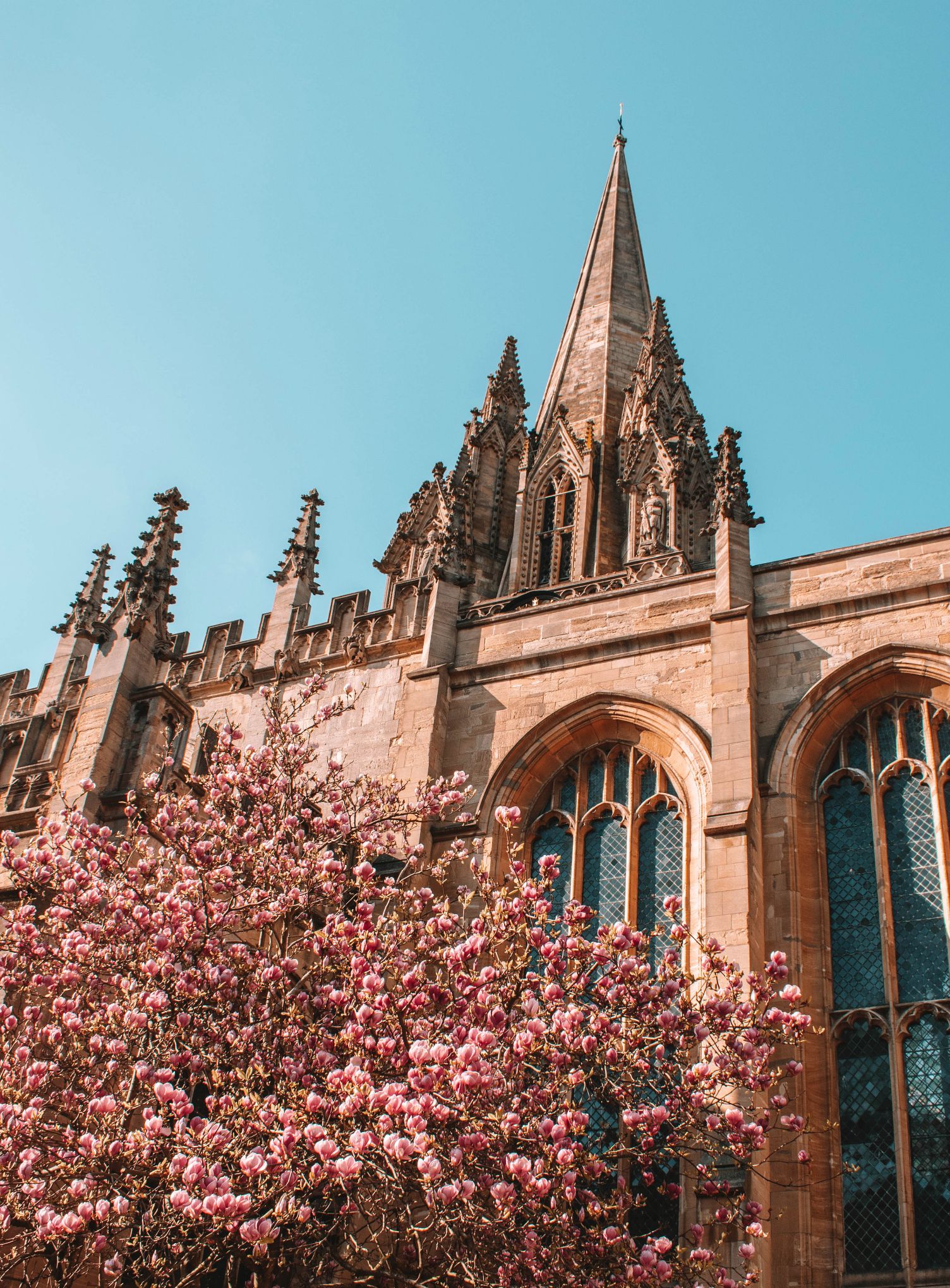 I suggest taking a road trip through the southern part of England to get a hearty dose of Spring. This is the same time as lambing season, so you'll not only see daffodils, but baby animals such as lambs and goats running around. I was shocked by our brilliant weather, beautiful flowers, and even surprising scenery that made me feel like I might have been off the coast of Italy.
Daffodils actually grow in England by the millions! This guide shows you where you can see the daffodil fields.
Best time to visit: Daffodils are a hearty flower and bloom from March to April.
Check out my Southern England Road-trip guide here and Cotswolds guide here.
Wisteria in Provence, France
At first, when we drove and cruised through Provence, I asked to stop every time every time we saw an overly abundant wall of purple wisteria. Then I realized that there were unending places chock full of wisteria, nearly on every street and corner. Wisteria is an invasive plant, but it also happens to be exceedingly lovely. It covers many of the houses and cafes and is easy to spot in this region.
Nearly every small town and village offers wisteria. You can see it flourish freely in places growing wine such as the Beaujoules region. You can also go to the markets in Aix in Provence for piles and piles of pink peonies.
Best time to visit: Wisteria has a short season so be sure to check the calendar in order to see it! Wisteria lasts for about 3-4 weeks, depending on the temperature. Usually, this is in early to mid-Spring. This year it was uncharacteristically cool so it was later in Spring, late April, that the wisteria bloomed.
Bonus: Head to the south for the Calanques to avoid the summer crowds and insanely beautiful beaches.
Bougainvillea in Santorini and Corfu, Greece
The bright fuscia, over-saturated flowers of the bougainvillea plants seem to bleed over all the white-washed buildings. It's no secret the Greek islands are some of the most picturesque places in the world. The crystal clear water, cliff-side villas, and warm, sandy beaches are the perfect place for a vacation. I love Spring time in Greece because you beat the heat, some of the tourists, and get a dose of the flowers. Corfu is a large, often passed-over island, that has tons of Bougainvillea in the old town and near many of the beach villas.
Santorini is already picturesque, but has so many pretty spots with the flowering bushes. On either island you're guaranteed to run into it.
Best time to visit: Bougainvillea has a long season and will start blooming in late April and May and continue throughout the summer.
Wildflowers in Sicily, Italy
As we drove the winding streets of Sicily, I kept remarking about the vibrant colors dotting all along the highway. Bright purple, dark red, sunny yellow, and a rainbow of others.
View this post on Instagram
I suggest renting a car in order to see many of the cities that Sicily has to offer and this is also the best way to see the wildflowers. In particular, the resort town of Taormina seemed to be engulfed with wildflowers and wisteria.
Best time to visit: Wildflowers bloom throughout the spring season but it's best to go before it gets too hot outside. March and April are the perfect time to visit since Spring unfurls quite early in the South.
Bonus! If you love poppies, head to Tuscany for the striking sight of red flowers lining the roads and clinging to the stone walls.
See my guide to Sicily here and Tuscany itinerary here.
The benefit of visiting the big cities is that they do their best to spruce up their storefronts, restaurants, and cafes. You can find beautiful wisteria covered homes in London or marvel at cherry blossom trees that line the boulevards in Paris. P.S. see my full guide to London and Paris here.
On nearly every street there is a cafe or home showing off with bright blooms. Notting Hill in London is a great place to find wisteria. You can also see many flower shops encourage visitors to stop in by creating elaborate flower displays. Restaurants like Peggy Porschen and Churchill Arms create a frenzy of Instagrammers frequenting their doorsteps to get a picture.
View this post on Instagram
In Paris, you'll find cherry blossom trees near the Champs-Élysées and right outside the Notre Dame, on the back part of the building. Near the Notre Dame, you can go to Au Vieux Paris for a wisteria covered wall. You can also take a day trip to Monet's Garden to get a dose of all sorts of flowers and see Monet's inspiration for his paintings.
View this post on Instagram
Best time to visit: You can visit either city all through spring to get a taste of different flowers.
Paris guide here and my guide to London right here. OR my 7 day itinerary to both here!
Of course, even if you're not in these locations, make sure to head to your local market to get a dose of some of the blooms from around Europe. You'll be surprised at the selection, and the price!
Seville, Spain
Seville, Spain is another great destination for a springtime getaway in Europe. The city is known for its stunning orange trees that line the streets and fill the air with a sweet fragrance. The best time to see the orange trees in bloom is in April, but you can also catch the colorful jacaranda trees in May.
One of the must-see spots in Seville during the spring is the Alcázar Gardens. This UNESCO World Heritage Site features beautiful gardens with fountains, ponds, and intricate tile work. You can stroll through the gardens and admire the blooming flowers, including roses, irises, and lilies.
Another popular attraction in Seville is the Parque de María Luisa. This park is filled with lush greenery, colorful flowers, and beautiful fountains. You can rent a bike or take a horse-drawn carriage to explore the park and take in the springtime scenery.
If you're in Seville during the last week of April, be sure to check out the Feria de Abril. This week-long festival is a celebration of Sevillian culture and includes traditional dress, music, and dance. The fairgrounds are decorated with colorful paper lanterns and there are plenty of food and drink stalls to enjoy.
Overall, Seville is a vibrant and beautiful city to visit in the spring. With its blooming orange trees, stunning gardens, and lively festivals, it's a destination that should not be missed.
Find my guide to a one week itinerary in Southern Spain.
Spring in Europe needs to be experienced at least once in your life. Whether you're a flower fanatic or want to avoid the busy season, I highly recommend taking a tour this time of year.
Learn to travel and live on your own terms!
Join over 135,000 others who want to gain the knowledge and experience of seeing the world on their own terms. I am a full time travel blogger and want to help you live your dreams, save money, and travel more. Get access to exclusive content, freebies, updates, and more when you sign up.