There is nothing better than Christmas markets in Europe. And I should know, I've attended dozens. The beautiful decor, the lights, the food, it's just magical. And one of the best ways to experience the Christmas Markets? A river cruise!
If you've been looking for the ultimate Christmas adventure, look no further than a Christmas market river cruise with Avalon Waterways. Our luxury 7-day journey along the Rhine River was absolutely magical and something we won't ever forget. We were able to visit four countries in one trip, while staying aboard our beautiful ship – meaning no unpacking and packing at every stop – total win!
Our itinerary traversed across the most enchanting and best Christmas markets in Europe. Each village boasted handmade holiday decorations, plus an array of goods crafted by local artisans! During the day we'd get lost amidst alluring market stalls and when night fell, explore twinkling streetscapes enveloped with seasonal music concerts. Plus, there was plenty of culinary delights to sample throughout our travels—from regional fare to delectable mulled wine.
Throughout the trip, we were treated to gourmet meals featuring local cuisines, breathtaking panoramic views from the ship, and sightseeing opportunities galore. And best of all, Avalon Waterways took care of every detail so all we had to do was relax and enjoy the Christmas markets while sailing in style.
I've spent many Christmas seasons exploring the Christmas markets by taking the train and driving from place to place. But on a river cruise you're able to sit back and relax while you go from place to place. It's truly a one-of-kind way to venture Europe's Christmas markets.
Which Christmas Market River Cruise Did we Take?
We opted for the Festive Rhine River cruise that goes from Basel, Switzerland to Amsterdam, The Netherlands. The Rhine River is one of my favorites in Europe and after living in Germany for three years, I was impressed with this itinerary.
Starting in Basel, Switzerland we took a journey through some of the best cities and Christmas markets in Europe! We explored the fairytale town of Colmar and the Black Forest. Then on to the Capital of Christmas, Strasbourg! You'll feel like you're in a snow globe come to life. Next we took a tour of the castle in Heidelberg and drank Glühwein while shopping at the markets, culminating in the perfect night at the Mainz Christmas Market. We spent time in quaint Rüdesheim and then on to the twinkling lights of Koblenz. We visited the incredible markets of Cologne as well as the twin-spired cathedral. We ended our festive trip in Amsterdam, explored the canals, sampled cheese and stepped inside windmills.
I'll be sharing our detailed itinerary in this post.
Best of all, you unpack once and are transported from place to place in a gorgeous Avalon Waterways ship. Throughout the trip we enjoyed panoramic views, dined in style with gourmet dishes that features local cuisine, and explored some of the most storied places in Europe with every step of the way taken care of!
I've been lucky enough to cruise Avalon Waterways before, and I know just how wonderful the ship and offerings are. A river cruise is truly an incredible way to see multiple cities (and even countries) all the while having stress free travel, and going with a group!
Interested in traveling with me? Sign up to hear about our next group trip!
Christmas Market Itinerary
Day 1 – Arrive in Basel, Switzerland
I started my trip in Basel, Switzerland, on the Avalon Waterways ship, Tranquility II, our perfect, cozy oasis during the chilly winter. Stepping onto the ship was like entering a festive wonderland. The lobby showcased a glistening Christmas tree, while red balls and green garlands graced the interior railings. You could not help but get into the holiday spirit!
Depending on when you get in you have time to visit Basel's Christmas market, named one of the best Christmas markets in Europe!
See the best Christmas markets in Switzerland.
Day 2: Breisach, Germany and the Black Forest or Colmar!
Our first river port was Breisach, Germany. After a morning excursion to the the pretty town of Breisach, we had the option to visit the Black Forest for a wine tasting or to cross the border and visit Colmar, France. My husband went to the wine tasting, I went to Colmar. This is so perfect if different people in your group have different interests and something I love so much about a cruise – though sometimes it can be hard to decide which to pick!
Colmar, the picturesque French village, looks like a dream come true with its breathtaking Christmas illuminations, charming architecture and ebullient decorations. There are five festive markets here including one for kids and an indoor crafts market. My favorite thing to do is stroll the city and sample different Glühwein as I go. My favorite area is Petite Venice! A great spot for photos.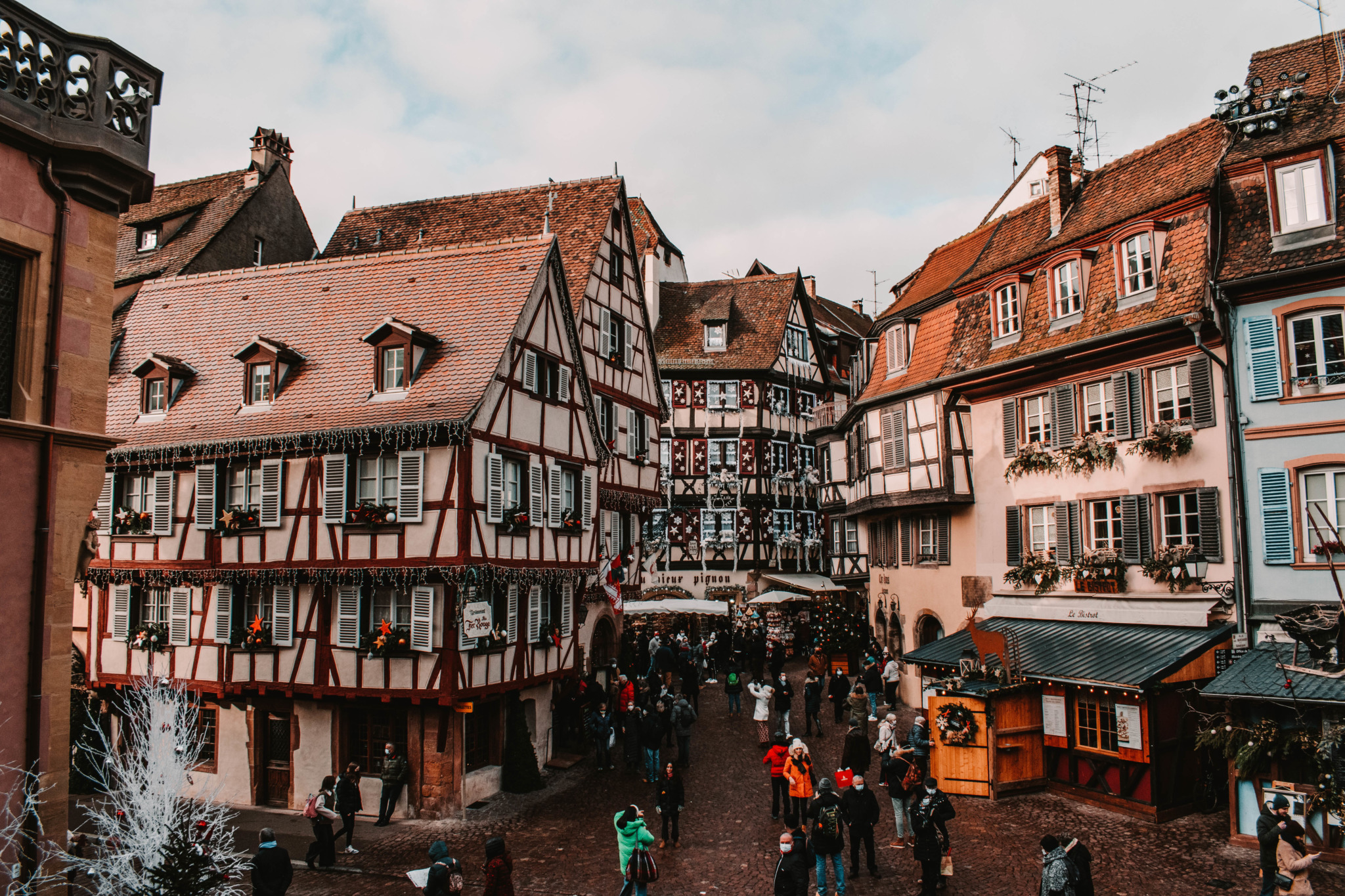 My husband Michael absolutely loved his time learning abut wine-making and enjoying delicious wine while in the beautiful Black Forest village. This is where your favorite fairy tales like Hanzel and Gretel come from!
See my guide to the best Christmas Markets in France (Including Colmar!)
Day 3: Strasbourg, France
THE capital of Christmas! Strasbourg is pure magic, with its picturesque canals, cobblestone streets and grand gothic Notre Dame Cathedral- once the tallest building in the world. This is the oldest Christmas market in France and it also boasts another world record – the largest Christmas tree! With 300 stalls and over-the-top decor, you can't go wrong in Strasbourg. This is one of my all time favorite Christmas markets!
Optional excursion? Obernai! This absolutely stunning Alsace town offers a wine tour excursion along with festive decor. This is one of our group's favorite stops!
You could do both Strasbourg and Obernai but I opted to stay in Strasbourg a bit longer.
See my guide to Christmas in Strasbourg.
Day 4: Mainz and Heidelberg
We docked in Mainz and took the bus to one of my favorite towns in Germany: Heidelberg. I'm very biased, I lived here! You'll get a tour of the castle as well as see the World's Largest Barrel of wine! Then you'll have time to enjoy the best Glühwein of all. I love how the Christmas markets here are all down the main street (Hauptstrasse). This is also the perfect time to have an authentic German meal at restaurants like Vetter's or Kulturbrauerei.
We spent the evening at the Mainz Christmas market. A lovely market filled with lights and great shopping! Mainz Christmas market is on the squares surrounding the city's Cathedral of St. Martin. There are over 100 stalls in a magical atmosphere.
See my guide to Heidelberg Christmas Markets here.
Day 5: Rudesheim-Rhine and Koblenz
Rudesheim was such a surprising treat! We walked a short distance from the boat, through the pretty, winding alleyways up to the Siegfried's Mechanical Music Museum to see and hear instruments from eras passed. We then enjoyed the lovely Christmas market and dined on potato soup in bread bowls – a departure from typical Christmas market food.
Then we cruised down the Rhine River while we ate lunch, passing incredible castles and hillside towns along the way. Our cruise director actually gave us interesting history and folklore along the way. What an incredible journey down the river!
We ended the evening at the gorgeous Koblenz Christmas Market. At the junction of the Rhine and Mosel Rivers, discover one of Germany's oldest cities along the Rhine: Koblenz. As one of Europe's most enchanting Christmas markets, this winter wonderland is illuminated by twinkling lights that surround every corner of old town Koblenz.
See the best Christmas markets in Germany here.
Day 6: Cologne
Our last stop in Germany was the city of Cologne. In addition to exploring its iconic Cathedral, we were graced with one of Europe's grandest Christmas markets – seven distinctively different markets spread all over! It was truly a sight to behold and an unforgettable experience for everyone.
Cologne is renowned for its enchanting Heinzelmännchen of Köln, or Elves of Cologne, that adorn wooden booths, with handmade artwork and decorative pieces throughout the markets. For only €10 visitors can purchase a tram ticket to explore from one market to another. There's also an ice skating rink, an Angel market – where women dress up in angel costumes and ride horseback, and a pirate themed market. This is a great place to shop and try traditional German cuisine.
Read more: what to eat and drink at a German Christmas market.
Day 7: Amsterdam
We started the day by taking a canal cruise to learn all about Amsterdam and its history. We had the option to visit the historic Zaanse Schans, which I highly recommend. Here, you can see how windmills are traditionally used, sample cheese, buy a pair of real wooden clogs, and have an understanding of the Dutch way of life!
After our visit to Zaanse Schans, we were back on board Avalon Waterways to enjoy our very last night on the ship. We enjoyed champagne at the captain's farewell toast and hugged all our new friends goodbye. We ventured into Amsterdam city center for one last night of fun and enjoyed the beautiful city lit up at night. Our cruise director told us the best places to go to make for a memorable night.
See my guide to Amsterdam here.
Day 8: Heading Home
We ended with breakfast on the ship and headed back home from Amsterdam airport. You also have the option to stay longer and add on time to your trip!
Why Take a River Cruise?
River cruises are one of the best ways to explore Europe during Christmas time! You'll have an amazing time as you wind your way down the Rhine, with breathtaking views and delicious meals. And don't forget about all of those incredible Christmas markets in each city!
Avalon offers rooms with their "Open-Air Balconies" feature – meaning, your windows can open creating a balcony. This means you have more space in your stateroom and the bed faces out towards the window, so you can take in the views while sailing down the river.
Avalon offers "Suite Ships" which means rooms are spacious with ample seating, bathroom, and the space you need to relax and enjoy your vacation.
Because you're sometimes docked overnight you have the option to take control of your trip and have substantial time to explore on your own.
The best part – you unpack just once and move from destination to destination in the comfort of your luxury ship. As someone who packs a very stuffed carry on, this is such a treat to be able to simply unpack and explore. I don't have to worry about driving or getting from place to place, as this is where problems usually arise!
Why Visit The Christmas Markets?
This is my true happy place. I simply cannot get enough of Europe's magical Christmas markets. Each one is a special experience with traditions, foods, and decor. Between the Glühwein, sparkling lights, and handmade decorations, these markets are like something out of a fairytale!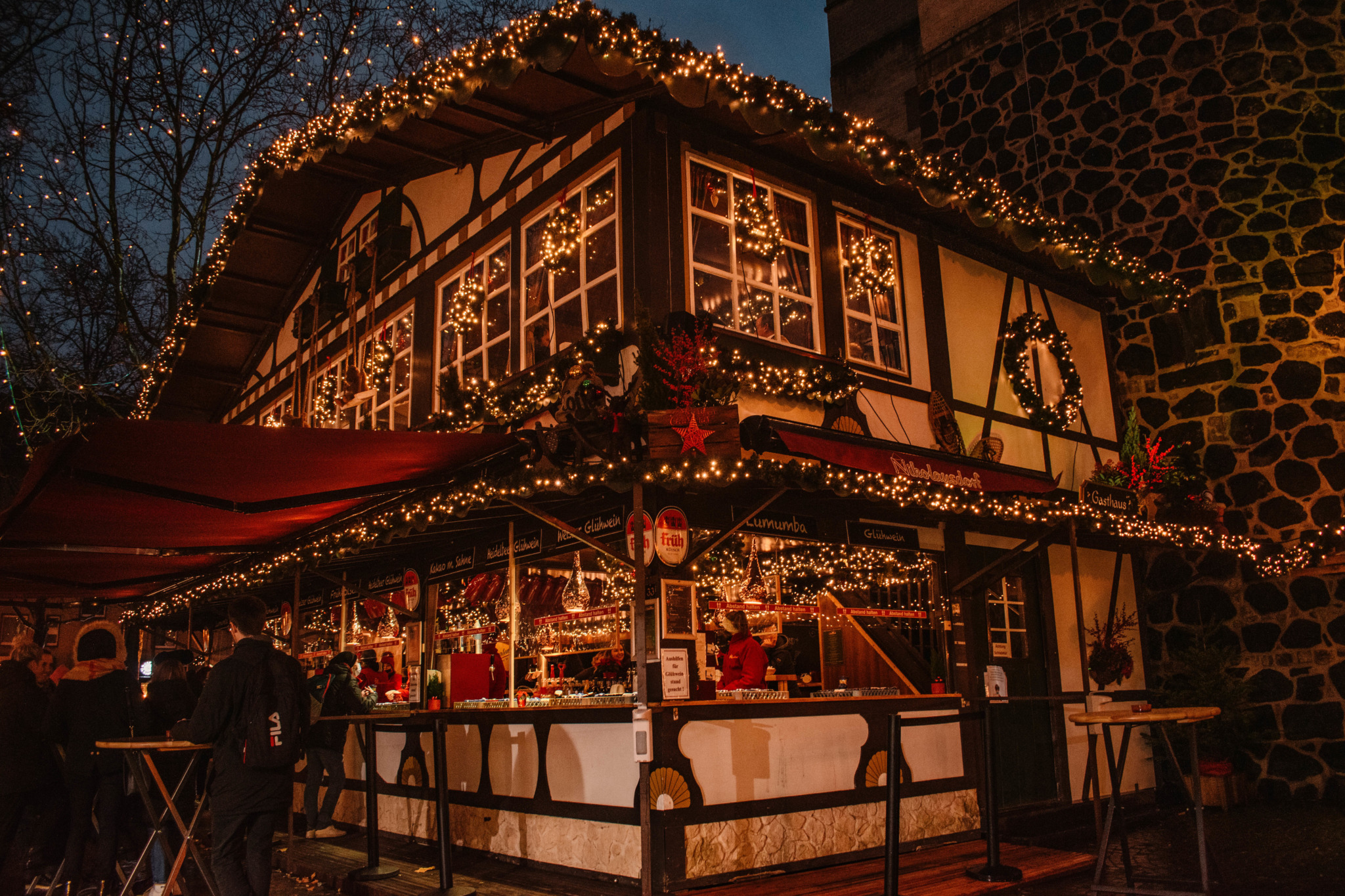 For centuries, Christmas markets have been a beloved tradition in many countries across Europe. Originating in Germany and known as Christkindlmarkt or March de Noel in France, these festive events feature a delightful assortment of artisan crafts, holiday music, decorations and tasty treats that are the height of joy and merriment.
See the Best Christmas markets in Europe here.
FAQ About a River Cruise
What is included? What I love about an Avalon Waterways river cruise is that's it's all included! Breakfast, lunch, and dinner! Along with a selection of beer and wine at lunch and dinner. We booked our flight with the cruise and it made everything so seamless!
Are there activities on board? Yes! Live entertainment most nights including music, karaoke, and more! There are port talks each day that let you know about what's to come as well as engaging lectures you can attend.
How do you get around? You go from place to place by the ship. However there are some stops where you'll take a bus to get into town.
Do you get motion sickness? No! That's the beauty of taking a river cruise. The ships are designed so that you don't feel any motion at all!
What should you pack for a Christmas market trip? You can see my full guide and favorite things to wear here!
The Festive Rhine River cruise is the perfect way to experience Europe's Christmas markets – and it's even better take away all the stress of planning a trip. See all of Avalon Waterways cruise routes here!