Welcome to Florida, where the sun is always shining and the beaches are always calling! If you're looking for a fun-filled week of adventure, relaxation, and excitement, then you've come to the right place. With its stunning beaches, thrilling theme parks, and diverse cultural attractions, Florida has something for everyone. Here's a one week itinerary that will help you make the most of your trip in Central and South Florida.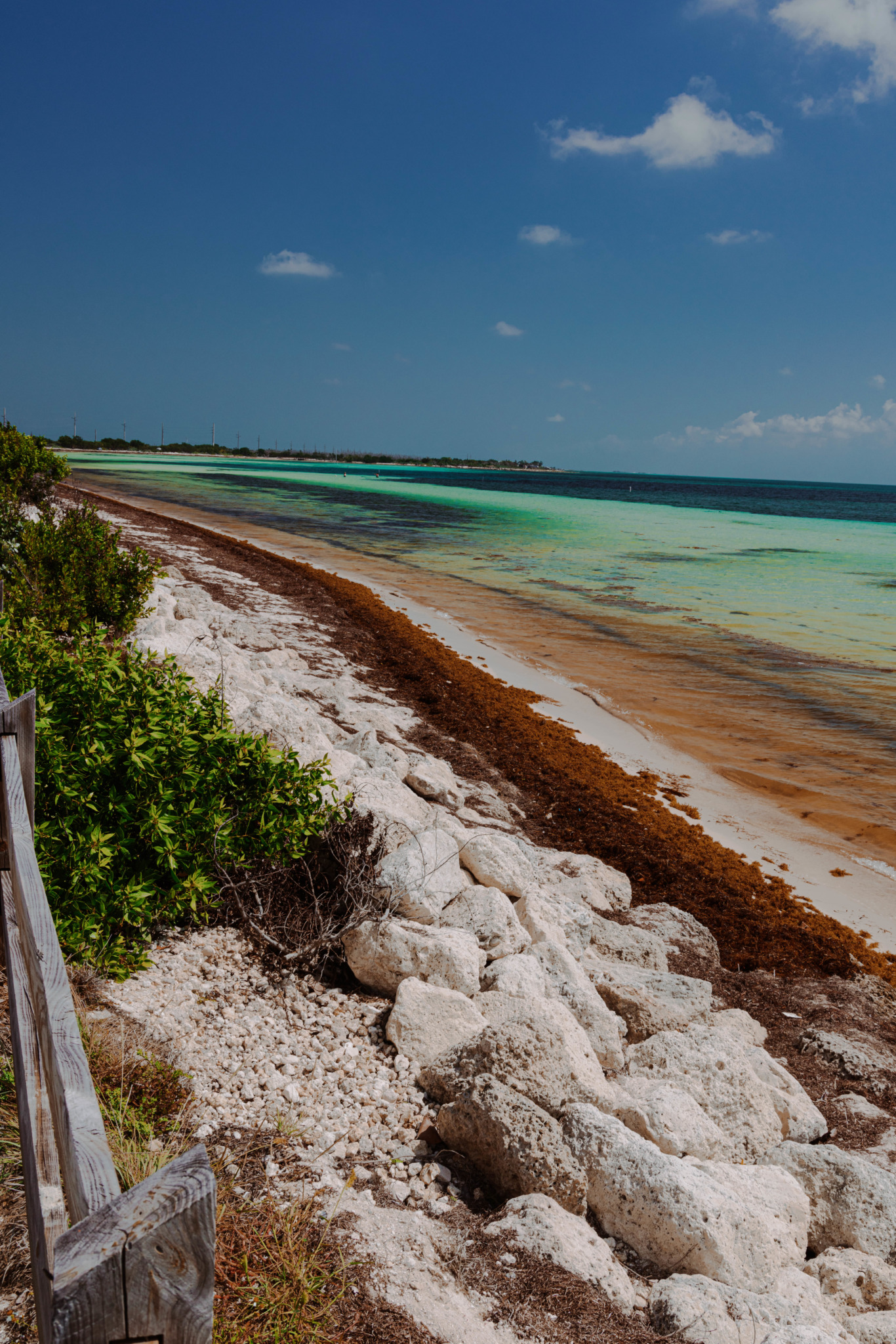 Florida is a state that offers endless possibilities for travelers, from theme parks and beaches to natural wonders and cultural experiences.
Planning a one-week itinerary can be challenging, as there is so much to see and do. However, with careful planning, you can explore the highlights of Central and South Florida in just seven days. In this blog post, we will share our perfect one-week Florida itinerary, which includes visits to Orlando's theme parks, swimming with manatees, touring historic estates, and exploring the vibrant city of Miami.
Here's a map of all the places I'll cover:
Day 1: Harry Potter World at Universal Studios Orlando
Start your adventure in Orlando, the theme park capital of the world. Your first stop: the Wizarding World of Harry Potter at Universal Studios. Split over two parks, this magical world is a must-see for any Harry Potter fan. Start your day at Islands of Adventure, where you can explore the snowy village of Hogsmeade and take a ride on the Hogwarts Express to Diagon Alley at Universal Studios. Make sure to get the express pass so you can skip the lines and enjoy the rides twice. Don't miss the chance to sip on a frozen butterbeer and take a picture in front of Hogwarts Castle. Make sure to stay in the evening to watch the castle illumination and the Dragon breathe fire in Diagon Alley!
We had the express pass in order to see and do and much as possible! You can see my entire guide to the Wizarding World Harry Potter in Orlando right here.
We stayed at this hotel for 2 nights which I highly recommend!
Day 2: More Harry Potter World and Rock Springs State Park
Today is all about Harry Potter World! Head back to Universal Studios and continue your magical journey through Hogsmeade and Diagon Alley. Don't miss the chance to ride Harry Potter and the Forbidden Journey and Escape from Gringotts. If you're feeling brave, take a ride on the Jurassic World VelociCoaster, one of the newest and most exciting rides in the park.
In the afternoon, take a short drive to Rock Springs State Park, where you can float down a real-life lazy river for just $3! We rented inflatable tubes just down the road at the bar- you really can't miss it as you make your way to the springs. Enjoy the serene surroundings and the gentle flow of the river. We did it twice!
Rock Springs State Park is a hidden gem that offers a fun and relaxing tubing adventure. The park has a crystal clear spring that flows into a lazy river, creating the perfect setting for tubing. The water is refreshing and cool, making it a great way to beat the Florida heat. The park offers tube rentals, so all you need to bring is yourself and a sense of adventure.
The tubing adventure takes about 30 minutes to complete, and you will float downstream through beautiful scenery, including lush vegetation and towering trees. The river is calm and gentle, making it suitable for all ages and skill levels. You can take your time and enjoy the scenery or pick up the pace and have some fun bouncing over the small rapids.
If you're feeling adventurous, you can also explore the park's hiking trails and natural springs. The park has several picnic areas, so you can bring a lunch and spend the day relaxing in nature. Rock Springs State Park is a great way to experience Florida's natural beauty and have some fun in the sun.
From here, we drove a short way near Crystal River and spent the night at the Best Western Crustal River Resort hotel.
Day 3: Swim with Manatees and Ringling House
Today, head to Crystal River and swim with the manatees, one of the most incredible experiences Florida has to offer. These gentle giants are curious and friendly, so don't be afraid to get up close and personal. You'll also have the chance to explore the stunning Three Sisters Springs.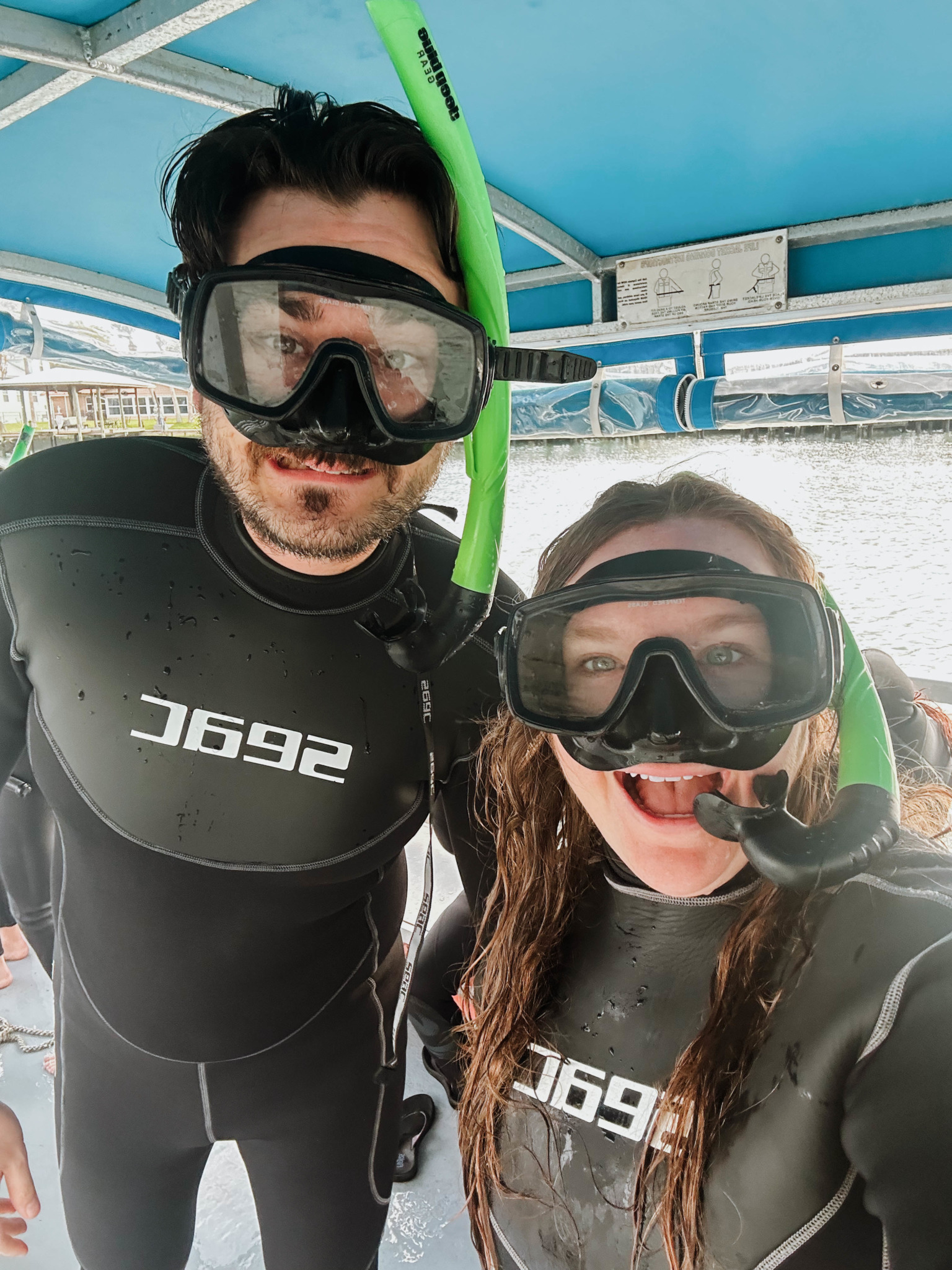 Swimming with manatees is a truly unforgettable experience. These gentle creatures are known as the "sea cows" of Florida and are known for their curious and friendly nature. However, it's important to remember that these are wild animals and there are strict guidelines in place to ensure their safety and well-being.
When swimming with manatees, it's important to keep a respectful distance and avoid touching or harassing them in any way. You should also avoid chasing or following them, and never attempt to ride or grab onto them. These actions can be harmful to the manatees and are illegal under Florida law.
To ensure a safe and enjoyable experience, it's recommended to book a guided tour with a licensed operator. These tours will provide you with all the necessary equipment, including wetsuits, masks, and snorkels. The guides will also provide you with information about manatees and their behavior, as well as the rules and regulations for swimming with them.
It's also important to be aware of the environmental impact of swimming with manatees. Manatees are a protected species and their habitat is under threat from pollution, boat strikes, and habitat loss. As visitors to Florida, it's our responsibility to respect their home and do our part to protect these incredible creatures for future generations to enjoy.
For lunch, head to Tarpon Springs, a Greek community with amazing Greek cuisine. Tarpon Springs is a charming city located on the Gulf Coast of Florida. It's known for its rich history and strong Greek community, which dates back to the early 1900s. In fact, Tarpon Springs has the highest percentage of Greek Americans of any city in the US.
One of the highlights of a visit to Tarpon Springs is the food. The city has numerous Greek restaurants and bakeries, serving up delicious dishes like moussaka, spanakopita, and gyro sandwiches. Be sure to try some of the famous Greek pastries, like baklava and kataifi.
In addition to the food, Tarpon Springs is also known for its sponge diving industry. The city was once the largest sponge market in the world, and today you can still visit the Sponge Docks area and see sponge boats and divers in action. There are also several shops selling sponges and other nautical-themed souvenirs.
If you're interested in history, Tarpon Springs has several museums worth visiting. The Tarpon Springs Area Historical Society Museum showcases the city's past, while the Safford House Museum is a restored Victorian-era home that offers a glimpse into the lives of early settlers.
Overall, Tarpon Springs is a unique and charming destination that offers a taste of Greek culture and history in the heart of Florida.
After lunch, take a tour of the Ringling House, Ca'd'Zan, a European-style palace in Florida. The Ringling House is a beautiful example of the opulence and luxury of the Gilded Age. Ca'd'Zan, which means "House of John" in Venetian dialect, was the winter residence of John Ringling, one of the five Ringling brothers who owned and operated the famous Ringling Bros. circus. The mansion was built in the early 1920s and is located on the waterfront in Sarasota, Florida.
The architecture of Ca'd'Zan is inspired by Venetian Gothic and Renaissance styles, with elements like intricate carvings, stained glass windows, and a soaring tower resembling St. Mark's Campanile in Venice. The interior of the mansion is equally impressive, with ornate furnishings, tapestries, and artwork collected by John and his wife, Mable Ringling.
The Ringlings hosted many lavish parties and events at Ca'd'Zan, entertaining guests like the Duke and Duchess of Windsor and the Astors. The mansion fell into disrepair after John's death in 1936, but was eventually restored and opened to the public as a museum in the 1950s.
Today, visitors can take a guided tour of Ca'd'Zan and marvel at its grandeur and history. The tour includes access to the first and second floors of the mansion, as well as the beautiful gardens and grounds. There is also a museum on site that showcases the Ringling's extensive art collection, including works by Rubens, Van Dyck, and Velázquez.
In the evening, take in the sunset at Siesta Key Beach. This beautiful beach is known for its white sand and clear waters. Unfortunately, during our visit, the beach had Red Tide, which created a lot of coughing and dead fish. If you encounter Red Tide during your visit, don't worry, there are plenty of other beaches to explore in Florida.After lunch, tour the Ringling House, Ca'd'Zan, a European-style palace in Florida. End the evening with sunset at Siesta Key beach.
We drove to Sarasota that night and stayed at the Siesta Key Beach Resort.
Day 4: Edison and Ford's Winter Estates and Everglades
Today is a day of learning and adventure. Start your day by touring the Edison and Ford winter estates, where you can learn about the life and inventions of two of the most famous inventors in history. We took the offered guided tour which gave so much history about Edison and his life. It was fascinating! You'll also see a collection of Ford's cars.
Afterward, stop by Robert is Here Fruit Stand, where you can taste exotic fruit and even order a milkshake with your fruit purchase. Robert is Here Fruit Stand is a truly unique and must-visit spot in Florida. It was founded by a young boy named Robert, who began selling his family's surplus fruits and vegetables on the side of the road in the 1950s. Decades later, the fruit stand is now a beloved institution, with a wide variety of exotic and tropical fruits that you won't find in your typical grocery store.
Some of the standout fruits at Robert is Here Fruit Stand include dragon fruit, starfruit, lychee, and passion fruit. You can sample many of the fruits before purchasing them, and the staff are knowledgeable and friendly. If you're feeling adventurous, try one of their famous milkshakes, which come in flavors like key lime, mango, and banana.
The fruit stand also has a petting zoo, where you can interact with goats, pigs, and other animals. There's also a playground for kids, a mini golf course, and a gift shop selling local honey, jams, and other goodies.
Overall, Robert is Here Fruit Stand is a fun and quirky place to stop on your Florida itinerary, and a great way to try some new and exotic fruits. Don't miss it!
End the day in the Everglades, where you can see alligators and other wildlife up close and personal. The Everglades is a vast wetland ecosystem that spans across south Florida, covering an area of approximately 1.5 million acres. It's home to a diverse array of plant and animal species, including alligators, panthers, and manatees. Exploring the Everglades is a must-do activity on any Florida itinerary, as it offers a unique opportunity to experience one of the state's most iconic natural wonders.
One of the best ways to explore the Everglades is by taking an airboat tour. These tours are offered by a number of companies throughout the area, and allow you to glide through the waterways and get up close to the wildlife. You'll also learn about the history and ecology of the region from your knowledgeable guide.
If you prefer a more low-key experience, you can also take a walking or biking tour through one of the many trails in the Everglades. This is what we opted for. There are several visitor centers and ranger stations throughout the park that offer maps and information on the best trails to explore.
No matter how you choose to explore the Everglades, make sure to bring plenty of bug spray and sunscreen, as the mosquitos and sun can be intense. And always remember to respect the wildlife and their habitat by keeping a safe distance and following all park rules and regulations.
Overall, the Everglades is a must-visit destination in Florida, offering a unique and unforgettable experience for nature lovers and adventure seekers alike.
From here, we drove to Fairfield Inn in Marathon Key, we stayed here 2 nights.
Day 5: Florida Keys
Today, head south to the beautiful Florida Keys, a chain of islands located south of Miami. The Florida Keys are a paradise for beach lovers and water sports enthusiasts. The crystal clear waters and white sandy beaches are perfect for swimming, snorkeling, and diving. If you're a fan of fishing, the Keys are also one of the best places in the world for deep-sea fishing, with a wide variety of fish species to catch.
Snorkel in Bahia Honda State Park, where you can see an array of tropical fish and even spot some sea turtles. Afterward, stop for lunch at Hogfish, a local favorite.
Hogfish Bar and Grill is known for its fresh seafood and laid-back atmosphere. We had a delicious Hogfish sandwich and the famous Florida Keys pink shrimp.
After lunch, we drove down to Key West, the southernmost point in the continental United States. We hopped on a train tour to learn about the history of the island, which was once a thriving port and home to many famous writers and artists, including Ernest Hemingway.
We also toured Ernest Hemingway's home, which is now a museum. The house is beautifully preserved, and we saw Hemingway's writing studio and learned about his life on the island. Ernest Hemingway's home, also known as the Hemingway House or the Ernest Hemingway Home and Museum, is one of the most popular attractions in Key West. The house was built in 1851 and was purchased by Hemingway in 1931. Hemingway and his wife Pauline spent over a decade living in the house, and it was here that Hemingway wrote some of his most famous works, including "For Whom the Bell Tolls" and "The Snows of Kilimanjaro."
The house is a beautiful example of Spanish Colonial architecture, with a red-tiled roof, white stucco walls, and a lush tropical garden. One of the most striking features of the house is its large, wraparound porch, which offers stunning views of the garden and the surrounding neighborhood.
Inside the house, visitors can see many of Hemingway's personal belongings, including his writing desk, his collection of hunting trophies, and his typewriter. The house also has a large collection of Hemingway's books, many of which are first editions.
One of the most unique features of the Hemingway House is its population of six-toed cats. Hemingway was given a six-toed cat by a local fisherman, and the cats have been residents of the house ever since. Today, there are over 50 cats living on the property, all of whom are descendants of Hemingway's original cat.
We watched the sunset at the pier, which was a breathtaking sight, and watched the many street performers. There were musicians, acrobats, singers, and more. Then weheaded to Sloppy Joe's, a historic bar that was frequented by Hemingway himself. We had a drink and listened to some live music before heading back to our hotel.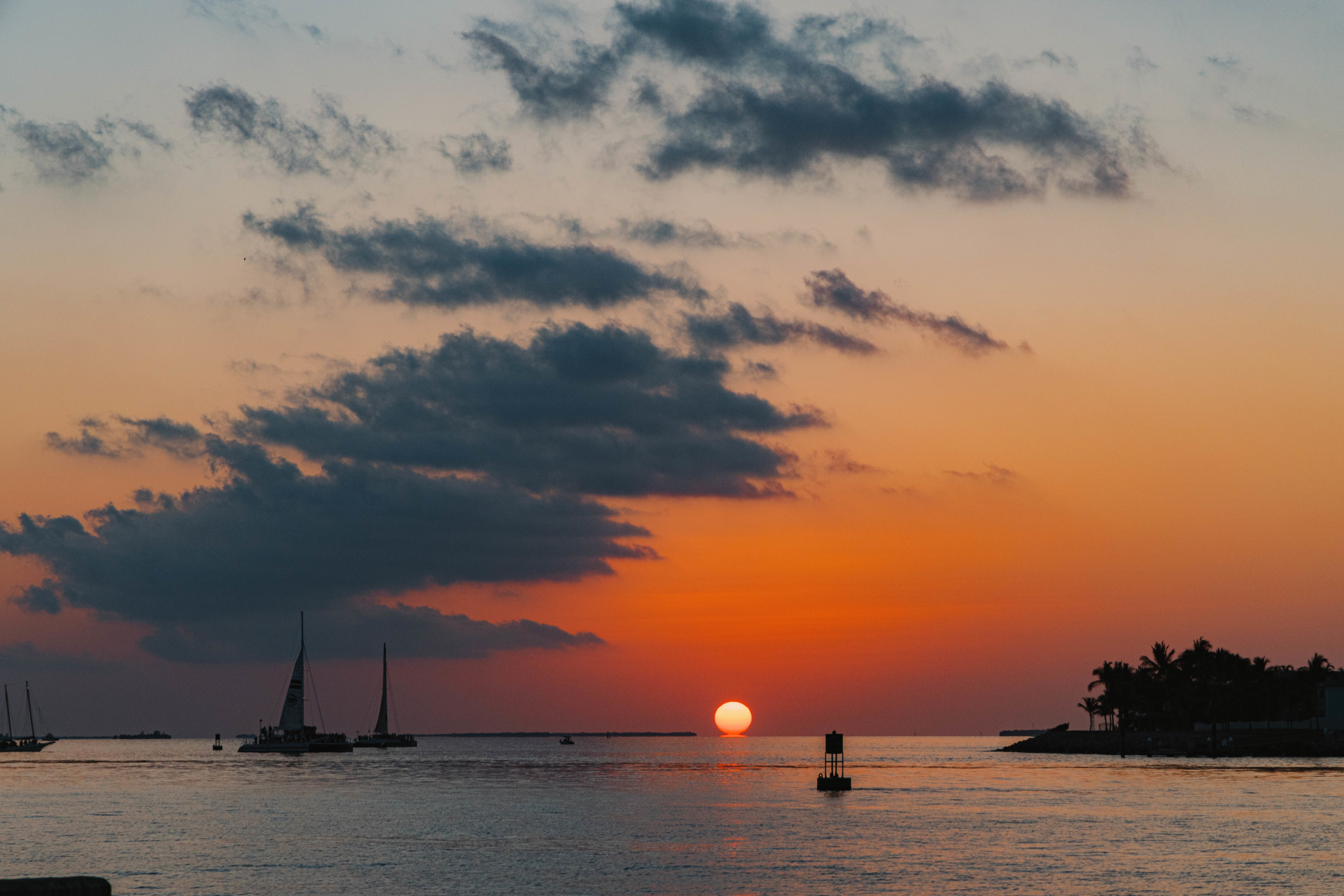 Day 6: Florida Keys and Miami
We started the day by visiting Sombrero Beach, which is located in the city of Marathon. The beach is known for its soft sand and clear waters, and we spent a few hours swimming and soaking up the sun.
After the beach, we headed to Mrs. Mac's Kitchen, a local restaurant that is famous for its key lime pie and conch fritters. The food was delicious, and we enjoyed the laid-back atmosphere.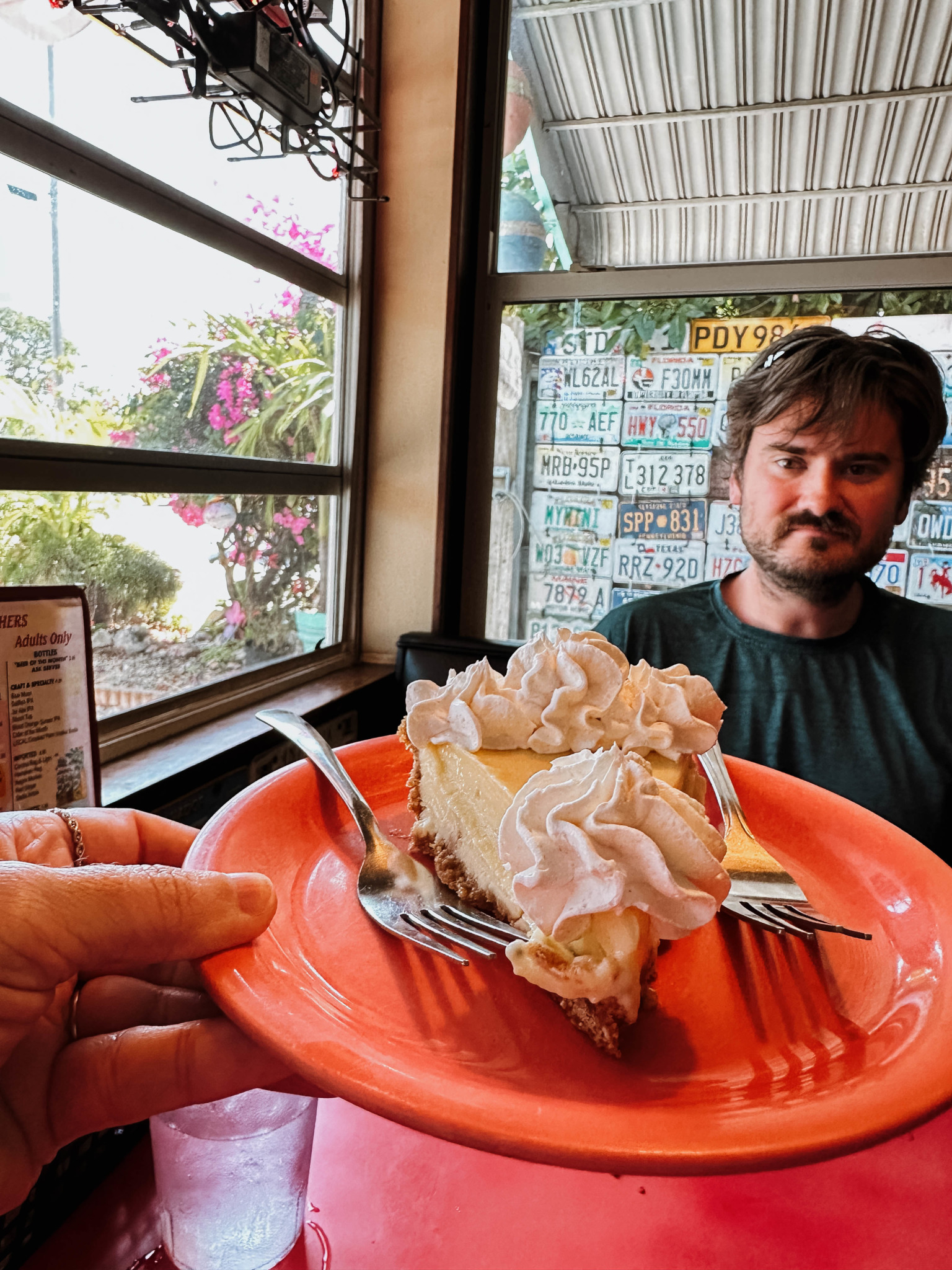 It wouldn't be the ultimate trip to Florida if we didn't stop in Miami!
From there, we drove to Miami and spent the evening in Little Havana, a vibrant neighborhood that is home to many Cuban immigrants. We went to Ball and Chain, a historic bar that has been around since the 1930s, and enjoyed some delicious Cuban food and live music.
We also toured some of the local cigar shops, which offer a variety of handmade cigars and accessories. The area has a rich cultural heritage, and we enjoyed learning more about the Cuban community in Miami.
Little Havana is a must-visit neighborhood in Miami, and it's easy to see why. The area is known for its vibrant Latin American culture, colorful architecture, and delicious food. As soon as you enter the neighborhood, you'll be transported to a different world, with Spanish music playing in the streets and the smell of Cuban coffee filling the air.
One of the best things to do in Little Havana is to simply walk around and explore the area. The streets are lined with colorful buildings and murals, and there are plenty of shops selling traditional Cuban goods, such as cigars, guayabera shirts, and handmade jewelry. You can also find many art galleries and boutiques, showcasing the work of local artists and designers.
Of course, no visit to Little Havana would be complete without trying some of the delicious food. The area is known for its Cuban cuisine, with many restaurants and cafes serving up classic dishes like black beans and rice, plantains, and Cuban sandwiches. Some of the most popular spots to eat include Versailles Restaurant, El Rey de las Fritas, and La Carreta.
If you're interested in learning more about the history and culture of Little Havana, there are also plenty of guided tours available. These tours can take you to some of the area's most important landmarks, such as the Bay of Pigs Museum and the Cuban Memorial Boulevard. You'll also get to learn about the experiences of Cuban immigrants in Miami, and how they have helped shape the city's culture and identity.
After our time in Little Havana, we spent the evening in Miami exploring some of the city's other attractions. We took in the beautiful views of the ocean and the iconic Art Deco architecture. We then walked down Ocean Drive, known for its colorful buildings and bustling nightlife.
Where to stay: we stayed at this hotel in Miami.
Day 7: Miami
On our last day in Florida, we started with breakfast on Miami Beach and a leisurely walk along Ocean Drive. We enjoyed the stunning views of the ocean and the Art Deco architecture that Miami Beach is known for.
Miami's Art Deco architecture is one of the city's most iconic features. This design style originated in the 1920s and 1930s and is characterized by bold geometric shapes, bright colors, and intricate detailing. Miami's Art Deco buildings are known for their pastel colors, curved lines, and neon lights, which create a vibrant and playful atmosphere.
Some of the most famous Art Deco buildings in Miami can be found in the South Beach neighborhood. This area is home to over 800 Art Deco buildings, many of which have been restored to their original glory. The buildings are a mix of hotels, restaurants, and shops, and they are often used as backdrops for photoshoots and films.
One of the best ways to explore Miami's Art Deco architecture is to take a guided walking tour. These tours will take you through the streets of South Beach, pointing out the most significant buildings and sharing stories about their history and design. You'll also learn about the role that Art Deco played in shaping Miami's identity as a glamorous and fashionable destination.
In addition to the historic Art Deco buildings, downtown Miami is also home to many contemporary art galleries and museums. The Pérez Art Museum Miami (PAMM) showcases modern and contemporary art from around the world, while the Institute of Contemporary Art (ICA) focuses on emerging and mid-career artists.
We then visited the Design District, which is known for its high-end shops and galleries. We stopped by some of the local boutiques and galleries, admiring the beautiful artwork and unique designs.
Next, we headed to the Wynwood Walls, a vibrant outdoor art exhibit that features colorful murals and graffiti. We strolled around the area, taking in the stunning artwork and learning about the artists behind each piece.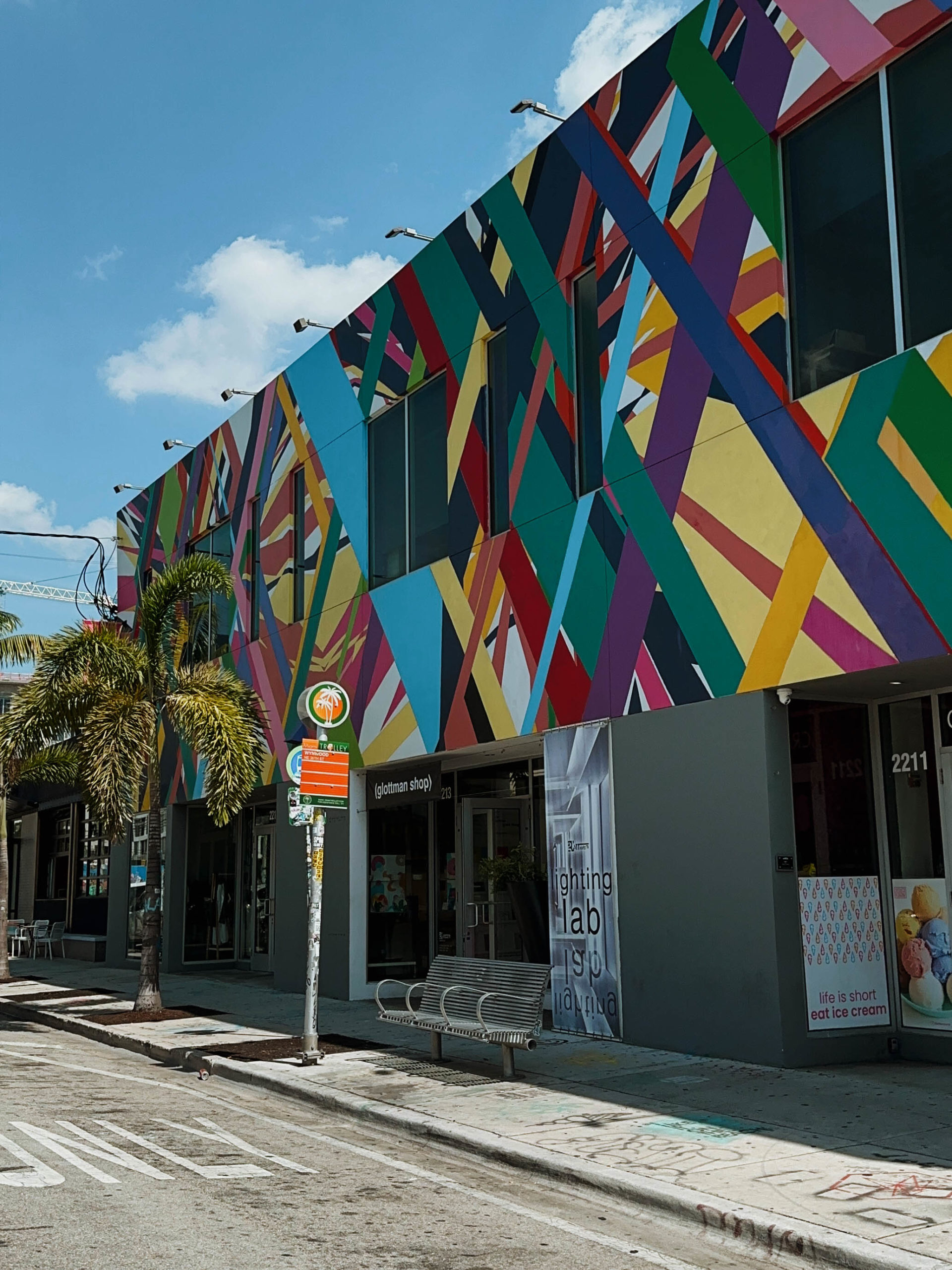 Finally, we went to the Institute of Contemporary Art Miami, which is a modern art museum located in the heart of the city. The museum features a wide range of contemporary art from around the world, and we spent a few hours exploring the galleries and learning about the different artists and their work.
When to Visit Florida
Because of the gorgeous weather, there's really no bad time!
The best time of year to visit Florida for one week really depends on your preferences. If you're looking for warm and sunny weather, then the summer months of June through August are a good option.
However, keep in mind that this is peak tourist season, so attractions and beaches can be crowded and expensive. If you prefer cooler weather, then the fall months of September through November can be a great time to visit. The temperatures are mild and there are fewer crowds.
Winter months, from December to February, can also be a great time to visit if you're looking for cooler temperatures and fewer crowds, but keep in mind that some attractions may have limited hours or be closed during this time.
Spring, from March to May, can also be a good time to visit with comfortable temperatures and blooming flowers, but again, it can be crowded during spring break season. Ultimately, it depends on what you're looking for in a vacation and what activities you want to do while in Florida.
Another option would be to stop in Tampa and check out Busch Gardens. This amusement park is known for its thrilling roller coasters and animal exhibits. It's a great place to spend a day or two if you're looking for some adrenaline-fueled fun. Another popular destination in Florida is the Kennedy Space Center, located on the east coast of Florida. Here, you can learn about the history of space exploration and even see real rockets and spaceships up close.
At a glance, Florida One Week Itinerary:
If you're planning a one-week trip to Florida, there are plenty of amazing attractions to visit. Here's a suggested itinerary for your perfect Florida vacation.
Day 1: Start your trip by flying into Orlando and heading straight to Universal Studios to explore Harry Potter World. Make sure to get the express pass to skip the lines and enjoy the rides twice.
Day 2: Head back to Universal for more Harry Potter World and try out some of the other rides in the park. In the evening, visit Rock Springs state park to float on the lazy river.
Day 3: Visit Crystal River to swim with the manatees before heading to Tarpon Springs for lunch. Tour the Ringling House and end your day watching a sunset on Siesta Key beach.
Day 4: Tour Edison and Ford's winter estates, stop at Robert is Here Fruit Stand for some exotic fruit, and end your day in the Everglades.
Day 5: Head to the Florida Keys for some snorkeling in Bahia Honda, lunch at Hogfish, and a tour of Ernest Hemingway's home. Enjoy sunset at the pier and a drink at Sloppy Joe's.
Day 6: Swim at Sombrero Beach, have some key lime pie and conch fritters at Mrs. Mac's, and spend the evening in Little Havana in Miami.
Day 7: Have breakfast on Miami beach, check out the graffiti at Wynwood Walls, stroll through the Design District, and visit
Have more time? Here's what I suggest you do in Florida
If you have more time to spend in Florida, I highly recommend visiting Dry Tortugas National Park. Located about 70 miles west of Key West, this remote park is only accessible by boat or seaplane, but it's definitely worth the effort.
The park is home to Fort Jefferson, a massive 19th-century brick fortress that was built to protect the Gulf of Mexico. Today, you can explore the fort and learn about its fascinating history. You can also snorkel in the crystal-clear waters around the fort and see a variety of marine life, including colorful fish, sea turtles, and even shipwrecks.
One of the highlights of visiting Dry Tortugas is seeing the nesting sea turtles. From April to September, you can watch the turtles lay their eggs on the beach and see the hatchlings make their way to the water.
There are also plenty of opportunities for bird watching, as the park is home to a variety of seabirds, including frigatebirds, terns, and pelicans.
If you're planning a visit to Dry Tortugas, keep in mind that there are no facilities on the island, so you'll need to bring your own food, water, and camping gear if you plan to stay overnight. You can also book a day trip or a camping trip with a tour operator.
Overall, Dry Tortugas is a unique and beautiful park that's definitely worth the journey. Whether you're interested in history, wildlife, or just soaking up the sun, this park has something for everyone. So, if you have some extra time in Florida, be sure to add it to your itinerary!
You could also spend time on Key Biscayne, a beautiful island located just south of Miami. Here you can visit the historic lighthouse at Bill Baggs Cape Florida State Park, relax on the picturesque beaches, and even rent kayaks or paddleboards to explore the waters. You can also visit the nearby Miami Seaquarium, which has a variety of marine exhibits and shows featuring dolphins, sea lions, and more.
Another great option is to explore the quaint town of St. Augustine, located in northeast Florida. This historic town is the oldest continuously inhabited European settlement in the United States and is full of charm and character. You can visit the Castillo de San Marcos, a 17th-century fortress, stroll along the cobblestone streets, and even take a ghost tour at night. There are also plenty of shops and restaurants to explore.
Another great option for those with more time is to explore the Gulf Coast of Florida. There are plenty of beautiful beaches and charming coastal towns to visit, such as Sarasota, Naples, and Sanibel Island. You can also take a scenic drive along the Tamiami Trail and spot alligators, birds, and other wildlife in the Everglades.
No matter how much time you have in Florida, there's always something new and exciting to discover. From theme parks to national parks, beaches to museums, this state truly has it all. So, start planning your perfect Florida itinerary today and get ready for a vacation you'll never forget!
Our one week Florida itinerary was packed with adventure, culture, and natural beauty. We experienced the magic of Harry Potter World and the thrill of the Jurassic World VelociCoaster, swam with manatees, explored hidden gems like Robert is Here Fruit Stand, and soaked up the sun on some of Florida's best beaches. We also learned about Florida's rich history and cultural heritage, from the Ringling House to Little Havana. We hope you enjoy your Florida adventure as much as we did!
Overall, our week in Florida was filled with adventure, culture, and natural beauty. From the theme parks in Orlando to the beaches of the Keys, we experienced the best that Florida has to offer and can't wait to return.
Hope you enjoyed our perfect one-week Florida road trip itinerary! If you're looking for a fun-filled adventure that takes you from the theme parks of Orlando to the stunning beaches of the Florida Keys, then you're in for a treat. This itinerary covers some of the best destinations in Central and South Florida and includes a mix of outdoor activities, cultural experiences, and theme park fun. So pack your bags, buckle up, and get ready for an unforgettable week of exploring the Sunshine State!