Grab your girls, we're going to Scottsdale! With impeccably beautiful resorts and spas, dozens of delicious restaurants, trendy shopping spots, and endless things to do and explore, Scottsdale makes the perfect destination for a girl's trip.
Scottsdale is such a great place to relax, adventure, eat, and explore. After traveling here a few times with my husband, I knew this would be a great place for a girl's getaway. I've got the perfect itinerary planned for your trip including where to stay, eat, shop, and what to do.
Whether you want to kick off your bucket list by taking a hot air balloon ride in the Sonoran desert or enjoy fancy cocktails and relax with a massage, this guide has it all. By the end, you and your girls will be planning your next trip back to Scottsdale.
If you're here for a bachelorette party or just want to hang with your bestie, you can find the perfect escape in Scottsdale. So, let's get started!
Here's how to have the perfect girl's trip in Scottsdale.
Scottsdale Girl's Trip Itinerary
Where to stay
There's nothing like a luxury resort to make you feel relaxed and pampered on vacation. And in Scottsdale, there are plenty of stays to choose from. In Scottsdale, you can enjoy the best of both worlds: stunning resorts, luxurious shops and spas, delicious restaurants set against a backdrop of peaceful desert scenery.
I'm recommending two different resorts based on the vibe of your get together. First up is the W Hotel which is perfect if you want a fun, party atmosphere, a great pool, and spa. Another option is the design dream of the Scott Resort. Every single detail of this resort is gorgeous and this is a great place to snap photos and drink cocktails.
The W Scottsdale is trendy and fresh and our room was to die for. We had a lavish 2-bedroom suite complete with a kitchen, dining area, and living room! We could easily look out our window on to the shimmering pool.
To kick off our trip we had a relaxing massage at the spa and later on got blow outs. This was such a fun way to feel pampered and go out on the town.
The pool area of the W is huge with lots of seating areas featuring different themes. One area has gorgeous leather arm chairs and books, another has framed art of desert rabbits, while another has outdoor cabanas complete with TV's.
There's an on-site restaurant and lounge to drink cocktails in before you head out. The W is walking distance to the bars and clubs in Scottsdale. And, the W also offers pool parties on the weekends!
The Scott Resort is a laid-back and elevated resort with beautiful pool-side rooms, a restaurant, and multiple pools.
Upon entering the jaw-dropping resort you're greeted with luscious botanical plants, high ceilings, and plenty of natural light. The wicker furniture blends effortlessly with the pale blues and greens of the decor. It feels a bit like a 1960s Cuban vibe, but yet modern!
There's a fireplace going year round which make you feel cozy and the neon pink "Canal Club" sign above the bar lets you know you're on vacation.
There are so many photo spots. From the gilded mirrors, the bespoke art, or the sun terrace. The pools are a standout feature and have sky-high palm trees, flowering bushes, and plenty of seating areas. I loved the cabanas with wood lap tables so you could get a bit of work done on your laptop or phone!
There's even a sandy beach pool and great cocktails. The Canal Club serves a bevy of poolside fare and offers movie screenings, game nights, rum tastings (usually on Wednesdays, book in advance!) and events.
The entire hotel is Instagrammable and you can't take a bad photo at the resort!
Where to Eat
There's no shortage of amazing places to eat in Scottsdale. You can find any type of cuisine you're in the mood for and the restaurants here are definitely worth writing home about.
Dinner
CRUjiente Tacos – As a Texan I can't believe I'm about to say this… these were some of the best tacos I've ever had! This modern neighborhood taqueria specializes in quality ingredients. The small menu features crunchy and soft tacos (I recommend getting one of each), and starters like queso and street corn. Just say yes to it all. Come hungry and thirsty – the drinks are fabulous as well.
The Mission– This is one of my favorite restaurants in Scottsdale! You can eat inside for a darker ambiance or outside for a gorgeous patio. Start with the delicious table side guacamole and try the elderflower margarita. The entrees are all heavenly, but I highly recommend the chorizo porchetta.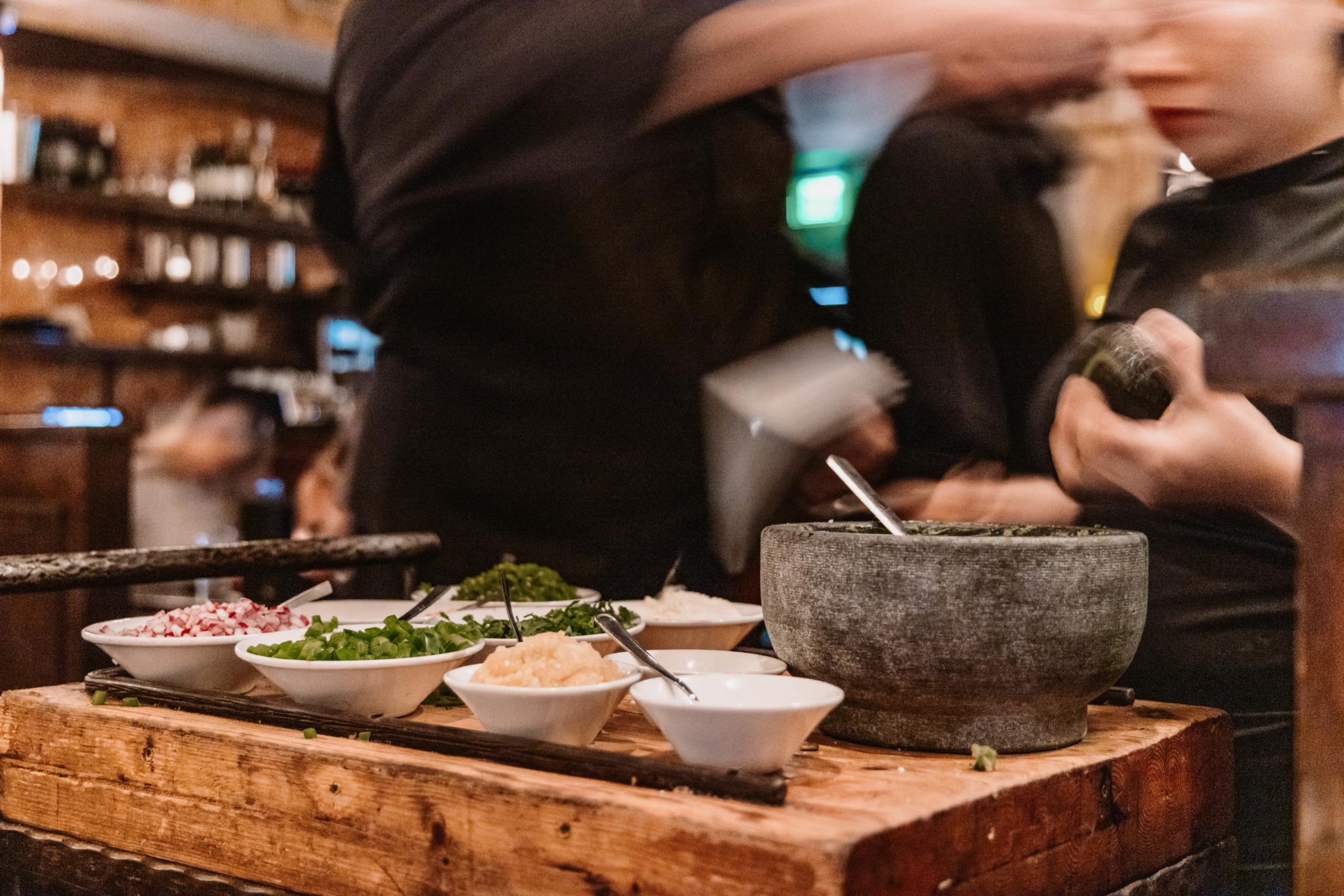 El Chorro – Sit on the patio and start with a sticky bun (really) as you gaze out at Mummy and Camelback mountains. The food was fantastic and the service was superb. The story of how El Chorro came to be is a fascinating one. Originally, it was built as the Judson School for Girls by Dr. John C. Lincoln in 1934 so his daughter could attend school while he built Camelback Inn. El Chorro became the "watering hole" for Camelback Inn's guests such as those like Clark Gable. The school served sticky buns so they continued to carry on the tradition!
Old Town Tortilla Factory – The best avocado margarita, ever! Old Town Tortilla Factory, built from a historic 75-year-old adobe home, captures timeless charm and a distinct atmosphere that exemplifies the essence of the Southwest. String lights and hot tortillas make this a great atmosphere!
Breakfast & Coffee
Prep & Pastry – Gorgeous high ceilings, pretty food, and drinks, that's all sourced locally! You'll find scrumptious avocado toast, hearty eggs and biscuits, and divine maple dipped bacon. I loved the lavender chai too – it was almost too pretty to drink!
Sweet Dees – This Instagrammable shop has great sweets, and some options on the savory side as well as inventive coffees and tea. The French style bakeshop offers a new theme every month with Harry Potter and Lord of the Ring treats too!
Daily Dose – Try their made from scratch cinnamon roll pancakes! They are so delicious! Specialty cocktails like the Spicy Watermelon Margarita and Bacon Bloody Mary use the freshest ingredients as do so many of their menu items.
What to Do
Go Shopping in Scottsdale Quarter, Old Town, or Kierland Commons
There are plenty of great places to go shopping in Scottsdale! Whether you're looking for trendy, up-to-date fashion, vintage finds or something unique, you'll find it.
Scottsdale Quarter offers budget to high end with stores like H&M, Sephora, lululemon, and Pottery Barn. There's also great restaurants as well! I love the beautiful palm trees lit up year round with fairy lights. Nearby is Kierland Commons which has stores like Anthropologie, Athleta, and Coach.
A great mall is Scottsdale Fashion Square, full of great shops and retailers like Nordstrom and Forever 21. We came last minute when I needed some shoes!
Walking around Old Town Scottsdale you'll find a variety of stores selling unique western ware. I recommend checking out Fashion By Robert Black, offering unique vintage pieces! You'll find stunning pieces in pristine condition- many with stories to tell. There's even a hat worn by Sofia Loren!
Hot Air Balloon Ride
I've gone on a hot air balloon ride in Scottsdale before and when I went on a trip with girlfriends I knew I needed to go again! It's just such an incredible feeling to glide peacefully into the sky and view the ground below.
There are many hot air balloon companies in Scottsdale to choose from, but I recommend using Hot Air Expeditions. They were professional, friendly, and knowledgeable. The entire process from start to finish was so smooth! Plus they make me feel much more relaxed when you go up in the air!
You'll pass over desert landscapes, tall Saguaro cactus and even see wildlife! The stunning mountain ranges nearby silhouette as you come up during sunrise- it's a bucketlist experience!
You'll finish off with champagne and breakfast! It's the perfect way to start the day and an experience you'll never forget.
Have drinks on a "train" at Platform 18
Step back in time and on to the platform of the train! This themed bar departs at Platform 18: an opulent, Presidential Pullman-style carriage that sits within the Century Grand. There are screens displaying a journey through the Rocky Mountains that make you FEEL like you're on a train! The train's immersive and elevated cocktail experience is one of a kind. The drinks are incredible and inventive- try the clarified milk punch (comes in a tea cup!) or the boozy ice cream!
Make Your Own Candle
THIS WAS SO FUN! Light + Bark is an immersive experience and it's perfect for a girl's trip! You get to pick your scents and concoct the perfect smell for you! Pick out your jar and become a mad scientist as you put together your candle.
I created a fall-scented candle with notes of maple, cranberry currant, pumpkin, and flannel! Best part, if you can't take it home they can ship it to you!
Go Wine Tasting
There are so many great wine tasting rooms in Scottsdale. You could make a day of it by visiting a few (my favorites are LDV and Arizona Stronghold) or just pick one and learn the wine making process.
Arizona Stronghold is a family owned vineyard and the largest winery in Arizona! The wine was fantastic! We tried a variety and my favorite was the Lozen, a red blend of Cabernet Sauvignon and Malbec.
This is such a fun activity before heading out to dinner or shopping. It's a great way to learn about wine and taste some new varieties!
Take a Hike
There are plenty of hiking trails in Scottsdale with different levels of difficulty. The McDowell Sonoran Preserve is a protected area of land that includes the Scottsdale McDowell Mountains and Sonoran Desert.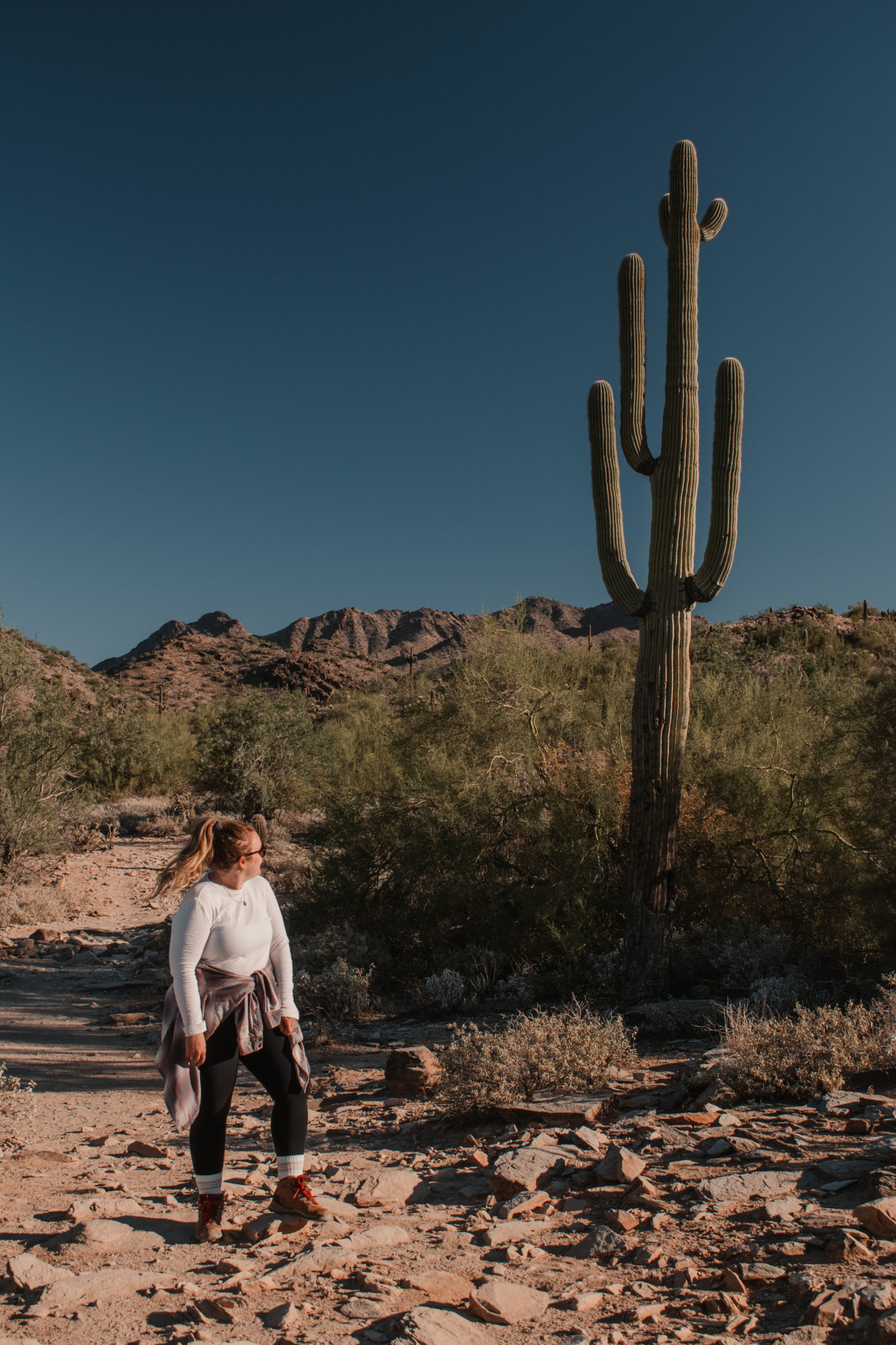 One of my favorite hikes is the Gateway Trailhead that takes you through some of the prettiest scenery with Saguaro cacti and you might even bump into a roadrunner! This trail is a 4.5 mile loop with an elevation gain of 650 feet that takes you up to a low saddle.
Take a Tour with JoyRidesAZ
I've taken a number of tours with JoyRidesAZ – they can really tailor a tour to your liking! Whether you want to hear the history of Scottsdale, find the hidden gems, best restaurants, or museums, they have all the knowledge. We went on a brewery tour and I discovered some of the best places for beer, pizza, and even an espresso martini (and it was where I least expected it!).
You'll ride in a golf cart and it's a great way to see the city and learn about Scottsdale!
The Desert Botanical Garden
The Desert Botanical Garden is a must-see in Scottsdale! It's home to more than 50,000 plants, including cacti, wildflowers, and trees.
There are also a number of sculptures on the property. My favorite was the "Ends of the Earth" by John Grade which consists of two massive tree trunks that were recovered from the bottom of a river.
The garden also offers a number of events and programs, including yoga in the garden, stargazing, and live music!
If you're interested in the arts, Scottsdale has an incredible scene! There are over 120 public art pieces in Scottsdale, plenty of museums and galleries, and Frank Lloyd Wright's home. Check out my full guide to arts in Scottsdale, including the annual art event, the Canal Convergence!
Scottsdale offers so many fun things to do and is the perfect place for a girl's trip. With plenty of activities, great food and drink, and beautiful scenery, you're sure to have a blast!