The town of Scottsdale, Arizona is brimming with art, culture, and, of course, the perfect playground to explore the desert. It's one of those places you can come back to again and again for the great food, pedestrian-friendly downtown, myriad of resorts, shopping, and outdoor fun.
Scottsdale is one of my favorite cities in the USA. You can easily take the kind of trip that suits your needs: great resorts, delicious cuisine, hiking, and a fabulous art scene.
I've written a guide to Scottsdale and a great itinerary, but let's look at how you can elevate your trip with a peek into the museums and landscapes that inspired the artists.
There are very few cities that offer a relaxing deluge at the spa, hot air balloon rides at sunrise, hiking amongst giant cactus, and a chance to see world renowned art up-close.
Here's a map of all the places I've mentioned:
Art
Scottsdale is one of the top cities in the USA for art with more than 125 professional art galleries and studios, one of the highest per-capita anywhere in the nation. The entire city feels like an art gallery with 120 public art pieces scattered throughout the city! The tours are self-guided and there's an interactive map to follow on scottsdalepublicart.org.
You can walk or drive to see the many different artworks in the city. Some of my favorites are George-Ann Tognoni's impressive trio of galloping horses and my personal favorite, the Doors and Sound Passage. Upon looking at it you'll see three large, beautiful doors, but when you step inside, particularly on a sunny day (Scottsdale has plenty!) you'll see a kaleidoscope of colors. The sculpture creates an optical illusion of a geodesic dome overhead!
I also love the Bronze horse fountain which features five Arabian horses, significant since Scottsdale is central in Arabian horse breeding in America. Another one of note is the Knight Rise, featured inside the Scottsdale Museum of Contemporary Art. It's one of only 14 skyspaces open to the public in the US!
The Scottsdale Public Art project was started in 1985 to enhance the quality of life for their residents and tourists. I think they've definitely achieved their goal!
Western Spirit: Scottsdale's Museum of the West is the perfect museum to kick off your Scottsdale trip. Here, you'll immerse yourself in art while also getting a taste of history. The museum is a great place to learn about western history, culture, and art. The museum has exhibits on everything from cowboy life in the 1800s to Native American artifacts. There's an eclectic mix of art with meaningful art and artifacts, Hoppi pottery, the largest collection of Edward Curtis, and so much more since there's rotating exhibits.
The museum is actually a Smithsonian Affiliate and was named 2021 "Best Western Museum" in the nation by True West magazine! The building itself is like an art piece with desert imagery like cactus and like a woven piece of art.
There's also an Artwalk every Thursday where the galleries stay open late and offer wine.
If you time it right, you can be in Scottsdale for their annual Canal Convergence, a 10-day public art festival featuring artists from around the world with large-scale art works right on the canal. Each year has a different theme! The 2021 theme was Water + Art + Light and featured art and technology.
There were fire breathing flowers, light up waterfalls, interactive doors, an enchanted meadow, and "Say What You Will" was an audio-visual installation that uses voice technology to create art through light and video projection above the Arizona Canal.
The 10-day festival takes place in November and is totally free! Find out more for next year, here.
You can't mention art in Scottsdale without highlighting Frank Lloyd Wright's home, Taliesin West or his student's workshop, Paolo Soleri's Cosanti. See even more in my full guide to Scottsdale here.
Outdoors
Much of the desert scenery is inspirational for many artists. The city is surrounded by mountains and deserts, with the McDowell Sonoran Preserve offering over 30 miles of trails through rolling hills, canyons, caves, and overlooks. You can get inspired too, starting with a hike at Gateway Loop Trail.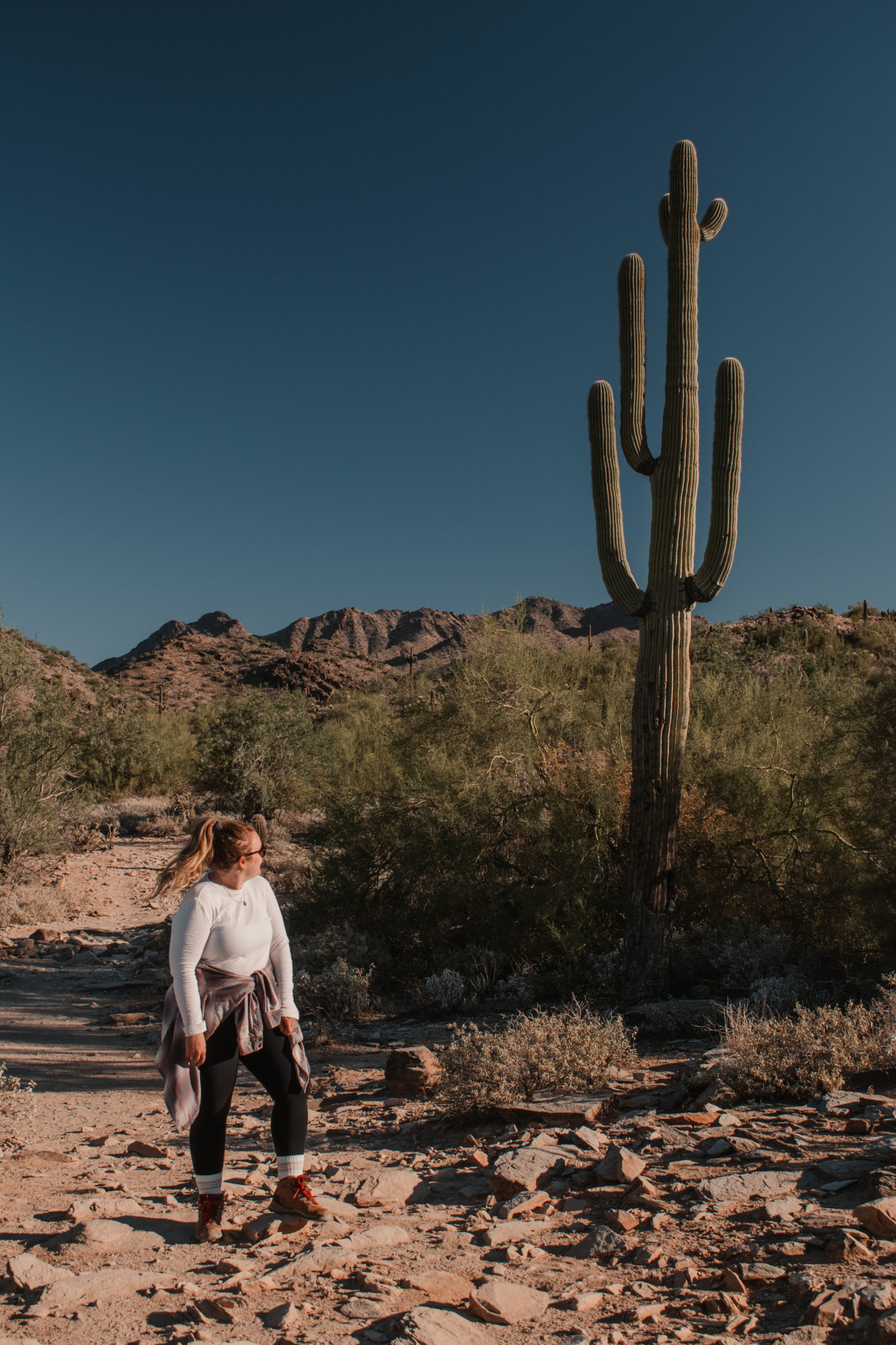 This is a well-traveled path that offers beautiful scenery. It's 4.5 miles but you can easily cut it short if you need. I'd say this is a moderate to difficult hike with an elevation gain of 650 feet.
The McDowell Sonoran Preserve offers more than 200 miles of trails in 30,000 acres, and when complete, it will total more than 36,000 acres of permanently protected land, making it larger than the cities of Tempe and Paradise Valley combined and 36 times the size of Central Park! See more trails here.
One of the best ways to really experience the wonder of nature is to do it on horseback! MacDonald's Ranch is the perfect place for all skill levels, particularly beginners. The tame horses are so sweet and calm, and you can ride around the ranch with experienced, professional wranglers. The property itself is like stepping back in time with plenty of activities like a petting zoo, gem mine, and western kitsch.
Old Town Scottsdale is one of the best places to eat, drink, and learn the history of Scottsdale. We explored via Segway! This was my first time ever on a Segway and I loved it. I had no idea it would be this fun! Our tour guide told us history, made restaurant recs, and let us zoom around the city! We used Segway of Scottsdale for a 6 mile trip that includes training.
You must head to Kierland Commons for the perfect place to shop. During Christmas they light it up with twinkling lights on the palm trees! This was one of my favorite parts just to walk around! This is an urban oasis full of the top brands, restaurants, and bars.
Some other ideas for the outdoors are a hot air balloon ride, kayaking on the salt river, or checking out the Desert Botanical Garden – one of my favorite things to do in Scottsdale! See even more of what to do in Scottsdale here.
Eat
HULA's Modern Tiki – Okay, hear me out. I love Scottsdale for the food, as I've spoken about here. But this is maybe one of the best restaurants in Scottsdale. Which is really saying something because I adore the food. It's the perfect twist on a classic tiki restaurant with delicious cocktails and an extensive menu. For drinks I recommend the Hula's Hurricane and the Dr. Funk. If you do ANYTHING, get the Crispy Coconut Shrimp Rolls with pineapple horseradish dipping sauce, and thank me later. I also got the Spicy Thai Chicken bowl with fried sweet plantains, and wow- literally an explosion of flavor.
Diego Pops – This is the perfect place to relax with friends or have a date night. With a fun and inventive menu, you'll find a different take on Mexican good. With slick metal tables and pops of color in the restaurant it feels lively and youthful. Try the everything-but-the-kitchen-sink Brussels sprout nachos, the freshly made margaritas and the taco bowls.
Citizen Public House – This is an upscale and modern restaurant offering delicious American cuisine and barrel aged cocktails. We had the fondue and bacon popcorn (I'd pass on this and eat more fondue!) for appetizers. I had the sea scallops with sweet corn grits and topped it off with whiskey bread pudding! Perfect for a date night.
Hearth '61 – Not only is the food great, but the views are unbeatable. Sit outside and enjoy the sunset with a cocktail or wine. Located in Paradise Valley, you'll have epic views of the purple mountains. The ambiance, food, and service is exceptional.
Farm & Craft – This fast-casual restaurant offers healthy and yummy food. You'll find options like anti-inflammatory and stress reducing entrees, perfect for travelers midway through their trip! I loved the flatbreads!
Original Chop Shop – The literal best acai bowl I've ever had. I honestly would go back to Scottsdale just to have this for breakfast!!
CIELO – Located on the stunning property of ADERO, this farm-to-table restaurant offers a peak into the desert landscape while you enjoy hand-crafted cocktails and inventive cuisine. This is the best spot to celebrate in style.
Olive & Ivy – I love the high ceilings in this Mediterranean restaurant. This is a great place for brunch and I recommend the sweet potato cannelloni or spicy shrimp risotto. The restaurant also offers 45 different wines by the glass and their famous cinnamon roll!
CAMPO Italian Bistro and Bar – Led by a James Beard Award winning chef you'll find homemade pasta, pizzas, and craft beer and wine. This warm and inviting restaurant is cozy and quaint.
Hash Kitchen – The most instagrammable place with actually good food! You know when a restaurant wants to be cute and picturesque but the food just doesn't cut it? Not at Hash Kitchen. The dishes are HUGE and delicious with creative dishes like beignet donuts, carnitas hash, and inventive pancakes. There's even a DJ booth!
Berdena's – This is the perfect place to grab a quick cup of coffee in this hip, beautiful spot. If you're looking for Instagrammable lattes, look no further!
Stay
Straddled between Camelback and Mummy Mountains is the appropriately named Mountain Shadows Resort in Paradise Valley. This resort is modern and chic but in a very old Hollywood way. The resort originally opened in 1959 and earned its namesake from the shadows cast by the mountain silhouettes each afternoon.
But there's more shadows here than just the mountains. Stars like John Wayne and Elizabeth Taylor walked these hallways and lounged by the pools.
The large rooms are clean and functional with a huge shower and gorgeous views. There's also an 18-hole short course for golfers and multiple pools.
The restaurant onsite, Hearth '61 that I mentioned above, is also top-notch.
If you want to get more into nature then the perfect place in Scottsdale is ADERO! This is a fantastic resort boasting the most incredible views and a chance to see the stars.
Situated right next to a canyon, the ADERO is in a Dark Sky Community with access to 55,000 acres of desert terrain and perfect for hiking and exploring! There are multiple pools, a spa, and a state-of-the-art fitness center.
This would be the ideal space for a wedding or a girls trip!
Scottsdale is the perfect getaway to experience the great outdoors and experience some of the best art in the USA.