The sun is shining on the warm deck as I stroll in my long dress, the sound of the waves lightly crashing against the bow of the ship as I meander, glancing at the brilliant sky.
I felt like I was on set of a glamorous movie, set in the 1920s. But I was crossing the Atlantic from England to New York on Cunard's timelessly beautiful Queen Mary 2.
For the past few years I've been living in Heidelberg, Germany and we wanted a way to end our life abroad with a bang – by taking a luxury 7-day transatlantic crossing.
This turned out to be the perfect way to transport our belongings to move across continents, and, more importantly, to take our two dogs across the sea.
This is no regular cruise. Sailing on the Queen Mary 2 means you're making a crossing. As the world's largest and only ocean liner, you'll find myriad of activities offered onboard unlike any other ship. When we sailed from Southhampton to New York the English National Ballet accompanied the ship. There were lectures, performances, black-tie evenings, and, maybe most memorably, incredible history.
On Board the Queen Mary 2
While the atmosphere might look like you stepped back in time, the Queen Mary 2 offers every comfort of a 5-star hotel. With 2,691 guests on board and nearly 1,300 crew, you will always feel extremely well taken care of.
Despite these numbers, the ship is huge. So you often find many areas all to yourself. We regularly spent time at the Commodore Club working or meeting friends for drinks.
In addition, I think for the amount of service, entertainment, and dining, this is one of the best priced ships out there.
As I was moving from one continent to the next, I was worried about the jet lag that might occur. But Cunard thought of everything. Each day, time is shifted up an hour so that once you arrive in New York you're already adjusted!
The trans-Atlantic crossing lends itself to more elegant evenings. Along the walls you'll find large posters depicting the famous actors, musicians, and politicians that sailed with Cunard in their heyday.
The State Room
Plush, comfortable beds, a closet for your belongings, and a fully equipped shower are all inside your room. We went with the economical option for our room, but it was able to fit our four suitcases, three backpacks, and yes, even our two sleds. Since we were moving our life from one place to another, there was still room for all our worldly belongings plus ourselves.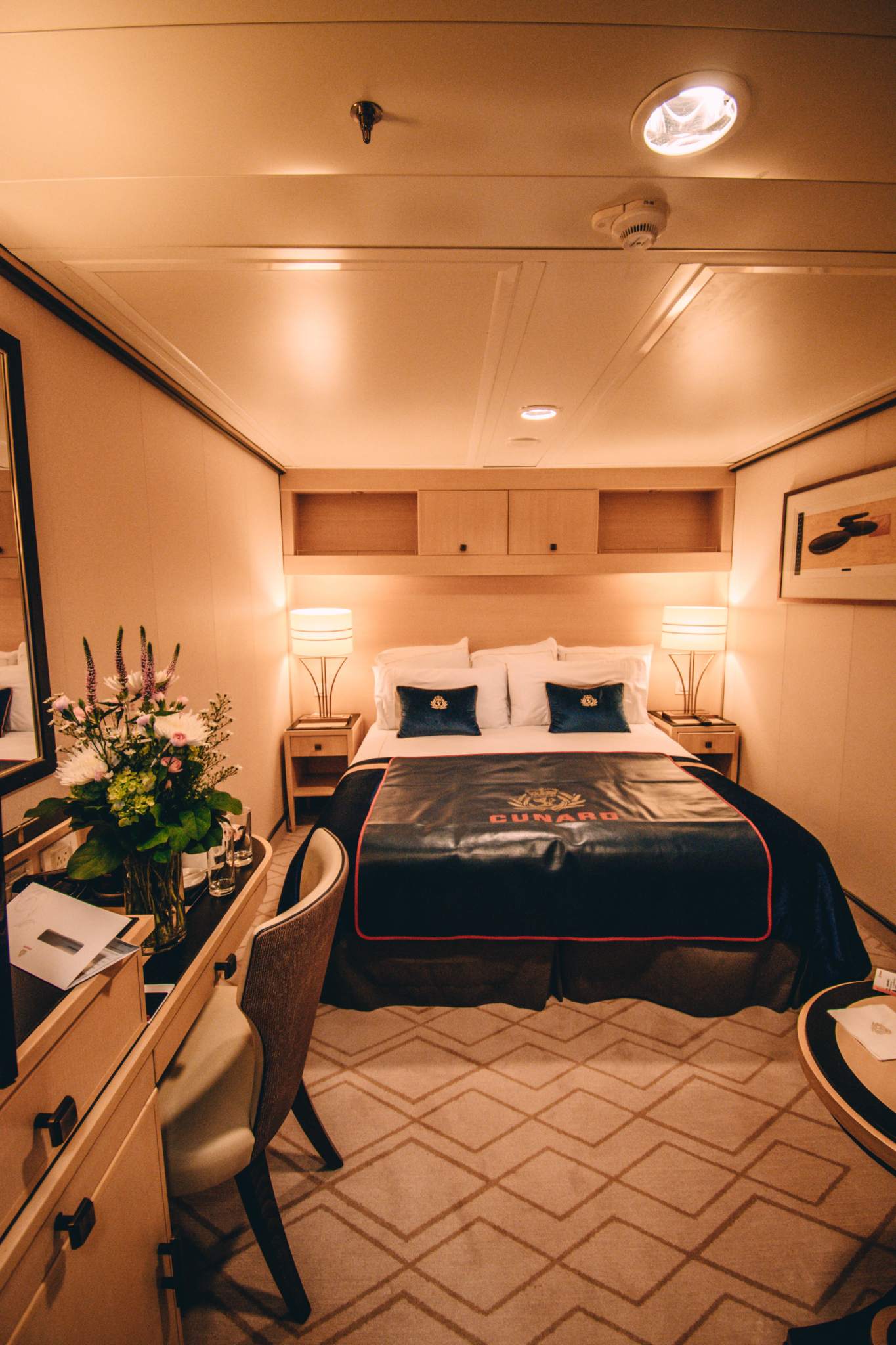 I really like that Queen Mary 2 offers single staterooms for solo travelers, which many cruise ships don't offer.
Most interior cabins are 194-square feet and the ocean view rooms range from 180-200 square feet. Each room has a closet, writing desk, TV, robes with slippers, small refrigerator, hairdryer, and nightly turn-down service.
The Ship
As the world's largest ocean liner there are so many areas to explore, you'll never get bored. The ship itself is longer than New York's Chrysler Building and has a promenade that stretches around the ship.
Queen Mary 2 was launched in 2004 and is the flagship of the Cunard line. Affectionately called the QM2, the ship was expertly built to navigate across the Atlantic and offers stabilizers to minimize any swaying on board.
The ship is designed in a classic and glamorous British style. Rich dark and detailed carpeting, simple chandeliers, and artwork paired with history throughout the ship. Really, I felt like I was floating across the Atlantic in a small British city – complete with a pub and all!
There's an art gallery with a large array of different art that's switched out daily (you can also find art lectures here). The art gallery is the corridor on the way to Queen's Room.
The large Queen's Room is for dancing and music. It's a bright and simple room with blue accents, with yellow, and red plush chairs and wood finishing. This is a good place to get an idea of the breadth of the ship because it expands the width of the ship.
If you're in the mood for a late night, check out G32 – a two story club with a DJ and Solutions (the band) comes and plays here as well.
There are multiple pools and hot tubs, an art gallery, a gym, shops, and even a spa and salon on board the ship. You'll notice many of the staff wearing white-gloves, noting that they carefully consider every detail of your cruise. I was mesmerized by the florists expertly crafting an ornate flower arrangement in the ship's Grand Lobby. Details like this really make the ship look so elegant.
Bringing Your Dog on Queen Mary 2
The Queen Mary 2 is the only ship that allows pets at sea. Because of this stipulation I was particularly interested to see how it all worked.
When we arrived at the Southampton cruise terminal we checked in ourselves and the dogs. Then we waited in the nearby waiting area for the kennel attendants to come by.
We were greeted by two of the kindest people who would be taking care of the dogs for the next seven days. Michael and I held on to our dogs and we were joined by another French Bull dog and owners as we made our way up to the kennels. This is the designated area for the dogs. Here, there are 22 kennels offered for dogs and cats.
Our journey was completely full with 22 dogs. The kennel offers an area for owners to hang out and a small outdoor space for the dogs to run around and do their business.
The dogs stay in their designated area- they never go anywhere else on the ship. You can go and visit your pets in the morning, afternoon, and night.
I found that our dogs in particular loved the experience. There was fresh sea air, lots of other dogs to play with, and a warm spot to sleep. I was admittedly a bit worried about what the experience might be like but it was absolutely incredible. And what a fantastic and stress-free way to bring yourself and your dogs across the ocean.
Dining
When I think of being at sea one of the first things I dream about is the dining. There is no shortage of delicious options on the Queen Mary 2. From the buffet at the King's Grill or the seated menu at the Britannia restaurant, you have so many choices. There's a Godiva chocolate bar, the Golden Lion pub for traditional bar food, and even The Verandah, a steakhouse.
Dressing for dinner means dressing up. There are formal nights where men will don tuxes and women will wear chiffon floor length gowns. This isn't necessary, of course, but you will need to have a suit and women a more upscale dress. There is a dress code on board and you'll find it on Cunard's website as well as within your cruise documents. Just know that you will need some formal wear for your crossing. During the day it's just fine to dress casually, but after 6 P.M. no shorts or denim are allowed.
Dinner is typically held in Britannia restaurant. Of course, if you don't feel like dressing up, you can head to the buffet areas of the King's Court for 24/7 buffet dining.
Britannia is an absolutely lovely room and the staff run like clockwork to ensure the thousands of passengers all ordering different dishes at one time get what they ordered. The service was excellent and the wine list was extensive. There's also sommeliers to help you choose the best wine pairing with your meal.
There are two seated times for dinner and these are assigned. We took the earlier time which I'd highly recommend for taking the journey from Southampton to New York. This way you have the rest of the evening to do what you want, and as the time changes this works well so you're not eating too late in the evening. Believe me, you'll be full and satisfied! One of the best parts was our fellow dinner table mates who we all exchanged contact information with to keep in touch with after the crossing.
If you don't want a formal dinner you can also go to King's Court for buffet style dining. This is also where you can go for breakfast or lunch. Here there is a wide array of food and even more exotic offerings like Middle Eastern Foul Mudammas or traditional, made-to-order burgers. One of the best kept secrets on the ship is the fresh and delicious pizza and pasta menu at the King's Court. I suggest skipping formal dinner one night to have a freshly made Diavola pizza or spaghetti carbonara.
I also liked the Carinthia Lounge for a quick snack to eat, inventive bites or light lunch options. There's also Lido restaurant which is open 24-hours a day and is buffet for breakfast and lunch and at night becomes a restaurant offering different cuisines each night: Asian, South American, or Mexican.
Breakfast and lunch can be particularly busy in the King's Court but make sure to snag some French Toast in the morning. Also, chocolate day was a big hit on board. Of course, you can always head to the Godiva room for truffles and chocolate any time.
You can find a large variety of cuisine on board for all sorts of tastes and dietary restrictions. You will not go hungry on board Queen Mary 2!
There are also plenty of places to get a drink or unwind. The champagne bar is a lovely little nook and a perfect place for pre-dinner drinks. Or, you can head to the Chart Room for an open, nicely-lit bar with plush furniture and sea views. Throughout the night and even during the day, you can find live music throughout the ship. From classical to rock and show tunes.
We also enjoyed a delicious and fun cocktail making class at the Commodore Club. Here, we made the signature drinks of each Commodore (the captain of the fleet of ships) and I discovered my new favorite drink, "Punch Romaine a la Carpathia," made with marshmallow fluff and lime. This club was one of my favorite hangouts on board.
It is important to note that drinks are not included. You can buy a soft drink or alcoholic drink package, otherwise, you will pay per drink. Since we decided we wouldn't be drinking at every meal, we decided to buy individual drinks and this did add up fast. However, you are allowed to bring wine or champagne on board!
The Verandah is a beautiful steakhouse and the perfect night for a special occasion. The price is not included in your cruise, as the other dining options are.
Entertainment & Activities
I spoke with a woman who regularly takes the Queen Mary 2 between continents and remarked that she had yet to experience everything offered on board. In particular, she wanted to see the Planetarium (the first and largest at sea!). There are lectures, movies, dancing, live music, live theater shows, and while we were on board, the English National Ballet! Queen Mary 2 and other Cunard ships regularly offer themed cruises such as Big Band, fashion, food and wine, or genealogy.
Each night you'll find the next day's schedule on your bed. You'll find cocktail making courses, lectures, movies, wine tastings, theater shows, church services, and more.
The enriching and thought-provoking lectures were some of my favorite on-board activities. We learned the history of pirates, the back story of America's first settlers, and the mystery of the universe. The Planetarium offers 3 shows a day which sell out. Tickets are free and at 9 am you can wait in line to grab yours. Go early, at about 8:45 to ensure you get a ticket for that day.
The Planetarium, films, and lectures are held in the Illuminations room. The entrance is flanked with statues of Jupiter and Mercury, as if to welcome you on a journey to a new dimension. And that's what it feels like as you lean your seat back to stare up into the huge dome of the Planetarium.
Each evening you'll have options to watch a theater-style production in the Royal Court Theater. There might be the ship's performers offering up show tunes and dancing. Or there was a male quartet that crooned to the oldies. Our ship also had the English National Ballet that performed a few times throughout the ship.
Because this was a themed crossing with the ballet, there were also many activities surrounding this. There were lectures on ballet and physics given by a celebrity lecturer, ballet classes, and ballet themed movies on board.
One of my favorite entertainment features on board was the live music in the pub. An extremely talented musician with a well-versed history in music had a theme each day for his music review. He might play Santana's hits and then explain his life and the impact his music has. Or he'll focus on the talents of Eric Clapton or Lynyrd Skynyrd and how they got their start.
There's also an outdoor deck full of games and activities.
You can also watch movies in your room or review the guest lectures or performances on your TV. If you need to get some work done, there is an additional fee for internet service on board. It isn't super fast, but it's enough to send some emails or check social media. Use it as an opportunity to relax and enjoy- I sure did.
While entertainment options seemed endless, I also enjoyed heading the the well-lit library to peruse the books or perching myself at a card table to play a game while watching the ocean lap against the exterior of the ship.
I loved walking the promenade deck early in the morning. Three times around is about a mile. And if you get there early enough you'll have a stretch of the outdoor promenade to yourself. I watched as the sun rose, turning the sky a deep, cotton-candy pink.
Frequently Asked Questions about sailing with Queen Mary 2:
What is a transatlantic cruise?
I sailed from Southampton, England to New York, USA. This means I crossed the Atlantic Ocean. This is a great way to move overseas, skip flying, or just enjoy a luxury experience for 7 days at sea.
What's included on board Queen Mary 2?
Your cost of the cruise includes your room, all dining (except for designated dining like the Verandah and Princess Grill), entertainment, daycare, room service, and pools are all included.
Drinks, internet, spa, salon, and certain classes such as cocktail making are an additional fee.
What do I need before boarding?
You'll need your passport, some formal wear, and your cruise paperwork. Really, the process is very straightforward and easy. You'll arrive at the cruise terminal and hand off your baggage to the porters who will take it to your stateroom.
There are formal evenings and themed nights, such as a 1920s evening or a black and white night. So plan to pack clothing for this.
How to get on the ship?
Whether you're coming from Southhampton or New York, I suggest spending the night in the city before departing. Then I recommend taking a cab to the cruise terminal at the designated time for your departure.
Does the Queen Mary 2 allow dogs?
Sure does! Only ship like it. This fills up fast. So if you want to travel with your dog or cat, book in advance.
Where do the dogs stay?
There's a designated area on the ship on the top deck with 22 kennels. The kennel master pampers, feeds, and exercises the dogs.
How often can I see my dog?
You can see the dogs throughout the day at designated times. These are a few hours each time so there is ample time to see your pet. Pets are not permitted in your room or throughout the ship.
What's required when traveling with a pet?
Please make sure to check the regulations for your particular journey as they're subject to change. But you'll generally need:
Must have a microchip
Had a rabies vaccine 21 days or more before the cruise
Issued with an official Veterinary Certificate within 10 days of the cruise
Dogs must be treated against heart-worm, 1-5 days prior to boarding
What's the weather like on board?
This really depends on the time of year that you're sailing but even in August it could get a bit windy at sea. Make sure to bring a light jacket. There are plenty of pools and a spa so also bring a swimsuit.
What's the dress code on board?
During the day you're free to dress casually. At night is more formal and there are a few evenings which are very formal. Evenings at 6pm mean formal.
Formal:
Evening wear consists of an evening or cocktail dress or smart trouser suit for ladies. A tuxedo, dinner jacket or dark suit with appropriate neck-wear for men.
Informal:
Evenings consist of a required jacket and optional tie for gentlemen, and ladies should wear cocktail dresses, stylish separates, or equivalent. No jeans or shorts.
What's the age range?
There's a kid's club and a late night club, so it's safe to say this cruise is suitable for all ages. Most cruises tend to have a bit of an older crowd but I was pleasantly surprised by the younger crowd on board the ship.
When does Cunard set sail?
You can check out all the ships and schedules here.
The Queen Mary 2 offers an incredible experience I think everyone should have at least once. With a nod to traditional style and elegance, you'll feel like you're embarking on a new life in a new world. And for me, I just happened to be!
This not only was my move across the Atlantic, I was seeing New York for the first time. And what a sight.
Whether you want to take a trip across the pond, or you are relocating across the world, taking the Queen Mary 2 is the best way to bring glamor and excitement to your journey.
Pin the post: