This month's topic for Total Social is Guilty Pleasures. When Sarah and I first announced it, I though it would be something easy and fun. I was wrong. My guilty pleasures are kind of embarrassing. But I guess that's the point after all.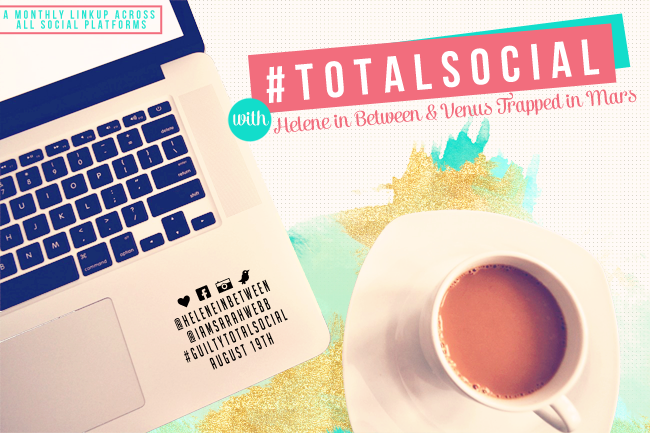 The point of Total Social is a way to connect across all social media platforms: blogging, pinterest, facebook, twitter, instagram, etc. So use the hashtag: #GuiltyTotalSocial so we can follow along with you.
So, I really tried to dig deep on this one!
1. I might have mentioned this before, but I read Total Frat Move. Not just once in a while, but about 4-5 times a week. I like it. A lot of the articles are dumb but it's entertaining. I know it's a site for college aged guys in a frat, so what does that say about me? I'm not sure yet. I tried to read Total Sorority Move but I just didn't like it. Also in case you're wondering Total Blog Move is still a thing.
2. I'm married, very happily, but I will watch anything and everything with Zac Efron in it. There's not that many guys in Hollywood that I go ga-ga for quite like Zac. I have been to the theater by myself to watch his movies just because I wanted to see them and no one else did. Also maybe I wanted to be by myself.
I'll just leave this here…
3. This is a pretty new one, but I'm obsessed with Parks and Recreation. I've been binge watching the show on Netflix lately. I've been watching it while I'm working out so I've watched at least 2 episodes a day since we got back from Europe. I love it.
4. Ariana Grande. I don't really understand why she always wears her hair in a very tight ponytail in which the hair cascades over her shoulders, but the girl has some pipes. Current fave? "Break Free" with Zedd.
5. But let's move on. Here's my real music guilty pleasure. Jason DeRulo's "Wiggle." Can't stop, won't stop.
6. The "Fat Jewish" account on Instagram. So funny, so wrong.
7. Blue Bell Ice Cream. There is nothing better in this world.
8. I had to throw in my favorite reality show, So You Think You Can Dance. This is also up there on the list for Michael as well. We've been watching every season for a while now, best reality show on TV.
Side note: One time I was out a bar and this guy was dancing, so then I started dancing. Then it turned into a dance off (Britney Spears was on, I couldn't help it). Turns out he was top 10 (season 3 or 4) of So You Think You Can Dance.
9. I've been clean for about a month now, but Diet Coke. I miss it everyday and twice on Tuesdays.
10. Making lists even. I had to end on 10. And I'll add, online shopping. I love shopping online at Nine west or J Crew or finding jewelry online. Like this gorgeous gold plated pendant necklace.
P.S. Thank you all for your kind words of encouragement on yesterday's post! There are still a few spots left for the group consultation on September 3rd, I'd love to have you! Or if you want a one on one let's do it! Full details here.
Link up with us below and use the hashtag #GuiltyTotalSocial
document.write(");