I'll admit: I'm not the biggest country fan. You won't find me rolling down the windows and crooning to "where the green grass grows". But occasionally I will take part in some country music. However, I'm not the expert. So today you get an expert playlist, the country road playlist, from Kristyn!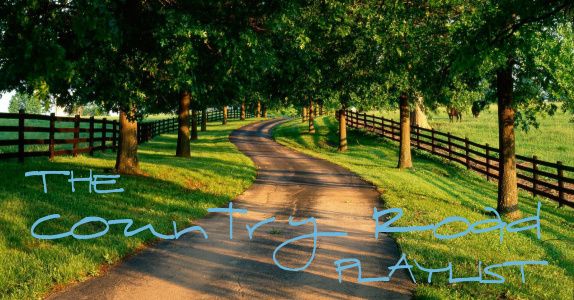 Hey y'all! I'm Kristyn and I blog over at Carolina Fireflies! I am so excited to share a little bit of country music with y'all today! With the weather finally warming up here, I've been driving everywhere with the windows down. So when Helene offered to let me make a playlist, I thought it would be fun to share some of my favorite music to belt out when I'm driving down some back country roads. I hope y'all enjoy!
1. Florida Georgia Line ft. Luke Bryan – "This Is How We Roll"
I thought I'd start my list off with these southern hotties! In addition to loving this song, I love this video. Luke Bryan can shake it for me anytime he wants.
2. Billy Currington – "We are Tonight"
This has become one of my new favorites! This song just makes me think of warm summer nights down at the lake and it makes me want to get the cooler packed now!
3. Brantley Gilbert – "Bottoms Up"
This is another fun song and I love that the video has a little history to it. Its just the right amount of rowdy and chill.
4. Eli Young Band – "Dust"
This time last year, I was definitely this girl. This song is fun and empowering. I love belting this song out as I'm driving down the road.
5. Dierks Bentley – "I Hold On"
I love that the inspiration for this song came from the old truck that he drove across country with his dad in. What are some of the things you hold on to because of the memories you have with them?
6. Chase Rice – "Ready Set Roll"
This song is just fun! I love that its a little more rock-y but Chase still has a bit of twang in his voice! Perfect for a bonfire night!
7. Dustin Lynch – "Where It's At"
This song makes me think of fun summer love. This single girl hopes she's the girl in this song this summer!
8. Gloriana "Best Night Ever"
I actually just heard this song for the first time last week and knew it would be perfect on this list!
9. Old Crow Medicine Show – "Wagon Wheel"
I had to include my absolute favorite song in this list! I know Darius Rucker has a new version of this song but the original is still my favorite. The video is a little different but I kinda, really like it.
10. Brett Eldredge – "Beat of the Music"
And finally I'll end with one of my favorites! To me, the right music can evoke so much emotion and feeling. So few words can make you feel so much. I love that this song sort of touches on what music can do to you.
I hope y'all enjoyed my little country take over! What are some of your favorite songs to listen to when you're driving along with the windows down?