Instagram Stories are the absolute best way to connect with your audience. But… what should you share? When? How often? And how can you truly keep people engaged again and again so they not only watch once, but continue to watch? That is the challenge! I've compiled 30 Instagram Story ideas to help you find what to post, when, plus give you the confidence to continue sharing and gaining more eyes on your stories.
Instagram users watch Stories 250 million times a day. WHOA. People are more engaged than ever before to watch stories, participate in the conversation, and even buy products from stories they watch.
Features such as "polls" and "swipe up" let the Instagrammer know exactly what's working and what's not. I know if 1,000 people swipe up to read my blog post versus 100. It plays a big role in understanding what my audience is truly interested in. For instance, I can just ASK them with polls. It's a difficult challenge to continue to entertain people on Instagram. That's why I've come up with some awesome Instagram story ideas to make life much easier.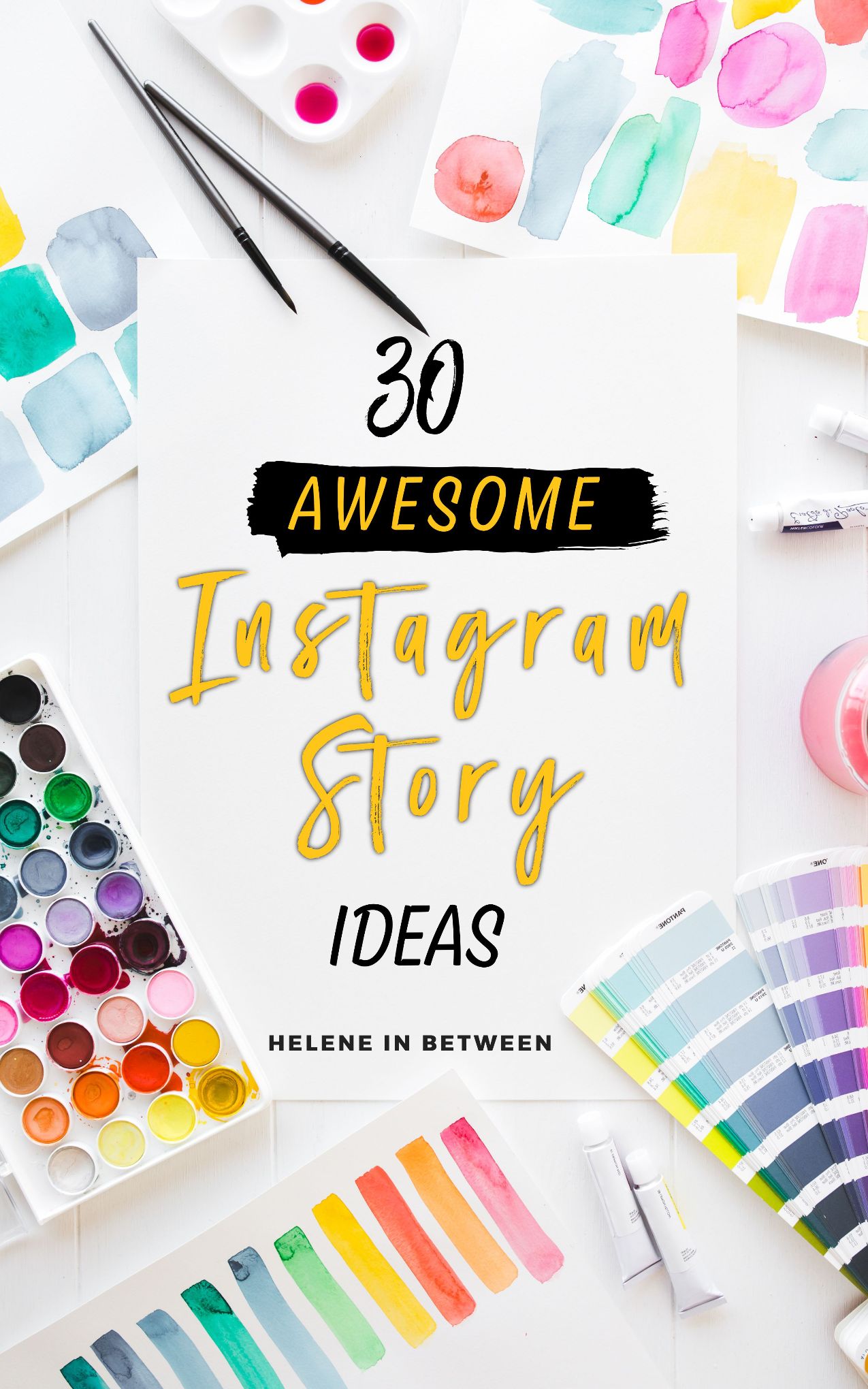 Whether you're just dipping your toes into the Insta Story pool or you've been swimming around for a while, it's always a good idea to play around with fresh ideas. Instagram Stories can be tricky. There are many hidden tools you might not know of. I've broken many down in my Ultimate Guide to Instagram Stories and my guide to creating the very popular Instagram Stories Highlights covers. My guide is especially worth it if you're not sure how to Insta story.
No matter how long you've been on Instagram, or even if you've been an early adopter of Instagram Stories, it's important to have fresh content, regularly. Using Stories is the best way to humanize your Instagram and give people a real glimpse of your personality, your likes, your behind-the-scenes, and your life. It's the perfect opportunity to give your followers that connection between follower and friend.
I personally love watching other's Instagram Stories. Not only do I get a feel for their disposition, I can also really see what they are interested in and how I can relate to them. Often Instagram paints a highlight reel of excitement and picture-perfect lifestyles. But Instagram Stories drop the mask of unreality to share what people do in their day-to-day life. I think as social media has become such a huge part of our life, it's important that we see another side. Instagram can feel like a place of competition or that you're never adding up. Instagram Stories helps to wipe away that veil a bit and share the truth.
Remember, if you have a business account you can easily see your analytics such as actions taken on your Instagram Stories. You can see "Interactions" such as: replies, sticker taps, and swipe ups. You can also see "Discovery", meaning, how many accounts you reached, number of impressions, number of taps forward, and back, and how many people exited. You can also see who viewed your Instagram story and answered your poll by clicking on the left and the number viewed. This helps give you an idea of what it working or not on Instagram Stories.
Since I run many Instagram workshops and tutorials I keep hearing the same thing from people: "I love Stories, but what do I share?" or: "I'm too shy for this." That's why I wanted to create a way to lift the stigma around posting to Instagram Stories and make sure you're having fun while posting.
Instagram Story Ideas
Before I get into the ideas, I want you to think about this: what are some Instagram stories that you like? Why do you like them? Do they relate to you? Are they pretty? Do their Stories make you stop and watch? What factors do they share that you can also use in your Stories? Let's look at some awesome Instagram Story ideas that you can use on your account right now:
1. Tell us who you are. It's hard to get an idea who what you're really like from the quick Instagram caption. So tell us some fun facts about you. This can be done in a variety of ways. You can simply talk on camera and let people know 3-5 things they might not know. If you're camera shy or just have no idea what to post, try using some Instagram Story templates where you can just upload them to your story and fill in your responses!
2. Have fun with features. One of the best ways to bring more attention to your Stories is to use the features Instagram offers. Adding things like a location tag or adding in a fun gif will entice people to continue watching your stories. Adding a location will also get more views to your story. You can be featured in the location's overall story and therefore have even more people see you!
3. Share your favorite quote. I love tools like Canva where you can create beautiful Insta-Story-sized graphics for free! Simply choose one of their templates and add a quote. Or, you can use the Instagram Story "Type" feature and share it. Giving a dose of inspiration is a great way to intrigue your followers.
4. Play around with rainbow text. Nothing is more eye-catching than a rainbow. To achieve this feature, type whatever you'd like. Then select what you just typed. Now, press and hold with your left thumb on to the purple font color (or any font color) and with your right thumb on the cursor, drag across the colors WHILE you drag across what you just typed. Slide them at the same time to get the rainbow effect! You can see how I do this on my Instagram Story Highlights, @heleneinbetween under "Instagram Tips".
5. Add in a call to action. Instagram is great, more followers are great, more engagement is great, but it doesn't mean much if your followers don't actually take action. I always try to add a call to action every so often. Whether it's asking to go to a link, liking or commenting on a new Instagram picture, or just clicking on a hashtag, it helps keep them engaged.
Want to see the rest of the list? Download it here!
Insta Story Challenge + 30 Instagram Story Ideas
Need inspiration for what to post to Your Instagram stories? I got you! Download these 30 awesome ideas and never question what to post!