Mardi Gras in New Orleans is an experience like no other. From the vibrant parades to the lavish costumes, it's a time of celebration and joy that brings together people from all walks of life. I've traveled all over the world, but there's simply nothing like Mardi Gras in New Orleans!
Whether you're visiting for the first time or are a seasoned Mardi Gras veteran, this ultimate guide to Mardi Gras in New Orleans will give you all the information you need to make your Mardi Gras extra special! Here, we'll cover where to find the best parades, the schedule, what traditional dishes and drinks are served during Mardi Gras season, as well as tips on how to stay safe while having fun. So get ready for some Mardi Gras magic— let the good times roll, y'all!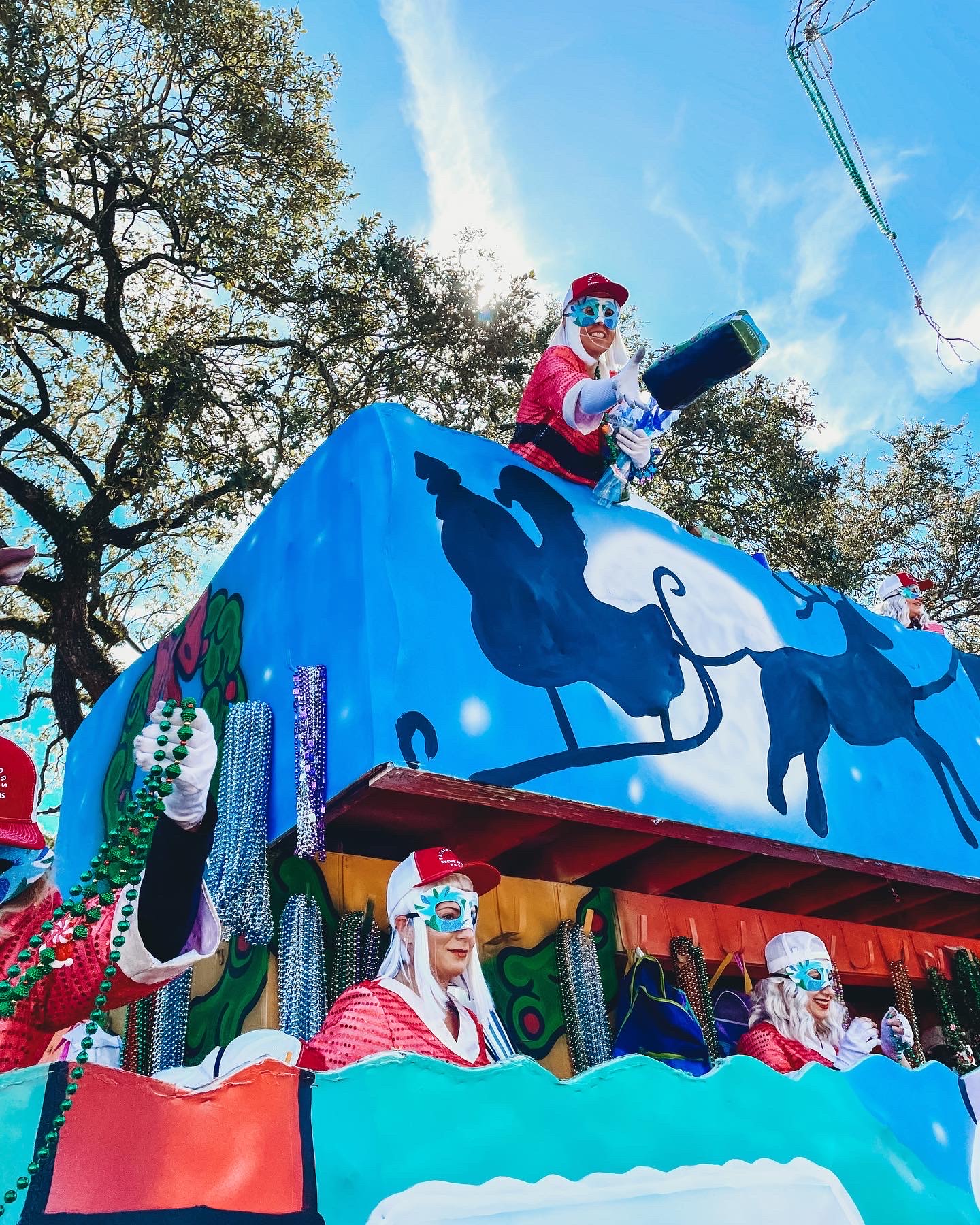 I've been to Mardi Gras dozens of times and just can't get enough. I've attended Carnival in Gran Carnary and Nice Carnival in France, but the feeling of Mardi Gras in New Orleans is simply like no other.
Are you ready for the wildest party on Earth? I hope so, because I'm here to share my expertise as a Mardi Gras veteran and show you how to do Mardi Gras in New Orleans like a pro.
As someone who has traveled the world in search of the best parties, I can tell you one thing for sure: nothing beats Mardi Gras in New Orleans. It's a celebration that has everything: parades, costumes, beads, and of course, plenty of booze. You'll find yourself dancing in the streets with complete strangers, shouting "throw me something, mister!" at the top of your lungs, and wondering how you ever lived without the sweet, sweet taste of a Hurricane.
If you're looking for a full guide and itinerary to New Orleans, I've got you covered here. In this guide, I'm focusing on the main event: Mardi Gras! This guide will help you plan the perfect trip to experience Mardi Gras in New Orleans.
So, let's laissez les bon temps rouler (let the good times roll!) and I'll share my ultimate guide to Mardi Gras in New Orleans!
When is Mardi Gras in New Orleans
Mardi Gras is an annual celebration that takes place every year on or around February 28th. The name "Mardi Gras" translates to "Fat Tuesday" and marks the beginning of Lent, a 40-day period in which people abstain from certain activities. The festivities surrounding Mardi Gras typically begin around two weeks before Fat Tuesday and last throughout the weekend.
The date of Mardi Gras changes each year due to its connection to a religious date based on cycles of the moon. In New Orleans, the largest parades occur on the day of Mardi Gras, which falls on the Tuesday before Lent begins, typically 47 days before Easter. The dates for upcoming Mardi Gras celebrations are as follows:
2023 – February 21st
2024 – February 13th
2025 – March 4th
2026 – February 17th
2027 – February 9th
To fully experience Mardi Gras in New Orleans, it is recommended to visit during the six days leading up to the event to allow time for sightseeing and attending parades. Additionally, there is a tradition of celebrating on the Monday before Mardi Gras, called Lundi Gras.
How Long Does Mardi Gras in New Orleans Last?
Marking the start of Mardi Gras is January 6th, and it continues until Fat Tuesday. For those in New Orleans, most revelries occur during the two-week period prior to that famous day. Celebrate with friends and family as you enjoy these joyous festivities!
The biggest parades tend to happen over the weekend before Fat Tuesday, with parades like Endymion, Iris, Morpheous, and Bacchus. And on Fat Tuesday itself, so if you don't have a lot of time, I suggest that would be the best time to go. However, there are parades from the start of Mardi Gras through to the end.
What is Mardi Gras?
Mardi Gras is an annual festival of food, fun, and celebration. It is celebrated in many parts of the world with large parades filled with floats, marching bands, and costumed revelers. The colors associated with Mardi Gras are purple, green and gold which represent justice, faith and power respectively.
Mardi Gras is a Christian holiday turned cultural festival that celebrates the time between Christmas and Lent. Mardi Gras in New Orleans is celebrated with purple, yellow, and green decor, large parades, and delicious food.
This celebration is also known as Carnival, which is celebrated in many countries around the world in a slightly different way. For planning your trip to New Orleans for Mardi Gras, I will focus on Louisiana and how to vacation in New Orleans for Mardi Gras.
Mardi Gras has grown into a widely celebrated event in many parts of the world, with carnival festivities taking place. Notably, New Orleans in the United States and Rio de Janeiro in Brazil hold some of the most famous celebrations. The first Mardi Gras celebrations in the US were held in Mobile, Alabama, in 1703.
It's not just floats, y'all! These are not your average parades – they're over-the-top spectacles with giant floats, marching bands, and more beads than you can possibly imagine. If you want to get in on the action, you need to be ready to catch some beads. And by "ready," I mean have your hands up and your mouth open at all times. Don't be afraid to get aggressive – the competition for beads is fierce.
You'll also see troops of dancers from rag-tag groups of men from New Orleans, to schools from all around Louisiana and neighboring parishes. The marching bands are my absolute favorite- they bring such joy to their performance. They walk for MILES performing.
Parade Schedule for Mardi Gras in New Orleans
With around 80 parades across New Orleans during Mardi Gras, there's no reason to miss out on the celebration. From January 6th until Mardi Gras itself, you can witness a parade every day!
But, you want to see the best! The parades are quite frankly, amazing. The floats are themed and people spend thousands on their "throws" – the beads and hats, even shoes that they throw during the parade. The riders of the float wear costumes and masks while tossing their throws into the crows.
A super krewe is a large organization in New Orleans that typically has over 1,000 members and 500 riders involved in their parades. The three grandest of these are Orpheus, Bacchus and Endymion – witness the sight of hundreds of dazzling floats as they make their way through the city!
The schedule for Mardi Gras in New Orleans can be found here.
BUT it's important to note that changes can happen. Which is why I highly recommend the parade tracker app! This gives updates on if the parade is rolling and the exact route the parade takes.
I also highly recommend that you attend both a day and night parade in order to get a full effect.
My favorite Mardi Gras Parades
My personal favorites are Iris, Muses, Endymion and Bacchus. These are some of the largest krewes with the most outrageous floats and they also have spectacular mementos to give out.
Muses – Thursday evening before Fat Tuesday
Hermes – Friday night before Fat Tuesday
D'eTat – Friday night before Fat Tuesday (this one is directly after Hermes, then directly after D'Etat is Morpheus)
Iris – Saturday morning before Fat Tuesday
Endymion – Saturday night before Fat Tuesday
Bacchus – Sunday night before Fat Tuesday
What about Bourbon street?
People often associate Mardi Gras with the balconies on Bourbon street. But, I recommend you avoid it, especially at night. I'm actually shocked at home many people thought the only place to get beads was to flash people on Bourbon Street. Yikes. This is usually the most crowded and uncontrollable place for Mardi Gras and I avoid it at all costs. Even if you want to be in the area, just hop one street over for less debauchery. We made the mistake of walking through before and it was utter mayhem.
During Mardi Gras, the most well-known and lively balconies in New Orleans are found on Bourbon Street in the French Quarter, where costumed party-goers gather at the street and the bars that line it. However, due to its narrowness, major motorized parades have not taken place on Bourbon Street since the 1960s. Nonetheless, foot-based parades do still pass through the area. It's important to note that the party on Bourbon Street can become quite adult-oriented, so it may not be the best option for families.
There are various venues on Bourbon Street with balconies that offer a good view, such as Bourbon Vieux, Bourbon Cowboy, and Cat's Meow. If you prefer to watch larger parades from a balcony, there are many options, including bars and hotels.
However, most of these venues require advance booking and have a fee for watching Mardi Gras from their location.
Some of the venues you might consider include The Avenue Pub, which offers a balcony view over St. Charles street where many of the parades pass through. InterContinental New Orleans has rooms on St. Charles with good views and public viewing stands available. At Lafayette Hotel, you can book a balcony room to watch the parade. JW Marriott is located right on Canal St where most of the parades pass by, with full balcony rooms available. Royal St. Charles Hotel is a boutique hotel on St. Charles with views of the parade route and a balcony area. You can also see the parade from some rooms at Holiday Inn Express New Orleans, located on Lee Circle on St. Charles Ave, where there's also a dedicated viewing area. Additionally, Courtyard By Marriott is a popular hotel on St. Charles with some balcony rooms close enough to catch throws from the parades as they pass by.
Where to Watch Mardi Gras Parades in New Orleans
For the ultimate Mardi Gras experience, you have three optimal ways to enjoy the parades: from street level, on a balcony with friends and family, or from one of the purpose-built grandstands. Whichever way you choose to observe this vibrant spectacle in New Orleans, what awaits is an amazing visual treat that will make for some memorable moments!
Most people will watch from the street. You will hear two terms – sidewalk side or neutral ground side. This is especially helpful if you're meeting people or if you have a friend riding in a parade.
The parade routes
Most parades take place in uptown and will follow a similar route up St. Charles. Personally, I like to watch the parades around St. Charles and General Pershing on the sidewalk side. Basically, you just want to find a spot.
Some parades, like Endymion, take place in Mid City. The parade tracker app will map out all these route for you.
People will set up the morning of and even the day before for their spot for Mardi Gras parades. It can get crowded. The trick is to not get frustrated. If you don't find a good spot, just keep walking.
Some other spots to watch Mardi Gras Parades
General Pershing & St. Charles – a busy spot in the heart of the action among beautiful historic homes and great restaurants
Lee Circle offers an amazing perspective of the parades that march up and down St. Charles – it's a one-of-a-kind experience! It's also an easy meeting pint
Canal Steet – When you venture away from Lafayette Square, take Canal Street and stay on the east side of the street so that you don't become trapped once parades begin to roll through!
Polymnia & St. CharlesIf you're looking for an ideal spot to do some people-watching, the Polymnia & St. Charles intersection is a great place to be! The Avenue Pub offers its balcony where you can enjoy the view and take in all that's going on around you – just make sure to get there early if you want one of those coveted seats. And even if it turns out not to be your lucky day, don't worry; this bustling street corner still provides an unforgettable experience!
St Charles Ave – If you want to attend a parade, St. Charles Ave is an ideal place to be! Just wander it until you find the perfect spot and make yourself at home for some amazing entertainment!
You will see ladders- this is typically for kids to climb up and get beads.
Something to remember is to be respectful – New Orleanians secure their spot for hours before the parades start and usually the parades are family friendly. So keep that in mind!
You can also watch from grandstand. Tickets for these locations needs to be booked in advance, which you can do here. Pricing varies depending on the parade you choose, and you need to pay per parade. There are a number of these grandstand locations on St. Charles Ave, with two options in Lafayette Square, and two on the intersection of St. Charles and Poydras.
Things You Need for Mardi Gras in New Orleans
First and foremost – the parade tracker app! It will make things so much easier. I also recommend checking out the full schedule here.
I recommend bringing a backpack or fanny pack and it should be secure. Pick pockets can happen and you need to be aware.
New Orleans allows open containers and drinking in public, but please, be safe!
Bring a lot of cash – many vendors won't take cards. Also sometimes for bathrooms you'll need to pay cash to use the porter pottys. Some restaurants will give you a wristband and you can pay $10 to use the bathrooms.
Wear comfortable shoes – you will be standing a lot. I recommend these shoes!
Sunscreen and hat – it can get sunny during the day in NOLA!
A refillable water bottle to stay hydrated! It's very easy to forget to drink water. I like to bring a backpack and pack some water.
Things to Do in New Orleans at Mardi Gras
Even though New Orleans is fully immersed in Mardi Gras during this season, it's still possible to enjoy a variety of sightseeing activities in the city and nearby areas. However, it's important to note that many downtown roads may be closed for the parades at various times during the week leading up to the event, making driving and parking quite difficult.
Go to a parade
It's really the best! Map out which parades you want to go to, and don't mind the traffic. The parades are long so you're bound to catch one!
Have beignets
Cafe du Monde is widely renowned as the most illustrious cafe in New Orleans, especially for its beignets (a french doughnut smothered in powdered sugar) and chicory blended coffee. It's a great spot to people watch, but it can get quite crowded – but the line moves QUICK! This 24 hour cafe is cash only!
Have a frozen daiquiri
The daiquiris of New Orleans are legendary – there's truly nothing like them! Make sure to head over to the French Quarter for some frozen concoctions. My favorite is a White Russian with an extra shot of rum.
Eat King Cake
If you're lucky enough to be in New Orleans for Mardi Gras, you simply cannot miss out on the iconic King Cake. This brioche-style cake is coated with sugary goodness and a hidden surprise: a figurine of an infant! It's believed that whoever finds this baby in their slice must throw the next celebration. An unforgettable experience awaits – indulge your taste buds while living it up during one of NOLA's most magical times!
Of course, no Mardi Gras experience is complete without some delicious food and drinks. New Orleans is known for its cuisine, and during Mardi Gras, you'll find all kinds of delicious treats to indulge in. From gumbo to po'boys to king cake, there's something for every taste. And don't forget about the drinks – you'll want to try a Hurricane, a Hand Grenade, and maybe even a little absinthe (just don't go overboard).
My full guide to New Orleans shares all my favorite restaurants here!
Meander Jackson Square
The historic architecture of this area is one-of-a-kind and so photogenic! There are plenty of amazing restaurants, unique shops and galleries to explore. Don't forget to check out the street performers – you won't be disappointed.
Nestled in the middle of the Square lies a picturesque park, while on three sides stands an array of illustrious structures such as the Cabildo – the original Spanish City Hall.
For centuries, Jackson Square has been the epicenter of culture and activity in New Orleans. Even today, it continues to be a hot spot for local painters, musicians, and street performers from all walks of life.
Explore Historic Neighborhoods
While the French Quarter is the center of the action, there are plenty of other neighborhoods that offer their own unique Mardi Gras experiences. My personal favorite is the Marigny, where you'll find a mix of locals and tourists partying together. Just be prepared to walk a lot – the crowds can be intense.
I also love the beautiful Garden District for amazing homes – you might even see a celebrity!
Take a Tour
This is the perfect time to take a tour to get to know the city. I've done them all: ghost tours, swamp tours, bike tours, you name it! I always learn something new.
Explore Mardi Gras World
Here you'll find all about the history of Mardi Gras! You can buy tickets here for Mardi Gras World. It's an awesome place to explore and learn about the festivities, floats and costumes.
Visit City Park
Take a leisurely stroll through this beautiful park with its lovely gardens, sculptures and tranquil lakes. The live oak trees are lined with Spanish moss that creates a magical canopy – it's gorgeous!
For a full guide to New Orleans check out this itinerary and guide.
Where to Stay in New Orleans for Mardi Gras
Securing accommodation in New Orleans during Mardi Gras can be a bit of a struggle, but don't fret! As one of the most popular times of year to visit the city, hotel rates will be high and availability will be low. Here are some hotel options to consider. Our advice is to book early to avoid disappointment.
There are so many amazing places to stay in New Orleans during Mardi Gras. I recommend the following:
Bourbon Orleans Hotel – a beautiful boutique hotel in the heart of the French Quarter
The Roosevelt – a luxurious, iconic hotel in the Central Business District
Hotel Monteleone – Stunning hotel inside and out! Also worth it to step inside!
The Ritz-Carlton New Orleans – an upscale resort in the heart of the Warehouse Arts district
The Old No 77 Hotel & Chandlery – a chic boutique hotel located near the Superdome.
The Saint Hotel – This is a beautiful boutique hotel located near the French Quarter and offers great amenities and excellent service. It's also convenient to restaurants, shops and attractions.
FAQ About Mardi Gras in New Orleans
Is Mardi Gras in New Orleans safe?
YES! Do you need to be aware of your surroundings? Also, yes. While Mardi Gras is a wild, uninhibited celebration, there are safety measures in place to ensure that everyone enjoys themselves without any risk or danger. The New Orleans Police Department takes extra measures during Mardi Gras season to protect revelers and make sure no one gets hurt. I do recommend avoiding Bourbon Street at night and traveling in a group.
Is Mardi Gras in New Orleans Family Friendly?
Yes! There is plenty for the whole family to do in New Orleans during mardi-gras season. Many of the parades are suitable for children, and there are lots of events geared towards families. Just make sure you keep a close eye on your little ones so they don't get swept up in all the excitement.
How do I get around New Orleans during Mardi Gras?
The easiest way to get around New Orleans during Mardi Gras is on foot. There are lots of streets in the French Quarter that are closed off to cars and open only to pedestrians, making it much easier (and cooler!) to mingle with all the other mardi-gras goers. If you need to get somewhere quickly, taking a taxi or rideshare is always a good option. You can also take the street car.
What should I wear to Mardi Gras?
Purple, green, and gold! But just make sure to dress comfortably. I recommend brining an extra bag for all the beads and throws! Anything goes during Mardi Gras season, so have fun with it. Wear whatever makes you feel your best! I recommend a good bag to keep your stuff safe and to bring cash. I wore this fanny pack.
Feel free to dress the part. This means sequins, feathers, and anything else that sparkles. The brighter and more ridiculous your outfit, the better. Don't be afraid to go all out – this is Mardi Gras, after all. And make sure you have a bag to carry all the beads you'll be collecting. Trust me, you'll need it.
Is Mardi Gras in New Orleans free?
Yes! Anyone can walk up and enjoy the parades! There are also lots of mardi-gras related events and activities throughout the city that don't cost a thing.
Safety Tips for Mardi Gras in New Orleans
1. Travel in Groups: You'll be safer and have more fun if you travel with friends or family.
2. Don't accept drinks from strangers, and don't leave your drink unattended.
3. Wear sunscreen to protect your skin from the sun's rays.
4. Stay aware of your surroundings, and don't carry too much cash or valuables with you.
5. Have a plan for getting home safely at the end of the night.
6. Wear comfortable walking shoes so you can mingle with the crowd in style!
Wear a bag that is secure. I recommend a belt bag or fanny pack. I wore this one!
Mardi Gras in New Orleans is an experience like no other. From the elaborate parades and colorful costumes to the festive street parties and delicious cuisine, there's something for everyone to enjoy during this season of revelry. By using this guide to Mardi Gras, you'll be able to plan your trip to New Orleans with ease and make the most of your time in this vibrant and exciting city. Just remember to stay safe, have fun, and laissez les bon temps rouler (let the good times roll)!