When people think of Scotland they often focus on the rugged landscape of the Highlands and the beauty of the islands. And while that area is well worth a visit, there's another side of Britain bursting with nightlife, great restaurants and unique things to do.
Glasgow and Edinburgh are two of the coolest cities in the world. As Scotland's largest cities people are often faced with the question: which one?! In my opinion, both are uniquely wonderful, and it's well worth a visit to each. However, I will share my guide to each along with pros and cons that might help make your decision easier!
This post will share a guide to each, share how much time to spend in each destination and help you choose the right city for you. Which may just be both!
Glasgow at a Glance
While Edinburgh is the capital of Scotland, Glasgow is actually the larger city. One thing, above all, that you'll notice right away is the people. They are perhaps the most kind, most genuine people I've ever come across.
I've traveled to 52 countries and there is something about the Scottish people, and particularly the people in Glasgow, that set it apart. It actually reminds me of southerners in the states! They are so proud, love good food and music, and want you to leave having enjoyed a good time.
Glasgow has a fantastic mix of history, restaurants, pubs, and, of course, music. Having visited once before, it seems to me Glasgow has added a lot of fun foodie experiences and explorations that will delight all sorts of tourists.
Edinburgh at a Glance
While it might be tricky to say Edinburgh, it's certainly easy on the eyes. The architecture here is simply unmatched. An epic castle on a rock, winding, cobbled alley ways, and ancient architecture in one of Britain's oldest cities. But there's so much more than beauty and history.
Edinburgh also offers unique underground walking tours, whisky experiences, and modern eateries.
Let's take a look at what to do in each!
Glasgow Itinerary
Walking around Glasgow is like going through an art museum. With beautiful buildings and amazing murals, it's a sensation for the eyes.
The city's slogan is "People Make Glasgow" and that couldn't be more accurate! While we were in a cab our driver told us how the women he was dropping off booked the wrong dates for their hotel. It was late at night and they couldn't find anything else. So he let them stay with him and his wife! The people here truly make the experience.
Day 1
Taking a walking tour is one of the best ways to see a city. You learn about the history and culture, and find tips on all the best places to eat and drink.
We took a tour with Invisible Cities, a social enterprise that employs once homeless locals to give tours of their city. Our guide told us some fascinating history while sharing some of the most important architecture and stories of the city.
For example, there's quite a strange story for why we use the term to "earmark" something. Back in the day in Glasgow, there was a market where people would sell goods. If you got caught stealing, you'd have your ear nailed down to the wood. The public humiliation of being gawked at and kicked by passersby was sometimes too great, and the thieves would literally rip their ear off! Hence, you'd know if someone was a thief based on a missing part of their ear, aka, "ear marked!"
There were plenty of interesting stories the guide shared about Glasgow during our walk taking in the sites.
One of the most iconic statues, as voted by Lonely Planet is the Duke of Wellington. Not only is it a beautiful statue, it stands out from others because it's always sporting an orange traffic cone! Despite the city's attempts to remove the cone, it's now become an emblem of the city for the Duke to be crowned in orange.
After you take a tour, you can go shopping on Queen street, also a good spot for lunch.
If you aren't tired of walking, a great option is to explore the City Centre Mural Trail. This trail leads you around the city to some of the coolest works of art. The murals are absolutely stunning and make the city come to life.
Next, relax in the shade at Pollock House. This hidden gem in Glasgow is a beautiful, working estate with magnificent Georgian architecture. The house itself has lot of art from the Hapsburg dynasty as well as a cafe. The grounds are lovely, and you'll even find Highland cows as you meander!
The perfect spot for sunset is to head to the University of Glasgow. It's not only Edinburgh that's reminiscent of Harry Potter's Hogwarts! With its uncanny resemblance, you can't help but gaze at the architecture. Started in 1451, the University of Glasgow is the fourth oldest university in the English-speaking world! Walk the grounds and visit the chapel.
Make your way to Kelvingrove Art Gallery for incredible galleries that display everything from animals to art in a beautiful museum.
Day 2
Kick things off with the musical themed Hop-on-hop-off sightseeing tour! Glasgow is the perfect city for live music, after all, it's a UNESCO City of Music! From traditional bag pipes to modern pop, Glasgow offers a vibrant music scene that stretches back centuries. Hydro is one of the largest music venues and the second busiest venue in the world just after Madison Square Garden.
Since you can hop on and off the bus, we stopped at the Riverside Museum of Transportation and saw the world's oldest bike! There are all sorts of locomotives that point to the progression of time and how transportation shaped our world. From double-decker buses to high speed trains.
Just outside the museum you can stretch you legs and walk the Kelvin Walkway along the Clyde River for some scenic views.
For dinner, hit ups the Finnieston area and Hidden Lane for great bars, restaurants, and pubs. The Finnieston is the perfect spot for the freshest seafood in Scotland, Porter & Rye for meat, and Hidden Lane Brewery for a sustainable, woman owned brewery. See below for all my top picks for where to eat in Glasgow.
Day 3
Nothing ignites the senses like bag piping! Start the day with some lessons and history at the National Piping Center. When we think of Scotland the image that first comes to mind is a man in a kilt playing the bag pipe. There's no better way to truly understand its significance than having a go at piping yourself! Be prepared, it's a workout and so much fun!
For lunch, have chicken tikka masala at Mother India Cafe, rumor is the dish was invented in Glasgow.
Check out Sharmanka Museum, a theatre of kinetic sculpture, where hundreds of carved figures and pieces of old scrap perform an incredible choreography to haunting music and synchronized light. The figures tell stories of love, loss, and hope.
Then, have high tea on a 1966 double decker red bus, as you cruise the city in style. The bus has been turned into a mobile tea room, and you can ride around and enjoy tea and scones as you tour Glasgow!
End the day with a visit to Glasgow Cathedral, one of the most beautiful Gothic cathedrals in Scotland. The cathedral is free to enter! The Gothic structure was completed in the early 1500s and is the mother church of the Church of Scotland. It's also the burial place for St. Mungo, Glasgow's patron saint.
Then head to the cemetery, the Necropolis, for ancient grave sites and epic views of the city.
You can't leave Glasgow without hearing some music. Music is a big part of the draw to Glasgow. There's a reason ABBA sings, "When I called you last night from Glasgow" referring to playing the stage there. Curler's Rest is a great pub for traditional music. Cap off the evening with a delicious, refined dining at Ubiquitous Chip.
Whether you're looking to explore Glasgow's musical history or want to wander through beautiful parks, this city has something for everyone! See my guide to Glasgow here.
>To get from Glasgow to Edinburgh is so easy! It's an hour long train ride from each city center and tickets cost around €14.
Edinburgh Itinerary
Edinburgh is one of the loveliest cities in the world. Beautiful architecture, a castle on a hill and incredible history. Just walking around is a treat! But there are so many hidden gems, modern delights, and diverse experiences to have in Edinburgh.
Day 1
We have to start with a Harry Potter tour! Best of all, it's free! There are many places around the world to see Harry Potter and the inspiration for the movie and books. But there's no better place than where J.K. Rowling wrote the series. The tour is free and was incredible!
You'll walk around and see many highlights from the cemetery where Rowling was inspired. From the school that inspired the Hogwarts' houses and colors and the cafes she wrote in. I learned so much about the books and movies!
While you're in the area make sure to check out Greyfriars Bobby Statue, a Skye Terrier who guarded the grave of the owner for 14 years! The story goes that a man named John Gray died and his dog, Bobby, stayed by his grave for 14 years until he too passed away. There's also the Greyfriars Bobby's Bar nearby as well!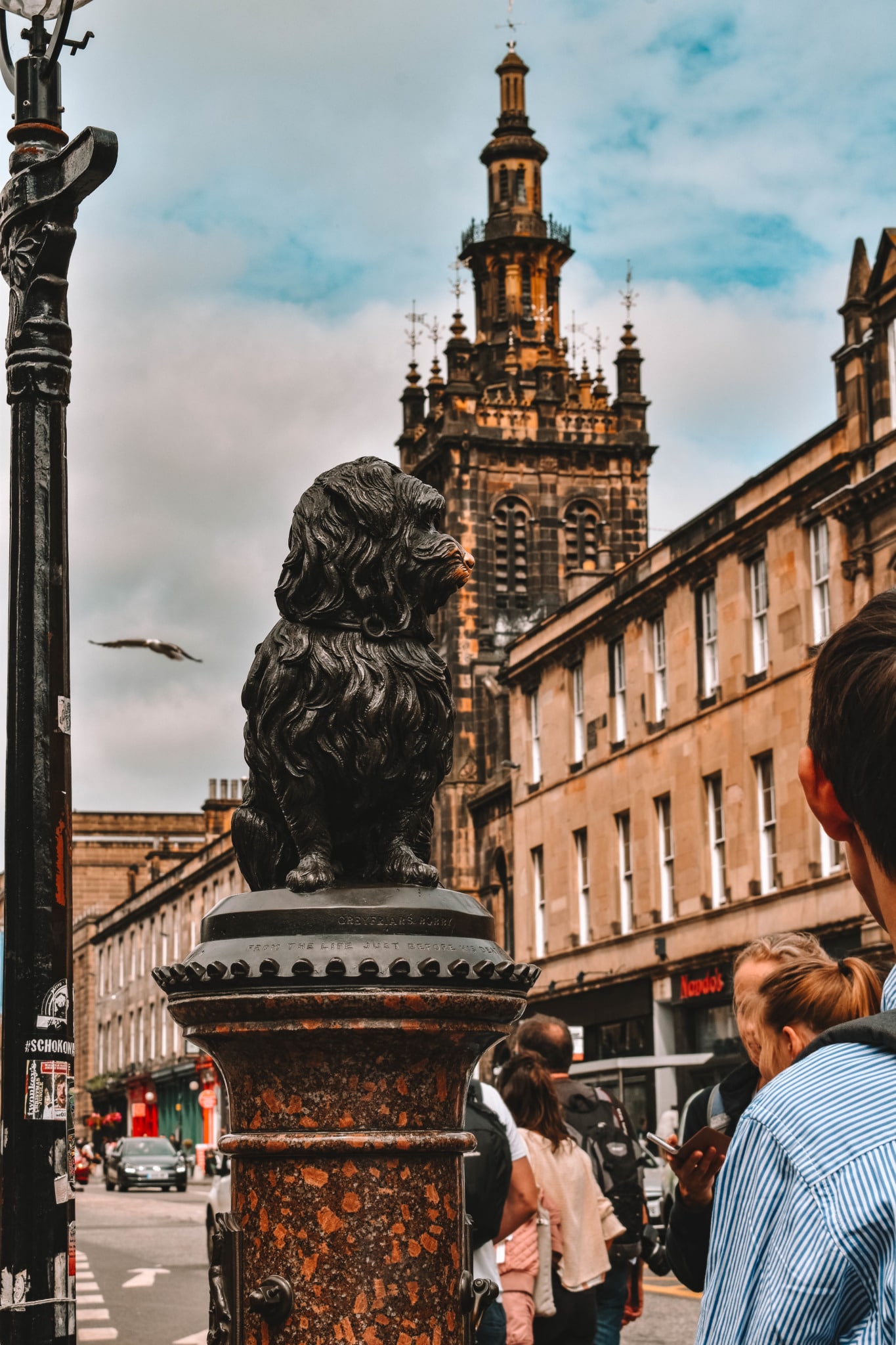 Next we'll quench our thirst at the Johnnie Walker Experience! I've never liked the taste of whisky, so it's one of those beverages I was hesitant to grab. Until now! The Johnnie Walker Experience helps you find the perfect drink for your palette. You'll learn the history of the brand and create a drink that is suited to your taste in this unique experience different from any distillery or brewery I've ever visited. This is also one of the best views in all of Edinburgh!
If you have time, head over to Arthur's Seat for some fresh air and wonderful views. Edinburgh is a small city and it's easy to quickly get out of town. Arthur's seat is an ancient volcano that gives the perfect view of the water and city. According to legend, it was named for King Arthur. Some claim that it was the site of mythical Camelot, while others argue that it was so named because King Arthur and his knights won a sequence of legendary struggles in Scotland and northern England.
Day 2
There's a hidden world in Edinburgh… and it's under your feet! Whether you're interested in ghosts or history, the Blair Street Vaults illuminate the 18th century world of the city. One filled with body snatching and underground mischief of times gone by. This is a great way to get a glimpse of the history in Edinburgh that made it what it is today. According to the BBC, this is the most haunted place in Britain!
For your day today I suggest getting your steps in and strolling around the city. It's not a trip to Edinburgh without seeing the Royal Mile. Peak through different "Closes" to find unique views of the city, especially Advocate's Close. Walk this beautiful cobbled street and head to Edinburgh Castle.
Perched atop Castle Rock the castle has been occupied since the 1200s and is one of the oldest fortified places in Europe. I recommend taking a guided tour of the castle to hear the history.
Next, head to the nearby Camera Obscura, a museum of fun illusions! I also recommend Holyrood Palace and the Scottish Parliament on your sightseeing tour.
If you're looking for something off the beaten track, check out Dean Village, a quiet and quaint spot that makes you feel like you're far from the bustle of the city. Or Circus Lane for another hidden spot.
For sunset, head up to Calton Hill for an epic view of the city. The sunset here was absolutely magnificent. Then grab drinks at Cafe Royal, Scotland's oldest oyster bar.
Dine at The Alchemist for crazy, cool cocktails and inventive bites.
Where to stay in Glasgow
The Kimpton Blythswood Square is a magnificent five-star Georgian townhose with luxury amenities and a free spa! The spa and breakfast were truly my highlights but the brown and white marble bathroom was also exquisite. The staff were friendly and kind, and the location was perfect.
Where to stay in Edinburgh
The Kimpton Charlotte Square allows you to have Edinburgh at your feet! We could walk nearly everywhere and it's right on the edge of a beautiful garden. The lovely, romantic details of the hotel were stunning such as the cafe strewn with plants that felt like a private oasis. The staff went above and beyond and our room was cozy and comfortable. The thoughtful details throughout our stay really made a difference.
Where to Eat in Glasgow
The foodie scene in Glasgow is unmatched! There are so many wonderful restaurants with a focus on sustainability.
Bar Brett – Shareable plates with creative takes and an extensive wine list. The restaurant is stylish yet laidback and perfect after a busy travel day.
Ubiquitous Chip– This restaurant is in a glass atrium, pretty string lights, and artistic style vibe. We loved the Scottish dishes with a modern twist. The lamb was cooked to perfection and the haggis was outstanding!
Mother India – Delicious Indian cuisine with hearty portions. The perfect place for the legendary chicken tikka masala or their great Scottish-Indian dishes.
Finnieston Area:
1. The Finnieston– Modern Scottish cuisine with a focus on seafood. This place was cozy yet modern and offered award winning cocktails. Very impressed with their commitment to zero-waste!
2. Porter & Rye– The BEST place for steak in Scotland. This impressive and stylish restaurant is serious about steak. Curated meats and dry-aged beef paired with delectable sides like triple cooked fries and bone marrow mac and cheese.
3. Hidden Lane Brewery – A woman owned brewery with a focus on sustainable brews. I'm not even a big beer drinker and I loved this place!
Where to Eat in Edinburgh
Edinburgh has no shortage of great restaurants, but these are some of my favorites.
The Alchemist – We know Harry Potter is connected to Edinburgh, so get some bubbling, potion-like drinks at the Alchemist! This Instagram worthy restaurant also has fantastic food!
Bonnie & Wilde – Edinburgh's first food hall boasts a buzzing atmosphere with cuisine from all over the world.
Oink – A really delicious pulled pork sandwich, right on Victoria Street! This was one of Michael's favorite spots.
Piemaker – a great, casual and inexpensive spot for some traditional pasties!
Six by Nico – The name says it all, every 6 weeks, chef Nico creates a new 6-course memory based on a theme!
Things to Know Before Traveling Scotland
Getting around is very easy as both cities are very walkable. However, there is also Uber and taxis. I found taxis to be a bit cheaper. There is also public transportation in each. Edinburgh is so small you are likely not to have to take too much transportation but there are buses and trams. In Glasgow the subway offers two circular lines so you can never get lost!
When you walk around Glasgow, it feels like an old friend. It's industrial in some areas but also has a lot of charm. With the revitalization of the Merchant City and the recent influx of new restaurants and bars, Glasgow is definitely having a moment. The people are friendly and there is always something to talk about. Edinburgh is stunningly lovely and offers no shortage of history and sights.
Bottom line: if you have 5 days to a week that's the perfect amount of time to see both Glasgow and Edinburgh, so why not do both!