Escaping the chilly weather, we landed in Aruba the week before Christmas and were greeted with a tropical oasis. The crystal blue waters lapped lightly along the soft white sand. In the background I could hear Dutch, American, Aruban, and a plethora of other accents. The island is a great mix of cultures, natural beauty, and cuisine. My travel guide to Aruba will share everything you need to know about what to do on the island.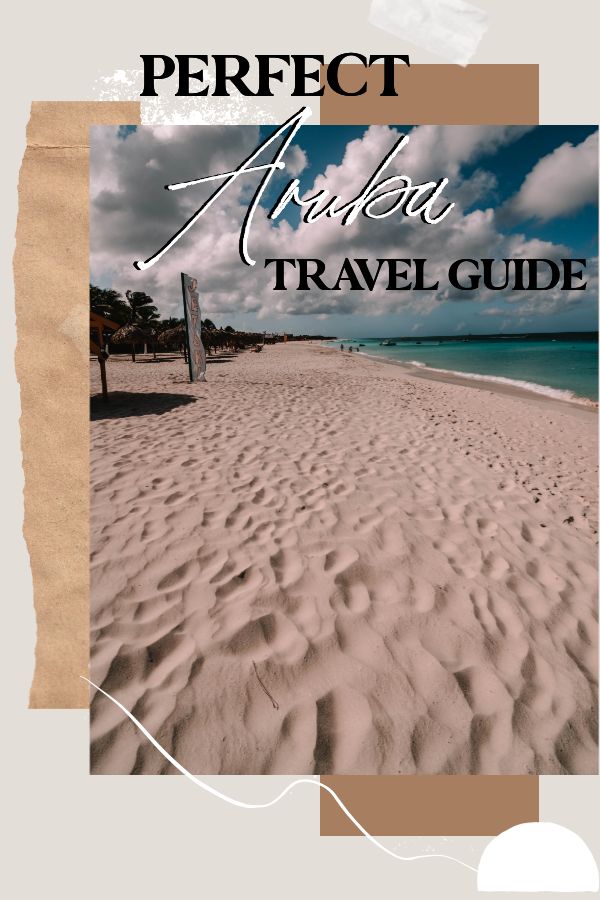 The island of Aruba is relatively small, which makes it easy to get around and see everything in a few days or a week. We rented a car, which is the perfect way to explore the island. There are a lot of things to do near the hotels but my favorite spots were usually found by car, so I highly recommend renting a car (I almost always recommend that for almost every destination!).
After years of wanting to go, the Aruba Tourism Authority contacted us to visit and we knew it would be the perfect warm weather adventure. Aruba is one of the ABC islands which are part of the Kingdom of the Netherlands. This means there's a great influence of many different cultures which makes Aruba stand out from some of the other islands in the Caribbean. People who grow up on the island learn four languages.
There's a variety of trees, mesmerizing beaches, and luxury stays that make for a vacation that's suitable for everyone. Aruba is nicknamed "One happy island" and after talking to the locals I can definitely see why! People are helpful and friendly and will always give you a recommendation.
Whether you're looking for the best places to stay, see what to do, what to pack, or what excursions to choose, this Aruba travel guide will share everything you need to know.
Traveling to Aruba during COVID-19

One of the biggest benefits of going to Aruba is feeling safe during the pandemic. Before arriving Aruba requires you to provide a negative COVID-19 PCR test taken within 72 hours before your arrival. Almost all dining options are outside which is perfect in the evening with the warm breeze. Our temperatures were taken before arriving at most locations and they've taken all procedures to keep things clean and safe. Check out all you need to know about entry requirements for Aruba here.
Aruba At a Glance
How many days to visit Aruba? 3-7 days, we spent 5.
When to visit the island? Because of the beautiful weather year-round, you'll find the island a great to place to visit any time. But October – April is when it's most popular. Aruba gets more sunny days than any other island in the Caribbean.
What's the weather like in Aruba? Warm and windy. Temperatures average in the mid-80s.
Currency in Aruba? Everywhere accepts USD but the currency is Florian (exchange rate is about half of USD.)
How to get to Aruba? There's only one airport in Aruba so it makes it easy! You'll fly into Reina Beatrix International Airport (AUA). This is also where to pick up your car rental.
How to get around Aruba? We went with Amigo car rental. There are also cruises that go to Aruba as well. You will need a passport to enter Aruba. Located in the south (almost to Venezuela) it's just outside the hurricane belt, stretching 19.6 miles long and 6 miles wide. Aruba is very safe – considered the safest island in the Caribbean. Aruba, Bonaire, and Curaçao are referred to as the ABC islands of Netherlands Antilles or the Dutch Antilles.
Things not to miss in Aruba:
Go beach hopping and check out the incredible white sand beaches
Try the cuisine! There's so much diversity, but I'm partial to the Dutch pancakes
Go horseback riding on the beach
Explore the Arikok National Park
Go snorkeling on a cruise
This is a beautiful, small boutique hotel within walking distance to the beach. Stepping inside is like a jungle oasis – there are palm trees throughout and iguanas that skitter by when you walk the boardwalk. The boho chic vibes make me want to completely redo my home and I loved the pops of pastel pinks and blue. But the best part is the rain water shower. This is especially important at the beach as I usually shower twice a day!
What to Do in Aruba
Aruba offers plenty of activities and adventure that will please all ages and activity levels. There are beautiful beaches, of course, but take time to go on some excursions around the island.
Best Beaches in Aruba
I was so shocked by the calmness of the water and by just how clear and turquoise it is. I can definitely see why people flock to the beaches of Aruba.
Eagle Beach
Find pristine white sand and palm trees right next to the iconic Divi Divi trees. This is known as one of the best beaches in the world!
Palm Beach
This is where all the high rise hotels are located. You'll find a lovely beach with great restaurants nearby. You'll find extremely soft sand. That's because the sand is sifted to remove pebbles and shells so you can walk with ease!
Mangel Halto
A great beach for snorkeling and little hidden coves surrounded by trees. It's a rocky cove with ladders that go down into the crystal water.
Arashi
Great place to watch the sunset and go snorkeling. Just a short drive from Palm beach, but less crowded.
Baby Beach
A pretty and popular beach and a great place to feed the wild donkeys! This is a very shallow beach that's great for families.
Malmok
A popular for swimming and snorkeling.
Druif Beach
A rocky beach with cool rock formations and a break from the white sand.
Excursions in Aruba
Here's where Aruba really shines! There are so many excursions and options for what to do on the island.
Horseback riding
My favorite experience on the island! We took a tour with Goldmine Ranch that took us through the northeast coast of Aruba with a beautiful landscape of beaches and cactus strewn landscapes. It was exhilarating to gallop on the beach on a horse as the waves crashed nearby. I will admit I was a bit nervous for the ride but our guide, Andres, was incredible and made me feel so at ease. We opted for the Private Paradise tour which I highly recommend.
Boat Tour
Our first cruise was a snorkeling cruise with Jolly Pirates. We stopped at 3 different locations to snorkel. The first was a stop was the Antilla WWII ship wreck. The next two spots were clear, turquoise water that were perfect for seeing colorful fish and coral. The cruise includes unlimited drinks and lunch.
We also sailed with Red Sail to watch sunset at sea. This is also an open bar and comes with appetizers. The water is so calm it was amazing! I usually get seasick and I didn't on either excursion.
A great way to see some of the top sights in Aruba is with a De Palm Jeep Tour. The 4-hour tour will take you to the National Park, the Natural Bridge Ruins which fell in 2005 (it was the largest natural bridge in the Caribbean at the time), the Casiburi rock formation (an unusual rock formation), the Alto Vista Chapel dating back to 1750, the California Lighthouse, named after the S.S. California that wrecked here in 1852. The lighthouse was finally completed in 1916. Be on the lookout for cactus across the arid landscape, it makes for a different view from other Caribbean islands.
Snorkeling or Scuba Diving
This is a great place to snorkel and there are a number of beaches to do this around the island. Our best snorkeling experience was definitely on our Jolly Pirates tour.
Spa
There's nothing like getting a massage or facial after a long day in the sun. We had a couple's massage at the Marriott Aruba.
Things to See in Aruba
On the north side of the island you'll find high rise hotels and luxury shopping. On the east side of the island has a rugged, rocky coast that's less developed. This coastline is full of volcanic formations.
Explore the Arikok National Park – we went here on our Jeep Tour and got to see sweeping views of the island (this is the highest point on the island). Then you'll drive down bumpy roads to the Natural Pool, an excellent place for snorkeling. The Natural Pool or "conchi" called "Cura di Tortuga" is a secret, hidden pool on the windward coast surrounded by rugged terrain.
Renaissance Beach – This is the insta-famous beach where you can feed the flamingos. Located off Aruba's downtown you'll find this beach by ferry – they run every 15 minutes. Keep in mind a day pass is not cheap, $125 for the day. Or, you can stay at the Renaissance Hotel for about $200 a night.
California Lighthouse – Located in the Noord aka the northern tip of the island. The stone lighthouse took years to construct and is 100 feet high. There's also a restaurant located here that has sweeping views.
Bushiribana Goldmine – Here you'll find cool ruins of a goldmine made to look like a fortress with beautiful views of the water. In 1825, the Aruba Gold Mining company built this smelter to extract gold from ore and left it to be destroyed by the sea water.
Oranjestad – This is the capital city and the colorful downtown is usually very busy since this is the harbor for cruise ships (although currently none are running). You'll find plenty of shops and restaurants alongside historical buildings. This is also a great spot for nightlife.
San Nicolas – This is known as the "Sunrise City" as the best place to see the sunrise if you're up for it! This is a beautiful place for beaches including Baby Beach.
Where to Eat in Aruba
There's over 200 restaurants on the island with a wide range of cuisine. You'll find surprisingly good Italian, fresh fish and seafood, delicious fine dining, and even traditional Dutch pancakes.
Wilhelmina – My favorite meal of the trip! This was a decadent 4 course dinner with some of the most delicious fresh fish dishes and scallops. You can sit outside in a tropical oasis with warm candle light. We started with the homemade truffle ravioli and seafood salad and both were perfect. Then I had the catch of the day, red snapper, and lemon tart for dessert.
Zeerovers – This is a local favorite serving up fresh, fried fish. Almost every local recommended this one to us.
Quinta Del Carmen – Located in a 100 year old mansion, the restaurant is full of history and is a delight for your tastebuds. Classic and inventive dishes in a beautiful, outdoor setting.
Linda's – casual and traditional this is an inexpensive lunch spot that will give you a taste of Amsterdam.
Dutch Pancake House – for more inventive pancakes and lots of options, go to the Dutch Pancake house. I tried the Peach on the beach made with Grand Mariner! I loved that the wait staff was direct from Holland.
Hilton Romantic Dinner for Two – Definitely the most Instagrammable. You'll have a romantic setup on the beach with just the two of you to watch the sunset and pick from a selection off a set menu. Make sure you book at least 24 hours in advance.
Madame Janette – Another fine dining option in a casual atmosphere with Caribbean cuisine. Also great ambiance!
Moomba Beach Bar – great place for frozen pina coladas as you gaze over the water.
Eduardo's Beach Shack – A great place for breakfast (this was actually where we could get breakfast from our Boardwalk Hotel). You'll find fresh smoothies and açaí bowls.
Pinchos – A favorite around the island, this casual bar on a pier with beautiful views of the water. Classic Caribbean fare.
What to Pack For Aruba
Aruba is a casual, beach destination, but there are a number of fine dining restaurants so I suggest bringing a dress or pants to wear for a nice evening dinner or photos on the beach. Here's a quick look at what to bring:
Passport
Negative Covid Test Results
Flip Flops
Light jacket at night
Swim suits
Cover-up
Sunscreen
Hat
Tennis shoes/ hiking shoes
Aruba has the same voltage as the US so no need to bring a power adapter
Aruba is a happy island that full adventure. There's so much to see and do it makes it an easy destination to plan a trip back!
Big thanks to the Aruba Tourism Board for hosting us so we could experience Aruba's unique offerings. All opinions from the trip are my own.