Warm, sandy beaches. Epic cliff-side inlets. Quiet hilltop towns carved out of stone. It can all be found in the beautiful Balearic island of Mallorca.
I spent a wonderful, fast-paced three days on the island and found the best things to do in Mallorca. In this travel guide I'll share how to make the most of your itinerary and budget.
What I love about Mallorca, besides the views, are the numerous options for your style of travel. This is a great destination for beach goers, adventurous thrill seekers, honeymooners, all-night partiers, luxury travelers, and sleepy hill top town explorers. Better yet? I did almost all of these travel experiences in the span of 3 days. Making Mallorca a no-brainer travel destination.
On the plane, on the way home from Mallorca, a man sat next to me with a straw hat emblazoned with a German flag ribbon around it with the black bold letters reading "MALLORCA." It's no secret this is a big destination for the Germans. And that's how I always thought of it. A party destination for European travelers. But mostly not dramatic beaches or beautiful cities.
Wrong and wrong.
It has all of that and so much more.
Mallorca quickly won me over. Once I drove up to the main city of Palma and glanced at the drip sand-like castle of the Palma, I was hooked. Little did I know the views would only improve from here.
I spent three days in Mallorca and packed in as much as possible to enjoy on this beautiful island. You could absolutely spend more time here. But since I was on a schedule and just went for a long weekend you can still make headway with a short amount of time.
This Mallorca guide will share with you what to do in 3 days, where to stay, what to see, eat, and even gives a cost breakdown for the trip.
Itinerary at a glance:
Below you can find a map of all the places discussed in this post:
Day 1 – Palma, Beaches, Nightlife
I took a 7 A.M. flight to allow time to explore and enjoy the splendid weather and make the most of my quick trip. We started in the main city of Palma and explored the old city on foot. This is the biggest city of the island and has half of the island's population. Expect to spend a good half day exploring here, but realize that there's so much natural beauty on the island so don't miss out! We hit the town early to avoid the crowds and the heat. We went shopping, ate lunch, and toured the magnificent cathedral and other attractions.
Here's a look at what to see:
Catedral de Mallorca – It's hard to miss this striking cathedral in the heart of Palma. Take a tour of the ornate Gothic masterpiece dating back from 1229. I recommend buying tickets ahead of time to skip the line.
Can Forteza Ray – As soon as I saw this building I thought "Gaudi" and I was right! This historic landmark has surprising decorations and screams Art Nouveau. Gaudi lived on the island for 10 years and many credit him to the modernist government on the Balearic islands. Intended as an apartment block, the architect Lluís Forteza Rey created various sculptural decorations on the gallery and bay windows. It's one of the cities must see sites.
Royal Palace of La Almudaina – located right next to the cathedral, this palace is the king's residence and is used for events.
Plaza Mayor – A sunny little square surrounded by restaurants and shops.
Parc de la Mar – this is a public square in front of the cathedral and is the perfect viewpoint for the town.
A good spot or a quick lunch is Café la Lonja to try traditional Sobrassada sandwiches.
Now that you've seen Palma check out some nearby beaches. You have options nearly everywhere. Towards the south east, you can go to Illetas Beach or El Molinar. Two restaurants near there would be perfect for lunch. Either Restaurante Cocco Portixol or Izizi Nunnak are great choices. Over to the south west is Puro Beach Club for a beautiful view and expensive bite to eat overlooking the water. We took in the view then headed over to a dramatic cliff-side beach.
Cova de Portals Vells was absolutely stunning and offered multiple inlets and sandy places to explore. After you get your fill of swimming and sand, drive up to the top, away from the parking area, for a short hike down to see the stunning scenery and crystal clear water.
For our last beach spot of the day we headed towards the south east of the island to Torre de Cala Pi. Here you'll find ample parking and an easy to maneuver stone staircase to take you down to the sandy beach. Make your way down towards the "beach" signs for Playa de Cala Pi. This was also a great place for snorkeling.
If you have time before hitting the night clubs, head to the Castillo de Bellver located a few miles from Palma, this round castle was used as a royal residence for centuries.
One of the big reasons many people come to Mallorca is to enjoy the spirited nightlife. I found it to be much, much smaller than the clubby Ibiza. But there are a few options that are really fun. LAB bar is a local hangout with great cocktails and funky music. Bar Cuba is a trendy dance club with a DJ playing the hits and serving overpriced drinks. If you want an all out party go to Europe's largest open-air beer garden Mega Park. It gets rowdy here so be aware!
Day 2 – Beaches, Alcúdia & Formentor
Get up early, even if you've been partying late, and head to the beaches. In my opinion, this is the main reason to come to Mallorca, so get up and get going. We are hitting up the beaches on the South East and Eastern tip- my favorites on the island.
I've been to a quite a few beaches in Europe but I think Caló del Moro is one of best I've ever seen in my life. Be aware, this is not for the faint of heart. The trek to the beach is a strenuous 30-40 minute hike. But well worth it for some of the most epic scenery I've ever seen in my life.
The steep cliffs are hard to meander down, especially near the beach. But the pool-like water will make it worth your while.
After our hike down we enjoyed the views then actually kept walking to the other side for the equally beautiful beach of Cala s'Almunia. We found a great, nearly tourist-free spot to put our belongings and go snorkeling. There's also a spot to cliff jump- sadly I wasn't brave enough. I didn't want to leave, but I was so impressed, I wanted to keep exploring.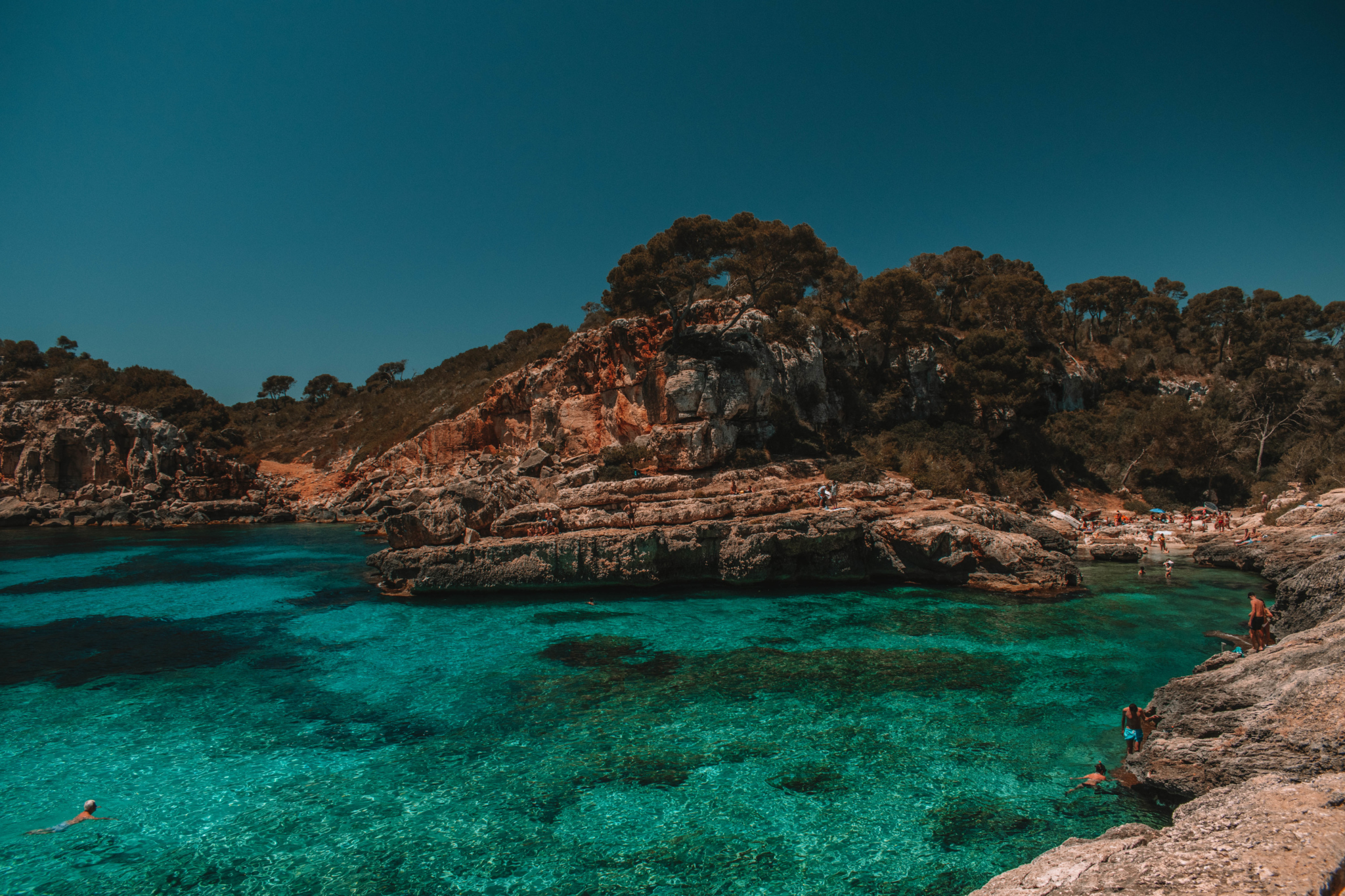 Some other beaches I suggest going to:
Cala Mondragó – a pretty sandy beach that has a few beach front restaurants and welcomes families. You can also walk (or swim) to the other side, S'Amarador.
Cala d'Or – Known for its yacht marina, this is a beautiful spot to watch the boats bob on the crystal clear water.
Cala Varques – A nice, sandy beach known for clear waters and quiet spots.
Cala Mesquida – This was a beach recommended to me by the hotel concierge who wrote in big bold letters "AMAZING BEACH" and it is! A long sandy beach perfect for lounging.
Cala Agulla – If you like long sandy beaches then look no further!
Sa Colobra – this beach lies in the north of Mallorca and offers a dramatic setting with steep cliffs.
If you need more, Heart my Backpack also has a great list of beaches!
Next, head up to the town of Alcúdia, known for it's beautiful preserved old town and the walls that still encircle it. The town dates all the way back to 123 B.C. and offers sweeping views and cool historical center. Check out Restaurant Punyetes for great tapas.
Now, we're making our way to the north east tip of the island, Formentor. It's worth it for the epic sunset views by the lighthouse in Formentor called "Cap de Formentor." Just keep on driving until you meet the lighthouse at the end of the road.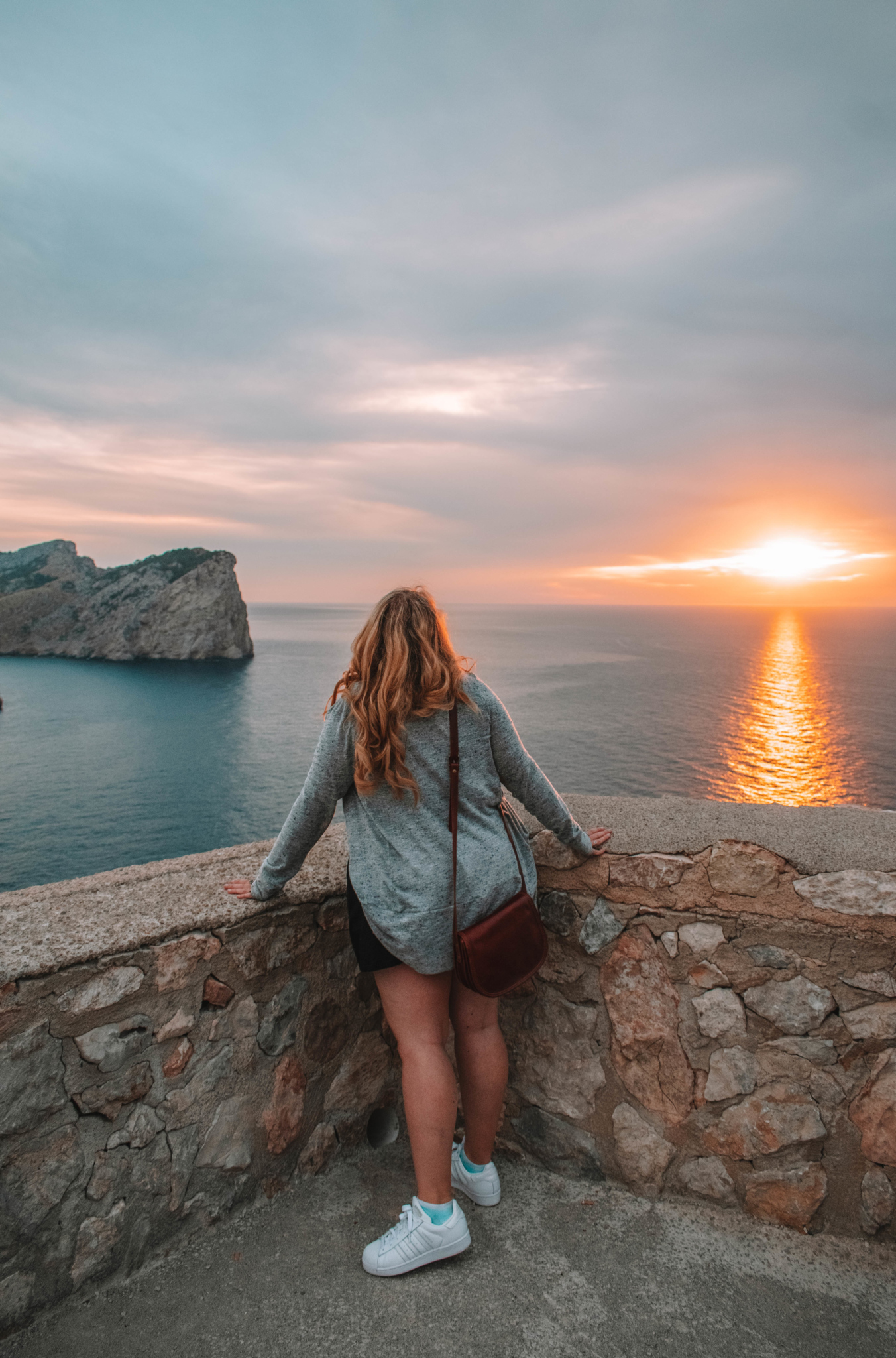 It's a treacherous road, but well worth it for the views. It took a good, solid 30 minutes just to makes it to the tip of the of Formentor. On the way I dodged goats munching on the side of the road and cars stopped in the middle of the road, in awe of the view.
So drive carefully and make sure to stick around during sunset.
Day 3 – Sant Elm, Valldemossa, Deia, Soller
Today we're heading to a completely different experience on the island. These towns reminded me of my Southern Spain road trip, or even a trip in Tuscany. I was immediately taken with the cliff-side towns that stretched up the mountains in Mallorca.
We are making our way up north, but on the way we will stop at Sant Elm for a picturesque fishing village and sea views.
Valldemossa is one of my favorite towns in Mallorca. The monastery town, where Chopin once spent a winter, is a dramatic sight, but the whole town is absolutely breathtaking. This is a great place for gelato, shopping, and walking around the pretty stone buildings.
Deia has become a holiday favorite for honeymooners or those that want to take it easy. This fairy-tale village is around a winding road on the north end of the island. I recommend you go to the uber fancy Belmond La Residencia for a drink and to take in views.
Soller is a town in the valley of the northern part of Mallorca. Here you'll find a vibrant town and a pretty 14th-century Church of Sant Bartomeu. Take the tram to the sleepy port. I recommend going at sunset to catch the views.
Arrive in the idyllic Port Soller for sunset and dinner. For a great view you'll need to go up the mountain. Either head to the lighthouse, or go to a hilltop restaurant.
I highly recommend Restaurant Ses Oliveras for amazing squid ink "Fideua" which is paella made with noodles. It was served with seafood and we were given fresh baked bread and olives and divine aioli dipping sauce. This was one of my most memorable and delicious meals of the trip!
If you have time, you can take a tour of the pretty lemon and orange orchards nearby Soller.
A bit out of the way, but worth it for the incredible beach and scenery is Sa Calobra. There are 26 hairpin turns to get to this steep, rocky inlet and beach. It is worth it for the stunning views.
How to get around Mallorca
If you've been following this blog for a while I almost ALWAYS recommend a car. You most definitely need one in Mallorca. In order to really see it all, and do it on your own time, you need a car. The island is large and some of the roads are steep so a car is your best bet for making the most of your time. Driving is very easy in most places in Mallorca but I recommend you park (the port has ample parking) and walk the city center of Palma.
As you're making your way around the island don't forget to check out the windmills you'll see dotted along the road. These were used by farmers to grind grain and pump water. Now, they are restored and are a great reminder of how life used to be.
What to Eat
There are so many delicious dishes, it can be hard to choose. Some of the regional dishes include….
Eat Sobrassada – Sobrassada is a raw, cured sausage from the Balearic Islands made with ground pork, paprika and salt and other spices
Café la Lonja – a quick bite to eat in Palma, try the sobrassada.
Restaurante Cocco Portixol – Located right on the coast this is an upscale but comfortable setting for dinner. You'll find Italian food here if you want a break from Mallorcan.
Izizi Nunnak in El Molinas is right near Restaurante Cocco Portixol and offers pizza and risotto in an urban setting.
Can Punyentes in Alcúdia – For tapas and seafood. Cheap, good service, and delicious.
Restaurant Ses Oliveras – the best place for typical Mallorcan paella.
Where to Stay
Budget – Brick Hotel is a 3-star hotel in the heard of Palma. This is great if you want to be in the center of the action. Great place for bars, shopping and restaurants. This is a clean and pretty place to stay at a reasonable price.
Mid Range – GPRO Valparsio Palace – shockingly, this 5 star hotel is a mid range priced hotel. I stayed here (I found a great deal on Booking.com) and absolutely loved it. Close enough to the main sites and Palma, but not too close to be loud. Free on-site parking, multiple pools, beautiful rooms. Just everything you need. I highly recommend this place.
Luxury – The most famous luxury hotel in Mallorca has to be Belmond La Residencia in the lovely town of Deia. I didn't stay here but came over for a drink and views. This hotel is so beautiful you might never leave. You might not want to after paying for it, but it's well worth it for the experience. Would be perfect for a honeymoon.
Lux Villa – Another option is renting a villa overlooking the azure water of the sea with ample opportunities for swimming and relaxing. See some options below:
Other things to do in Mallorca
There are endless options of things to do in Mallorca but here are a few things to do if you've got an extended vacation. A great option is to rent a boat. You can do this nearly anywhere on the island but Soller and Palma offer easy points of access. You can also book a guided cruise that includes lunch.
The Drach Caves are filled with stalactite formations and tower 82 feet below the surface. They are best seen on a guided tour.
Because of Mallorca's diverse landscape. there are myriad of options for hiking trails. Backroads offers many different hiking tours.
There are many markets open daily throughout the island selling food, clothing, and hand-made crafts. We went to one in Palma and found some delicious 5 euro pina coladas and dried fruits.
Cost Breakdown for Mallorca
It's fairly easy to make this trip all your own – budget, mid-range, or luxury. Most parking was on the street and either free or very cheap. We ate at a few fancy restaurants but also had some delicious street food. It was easy to not go over budget here, another reason I loved Mallorca. Here's my trip breakdown:
Hotel – €259 for 2 nights
Car – €106 for 3 days
All Meals (for 2 people) – €250
Total trip cost = €615
Budgeting about €100 a day staying at a 5 star hotel and going out to eat is absolutely awesome!
Mallorca was the perfect destination for a summer European getaway and an island I know I will be visiting again.
Pin the post: